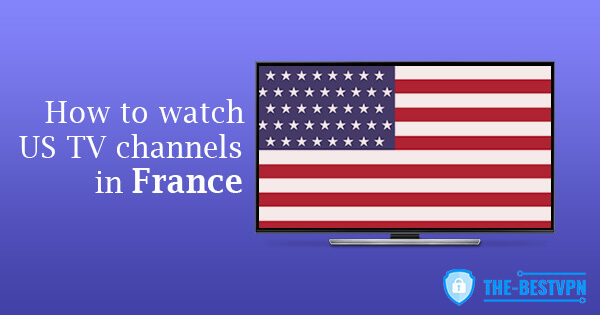 France is endowed with a nice geographical shape, a moderate climate, and blessed with a capital that is widely regarded as the City of Love. It's no surprise that France is the most visited country in the entire world. Either for leisure or business, everybody wants to visit the country someday, including American citizens. However, the question often on the lips of US ex-pats or tourists is "how can I unblock and watch US TV in France?"
That is because most American streaming services usually don't allow people residing in other countries to access their content as we saw in our article talking about AMC abroad. So, this article aims to teach you how to unblock and stream US TV in this wonderful country.
Why is US TV Restricted in France?
Thanks to copyright limitations, there's a difference between people residing in the United States and people living in other countries. Everybody else is left out and doesn't have the privilege to access, stream, or watch US TV content internationally.
Due to the business involving all types of films, series, shows, and documentaries, such restrictions are often solid. Otherwise, their commercial interests would be significantly jeopardized. People from other countries like France would just be able to watch their content for free.
The only effective way to make sure that people in other countries aren't allowed to stream or watch US TV channels is by applying geo-restrictions. With geo-restrictions, people in other countries like France can't unblock or stream American channels that only United States viewers should be able to access.
What Are Geo-Restrictions?
Whenever you connect to the Internet, your internet provider usually gives you an IP address according to your geographic location. Geo-restriction is a system where some IP addresses are blocked from accessing channels and websites because of copyright restrictions.
Due to this, you won't be able to unblock, access, or stream content that is restricted from your location.
It is very lawful, since all the documentaries, shows, series, and films are properties of other people. So, it is only right that the individuals who own them are financially compensated.
This is why the appropriate walls are constructed to forbid your access to watch and stream US TV in France.
How Can I Bypass Geo-Restrictions?
To learn how to bypass or unblock geo-restrictions and watch American TV in France, we recommend using a VPN. Short for Virtual Private Network, a VPN is a network of remote servers, situated in different locations around the globe.
When you use a Virtual Private Network, you only need to select the remote server of the country you want. Then, connect via this chosen server to the Internet and a VPN will give you the IP of the server.
In that case, rather than using the IP address that's given to you by your internet provider, you can use a VPN. This way, you'll be given an American IP address from a remotely located server in the United States and easily unblock, access, or stream US TV in France.
The Best 3 VPNs to Watch US TV
While there're many VPNs in the market, we don't expect you to buy and test 480+ VPN services as we also mentioned in our review of the best VPN in Canada.
So, "how can I know which VPN is the best for me in France?"
We've reviewed three of the best ones below to help you answer that question.
1. ExpressVPN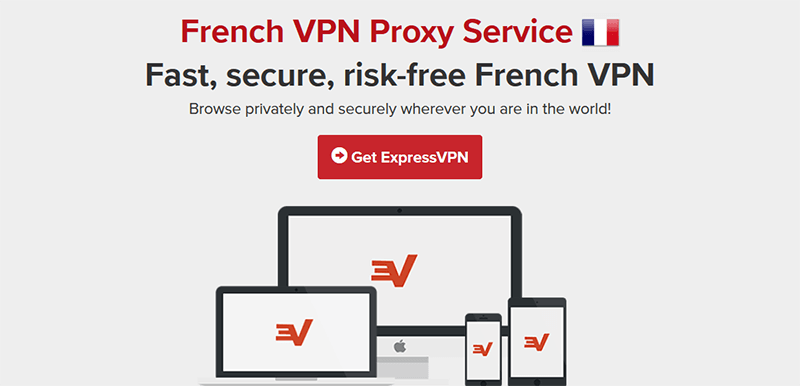 ExpressVPN is by far the fastest VPN in the world, and it delivers astound performance whilst maintaining a very high level of privacy and security. The VPN has 3,000+ servers in 94 countries around the world.
Thus, it shouldn't surprise anyone that it is our top pick to access, stream, or watch US TV in France.
For optimum security, the VPN uses military-grade encryption and multiple security protocols. What's more, it features a rare split-tunneling feature which enables you to select which applications utilize the tunnel and which ones directly access the web.
This further enhances your speed while you unblock, stream, or watch your favorite US TV shows in France.
With a verified no-logs policy and sophisticated features such as an in-built kill switch and public Wi-Fi protection, there is no need to worry about any data retention law while you unblock, access, or watch US TV in France.
Besides, the company offers a compatible user-friendly app for almost every platform. And if you have more than one device, you're allowed to connect up to 5 devices simultaneously.
While it's not the cheapest option around, a risk-free 30-day money-back guarantee means you can easily try it without any risk. Moreover, the company offers you a 49% discount and a 3-month free subscription on every 12-month subscription purchased.
Enjoy the 49% discount from ExpressVPN >
2. CyberGhost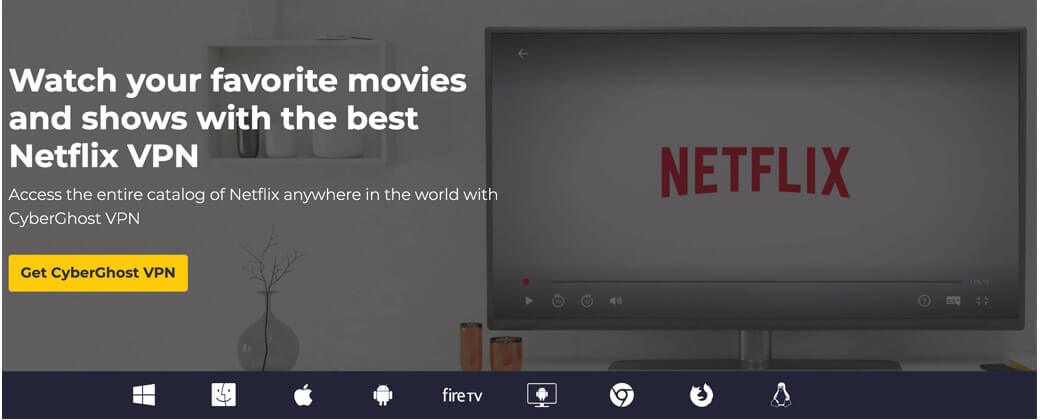 Following a reshuffling in management a few years back, Romania-based CyberGhost has massively improved its service. Offering robust encryption, a stream of advanced security features, super-fast speeds, and great customer support, it's one of the most reliable options in the market.
Furthermore, it operates 6,300+ servers across 90 countries worldwide. Quite frankly, it is easy to see why CyberGhost is one of the ideal options to turn to when you want to unblock, access, or watch American TV in France such as NBC, AMC, ESPN, CBS, and many others.
How can I install and use the app? The app has an inbuilt tutorial to walk you through the entire process.
This VPN secures your internet activities with a wide range of security features, including perfect forward secrecy, DNS leak protection, and an internet kill switch. It also uses military-grade 256-bit encryption, making sure that no one is able to access or intercept your data.
In addition, the service won't log any user data while you unblock, stream, or watch your favorite US TV shows.
Moreover, the service supports almost every platform, offering compatible apps for Windows, iOS, Mac, and Android. And if you have a large family, the service allows you to share your subscription with 7 devices at a time.
3. NordVPN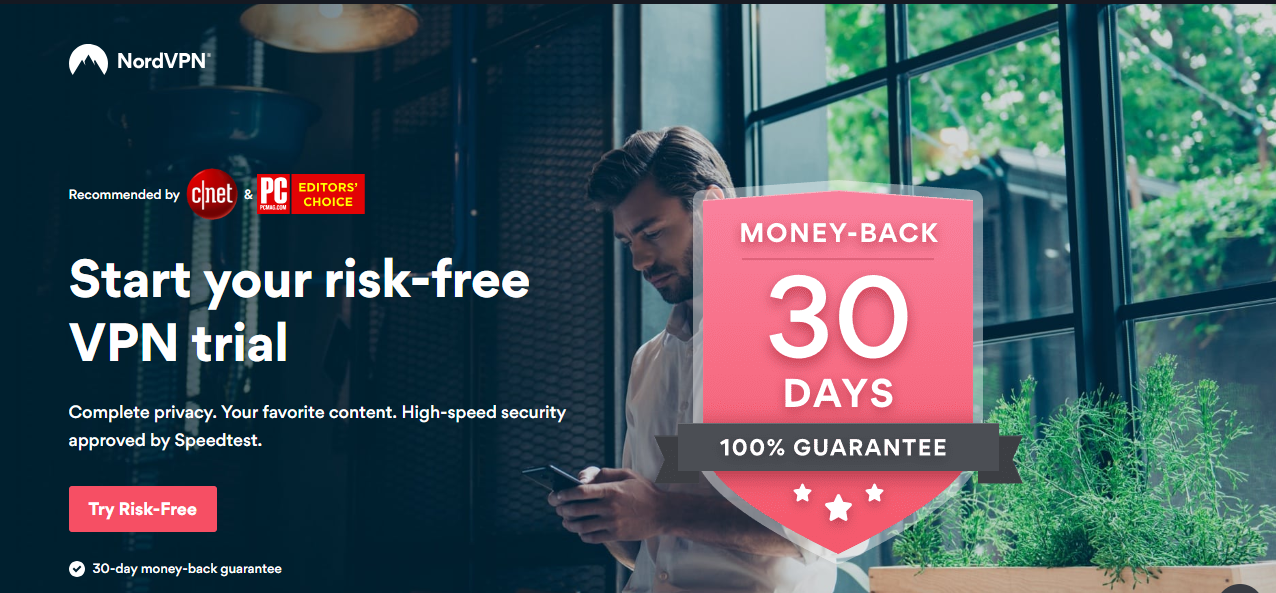 Coming with an extensive variety of features, Panama-based NordVPN is worthy of its spot on this list. This provider also offers 5,600+ servers across tens of countries around the world. So, it's one of the fastest and most reliable VPNs to unblock, watch and stream US TV in France.
Using the incorporated SmartPlay feature, you can effortlessly connect to the hundreds of servers that have been optimized for streaming. There are also servers that have been optimized for anonymous torrenting and obfuscated servers designed to bypass censorship in order to unblock, access, and watch American TV in France.
With the Double VPN feature, the provider offers an extra protection layer when you access or stream on blocked sites. There are other key protection and privacy features such as DNS leak protection and a kill switch, which protects your data in the event of a connection loss.
In terms of multi-platform support, NordVPN is one of the best options. It offers simple apps for every major platform like Windows, Mac, iOS, and Android. And with a single account, you can connect up to 6 devices, allowing your friends and family to unblock and access the US TV shows they also reside in France.
To show their confidence in their services, the company offers a risk-free 30-day money-back guarantee. In general, NordVPN gives you a lot of reliability, but it's still a tad slower than ExpressVPN.
Unblock US TV with NordVPN now >
Wrapping Up
While France is a wonderful country with lots of things to offer you, everything will count for nothing if you can't stay connected to home through US TV. "How can I ask unblock and watch US TV in France" was a question you were asking at the beginning of this article, but we're confident your question has been answered by now.
Get ExpressVPN and forget about the aforementioned issues!

Michael is a talented writer who has dedicated a lot of time into making sure that everyone around the world can use the internet securely. Being an avid traveler, he has acquired a lot of experience while using different VPNs on his travels. When it comes to doing comprehensive "how to tutorials" or testing some VPN functionalities, he's always the best pick ! He's here to help you solve your VPN-related issues.