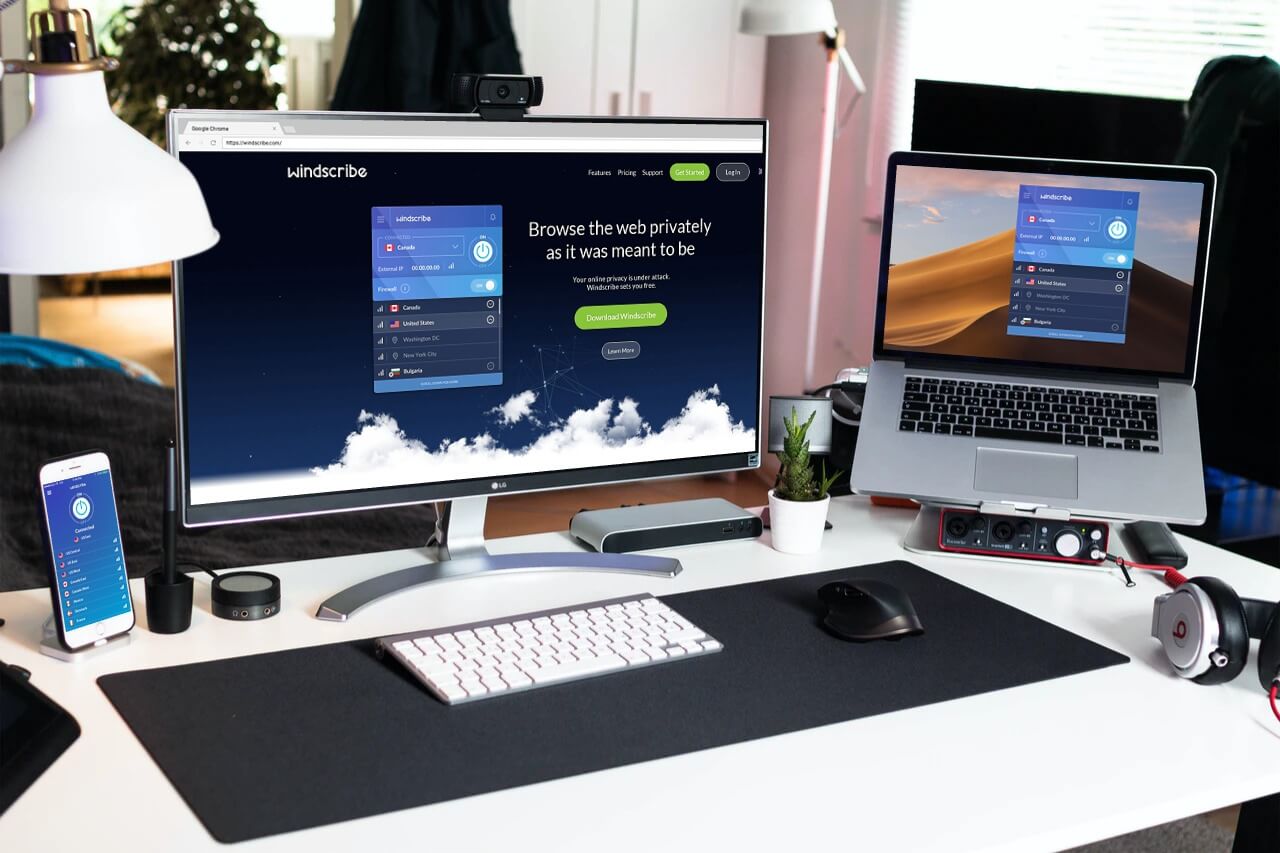 While the process may be a bit slow, Windscribe is gradually upgrading from a new VPN to an established provider. Notwithstanding, it has had a quite strong entrance into the VPN market, thanks to the service's strong all-around performance. However, since the provider often appears on the lists of free services, we've decided to comprehensively review it here.
Even though Windscribe is one of the most popular VPNs around, its popularity is primarily down to its free service. However, free services are fairly complicated, as they usually store their users' personal information and sell it to third parties.
In light of this, most serious VPN users are always wondering if the provider offers anything extraordinary apart from its free service.
Thankfully, Windscribe is outstanding when compared to the other free services. Owing to this, most of its free users are willing to upgrade to paid plans. But is it really worth it? Can it protect your personal information?
Well, we're going to answer these questions and more, based on our test findings. With that said, we welcome you to this hands-on Winscribe 2023 review.
STRENGTHS:
Excellent device compatibility
P2P is allowed
Unlimited simultaneous connections
Has a free offering
Reasonable pricing
Unblocks Netflix
Works in China
WEAKNESSES:
Based in an unfriendly location
Not really fast
Fake live chat option with a chatbot
Small server count
Windscribe ranks #7 out of 104 VPNs tested. Here are the best alternatives :
---
Is It a Paid or a Free VPN?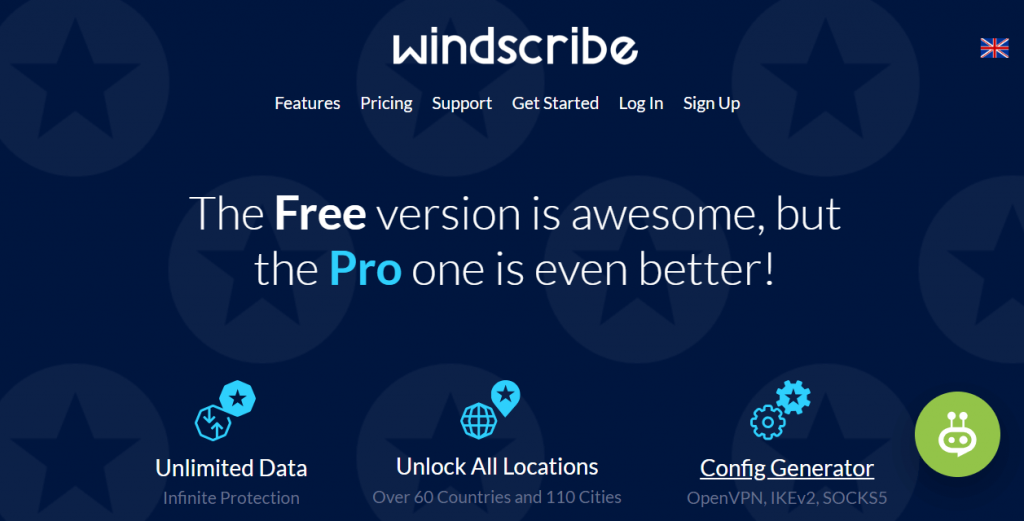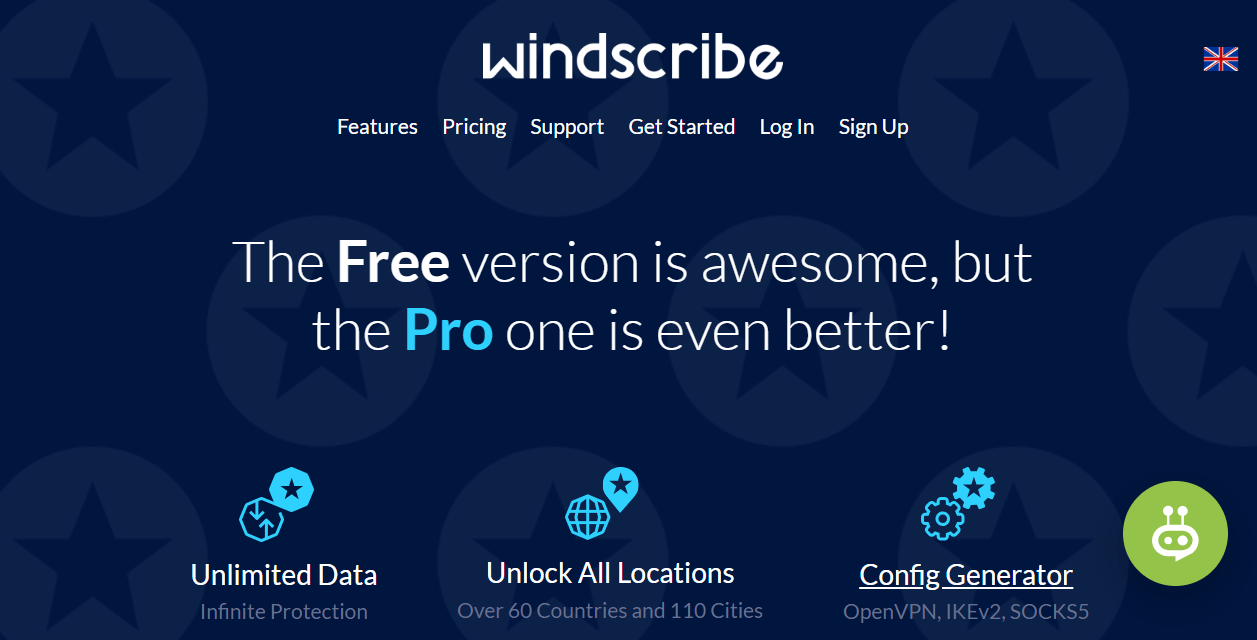 First of all, we'd like to mention that Windscribe is so popular primarily because of its free offering. However, while it's not bad for a costless VPN, it is quite limited in comparison with premium options.
On the free service, you will get just 10 GB of bandwidth per month and access to servers in only 11 countries. You will learn more about the limitations of the free service later in this review.
If you, however, decide to upgrade to the paid version, there are many options you could choose from and we will talk about them later.
Performance
Whenever you're evaluating the performance of a VPN in a test, the first factors that always come to mind are speed and stability. With that in mind, we assume that you'd like to know how this provider performs speed and stability-wise, so we accounted for them in our review.
Speed
Speed is an incredibly important factor you must take into consideration when selecting the right VPN for your needs.
In terms of speed, Windscribe is hard to evaluate. While we got above average speeds when we checked with a paid version while writing this review, the speed on the free version was below par.
Obviously, this isn't surprising considering that most companies tend to give more speed priority to their paid users.
Without VPN (we were located in London) :

EU Server (Paris) :


US Server (New York) :

Asia Server (Hong Kong) :

Stability
When it comes to stability, we found this provider to be quite stable during our test. It promises an uptime of 99.9% which is more than enough. This means that it will always be up whenever you need it, unlike some other VPNs that let you down in your times of need.
However, the little server count may affect the stability a bit as you don't have too many server options to choose from.
Streaming
A significant population of people who use a VPN in 2023 is into streaming. Therefore, we also evaluated Windscribe's streaming capabilities during our test.
Netflix

While free users may not be able to access Netflix with Windscribe, paid users are more cared for. The provider has some servers specialized for streaming Netflix, which are referred to as Windflix.
The servers are designated to streaming Netflix and according to our test findings, they work well. We tried unblocking Netflix US and we didn't get any proxy error message.
We also tested with the regular servers and we were still able to unblock Netflix. While this might have been a stroke of luck, you could always return to the Windflix servers if you are a paid user.
BBC iPlayer
While Windscribe works quite well for Netflix, it's sadly a different story with BBC iPlayer. If unblocking BBC iPlayer outside of the United Kingdom is what you're particular about, then we recommend you opt for another VPN – ExpressVPN, for instance.
Even though the provider has dedicated servers for streaming, they don't unblock BBC iPlayer, as we found out during the compilation of our review.
Interestingly, people on Reddit seem to have noticed this trend as well. They complain about Windscribe not working with BBC iPlayer, which just backs up our claims.
Others?
So far, Windscribe had a great overall performance when it comes to streaming. While it doesn't unblock BBC iPlayer, that's the only big streaming site it fails to unblock.
It unblocks Hulu, Amazon Prime Video, HBO, and others.
Is it enough for you? Good – keep reading!
Security

Security is the major reason why everyone uses a Virtual Private Network. So, if you are looking for a great VPN, we assume that you may be interested in knowing what we found about Windscribe's security during our test.
Where Is It Based?
Windscribe is based in Canada and it does not hide that fact at all. First of all, we must mention that Canada is a member of the Five Eyes. The implication of this is that the country provides and exchanges intelligence information with other developed nations.
While we are not sure if the mass surveillance in this country is as strict as some other nations like the United States, it is a concern.
It's also important for you to know that Canada has a solid stance against copyright infringement and privacy. A couple of months ago, there were revelations that Canadian Internet Service Providers can sell pirate-related information.
Also, there is an ongoing charge against TVAddons by Bell Canada.
More worryingly, Bell has requested the Canadian government to place a pan on VPNs that infringe on copyright. Having said this, it is obvious that running a Virtual Private Network in Canada comes with troublesome elements and numerous obstacles.
Obviously, this doesn't really mean that this provider is against its users. Owing to a seamless combination of powerful VPN protocols and strong encryption, Windscibe may not really collect any data.
Nonetheless, nobody knows how things are going to develop in the near future.
Log Policy

Windscribe is a Canada-based VPN, as we already mentioned in the review. Additionally, it is general knowledge that the Canadian version of the NSA has been caught in the past accessing the metadata of citizens.
Plus the fact that Canadian ISPs are meant to store logs in compliance with the country's anti-piracy legislation. With this, it's clear to see that Canada is not a perfect location to base a VPN in.
Consequently, it is very crucial for a Virtual Private Network that is based in Canada to maintain a no-logging policy. Any logs that a Canadian-based provider keeps could be accessed at some point via a warranty.
It can even be tapped via CSIS.
In Windscribe's case, the country is very open with its privacy policy. While the provider keeps some logs, there is no chance of your data ever being traced back to you.
Having said that, we must reiterate that the provider actually keeps some information as we found out while performing our test.

They keep a log of the bandwidth used every month, but it's usually deleted automatically at the end of the month. According to Windscribe, this is a way to prevent abuse and enforce free-tier limitations.
Also, there is a timestamp of your most recent activity that is written clearly whenever you connect.
When you are connected actively, the provider stores your username, the server you are connected to, the amount of data sent in the memory of the server, and the time of connection.
However, individual VPN sessions aren't stored.
Moreover, since there is an option to pay with Bitcoin, you may even choose not to provide an email address. This indicates that Windscribe stores negligible information.
But, since it keeps some information, we recommend you to review your other options if privacy is of paramount concern to you.
The important thing is that information holds nothing of genuine value and can't be retraced back to you.
Protocols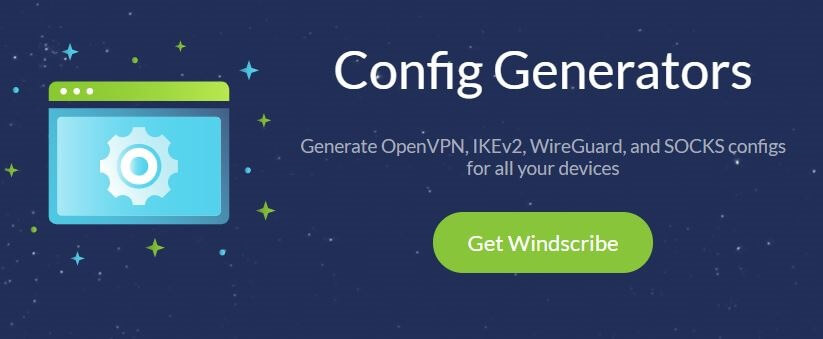 Windscribe is actually renowned for its world-class security systems, which is one of the reasons it has grown rapidly in a short period of time. The provider supports multiple protocols, which include IKEv2, SOCKS5, WireGuard, and OpenVPN.
They also use military-grade AES 256-bit encryption, which keeps your data secure and safe online, even when you are trying to get cheap flight tickets.
The provider offers an AES 128 encryption cipher on your data traffic to secure your data connection through the browser's extensions. Bear in mind that AES-128 encryption is also one of the leading security protocols today, so it's impressive.
What this VPN lacks in speed it makes up for in regards to security.
Protection Against Leaks
To ensure your maximum security online, leading VPNs adopt both IPv6 and DNS data leak protection, as we found out in our test. However, Windscribe only covers that halfway.
While it offers DNS leak protection, it doesn't support IPv6 fully yet. It requests you to instead disable the protocol. Nonetheless, this means that it will still protect your IPv6 data.
Torrenting
While torrenting is a frequently scrutinized practice, it is still very popular. If you often engage in this practice, you will be interested to read our review and our test findings regarding it.
With people like you in mind, here is our review of Windscribe's torrenting abilities.
Is Torrenting Allowed?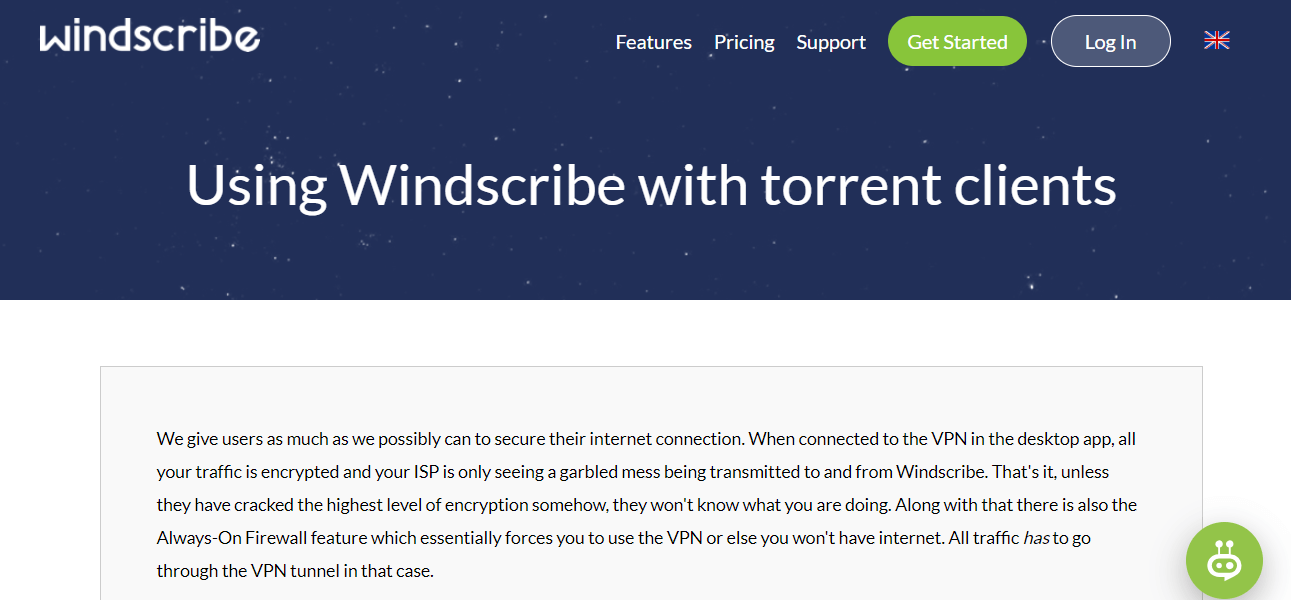 Some providers offer specialized servers for torrenting, but most of them are discouraging users from engaging in torrenting now because of updated data and privacy laws.
At the moment, Windscribe supports torrenting, but there are no designated servers for it.
Some servers work well for torrenting, but there are others that won't allow it. The provider's knowledge base also has dedicated resources to get you started with some prominent torrenting platforms.
Therefore, it is safe to assume that this provider won't place a ban on peer-to-peer sharing anytime soon.
Is There a Kill Switch?

Instead of a Kill Switch, Windscribe offers another feature called the Firewall, which it activates by default. This feature ensures that no internet traffic is sent if for any reason you lose your VPN connection.
Moreover, it blocks all connectivity outside of the tunnel to make sure that there is no chance of any type of leak, including but not limited to DNS leaks, IPv6 leaks, WebRTC leaks, etc.
According to the provider, the firewall is a superior solution to a "kill switch."
Bypassing Censorship
Bypassing Censorship is a major reason for using a VPN, so we paid close attention to it during our test. Despite not being one of the most powerful VPNs, Windscribe impressively works in China. Here is our review!
In Censored Countries

With the Great Firewall of China blocking popular websites like Facebook, YouTube, and Google, a lot of residents and ex-pats are turning to Virtual Private Networks to access unrestricted sites.
Sadly, most VPNs are also blocked in China, and there is a dropping list of VPN providers that are still capable of working in this country.
Thankfully, Windscribe is still working in China. However, you must keep in mind that it might be a bit intricate to set it up. Moreover, even if the VPN ends up bypassing the Great Firewall, the site itself might be blocked, which results in no access to troubleshooting assistance and general support.
Therefore, if you intend to use the service in China, we advise you to, first of all, become accustomed to the potential issues and test the setup before traveling.
In the end, we thought it would be ideal to mention the reason why this service still works in China in this review. Actually, it comes with a Stealth Mode, which is especially helpful for people living in countries with stern censorship policies like Korea and China.
For starters, the feature allows you to get around the majority of blocks that would otherwise detect an encrypted connection and kick you out.
Get past the Great Firewall of China >
In Restricted Networks
Whether you are a student or an employee whose school admins or employers have blocked from accessing your favorite sites, we assure you that we are not here to judge you or tell you what to do.
If you want to access those sites, Windscribe can help you do it, which is also an impressive feature considering most people think this service is only popular because of its free arrangement.
Of course, we checked this out during our test and the provider promptly helped us bypass restricted networks.
Countries and Servers
The server count and server distributions of a VPN are two major elements that go hand-in-hand when we review VPNs. That said, we have evaluated Windscribe's performance on this front below.
Countries Covered

According to Windscribe, they own almost 500 servers that are spread across more than 60 countries. While that's not too bad, it is actually nothing to brag about when compared to top-rated VPNs like NordVPN and ExpressVPN, with 5,200+ and 3,000+ servers respectively.
In addition, a top-rated provider like ExpressVPN has a better server distribution, with its 3,000+ servers spread across 94 countries. With a service like this, there are more chances of you finding a suitable server around you.
It is also worth mentioning that if you choose a free account, then you will have access to only a couple of servers. The servers are found in the United States, the United Kingdom, Canada, France, the Netherlands, Germany, Hong Kong, Norway, Romania, and Switzerland.
While there are servers in many other countries, they are reserved for paying customers only, as our test for this review of Windscribe revealed.
Numerous European nations are sufficiently covered, with the provider operating servers in countries like Ireland, Spain, Italy, Denmark, Spain, and Austria, Hungary, Finland, Czech Republic, Poland, Sweden, and others.
In fact, the company even operates servers in a hostile country like Russia.
The provider also covers some South American countries, which include Mexico, Colombia, Argentina, and Brazil.
Africa is not a popular continent with VPN providers, and Windscribe's coverage of the continent shows this as the company only has servers in Libya and South Africa.
Also, Turkey and Israel are the only Middle Eastern countries on the list.
There is better coverage in Asia, however, with the provider maintaining servers in Japan, Singapore, Hong Kong, Malaysia, Thailand, Vietnam, Malaysia, and South Korea.
The remaining countries covered are New Zealand, Indonesia, and Australia.
Servers
Impressively, Windscribe has specialized servers for unblocking Netflix, but that's pretty much where it ends. The provider doesn't have designated servers for other major activities such as torrenting and getting past the Great Firewall of China.
Compatible Devices and Simultaneous Connections

Is it compatible with my devices? Does it allow me to connect all my devices at the same time? These are important questions you must ask when choosing a VPN. Fortunately for you, we checked this out during our test, and below is our review.
What Device Can I Use With Windscribe?
Our review reveals that the provider gives dedicated clients for all popular devices and platforms. These include :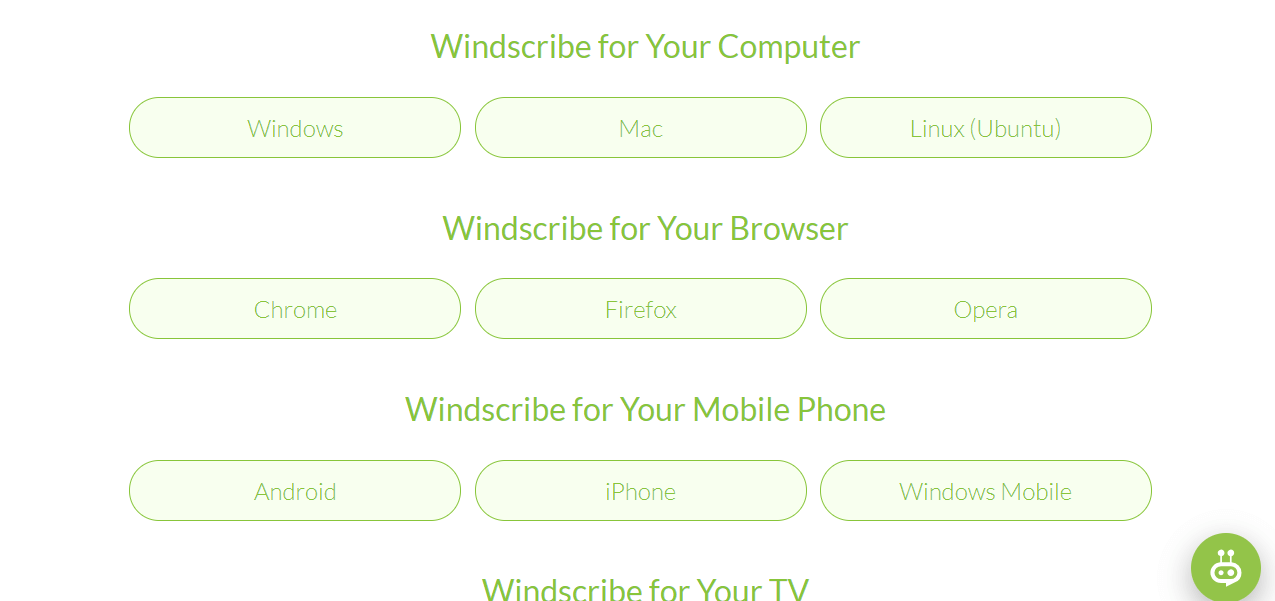 Windows
macOS
iOS
Android
Blackberry smartphones
Google Chrome
Opera browsers
Firefox
Linux operating systems
Tomato routers
DD-WRT
How Many Simultaneous Connections?
While it may be a strategy to help gain customers, Windscribe allows for unlimited simultaneous connections. Most providers often cap the number at five, so we hope this continues for long as possible as it means you can connect all your devices and even those of your family members.
Bear in mind that the company, however, prohibits account sharing outside your immediate family (siblings, spouse, kids) as we found during our test.
Client Support
If you have any experience with VPNs, then you should know that client support is an integral factor that you mustn't take lightly. In order to be able to include it in this review, we made sure to check the effectiveness of Windscribe's client support during our test.
How to Contact It?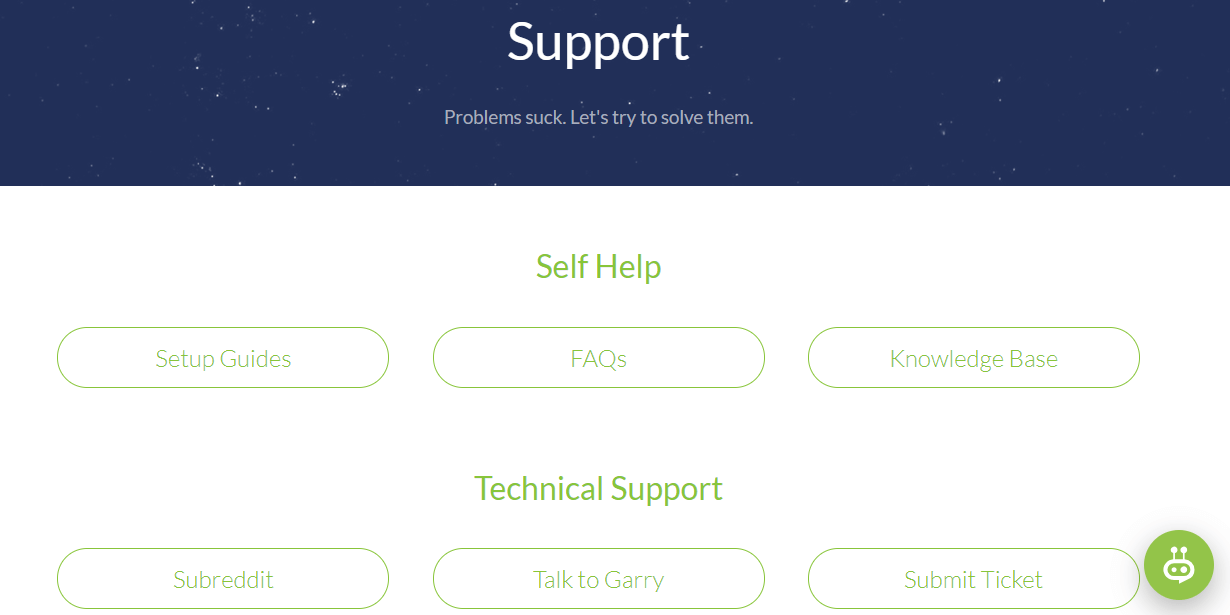 While Windscribe doesn't offer a wealth of choices when it comes to client support, the provider claims that if you need too much help, then it's not doing its job properly and that's a sufficient justification.
And no – there is no live chat option. But, they have a bot named Garry, which provides answers to the most common questions. Although Garry is not a real person, it's actually better than no live chat at all.
You can reach the support via the ticketing system, where you typically get a response within a few hours.
Is It Good?
Windscribe doesn't have good client support, to be honest. This is primarily because there is no 24/7 support, which means you may not find anyone to answer your questions for a while.
During our test for this review, we didn't get any response for more than 24 hours, and it was frustrating. However, the company points out that it utilizes its own staff, instead of outsourcing to some third parties.
FAQ/Tutorials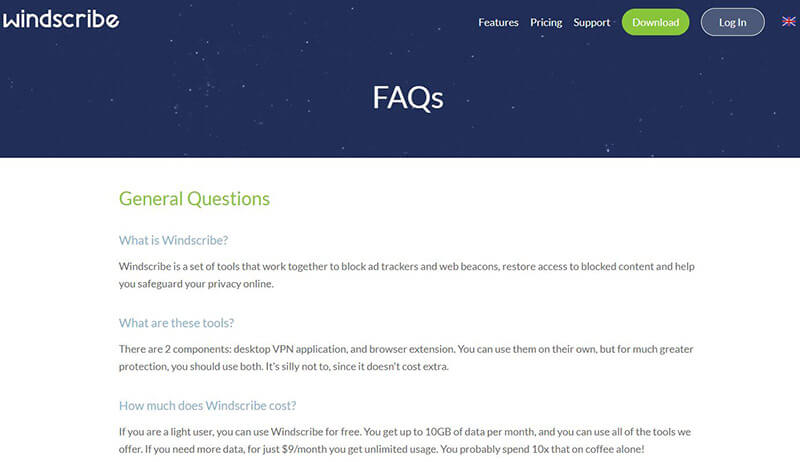 Outside of the ticketing system, there is a general knowledge base, setup guides, and FAQs. The knowledge base is like a troubleshooting guide, covering topics such as streaming services that aren't working, Kodi support, slow speeds, and forgotten usernames.
Remarkably, the articles are very straightforward. For instance, a Netflix-dedicated article spells out that there are actually VPN blocks and getting past them is a constant game of cat and mouse.
Furthermore, the FAQs are easy to read. The provider clarifies everything that is not detailed in the interface. However, we understand that details such as the protocol you utilize do not pertain to all the users.
Also, setup guides are decent. Windscribe explains every installation route possible. The setup guides include step-by-step instructions and are packed with screenshots as well.
Value for Money
While Windscribe is actually widespread for its free service, it has a paid version. However, does its paid version provide sufficient value for money? We'll answer that in the review below.
Price Comparison

First of all, you need to create an account before you can use Windscribe, and it's in that process you will be selecting a pack. You can create a free account, which allows you to test the service as much as you like.
If you're a light user, you may be fine with the free account, which gives you 10 GB of bandwidth per month. However, the 10GB of bandwidth may not be suitable for you if you are a heavy user.
If you want to fully enjoy the experience, you have to go with the Pro version.
The Pro version doesn't only get rid of limitations, but it also provides you with access to nearly three times more servers than what the free account offers. For the Pro version, there are two plans.
The first one is the monthly plan, which costs $9 per month.
The yearly plan is, however, the plan with the best value for money. Priced at $49 per year, you will be paying an equivalent of $4.08 per month with the annual plan.
Means of Payment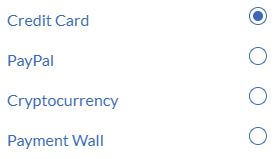 Windscribe offers some of the convenient means to make payments, which include:
PayPal
Visa
Mastercard
American Express
Paymentwall
Cryptocurrencies
As we can see, Windscribe offers all the most popular methods. Credit cards are here, PayPal and Crypto, as well. This means that you can pay for it however you want, making it great for every potential user.
Money-Back Guarantee
When it comes to a money-back guarantee, Windscribe is quite stingy, unfortunately. While most top providers in the market back their plans with a 30-day money-back guarantee, this provider offers only a 3-day money-back guarantee.
This means that you only have 3 days to test the service and see if it's the right one for you. For most people, the 3 days may not be enough to carry out all their evaluations and review every element about the provider.
Any Extra?
Since Windscribe is not the most expensive VPN around, you may be wondering if we actually found any extra features in our test. Well, we did find some and we will review them below.
R.O.B.E.R.T.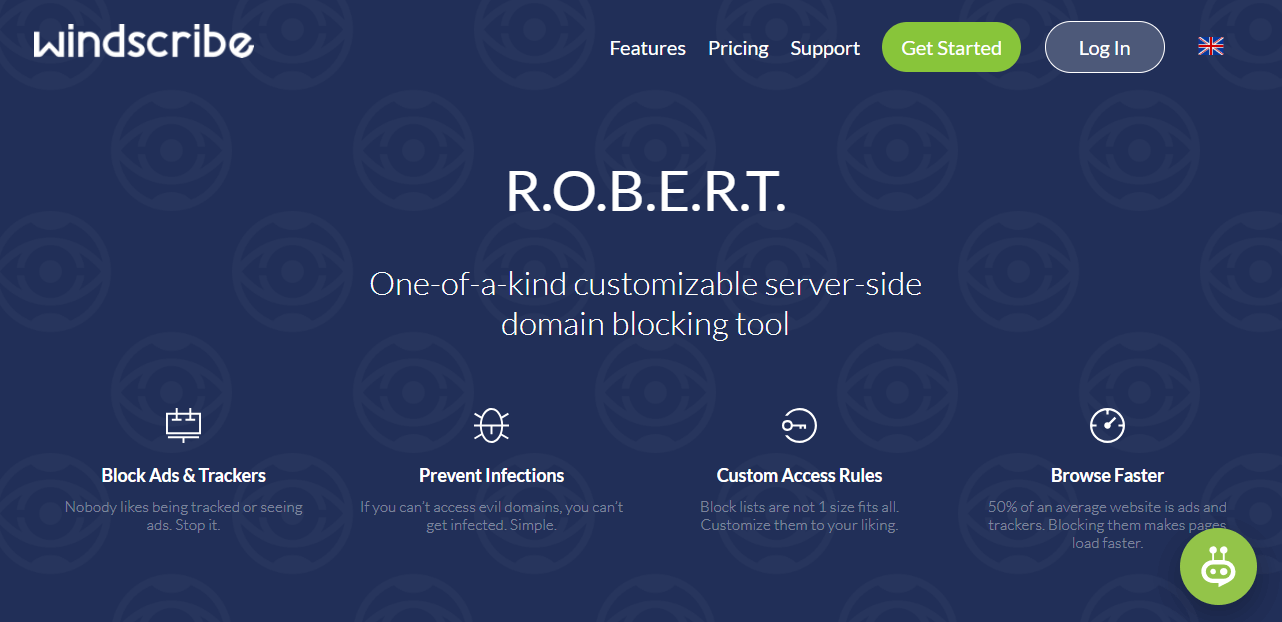 A nice feature we found during our test is R.O.B.E.R.T, which stands for "Remote Omnidirectional Badware Eliminating Robotic Tool." This feature allows you to block phishing, malware, adware, trackers, and botnets, thereby ensuring your maximum safety while getting rid of those irritating ads.
Ad and Tracker Blocking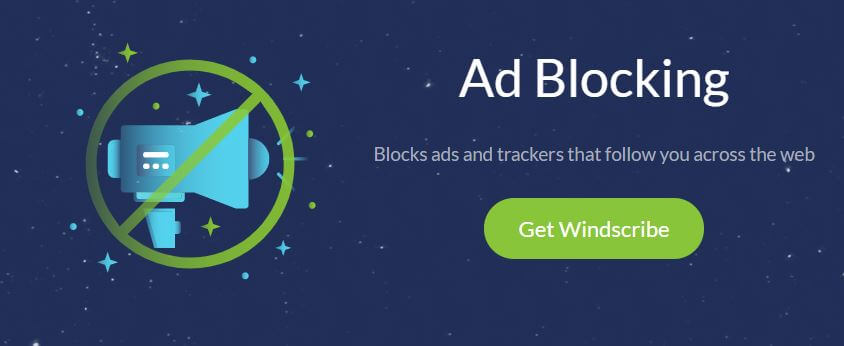 Another excellent feature we found in our test is the Ad and Tracker blocker. When you access some sites, they may plant trackers in your browser.
Consequently, some people somewhere will be able to monitor your internet activity. With Windscribe's ad and tracker blocker, you don't need to worry about anyone compromising your privacy.
Double Hop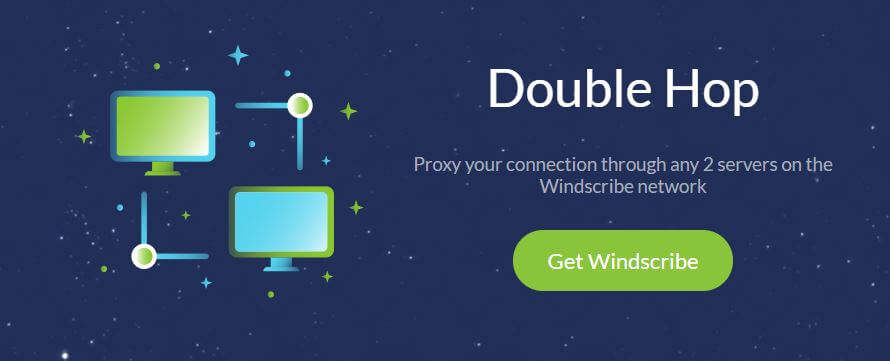 Windscribe also allows customers to leverage Double VPN, which is a new type of protocol that utilizes two server locations to mask your IP and traffic. For example, you can connect to Australia on one side, while your second location can be Canada.
While this may slow your internet down, it literally doubles the protection. Explains why it's called "Double Hop." In fact, a lot of users have a great review of this VPN just because of this feature.
Cruise Control

Cruise Control is another unique feature we found in our test and we thought it would be perfect to include it in this review. With this feature, the app chooses the best server automatically, according to your network speed and location.
This enables users worldwide to receive the best servers since the VPN will automatically reroute you to server locations that are getting less traffic. However, that doesn't mean users cannot exert any control over the process.
If you want, you can choose a server of your choice manually.
Final Thoughts
While Windscribe comes with many excellent features that both beginners and experienced users will like, the provider is still some way short of what's required at the top level.
The pricing provides both unique and standard pricing structures, which is nice. Besides, the provider is known for high-end security protocols and a simple user interface, which are probably the two most crucial aspects of a VPN provider.
However, the provider seems to be lacking when it comes to the server count and client support. Offering just almost 500 servers, you won't enjoy the luxury of options.
In fact, you may have to review other options if you frequently travel around the world as we don't guarantee that Windscribe will have servers everywhere you go.
For the client support, it's nothing to write home about, as we found out during our test. While it has a chatbot that may provide some answers to your questions, the bot is literally useless if you have a serious issue.
Since there is no 24/7 support, you will have to wait a day at least for their response. We also waited for more than 24 hours during our test and the wait wasn't pleasant.
In general, the provider is pretty impressive for a free provider and being new to the VPN scene, we can only be optimistic. For now, though, we'll recommend another paid option – ExpressVPN.
If you want top-notch performance and you don't care about saving money, this is a great choice. If not, Windscribe or Surfshark are both great options, with the second one being a much better choice.
Windscribe Review and Test
Windscribe is pretty famous for its very good free VPN. Nevertheless, the provider still needs to improve some of its aspects to reach the level of the best paying offers !
Add your review
|
Read reviews and comments

Michael is a talented writer who has dedicated a lot of time into making sure that everyone around the world can use the internet securely. Being an avid traveler, he has acquired a lot of experience while using different VPNs on his travels. When it comes to doing comprehensive "how to tutorials" or testing some VPN functionalities, he's always the best pick ! He's here to help you solve your VPN-related issues.