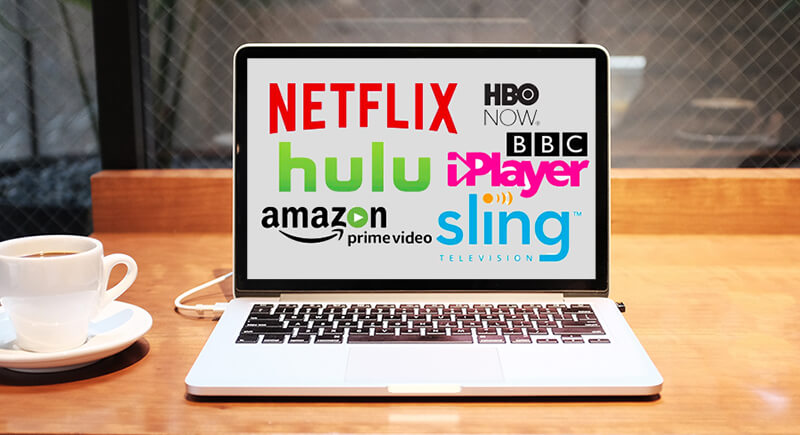 Not all Virtual Private Network providers offer the same benefits and features. Therefore, when looking to sign up with a provider to watch geo-restricted content, it is important to choose one that can overcome those restrictions, as not all can. With this in mind, we have chosen some of the providers we think are the best VPN for streaming that offer the ability to overcome restrictions.
Along with having what it takes to beat the imposed restrictions that are dependent on your location, the providers below offer much more. A VPN offers anonymous web browsing, security, and the chance to save money, among other things.
So, let's now talk more about what to look for in a VPN that you're going to use for these purposes.
What's in this article? Understand in 30s! :
1. Streaming is one of the most popular activities on the internet. But content is often geo-restricted, and you can't access everything everywhere.
2. Security on streaming websites is often questionable. You can easily have your information collected and used by hackers if you are not cautious.
3. Thanks to a VPN, you can hide your IP address and choose a new random one, localized in the country you want. Your identity and your location will be safe, so you will have the opportunity to watch everything you want, safely.
4. Pick one of our top VPN providers to stream with no limits.
Things to Look for in the Best VPN Provider
Several factors should be considered when choosing a Virtual Private Network based on unblocking content on platforms such as Netflix, Hulu, Amazon Prime Video, DAZN, BBC iPlayer, and more.
We will now take you through what to look for, and then later explain why you need a VPN to unblock geo-restricted content. We will also show you how to do it using a Virtual Private Network and finally give our choices of some of the providers that we consider among the best VPN for streaming.


Make Sure the Provider Can Unblock the Content You Want
It goes without saying that the first thing you need to consider is whether the provider can actually unblock the streaming portal you want to use to stream content.
Some providers out there claim to offer the best VPN for streaming when in fact, they are not being truthful.
Overcoming Netflix restrictions is one of the most difficult tasks to accomplish. The portal is known for its sophisticated VPN-detection technology. Few providers can fool them, but we have found some.
Unblock Netflix with ExpressVPN >
Thankfully, we have done the hard work for you as we have determined which providers do offer a service that can unblock streaming platforms. This means that all you need to do is choose which one to sign up with.
When considering the top VPN providers for unblocking geo-restricted content, along with checking that they can in fact unblock that content, we considered the following criteria.
Number of Servers
We took the number of servers the Virtual Network Providers offer into account. This is an important factor when looking at providers who are among the best VPN for streaming, as more servers mean less congestion and faster connections.
If a provider has only a few servers and many users, the servers are going to be congested with users trying to connect at the same time. This can lead to poor connections that often disconnect and have long buffer times.
This means that your HD content might not be so crystal-clear and the movie or TV series is constantly stopping and starting. This is not good when looking for the best VPN for streaming.
So, one of the things we based our choice of favorite Virtual Private Network providers on was how many servers the provider offered.
Where Are the Servers Located?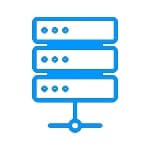 Another factor in our decision was where the actual servers were located. This is important if you want to unblock content from certain regions.
For instance, Netflix is offered around the world but not everyone gets access to the same catalog of content.
USA Netflix gets probably the largest number of shows and movies, while the content shown to the rest of the world depends on where you are located.
Some locations around the world only get access to just over a quarter of the content offered in the United States.
If you want to access the unrestricted full catalog of Netflix content, you will need to choose a provider that offers numerous servers in the United States, Canada, or the UK, for example. The providers we have chosen allow you to do so.
How Fast Are the Servers?
When it comes to streaming content in HD, you need blazing-fast servers. It is no good choosing a provider just because it offers thousands of servers if those servers are slow or have limits on them.
We have specifically chosen providers that offer fast servers and connections.
Unlimited Bandwidth
HD or UHD content uses a great deal of bandwidth when you stream, so this is something of a concern when choosing a provider.

The providers we have chosen offer unlimited bandwidth, so you will not find that halfway through that latest episode you are watching your bandwidth is throttled.
Throttled bandwidth means slowdowns and in the worst-case scenario, coming to a full stop.
Why Is Content Restricted?
You now know some of the most important factors that need to be taken into consideration when choosing the best VPN provider to stream. Now, we will move on to why you have to go to the trouble of finding ways to overcome geo-restrictions. So, why isn't the same content offered in all countries?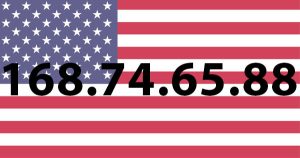 Geo-restrictions are imposed mainly due to licensing and copyright laws. For instance, networks and production companies of TV shows and movies in the USA put a lot of money into the production of them.
They only want this prime content shown in a prime location, namely the USA.
The networks and production companies license their content for only showing in the United States, so it is restricted in other countries around the world. Distributors may also put deals into place with networks in certain countries for exclusive viewing rights. This means a TV show may have a deal for it to be shown in one country under one distributor, while in another country, a local network might have the right for showing it.
Another factor that goes towards content not being available in certain countries is if that country restricts certain content from being shown. For example, some countries ban content with sexual references in them, drugs, violence, and/or content with a religious theme.
Geo-restrictions are put into place based on IP addresses. All countries have a range of addresses and all devices have a unique address. When you visit a website, it picks up your IP address, and you are given access to the local version of the streaming platform.
How to Overcome Restrictions With a VPN?
Thankfully, there is a way to get around the geo-restrictions – with a VPN, of course.
A VPN provides tools that allow you to mask your IP address and take on one from any country around the globe. You do this by connecting to a server in a specific country.
While the required steps may differ slightly based on the provider you choose to sign up with, they should be very similar. The first step to unblocking content is to choose the best VPN for streaming out of the ones that we have picked out for you.
Pick a Plan That Suits You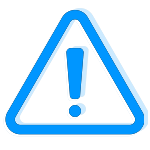 Next, choose a plan. There are different plans available based on paying month-by-month and upfront for the long run. An example of the savings that can be made with premium provider ExpressVPN can be found below.
When you have signed up with your provider, you can go ahead and choose the apps you want to install on any devices you use to stream content.
The providers that we have chosen offer a range of apps, so choose, download, install them, and continue to the next step.
Activate Your Protection
Open up the app on your device and you will see a dashboard similar to the one below. In this instance, we chose ExpressVPN.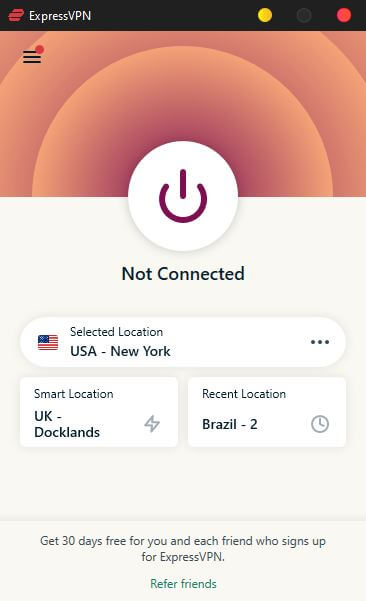 The last step is to choose a server. Depending on your chosen provider, you might be able to click one button to connect to the best server available for the platform you want to stream, or you can choose a server.
For instance, if you want to watch USA Netflix from anywhere in the world, you would choose a server located in the states. We have shown this below in the app offered by ExpressVPN, one of the best VPN for streaming.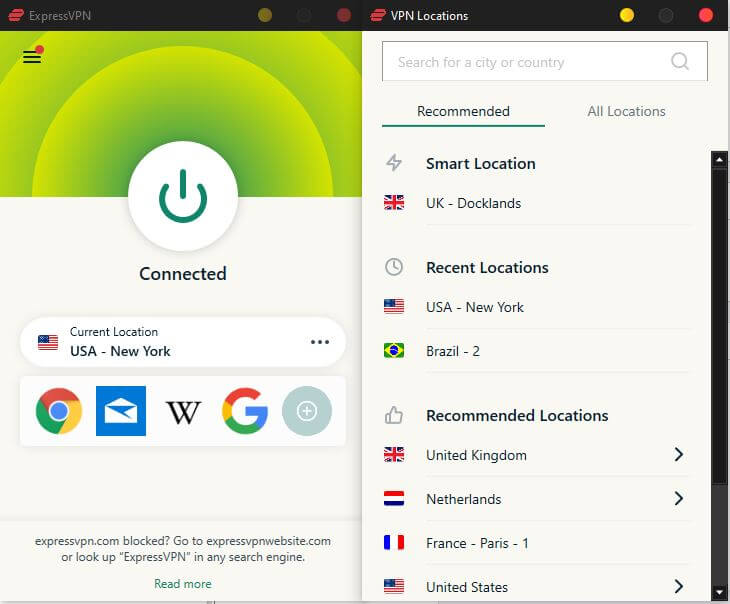 So, choose a server and click on the button to connect. The word "Connected" is shown and it should be highlighted in green as above. Of course, you might have chosen a different provider so the dashboard might be slightly different.
If you want to watch content from your home country and you don't live in the states, simply choose a server based in your own country instead.
Our Choices of the Best VPN Providers
Now you know what a provider should offer and how to connect to one to overcome the geo-restrictions. Now you can go on to check out some providers we consider offer the best Virtual Private Network.
1.     ExpressVPN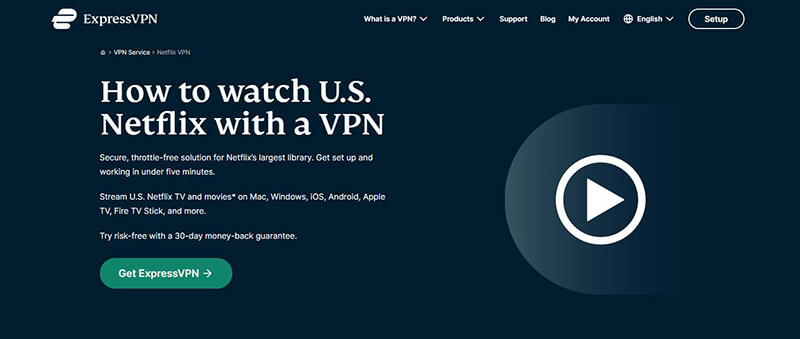 We have put ExpressVPN in the number one spot for many reasons, but the biggest is because the provider is among the few that can unblock all platforms successfully, including US Netflix.
ExpressVPN is also among the few providers that can unblock streaming portals and websites even in countries with high censorship, such as China.
This is the best VPN for streaming thanks to its 3,000 servers, with a lot of them based in the USA. All of their servers are fully optimized to deliver blazing-fast speed, along with a reliable connection that is not going to leave you stranded halfway through an exciting episode of your favorite TV show.
They also offer unlimited bandwidth with all plans, so you can be sure that your HD stream is not full of stops and stutters or slow-downs. This is also good to know if you're using this VPN to protect yourself on Popcorn Time.
All of this puts the provider firmly on top as being among the best Virtual Private Network providers for unblocking any platforms or websites.
ExpressVPN can unblock geo-restrictions on numerous platforms including:
Netflix US/UK/CA;
Amazon Video;
BBC iPlayer;
Hulu;
VUDU;

HBO Go;
NBC;
ITV Player;
Many more.
PROS:
Best speeds
Unblocks lots of platforms
24/7 client support via live chat
Usable on many devices
3,000+ servers in 94 countries
5 simultaneous connections
49% discount with ExpressVPN >
---
2.     CyberGhost

CyberGhost is an excellent choice for unblocking restricted content. It is among the best VPN for streaming as it can bypass blocks on a huge amount of portals and channels.
The provider offers access to thousands (7,400) of lightning-fast servers in 90 countries around the world. Moreover, this VPN helps you to turn any screen into a capable movie-watching machine, offering apps for a range of devices.
Note that, unlike ExpressVPN, CyberGhost offers specific servers to help you unblock any video content.
The platforms and channels the provider claims to be able to unblock include:
Netflix;
Amazon Prime Video;
BBC iPlayer;
Hulu;

ESPN;
HBO Now;
Eurosport;
Many more.
PROS:
24/7/365 client support (in different languages also)
Servers optimized for streaming
No-log policy
Wide server coverage
7 simultaneous connections
CONS:
Not usable in China
Slow speeds (on some servers)
Enjoy streaming servers with CyberGhost >
---
3.     NordVPN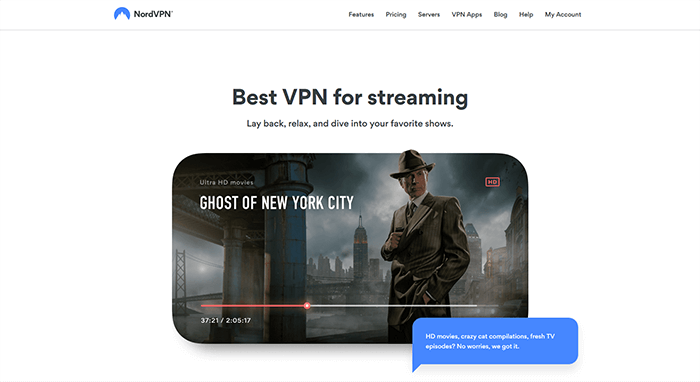 NordVPN deserves a place on our best VPN for streaming guide as they unblock more than 400 platforms. The provider offers access to 5,200 servers from around the world, which is super useful.
NordVPN is a great choice when looking for a VPN with the focus being on unblocking content, as they offer what they call "SmartPlay" technology.
The technology allows users to overcome any geo-restrictions easily. This not only ensures you get a fast connection for streaming content due to providing direct access, but the app also chooses the best server for you.
This means you do not have to guess which server might be the best.
Even better is the fact that the NordVPN SmartPlay feature can be used with one single click. Using the one-click feature means that the smart algorithm of the provider will choose the best one for the streaming platform you want to overcome geo-restrictions.
This makes it one of the top Virtual Private Network providers for unblocking content and the best VPN for streaming.
Platforms that NordVPN can help to unblock include:
Netflix;
BBC;
Amazon Prime Video;
PROS:
5,200+ servers
Really easy-to-use apps
Great security options
6 simultaneous connections
Prices
CONS:
Expensive short-term plans
Stream endlessly with NordVPN >
---
4.     Surfshark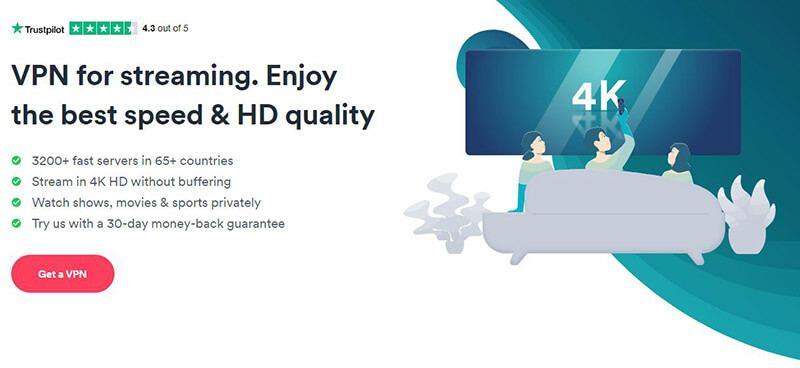 Surfshark is a good VPN for streaming thanks to its "NoBorders" mode. This essentially means that the client works anywhere around the world. It allows you to overcome blocks and restrictions, even if we're talking about China or Iran, for example.
Furthermore, Surfshark is capable of unblocking a solid array of Netflix libraries and we're satisfied with how well it works with other platforms. Even though this is not the fastest VPN you can get, you'll enjoy its 3,200+ servers in 65 countries. For a VPN this cheap, these numbers are surely going to make you jump in excitement.
The provider can unblock numerous channels and websites as we said. This includes US Netflix and various other Netflix countries. They do this with zero buffering and offer streaming on unlimited devices.
Surfshark can unblock:
Netflix;
Hulu;
YouTube;
Amazon Prime Video;

BBC iPlayer;
HBO Go;
Many more.
PROS:
Very cheap prices
Strict no-log policy
Unblocks Netflix
Great security features
Enjoy UHD streaming at a low price with Surfshark >
---
5.     HideMyAss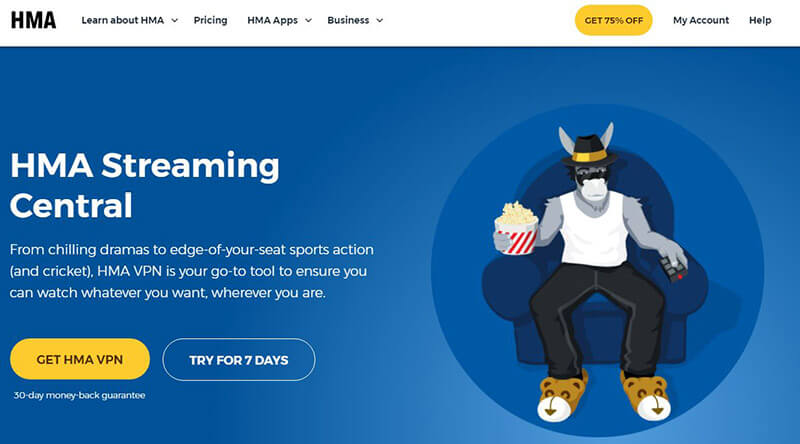 We have included HideMyAss on our list of the top VPN providers for streaming as it offers numerous servers in a wide range of locations. Not only this – the servers are extremely fast.
The service can be used for unblocking websites and every content platform. However, there has been some doubt about how good the provider is for overcoming Netflix restrictions.
This means it's not among the best Virtual Private Network for unblocking content, nor the best VPN for streaming.
For instance, the service cannot unblock DAZN and some users have reported issues when trying to unblock certain Netflix catalogs.
It seems to be a case of it works sometimes and other times, it does not work for overcoming geo-restrictions. This means that it certainly is not as reliable as ExpressVPN, NordVPN, and CyberGhost.
Users have reported that, with the servers of HideMyAss, you can log into your Netflix account. However, it is not possible to stream. Netflix knows that you are using a VPN server and basically prevents you from accessing the content you want.
Nevertheless, HideMyAss will work with some websites and they don't necessarily have to be Netflix. We managed to unblock BBC iPlayer, ABC, and CBS with it, which may be a good deal for some users.
Therefore, if you want a provider for primarily unblocking Netflix content, you might want to choose one of the other recommendations above.
PROS:
Good prices
Many countries covered
Great option to bypass geo-restrictions
Beautiful-looking & easy-to-use apps
CONS:
Only 1,080 servers worldwide
Average performance
Unblock geo-blocked platforms with HideMyAss >
---
To Summarize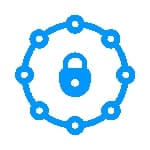 We have shown you what we think are the top five best VPN for streaming. Each of the providers mentioned offers a good level of service with plenty of benefits and features.
ExpressVPN may not be the cheapest but you do get what you pay for with the provider. This is one of the top Virtual Private Network providers out there.
They offer access to thousands of servers in numerous countries around the world. All servers are optimized and blazing-fast, perfect for watching content in HD.
The provider also excels in overcoming geo-restrictions and offers servers that bypass the strict watchful eye of Netflix. This makes it the best VPN for streaming blocked content.
If you are on a tight budget and need a cheaper solution, Surfshark offers the most affordable plans. However, you do not get access to the biggest range of servers. On the brighter side, it can unblock Netflix and many other platforms and the service works in high-censorship countries.
This makes it a good contender for being among the best Virtual Private Network for unblocking content.
Have you decided which VPN provider is your choice as the best VPN for streaming and overcoming geo-restrictions? If so, use the buttons above to subscribe, grab some healthy snacks, and enjoy streaming to the fullest ?
FAQ
? Is a free VPN a good option for Streaming?
Not really, to be perfectly honest. In fact, most free VPNs limit their users' data consumption every week/month. As a result, using a free VPN to enjoy streaming content is not recommended.
After a few hours of watching, you will find yourself trapped by the limitations and in addition, you will most certainly not enjoy HD videos because the speeds offered are disappointing.
Instead, turn to the ExpressVPN 30-day free trial if you want a quality VPN without paying anything for some time!
? What streaming services can a VPN unblock?
There is no limit at this level, as long as you have a good VPN. You will be able to unlock streaming platforms like Netflix, Hulu, Amazon Prime Video, HBO Go, Sky, AMC, The CW, and much more.
? What is the best VPN for Streaming?
After numerous tests conducted with different VPNs on a large number of streaming platforms, the result is without appeal! The best VPN for any streaming activity is ExpressVPN.
It is closely followed by CyberGhost and NordVPN.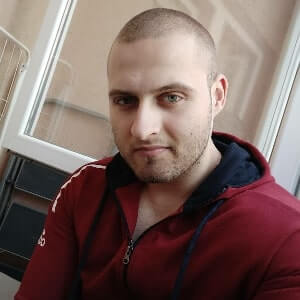 A professional writer with a Master's degree in Mechanical Engineering. Since his youngest age, he loves everything related to internet, technology, fitness, games, and dogs! He joined our team in order to bring his deep knowledge in security services, among which VPN is of course a key component.