Best VPN for China
In a very strange and unpopular move to toughen Cybersecurity, the Chinese government has been launching a very hostile attack on the internet space in recent years. The move has seen them ban numerous websites in China, much to the frustration of many citizens and non-citizens residing in the Asian country. If you're intending to travel to this country soon, you should know how stern internet restriction is taken in the country.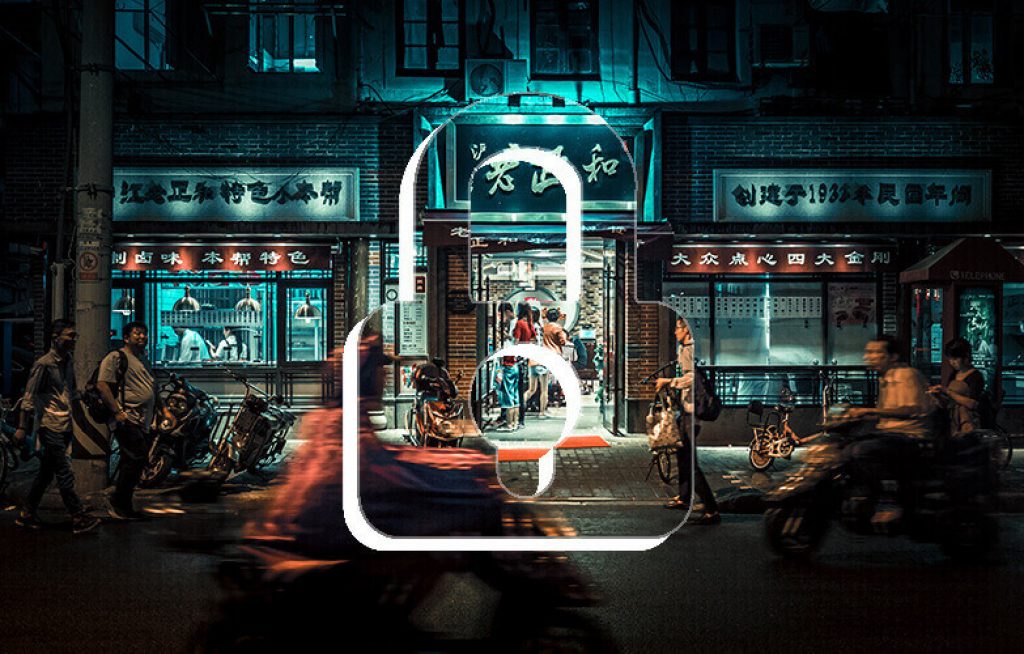 However, thanks to the aggressive nature of the government toward unauthorized services, Virtual Private Network has become incredibly popular in recent times.
Thus, in a bid to curtail people's usage of VPN, the government devised an advanced censorship system, called the Great Firewall, which has helped them ban numerous VPNs for China.
As a result of this, residents and visitors are always looking for the best unblocked VPN with which restricted websites can be unblocked.
But what is the best VPN that is still working in China in 2023?
What's in this article? Understand in 30s!
1. Because of the Great Firewall, a lot of websites and platforms are not available in China: Facebook, Gmail, Google, Instagram, and many others.
2. Thanks to a VPN, you can connect to a server in another country and access every bit of content you want, even if the website is usually blocked because of the Firewall. Your access will be safe and secured.
3. Caution! A lot of providers are not working in the Middle Empire! In this article, we give you the best providers to help you prepare for your trip.
ExpressVPN : The Best VPN in China >
We tested them for you and found the ones that are unblocked and managed to bypass the Great Firewall. If life takes you to the country anytime soon, we've created this guide to help you know the best unblocked VPNs in the country.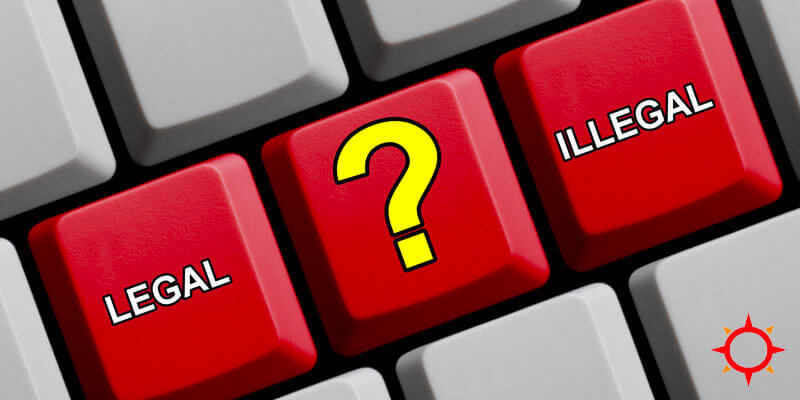 Why Do People Need a VPN in China?
If you're planning to visit China soon, that's really great. However, thanks to the country's ongoing attack on the internet, you will definitely need the best VPN that is not blocked in 2023 to confront what is currently going on in the country's internet space.
Thanks to it, you'll manage to browse the internet with no limits, as if you were at home. Here are the 2 main reasons for which you'll need to use a VPN if you travel to China.

Unblock Blocked Websites
The Chinese government has invented a system that is popularly known as the Great Firewall.
But what is the Great Firewall? Well, the system allows the government to block websites and apps such as Facebook, Youtube, Instagram, Whatsapp, Twitter, Youtube, and thousands of other websites. So, what is the best way out for China residents and ex-pats?
A Virtual Private Network, which is also known as a VPN.
The best Virtual Private Network in 2023 will counteract the censorship efforts of the Chinese government, thereby substituting your real IP address with a foreign one. With software that is still working, the data leaving your phone or computer is encrypted.
This makes sure that no one can see what are websites you're trying to unblock. Even the Chinese government can't know! You can then visit any website you want, anonymously and securely.
Browse the Internet Anonymously
Apart from using a working VPN to unblock different blocked websites in China, people also use unblocked Virtual Private Networks to protect their online activities and browse anonymously.
If you're looking to protect yourself from hackers, ISPs, and the government, you will need the best VPN that is not blocked for maximum protection.
Unblock Blocked Websites With ExpressVPN Now >
Here Are the Best VPNs Still Working in China:
Thanks to some friends living currently there, we managed to test and get some providers approved. Here is the list of the best ones that are currently able to bypass the Great Firewall and unblock all your favorite applications.
1. ExpresssVPN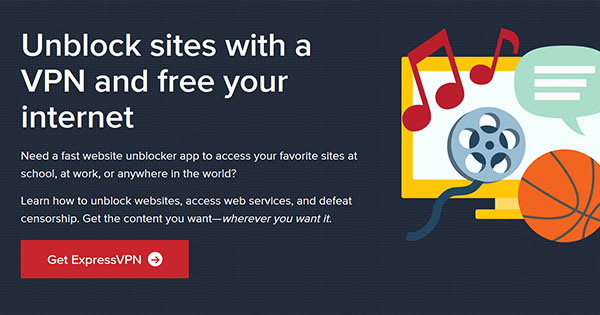 Being the best VPN service in the world that is not blocked, ExpressVPN is understandably one of the most popular options in China. With its ability to deftly navigate around and bypass the Great Firewall, this company is the go-to provider for a lot of residents.
With more than 3,000 super-fast servers in more than 90 countries, including Hong Kong, Japan, and Taiwan, it offers a very fast connection thanks to its proprietary Lightway VPN protocol.
While it is a bit costlier than the other options available, it stands as the best choice for people who are looking for a speedy, reliable solution.
Security is definitely essential, especially with the censorship existing in China.
To help you bypass the Great Firewall securely, this software supports a lot of protocols and uses 256-bit AES encryption. The company also offers a stringent no-logging policy and there is a useful kill switch, which protects your data in the event of connection loss.
Moreover, there is a split tunneling for Windows and Mac, which enables users to protect only their torrent clients.
ExpressVPN also offers a Network Lock to make sure all data is encrypted through the Virtual Private Network, even if your internet connection drops temporarily.
ExpressVPN provides reliable and consistent performance, offering smart dedicated applications for the majority of devices including computers, tablets, smartphones, TV boxes, and even routers.
For any issue that may arise while trying to bypass the Great Firewall, the company has 24-hour live chat and email support. While the VPN is quite expensive, the risk-free 30-day money-back guarantee offers you some peace of mind at least.
By using the button below, you'll get 49% off and 3 months free for your 12-month subscription. Do not miss this offer to use the best VPN that is still working in China in 2023.
PROS:
Best stability
Best speed
Apps for iOS, Android, Mac, Windows, Routers, and Linux
30-day money-back guarantee
49% discount and 3 months free on 12-month packages
Support 24/7/365
Unblocks Netflix
CONS:
A bit more expensive than its competition
---
2. NordVPN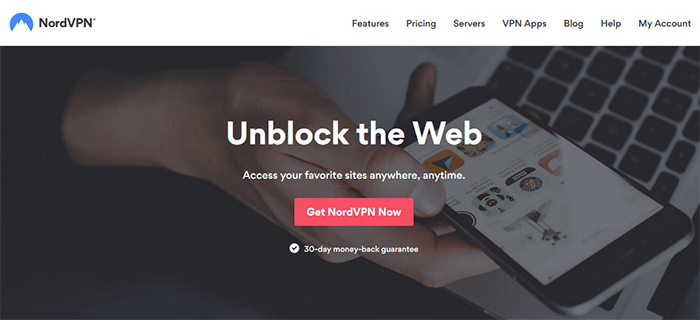 While the attention of the Chinese government is often paid mostly to the best VPNs that are not blocked in China, privacy and security are vital to users as well.
If you're looking for an unblocked option that guarantees you maximum security when trying to bypass the Great Firewall, you can't look past one of the best VPNs in China – NordVPN.
The service utilizes military-grade encryption protocols such as Next Generation Encryption (NGE) IKEv2/IPsec, NordLynx, and 256bit-GCM. You also have the choice to use DoubleVPN servers or Onion over VPN, which allows data to be passed through two different servers rather than one.
Being one of the best unblocked options around, NordVPN also does not keep or store logs of users' online activities. Therefore, your browsing history, online activity, and private data can't be gathered, monitored, intercepted, or exposed by third parties.
Also, there is DNS leak protection and a built-in kill switch, which successively help protect your IP address and kill all programs in the event of connection loss. This protects the personal data of a user from being exposed to the Chinese authorities.
NordVPN also allows users to connect up to six devices concurrently using apps for Windows, macOS, Android, and iOS. Moreover, the service has unlimited bandwidth which aids torrenting, adding to its decent download speed.
If you're still wondering what is the best VPN still working for China, you can try NordVPN thanks to its 30-day money-back guarantee. If you're not satisfied or if you're still faced with blocked websites, then, just ask for a refund!
PROS:
Almost always works in China
Good speed
Apps for iOS, Android, Mac, Windows, and other platforms
30-day money-back guarantee
Cheap prices
Support 24/7/365
Unblocks Netflix
CONS:
Not the fastest
Cheap only in the long run
---
3. Surfshark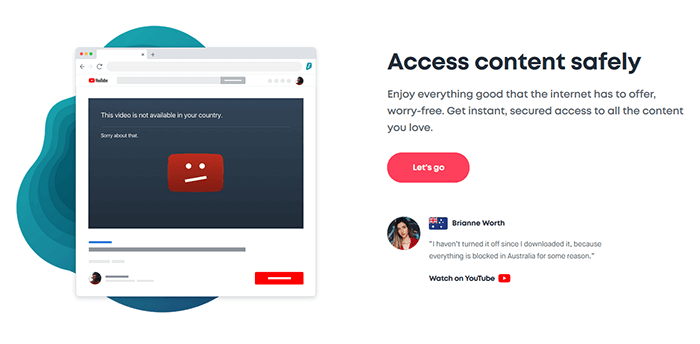 Another tested and trusted option for people looking to bypass the Great Firewall of China is Surfshark.
Operating more than 3,000 servers in more than 65 countries across the globe, this unblocked VPN is renowned for its reliability and high speed. Surfshark helps encrypt your data with a solid AES-256 cipher and allows you to choose between IKEv2, WireGuard, and OpenVPN protocols.
Like all the best VPNs, Surfshark also doesn't keep or store any logs, so there is no risk of your personal data getting compromised. In fact, Surfshark's no-logging policy is audited by Cure53, which just confirms what we said.
For optimum privacy and security, the service offers an extensive variety of handy features, which include IP/DNS leak protection, inbuilt kill-switch, and multiple-device support.
It also has a Camouflage mode that conceals your connection, zero-knowledge DNS, and CleanWeb which protects you from trackers and malware by blocking ads.
For the best privacy and protection in China, Surfshark accepts cryptocurrencies and provides a 30-day return policy that allows you to get a full refund if unsatisfied.
Additionally, this tested VPN service also offers you unlimited connections on one subscription, making it one of the best choices in 2023 for a group of housemates or a family.
It's also available on multiple platforms, including Mac0S, Windows, Android, and iOS, allowing a wide range of users to enjoy its services.
PROS:
Apps for iOS, Android, Mac, Windows, Linux,…
30-day money-back guarantee
Very cheap prices
Support 24/7/365
Unblocks Netflix
CONS:
Not the fastest
Stability issues
---
4. Astrill VPN

With more than 300 servers in about 60 countries across the world, Astrill is a tested service that offers above-average performance for your regular VPN that is working.
Apart from that, it offers an extensive range of customization options as well as P2P support on several servers, making it one of the best VPNs that are still working in 2023. However, this option is really not the most user-friendly Virtual Private Network in China, thanks to the sheer amount of choices on offer.
While Astrill can't be compared to high-end options in China like ExpressVPN when it comes to speed, it delivers decent speeds at best.
What's more, Astrill offers a lot of protocols, which include StealthVPN, OpenWeb, Cisco IPSec, IKEv2, L2TP/IPSec, SSTP, and PPTP. The availability of many options when it comes to protocols gives the service a lot of flexibility.
The software is also equipped with a kill switch, which automatically protects your data when the connection drops.
Furthermore, Astrill is one of the best options around when it comes to plan flexibility. There is a 6-month short subscription, which costs $90. There is also a 12-month plan, which costs $10 monthly while allowing you to connect up to 5 devices at the same time.
The pricing is one of Astrill's biggest weaknesses. 
As for the speed and connection ease of the VPN, the company has a mixed track record in China. While connecting to some particular servers can be difficult, it usually performs well once it's been able to establish a connection.
Therefore, in our list of best VPNs that are still working in China, Astrill still gets a very good spot. Even though it is not our favorite pick, it still offers a good working service in 2023.
PROS:
Rarely blocked in China
Good apps
Unlimited connections
CONS:
Very expensive
Not the fastest
A limited number of countries/servers
Client support
No money-back guarantee
---
5. VyprVPN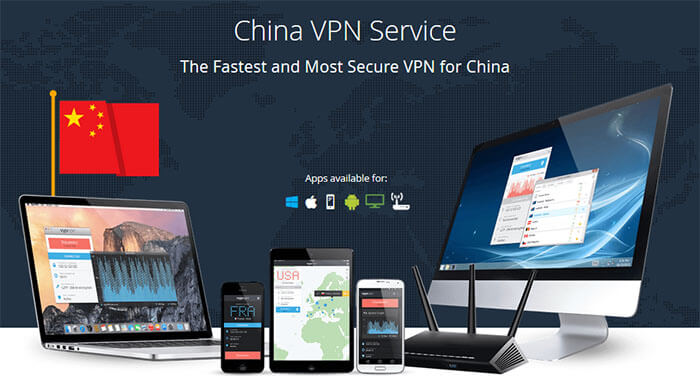 Thanks to its fairly fast and highly reliable service, VyprVPN has risen to become one of the best VPNs in China within a very short time, which is sensational.
Apart from operating over 700 servers in about 50 countries worldwide, this provider also runs on nearly every device, which includes Mac, Windows, routers, and even TV boxes.
When it comes to mobile compatibility, there are not many VPNs better than VyprVPN around, offering smart applications for iPhones, Android phones, and Blackberry devices.
Running at a quite low speed, this service is definitely not as fast as some of the best VPNs that are still working in China like ExpressVPN.
However, it makes up for its lack of speed with unlimited bandwidth and a Chameleon protocol which enables it to effortlessly bypass the Great Firewall.
In terms of security, VyprVPN offers decent performance, using 128-bit and 256-bit encryption systems that comply with the most stringent modern standards. We also must mention that VyprVPN is the first VPN to get an external audit on its privacy policy.
Therefore, this is a true no-logging VPN, which makes it one of the best choices for safe and anonymous web browsing.
Since it doesn't require any manual setting, the installation process is extremely speedy and intuitive with this VPN.
However, the company offers a 24-hour live chat to offer support if users ever encounter any problem. Besides, there is an online base that contains numerous answers to the different questions that may be asked by customers.
PROS:
Homemade Chameleon Protocol
Zero-logging policy
Great device support
Easy-to-use apps
CONS:
Not the fastest
Limited number of countries/servers
---
What Are Blocked Websites and Why Are They Blocked?
In what is now believed to be a political AND economic decision, the Chinese government has blocked numerous websites and services in recent years.
The government can't have control over the operation of the best foreign-based websites like Google, Twitter, or Pinterest, so they invented the Great Firewall to restrict access to those sites.
The restriction is also a way to promote in-country services and websites that fall under the regulations of the Chinese government.
It's highly unlikely that any website that is blocked in 2023 will be unblocked anytime soon, so we recommend you get the best Virtual Private Network to access those sites.
What are the popular blocked websites, you may be wondering?
Below are some of the most popular blocked ones, which can only be unblocked with a tested VPN in China:
All Google services (Gmail, Translate, Search, Drive, Play Store, etc)
Facebook
Youtube
Twitter
News media
Skype
WhatsApp
Instagram
Tinder
Snapchat
Dropbox
Netflix
Github
Vimeo
Foreign TV channels
Unblock all these websites now with ExpressVPN >
Is Using a VPN in China Illegal?
No, using a Virtual Private Network is not illegal in China. The best providers' solutions are actually used in enterprises and businesses and aren't only important to people looking to use Google or Facebook.
The Chinese government, however, requires users, organizations, and businesses to rent approved VPN connections from certified ISPs.
Of course, operating a Virtual Private Network company in China in 2023 is a crime without the appropriate registration.
Although most of the best unblocked services used to bypass the Great Firewall aren't actually based in China, their usage has become a legal problem in this Asian country.
In recent times, a couple of Chinese citizens were fined for utilizing VPNs or creating their own Virtual Private Network connections.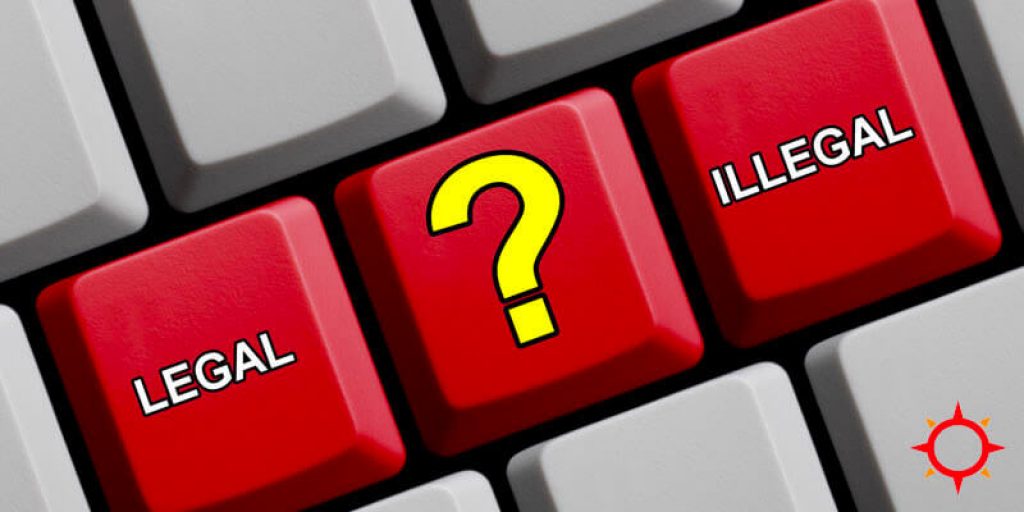 Most foreigners or ex-pats utilize the best commercial VPN services all the time without any issue and this is not in any way hidden from the Chinese government. Fining Virtual Private Network users is seemingly a case of a law being enforced selectively, which is a sad result of the Chinese poor legal system.
In recent years, only ONE Chinese resident has been fined for selling non-approved VPNs. Therefore, you should not worry at all. Even though they are not 100% legal, they are not as illegal as you might believe.
Also, always keep in mind that there are millions and millions of people exactly in the same situation as you.
So far, there's been no case of a foreign resident being fined for using a working VPN in China.
Can I Use a Free VPN for China?
Apart from the fact that even the best free VPNs in 2023 are unlikely to be working in China, they're also infamous for being dangerous, malicious, and data-collection tools.
Free VPNs are often utilized to gather valuable data and information, which is sold to third-party services afterward in a bid to monetize the free software.
In truth, the best working VPNs we have included in this guide have invested incredible resources into their software and network to bypass the Great Firewall. Since this free software does not provide obfuscation features, they are not likely to be effective.
Owing to the deep packet inspection put in place, the OpenVPN traffic will be blocked with immediate effect.
While some free solutions such as Proxy Master and TurboVPN may work, they are likely to be very slow. Also, they may allow the Chinese authorities to be able to monitor and store your online activity.
In fact, some investigations have revealed that some of the most prevalent free VPNs in China have a questionable affiliation with the Chinese government.
If you intend to access blocked websites reliably in 2023, you need to be willing to get one of the best and unblocked VPN services like ExpresVPN. They've massively invested in clouding technology to bypass the Great Firewall.
Even though some days, it can have some trouble working, you can be sure that it will be fixed within a few hours.
How to Use a Working VPN in China?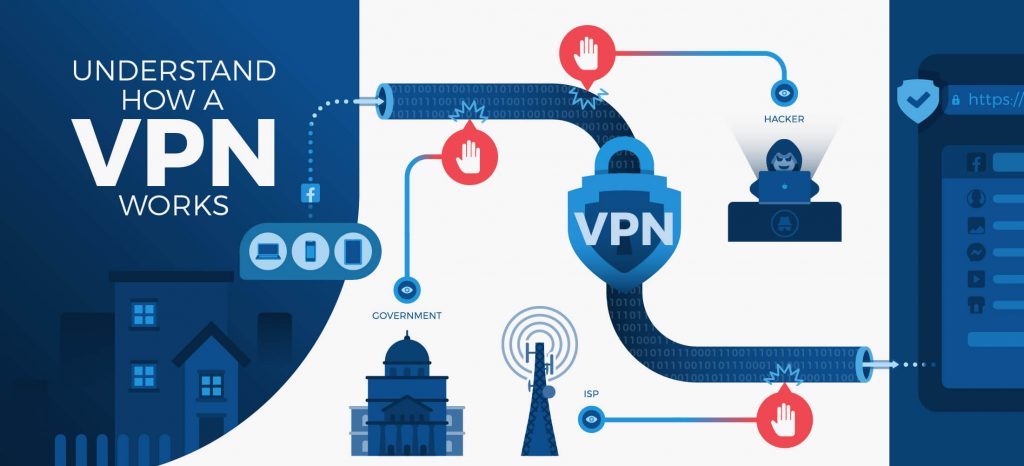 Now, you should have a better idea of what are the best VPNs working in China. But what if the one you're using is suddenly not working anymore? You should either change it or try to change the protocol you are using. For instance, OpenVPN is no longer working, so don't try to use it!
Here is what you have to do to use your VPN in Chinese cities and make it work perfectly:
First, you have to download the app, preferably before entering the country. Sign into their website and download the right software for your devices. Remember to download the apps on your mobile devices as well as anything capable of accessing the internet will require the best protection.
Install the application, launch it, then put in your login details to start up the connection.
Most of the best applications that are working in China usually connect automatically to a random server once they're launched, which is fine since the country you choose doesn't really matter. The only important thing is to have a fast, reliable, and secure connection.  
We recommend verifying your IP address before using the internet to ensure that your identity is really secure.
With your VPN connected and active, open a browser on the device, and load ipleak.net. When the page loads up, an IP address check will be run automatically. There will a box at the bottom where your IP address will be displayed, and if it displays any country that is not China, you are good to go.
Features to Look for When Choosing a VPN in China
Before venturing into your search for the best unblocked VPNs for China in 2023, there are some things you need to remember. Generally, an unblocked VPN is made up of many building blocks, and each one serves as an important factor that contributes to the creation of a great experience.
While there're many unblocked ones around, what are the factors you must look for when choosing them? Find them out below.
Performance
When looking for what is the best unblocked software still working in a Chinese country, performance is probably the most crucial thing you must consider. Since you're rerouting internet traffic via the servers, a performance loss is unavoidable.
However, what is the system that has been put in place to reduce performance loss to the minimum? That's how you recognize the best VPNs that are not blocked.
Wide Coverage
One way to determine what is the best unblocked VPN still working is by looking at the number of servers it has worldwide. The more servers a provider has, the better their service will probably be.
Since proximity to the server determines the latency, the best companies looking to offer an exceptional performance must have thousands of servers around the world, like ExpressVPN.
When wondering what is the best VPN still working for China in 2023, this is definitely something you'll have to look into.
Security
One of the primary reasons anyone would use a Virtual Private Network in China is security.
These unblocked services usually boast something referred to as encryption, which is a way to ensure that the designated receiver is capable of reading the data. Military-grade AES-256-bit encryption is the best encryption, so you need to keep that in mind when looking for what is the best option still working.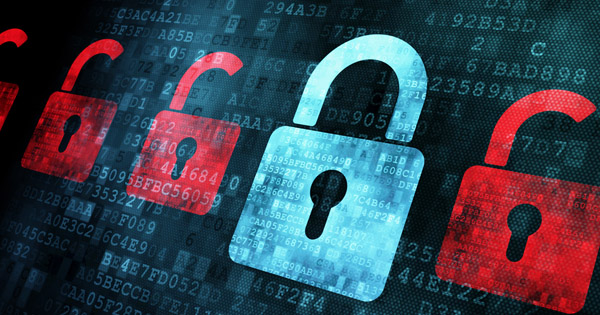 Multi-Device Support
Multi-device support is one of the most important factors when choosing a service in China as it means you can use a single subscription to connect several devices concurrently.
This feature increases the value of the service as you can easily share your subscription with a friend or a member of your family. Do you want to know what is the best VPN still working? Then check its support for multiple connections.
Compatibility
Whether you are running macOS, Windows, Android, or iOS, the best VPN services that are still working in China should offer suitable apps for every platform. Some of the best unblocked providers even offer applications for Fire Stick and Kodi.
Dedicated Applications for Mobile Platforms
Nowadays, smartphones have taken the place of laptops and desktops as developers now tend to give them more priority. The most reliable VPNs ought to have great applications for smartphones. While some providers in China don't support mobile apps, they offer support for routers.
However, it takes a longer time to configure and set up a router compared to a mobile app that installs within two minutes. When you're looking for the best VPN that is not blocked in China, you need it to have dedicated apps for your devices.
A Reliable Customer Service
Customer service is another important element. Since you may encounter an issue at any time, the best companies need to have a standby support team to help find resolutions.
While most VPNs that are not blocked offer customer support via email, only a couple of them run a dedicated 24/7 live chat. You don't want to be waiting for several days before you can solve your issues, so you need to consider this factor when making your decision.
ExpressVPN, NordVPN, and Surfshark all have 24/7 live chat support. Do not hesitate to contact them should you have any questions.
Ease of Use
The ease of use is another vital factor you must take into consideration when shortlisting the best VPNs working in the Middle Empire. What is the point of a VPN service when its app is difficult to use? You must find a company whose app doesn't overwhelm the user.
Check out the options we recommended and see what is it that users are saying about their user-friendliness.
Bypass the Great Firewall with ExpressVPN now >
Reliability
Again, what is the point of a Virtual Private Network if it is unreliable and never turns on when you desperately need it? Another important factor to think about is the uptime of the service. Of course, the best VPNs will be always available at all times.
Conclusion
As you've seen, finding the best VPN that is still working in China in 2023 is no easy task.
Not a month goes by without seeing the Chinese government blocking some more providers that do no longer manage to unblock the many blocked websites such as Facebook, Youtube, Google, Instagram, and many others.
Fortunately, with the best VPN for China, you'll be able to navigate with no limit and bypass the Great Firewall.
Our top picks : 
FAQ
? Is VPN illegal in China?
There is nothing illegal about using a VPN in China, don't be scared! What is not legal, however, is the fact of hosting in China a VPN service not approved by the Chinese government.
? Does VPN work in China?
To be perfectly honest with you, the vast majority of VPNs (whether paid or free) don't work in China. VPNs capable of operating in China can be counted on the fingers of one hand and they are ExpressVPN, NordVPN, Surfshark, VyprVPN, and Astrill.
❓ Do I need a VPN in China?
If you just want to access the Chinese Internet, then no, you don't necessarily have to have a VPN. On the other hand, if you want to take advantage of Facebook, Google, Netflix, Gmail, WhatsApp, and many other Western sites and applications, then yes, consider at all costs buying a VPN for China!
? Can I use a free VPN in China?
No. Simply because no free VPN can work in China. They are all completely blocked by the Great Firewall. You must pay a few euros to have a VPN working in China. Our recommendation is ExpressVPN.
? Which VPN has servers in China?
CyberGhost has a rather large number of servers in China. If you want to learn more about it, click here.