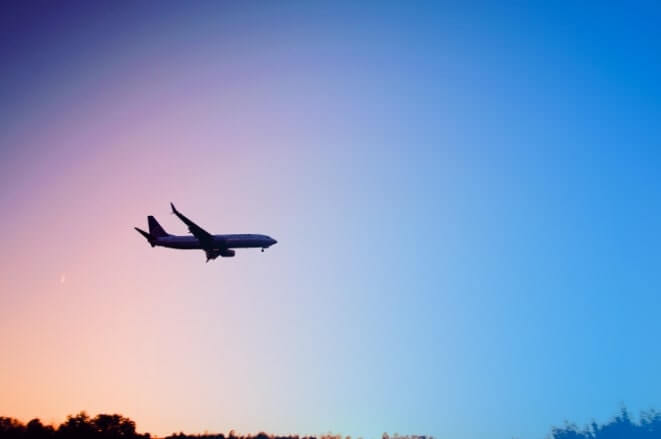 How many times a year do you fly? Travelling is fun and sometimes necessary for work but it can add up to a tidy sum of money over the year. Prices can fluctuate greatly on flights and getting the best deal with the lowest prices often becomes something of a challenge. Wouldn't it be nice if someone gave you the best tips on how to save money on flight tickets? Well, it is your lucky day, as that is just what we are going to do.
What's in this article? Understand in 30s!
1. Flight tickets can be really expensive. And it's even worse when companies use your personal data to increase the prices (location, number of times you came on the website, IP address, and so forth).
2. But with a VPN, you can hide your identity, your location, and the websites you are visiting when you are on the internet. It's very easy - you only have to connect to one of your provider's servers and it will create a fake IP address.
3. Doing so, you will be able to reduce the price of your flight tickets and have even cheaper ones if you connect to a server abroad.
Ways to Save Money on Flight Tickets
We all like to get the best deal possible but sometimes do not know where to begin.
That's why we are here to help you by offering some great money-saving tips to get the best discounts on flights and we have some great ideas. You might want to consider the following:
Using a VPN.
Find the cheapest day.
Book in advance or last minute.
Compare different airports.
Fly early or late.

Best Discounts on Flight Tickets With a VPN
One way you might never have thought of to save money, along with hotel rooms and car rental is using a VPN, also known as a Virtual Private Network.
You will have to spend some money to take a subscription with a VPN provider but it will be nothing compared to the huge savings you'll make on purchasing your flight ticket.
Of course, there are many additional benefits to using a VPN that you can make use of year-round, so it is well worth the outlay.
With ExpressVPN, you can take a 12-month subscription with three months free on top of that and save 49% compared to paying monthly. However, they do also offer you to pay every month, which we honestly don't recommend.
How Does a VPN Help You Save Money on Flights?
When you use a comparison website such as Expedia, the prices of flights are shown based on your location.
This means that if you are located in the USA, you are taken to the expedia.com site and if you are located in the UK, you are taken to the expedia.co.uk website.
Websites know your location through your IP address as all countries have a range of IP addresses.
Even worse is the fact that cookies are placed onto your device to track what you are doing. The more frequently you search for flights, the higher the price hike.
Save on flight tickets with ExpressVPN>
If you can change your location to a virtual one via your computer's IP address, you can live virtually in any part of the world and take advantage of lower prices.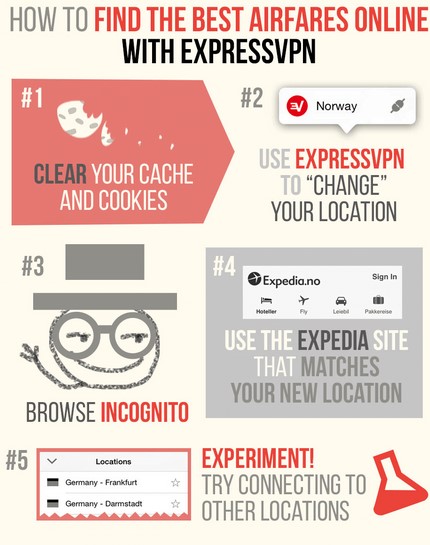 For instance, booking a flight in Malaysia might cost you $2,792.99, while, if you change your IP address to make it look as though you live in Norway, it might be $616.17. Thank you ExpressVPN for the research that we haven't double-checked.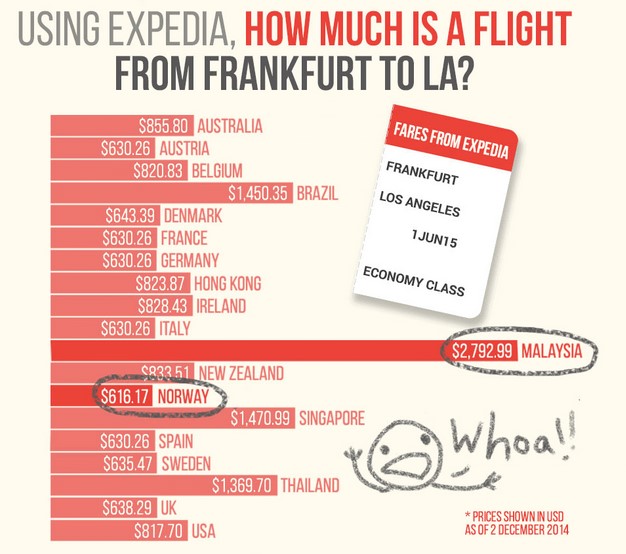 Now, can you see how easy it is to get the best discounts on flights?
In this case, we are talking about a huge sum of money in savings simply by taking on an alternate IP address.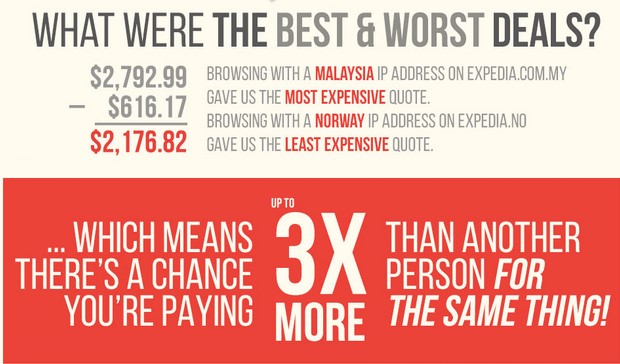 You can also change your IP address to search for hotel rooms and car rental in the same way and get the best deals.
How to Use a VPN?
There are just a few steps needed to take on an alternative IP address.
1. Choose a Provider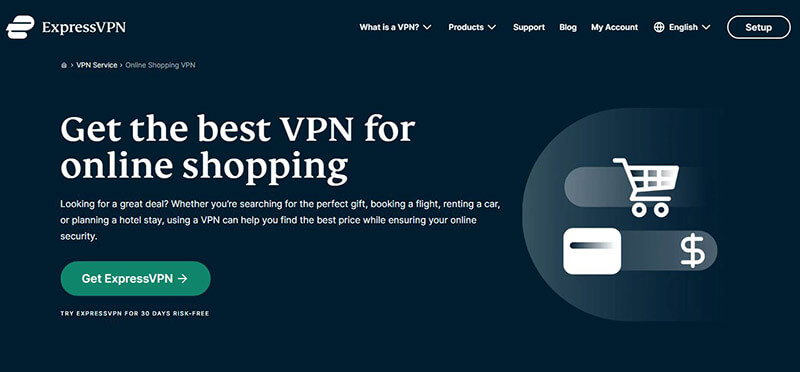 The first thing is to choose a provider and we recommend ExpressVPN due to it offering 3,000+ blazing-fast servers in almost 100 countries around the world.
You might also want to consider CyberGhost or NordVPN. We don't recommend free VPN providers and you can read the reasons here. As a matter of fact, they won't have substantial country coverage to enable you to switch your IP address to other countries.
2. Choose a Plan
ExpressVPN offers a range of paid monthly and yearly plans, so choose a plan to suit your needs and sign up with the provider.
3. Download and Install Apps
Download and install apps for your devices. There is a wide range to choose from and you can use simultaneous connections on devices up to the limit set by the provider.
This means that other family members can take advantage of using a VPN while you find the best discounts on flight tickets.
4. Clear the Cache and Cookies
Before looking for the cheapest prices, you should clear the cache and cookies in your browser.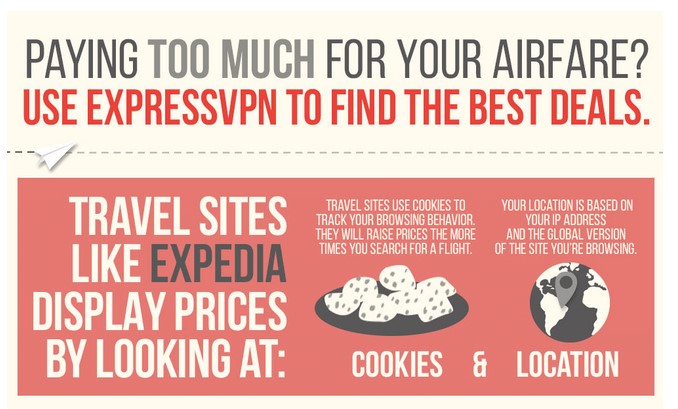 In Firefox, go to the "History" menu and choose "Clear recent history". For "Time range" choose the time range and choose "Everything". Head to "Details" click the arrow and choose "Entire cache". Then click on "Clear now".
Exit and re-open your browser.
In Chrome, type "chrome://settings/clearBrowserData". Click on "Clear browsing data" and then click "Advanced". Choose to clear browsing and download history, cookies, and cached images and files.
From the "Time range", select "All time" and then "Clear data".
Exit and re-open the browser. You are now ready to get the best discounts on flights.
5. Launch the VPN App and Choose a Server
Launch the VPN app on your device and you will see a dashboard pop up. This is where you will choose a server in any country around the world. ExpressVPN has servers located in 94 countries which is more than enough.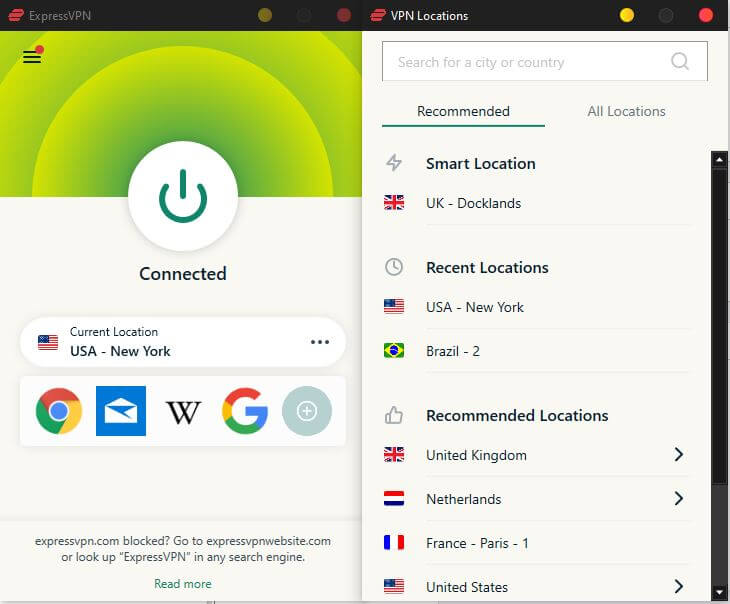 Choose a server by clicking in the dropdown box on the icon to the right and then choose Connect. The button should say connected and be highlighted in green.
Your IP address is now masked and you take on one from the country of the server.
You can now go to the Expedia site or any other comparison site that matches your location and check out the flight prices to get the best discounts.
Bear in mind that you can disconnect from the server and reconnect to a different server to compare prices in other countries and save money on flight tickets.
Connect to one of ExpressVPN's servers >
Find the Cheapest Day to Fly
Now that you know the first tip to save money on flight tickets, using a VPN, we're gonna give you a second piece of advice to make huge savings.
You might not realize it but the day you fly can have a big impact on how much your flight is going to cost.
This means that you can save simply by searching for them based on the day using such as the Skyscanner site or app.
It is easy to find which days are the cheapest and you might be surprised at how much you can save this way. All you have to do is:
Go to the website or open the app;
Type in the city you are traveling from and to;
Choose "One way". It's important to choose this even if do want a round trip;
Click on the "Depart" button then choose "Whole month" followed by "Cheapest month". This allows you to check out all the dates when you click on "Search Flights".
You can see the results by month as in the screenshot below.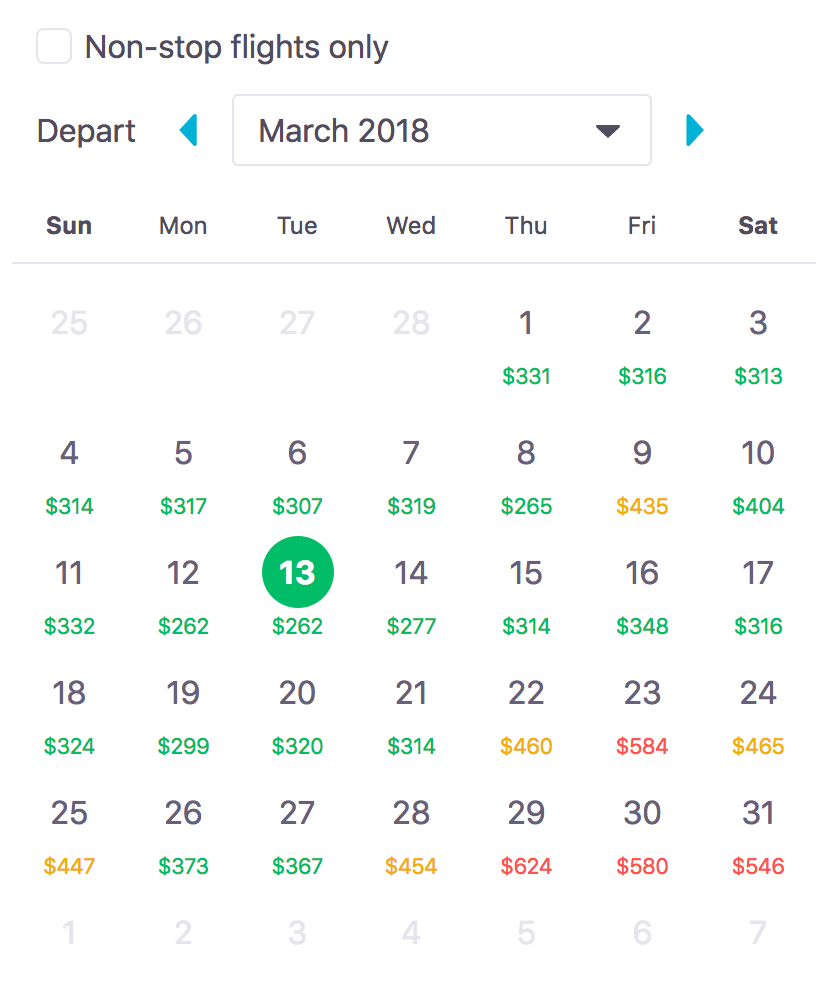 We think you will agree that choosing to fly on a specific day and date can make a huge difference when looking to answer the question of how to get the best discounts on flights.
Book Flights Early or Last Minute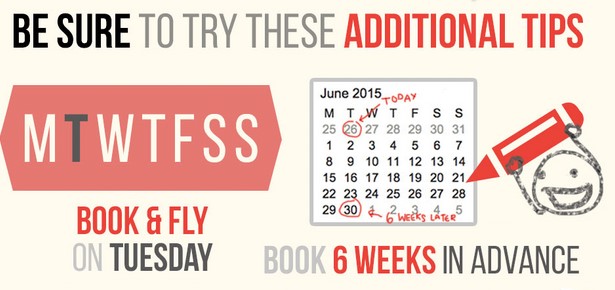 The cost of flights fluctuates based on many things.
It can pay to check out the prices for flying even if your trip is some time away.
You could take advantage of using the VPN method to save money and by using both in combination make even bigger savings.
Flights are often on sale or have huge discounts and even though you may not be flying for another year, you can still book the flight when it is at its cheapest.
You might also be able to get the best discounts on flight tickets if you leave it until the last minute to book a flight. This relates more to a vacation and you do not mind leaving with just a few days' notice.
Late deals are often the way to get huge discounts and this applies not only to flights but also to hotel rooms. Careful with this tip as it can go in both directions.  Late booking can also end up at way higher prices.
Compare Different Airports
One more tip to save money on flight tickets is checking different airports close to your home and destination.
If you have a choice of different airports close by, you might want to compare the cost of flying with them. It can be surprising how much you can save by doing so.
For instance, when flying from Milan to London, savings are made by choosing to fly to Stansted instead of Heathrow or Gatwick airports in London.
So, when comparing prices, choose the "all airports" option to see prices for all airports as opposed to just choosing a single airport.
Of course, when using this method, you also have to take into account the transfer fees. You do not want to save money on flight tickets only to find you have to pay higher transfer fees to arrive at your destination.
What Time to Fly?
The time of day that you choose to fly can also make a big difference in how much you will have to pay.
You might not realize it but you can make some huge savings if you choose to fly earlier in the morning or late at night. Yes, the time you fly reflects in the cost. Flying at 9 am is cheaper than flying mid-afternoon.
This may be because people do not want to have to get up in the very early hours of the morning to make the trip to the airport.
Besides, shaving off money from the cost of flying very early in the morning, you generally benefit from less turbulence as the atmosphere has not yet warmed up the ground.
More money savings are possible if you choose to fly on the weekend instead of during the week. Generally, the lower prices are found on flights leaving on Saturday. Finally, avoid any holiday periods in general and fly out of season to save money on flight tickets and get the best discounts.
In Conclusion
We have shown you five great ways to make savings on flying, including using a VPN and using comparison sites to find the cheapest deals on tickets.
However, we would like to point out that you can make use of both a VPN and comparison site together. Combine this with the other ways of making savings, such as choosing the time carefully, along with the day you fly, and you have the best chance possible to get the best discounts on flights.
Use a comparison site and ExpressVPN to save money >
We would also like to point out that you can use a VPN for much more than just searching for cheap flights online.
A Virtual Private Network provides you with advanced security as it puts a tunnel between you and the internet. This means that all your data is encrypted as it leaves your computer to go onto the World Wide Web.
This is very valuable, more so because to book flights and hotels, you are going to be entering your personal details, including your credit card number. With a VPN in place, hackers or anyone else snooping cannot read this information.
You can also use the VPN to provide you with an IP address from your country once you arrive at your destination. This allows you to bypass any restrictions on content that you might want to stream from, such as Netflix.
We hope you have enjoyed reading our article on how to save money on flight tickets and you go on to make some great savings.
FAQ
✈️ How to find the cheapest flights?
To obtain the cheapest flight tickets, you will need to make your reservation on the right day (Tuesday, Wednesday) and above all, use a VPN to place you in a country from which the price of the tickets is more attractive.
In this context, we recommend ExpressVPN that allows you to obtain IPs in more than 94 different countries.
? Which day is the cheapest to book a flight?
According to several studies, the days when flight tickets are cheaper are Tuesday, Wednesday, and Saturday. It's even more true if you make your reservation in the evening/night.
? Is it cheaper to book flights through the airline?
Not really but you will be able to get the same prices as through comparison sites. Above all, you will have no unpleasant surprises, which can sometimes be the case with unscrupulous intermediaries.
? Do flight prices go down on Tuesday?
After several weeks of testing, we can confirm that indeed the prices of airline tickets tend to drop on Tuesday. This can vary from 10 to 20% in terms of the reductions observed.
Quentin is the co-founder of the-bestvpn.com. With several experiences as a System and Network Engineer, he is very knowledgeable when it comes to VPN, cybersecurity and the risks of using the Internet nowadays.