Best Seedbox Providers: Top 5 Offers
Are you wondering what a Seedbox is or perhaps you already know the benefits and you are considering which the best provider is? Well, we are going to explain everything you need to know. We are going to explain what one is, what you need to consider when looking for a provider, and recommend our favorite and the best Seedbox providers out there in 2023.
Ranking of the best Seedboxes (2023):
SeedIt4Me
Seedbox.io
RapidSeedbox
DediSeedBox
Seedboxes.cc
What Is a Seedbox?
So, let us start with the basics and explain just what it is.
It is a service that you subscribe to that provides you with access to storage on a server with the ability to upload and download files securely.
You can use it for cloud storage, so you can just upload such as treasured photos to keep securely online or any other files. However, it comes into its own if you like torrents.
It also includes (most of the time) a VPN service, which stands for Virtual Private Network. It masks your IP address and replaces it with one from the server to which you connect. This, in turn, provides a safe environment, so your ISP cannot spy on what you download.
Pick our Favorite Seedbox Provider: Seedit4.me
It Offers a Dedicated Server With a High-Speed Connection
Essentially, the box offers access to a dedicated server offering a high-speed connection. Depending on the provider, you get from 0.1 Gb/s up to 20 Gb/s speed.
Therefore, a Seedbox is perfect for anyone who torrents and downloads large files but also stores and shares files online by way of P2P.
Download, Keep, and Share Files in a Secure Environment
The service provides a secure environment as the server you are connected to is located outside of your country. This means that the ISP cannot find out your IP address and true location.
As it is secure, the ISP cannot spy on what you are downloading. Therefore, if you like to share files that are copyrighted, such as movies and music, the ISP will not know and cannot send you a warning notice. This is possible as the server you connect to downloads the torrent file into the Seedbox.
The file remains there until you want to access, use, or view it. You can then choose to download it to your computer or keep it online.
So, it means you can download or stream movies, TV series, and software in privacy and have no fear of receiving a DMCA notice for downloading copyrighted content.
Are All Seedbox Providers the Same?
There are numerous providers out there offering Seedboxes, some of them free and others paid.
However, not all offer the same. Providers offering a free service cannot possibly offer the best Seedbox service and the high speeds that the paid providers offer.
There are many paid ones out there. However, to make it easier for you to find the best, we have done the hard work of comparing them for you and we are going to recommend 5 of the most chosen and liked Seedboxes in 2023.
The Top 5 Best Seedbox Providers
Here is our choice of the top 5 best providers based on what is offered in the plan, speed, customer service, and more. Please, note that we focus our analysis on the Shared seedboxes. We might do a top 5 ranking with the dedicated servers soon if you want us to.
1. Seedit4.me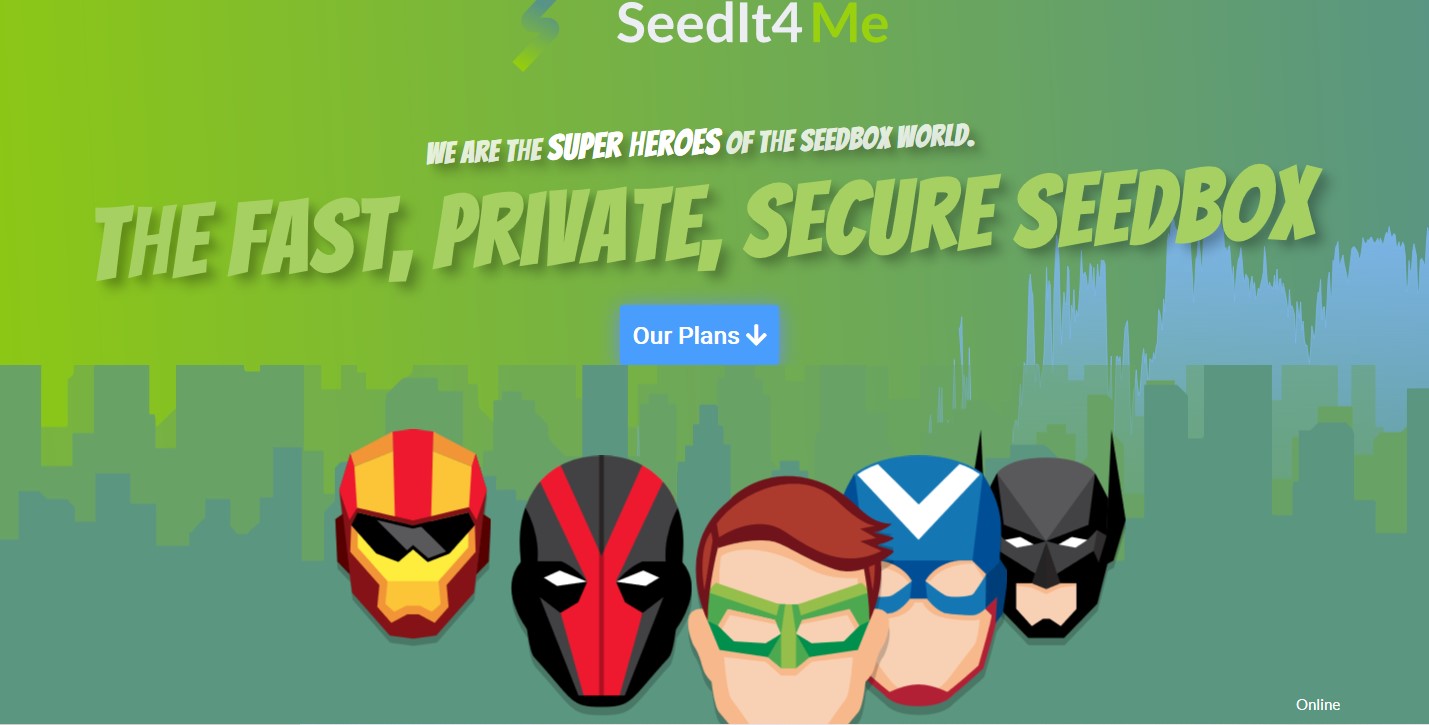 Seedit4.me is a newcomer, only on the market since 2019, located in Germany, and is our favorite provider. While it may be a newcomer, it does stand out in many ways.
It offers one of the most cost-effective services and it does have a good level of customer support. This includes a live chat, which pops up when you visit the website.
Pros:
Flexible plans and pricing
Support for a wide range of apps
Good security protocols
Good level of customer support
Unmetered bandwidth (no monthly limits)
Instant setup
Fast servers
7-day money-back guarantee
Cons:
Conditions attached to the money-back guarantee
---
Good level of customers support and apps
The level of customer support is superb, with friendly and knowledgeable representatives. Along with the live chat, there is a ticket system and a good knowledge base for self-help.
The apps and clients supported by the Seedbox are numerous. This includes all of the popular ones and even some apps that competitors do not cover. In fact, the provider offers the most comprehensive list of apps out there (including Plex, on Hero plans, and above).
Enjoy blazing-fast download speeds and more
Thanks to high-grade carriers and gigabit connections, you enjoy blazing-fast speeds. This, of course, is essential for downloading and streaming in HD.
Seedit4.me offers instant setup thanks to a fully automated system. This means that it takes just minutes to get up and running and seeding.
A good range of packages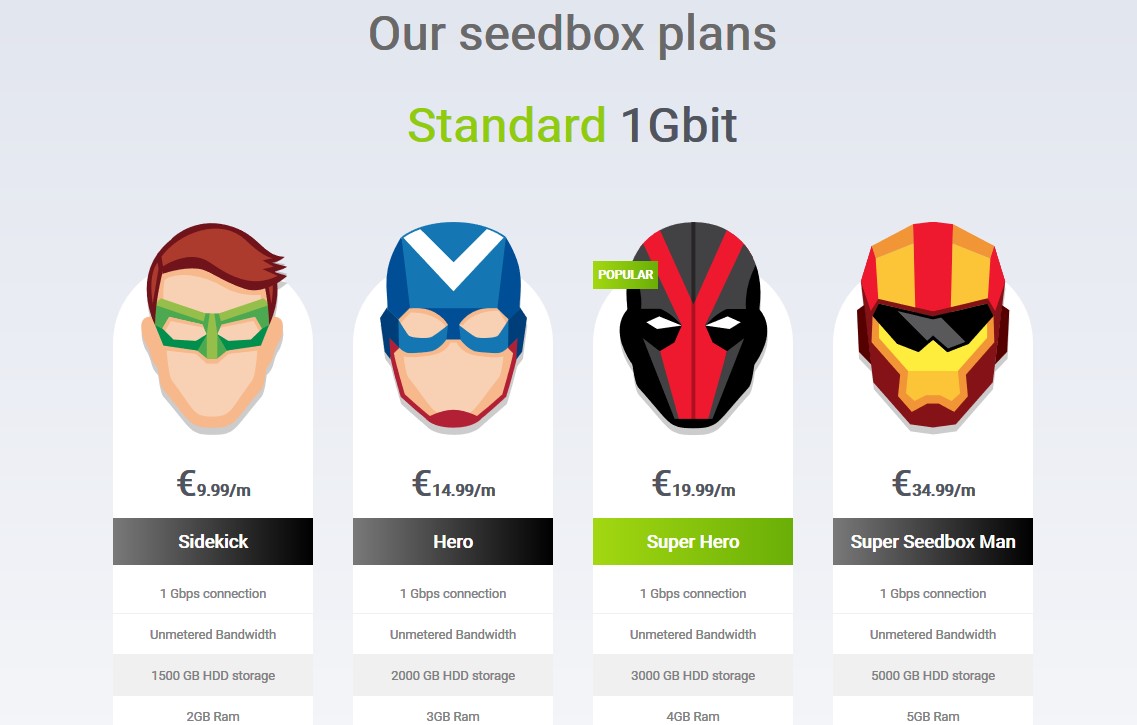 The provider offers a range of packages, from the most affordable through to the mid-range and premium plans.
The most affordable option is the Sidekick package. This plan offers 2 GB of RAM along with 1,500 GB of HDD storage and a 1 Gbps connection. Of course, you also benefit from the security of a VPN.
In the middle is the Hero plan starting with 2,000 GB of HDD storage and 1080P Plex server, plus 1 Gbps connection. The plans have shared IP, however, the good news is that it is not overloaded as it only has 5/10 people per box.
This is, compared to some providers who share the box with up to 100 people, considerably reducing the speed at which you can download/upload files.
If you need more space, you can also choose the Super Hero plan which can host 3,000 GB of data, manage an unlimited number of apps, and of course, is Plex-compatible.
At the top end is the Super Seedbox Man plan. It includes an extra gigabyte of RAM and 2,000 GB extra HDD storage.
All plans run on high-end hardware with 99,99% uptime, plus unlimited bandwidth.
We can only highly recommend this service which even comes with a 7-day money-back guarantee. Careful, some conditions apply to the refund. If you want to learn more, you can read our Seedit4.me review here.
2. Seedbox.io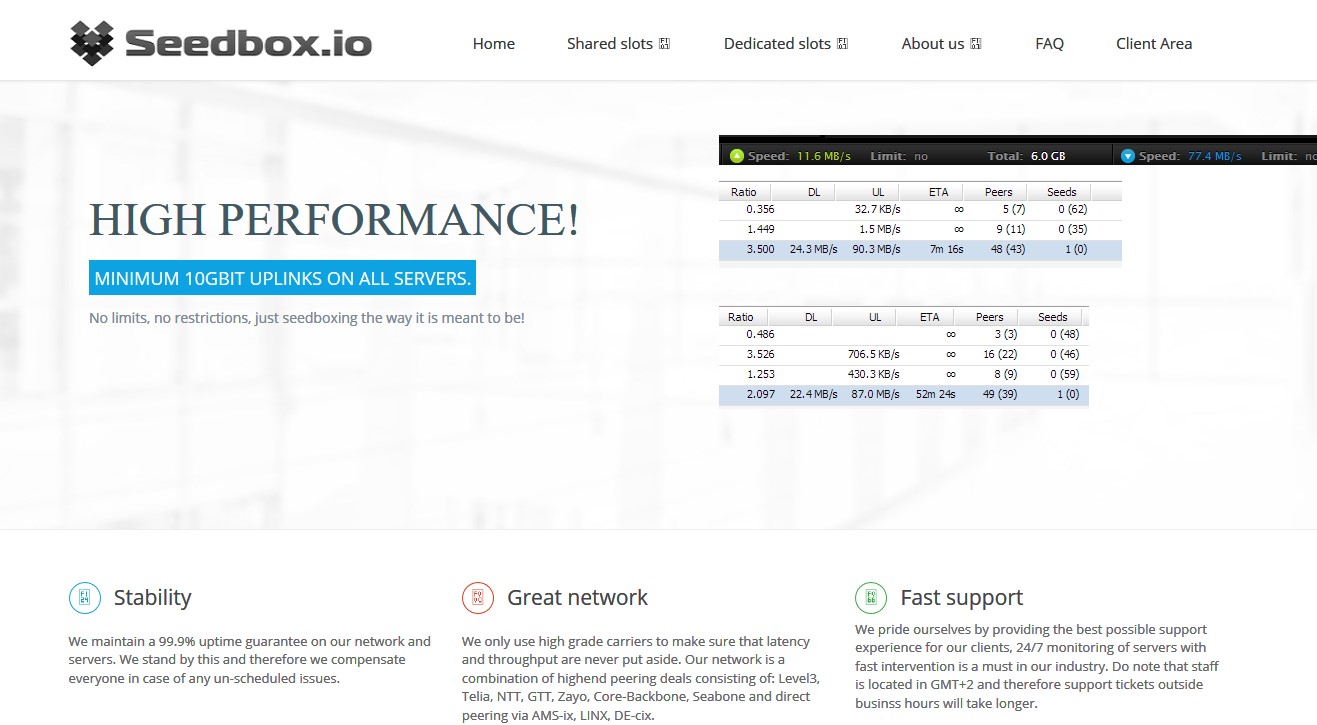 Seedbox.io also makes it onto the list of the best Seedbox providers and is a favorite of ours. This provider has been around for many years.
Good customer service is essential and while it is good overall, there is a drawback as there is a lack of human contact. You can only contact a representative via a ticket system. This means you have to put in your ticket then wait for a reply from someone from customer service.
Pros:
Large and comprehensive
Small plans available for only 5.49€/month
OpenVPN is supported
Each user gets a dedicated bandwidth
Dedicated servers options
14-day money-back guarantee
Cons:
Choosing a plan can be very complicated
Customer service only consists of a ticket system
Plex only on Dedicated servers
Connection speed between 100Mb/s and 1Gb/s maximum
No online chat for support
---
Choice of plans
There is a wide choice of plans available and this is good news. However, this also means that choosing a plan can be complicated and is not for the faint at heart, so it might be complicated for newcomers to Seedboxes.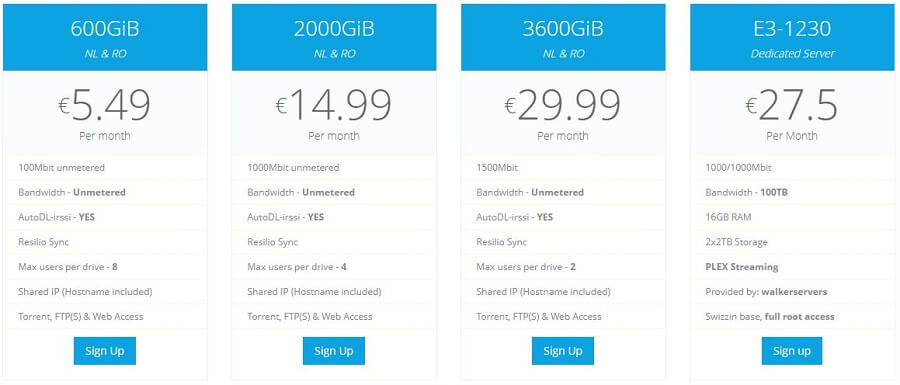 There are three basic plans, each of which has several underlying packages to choose from, so there is a huge amount of choices. As an example, the Mini package alone allows you to choose between 300 GB, 500 GB, 700 GB, or 900 GB.
The ones we would recommend are the Shared Slots –> Premium Slots. There, you'll have a choice between 8 different Seedboxes, ranging from 300 GB to 3,250 GB of storage. They are definitely good enough for a start and you can then upgrade to a premium plan if you like the service.
You get a 14-day money-back guarantee so that you can test the service without taking any risk. If you don't like it and want to try another provider of our top Seedbox ranking, you can just ask for your refund!
3. RapidSeedbox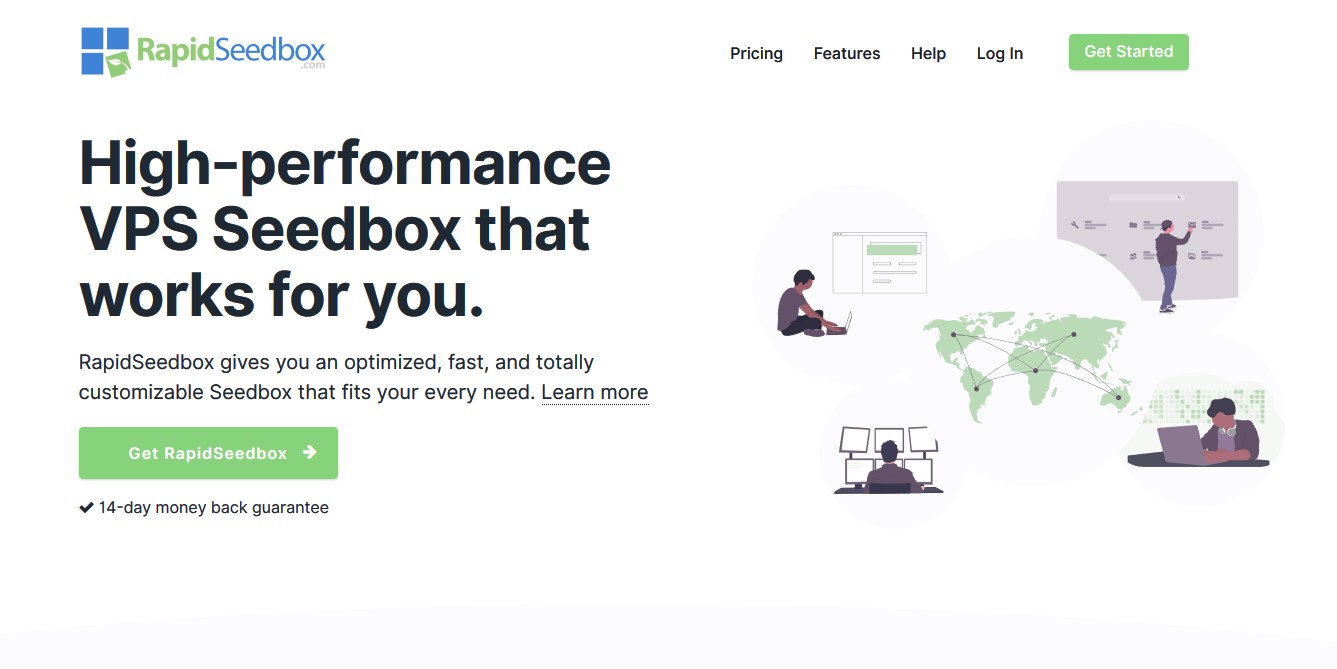 RapidSeedbox is worthy of consideration as it offers some great plans. The company is based in England and thanks to dedicated servers, you do not have to split your bandwidth with other users.
The level of customer support is excellent with representatives that are friendly and efficient. You won't have to wait long for an answer to your query as support is available 24/7.
Pros:
Plans are packed with features
Good level of customer service
Good speed
Dedicated servers available
Packages suitable for everyone
14 days money-back guarantee
Cons:
Only a 1 Gb-per-second connection on plans below 30€/month
More costly than competitors
Remote access can be unreliable
Limited monthly traffic
Plex available only after Stream plan (27€/month)
---
Choice of packages
There are six different packages to choose from so there should be something suitable for everyone and all budgets. All these plans have limited monthly traffic. It's high, but not that high, which is quite surprising given the expensive prices of the provider.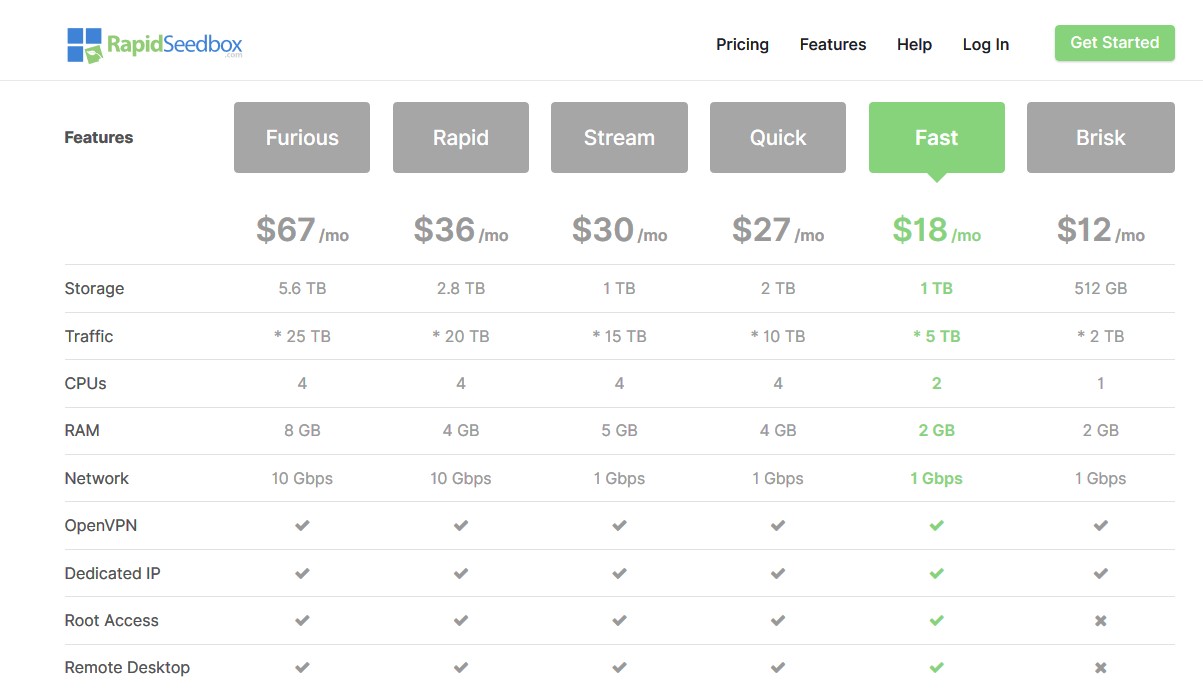 The most affordable plan is called Brisk and offers 512 GB of storage and 2 TB of traffic, a speed of 1 Gb per second, and 2 GB of RAM.
In the middle is the Stream plan with its 1 TB of storage, 15 TB of traffic, speed of 1 Gb per second, and 5 GB of RAM. If you choose this one, you'll be able to stream Plex directly from your Seedbox.
At the top end is the Furious plan, which comes with 5.6 TB of storage, 25 TB of traffic, a speed of 10 Gb per second, and 8 GB of RAM.
4. DediSeedBox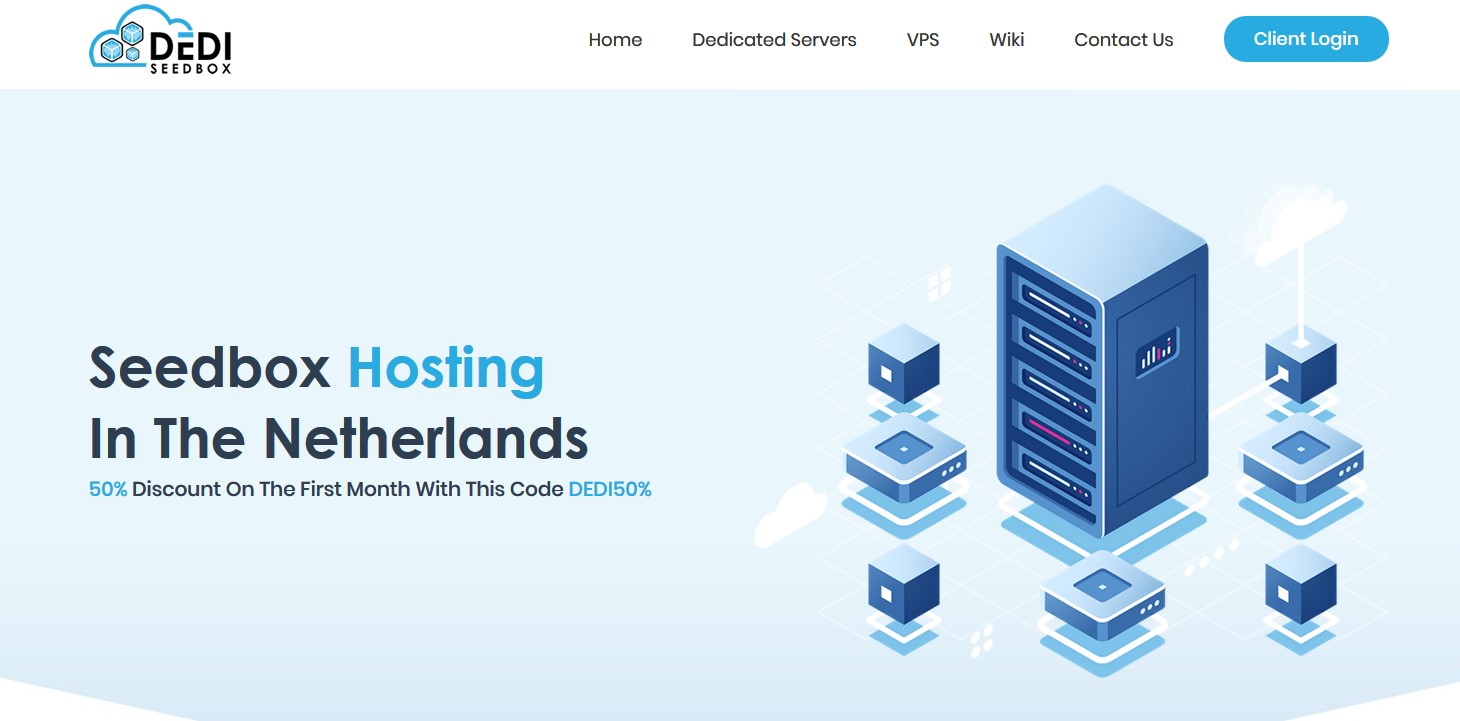 DediSeedBox is not among the favorite best Seedbox out there, however, it is priced competitively, so it is worth considering. One thing that does let it down is customer support. Another is the fact that it is high sharing with many other people.
While customer support is available 24/7, sadly, the only option to contact someone is through a ticket. So, this means long waiting times to get a reply.

Pros:
Compatible with Plex for 10$/month
10Gbps bandwidth
Unlimited traffic
Easy offer with 4 plans
Cons:
Customer support could be better
Speed varies depending on the type/size of your download
OpenVPN has to be installed manually
High sharing of boxes reducing the performance
---
Range of plans
Now, onto the choices of plans. The provider does not offer as many plans as some of the competitors on the market as there are just four to choose from. Is it good or bad? Well, it depends!
Some people will like the fact that this Seedbox provider does not flood you with tons of options. Therefore, that could be a good thing for Dediseedbox.
The most affordable option offers 750GB of storage space, unlimited traffic at 10 Gb per second, and support for 30 one-click applications.
The middle plan offers 1 TB of storage space, unlimited traffic at 10 Gb per second, and over 30 one-click applications.
At the top end, you get 2 TB of storage space, unlimited traffic at 10 Gb per second, and 30 one-click install applications.
Unfortunately, to get such low prices, Dediseedbox puts many people on its servers. Therefore, the promoted "10Gbps bandwidth" is never reachable and the performance, particularly for Plex, can be more than disappointing at 7 pm on a Friday night.
5. Seedboxes.cc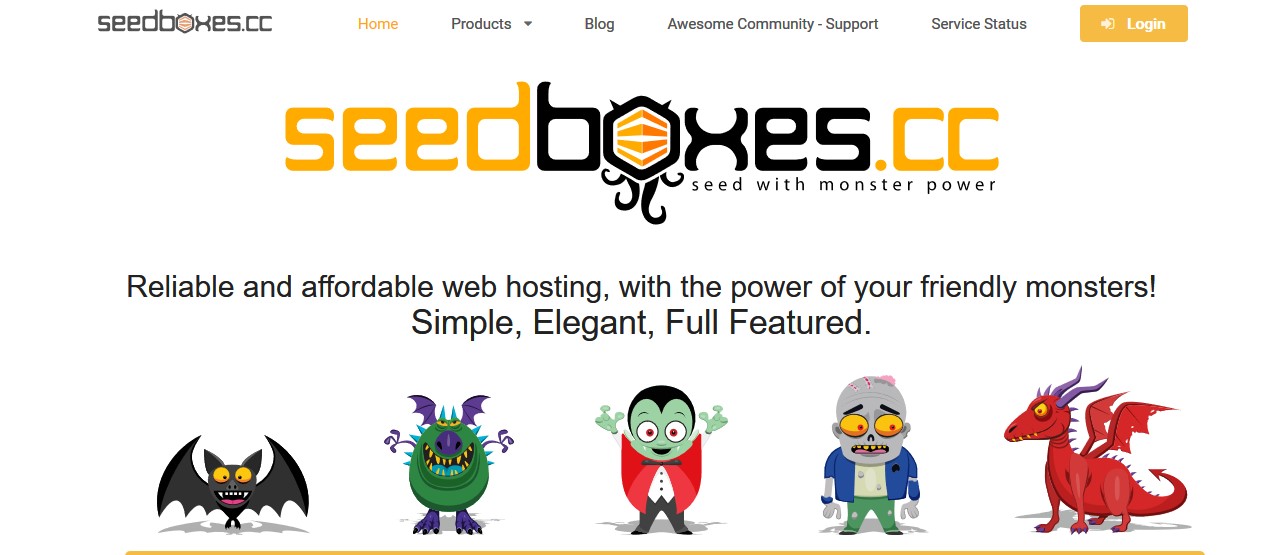 Seedboxes.cc offers unlimited traffic on all plans, even the starter plan. This is perfect for those who like to use Plex streaming. Yet, when you actually try it, the buffering will make your experience way worse than what you'd expect.
It is let down by the lack of customer support, however, as the only support is via the ticketing system unless you count the knowledgebase for self-help.
The company owns its own servers along with the network and this ensures good network speeds along with performance unless you're sharing the box with many people eating lots of your bandwidth.
Likes:
Unlimited upload traffic on all plans
Support for many apps
Dedicated Plex resources
Dislikes:
Top-of-the-range plans are pricey
Only customer support is a ticket system
Many people share the servers
---
Choice of plans
Five plans are available with the most affordable option being the Bat Box plan. You get 1,000 GB of space, unlimited monthly upload, 20 Gb per second speed, and more.

In the middle is the Vampire Box plan with 2,000 GB of storage space, unlimited monthly traffic upload, and a speed of 20 Gb per second.
At the top end is the Red Dragon Box, offering 6,000 GB of storage space, unlimited upload traffic, and a speed of 20 Gb per second.
What Are the Main Criteria for Choosing a Seedbox?
When choosing the best Seedbox provider to sign up with, there are many factors you might want to consider.
We are going to look at the five main factors that you should take into account when you are trying to choose a favorite.
Speed
The first factor to take into account is speed. After all, the speed is going to affect how fast you can download torrent files and affects streaming, more so if you want to stream in HD.
As you will have seen in our quick look at our favorite and best 5 providers, speeds vary considerably between providers. Speed is also something that is going to be determined by how much you want to spend on a plan and on how many people are sharing the server with you.
Typically, the more money you spend on the plan the faster the speed is going to be.
The providers we checked out and recommended range in speed from 1 Gb per second up to 10 Gb per second, with some providers going even higher.
Storage place
The amount of storage offered is another factor to consider when looking for the best Seedbox provider. The amount of storage is, of course, going to depend on what you want to do with the Seedbox.
If you only want to store a few photos, it is no good paying out for 25 TB of storage if you are only going to use a couple of gigabytes. On the other hand, if you like to torrent, share files, or stream you will need more than just a couple of GB.
If you are torrenting or uploading movie or software files, you are going to need to pay out for a large amount of space, as individual movies can be many gigabytes each.
Therefore, the amount of storage needed all depends on how you want to use the Seedbox.
Client support
As with anything that you purchase, there may be a time when you need some help and support and this is where a good level of customer support is essential.
You might see advertised on the website that the provider offers 24/7 customer support. This might be true but this does not mean that someone is going to be there to speak with you around the clock.
There are different levels of customer support. At the very least, providers offer a ticket system, and this can be considered as being available around the clock. The downside is that it doesn't mean you can get an immediate answer to your problem.
When using a ticket system you submit a "ticket", which means that you submit the issue you are having in the form of writing and wait for someone to get back to you.
The ticket system is usually the slowest option for obtaining help. You might have to wait for some time, perhaps 24/48 hours to get a reply.
The best level of customer service is live chat. If not the next best is talking to someone on the telephone or through Skype.
So, before you choose your favorite Seedbox provider, give the level of customer support some thought.
Pricing
The cost of the Seedbox is another factor that you will have to take into account as plans vary greatly.
To some effect, this is going to be dependent on affordability. However, it does pay to shop around and the providers that we have chosen above range from offering plans that cost from just $5 per month going up to over $40 per month (for non-dedicated ones).
Remember, the more you pay for a plan the more features you get.
Pick our Favorite Seedbox Provider : Seedit4.me
Apps
The apps covered by the provider should also be considered to get the best Seedbox.
The more apps that are covered the better. For instance, our favorite provider, Seedit4.me, covers a huge range of apps while keeping plans affordable.
Just a few of the apps covered in all plans include:
Bazarr;
Couch Potato;
Emby;
FFmpeg;
Flood;
LazyLibrarian;
Medusa;
Nextcloud;
OpenVPN;
Plex;
ruTorrent;
SickGear;
The Lounge.
All of the apps are easy to install through a dashboard.
In Summary
So, we have explained to you what a Seedbox is and the numerous advantages of signing up for a plan with a provider.
Along with this, we have talked about what you need to look for when choosing the best Seedbox.
Finally, we have recommended what we think are the 5 best Seedbox providers out there based on pricing, plans, and what is included in the plans.
All you have to do now is choose one of them and sign up.
Pick Our Favorite Seedbox Provider: Seedit4.me
FAQ
❓ What is a Seedbox?
A seedbox is a private computer server that is intended for the reception (download) and the emission (upload) of computer files. By using a seedbox, you can minimize the waiting times when downloading a file, and maximize the sending volumes, since a dedicated server is generally faster than a home connection.
? What is the best Seedbox?
After testing a very large number of seedboxes, we are convinced that the best seedbox is the one offered by Seedit4.me. In the 2nd position, we put Seedbox.io, and finally, in the 3rd position, RapidSeedbox.
For more information about these services, we invite you to read our detailed comparison.
? Do I really need a Seedbox?
If you want to download torrent files without risking sanctions, the answer is yes. Using a seedbox can also be very interesting if you do not have access to a very good Internet connection.
Indeed, you will be able to take advantage of the speed of the server that you rent to download a file/movie on it, then, in many cases, you will be able thanks to Plex, to view the films directly on the server, without having to repatriate it on your personal computer.
⚠️ Are Seedboxes safe?
As with everything, it depends on the service you are going to trust. All the providers listed in our comparison of the best seedboxes are, in any case, perfectly safe.