There is some amazing content on NBC but the downside is that accessing it is not possible if you live or travel outside of the USA. Channels and content are often geo-restricted, and this does not only apply to the USA. Thankfully, there is a way to get around the censorship. So, read on if you want to learn how to unblock and access NBC abroad with a VPN and stream all your favorite TV shows.
What is a VPN?
VPN stands for Virtual Private Network. The service allows you to hide your true IP address and take a "virtual" one from any country in the world. Of course, this will depend on your VPN provider that covers sometimes more than a hundred countries.
A VPN not only permits you to overcome any geo-restrictions imposed, but it also protects you from hackers and prying eyes, such as those of your internet service provider (ISP).
Understanding the basics of a VPN is the first stage of learning how to unblock and watch NBC outside of the US.
In this case, you have to trick the NBC website into believing you are located in the USA. You can achieve this by using a VPN and choosing a US-based server from a list of servers offered. The server provides access to an IP address that comes from the US, so, to anyone looking, you are in the US.
A Simple Way to Access NBC Abroad: ExpressVPN!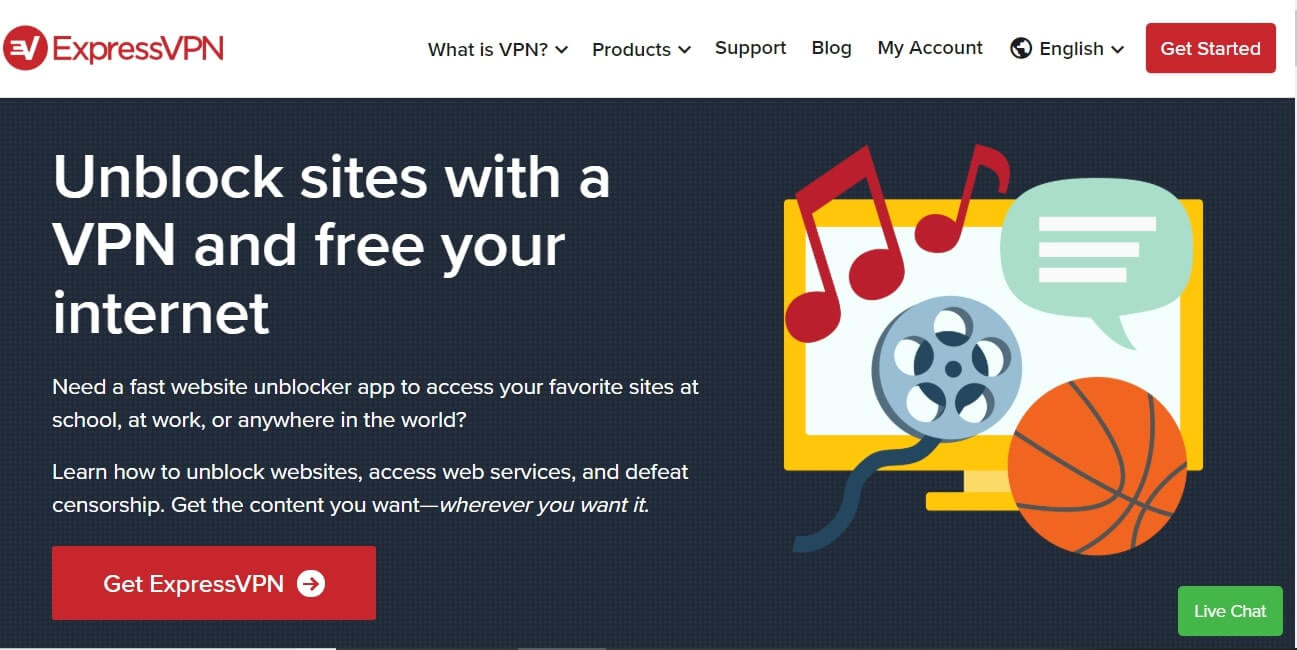 ExpressVPN is a simple answer to the question of how to unblock and access NBC abroad with a VPN. The provider comes packed with benefits, many of which other providers do not offer. These include:
100% no-quibble 30-day money-back guarantee;
High-speed unlimited bandwidth;
Extremely fast 3,000+ servers in more than 94 countries, including over 30 locations in the USA;
No logging;
Best-in-class encryption and security;
3 months free when taking a 12-month subscription;
Savings of up to 49%.
If you want the best VPN to unblock and access NBC abroad, when traveling outside the USA, ExpressVPN is definitely the one you should choose! Its fast speeds will be perfect for streaming all the videos in HD. See our ExpressVPN review if you want to know more about this provider!
Unblock NBC with ExpressVPN now !
How Can I Stream NBC Outside of the US?
So what are the steps needed to use ExpressVPN to unblock geo-restricted content?
Head over to the website of ExpressVPN and decide which plan you want, bearing in mind that great savings can be made with the longer plans;
Fill in your details, including email address and how you want to pay;
Download the software to your computer or device;
Install the software;
Choose a server based in the USA.
Here you go! You see, there is nothing complicated about understanding how to unblock and access NBC abroad!
How to Unblock and Access NBC Abroad With a US IP Address?
Once you have downloaded the software to your computer, you can install it by clicking on the .exe file. You will be taken through the installation (see the screenshot below). Enter your activation code when asked and click "Sign in".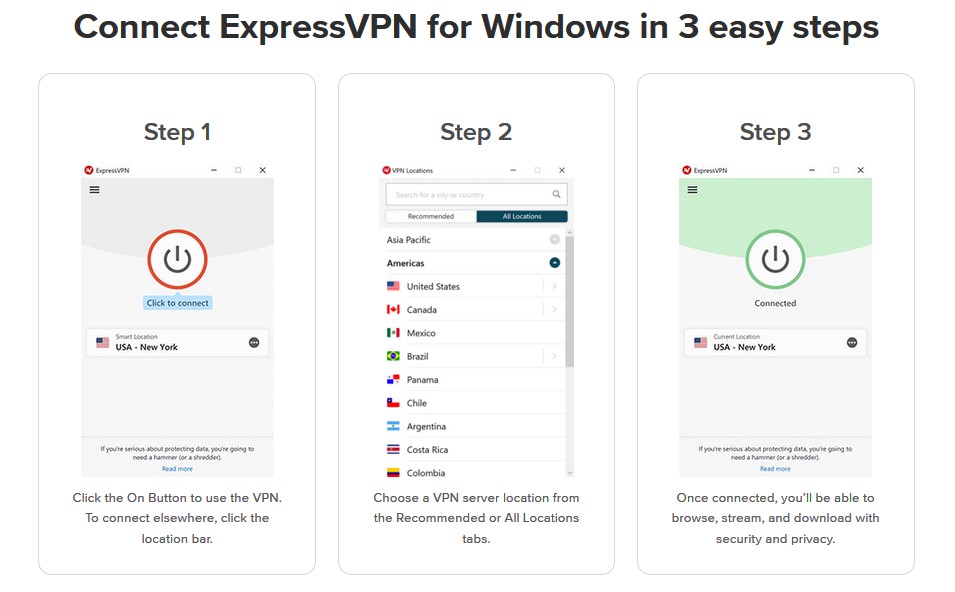 During the installation, you can choose to have the software automatically launched when you start up your computer, or not.
Connect to a US-Based Server
Now comes the most crucial part of this how-to watch NBC outside of the US guide – running the software, and connecting to a server based in the US.
When you run the software, the dashboard opens up and the program will automatically suggest a "Smart Location". The suggested server gives you the optimal experience, however, it might not be one in the USA.
Therefore, do not be too hasty and simply click on the button to connect to what the program assumes is the best server.
The question here is – how can I watch NBC abroad? And the answer is a US IP address, so you need a US-based server. Therefore, choose one based in the USA. This is also what you'll have to do if you want to watch Netflix US abroad.
Choosing a different server is easy as all you have to do is click on the icon to the right (as in the screenshot below), and choose a server based in the United States, then click on the connect button. You now have the correct IP address to bypass geo-restrictions and stream your shows anywhere outside of the US.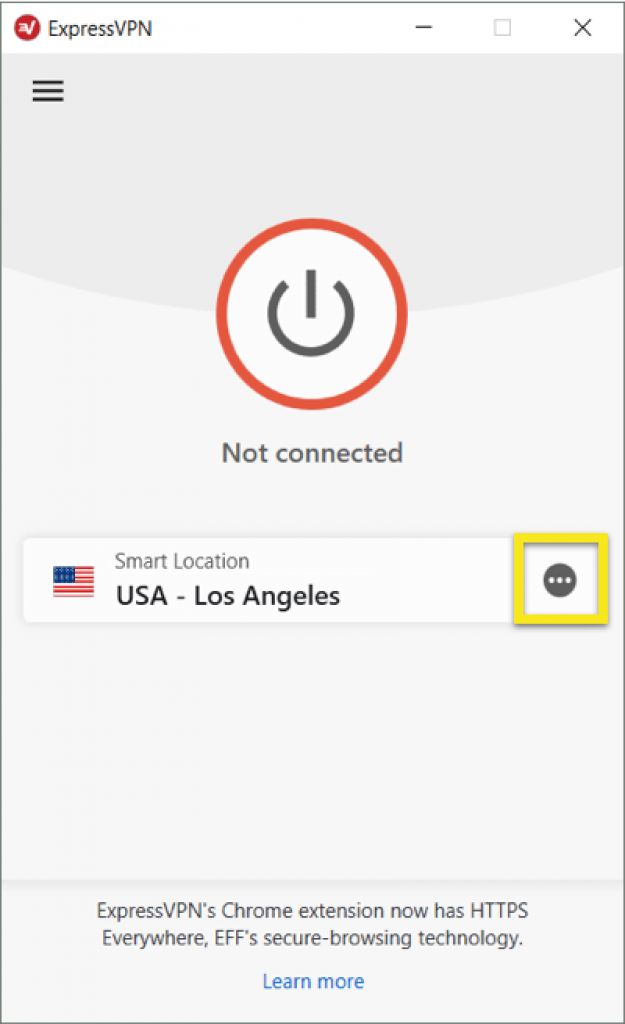 How to Access NBC Outside of the US in the Future?
It is important to note that if you want to watch content on NBC in the future when outside of the United States, you first have to connect to a server based in the USA before opening your browser and trying to play content from NBC.
If you forget to connect to the server of the VPN provider, you will once again find yourself unable to access the content.
The easiest solution to the question of how to stream NBC abroad on a regular basis is to check the box that allows the software to start automatically. You can change this in the settings if you did not tick it during installation. With this checked, you should not forget to open up the software manually and connect.
We hope you have enjoyed reading this guide about how to unblock and access NBC abroad and have managed to check out all your favorite shows wherever in the world you are. Of course, this is only one of the benefits of being behind a VPN. There are many more, including privacy and peace of mind.
Note that you'll have a 30-day money-back guarantee in order to test this VPN provider for free!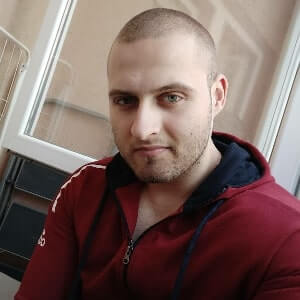 A professional writer with a Master's degree in Mechanical Engineering. Since his youngest age, he loves everything related to internet, technology, fitness, games, and dogs! He joined our team in order to bring his deep knowledge in security services, among which VPN is of course a key component.