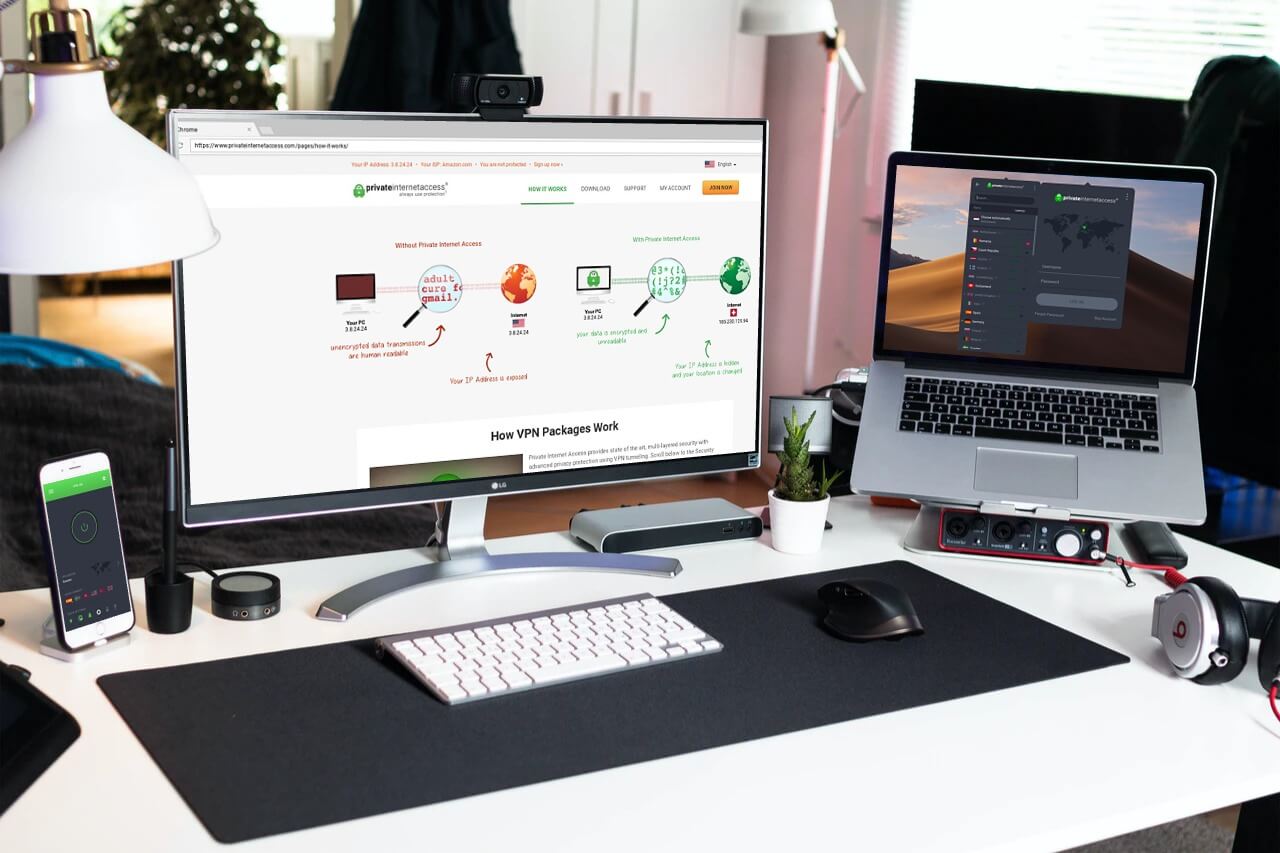 Since it is a global network, the internet is unarguably the most commonly utilized service around the world. However, due to the rise of many security issues on the internet nowadays, security has become a major concern for internet users. With that in mind, we've decided to review PIA, which is a VPN that offers maximum protection for internet users.
Being one of the most popular and leading VPN services around, Private Internet Access owes its great reputation to its decent speed, ease of use, and reasonable price. Although there is a couple of things that are far from ideal, the company's general service is definitely decent.
If you're on the verge of settling for this provider and you're not sure if you should go ahead, then this review is for you. The advertising exaggerations apart, we've put this VPN to an intensive test and have looked thoroughly at every part of the service.
We hope you will be able to make a great decision after reading this PIA 2023 review.
PROS:
A high number of servers
Doesn't keep logs
Leak protection
WireGuard support
Offers decent speeds
Affordable plans
Blocks annoying ads
P2P support
Up to 10 simultaneous connections
CONS:
Doesn't reliably unblock Netflix
No Live Chat Support
A short refund window
Based in a country that is not VPN-friendly
Visit Private Internet Access now >
PIA ranks #9 out of 104 VPNs tested. Here are the best alternatives :
---
Is it a paid or a free VPN?
It's a rule of thumb –  if you want to enjoy the highest level of protection, you've got to be willing to pay for it.
However, while Private Internet Access is a paid service, it has some of the cheapest plans around. Perhaps, that should make it more appealing for prospective buyers.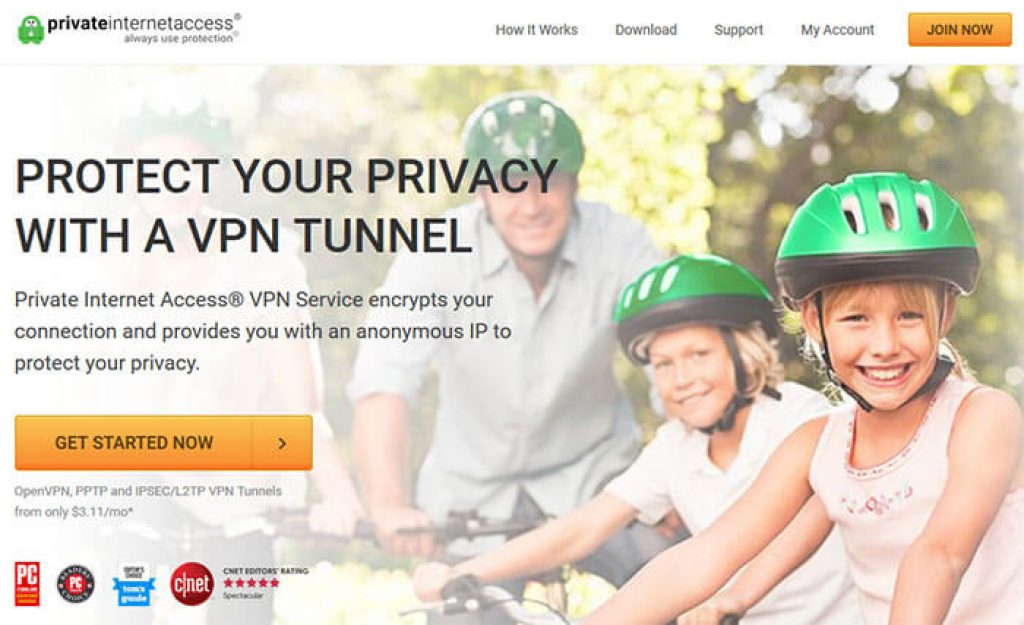 Performance
When you're trying to evaluate a VPN's performance, the two chief criteria you must test and review are speed and stability. Will it reduce you to the speed of a snail? Or will it let you down at the times you need it most? We've discussed all below.
Speed
In terms of speed, Private Internet Access delivers modestly fast speeds. While it isn't as fast as ExpressVPN, it is still a fast service.  When we connected to nearby servers during our test for the review, we only noticed a quite small 20-percent drop for downloading and a 16-percent drop for uploading.
However, the drops were a bit more significant when we checked from servers far away, but that's typical of VPNs.
Without VPN (we were located in London) :

EU Server (Paris) :


US Server (New York) :

Asia Server (Hong Kong) :


Stability
Stability is another major concern for VPN users and PIA does well when it comes to that, too. With more than 12,908 servers in more than 75 countries, this provider delivers a very decent performance in 2023.
While we didn't see anything about their uptime on the website during our test, we read the review of numerous users who claimed that the service is never down.
Of course, we also tested the service and never experienced any downtime, which speaks volumes about the authenticity of the feedback we read.
Streaming
If you're a streaming enthusiast, we had you in mind in our test. For people whose sole reason for wanting to buy a VPN is streaming and unblocking streaming sites, this section of our review is for you.
Netflix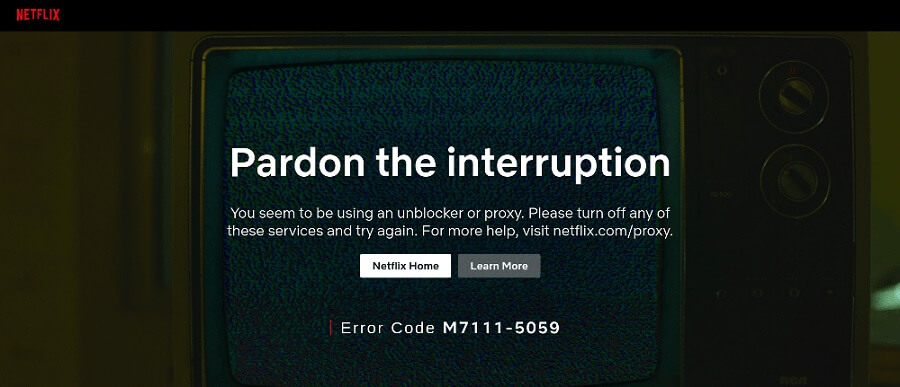 To be honest, it seems Private Internet Access has issues with unblocking Netflix in 2023. The popular streaming service has worked really hard in the last couple of years on implementing VPN-blocking systems.
Primarily, they are doing it to prevent people from accessing geo-restricted content with the aid of a VPN.
While a couple of VPN services are still bypassing Netflix's restrictions, this one doesn't look to be one of them. Overall, we were only able to connect to Netflix with one of their servers while compiling this review.
And of course, it's not the US one.
In truth, if your primary purpose of using a VPN is to unblock Netflix, Private Internet Access may not be the right choice for you.
We'd recommend you ExpressVPN which is the best VPN for Netflix.
BBC iPlayer
As you cannot reliably unblock Netflix with Private Internet Access, it's a similar story with BBC iPlayer as well. There are actually reports that it was able to unblock BBC iPlayer a year ago. Unfortunately, we couldn't get past their restrictions during our recent test.
Others?
When it comes to streaming, PIA is generally an all-around bad VPN provider.
While it may be able to get past the restrictions of other streaming services like Hulu and Amazon Prime Video sometimes, we don't think it can reliably do so, speaking from our experience in our test.
We were only able to unblock both streaming services occasionally.
Security

A VPN is a popular solution for protection-seeking individuals. With that in mind, we looked into the security part of the provider in our test, and what we found is what we've discussed in the next part of this review.
Where is it based?
Private Internet Access is a United States-based company, and that's a cause for concern for a lot of VPN users. The United States has probably the most stringent, most privacy-invading regulations in the modern world, and of course, that applies to VPN companies.
The government of the United States has a reputation for coercing VPN providers into giving up the data of their users with undisclosed warrants. Certainly, it's needless to mention how big of a concern that is to privacy advocates.
Obviously, the fact that this provider doesn't keep logs means there is actually little they could share with government agencies even if they are requested to. However, they may be left with no option – they may be compelled to divulge your data that is with them eventually.
This is regardless of how insignificant the data may be (like whether you are a client or how long you have been one).
Perhaps, that should worry you. Or maybe it shouldn't. Actually, rumors have it that the NSA has broken some providers' encryption, which means the US government could even be prying on your activities.
Thanks to the combination of intelligence-sharing agreements and surveillance laws in the United States, people tend to avoid VPN providers located there. However, that doesn't necessarily make PIA a bad option for everyone.
Log policy
As we already mentioned in the review, Private Internet Access is headquartered in the United States. Obviously, that is a red flag to anybody who's aware of the Five Eyes or the Fourteen Eyes.
However, while the provider can actually be requested to give up its data by the government, there won't be any data to give up since it claims to keep zero logs.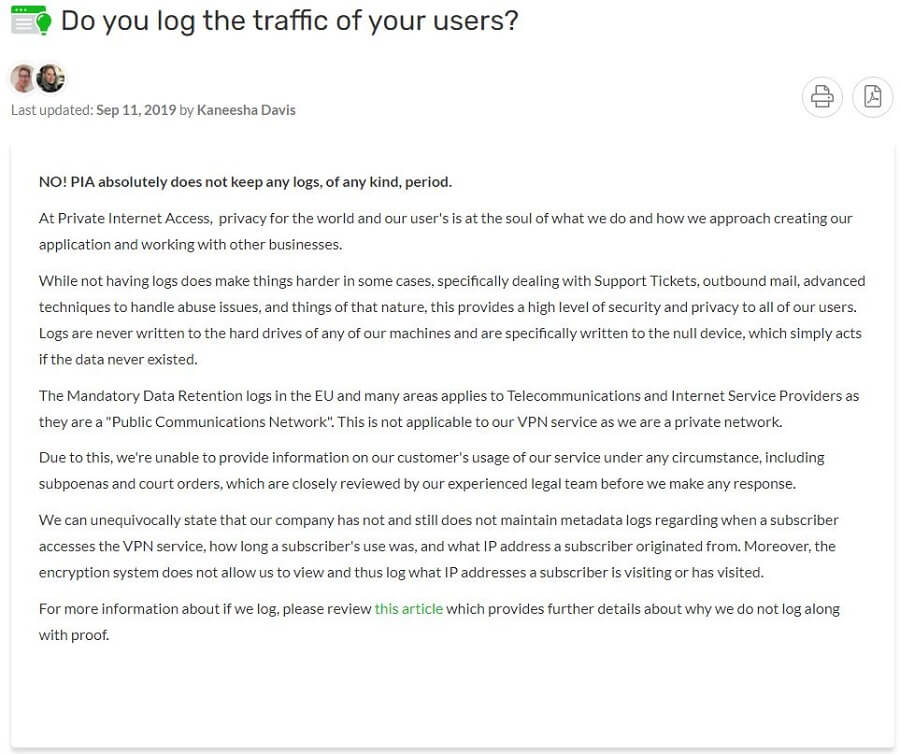 In fact, it has proven this in many court cases where it refused to offer any data or information which could help identify its users. Nonetheless, it would be better if the provider could make its logging policy much more noticeable on its site.
If you go through the privacy policy you will find just a brief reference, but really no details. As you can see above, we searched for it in the FAQ section, where we managed to find a bit more details.
To locate these, you'd need to comb the support section – logically. But, the good news is that PIA keeps no logs. Thus, it doesn't even know when you utilize its service, what you use it for, or for how long you use it.
In conclusion, we think it's sort of a mixed bag when it comes to privacy.
Protocols

Remarkably, this provider offers the best security protocols. Users can choose anything between AES-128 encryption up to AES-256 encryption, which includes different protocols related to handshake and data authentication.
This allows users to exert a high level of control over if they want to prioritize security over performance or vice versa.
As for the VPN protocols available, you will also find an excellent range of protocols on the service.
There are L2TP/IPSec, PPTP, SOCKS5, WireGuard, and OpenVPN, which is great for this affordable provider. Of course, the service also offers users a convenient way of switching between various protocols, which is an excellent addition.
A lot of users review this service excellently because of its solid protocols.
Protection against leaks
All your efforts to spoof location and encrypt traffic with a VPN can actually come to nothing in the event that data is leaking.
Since the leaked data can actually give out your location and even your activities on the internet, it's important that a provider offers something to prevent leaks.
Thankfully, PIA supports both IPv6 and DNS leaks protection, both of which are tools that prevent your data from leaking. To enable either of the features, you only need to navigate your way to the advanced settings.
During our test, we also subjected the VPN to different privacy leak assessments and it passed each one of them.
Torrenting
Also referred to as P2P, torrenting is an activity that just can't go away, despite the best efforts of many authorities. With that in mind, it's important for a VPN that's worth its weight in gold to support torrenting.
Does this VPN offer support for P2P? Below is what our test revealed to us.
Is torrenting allowed?
Private Internet Access actually has a permissive perspective on torrenting, so it could be a great option. Regardless of the client you choose, there are chances that it is compatible with this VPN in 2023.
While you won't find anything that addresses torrenting specifically on their site, we ensure you that it's fully supported.
Enjoy PIA's excellent P2P support >
Excellently, the VPN doesn't restrict P2P activities to only some servers. Instead, all of their servers support this activity.
Is there a Kill Switch?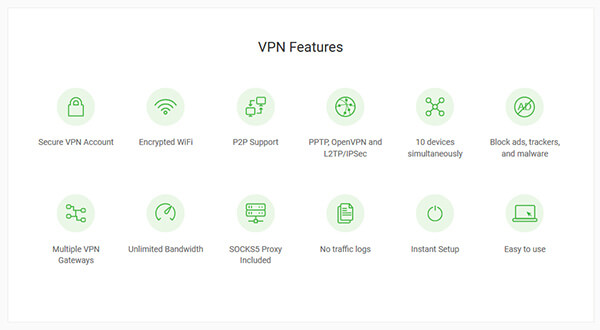 Like a lot of VPN providers, PIA is equipped with a Kill Switch feature that ends a browsing session automatically when the service unexpectedly and suddenly becomes unavailable. Although this is a great fail-safe, it's worth noting that a lot of clients have reported that the Kill Switch of this VPN doesn't work as advertised.
This is a concern because it could leave you exposed should Private Internet Access' service get interrupted. All of the most highly rated VPN providers also have the Kill Switch feature in their service, and these seem to work consistently.
Therefore, if you don't want any chance of you being left exposed unexpectedly when you're online, we recommend you to choose a provider with a more dependable Kill Switch.
Bypassing Censorship
Russia, Iran, and Saudi Arabia have strict censorship policies that people want to bypass.
However, the most noteworthy censorship policy is that of China, which is so popular that it's been named the Great Firewall of China. Regardless of the restriction you're trying to unblock, we checked PIA's ability to do it while compiling this review.
In censored countries
Getting past the Great Firewall of China is one of the most challenging tasks in the world of VPNs.
While there are still some VPNs that are still bypassing it, most of them have even given up on trying to do so. Sadly, Private Internet Access is one of many providers that aren't able to bypass the strictest censorship policy in the world in 2023.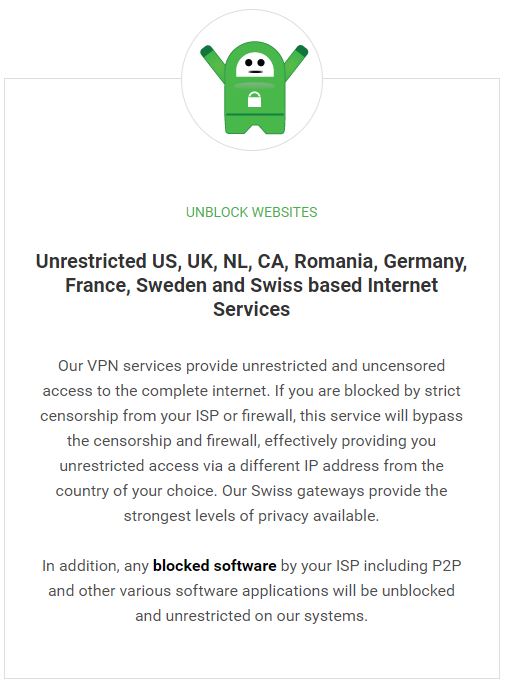 Although some users have successfully bypassed the restriction in the past using the more difficult to detect but less secure L2TP protocol, even this is not assured. Sure, it may be your lucky day,  but you may have to review your options if bypassing censorship policies is your main concern.
In restricted networks
If you are in a school or a place of work where your favorite social media sites are restricted, we're glad to inform you that this VPN is capable of bypassing such restrictions.
It will encrypt the data and then hide whatever you're trying to access using the network.
Countries and servers
One of the chief metrics used to evaluate VPNs is the number of servers they have. More importantly, evaluators also hinge their evaluations on the geographical location of those servers. During our test, we found out many things about PIA in this regard.
Countries covered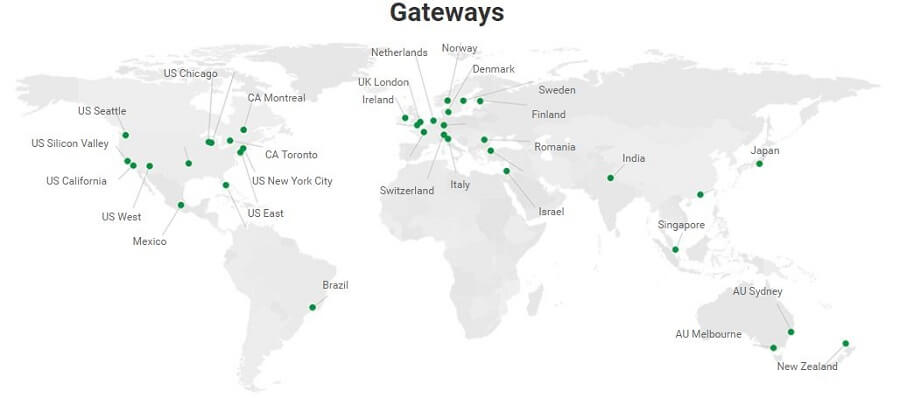 As at the time of writing this review, Private Internet Access has more than 12,908 servers around the world. This is quite an impressive number, as it sounds like the provider has more servers than CyberGhost.
However, the 12,908+ servers are located in just 75 countries. In comparison to a rival like ExpressVPN that has servers in over 94 countries, this is quite disappointing.
This is exactly why this provider may enjoy more appeal in some countries but the limited appeal in other countries.
North America is one of the regions that enjoy the majority of Private Internet Access focus.
In the United States, the provider has about 1,500 servers in only 15 locations. It, then, has about 236 servers in just three locations in Canada. In Mexico, the provider has 33 servers located in just one location. Shocking!
Moving on, European users are likely to enjoy enough servers, especially people in the United Kingdom.
The United Kingdom has almost 200 servers whilst there are 548 servers in the Netherlands. Other server locations in Europe include Norway, Denmark, Sweden, France, Finland, Belgium, Austria, Luxembourg, the Czech Republic, Switzerland, and others.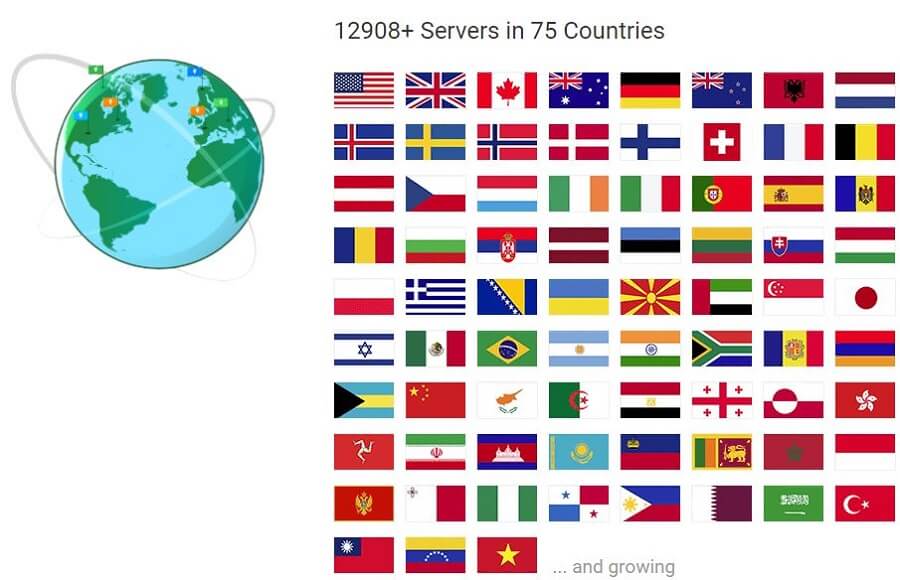 With just 20 servers, only Brazil has PIA's attention in South America. Another continent that is under-represented is Africa, but that's actually not a new thing with VPN providers.
This provider only has 10 servers on the continent, and they are all located in South Africa.
Like Africa, the Middle East doesn't enjoy much coverage, with the United Arab Emirates and Israel being the only representatives. Asian server locations include Japan, India, and Singapore, which isn't really robust coverage.
New Zealand and Australia are home to about 200 servers.
Undeniably, Private Internet Access has a lot of servers. Its server numbers rank it up there with a lot of the big players. They do not, however, have the required location diversity to be a top-rated VPN.
The provider points out on their site that they utilize just bare-metal servers, which are known for their superior performance. In addition, there're squid proxy servers in some locations, which may help accelerate the rates of data transfer.
Servers
Private Internet Access doesn't offer dedicated servers for streaming, as we found out in our test. In a time when VPN providers are battling to survive, not having specialized servers for Netflix, BBC iPlayer, and some other streaming websites is a drawback.
Apart from streaming-dedicated servers, the VPN doesn't have dedicated servers for torrenting as well, but remarkably allows torrenting on all its servers. In fact, it doesn't have specialized servers for any activity.
Compatible devices and simultaneous connections
In this part, we will review the platforms supported by Private Internet Access and the number of simultaneous connections the service can allow.

What device can I use with PIA?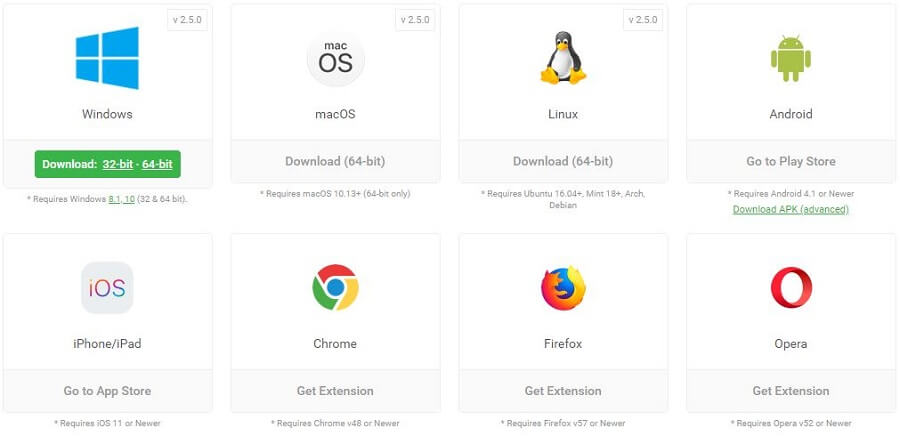 This VPN is compatible with a wide range of devices and platforms, which includes all the current most popular ones. Some of the platforms and devices on which you can conveniently use Private Internet Access include:
Windows
macOS
Linux
Android
iOS
Windows phones
Kindle
Fire TV Stick
Routers
How many simultaneous connections?

In a world where a single individual has more than three phones, it's very important to also find out the number of simultaneous connections your VPN can allow. Private Internet Access performs quite extraordinarily in this regard, allowing up to 10 simultaneous connections.
Since the industry standard is actually five simultaneous connections, PIA deserves some commendations.
This means you can connect all your devices under a single subscription, and even allow your family members to enjoy the service on their devices as well.
Client support
Except if you're a tech guru yourself, there are chances that you will often need the help of the company. Even if you're a tech guru, you're still likely to encounter something you can't solve all alone at some point.
That's why we thought it would make more sense if we could test the client support of this provider and include our findings in this review.
How to contact it?
It's always recommended to choose a provider with multiple client support options. It is like having a geeky pal who is always there to help you. And it's even better if support is 24/7 – that's the most effective way of making sure that you can get help at any time.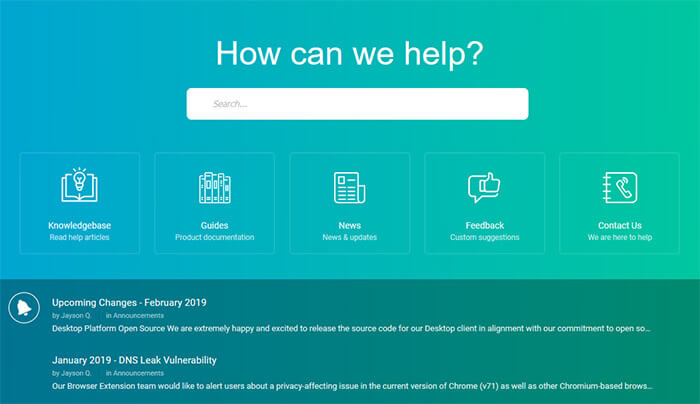 Sadly, Private Internet Access has quite a poor customer support.
We looked at it during our test and found out it doesn't have any live chat for immediate support, which makes it inferior to big players like ExpressVPN, NordVPN, and CyberGhost.
For anyone who wants to contact support via the site official site, they will need to use the email option by filling out a contact form.
While this can also be effective, it cannot help you at all if instant help is what you need. We tried contacting them through the email route during our test and we didn't get a response until after a few hours.
Is it good?
The client support of PIA is not anywhere near the best, as we, unfortunately, found out during our 2023 test. If instant client support is something you can't live without,  you may have to look elsewhere.
FAQ/Tutorials
Apart from the email option, there is also a knowledge base that covers virtually everything from technical issues, troubleshooting, account problems, and more.
Value for Money
Value maximization is always the primary focus of everyone when making a purchase. It's not different for VPN users. To determine whether this service will give you a good value for your money, read our review below.
Price comparison

PIA offers its customers three different packages, which offer the same features and functions. Below are the three packages offered by this provider;
A one-month plan for $9.95
A one-year plan for $39.95
A two-year plan for $69.95
These are extremely reasonable numbers, particularly when you compare the pricing of this provider with the pricing of its rivals. The one month plan is offered at just $9.95, which despite not being the cheapest in the business, is quite cheap.
However, the long-term plans are where PIA beats the competition. For its one-year plan, you only need to pay $39.95, which translates to just $3.33 per month.
But, it is the two-year plan that offers the best value for the money, costing just $69.95, which equals $2.69 per month only. On top of that, you get 2 months completely for FREE.
Means of payment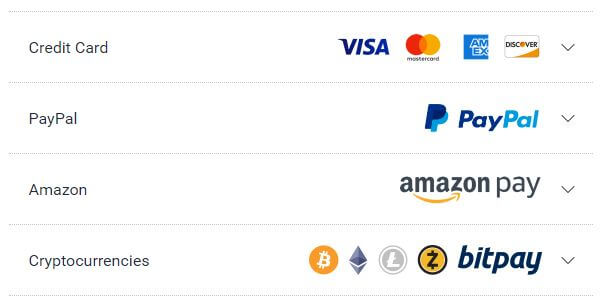 Private Internet Access accepts a wide range of payment means in 2023, which isn't really overly surprising considering their status as one of the most popular VPN options around.
Nonetheless, they still deserve some commendation for their will to make payments convenient for customers. Some of the accepted payment methods available at the time of writing this review include:
Credit Cards
PayPal
AmazonPay
Bitcoin
Litecoin
American Express, and many more
We were really happy to find out in our test that the company has put in place many reliable means that allow customers to anonymously pay.
Money-back guarantee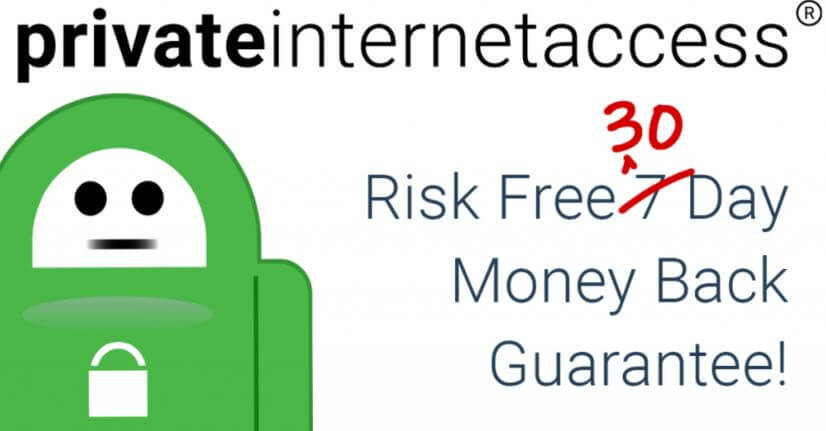 PIA offers a 30-day money-back guarantee, which means that users can opt-out and get a full refund if they change their mind about the service within the first 30 days. Of course, this is nothing impressive because other providers like ExpressVPN and NordVPN offer the same.
Sure, CyberGhost ramps things up to 45 days, but hey, these two providers are not even comparable!
Any extra?
Apart from the regular features, this VPN also offers some unique features that make it stand out from its rivals. We put some of them to test and below is a review of the things we found.
Ad-Blocker

Added just recently, ad-blocking is a feature that helps block needless ads on the web page. Apart from blocking unnecessary and annoying ads, it will also protect you from cybercriminals who set up ads as a window to hijack your data.
This feature was really impressive during our test for this review.
Encrypted Wi-Fi

Another outstanding feature we found in our test is the encrypted Wi-Fi feature. How this feature works is quite simple. When you use the VPN on your Wi-Fi network, it firstly protects the device via WPA protocol.
Thus, you need to input an authentication key before you can use the service on Wi-Fi devices. Many users have a good review of this VPN just because of this feature.
SOCKS5 Proxy

Another excellent feature we discovered in our test is the SOCKS5 proxy, which offers an extra layer of authentication. To put it more simply, it allows only authorized users to access the servers.
Additionally, it improves the connection speeds, even though it doesn't offer the encryption level required to users.
Final Thoughts
Do we recommend Private Internet Access?
Yes and No.
Private Internet Access offers great coverage in Europe and North America, with loads of servers located centrally. However, that coverage isn't as excellent in other parts of the globe, with just a couple of servers dispersed around the Oceania, Asia, the Middle East, and Africa.
It performs excellently when it comes to security though, offering all the key protocols and encryption methods. Also, they offer some of the lowest plans in the industry, which is a big factor as well.
However, the fact that the company is based in the United States means it will always be under scrutiny, which is a big red flag. If you like its affordable pricing, solid encryption, and a zero-logging policy, PIA might be a great option for you.
On the flip side, if you need a VPN for streaming and unblocking sites, you might as well go with ExpressVPN and avoid this one. It's not very good in this regard.

Michael is a talented writer who has dedicated a lot of time into making sure that everyone around the world can use the internet securely. Being an avid traveler, he has acquired a lot of experience while using different VPNs on his travels. When it comes to doing comprehensive "how to tutorials" or testing some VPN functionalities, he's always the best pick ! He's here to help you solve your VPN-related issues.