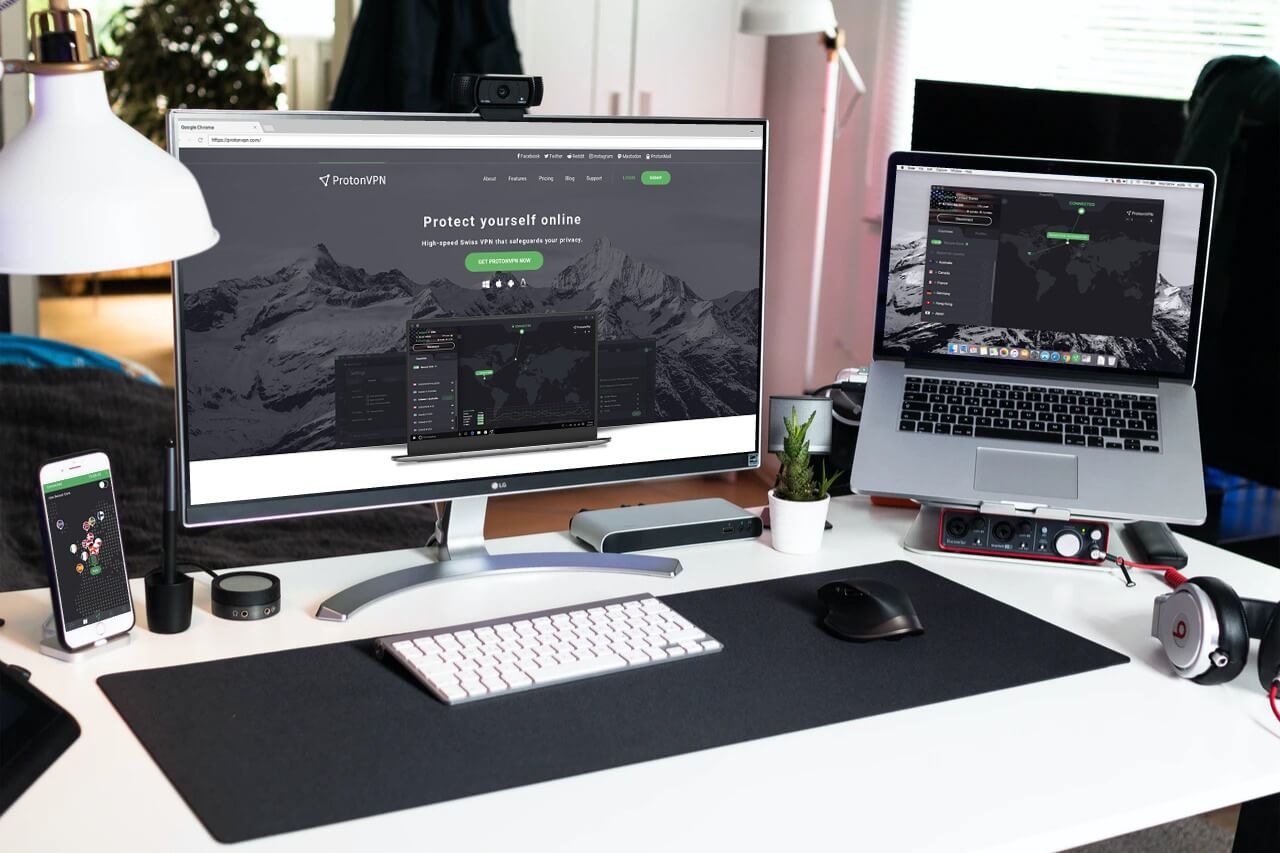 Built by the same developers who developed ProtonMail, ProtonVPN continues to gain more and more ground in the VPN industry. If you have ever used the immensely successful ProtonMail, you shouldn't be surprised at all by the VPN's seemingly rapid rise. The company's email service is the largest email service in the world, and it seems ProtonVPN has followed in its footsteps.
With its strong security protocols and solid streaming performance, this provider guarantees a fascinating experience for users. However, while the Virtual Private Network has a freemium version, its paid version doesn't come cheap at all.
It's probably because of the steep price that most VPN enthusiasts keep wondering if it's actually worth the money.
For the purpose of this review, we've conducted a comprehensive analysis of this provider, with the intention to reveal everything that's right and wrong about this pretty new service.
In order to make sure that everything included in this review is genuine, we haven't relied solely on the feedback of other users.
That is, apart from reading customers' feedback, we have also put this VPN to test, trying out all its advertised features. Is the service worth the price or not? We will allow you to be the judge after reading our in-depth review.
PROS:
Has a freemium version
Zero-logging policy
Unblocks Netflix
Bypasses the Great Firewall of China
Supports torrenting
Comes with helpful extra features
CONS:
It's not really fast
Limited network coverage
Unimpressive client support
Very overpriced
ProtonVPN ranks #8 out of 104 VPNs tested. Here are the best alternatives :
---
Is it a paid or a free VPN ?
ProtonVPN offers a freemium version, but it has a lot of limitations. While the free version works, the slow speeds, super-limited network coverage, and lack of many advanced features may frustrate most users into upgrading to a paid version.
Performance
In the evaluation of any service, nothing matters more than performance. That's what we thought that made us analyze the performance of this security tool in this review, based on its speed and stability.
Speed
To be honest, we weren't really impressed with our speed test result during the collation of this review. Obviously, the speed on the freemium version is below average, which shouldn't be surprising.
On the other hand, connectivity and speed will improve a bit if you have a premium account.
While you may not notice the slow speed on regular browsing, the trouble begins as soon as you start streaming high-quality videos and downloading heavy content.
Without VPN (we were located in London) :

EU Server (France) :


US Server :

Asia Server (Hong Kong) :


Stability
As expected of any VPN that's worth its weight in gold, ProtonVPN has an extremely stable network. The company works round-the-clock to guarantee an uptime of 99.9 percent, which indicates how committed they are.
Even if you encounter connection issues with a single country or server, it's likely to be a temporary downtime or problem, probably for maintenance.
Once in a while, a server may still unexpectedly go down. Although the problem is not likely to persist for long, don't hesitate to check your antivirus/firewall settings if it persists.
Streaming
One of the most prominent uses of Virtual Private Networks is their website-unblocking ability. This is particularly fascinating when it comes to streaming, so let's review what we found out in our test regarding ProtonVPN's capability to unblock streaming sites.
Stream your favorite shows easily with ProtonVPN >
Netflix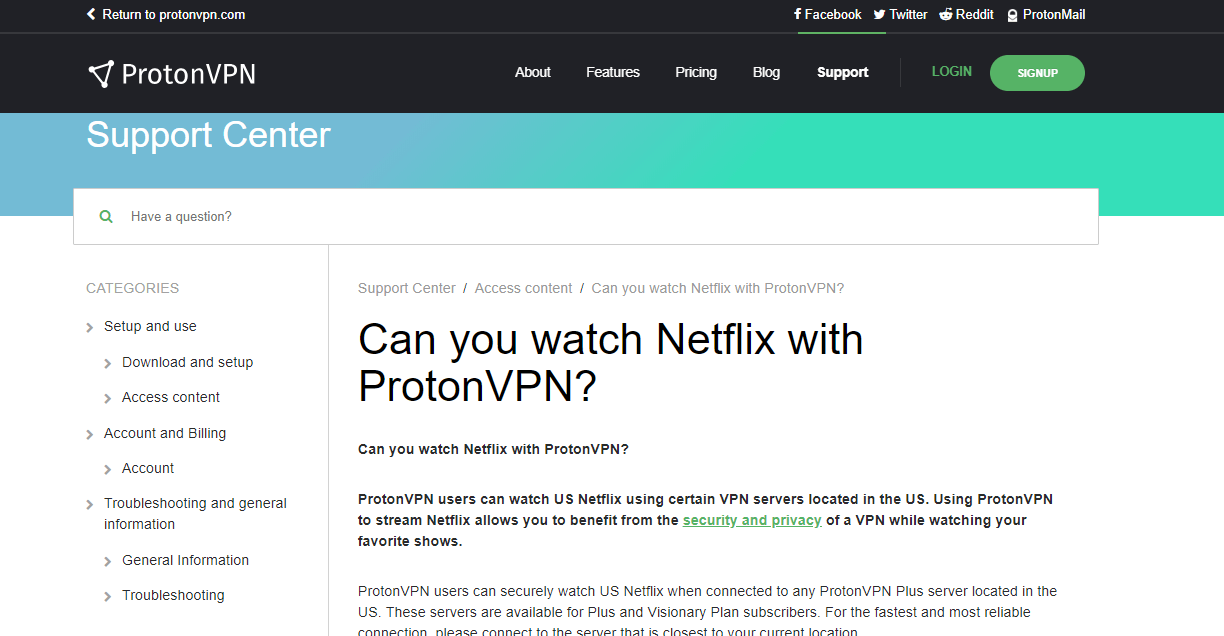 Certainly, ProtonVPN works with Netflix in 2023. Most providers often mark certain servers designed specifically for streaming, but ProtonVPN doesn't. Due to this, you may not immediately detect the right servers to use, and there are chances that you won't have much luck if you just test a random server.
Rather than testing out different random servers, go to the provider's site and choose Support > Access Content > Can you watch Netflix with ProtonVPN. There, you will find an up-to-date list of the Netflix-compatible servers.
In addition, you will find a note that states that "Secure Netflix streaming is not available on mobile phones with VPN right now, only desktop devices are supported."
During our test, the list had just more than 20 servers and we tried using a couple of them. Fortunately, all the ones we used worked well without any problem. However, bear in mind that the list has just US servers, so you are not likely to be able to unblock Netflix from other regions.
We attempted unblocking it with a couple of random servers in France, Japan, and the United Kingdom but had no luck accessing the corresponding local Netflix versions.
BBC iPlayer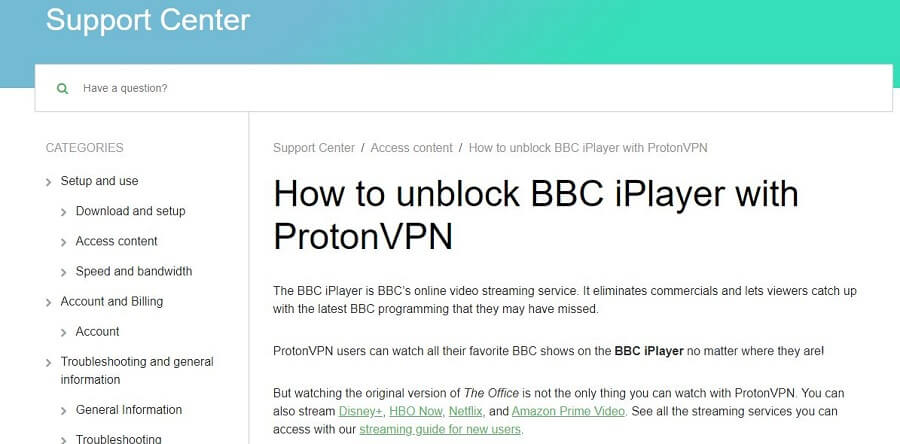 Even though ProtonVPN is very capable of unblocking Netflix, we can't say the same for BBC iPlayer. While it used to unblock BBC iPlayer, it has stopped unblocking it for a while.
We even tried it during our test and our efforts were futile, sadly. It will be interesting to see what steps the provider takes in the nearest future to fix this. Preferably before our next review of the service.
Others?
We said that ProtonVPN doesn't work for BBC iPlayer. On the brighter side, it works superbly for Hulu in 2023. Unblocking Hulu, however, is an extremely challenging task, so it's hard for us to guarantee that you will always get the best performance possible.
The same applies to other big streaming services like ITV, Disney+, FuboTV, and Amazon Prime Video, which for the most part worked well.
Security
Since VPNs are popular mostly for the fact that they guarantee maximum security, then it makes sense to ensure the service you're getting has the best security systems in place.
We found interesting details about Proton's security systems during our test, which we will review below.
Where is it based?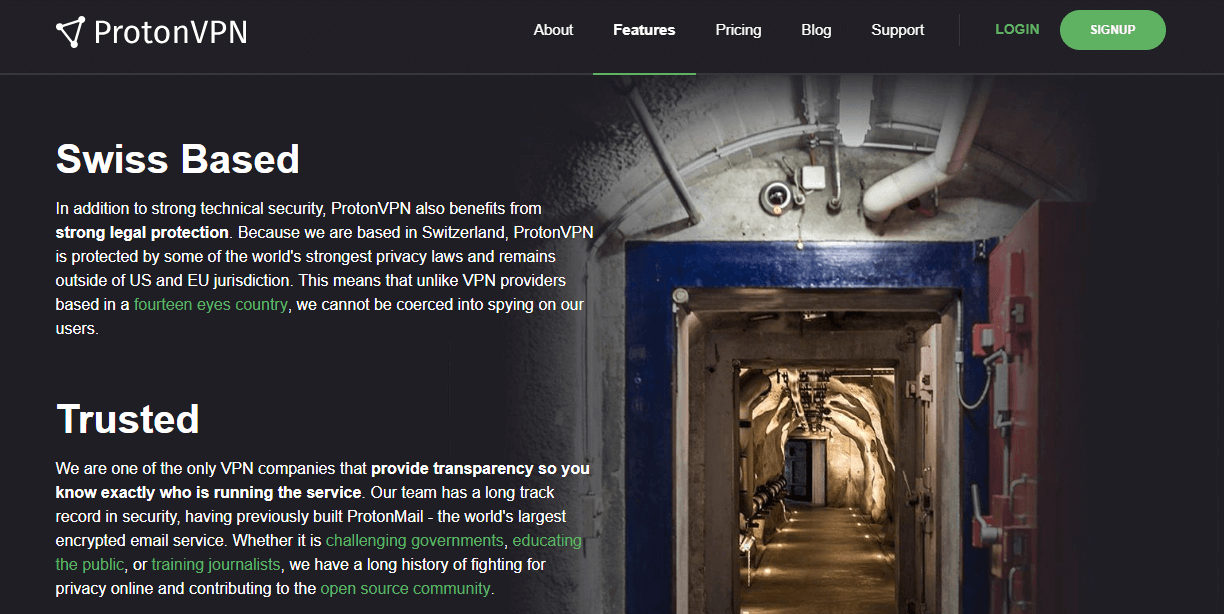 You are probably unaware of the significance of knowing where your selected VPN originates from. The truth is that it is important to know every detail about their location since these tools handle a lot of personal data.
That's one of the reasons we always recommend services that are based in regions with privacy-friendly regulations.
ProtonVPN is based in Switzerland, and the company states it proudly on its website. Thankfully, Switzerland is renowned for its unbiased diplomatic position and its efforts in safeguarding its citizen's privacy.
It's also important to note that Switzerland is not a member of the EU. Moreover, it's not a member of the Five-Eyes or Fourteen-Eyes, which surely sounds reassuring.
Theoretically, it seems like your personal data is given the best protection.
As you will read later on in our review, this provider collects no personally identifiable data. Thus, even if your information is collected at any point (which rarely happens), there are still many valid protections implemented.
Additionally, ProtonVPN is developed by the same company that developed ProtonMail, which is a service that is known for its solid encryption for email exchanges.
Therefore, it's safe to assume that this provider knows how to protect your privacy, based on our test.
Log policy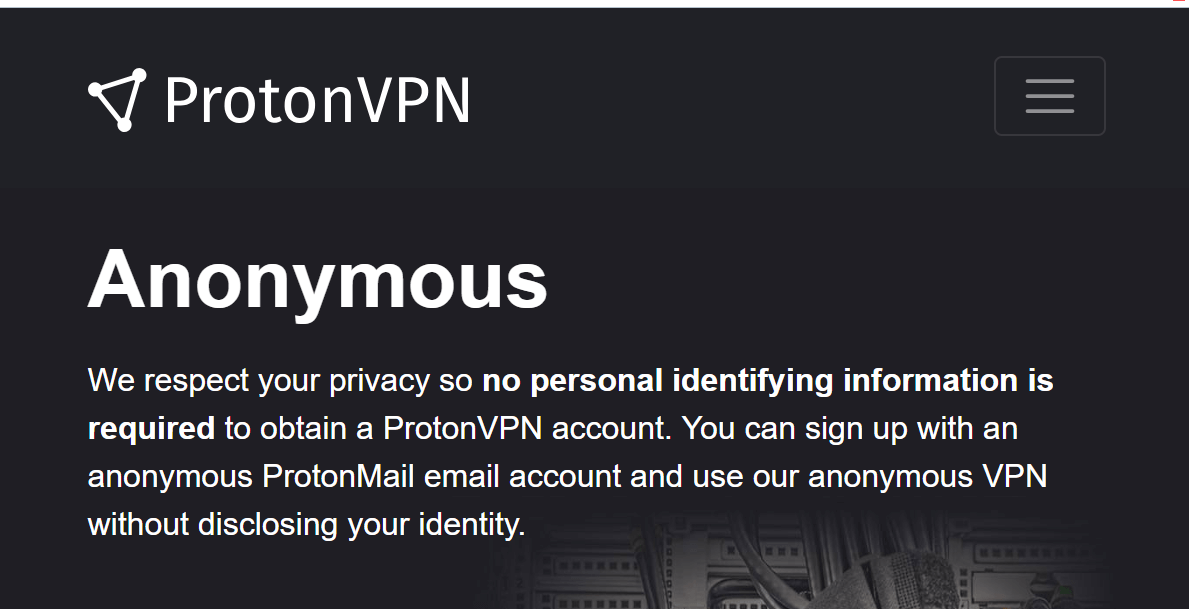 According to ProtonVPN, they don't collect any logs in 2023. In order to check the authenticity of this claim, we have done a comprehensive review of its policy regarding privacy.
When you are signing up as a new user, the service will take data like your email address, username, and password. Obviously, you need these details to log in whenever you need to use the service. Then, as soon as you begin to use the app, it will collect your timestamps.
While this may seem a little strange, the explanation behind is that the provider uses it to protect users from password brute-force attacks. Additionally, this data is deleted whenever you log in to the app, so you don't have anything to worry about.

When it comes to the privacy policy of ProtonVPN, there are two interesting points you need to bear in mind. This provider retains your username, email, and billing information, which are deleted only when you stop using the service.
When it comes to data sharing, the provider works hand-in-hand with its parent company to provide support and share data. However, that's because ProtonMail and ProtonVPN use the same database.
In the end, it is up to you to decide whether or not to believe the company. We don't think it collects any personally identifiable information and we likewise believe that it is playing fair, according to our findings during our test.
Moreover, the provider's Privacy Policy was just updated in 2023 and some previous vague elements have been removed. Now, the legal document is a lot more transparent and user-friendly, as we saw while writing this review.
Protocols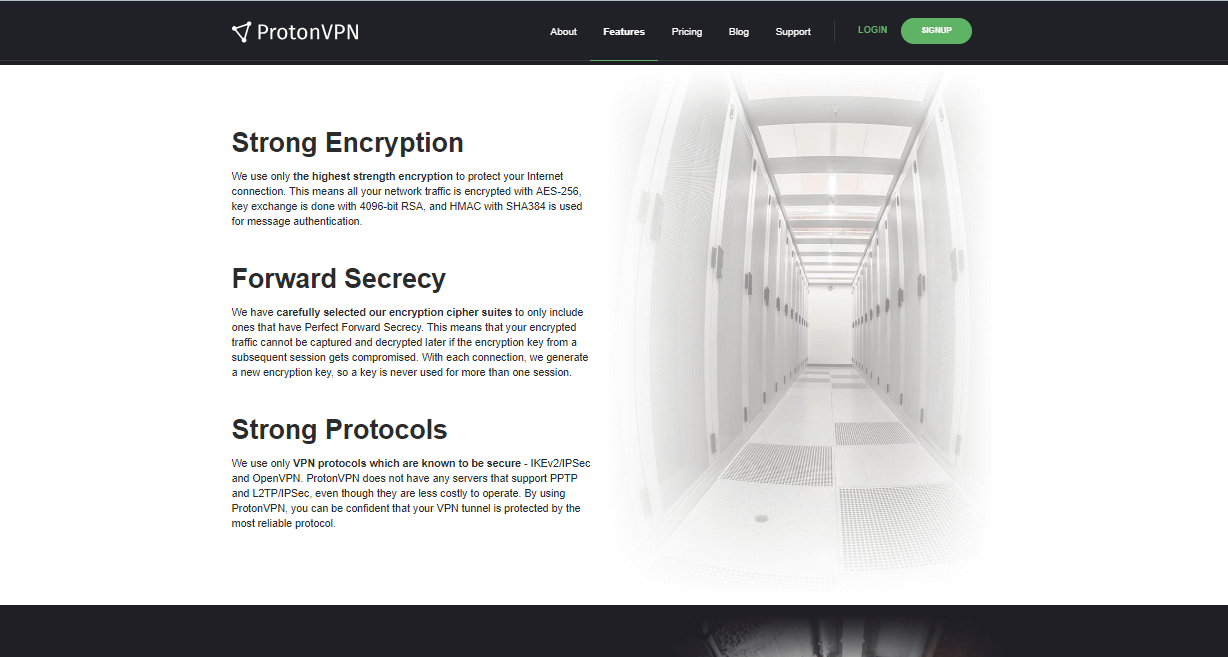 This service uses the strongest encryption that is commercially available in 2023. We are talking about military-grade AES 256-bit encryption, with 4,096-bit RSA being the chief exchange method and SHA384 being for message authorization.
Of course, we know that you may not understand what all these numbers mean, but we assure you that the encryption protects your data in the best possible way.
However, ProtonVPN has chosen to ignore less secure protocols and put their focus on OpenVPN and IKEv2 only. Both protocols are renowned for being strong with no obvious vulnerabilities.
Based on your preferred platform, you will get to use either Open VPN or IKEv2. It doesn't matter which one you will choose eventually as both of them offer reliable performance.
Protection against leaks
While solid encryption is important, it has to be supplemented by leak protection. With this, you will be assured that all of your data will be safe in the encrypted channel. In that case, ProtonVPN uses IPv4 and DNS leak protection.
Even though the VPN does not support IPv6 fully yet, it does come with servers specially made to prevent leaks. Simply put, all IPv6 data traffic is redirected by their servers so that you can always browse the internet as you would normally.
Torrenting
Forget the fact that you and millions of people around the world love torrenting – many authorities still sternly look at torrenting. Before settling for a VPN, it's important to test its torrenting abilities.
If you are wondering, we actually did test ProtonVPN's torrenting capabilities, and below is our review.
Is torrenting allowed?
We are afraid readers may be disappointed with ProtonVPN when it comes to torrenting. Its freemium version doesn't allow peer-to-peer at all. However, its paid version fully supports torrenting and that brings a sigh of relief.
ProtonVPN's Basic, PLUS, and Visionary packages all support peer-to-peer, but there is a small condition. You can use peer-to-peer on only a couple of servers, which the provider has marked safe.
In large part, P2P sharing on this service comes with many limitations. It's safe to say that ProtonVPN has a long way to go if it wants to become one of the best options for torrenting.
Is there a Kill switch?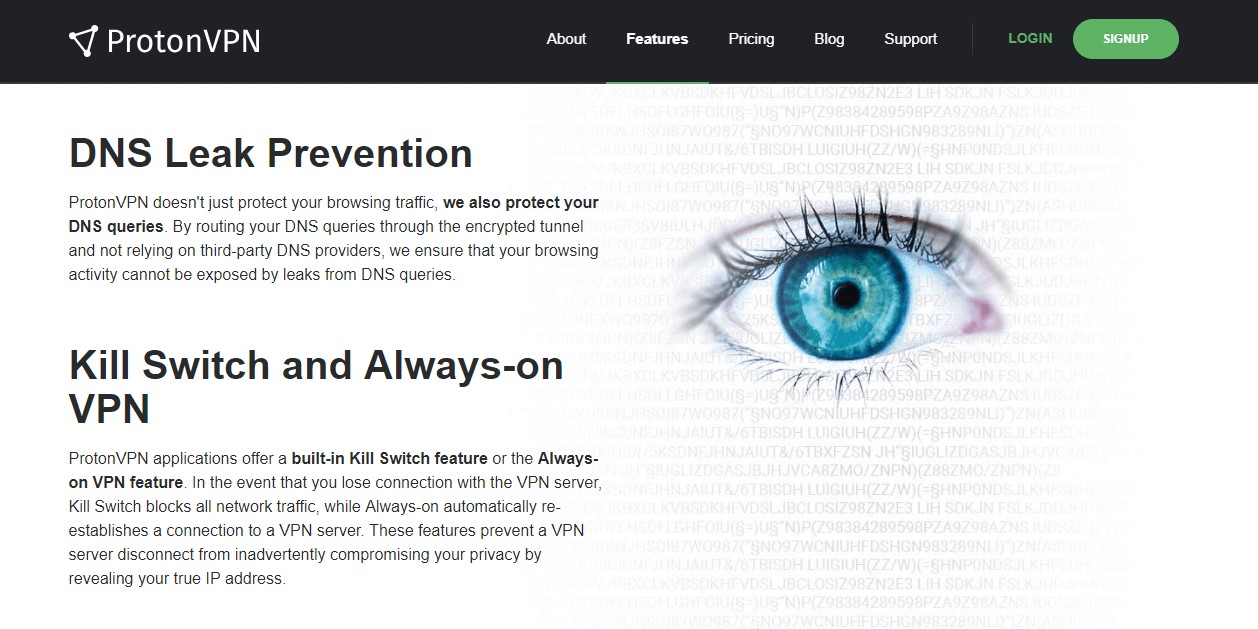 Note that this VPN comes with a Kill Switch that automatically halts web traffic on your computer in the event that your VPN connection gets disconnected. This prevents your data traffic from being wide-open, even if it's only briefly.
We checked the Kill Switch and leak protection during our test and everything was working fine. There were no key problems, apart from the occasional connection errors which were promptly corrected.
Bypassing Censorship
China, Russia, Iran, and Saudi Arabia are some of the countries with censorship policies in the world. If you happen to reside in one of these countries, this part of this review is for you.
In censored countries
ProtonVPN has servers that still work for people who reside behind the Great Firewall of China. However, it's hard to make any guarantee regarding this as the servers that unblock the wall today may not be able to tomorrow.
While we agree that the situation is a bit difficult for ProtonVPN in China, you can still connect to a couple of servers at least.
The truth is that the Chinese government is putting lots of effort into controlling the Internet access of its citizens. The Great Firewall of China is a massive system of tools, including URL filtering, deep packet inspection, and DNS filtering, that the government utilizes to prevent residents from accessing foreign sites.
Along the same lines, the Chinese government utilizes these systems to detect and subsequently block VPN servers.
Since the Great Firewall is an ever-changing and evolving system, we can't guarantee in this review that this provider will be accessible always from China.
Besides, accessibility may vary, both from region to region and day-to-day.
However, the provider is always working hard to provide countermeasures to enable their servers to evade the Great Firewall's detection. Apart from China, ProtonVPN works in other countries with stern censorship policies such as North Korea, Russia, and Saudi Arabia.
If you encounter issues while trying to use the service in any of these countries, simply contact the provider's support team. They don't share this information publicly, but their support team can give you some likely workarounds to bypass these restrictions.
In restricted networks
Censorship and restriction go against two of the fundamental principles of the Internet: openness and freedom. ProtonVPN doesn't support it at all, as we found out during our test.
Therefore, if you work or study in an environment where the network has been restricted, you can always count on this VPN to help you bypass the network restrictions.
Countries and servers
The server count and geographical distribution are also important factors to take into consideration. They are two factors that may determine the overall performance of a VPN, so below is what we found for this review.
Countries covered

At the moment, ProtonVPN offers 1,057 servers in 54 countries around the world. However, it is important to highlight that the provider doesn't use virtual servers – all its servers are actually where they look to be.
Nonetheless, the little server count is still a major cause for concern as leading VPNs like ExpressVPN and CyberGhost offer 3,000+ servers each. Thus, it is obvious to see that this provider is a long way behind the top VPNs when it comes to server count at least.
However, ProtonVPN provides servers in most of the popular countries on the planet like Australia, the United States, and several European countries. Thus, you can always count on finding a nearby server if you reside in any of these countries.
Sadly, the reverse is the situation in South America and Africa, as you will find servers only in Brazil and South Africa.
In other words, you can't rely on having nearby servers, which means you are likely to encounter some throttling. In Asia, the situation is a little better as there are servers in South Korea, Hong Kong, Japan, Israel, India, and Singapore.
Servers
ProtonVPN has specially designed servers for torrenting and streaming. These servers have a 'P' letter next to them. The letter 'P' stands for 'Plus', signifying that these are so-called Plus Servers.
Plus Servers are essentially dedicated servers for particular activities – in this case, streaming and torrenting. Torrenting servers are much better given that streaming ones won't always work reliably, as we mentioned previously in the review.
Compatible devices and simultaneous connections
The number of devices you can connect to your VPN and the type of devices you can connect are two factors you must account for. To ensure that you make the right decision, we have answered all the questions related to these in this part of the review.
What device can I use with ProtonVPN?

In terms of desktop platforms, there are native apps for some of the most popular devices and platforms. Some of the platforms it supports include:
Windows
macOS
Linux
Android
iOS
DD-WRT
Tomato
AsusWRT
Currently, ProtonVPN does a decent job of offering a series of apps across the most widely-used and popular mobile and desktop platforms.
However, we found out in our test for this review that it doesn't offer extensions for Web browsers such as Google Chrome. Besides, it doesn't offer apps for devices like gaming consoles, media streaming devices, and more.
It is important to keep this in mind as this is something that all the leading VPNs today offer.
How many simultaneous connections?
While the freemium version allows only one simultaneous connection, the paid versions allow up to 5. Note that even though some providers allow up to 10 simultaneous connections, 5 is pretty much the industry standard and should be more than enough for your needs.
Client support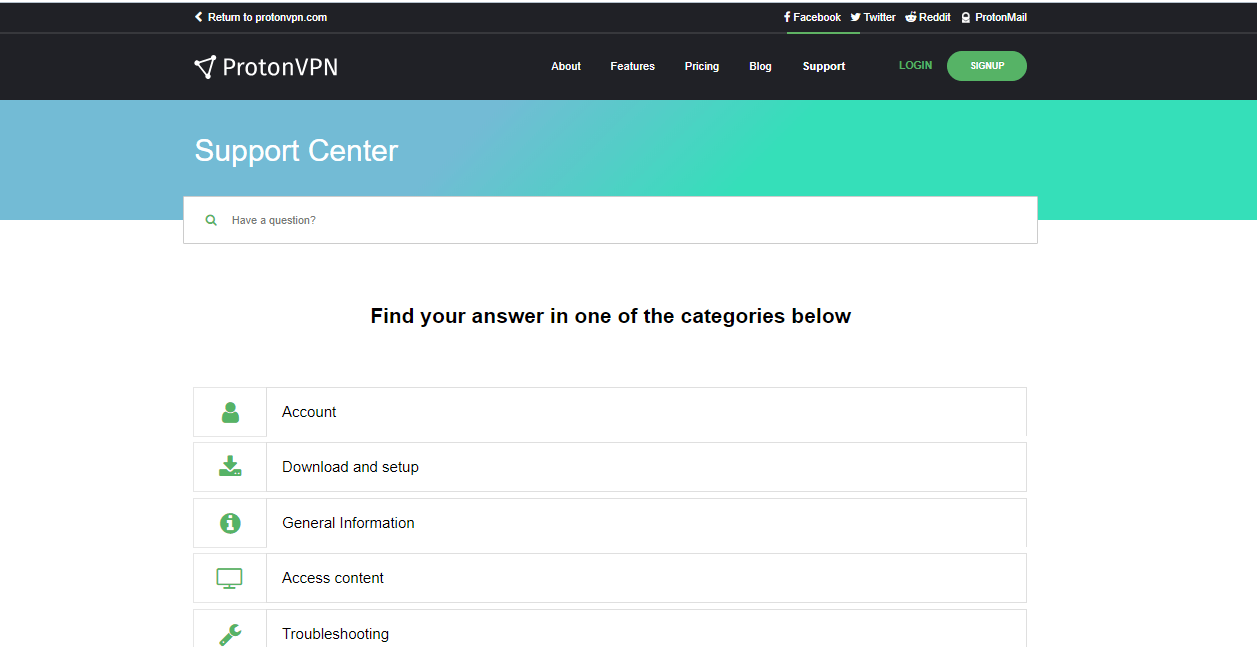 Don't let anyone deceive you into believing that the client support is not an important factor. It's as important as any other thing and it speaks volumes about the reliability of any VPN.
With that said, we have put the support strength of this VPN to test, and below is our review of their performance.
How to contact it?
First of all, ProtonVPN doesn't offer live chat support, contrary to ExpressVPN. Instead of that, you can use email or a support form to send your requests, with the latter being the preferred method.
The truth is that the email method is very slow, as the support staff even admitted during our test.
Normally, you are likely to get a prompt response through the support form, which in a way makes up for the live chat support that it lacks.
Is it good?
It is a huge downside that this provider doesn't have live chat support. You will need to either contact them via social media or use the form method if you encounter an issue.
However, that is not to say that they are not responsive.
The client support does its best to respond as soon as possible, but the truth is that it can never be as fast or efficient as live chat. Therefore, if immediate attention is something you're particular about, we recommend you to review its alternatives with live chat support.
FAQ/Tutorials

If you don't want to take any of the support channels, you may refer to the super helpful knowledge base. There, you will find some installation guides and answers to the most frequently asked questions.
The knowledge base may even provide enough answers that you may not find a reason to contact support at the end of the day. For instance, we found solutions to some installation issues we encountered during our test.
Value for money
While ProtonVPN offers a free plan, it's vital to note that it also has paid plans. That said, you may be wondering if it really offers enough value for money so we have chosen to review its value for money.
Price comparison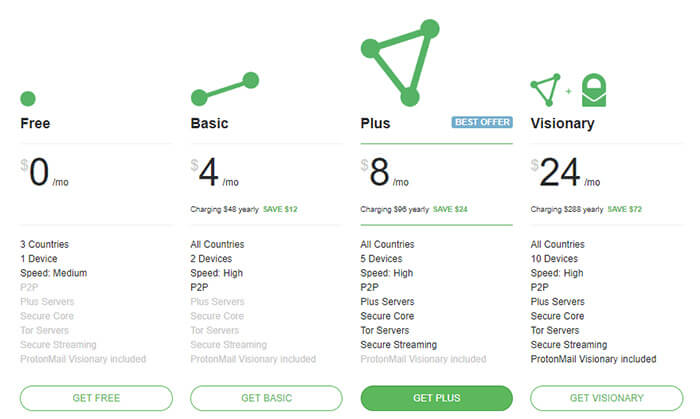 You can choose between four primary plans – Free, Basic, Plus, and Visionary.
While there are no bandwidth limits and no annoying ads with the free plan, the speeds are super slow. Besides, you can use the service on one device only at a time and you are only allowed to access servers in just 3 countries.
It has no extra features like P2P, Tor Support, and Secure Core.
However, the Basic plan offers some improvements, allowing you to access all the servers, enjoy good speeds, and use the VPN simultaneously on two devices. It also has a catch though as it restricts you from using the advanced features.
Since it's cheap at $4 per month and $48 per year though, most users may not bother.
The next alternative is the Plus plan, which costs $8 per month and $96 per year.  This plan allows you to use all the servers within the provider's network, enjoy high speeds, and use five simultaneous connections.
Moreover, it offers you advanced features like Tor over VPN compatibility and Secure Core Network.
The final option is the Visionary plan, which provides you with all the benefits offered in the Plus plan, plus ten simultaneous connections.
The most significant part of this plan is that it includes ProtonMail. However, the Visionary plan costs $24 per month and $299, which is widely considered to be too expensive.
Means of payment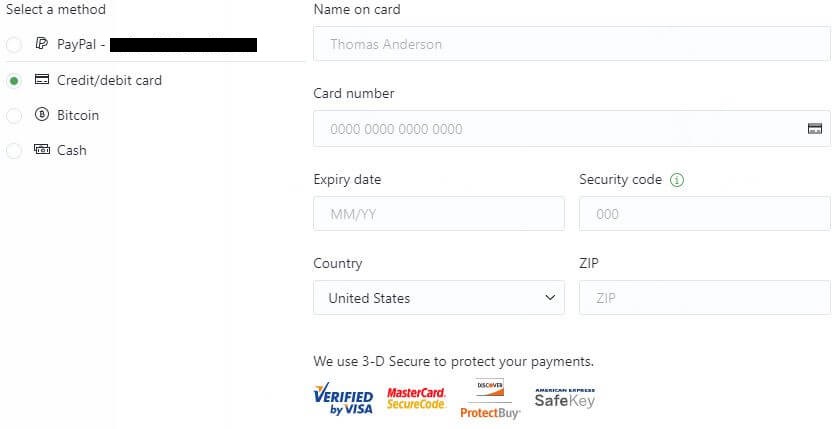 As we have already mentioned in this review, the freemium service doesn't cost anything. For premium subscribers, ProtonVPN offers a couple of payment options that include:
PayPal
Credit Card
Bitcoin
Cash
The fact that the service supports Bitcoin payment is excellent. This means you can pay anonymously and stay completely private.
Money-back guarantee
ProtonVPN remarkably offers a 30-day money-back guarantee to test out the service. This means that if you end up not liking the service, simply request a refund within the first 30 days.
However, take note that they won't give you a full refund. They provide a partial refund for the days left on your subscription.
This is a huge drawback as most other companies provide a full refund so far you request for it within the stipulated period. Nonetheless, this provider offers a 7-day free trial to assuage that disappointment, so it's a bit fair.
Also, you can request a refund even after the first 30 days, but its consideration is only at the discretion of the company. Note that we didn't test this, so we don't really know if they ever consider any refund after 30 days.
Any extra?
The best VPNs always come with many extra features and ProtonVPN completely understands that. We found many extra features while compiling this review and we made sure to put each one of them to test.
Secure Core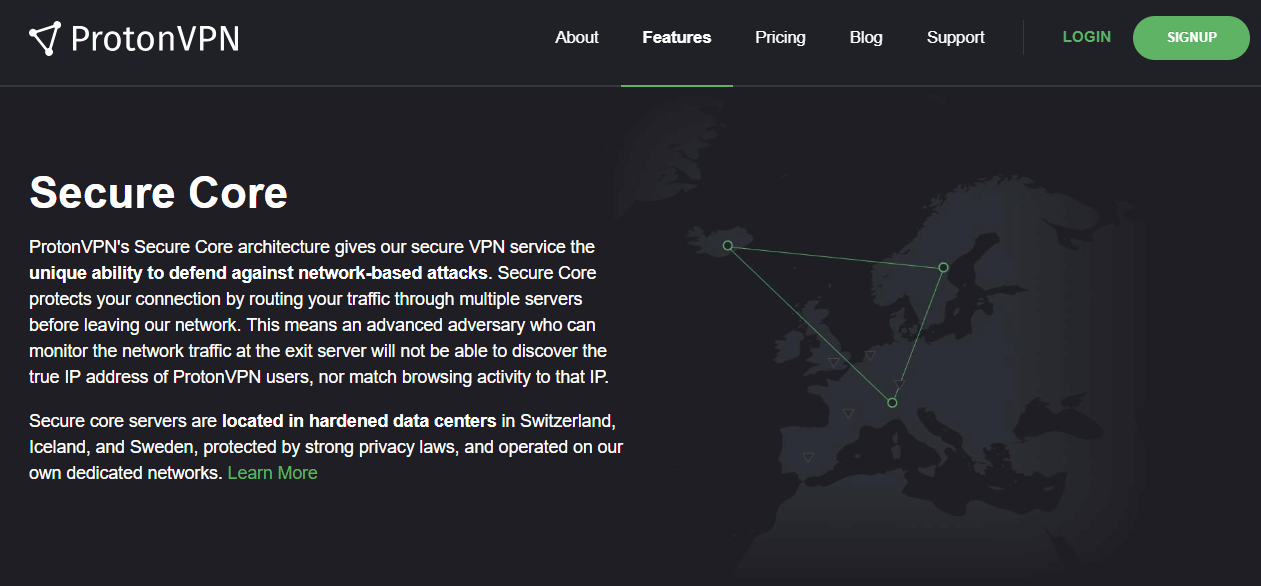 Probably the most unique feature we found during our test is Secure Core and what a super useful feature it is. It secures your VPN connection by directing your data traffic through many servers before departing their network.
This means that even if someone tracks an exit server, it will be impossible for them to match any browsing activity to your IP.
Forward Secrecy

Forward secrecy is another excellent feature we found while compiling this review and it means your encrypted data cannot be decrypted. In fact, even if there is a compromise, no one will be able to decrypt your encrypted traffic.
For every connection, the provider creates an encryption key. With this, two different sessions never use the same key.
Split Tunneling
The split tunneling is another excellent feature we found about ProtonVPN, but it is unique to the Windows client only. The feature enables you to choose which applications use the VPN and which ones do not, and to include or exclude specified IP addresses.
It is worth mentioning that this feature doesn't work with services or websites that resolve to many domains, including Netflix, BBC iPlayer, Amazon Prime Video, and several other popular streaming sites.
This is an in-built limitation of the wonderful technology and it's a big shame.
Tor over VPN

The Tor browser is designed to ensure your anonymity without even encrypting your data. Added with a Virtual Private Network, you can secure your connection further.
This makes it super hard for anyone to monitor your activity or even spy on you.
Final Thoughts
ProtonVPN is a fairly new player in the VPN market that was primarily designed to guarantee maximum privacy and security. Top-notch protocols and stellar encryption alongside some unique features such as Secure Core make it a strong pick for people who are keen on privacy.
However, we understand that the majority of VPN users would want full functionalities. While the service has satisfying streaming test results, it's considerably limited when it comes to speed and network coverage.
Simply put, this VPN looks extremely overpriced.
Another feature that could have altered our review a bit is the live chat feature, but this VPN doesn't offer it, unfortunately.
In general, this provider obviously has the potential to become one of the best in the future, but it still has a lot of improvements to make and a lot of things to work on.
ProtonVPN Review and Test
If you're looking for very strong security, ProtonVPN is a really good choice, that's for sure ! On the other hand if you want to have a coverage worthy of the name and competitive rates, you risk being a little disappointed.
Add your review
|
Read reviews and comments

Michael is a talented writer who has dedicated a lot of time into making sure that everyone around the world can use the internet securely. Being an avid traveler, he has acquired a lot of experience while using different VPNs on his travels. When it comes to doing comprehensive "how to tutorials" or testing some VPN functionalities, he's always the best pick ! He's here to help you solve your VPN-related issues.