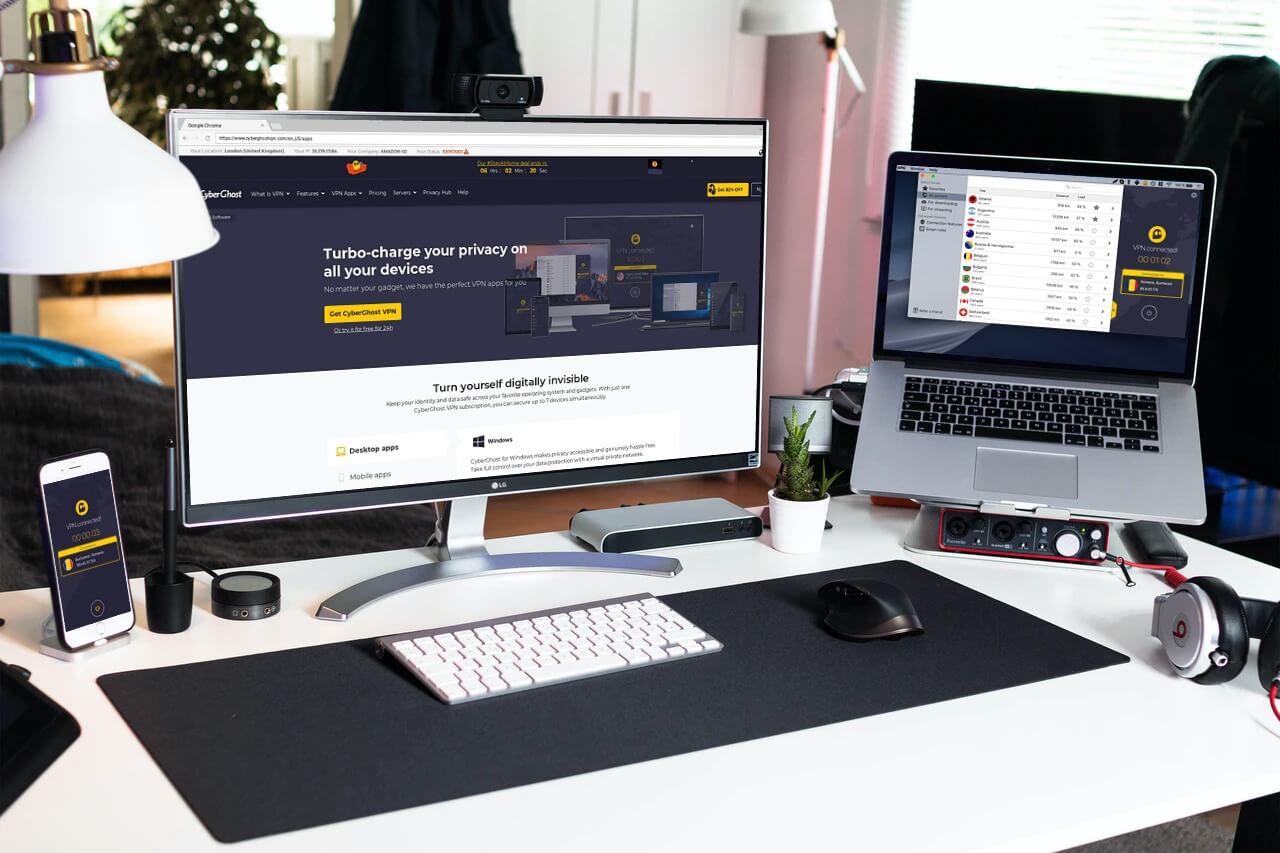 Founded in 2004, CyberGhost's rapid rise to fame has been nothing short of sensational. Within almost two decades, the provider has become one of the most sought-after VPNs in the industry, thanks to its focus on server selection, usability, and pricing. Moreover, the service has an effortless torrenting ability coupled with some other advanced features, so it's not surprising that it has won the hearts of more than 30 million people around the world.
If you're in the market for the right VPN for your needs in 2023, you might want to consider CyberGhost. While it has its shortcomings like any other thing that is man-made, its upsides are extremely overwhelming. Luckily, you will get to learn everything about this service in this in-depth review.
From its strengths to its weaknesses, the comprehensive test we carried out and our in-depth review will reveal everything in the subsequent paragraphs.
STRENGTHS:
A zero-log approach
Can unblock Netflix with ease
State-of-the-art privacy protection
Very competitive pricing
Latest encryption protocols
Up to 7 simultaneous connections
WireGuard support on all platforms
24/7 live chat support
WEAKNESSES:
A bit more expensive short-term plans
Does not work in China
Inconsistent speeds
---
Is It a Paid or a Free VPN?
With its wide network coverage and the numerous security features it's equipped with, it would be unreasonable for anyone to expect CyberGhost to be free. You know what we think about the use of free VPNs. Of course, it is a paid service as you have to be willing to pay if you want to enjoy the best online security and privacy.
However, the provider offers flexible plans, which make it somewhat less expensive than some of its rivals in 2023.
Performance
Performance is always the most important thing to consider when looking for the right VPN for your needs.
How fast is the service? How reliable is it? These are the questions you need answers to before committing to a particular VPN. Let's give a comprehensive review of the service in terms of performance and how well it performed in our test in 2023.
Speed
To be honest, it's always a daunting task to calculate the exact speed performance of any VPN.
A Virtual Private Network involves numerous factors that should be considered when you're trying to determine, test, or review its speed. Of course, we've tried many sites to test whether the service is fast enough or not.
In each test performed for this review, CyberGhost showed good results, but nothing out of ordinary.
The best word to really characterize the speed of this service is "inconsistent."
Actually, the speed generally depends on the server you choose, the number of clients currently on the server, and even the time of the day. In the end, we found its average speed to be around 199 MB/sec in our test, which is a bit less than what you'll find with the industry's leaders like ExpressVPN.
Careful, the speed of course depends on your "normal" (without VPN) connection speed. Our download speed is around 235MB/s.
Without VPN (we were located in London) : 

EU Server (Paris) :


US Server (New York) : 

Asia Server (Hong Kong) :


Therefore, in terms of speed, CyberGhost is surprisingly good. Nonetheless, the average speed for gaming and HD streaming works superbly in a couple of regions. Obviously, the speed gets better much in closer countries and less common connections.
What is interesting to see is that we even won some upload speed once the VPN was on. This must be due to our ISP capping our upload speed. Very good point for the provider as far as this is concerned!
Stability
When it comes to stability, CyberGhost is easily one of the most stable services in the business. Not only do they have thousands of servers across about 90 locations around the world, but they also promise an uptime of about 99.99 percent.
This is very impressive as it means you'll always find a server to connect to whenever you need the service. Remarkably, we always found a server to connect to during our test. We will discuss comprehensively its servers later in this review.
Streaming
There are millions of people around the world who buy VPNs only for streaming.
Thus, we'll review and test how CyberGhost performs when it comes to unblocking major streaming companies like Netflix, BBC iPlayer, and others.
Netflix
CyberGhost has invested a lot of effort and resources in making sure that the service bypasses Netflix's VPN-blocking systems. Currently, you can unblock Netflix by connecting via one of its servers based in the United States.
In fact, many users validate this claim as well. However, since the situation is always changing, we can't guarantee if it will always be able to unblock Netflix as the streaming company is also not resting, in its bid to block every VPN.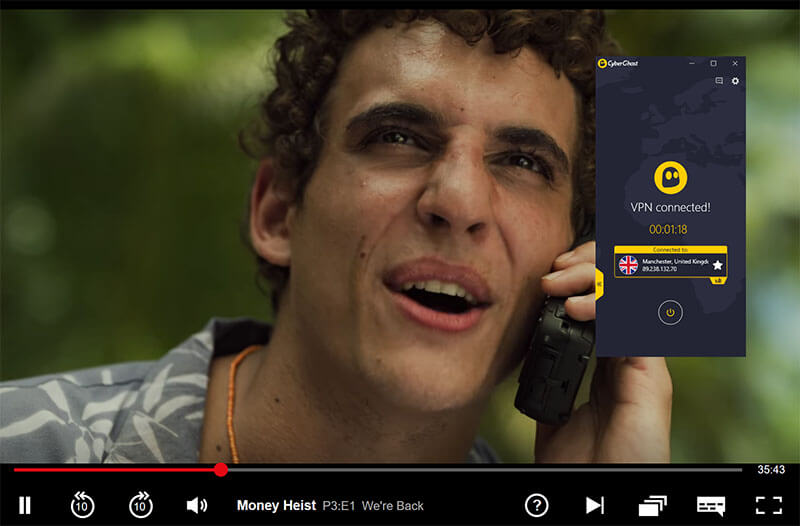 BBC iPlayer
Unplagued by commercials, BBC iPlayer is one of the biggest streaming services in the world.
However, BBC iPlayer is only available in the United Kingdom, although it is free.
Fortunately, CyberGhost has servers that have been optimized to stream BBC shows, making it one of the VPNs to turn to if you want to stream BBC iPlayer.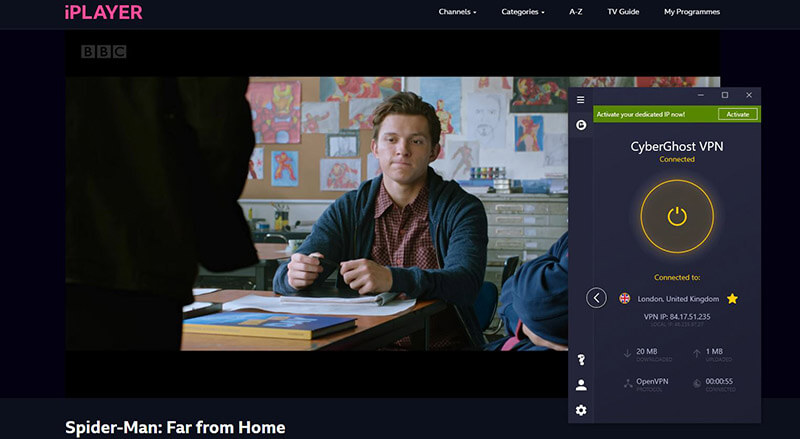 Unblock BBC iPlayer with CyberGhost now >
With more than 650 servers located in the UK alone, you will be able to stream your favorite movies or shows with the same speed and quality you would enjoy in the United Kingdom. In fact, you don't need to worry about throttling, buffering, or limited bandwidth. And yes, the VPN was able to unblock BBC iPlayer seamlessly in our test.
Others?
While Netflix and BBC iPlayer are two of the most popular streaming platforms in the world, they aren't the only ones. Several other excellent services provide thousands of clips, movies, popular shows, cartoons, and audio tracks.
With CyberGhost, you will be able to access or unblock such platforms as Amazon's Firestick, Kodi, Popcorn Time, and many others. In fact, streaming is probably where it performs best, based on the test we carried out for this review.
Of course, you'll also manage to unblock Sky, HBO, Hulu, Amazon Prime Video, and many others.
Security
Security is one of the biggest motivations for most people buying VPNs in 2023.
When you're using a Virtual Private Network to surf the web, there are chances that you want to be secure as much as possible. So, how does CyberGhost perform when it comes to security in our review? There is always one way to find out.
Where Is It Based?
VPN enthusiasts often debate about the advantages of the country of origin and jurisdiction.
This is because some countries have data retention, discovery, and sharing laws, while others don't. For individuals whose primary concern is privacy, countries that aren't involved in data sharing agreements are quite appealing.
CyberGhost is based in Romania, which is a country with no relationship with either the Five Eyes or the Fourteen Eyes. For people who may be wondering, the Five Eyes and the Fourteen Eyes are groups of countries that have agreed to exchange or share information, in a way to strengthen their security.
Therefore, since Romania has no relationship with them, CyberGhost can't be compelled to disclose the personal data of its users.  The fact that it is based in a country with no data retention or sharing laws is a huge advantage.
Privacy Policy
Although CyberGhost was developed in Germany, it later relocated to Romania, which is a country with no data retention laws. For users keen on privacy, this is great news since only the provision of unequivocal consent can make the company retain personal data.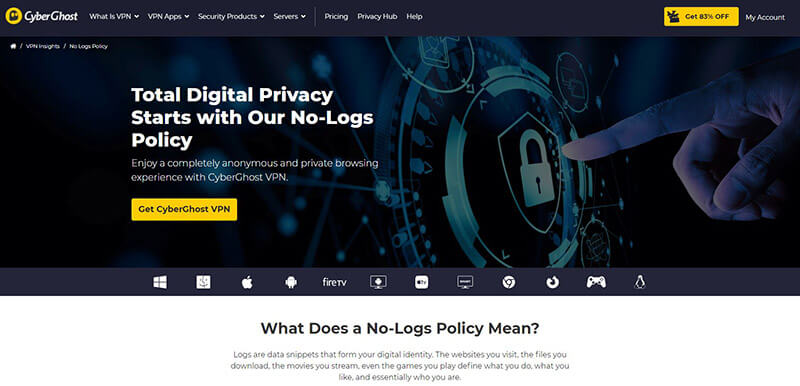 The VPN provider doesn't store user behavior, communication, or web targets. While it stores some connection logs, it's often nothing that can be linked to any individual user. Registration and payment details aren't related to the services, and customers are usually provided with an anonymous identity.
Browse anonymously with CyberGhost now >
While the site collects a considerable amount of information about visitors, it's usually nothing connected to the user's use of the service.
The applications take some non-personal information such as connection attempts for analytics and transfer it to MixPanel. However, CyberGhost won't store your IP address, user ID, VPN server, or connection timestamps.
Protocols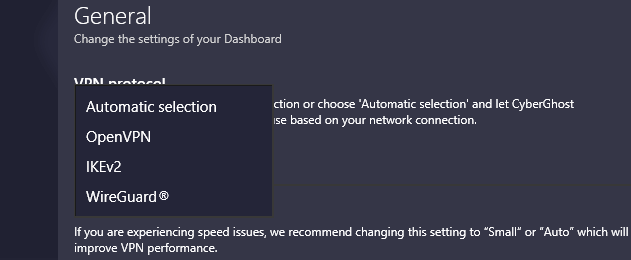 CyberGhost uses military-grade AES-256 encryption, which many people believe to be the most powerful encryption mechanism in 2023. Additionally, it uses highly secure protocols such as OpenVPN.
WireGuard is here as well, and luckily, it's available for all platforms, including even Windows, Android, and iOS.
Simply put, third parties will never be able to read your data even if they manage to get to it.
While the service supports OpenVPN on Windows, Android, and macOS platforms, iOS isn't supported and instead, relies on IKEv2. Remarkably, the Windows application utilizes IKEv2 as well, which is another excellent VPN protocol.
Despite the app supporting the older L2TP protocol, we advise you to avoid this protocol completely except if absolutely necessary.
Although the iOS application utilizes the IPSec protocol, that is nothing strange. Apple places extra requirements on applications that utilize OpenVPN, so most VPN providers choose not to utilize it in their iOS applications.
Protection Against Leaks
The software also comes with an in-built DNS leak protection, which surely worked well in our test.
To strengthen privacy, this special feature helps to prevent DNS requests from going over to your ISP rather than the company's own servers.
Torrenting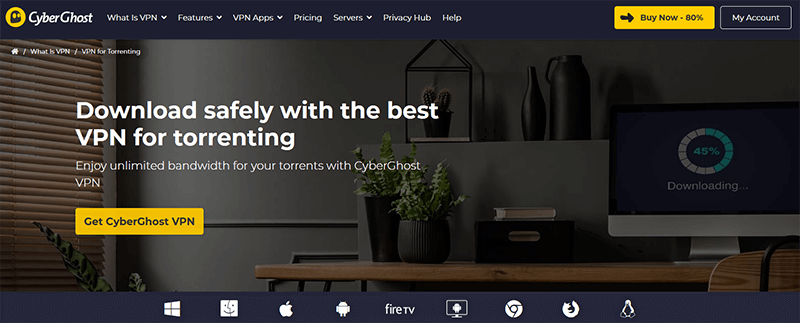 Being the world's most popular method to download media in 2023, there are a lot of people who look for the best VPN just for torrenting. We thought it would be necessary to test this VPN's torrenting ability to make our review as comprehensive as possible.
So, how does CyberGhost perform when it comes to torrenting?
We will let you know in our detailed review below.
Is Torrenting Allowed?
While some providers are always quiet about their support for peer-to-peer sharing, CyberGhost is more honest. For instance, simply open the Windows app, and you will see one of its lists titled 'for Torrenting'.
Furthermore, the settings include some useful tweaks, such as the ability to connect to your preferred connection automatically whenever you open your torrent client. On top of that, there're some extras like a malicious URL filter, which could help you prevent lots of trouble.
This also worked well in our test and review.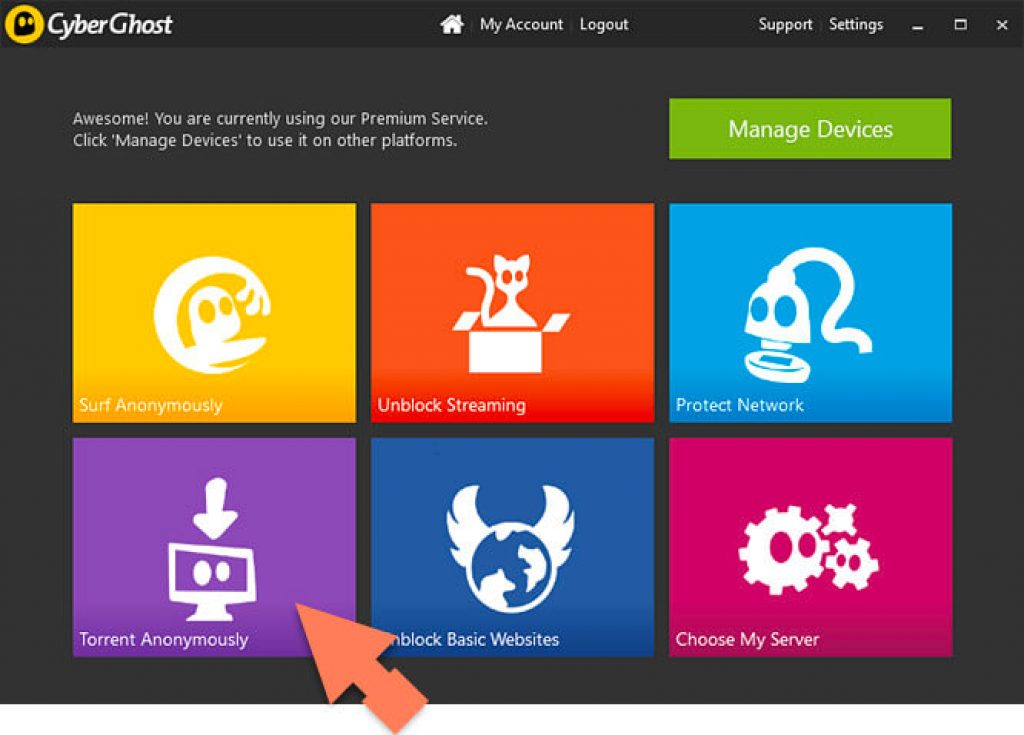 However, if you disregard the 'for Torrenting' list and proceed to manually connect to a server, then you may encounter some issues.
The company states that "we have to block P2P protocols on some servers, either because of strategic (this is traffic that unnecessarily slows down other user's traffic) or due to legal reasons in countries where we are forced by providers to block torrent traffic, among them USA, Russia, Singapore, Australia, and Hong Kong."
Download torrents with CyberGhost now >
Although, if you choose the recommended list, the service works incredibly well. Overall, it is a straightforward and simple way to download torrents while staying completely anonymous.
Is There a Kill Switch?
CyberGhost comes with a kill switch, which is another privacy-strengthening feature. The kill switch specifically shuts down all internet traffic if a sudden connection breakdown happens, unless you're using iOS or Android protocols.
In our test, this feature was also incredibly effective and we thought we must include it in this review.
Of course, recent Android devices come with their own kill switch that you can access through the settings of the devices while iOS devices can't use this feature at the time of writing this review.
The silver lining is that the CyberGhost iOS app has a kill switch, so you can utilize it easily.
Bypassing Censorship
Bypassing censorship is one factor that often helps people to make a quick decision when looking for a VPN to buy.
How does CyberGhost perform in our test in this regard? Continue reading this review!
In Censored Countries (Particularly China)
Let's face it, bypassing the Great Firewall of China is an incredibly huge mountain. It's an enormous test for any provider. In fact, only a couple of providers in the business are up for the challenge.
Sadly, CyberGhost is currently not among the VPNs that can get past the super-solid censorship in China.
It also can't work effectively in most censoring nations with severe VPN blocks. While this may change in the future, as at the time of writing this review, it doesn't work well in censoring nations.
In Restricted Networks
Some employers don't want you to waste any of the minutes for which they pay you on browsing Facebook. So, they place restrictions on their networks. Also, in a way to force customers to buy in-hotel movies, some hotels place restrictions on their network
However, CyberGhost can help unblock such restrictions. The VPN encrypts the data, thereby disabling the network from seeing what you are trying to access. It also worked in our test and works all the time.
Bypass restrictions effortlessly with CyberGhost now >
Countries and Servers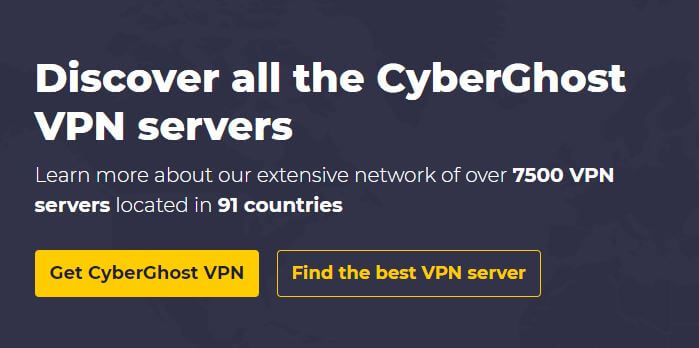 The number of servers operated by a VPN company is often an indicator of the number of subscribers a company has.
Of course, more customers mean more servers. Having said that, it's always better to have more servers as more servers mean subscribers can be more equally distributed, providing you with more alternatives.
Countries covered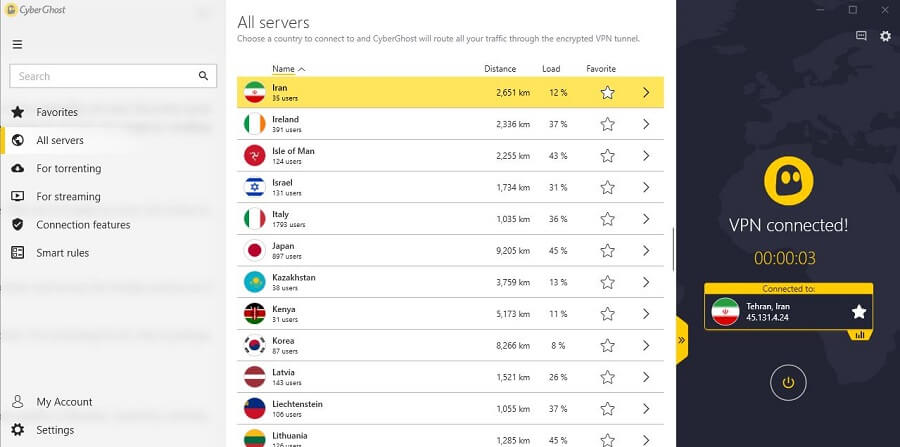 With more than 7,400 servers worldwide, CyberGhost is designed to allow you to surf the internet from any corner of the world. Also, the company's commitment to expanding its network should be commended.
It's continuously adding more locations, with the most recent ones being Barcelona, Berkshire, and Strasbourg. From all indications, this trend will likely continue in the future, which is why you might want to invest in its long-term subscription.
The provider has more than 100 server locations, across roughly 91 countries around the world. It's a great mix, with an above-average showing for Africa, a continent that's nearly totally ignored by VPN companies.
Some of the African countries in which the provider has servers are South Africa and Kenya.
While the provider offers servers in Hong Kong, its Russian and Turkish servers are virtual, and not physical. Not that it's bad but hey, we just need to mention the presence of virtual servers here.
Servers
To ensure its customers have an impeccable experience, the company has an array of specialized servers. A lot of those servers are optimized for precise services, and they can be accessed from the 'For Streaming' list on the front page.
And just like there're specialized servers for streaming, there're also P2P-friendly servers.
You can use those when torrenting to make sure you stay completely anonymous. Additionally, the servers will give you decent speeds, so you can download big files to your heart's content.
One of the most fascinating things about CyberGhost is that it provides you with an excellent outline of which server to choose. You can, for instance, check the number of users that are connected to a certain server, its distance, and its present bandwidth usage.
Thus, you can effortlessly see what type of performance to look forward to even before your connection is secured.
Compatible Devices and Simultaneous Connections

Before committing to any VPN, it's important to ensure that the provider offers compatible apps for the devices you're using. Also, it is important to check the number of connections the VPN allows at a time. We've included the platforms supported by this service in our review.
Which Devices Can I Use With CyberGhost?
CyberGhost has wide multi-platform support, offering compatible clients for Windows, Mac, Android, FireOS, and iOS. Needless to say, router support is here, letting you protect up to 16 or 32 devices in your household – simultaneously!
You can also find add-ons for some of the most popular browsers in the world like Firefox and Chrome on their website.
While the proxy version is not as secure and detailed as the desktop version, it does the job superbly nevertheless.
Enjoy multi-platform support now >
The VPN also supports an extensive range of streaming devices and gaming consoles. Devices like Xbox, PlayStation, Apple TV, Chromecast, Roku, Amazon Fire TV, and a lot more are compatible with this incredible service.
How Many Simultaneous Connections?
CyberGhost has been designed to allow access on 7 devices simultaneously.
One can easily set up the VPN on their router to be able to connect other devices on the home network. The tool boasts unlimited bandwidth, so you can browse the Internet without worrying about running out of limits.
Client Support

Client support is a crucial element that you must always consider when buying a VPN. After all, you would hate to be left stranded with an app that gives you trouble once in a while, without any support channel to assist you when you need it most.
How to Contact It?
The company has many support channels. In fact, there is a 24/7 live chat feature that is designed to always come in handy whenever you need to get quick resolutions to your problems.
To test their support for this review, we contacted the company's support through live chat to see if they respond quickly. In all honesty, their response speed stunned us.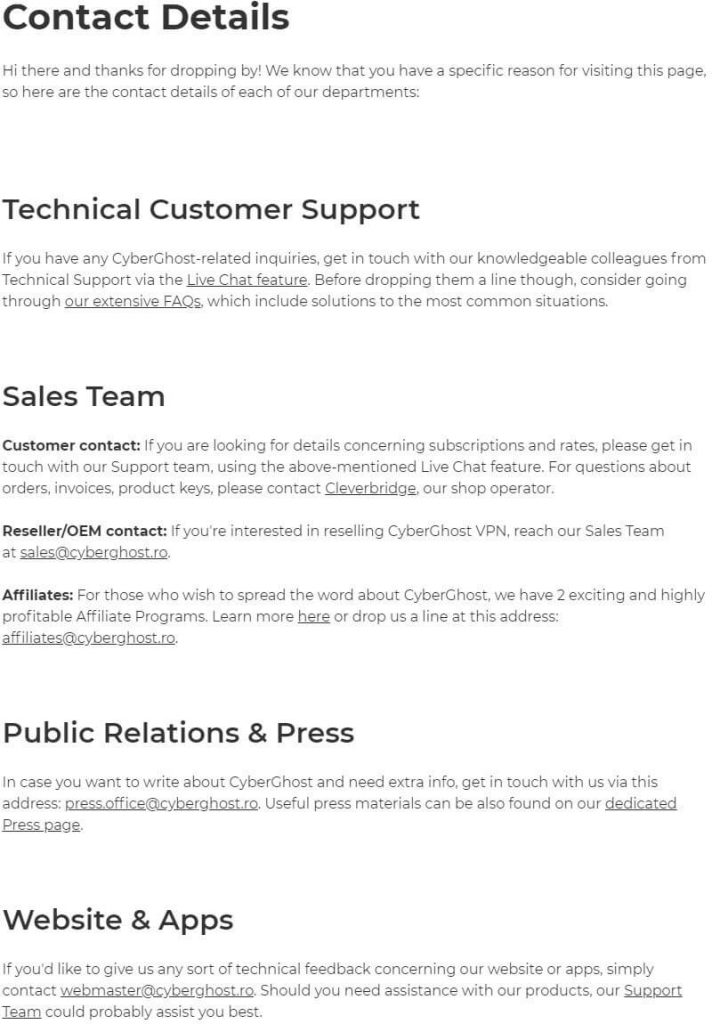 Finally, the provider is also committed to enlightening its customers through a recently released CyberGhost Privacy Hub. You will find a wide range of useful articles intended to cover the most recent VPN and privacy-related news, announcements, and many more.
Is It Good?
Yes, CyberGhost has fantastic client support.  During our test, a customer care agent responded within a few SECONDS of asking a question on the live chat. The representatives are also very knowledgeable, friendly, and polite, always ready to come to the aid of customers.
FAQ/Tutorials
Besides, there is a dedicated help center with a lot of FAQs and tutorials. You would be stunned by the abundant number of tutorials you can effortlessly find on their website about the service.
There is a guide or an article for every device, app extension, operating system, or console.
Not only that but there are also guides designed to show you how to troubleshoot problems.
Value for Money
Having provided our comprehensive review in terms of security and general performance, it's high time we looked at its value for money.
Price comparison
Like the other top VPN providers in the market, CyberGhost also offers flexible and mouthwatering plans. In fact, there are four default pricing options, which include:
A 1-month plan which costs $12.99
A 12-month plan which costs $47.4 ($3.95/month)
A 24-month plan which costs $75.6 ($3.15/month)
A 39-month plan which costs $83.85($2.15/month)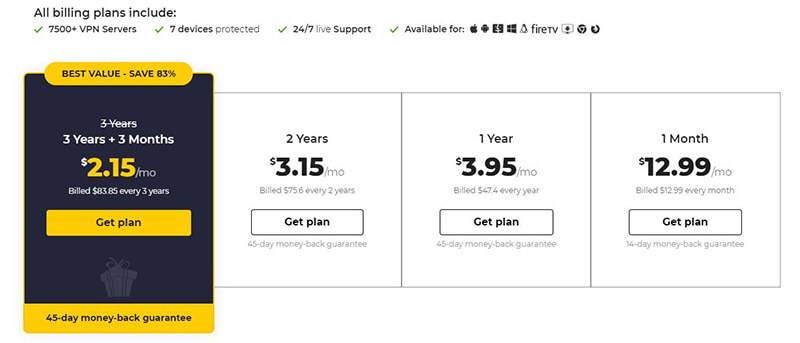 Of course, longer-term plans provide much more value for money than short-term plans. In fact, the 39-month plan offers the best value for money as it totals just $83.85. Compared to the monthly plan, it offers a remarkable 83% discount.
Being an extremely generous offer from the company, paying $83.85 for the 39-month plan is the same as paying $2.15 per month.
Get the best value for money with CyberGhost now >
Means of Payment

When it comes to the payment methods, CyberGhost is slightly behind its competitors as it doesn't seem to support paying with UnionPay and AliPay. While this might be a huge blow for some people, it still offers a variety of payment methods, including:
Paypal
Bitcoin
Visa/Mastercard
Money-Back Guarantee
Apart from offering a 7-day free trial, this company in our comprehensive review also offers a generous risk-free money-back guarantee. The guarantee means you can get a full refund within 45 days if you are not satisfied with their service.
Careful, this only applies for subscriptions longer than 1 month. For the latter, it is only 14 days.
With that said, we don't think you will ever want to claim a refund as this VPN is really incredible in almost every aspect.
Any Extra?
Does CyberGhost come with extra features that make it stand out from the competition? Of course, it does!
Below, we will review the unique features that are built into this VPN.
Split Tunneling

Split tunneling is a feature that allows users to choose which of the applications installed on their devices will be directed via the VPN tunnel, and which ones they would want to allow on their primary internet connection.
While this service provides its Android users with this feature, it doesn't have it on other platforms.
Tor Over VPN
If you're striving for the maximum security possible, Tor over VPN is a feature you should look for in a Virtual Private Network. Fortunately, this service comes with it. It's like double encryption, which means your data traffic will be encrypted twice.
However, keep in mind that this feature may significantly slow down your internet speed. This is because you'll use Tor, which already does this, and a VPN, which does the same. On the contrary, you can enjoy impeccable security and privacy, so it's a bit of a trade-off.
Data Compression
Undoubtedly, data compression is one of the most unique features you will find in this VPN. For starters reading this review, the feature helps reduce the impact of text and images on the consumption of bandwidth.
According to the company, customers can realize up to five-fold reductions on their data usage with this feature.
Of course, this will be a welcome addition for people who do not enjoy lavish data limits from their Internet Service Providers.
Final Thoughts
Choosing a reliable VPN provider is a daunting task, thanks to the plethora of options the market is packed with. In CyberGhost, however, you have a Virtual Private Network that you can always rely on.
Whether you're just looking for something to help you browse anonymously or you just want to unblock Netflix, CyberGhost is just perfect for you.
Of course, as you have seen in this review, it comes with its own downsides, but that takes nothing away from its incredible overall performance.
Do we recommend it for people in search of a great VPN in 2023? Yes, we totally do!

Michael is a talented writer who has dedicated a lot of time into making sure that everyone around the world can use the internet securely. Being an avid traveler, he has acquired a lot of experience while using different VPNs on his travels. When it comes to doing comprehensive "how to tutorials" or testing some VPN functionalities, he's always the best pick ! He's here to help you solve your VPN-related issues.