---
STRENGTHS :
Unlimited bandwidth and speeds
Fast and secure
3,000+ servers in 94 countries
Multiple protocols and server locations
Doesn't store logs
Unblocks Netflix
Bypasses the Great Firewall of China
Great multi-platform support
Highly-efficient client support
Risk-free 30-day money-back guarantee
WEAKNESSES:
Slightly expensive pricing
---
From its ability to protect people from cybercriminals and the prying eyes of the government to its ability to help bypass geo-restrictions, there are many reasons why everyone needs a VPN in the modern world. In truth, the internet has become a dangerous place in recent years and it doesn't seem to be changing soon. With that in mind, we've decided to review ExpressVPN, which is considered to be the best VPN in the industry. Is it true? We're gonna find out!
Boasting more than 3,000 servers in 160 locations around the world, not many VPNs can stand toe-to-toe with it. The provider has built a strong reputation over the years, and it's one of the first considerations for VPN-seeking individuals.
But is this VPN really worth the hype and the attention it's receiving? You will find out in this comprehensive review updated in 2023. We've carried out an extensive test on the service, to tell you what it's really capable of.
Is It a Paid or a Free VPN?
If you find a free VPN with this level of performance, you should probably stay away from it as it could be dangerous. Offering the fastest speeds, the most secure security systems, and the best client support, ExpressVPN is definitely a paid VPN.
Not like we blame the company, though, as all their infrastructures take a lot of money to set up.
Performance
Everyone wants a VPN that delivers the best performance, for sure. And when evaluating a VPN's performance, speed and stability are always the chief elements to consider. So, how did ExpressVPN perform during our test in this regard? We will discuss it in this review.
Speed
ExpressVPN proudly advertises itself as the fastest VPN in the world.
Therefore, a lot of people are really curious to know if the VPN delivers speed performance to back up that claim. When appraising the speed performance of a VPN service, it's important to bear a couple of things in mind.
Ideally, the speed of a VPN may depend largely on several factors, which include the speed of your internet line, your device's capabilities, the encryption protocols you select, your distance from the chosen server, and what you are doing on the server.
In ideal conditions, speed is the biggest strength of ExpressVPN.
Backing up its claim as the fastest VPN in the world, the VPN delivers lightning-fast download speeds in the majority of server locations, no matter what your requirements are.
During our test, the connection times didn't disappoint for once and we got an excellent performance even from servers that were far from our location.
We were located in the United Kingdom so we ran the test near London. We then connected to "smart location" and you can see the results below.
Without VPN (we were located in London) : 

EU Server (Paris) :

US Server (New York) : 

Asia Server (Hong Kong) :


Yes, of course, there is a difference, but honestly, after testing more than 100 different providers, we have to say it is impressive. If our ExpressVPN review is so positive, it is above all because of its amazing speed.
Being able to download at 206Mb/s and upload at 185Mb/s is really impressive.
With the same "standard" connection, some VPN providers, like the free ones that we presented in our ranking, could go down to 30Mb/s.
If you're looking for a fast and secure provider, choosing ExpressVPN won't disappoint you.
Stability
When it comes to stability, ExpressVPN is the most stable provider in the world. Not only does it promise a 99.99 percent uptime, but it also provides 24/7 support.
Without any doubt, you can always rely on this provider at all times, whether you're looking for a service to unblock Netflix at 1 am or you're looking for the most ideal server to bypass the Great Firewall of China.
Streaming
A large percentage of the people who use VPN are often streaming enthusiasts. In fact, there are chances that "you" reading this review right now is a streaming enthusiast who's looking for something to reliably unblock Netflix.
With that in mind, we also evaluated the service's streaming performance during our test.
Netflix
Netflix continues to improve its security systems daily, so it's becoming rare to find a VPN that's compatible with this streaming platform which boasts more than 140M users in the world.
However, ExpressVPN continues to seamlessly unblock Netflix, regardless of your location. To unblock Netflix, you only need to open the VPN application on your device, find a server of your choice in the region you want to access and connect to it, and then enjoy Netflix without any hassle.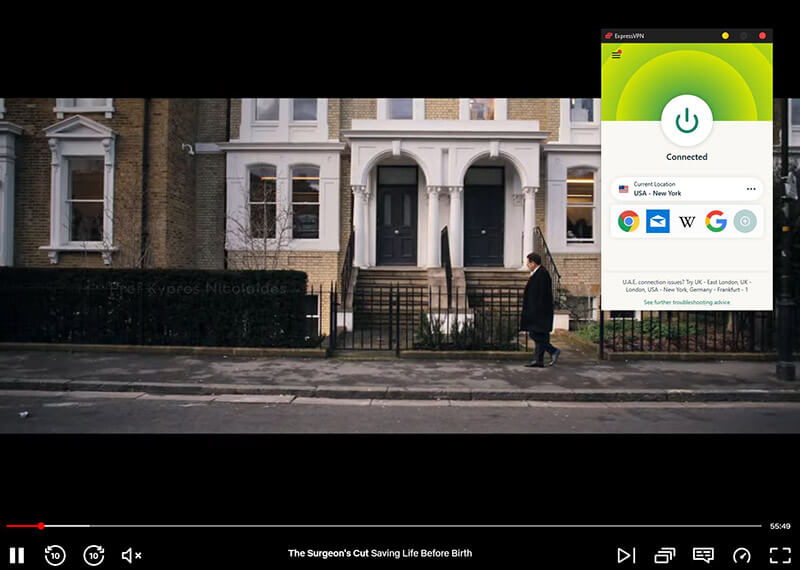 In fact, if you run into any issues, you can always contact ExpressVPN through their 24/7 live support and they will recommend the right server to use.
We will talk expansively about live support and our experience during our test later in this review.
BBC iPlayer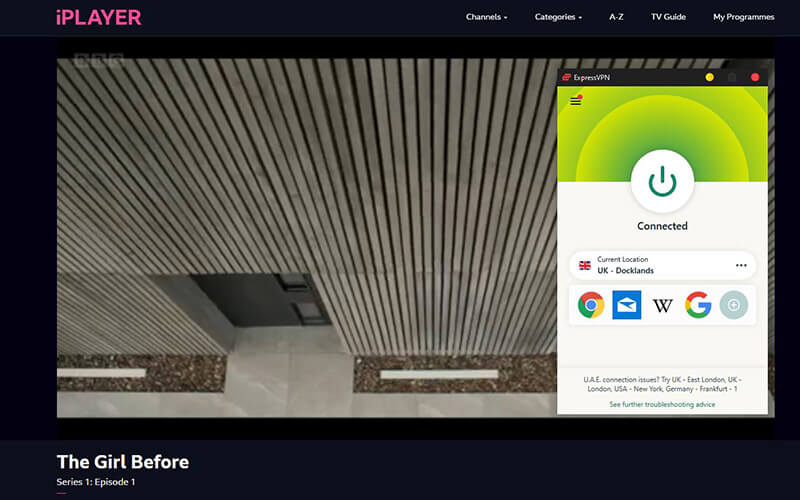 If you are a BBC fan, then you already know that their iPlayer has a lot of restrictions. Sometimes, you are just not able to stream BBC iPlayer because of geo-restrictions, and sometimes, your inability to watch it won't have any reason.
Luckily, this VPN can help you unblock BBC iPlayer. Not only will it help you to unblock BBC iPlayer, but it will also allow you to stream content with high speeds, thanks to its servers that have been optimized for great performance.
Others?
It is a tough task to find a VPN that fully supports all the popular streaming services nowadays. However, ExpressVPN has this ability and we are pleased to say it. The service is capable of working with Netflix US, BBC iPlayer, DAZN, HBO, Hulu, Amazon Prime Video, and Hulu.
In fact, these servers can be streamed without any restrictions.
Security
To test if ExpressVPN is a safe provider you can trust, we will review its security based on three elements: where it's based, logging policy, and encryption protocols.
This should provide you with a lot of information regarding how your personal information is used.
Where Is It Based?
ExpressVPN is based in the British Virgin Islands, which is a self-governing, independent entity with stringent laws guarding the privacy of individuals and businesses operating there.
Moreover, the British Virgin Islands doesn't have wide-scale surveillance agendas and any compulsory data retention laws. Like Switzerland, the BVI is renowned for its solid data secrecy and privacy protection.
Besides, the legal system in the British Virgin Islands can't be forced to coerce companies into giving up the data of their customers. The country is completely independent and doesn't fall under the jurisdiction of any other country, despite the historic association with Britain.
With these factors taken into consideration, this VPN appears to be based in a great privacy jurisdiction, which isn't a member of the Five, Nine, or the Fourteen Eyes.
Log Policy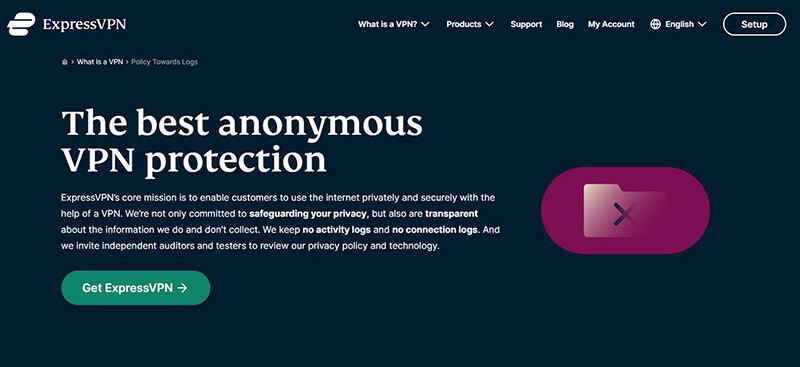 Located in the BVI, ExpressVPN isn't required to follow either EU DRD laws and regulations or US Data Retention rules.
In other words, the provider has no obligation to share the data of their customers with any government agency. This simply means they don't have to store traffic logs. While the British Virgin Islands is an independent entity of the United Kingdom, they aren't under the jurisdiction of the Fourteen Eyes, which is good news.
The company collects minimal data about the use of its services. While the collected data is then utilized to identify and resolve technical issues, it can't monitor you or your online activity. Even better, ExpressVPN's no-logs policy is audited by PwC several times, which only servers as a testament to ExpressVPN's zero-logging claims.
To put it simply, the provider does not keep any traffic logs that will be able to show connections between your IP address and timestamps.
For security, this is excellent!
Protocols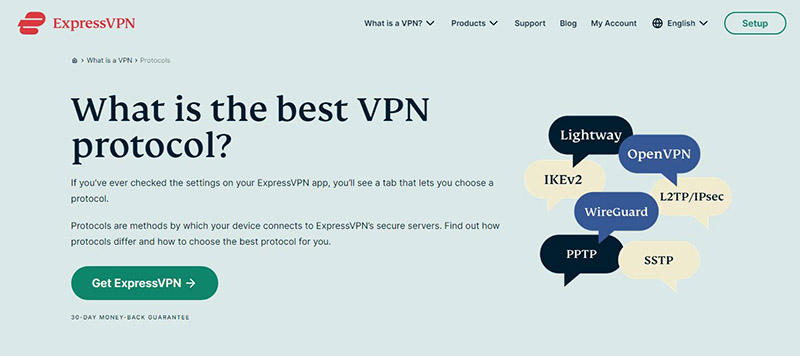 ExpressVPN offers probably the tightest security in the world, by using the well-known AES-256 encryption. This is the same standard of encryption used by the government of the United States. Also, it is the standard of encryption adopted by professional security companies worldwide.
With such an encryption system, all the strongest computers in the world won't be able to decode your data, even if they spend millions of years.
Based on your needs, there are many VPN protocols to choose from.
Of course, the strongest protocols are Lightway and OpenVPN, and the provider allows you to select them with UDP or TCP. When combined with the AES-256 encryption used by the company, you can rest assured that any human being can't encrypt your data.
Yet, if you're in China, for instance, you won't be able to use this protocol.
Then, protocols like, L2TP/IPSec, and IKEv2 are also included, as we found out in our test for this review. While these are not as secure as the default Lightway or OpenVPN, they often work with the least throttling.
Simply put, they can be used if you just want to unblock sites without minding if someone sees your online activity or not.
ExpressVPN enables you to select the protocol you want effortlessly. However, because most people don't know the difference between different VPN protocols, the best thing is to choose the automatic option. In most cases, that will be Lightway given that it's based on WireGuard and offers not only improved speeds but security as well.
All in all, ExpressVPN is really jam-packed with VPN protocols and their variants which makes VPN enthusiasts like us more than happy!
Protection Against Leaks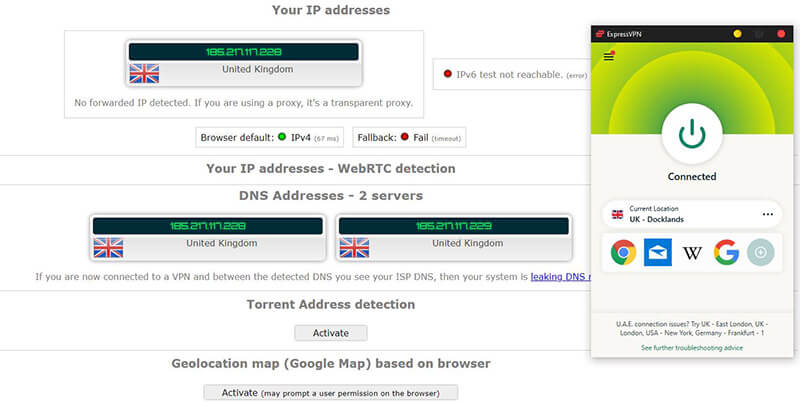 The software also features an in-built DNS leak protection, which helps prevent DNS leaks.
Additionally, you will be automatically connected to DNS servers, thereby ensuring the highest degree of safety. On top of that, you'll find a DNS Leak Test on the provider's website, which you can use to check whether your DNS is leaking or not.
Torrenting
P2P sharing has been a constant source of debate for a very long time.
While some people feel it's legal, some feel some factors associated with it make it illegal. With a VPN, all threats of persecution are removed for torrenting users. But is torrenting allowed on this particular VPN? We checked it before writing this review!
Is Torrenting Allowed?

While some VPN providers won't allow for the use of peer-to-peer sharing, there is no such issue with ExpressVPN.
In fact, they have a page dedicated to teaching users how to set a torrent client up on their service. One of the most outstanding things about this provider is that it is ideal for users who're looking for high speeds while downloading torrents and sharing files.
Many people who want to share files with a Virtual Private Network discover a significant reduction in their speeds. ISPs can throttle the connection, which makes it slow.
However, you can solve this problem with this service as it promises to give you a securely encrypted channel for torrenting.
Is There a Kill Switch?

Another feature built into this VPN is a Kill Switch, which is called Network Lock.
Just like it sounds, the feature "kills" the entire internet connection if a sudden connection interruption happens. This gets rid of any risk of your sensitive data getting leaked.
This is SUPER important to use when you're torrenting. Imagine your protection drops for a few seconds. You don't want your real IP address to be visible. Thanks to the Kill Switch (Smart Lock) all your torrenting activity will stop and your IP won't be compromised.
Bypassing Censorship
Around the world today, there're lots of countries that have set up strong censorship to regulate their citizen's internet usage. One such country is China, and with the super firewall put in place in the country, it is difficult to find a VPN that works there.
During our test for this review, we tested ExpressVPN's effectiveness in this Asian country.
In Censored Countries
Despite the country's censorship efforts and VPN blocks, ExpressVPN keeps getting past the Great the Firewall of China.
To bypass the restrictions in China, you just need to connect to one of the servers designed for this purpose. You can check with client support to see the servers.
Then, the specialized servers will automatically use an obfuscation protocol with the app, in that way, disguising the VPN traffic as normal HTTPS encryption. This effortlessly bypasses the censorship efforts and the Great Firewall of China.
Careful – as we said before, you won't be able to use OpenVPN in China as it is blocked. You'll need to use another protocol such as Lightway, for example. Should you encounter any difficulty, do not hesitate to contact their support.
In Restricted Networks

Employers hate the idea of their employers spending office hours checking social media sites, so they put restrictions on their Wi-Fi network. Also, some hotels want to force customers to buy in-hotel movies, so they also restrict their network.
With ExpressVPN, however, you can effortlessly bypass such restrictions and access whatever website you want to access. Many users review this service pleasantly because of this ability.
Countries and Servers
The number of servers a VPN provider provides and the geographic distribution of the servers are two vital metrics used to review and evaluate the capabilities of a VPN. ExpressVPN performs decently in each category, so let's discuss what we found out during our test.
Countries Covered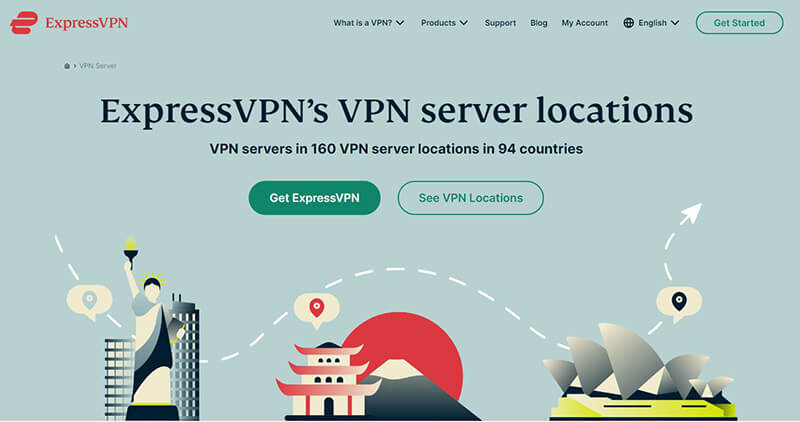 The provider's fleet of servers is one of the things you're paying for when you subscribe to a VPN service.
Speaking in general, it's always nice to have a varied server distribution as this will make sure that you will be able to find a nearby server, regardless of where you go, and probably get faster service due to that proximity.
Besides, a diverse server distribution also provides you with more alternatives when spoofing your location.
With 3,000+ servers and 160 server locations across 94 countries, ExpressVPN provides the most options when it comes to server locations.
Also, it shines in geographic distribution, boasting an excellent network coverage across South America and operating four server locations in Africa.
Bear in mind that both continents are the two most overlooked continents by other providers. Apart from that, the company has server locations in nations with repressive internet policies like Turkey and Vietnam.
However, a huge source of concern for customers is the company's use of virtual servers. While this is not necessarily a bad thing, some users don't just like the idea of their data going to a different country other than where it's sent.
Of course, the company is extremely clear about this. In fact, they have an explanatory page that states that below three percent of their servers aren't located physically where they seem to be.
During our test for this review, we spoke to an agent who verified this information.
According to ExpressVPN, one of its reasons for using virtual servers is to deliver superior performance and improve security. Nobody would want a server in a dangerous region. Obviously, this is because they could tamper with it, potentially leaking sensitive data about its customers.
Servers
Like the best VPNs in the world, ExpressVPN has servers that have been optimized for certain activities.
During our test for this review, we spoke to a customer care agent who told us that the provider has designated servers for torrenting, Netflix, and the Great Firewall of China.
With more than 3,000 servers in the world, you're sure to find one that suits your expectations.
Compatible Devices and Simultaneous Connections
Before you commit to a VPN, it's important to know if it provides compatible clients for all your devices. We kept this in mind during our test.
What Device Can I Use with ExpressVPN?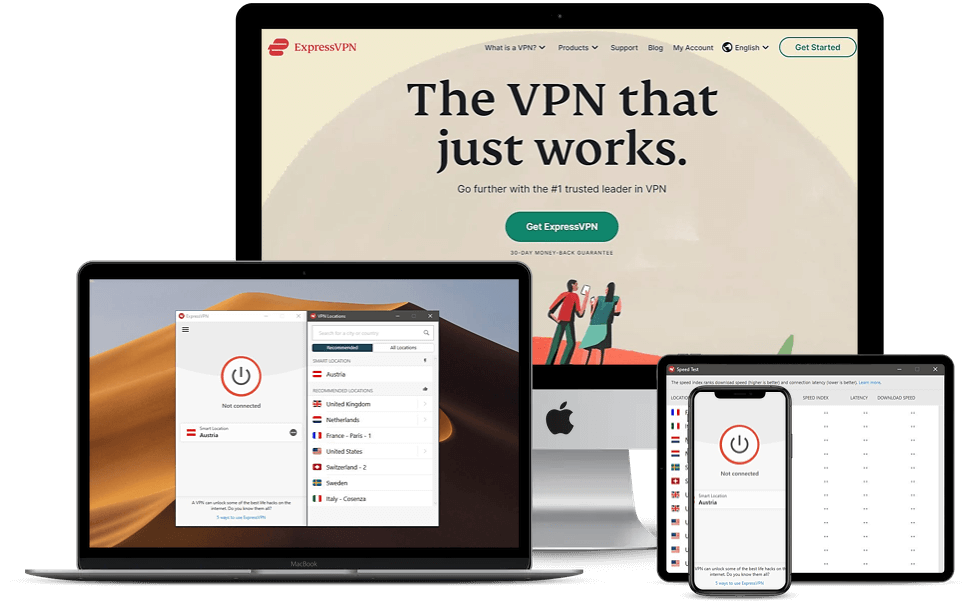 ExpressVPN supports a wide range of platforms and operating systems. During our test, we found out that the provider offers compatible clients for
Windows
Mac
Android
Linux
iPhone and iPad
Different routers
Different web browsers
SmartTV
While there may still be some devices out there that aren't still supported, we bet that you would find it very difficult to find them.
How Many Simultaneous Connections?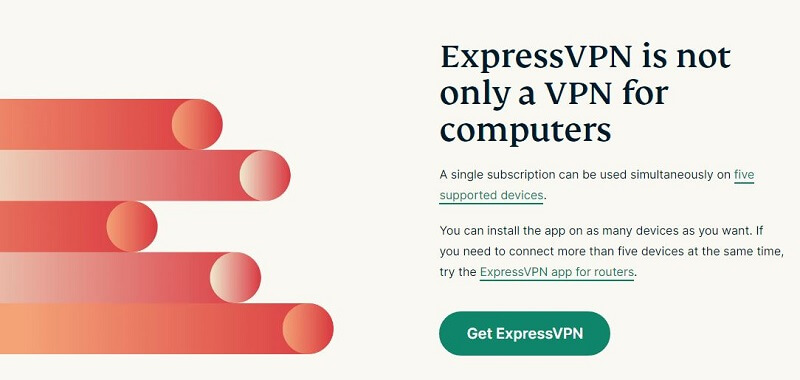 If there is one downside we found during our test for this review, it's the number of simultaneous connections that this service allows. While some of their rivals offer up to 7 simultaneous connections, ExpressVPN offers "just" five.
Although you can set up the VPN on as numerous devices as you desire, you can only connect from up to 5 devices at a time. While this may not be a problem for users who're interested only in personal security, you can get frustrated by this limit when you're looking to secure the data and devices of your whole family.
Be careful, understand that many competitors who provide 6 or even 7 simultaneous connexions actually mean INSTALLATIONS. You can't have the app installed at the same time on 10 devices.
With ExpressVPN, you can, and you'll just be limited to 5 devices CONNECTED at the same time.
If you really need to use it on many devices at the same time, the provider offers an excellent router application that you can use to protect all the devices in your household with no limits whatsoever.
Of course, ExpressVPN's device limitation won't likely be a deal-breaker, but we hope they fix this as soon as possible.
Client Support
Obviously, nobody wants to be left high and dry by their VPN during a difficult situation. That's why it's important to make sure that you review and test the client support of the VPN provider you want to choose before commitment.
How to Contact It?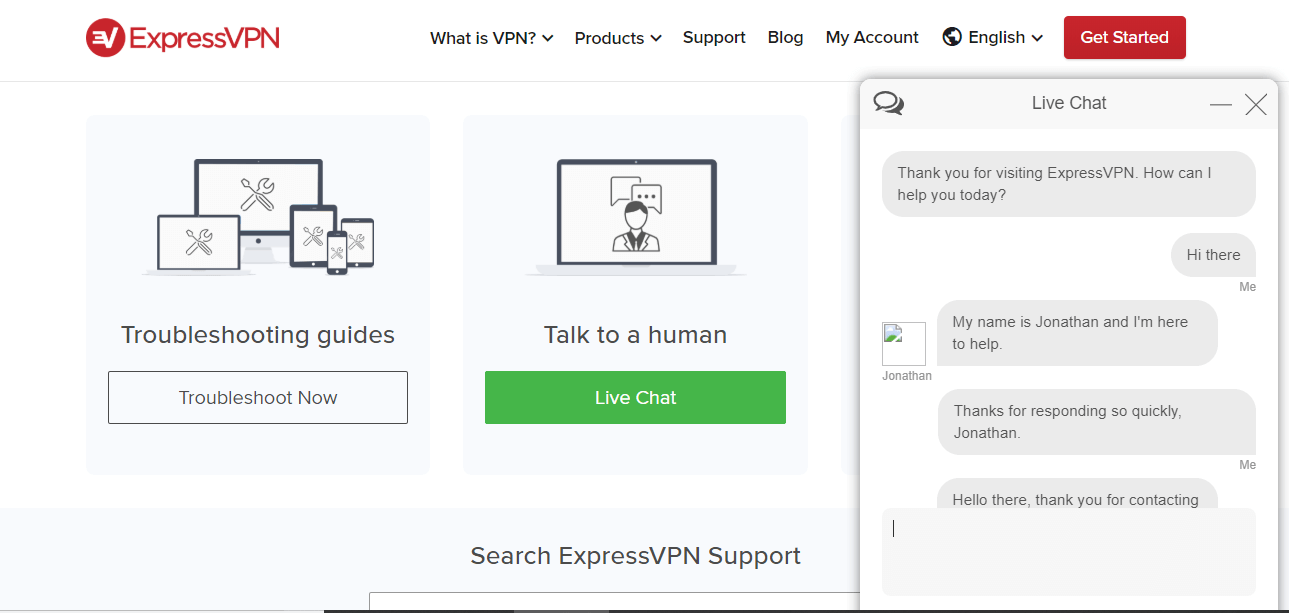 The company provides answers to the questions of users through support tickets, email, or live chat. However, the speediest and most reliable option is the 24/7 live chat.
During our test for this review, we found the email support not to be as effective as the live chat.
In an industry where notoriously bad client support is a persistent issue, it's refreshing to see the excellent support that ExpressVPN offers.
Unlike a lot of companies that depend on old-fashioned forms and email chains, this VPN's live chat feature has been constantly rated the best in the industry.
Impressively, a representative replied to our message within seconds during our test. However, for reasons best known to them, the company continues to offer more traditional support emails and contact forms.
Therefore, it's crucial to keep in mind that you will be quickly redirected to the live support team should you encounter a problem with one of these obsolete methods.
In fact, we did run into a problem with the contact form during our test and we were promptly redirected to the live chat.
Is It Good?
Absolutely yes!
In fact, the client support of this company has been widely rated as the best in the industry continuously for many years. It's one of the reasons that many people rate this provider as the best in the business.
FAQ/Tutorials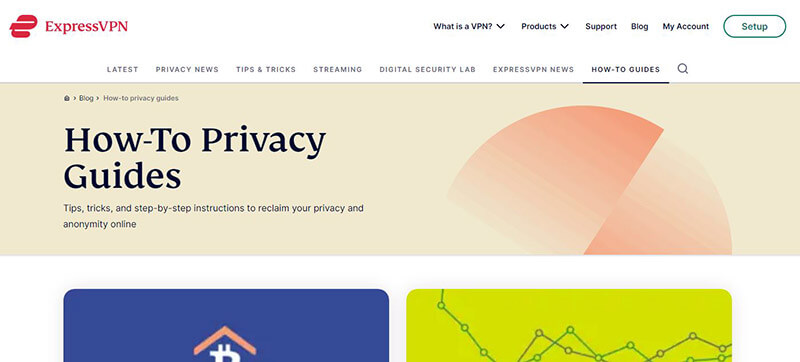 The company offers detailed setup instructions for every device it supports. Besides, there are comprehensive guides on how to maximize this service for bypassing restrictions, watching videos, and more.
If you run into a technical issue, there are troubleshooting guides related to connectivity issues, log file errors, account information and payments, and more. We checked everything out during our test for this review and they were really detailed.
Value for Money
Everybody looking to make a purchase is always looking for the highest value for money. We totally understand if you are as well. To make this review as comprehensive as possible, we have included this value for money section.
Price Comparison
Being the best VPN in the business, you would be forgiven to expect ExpressVPN to offer flexible plans. Unsurprisingly, the provider offers three different subscriptions, which include:
A 1-month plan which costs $12.95
A 6-month plan which costs $59.95
A 12-month plan which costs $99.95
Surely, ExpressVPN is one of the expensive options out there, but all the things on offer mean the service is worth the steep price. When you want security, you don't necessarily want to go to a cheap VPN provider… or even a free one!
To make the deal sweeter, the company is offering the 15-month plan for only $99.95. Essentially, you pay for the annual package and they give you an extra 3-month plan for free, saving you about 49 percent.
Means of Payment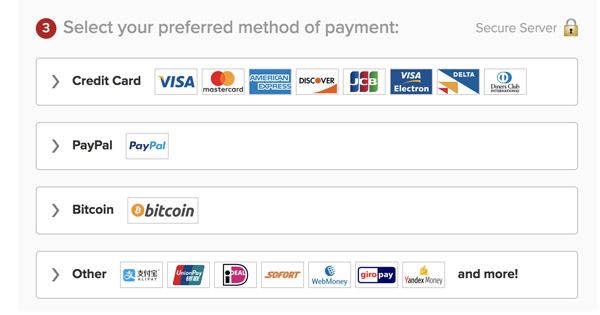 It's also important to mention in this review that ExpressVPN offers a wide range of payment options, which include:
Credit cards
PayPal
Bitcoin
Alipay
UnionPay
Yandex Money
Money-Back Guarantee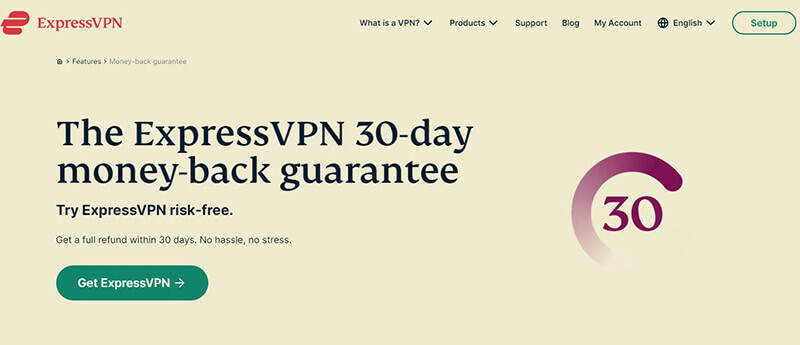 Another excellent advantage of this company is that it offers a very long refund window. With every subscription, you get a risk-free 30-day money-back guarantee. The guarantee means that you can cancel your subscription within the first 30 days and get a full refund.
Not only that, the guarantee comes with no conditions whatsoever and you won't be asked any questions.
To get your refund with ExpressVPN, just contact their support and you'll then have your money back within 24 to 48h on average. Of course, your demand must have to be done before the 30 days expire.
Any Extras?
The extra features are the unique features that actually separate premium VPNs from the free ones that are usually garbage.
In other words, they are probably the justifications for the high price you're paying for this VPN. During our test for this ExpressVPN 2023 review, we discovered a couple of its extra features.
Split Tunnelling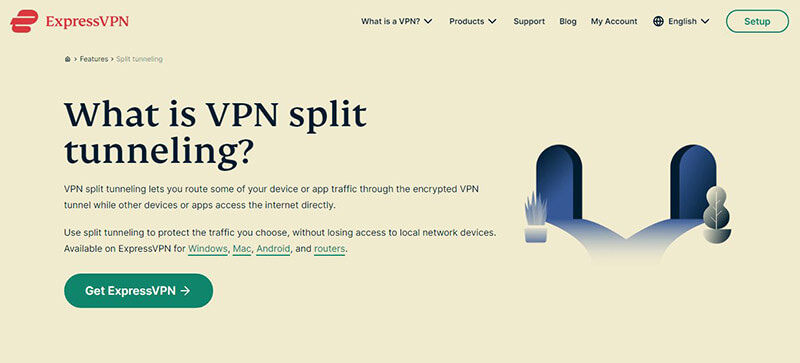 If you have chosen to run the VPN off your router rather than your regular mobile apps, Split Tunnelling is a feature you may require.
It enables you to use the internet and simultaneously utilize another device on the network, like a remote printer. Luckily, ExpressVPN supports this feature and allows you to configure it as you want. We were impressed by this feature during our test and we thought it was important to include it in this review.
Tor Over VPN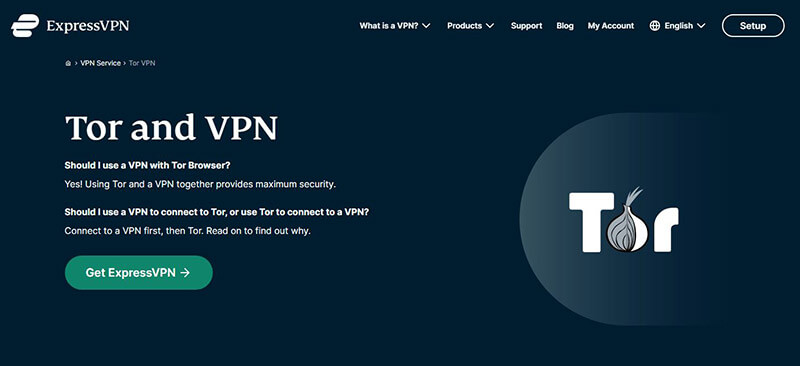 When utilizing TOR, all your traffic data is encrypted over numerous servers and your information is relayed to make it impossible for anyone to track your real location.
If personal security is your primary concern, this service enables you to use the TOR network over your existing VPN in a way that guarantees maximum privacy and removes weaknesses in the security of your data.
This extra security layer can be a lifesaver in countries with strict censorship laws. This feature also impressed us during our test for this review.
Server Switch
The provider also makes connecting, disconnecting, and switching servers extremely easy. To achieve this, you only have to click a button to turn the connection on and off and choose a server to determine their best connection option.
There is also a 'smart location' feature that chooses the best connection automatically. Its selection is hinged on an algorithm that considers some factors like latency, distance, and download speed.
TrustedServer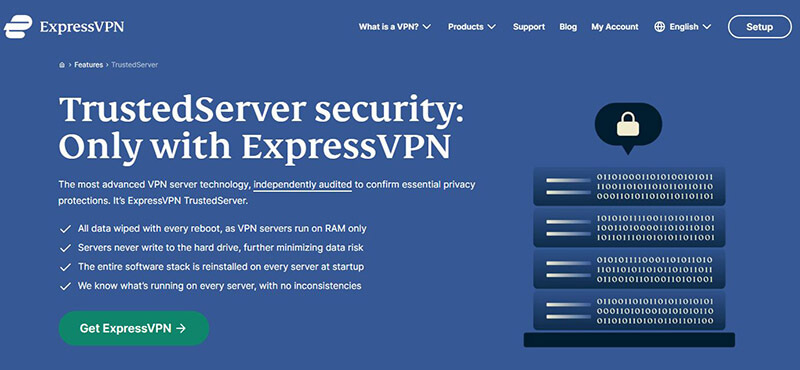 We must also include in this review a feature that was released just recently. Referred to as TrustedServer, this feature has rendered hard drives useless from the data centers of ExpressVPN. Rather than handling your data through hard drives, the service utilizes RAM now.
With this, all your personal information is deleted every time a server is started again.  This means that no one will be able to recover your data even if the server is seized.
Speed Test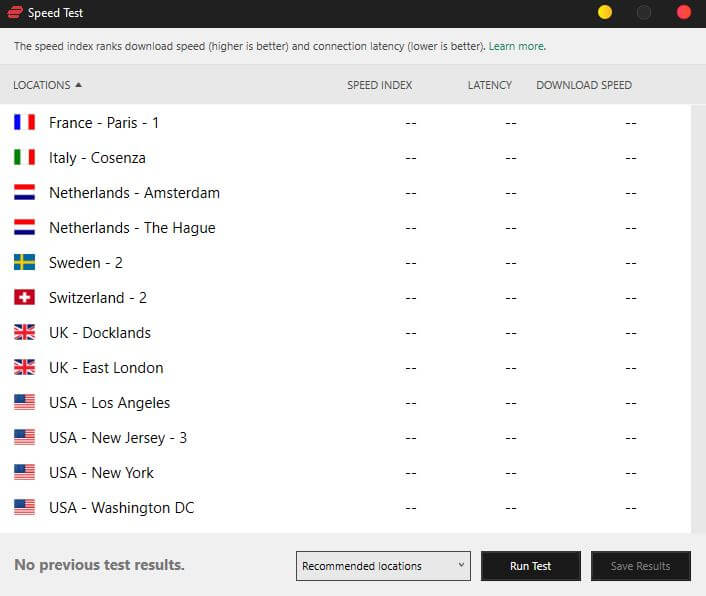 Another tool that particularly impressed us while compiling this review is the Speed Test. With this feature, you can allow ExpressVPN to use your real location to test their servers.
Therefore, you'll get three pieces of information: latency, download speed, and speed index. If you find a perfect server, you can easily make it your favorite, for future purposes.
This is super helpful to know which server to connect to if you want the best speed. Here's how it looks like :
Conclusion
With its high speeds, tight security, and reliable client support, you'll be hard-pressed to find anyone arguing against this VPN. On top of everything we already mentioned, it also offers wide network coverage and superb performance.
Sure, you can say that its price is a bit more expensive, but just think about it. If you want a really good car or a strong gaming PC, you have to shell out quite a bit of money. Well, the same applies to getting the best possible VPN.
The only difference is that, after a year, your car or gaming PC isn't going to be the best anymore. But, ExpressVPN, even after all these years, remains numero uno and as you've seen in this review, for VERY good reasons.
ExpressVPN is not only the best VPN in 2023, it is the one you should choose!
ExpressVPN review
ExpressVPN is both the fastest and the more stable VPN we've tested. Its premium VPN will really suit all your needs. Only the price is disappointing.
Add your review
|
Read reviews and comments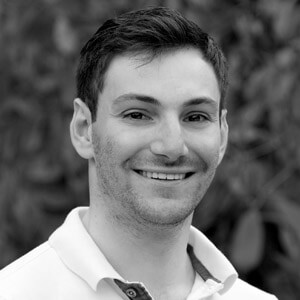 Flo is the founder of the-bestvpn.com. Really concerned about security on internet, he decided to create this website in order to help everyone find the best VPN. He's got a Business School background and now is 100% dedicated to keeping his website alive.