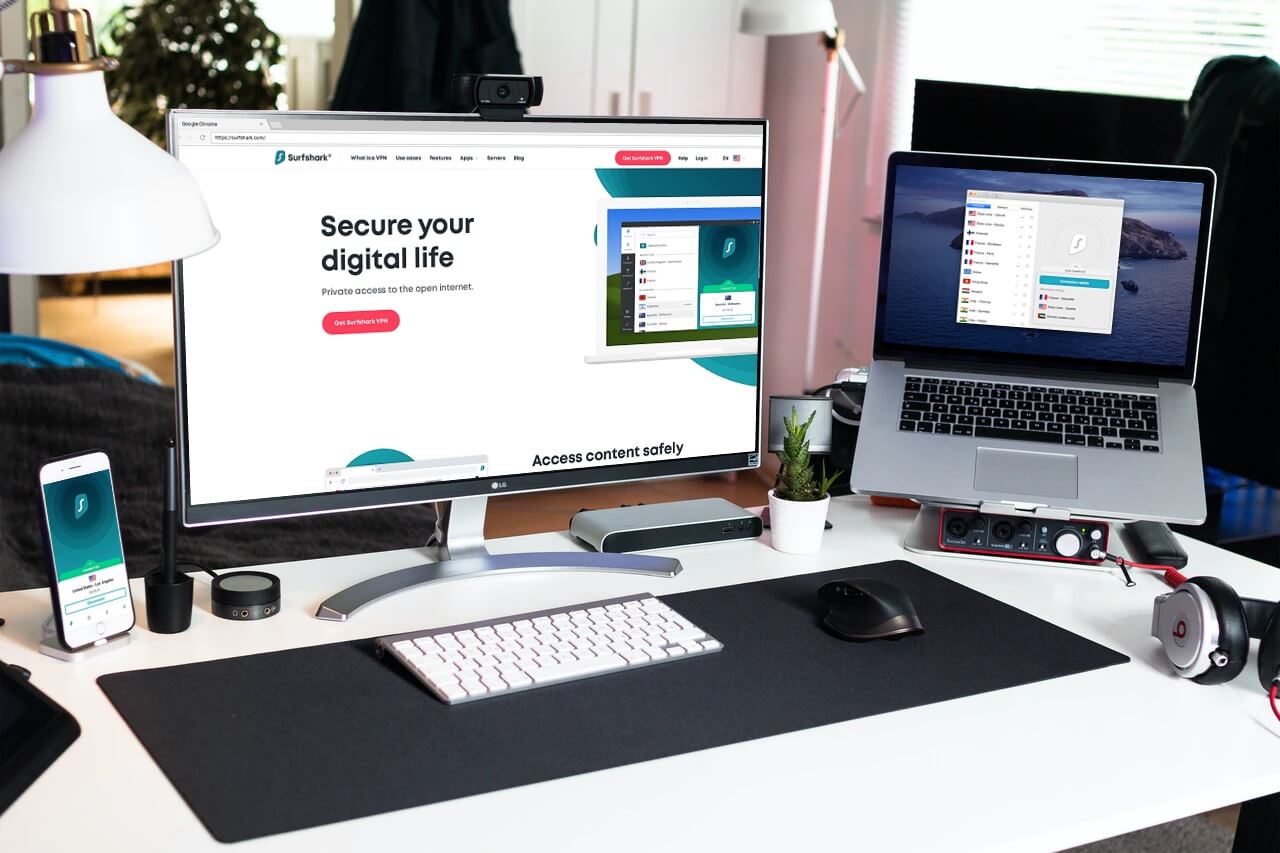 It rarely happens that a new VPN provider would start rivaling the big guns within just a few months of its inception. Except if the provider is Surfshark, of course. When a provider hits the ground running with literally impermeable security, an easy-to-use client, along with a network that provides great performance, everyone just has to take notice.
Despite coming into the folds long after ExpressVPN, NordVPN, and CyberGhost, the company has rapidly planted itself amongst the big boys, offering an array of features that includes unlimited simultaneous connections.
Put simply, Surfshark should be one of your top considerations when looking for an ideal VPN for your needs. And a cheap one at that.
With that said, we've created this in-depth review to help you learn everything necessary about this VPN provider. Apart from reading customers' feedbacks, we've also tested the service extensively, making sure that whatever we write in our review is nothing but the truth.
STRENGTHS:
Strong encryption
Located in a VPN-friendly jurisdiction (BVI)
Unlimited simultaneous connections
24/7 live chat for support
Unblocks Netflix
Solid performance
30-day money-back guarantee
Multi-platform support
Very affordable
WEAKNESSES:
Slower than its more expensive rivals
Rare issues with the kill switch
Surfshark ranks #4 out of 104 VPNs tested. Here are the best alternatives :
---
Is It a Paid or a Free VPN?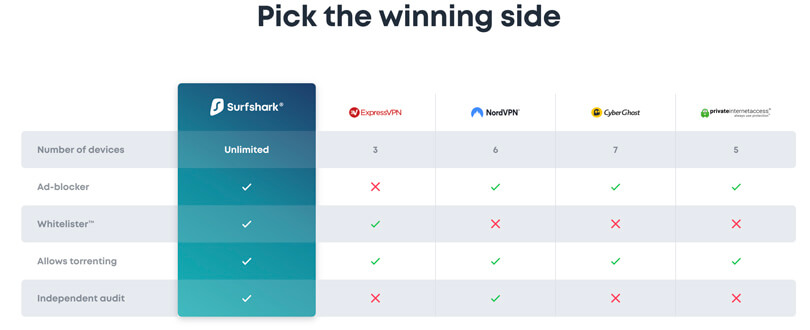 Of course, Surfshark is a paid VPN, which shouldn't be surprising considering the wide range of features the service offers.
With its military-grade encryption, multi-platform support, ability to unblock Netflix, and bypass the Great Firewall of China, it would even be unfair to enjoy all these functions for free. However, Surfshark offers very flexible plans, which means you don't have to break the bank to afford it.
Let's take a plunge into the in-depth review and see what you will get.
Performance
Performance is always the number one element to consider when looking to buy a VPN. In terms of performance, Surfshark sits comfortably among the best providers in the business, albeit, at the lower end of the spectrum. Speed and stability-wise, how well did the VPN perform in our test? Let's take a look at the review below.
Speed
Despite being a new provider, Surfshark provides connection speeds that can be compared with its leading rivals.
During our test, the connection speeds remained high no matter how far the server was, which was impressive (for the price). Of course, its rivals like ExpressVPN and CyberGhost are much faster, but for its cheap price, Surfshark will perfectly justify your decision to buy it – at least in terms of performance.
The company definitely has the necessary infrastructure installed to handle the increase of users. And to be honest, Surfshark already established itself in the world of the top-tier VPNs.
So, if you think that they don't have that many users, you might wanna think again, buddy! Surfshark is indeed a VERY popular option nowadays!
Without VPN (we were located in London) :

EU Server (Paris) :


US Server (New York) :

Asia Server (Hong Kong) :


Stability
During our test, the connection speeds didn't reduce that much throughout and we didn't experience any connection loss.
A VPN provider needs to have this kind of reliability and stability in any phase of its development. It means that people looking to use the service for streaming can effortlessly do so whenever they want.
Moreover, the company guarantees a 99.9 percent server uptime, which is further proof of how stable their network is. We'll talk about this later in this review.
Streaming
Streaming and unblocking Netflix is one of the most popular reasons for which people buy VPNs. So, if you're wondering how Surfshark performed in this regard during our test, just read the review below.
Netflix
The content you will have access to on Netflix may differ, depending on your location. If you are traveling to a different country, you may realize that you can no longer access a show you started watching at home.

Thankfully, a VPN like Surfshark can help you spoof your location so that you won't miss your favorite shows. In fact, we also used the service to effortlessly unblock Netflix during our test.
However, keep in mind that Netflix is currently in an endless battle with VPN providers, so the fact that a VPN unblocks it today doesn't mean it will unblock it tomorrow. So far, Surfshark has managed to stay under the radar of Netflix successfully, which is, once again, nothing short of impressive.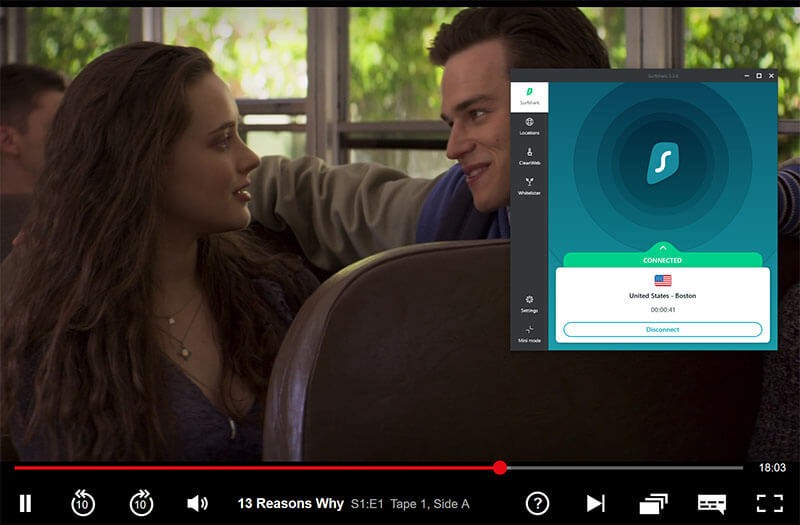 As the user base of the provider grows, however, it remains to be seen if the VPN will keep unblocking such popular streaming websites.
BBC iPlayer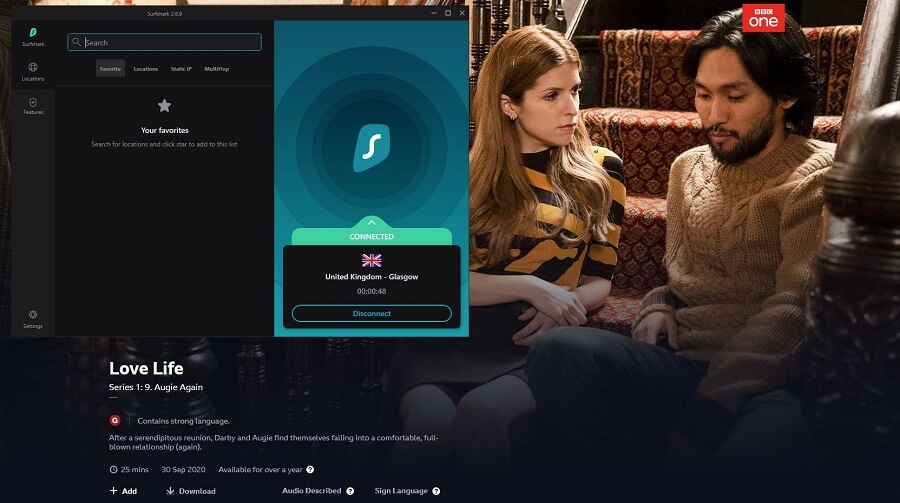 While most of BBC's programs are made available to other countries through its cable, satellite, and internet offerings, there is still an enormous amount of content that is available only to UK residents.
Fortunately, Surfshark is capable of helping you to unblock BBC iPlayer and unblock the content that is not available outside the UK.
Although the three server locations it has in the United Kingdom aren't a lot, they do the trick.
Others?
Apart from BBC iPlayer, Surfshark can also unblock other major streaming platforms like Hulu, HBO, Sky, ABC, AMC, ITV, Amazon Prime, YouTube US, and more. Simply connect to a server you desire and start watching whatever you like in HD.
The service also totally conceals your internet traffic and doesn't leave any room for leaks.
We will discuss this further later in this review when checking on the security.
Security
Since privacy is an important topic for VPN enthusiasts, it's reassuring to see the stern security that Surfshark has implemented. Evident from the security approaches that the company employs, it's obvious that maintaining users' anonymity is important to the firm.
Take a look at the review below to see how it performs when it comes to security.
Where Is It based?
The company is based in the British Virgin Islands, which is one of the best jurisdictions in the world for VPN companies.
The location has no data retention laws and it doesn't have any connection to any international government data sharing schemes like the Five Eyes or the Fourteen Eyes. Therefore, your personal data or information is completely safe with this provider.
Furthermore, their website features a warranty canary that offers a daily update on the firm's interactions with law enforcement. Of course, the company has never gotten a warrant, National Security letter, or gagging order.
Log Policy

Since Surfshark is based in the British Virgin Islands, it is not within the jurisdiction of the Fourteen Eyes. Thanks to this fact, the company can never be requested by the government to share customer data.
There's no reason to worry about your personal data being monitored as the company is explicit about its no-logging policy. According to the privacy policy of the company, it doesn't "collect IP addresses, browsing history, session information, used bandwidth, connection timestamps, network traffic, and other similar data."
Thanks to this approach, there would be no personal data of users to give up even if the firm was forced to give up the data of its users. Upon sign-up, you will be requested to provide an email address, which is stored.
However, you could use a burner email and use cryptocurrency for payment if you want no traces of you signing up at all.
Of course, it collects your billing information and email address when you open an account and that's necessary for every VPN provider.
Beyond that, the company doesn't know anything regarding what you do with the service after you have bought the plan.
Browse anonymously with your VPN >
While the provider collects anonymous data such as the frequency of use of its services, aggregated performance data, unsuccessful connection attempts, and crash reports, none of these can't be traced back to individuals or accounts.
It only keeps this technical data for diagnostics and for performance improvement.
Sadly, Surfshark servers utilize static IP addresses, which means you will have the same IP address each time you connect to the same server.

Protocols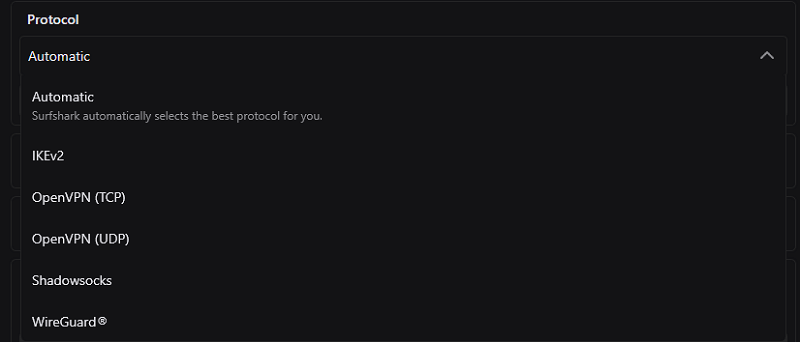 At the moment, Surfshark supports three protocols – OpenVPN, WireGuard, IKEv2, and Shadowsocks.
To be honest, you don't really need more than that nowadays. All of the protocols are secure, fast, and will help you to connect from nearly any platform. The Android and iOS applications use IKEv2, which is an extremely reasonable option since it doesn't consume as much power as the OpenVPN or WireGuard protocol.
We've analyzed the different VPN protocols recently in an article.
Furthermore, IKEv2 is designed to re-establish connection automatically after any interruption. Therefore, you will always remain connected and secure even as your smartphone switches between Wi-Fi and mobile network.
Both the Mac and Windows clients allow you to choose which of the three protocols available you would prefer. If you choose the OpenVPN protocol, you can select between the TCP or UDP transport layer protocols also. WireGuard is here for those seeking maximum performance and speeds.
There is one more option for you if you are sufficiently comfortable to do a little manual setup rather than utilizing the client app. Surfshark enables Android users to do a manual setup of OpenVPN.
In terms of encryption, the VPN uses a military-grade AES-256-GCM cipher with SHA-512 signatures, which is practically unbreakable. Besides, the AES-256-GSM has a little edge over the AES-256-CBC adopted by most other companies.
For faster encryption, it comes with in-built authentication. While you may not notice a massive difference, every bit counts in the end.
Protection Against Leaks
In terms of leak protection, this provider in our review sits alongside the leading VPNs in the world. IPv6, WebRTC, and DNS leak protection are built into the VPN.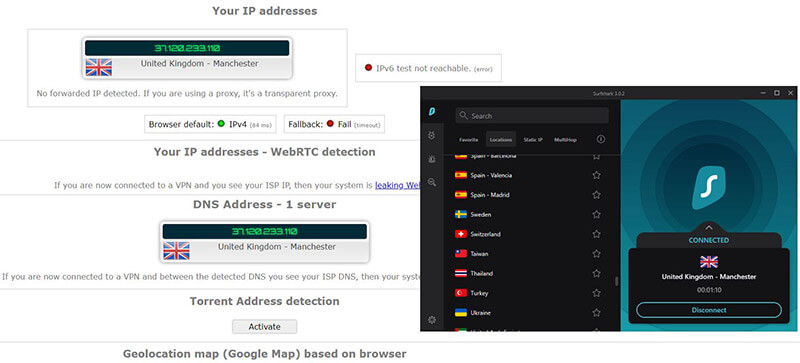 On top of that, the service utilizes private DNS servers rather than public servers. Thus, you don't need to keep watching over your shoulders so that Google doesn't see your DNS requests.
Torrenting
Despite the many hurdles, torrenting keeps getting more and more popular. In fact, there are millions of people around the world who buy a VPN just for torrenting.
So, how well does Surfshark perform in this regard in 2023?
Check out the review below!
Download torrents risk-free now >
Is Torrenting Allowed?

Yes, torrenting is allowed on this VPN.
In fact, it is one of the best options for downloading torrents as it offers unlimited bandwidth. What's more, all the provider's servers support peer-to-peer sharing, even in locations where P2P is forbidden.
For such countries, the provider takes extra measures by rerouting internet traffic to specially designed torrent-friendly servers in the Netherlands or Canada, depending on your location.
Is There a Kill Switch?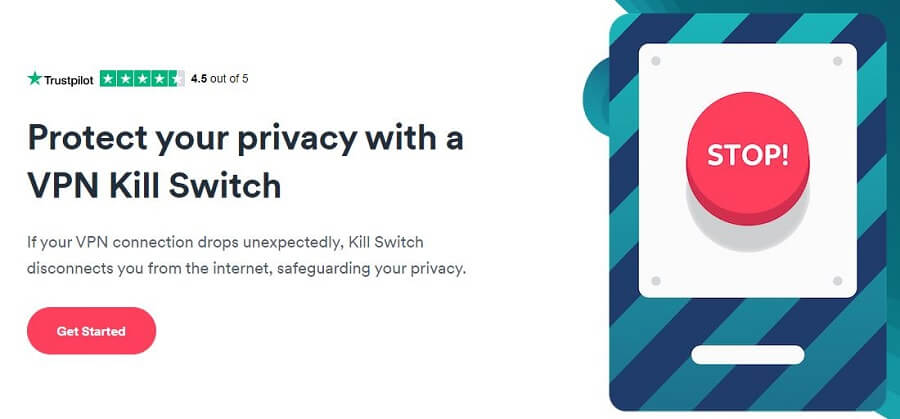 Yes, there is a kill switch, but it is disabled by default.
Therefore, the first thing you need to do is enable it, particularly if you are into torrenting. This feature is literally a lifesaver as it helps prevent your data from leaking when there is a connection loss.
Consequently, your IP address will always be hidden and your privacy will always be protected.
Bypassing Censorship

Some countries like Saudi Arabia, China, Iran, and more have stern censorship protocols. As a result, a lot of VPNs are ineffective in such countries. However, despite being a newcomer, Surfshark is capable of bypassing the restrictions in these countries, including the Great Firewall of China.
In Censored Countries
China is always improving its VPN-blocking mechanisms, so it's difficult to say for sure whether a VPN will work in China or not. According to most of the users we consulted for this review, however, Surfshark seems to still be working in China.
If you want to unblock and use Skype in China, using this VPN is a good idea.
Even if it doesn't work in your location, you can quickly get in touch with support and they will quickly proffer a solution. We will discuss the support team of this company later in this review.
Moreover, this service features a NoBorders feature which especially helps to bypass censorship. The feature detects automatically when you're connected to a restricted network and automatically reroutes your internet traffic to access restricted content.
Another great feature is the aforementioned Shadowsocks protocol. It's often used in China as a means to bypass the Great Firewall and is very effective. Users in China can definitely
In Restricted Networks
Whether you're a student or an employee, you could realize that your employers or the authorities of your school have restricted your network.
While some employers usually do this to make sure their employees are wasting no working hours on browsing social media sites, most school authorities adopt this strategy to curtail students' internet activities.
Whatever it is, you can use Surfshark to bypass such restrictions.
The service will encrypt the data, in that way disabling the network from seeing what you are trying to access.
Bypass restrictions easily with Surfshark >
Countries and Servers
Two key metrics for rating VPNs are the number of servers the provider offers and the servers' geographic distribution. In both categories, Surfshark performs fairly well. Let's talk about it comprehensively in the review below.
Countries Covered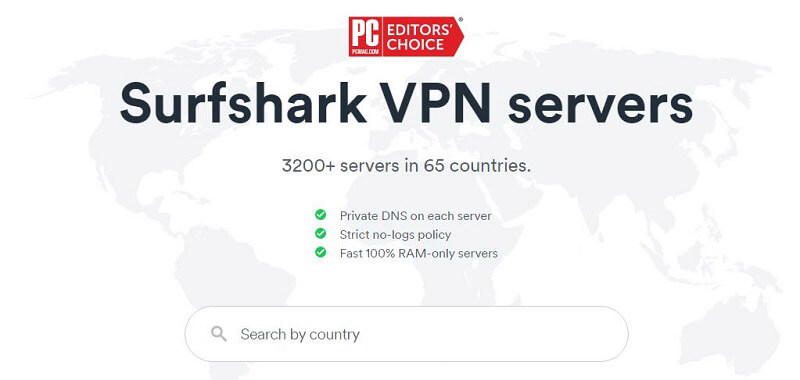 Impressively, Surfshark has more than 3,200 servers across 65 countries around the world. We know there's nothing remarkable about its server coverage, but we're sure that they'll continue expanding at a speedy rate.
Geographic distribution is very important as a close server has a tendency to provide you with better service than a server that is far away. And since almost every continent is covered, you can expect to find a server close to you.
While the majority of their servers are located in Europe, America has also received its fair share of servers. Also, the company has covered major countries in the Asia Pacific region, but Africa and the Middle East only have a few servers.
However, this is generally the case with the majority of VPNs nowadays, and there are not many VPNs with uniform network cover through all the continents.
Surfshark has assumed the challenge of rivaling the big boys. Compared to NordVPN's enormous network coverage of more than 5,200 servers around the world, the coverage of this provider is relatively low. Albeit, it surely covers 5 more countries than NordVPN.
Having said that, the server count is impressive given how quickly Surfshark got up and running since its inception.
Servers
To make sure its users have a perfect experience each time they use the service, every Surfshark's server is optimized to support peer-to-peer sharing, Camouflage Mode, OpenVPN, WireGuard, IPSec/IKEv2, and private DNS.
During our test for this review, every server we connected to performed well for each of these activities.
Compatible Devices and Simultaneous Connections

It's always advisable to ensure the VPN you want to buy is compatible with all your devices.
Not only that, but you also need to know the number of simultaneous connections the network will allow you. Read our review below to find answers to these questions.
What Device Can I Use With Surfshark?
Surfshark offers compatible clients for a wide range of devices and operating systems. Without any hassle, you can easily download their client on any of your devices, including:
macOS
Windows
Linux
iOS
Android
FireTV
AppleTV
Xbox
PlayStation
On the app, each device has a dedicated page packed with security details, performance, and usability of the app. Besides, there is also an APK file for Android, which comes in handy if the application isn't downloading.
In addition, the provider offers further accessibility by offering extensions for browsers like:
Enjoy multi-platform support with Surfshark now >
How Many Simultaneous Connections?

One of the highlights of Surfshark is the unlimited simultaneous connections it offers.
While some companies offer 6 to 10 simultaneous connections, 5 is actually the industry standard.
With the unlimited connections on offer, you can protect all the devices in your household, regardless of how large your family is.
It's also worth noting that newer companies looking to pull customers to their service usually offer this perk. Does this mean that Surfshark will stop providing this luxury any time soon?
Probably not. So far, there are no indications that this may happen. After all, it's a highlight of this provider.
Client Support
Providing around-the-clock customer support is one of the best ways of becoming a reputable provider.
With such an attribute, users can always have their problems resolved whenever they reach a stumbling block.
Let's review how the company performs in this regard and our experience during our test.
How to Contact It?

The company's customer support team is always available and they can be reached via the live chat system on the website or an email/support ticket system. The team is very forthcoming and always ready to provide answers to all your questions.
Is It Good?
The company's customer support has nearly everything.
Fast, supportive, friendly, knowledgeable, and emphatic, there is nothing we could complain about during our test. We were promptly advised and they even recommended technical assistance at some point.
FAQ/Tutorials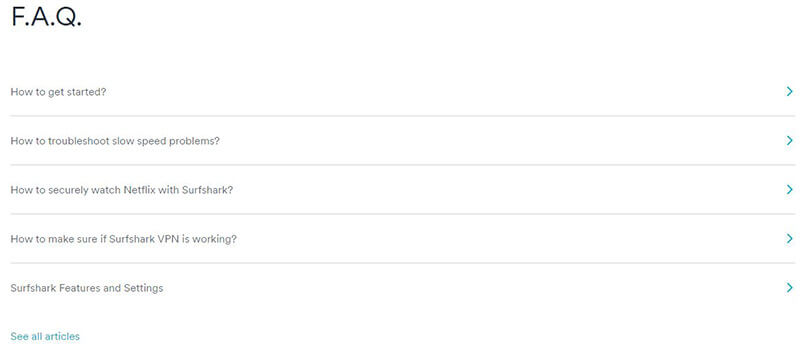 Alternatively, there is a FAQ section on the provider's website which you can consult for likely resolutions. Although the FAQ section isn't too comprehensive and should be revised, it works.
You will also find a remarkable collection of manual configuration guides and articles, which will be useful if you choose to play with different platforms.
Value for Money
Certainly, every VPN user is always looking for something that will give them enough value for money. How much value for money does Surfshark provide? Find out in our detailed price review below.
Price Comparison
The provider offers three different pricing options, which come with the same premium features:
1-month plan for $9.99
6-month plan for $38.94
2-year plan + 3 months free for $59.76
Evidently, the company offers very reasonable plans. In fact, the provider has surely proven its worth and has eliminated the usual fear that often comes with buying a long-term subscription.
Surprisingly, their 2-year plan offers the best value for money as it translates to paying only $2.21 per month. This is extremely affordable and means you don't have to break the bank before enjoying super-solid security and anonymity while browsing the internet.
In order to catch up with its competitors, it has no other option than to be super aggressive on the price. Take advantage of this, we're really not sure it will last.
Get the best value for money with Surfshark now >
Means of payment

For people who are looking for a more digital experience, SurfShark offers a range of payment means.
Credit cards
PayPal
Google Pay
Amazon Pay
Cryptocurrency
Money-Back Guarantee

While Surfshark does not offer a free trial period, it makes up for it with a super-generous risk-free 30-day money-back guarantee for every plan.
Obviously, this offer will allow you to test and review the service for 30 days and see if it tickles your fancy.
Moreover, their money-back policy comes with no catch, and you're guaranteed to get a full refund once you cancel your plan within the first 30 days.
Any Extra?
Apart from the regular features we find on normal VPNs, Surfshark also comes with some unique features that you won't find on many other services. During our test, we tested each of the features and they were incredibly useful.
We will review the provider's unique features below.
CleanWeb
While many other VPNs have this feature, Surfshark has trademarked this name to make it more appealing. When enabled, this feature enables you to safely and anonymously browse the Web as it helps you to block ads, malware, and trackers.
Ads especially can be extremely intrusive and this VPN offers a perfect way to eliminate them.
Whitelister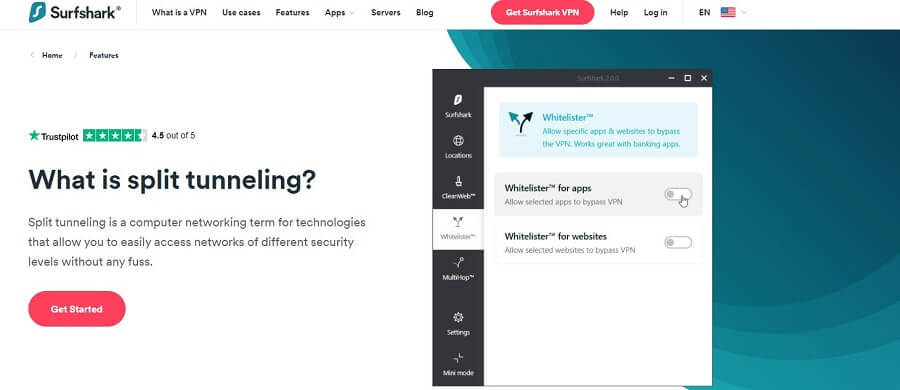 Also referred to as Split Tunneling, Whitelister is another trademarked feature you'll enjoy with this service. It allows you to choose some web pages and applications on your device to bypass your VPN connection.
Wi-Fi Protection
Wi-FI Protection is another unique feature we will mention in this review. This useful feature lets your device remain protected when connecting to a new network.
Since it's not possible to know who is on the other side, connecting to a free Wi-Fi network is always a big risk. Thankfully, this feature provides a quiet solution to browse safely on a free Wi-Fi network.
MultiHop

The name is quite self-explanatory. The MultiHop feature routes your connection through multiple servers, making it untraceable by your ISP or hackers.
However, despite being a really great way to hide your activities online, it is a bit slower than a normal connection. Therefore, we advise you to only use it when you need it.
NoBorders mode
The NoBorders mode is another excellent feature you will enjoy on this service. It lets you obfuscate your VPN traffic, which is usually useful when in countries with strict censorship policies. When you turn on this feature, you can easily bypass the VPN restriction and access unrestricted Internet.
Like the MultiHop feature, it also slows your connection down a bit, but that's the only drawback.
Surfshark One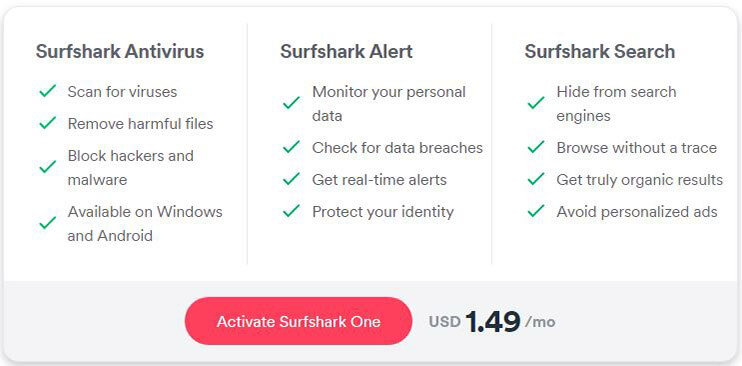 Surfshark One is a suite of advanced security features and is, as you can guess, optional extras. This suite is made up of 3 big features – Antivirus, Alert, and Search. While the antivirus is here to help you detect and get rid of viruses, Alert and Search are very interesting features.
Namely, Alert checks your passwords and personal data for data breaches while Search is Surfshark's own Incognito Mode. And this time, this is a REAL Incognito Mode that lets you completely hide your search from your search engine and enjoy browsing the web in complete anonymity.
This suite costs $1.49 a month on top of your subscription. For a 2 year plan, that would be approximately $36 more, so you could end up paying almost $100. Whatever the case may be, we think that $1.5 a month for 3 major upgrade features isn't such a high price.
Conclusion
Fast, secure, reliable, and affordable are four words you rarely find together when talking about a VPN. Surfshark, however, breaks the norm. Despite being one of the cheapest VPNs, the provider greatly surpassed our expectations during our test for this review.
Fast, secure, and affordable, you can't go wrong with this VPN. Certainly, it's one of the best VPNs in 2023.

Michael is a talented writer who has dedicated a lot of time into making sure that everyone around the world can use the internet securely. Being an avid traveler, he has acquired a lot of experience while using different VPNs on his travels. When it comes to doing comprehensive "how to tutorials" or testing some VPN functionalities, he's always the best pick ! He's here to help you solve your VPN-related issues.