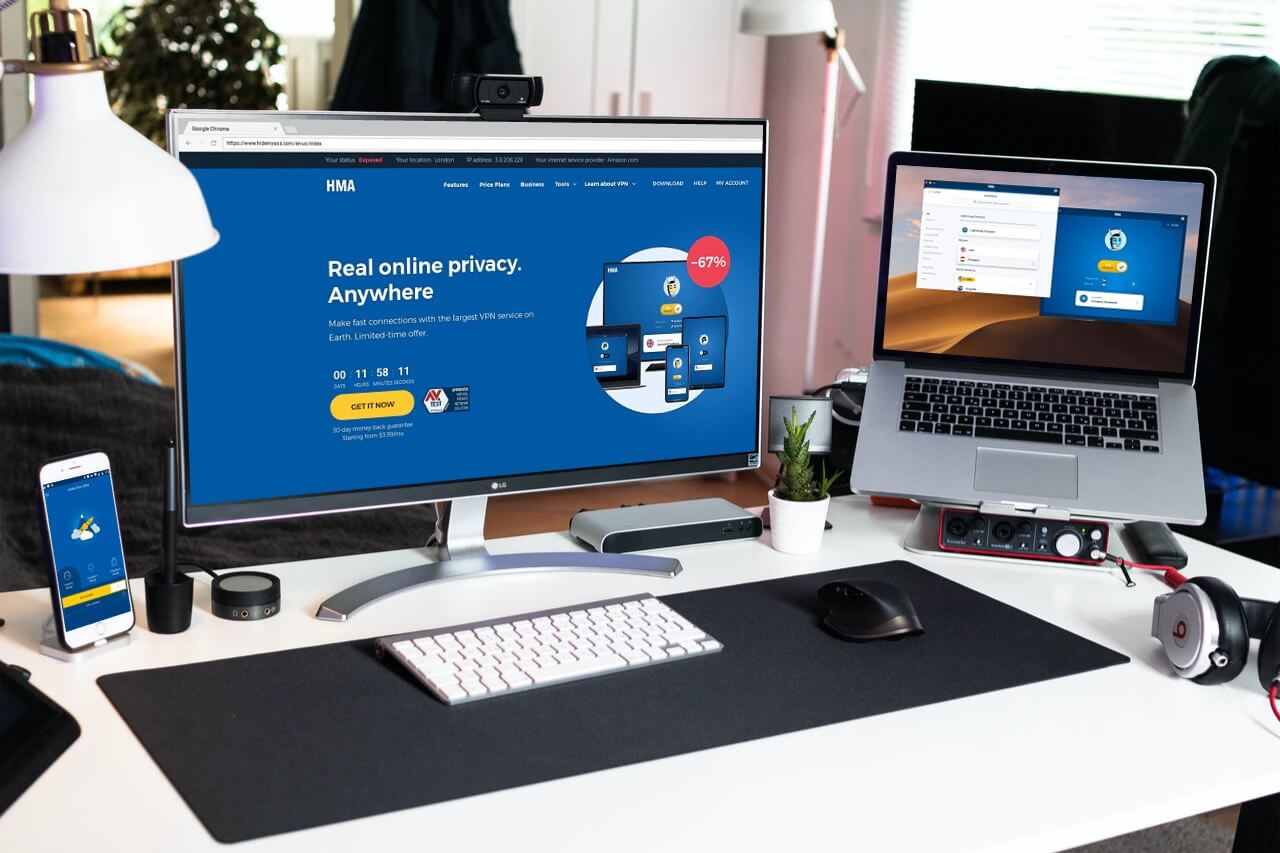 There is a stern competition going on between VPN providers nowadays. There're hundreds of options in the market, with each one promising to provide you with total freedom. However, it is no longer sufficient to guarantee to unblock the most popular sites in the world or offer the best possible protection. This is why we'll review one of the most popular VPNs in the world, HideMyAss, and see if it offers something extra or not.
HideMyAss is a service with a comical twist, starting from its name and ending in some comical graphics littered all over its websites and applications. In terms of capabilities, however, nothing is funny about this provider.
It has many claims that we will test one after the other. So, we welcome you to our hands-on HideMyAss 2023 review.
In our typical fashion, we will begin by providing you with some basic information about the provider. We want you to be able to easily compare it with the other alternatives you have, so we encourage you to first of all look at the pros and cons we have highlighted below.
PROS:
A plethora of payment methods
More than 1,100 servers in 190+ countries
Unlimited Bandwidth
30 days money-back guarantee
Unblocks Netflix
Supports torrenting
Smart kill switch
Audited zero-logging policy (as of 2023)
CONS:
Violation of the zero-logging policy in the past
Money-back guarantee WITH conditions
Can't bypass the Great Firewall of China
UK jurisdiction
HideMyAss ranks #5 out of 104 VPNs tested. Here are the best alternatives :
---
Is it a paid or a free VPN?
Operating hundreds of servers in more than 190 countries, HideMyAss is understandably a paid VPN. However, despite coming with a couple of shortcomings compared to the best VPN's in the business, it's generally considered to be overpriced.
But is it like that now? We'll see later in the review.
Performance
When evaluating a VPN's performance, the two most important factors to review are speed and stability. In this review, we will test how the service performs in terms of speed and stability.
Speed
HideMyAss operates a remarkable server network of more than 1,100 servers across almost 300 locations (cities). Since the United Nations has just 193 members, it's safe to say that the provider is literally everywhere!
Probably due to the hundreds of super-fast servers they have, we were able to get decent speeds that were sufficient for both multimedia use and regular browsing during our test.
While we can't really say that the service is the fastest we have seen, the speeds we got were decent.
Without VPN (we were located in London) :

EU Server (Paris) :


US Server (New York) :

Asia Server (Hong Kong) :


Stability
Operating almost one thousand servers in 290+ locations and promising an uptime of 99.99 percent, HideMyAss is a quite stable provider. It is important for any VPN that's worth its salt to be very stable, as it means that users can be confident about their service and rely on them at all times.
Streaming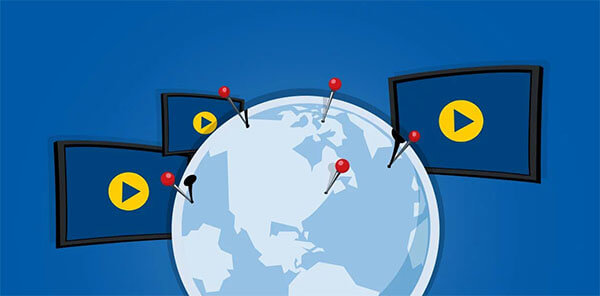 Of course, accessing geo-restricted content on streaming services like Netflix is one of the primary reasons people come to VPNs in the first place. Therefore, how was HideMyAss's performance in this aspect during our test?
Netflix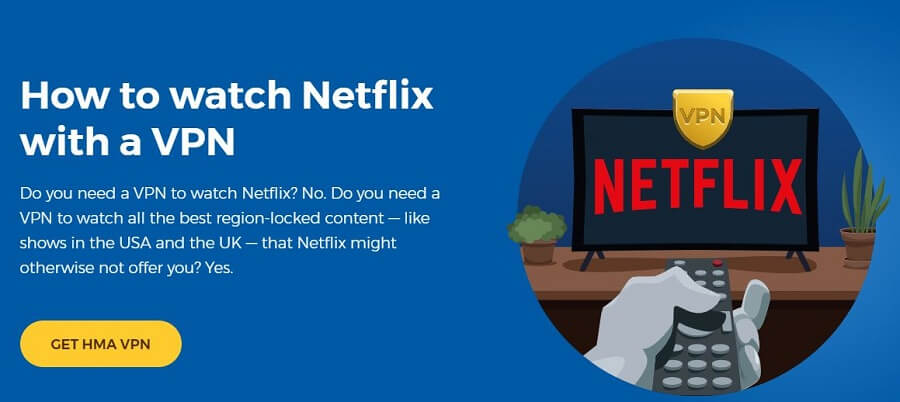 Of course, it unblocks Netflix.
However, don't expect to just connect to any of the provider's servers and go. Using random servers to unblock US Netflix may give you futile results.
If you, however, choose the Streaming option from the dropdown in the app, you will find two options – a US server and a UK server. Keep in mind that in the mobile application, you will need to locate these in the cities list within Location Mode.
During our test for this review, we connected to the US server and we promptly had access to Netflix without any hassle. Surprisingly, we were also able to connect to UK Netflix when we connected to the UK server.
This is remarkable as most other VPNs only focus on unblocking US Netflix.
BBC iPlayer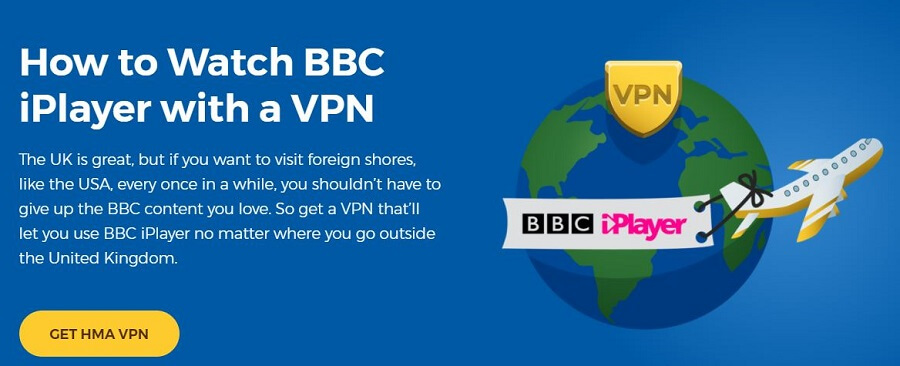 While BBC iPlayer has some of the most interesting content you might want to watch in the United Kingdom, it's only available in the UK. Thankfully, with HideMyAss, we were able to unblock BBC iPlayer seamlessly during our test.
Others?
Although HideMyAss helps to unblock Netflix and BBC iPlayer, the same can't be said of most other streaming services. If you're looking to unblock Amazon Prime Video, HBO, Sky, and Hulu in 2023, you might need to look somewhere else.
The company is currently having issues with these services, and during our test, an agent told us that there is no estimated timeframe for when they will start working again. In the meantime, you can go for ExpressVPN which doesn't have these issues.
Security
When it comes to security, it's kind of a mixed bag for HMA. You will soon know what we mean by that after reading the review below.
Where is it based?
HideMyAss is based in the UK, which is a significant red flag.
After all, the United Kingdom is one of the founding members of the Five Eyes Alliance. Simply put, the country doesn't hide its data collection efforts at all and that's a bad thing as far as Virtual Private Network is concerned.
Thus, if you're a VPN expert, then you might have concerns about this kind of provider.
Additionally, it's worth noting that the United Kingdom isn't a member of the European Union. However, the European Union's GDPR laws still apply in this country and they are designed to preserve your privacy rights and limit data collection.
In truth, HideMyAss doesn't usually seem to be upfront about being based in the United Kingdom. Nonetheless, they cannot hide that information and they will need to verify their origin when asked directly.
So, it's not even surprising to learn that they take some information such as timestamps, your real IP, your virtual IP, and your username. And we are pretty certain that all the collected data can be utilized to see your online activities.
Honestly, the fact that they are based in the UK will always be a problem as far as logs are concerned. They HAVE to keep them for 30 days, it's the law.
Log policy

Or do they?
Since HideMyAss's log policy has proven to be a problem in the past, we have taken our time to take a good look at it.
The previous privacy policy tarnished the provider's decent performance. However, 2023 was a year full of surprises, and despite the epidemic, HMA managed to do something good for its business.
As you can see, the company switched to a new, zero-logging business model, which is fantastic news. They won't log your DNS queries, original IP, browsing history, timestamps, and so forth. To make things better, this new zero-log policy received an audit from VerSprite.
You know how much we appreciate external audits and having one is a HUGE sign of trustworthiness. Now, the only thing that puts a shade on this new policy is its UK jurisdiction. But hey, if the provider has an audit, that's a completely different ballgame.
Also, you can change your company's location just like that. And that's probably great because this will remain the best UK-based VPN around!
Protocols

To ensure that nobody can see or track your online activities, the provider uses military-grade 256-bit AES encryption. This encryption is widely regarded as the most secure encryption in the world and is the standard among VPN providers nowadays.
Apart from encryption, HideMyAss also offers support for OpenVPN. This is, for us, the best solution alongside WireGuard, which isn't offered by many providers nowadays. We can also see that the IKEv2/IPsec protocol is here.
But, this protocol is reserved for Mac and iOS systems, whereas, OpenVPN is available on all other devices. Needless to say, on your Windows computer, you can switch between these two without a hassle.
If you want to learn more about VPN protocols, read our guide.
Protection against leaks

A few years back, HideMyAss didn't include leak protection. You'll agree that this was disappointing. That's not the case today, though. HMA has full-fledged IP and DNS leak protection that protects both your IPv4 and IPv6 addresses.
So, if you happen to have a longer IP, you can rest assured it will be protected. This will ensure that you never jeopardize your privacy and enjoy limitless VPN capabilities.
Torrenting
Despite the many obstacles, nothing can really stop torrenting from getting more and more popular. In fact, there're millions of people around the world who buy VPN just for torrenting.
So, how well did HideMyAss perform in this regard during our test? Check out the review below!
Download torrents with HMA now >
Is torrenting allowed?

Remarkably, HideMyAss supports torrenting. Peer-to-peer traffic is allowed on many high-speed servers that are specifically optimized for peer-to-peer sharing.
To simplify things, the service has an interface that allows you to manually select your server location and enables you to navigate quickly to a list of specialized P2P servers.
The good thing is that the provider switched to a zero-log policy recently, making it even better in this regard. Downloading torrents with a provider that stores logs isn't a wise idea if you want to avoid harsh punishment from the government.
Luckily, with a freshly-baked no-log business model, HideMyAss will let you torrent to your heart's contempt. Just don't expect the blazing-fast speeds we had with ExpressVPN.
Is there a Kill switch?

HideMyAss's client is pretty user-friendly, and luckily, it includes an inbuilt Kill Switch. For beginners reading this review, a Kill Switch is a feature that disconnects the whole internet automatically as soon as the server smokes.
With this, there is no risk of you losing either your anonymity or security in the event that this happens.
Bypassing Censorship
Some countries in the world have strict censorship policies, so most VPN providers don't usually work in such countries.
However, there are still some VPNs that are capable of unblocking censorship in such countries in 2023. So, you might be wondering how HideMyAss performed during our test in this regard.
In censored countries
While HideMyAss has been effective in China in the past, it doesn't seem to work in China any longer.
A lot of users may find out that the service is blocked in the Asian country. While the provider states in the knowledge base of their website that they will keep looking for ways to bypass the Great Firewall of China, they can't really guarantee that it will work for now.
In restricted networks
Whether you are an employee or a student, you could find out that your access to some websites has been restricted. Regardless of the reason for the restriction, HideMyAss is capable of bypassing such restrictions. The VPN will encrypt the data and hide what you're trying to access using the network.
Unblock restricted networks with HideMyAss >
Countries covered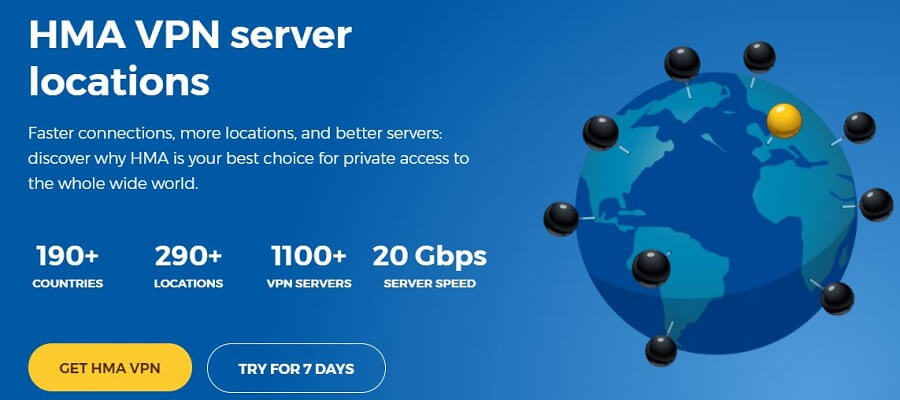 When a service has a lot of servers, it means there are more chances of you finding a server that is not bogged down with other customers.
In this regard, HideMyAss has respectable 1,100+ servers at its disposal. Many users have a great review of this VPN because of this.
It is also important to consider the geographic distribution of the servers. While a lot of locations means there are more options to choose from, also make sure that regardless of where life takes you, you will always find a server nearby optimum performance.
Impressively, HideMyAss has 290 server locations across 190 countries.
The geographic distribution of the servers is especially noteworthy as it covers regions usually overlooked by other companies. For example, it has many server locations across Africa, which is rare among VPN providers.
Moreover, it operates servers in Russia, Turkey, and China, countries with stern internet policies. If you're looking for a VPN that works in Canada, of course, this provider is a good option!
Some users may be concerned about the provider's heavy use of virtual servers. According to a representative we spoke to during our test for this review, about 225 out of the 287 server locations operated by HideMyAss are virtual servers.
Just 62 server locations are physical, and about 500 out of the provider's 938 servers are virtual.
According to another representative we encountered during our test, the bulk of the provider's physical server setup is located in Frankfurt, Miami, Prague, New York, London, Amsterdam, Singapore, and Seattle.
Of course, this is different from what the VPN lists on their site. So, it would make a lot of sense if future versions of the service can be more explicit about when you're connected to a virtual server.
Servers
The company also has a couple of servers that are optimized for certain activities. For example, it has 9 designated servers for peer-to-peer sharing alone, so this is also impressive from the company.
Compatible devices and simultaneous connections
As we have already seen in this review, HideMyAss is a decent VPN. However, another thing you need to know before making your decision is the devices that are compatible with this service and the number of connections it can allow for at a time.
To make this review as comprehensive as possible, we have answered those questions below.
What device can I use with HideMyAss?

When it comes to the devices supported, this provider covers the basics.
It has native applications for :
macOS
Linux
Windows
Android
iOS
Apple TV, and many more.
Another thing we like is router support. Sure, it doesn't have native apps for Fire Stick or Roku, but hey, with router support, you can protect all of your household devices.
On average, a router in your house supports up to 16 simultaneous connections. More fancy routers extend this to 32. When you connect a VPN to your router, you can protect either up to 16 or 32 devices at the same time and that's pretty damn impressive.
Enjoy multi-platform support with HideMyAss >
How many simultaneous connections?
Another highlight is that the VPN can also be used on up to five devices at the same time, which is actually the industry standard. With this, your friends and relatives can also enjoy the VPN while using your account.
Client support
Client support is another factor you need to consider before committing to a VPN provider. Of course, we also had this in mind during our test, so we will review the company's client support below.
How to contact it?

There are many ways to contact the support team should you run into a problem. You can submit a ticket on their official website or contact them through their 24/7 live chat support.
If those channels are inconvenient, you could also contact them through their social media pages.
However, contrary to the company's claim that their live chat support is always available, no agent was available to attend to us during our test. Nonetheless, we didn't need to wait long as a support agent finally responded after a couple of minutes.
Is it good?
While we checked out the provider's support during our test, we really can't say if its good or not. It took some time for us to get a response, but the agent that responded was friendly and knowledgeable.
FAQ/Tutorials
You can also turn to some useful resources on their websites if you run into an issue. There is a series of guides on subjects such as geo-spoofing, online privacy, and cybersecurity on their website.
Apart from being informative, the guides are also engaging and funny, which is a reflection of the company's quirky and fun personality. You will also find the provider's detailed installation guides, knowledgebase, FAQs, and a community forum.
Value for money
Everyone looking to make a purchase is looking to choose an option with the most value for money, right? That's what we thought as well, so we decided to include the price comparison in this review to make it more detailed.
Price comparison
Like most VPN companies, HideMyAss offers a variety of subscription plans, which you can review in the table below.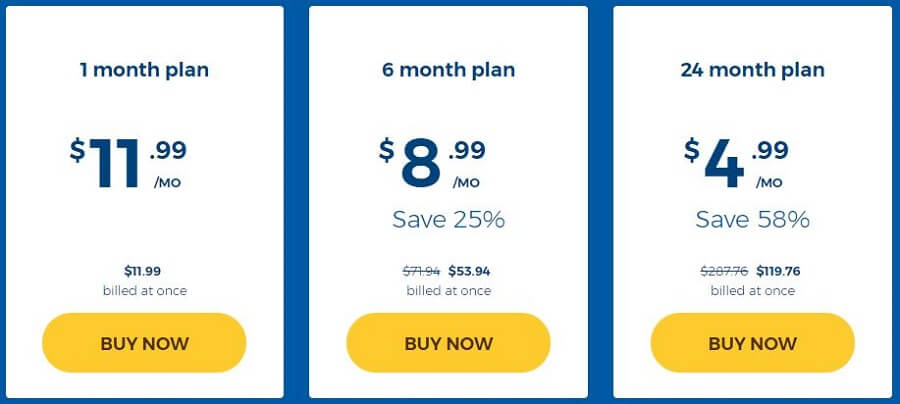 For the monthly subscription, you will have to pay $11.99. That's slightly lower than ExpressVPN or CyberGhost for the same plan. But, the level of performance is lower as well, so it's understandable.
The price is, however, more appealing if you consider its long-term subscriptions.
For instance, the 24-month plan is priced at $119.76, which is equal to $4.99 a month. It's exactly 58% cheaper than the monthly plan.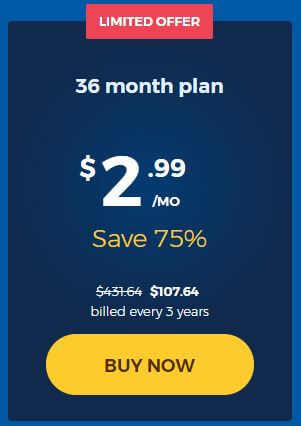 For a limited amount of time, you can also purchase a 36-month plan for 107,64$, which is actually cheaper than the 24-month plan! In this edition, HMA will cost you just $2.99 a month, which is VERY cheap.
As an example, we can use Surfshark that costs $2.49 a month for a 2-year plan. Yes, Surfshark is better, but HMA used to be much more expensive back in the day. We're impressed at how they managed to elevate the quality level, yet decrease the price.
For this price, though, nothing can beat CyberGhost's lowest price at $2.75 a month for an 18-month deal.
Means of payment

The provider offers a wide range of payment means, in a way to make everything easier for customers. While the VPN doesn't accept Bitcoin payments yet, it still offers some nice payment means like:
PayPal
Credit or debit card
iDeal
Bank/wire transfer
SOFORT
UnionPay
Money-back guarantee
Thanks to a 30-day money-back guarantee, customers are offered the chance to test out the service.
It is worth noting, however, that users mustn't exceed 10GB of data before asking for a refund.
Additionally, you can't get a refund if you pay via Google Play or iTunes, so make sure you buy the plan from HideMyAss directly if you want to enjoy the money-back guarantee. A lot of people have complained about not getting their money-back offer, but it's usually due to their failure to read the terms.
Enjoy a 30-day money-back guarantee now >
Any extra?
It's actually the extra features that determine the value of any VPN service in 2023.
So, how many extra features does HideMyVPN have, and did we test them while compiling the review? Find your answers below.
Load balancing
HideMyAss has a load balancing feature that gives you information on which server has the fewest number of connected users.
Obviously, this is a way of making sure you enjoy faster speeds. In fact, there are many users who have a great review of this service for this particular feature. We've also seen this with CyberGhost which is highly appreciable.
Secure IP Bind
The provider also has a secure IP bind feature that can be used to create conditions for a particular app that you use.
The feature stops apps from running as soon as you're disconnected from the VPN, making sure that the apps don't run unless you're protected.
Location Mode
This feature enables you to connect to a certain server. Simply put, it provides a straightforward function and also a list of servers in over 190 countries.
Once you click a city or country, the application will request permission to connect to a VPN server in that location or you can choose to select a server manually from a list of servers available in that location.
Click the VPN server and the application connects to that particular server instantly. Again, it takes only one click to disconnect.
IP Shuffle
When this feature is enabled on HideMyAss, it will give you a new IP after a certain duration, to prevent nobody from tracking your activities online. However, it's recommended to utilize this feature along with the Kill Switch in order to prevent you from getting exposed while changing your IP address.
This feature was particularly useful during our test.
Freedom Mode
The Freedom Mode is another feature that impressed us during our test. It allows you to connect to the speediest server located in the closest free-speed country. Actually, this feature is often useful for people who want to access services and sites that are usually restricted by their local governments.
Final Thoughts
While HideMyAss is a decent VPN provider, it needs much more to be considered a great provider and compete with the big boys. In particular, the fact that it's based in a country that is a member of the Five Eyes means there will always be question marks over its greatness.
On the brighter side, it worked well for unblocking Netflix during our test, it, unfortunately, couldn't unblock a host of other streaming services like Hulu and Amazon Prime Video.
Do we recommend it for anyone looking for the best VPN in 2023? No. Do we recommend it to users looking for a decent VPN at a relatively affordable price? YES, WE DO.
HideMyAss is a great VPN – have no doubt in that. But, as much as it's great, it has some shortcomings that make it inferior to the top providers on the market. Its price is dangerously close to CyberGhost, which is a much better solution and it's cheaper.
This is a great alternative to HMA, and if you want the best, without asking for a price, we recommend ExpressVPN.
HideMyAss Review and Test
HideMyAss is one of the most famous VPN provider out there. Yet, it has lost many clients over the last few years because of an ever rising competition.
Add your review
|
Read reviews and comments

Michael is a talented writer who has dedicated a lot of time into making sure that everyone around the world can use the internet securely. Being an avid traveler, he has acquired a lot of experience while using different VPNs on his travels. When it comes to doing comprehensive "how to tutorials" or testing some VPN functionalities, he's always the best pick ! He's here to help you solve your VPN-related issues.