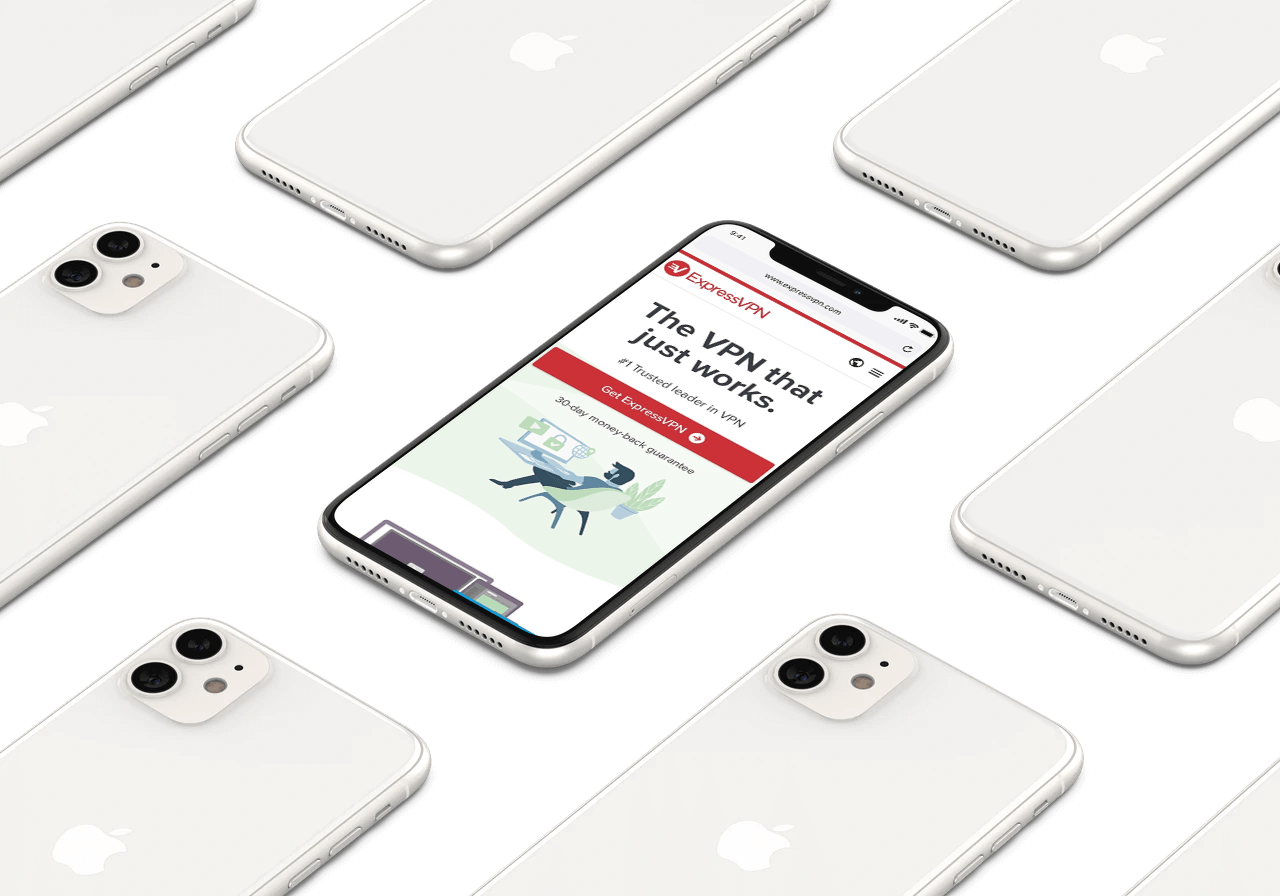 With a staggering market value of about 930 billion dollars, Apple is unarguably the biggest tech company in the world and even one of the biggest companies on the planet. Unsurprisingly, Apple's iPhone is consequently one of the best phones around.
However, while the phone is a security-oriented mobile device, it has its own issues regarding privacy and security.
Since the modern world is filled with hackers and cybercriminals who are always looking to hack into your phone and gain access to your private data, even iPhone users are always on the lookout for a tool to adequately protect their devices.
That's where a Virtual Private Network comes in.
For starters, a VPN is a superb tool that helps users to protect their personal files and data, amongst its many functionalities. It is currently one of the most popular security tools in the world, and for good reasons.
So, if you're using one of Apple's mobile devices, there are chances that you're looking for the best VPNs in 2023.
We thought as much too, so we have compiled a list of the best VPNs for iPhone in 2023, including the free and the paid ones. However, while there are great non-paid services that may help serve your needs, we don't totally recommend them.
Ranking of the best VPN available on iPhone (2023):
ExpressVPN
CyberGhost
NordVPN
Surfshark
IPVanish
Why Do People Need a VPN for Apple iPhone?
From using it to protect their data to bypassing geo-restrictions, there're many reasons people buy this service. For people who are beginners, below are some of the many reasons.
To Secure Yourself on Public Networks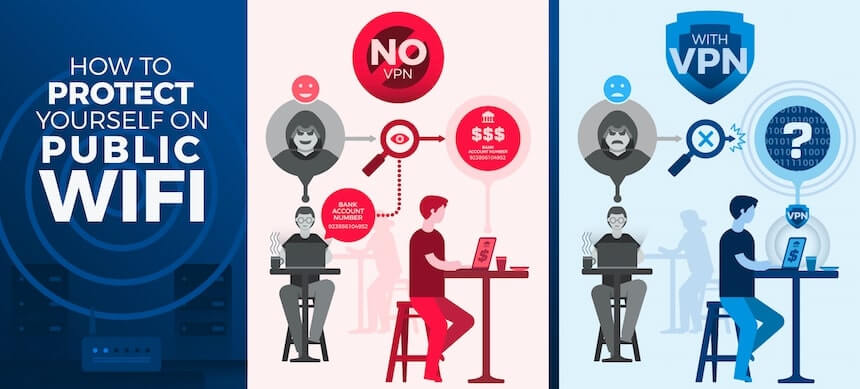 A Virtual Private Network helps protect you from snoopers and hackers who want to hijack your data and access your personal data.
Most times when you are using unsecured and free Wi-Fi at public places, you are leaving your data vulnerable and open for people with great packet-sniffing applications to hijack your login details for sites.
Apart from your website login details, hackers may even be snooping on your conversation with people or your internet activities.
Hackers are even capable of breaking Wi-Fi networks that have fragile WEP encryption keys, or weaker encryption protocols. Therefore, you have to be careful of the types of networks you are connecting to without using the best VPN to at least protect your personal data and information on your iPhone.
To Spoof Your Location

Furthermore, when you're worried about a site tracking your information, like your IP, or informing you that you cannot use the site due to the region you are in, then a Virtual Private Network is an excellent way of getting around this as it can often make it seem as if you are connecting from a different location.
Essentially, a Virtual Private Network is a server situated in a distant location that your data is going through and coming from, and it serves as an intermediary between you and the website you are using.
Thanks to this, the website you are using sees the VPN server's location instead of the real location of your computer.
This is how some people who have issues watching YouTube Videos because of their location can get past the block. The best VPN allows them to appear to the site they are trying to access as though they are connecting from a totally different region than they truly are.
To Unblock Geo-Restricted Content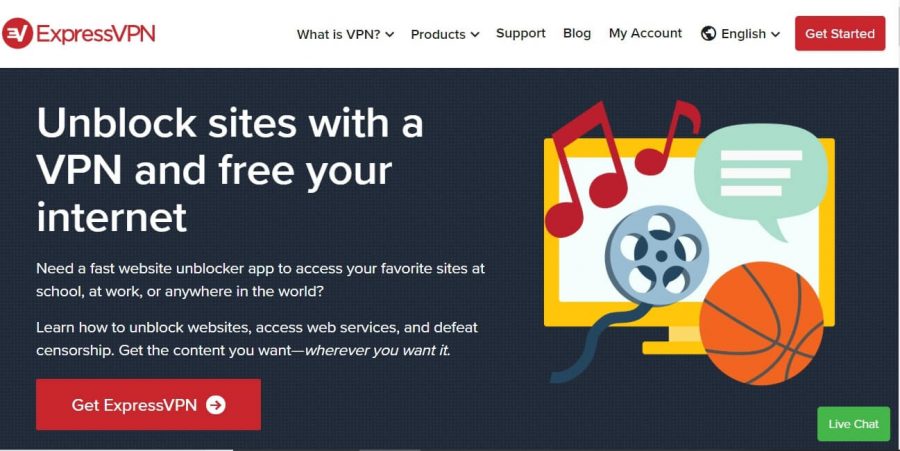 Some of the videos on Hulu, Netflix, BBC, and YouTube have regional restrictions. This means that, if you are looking to watch your favorite shows while abroad, you won't be able to do it due to geo-restrictions.
This is where a VPN comes into the picture – it will enable you to connect to a server that is situated in the region where the content is not restricted – for instance, if you are in Europe, you will be able to choose a US server to stream your favorite shows or movies right on your iPhone.
To Bypass Network Restrictions
The best services even allow you to bypass annoying censorship and website blocks while at work or school. Most times, most organizations block some web domains to ensure that unwanted traffic doesn't occur on the network.
While this can help them to keep bandwidth usage extremely low, it can be a big intrusion when you urgently need to do something on one of the blocked websites on your phone.
Since a Virtual Private Network is receiving and sending information from and to a different server, a server can help you to bypass these network blocks as your institution won't really know that you are visiting a site that is blocked or censored in the first place.
Just ensure you don't get caught accessing websites you are not meant to access at work or in school. While bypassing such blocks shows how skilled you are at bypassing restrictions, you've probably violated a rule in the process. And that could land you in trouble or worse, get you fired.
To Encrypt Your Data
Virtual Private Networks are also capable of encrypting and securing the data that is exchanged between you and another server. When you are concerned about someone hacking your data, a VPN is a great method to give yourself some protection.
Often, the best VPNs come with extra encryption, with some being stronger than others. This can help prevent a third party from understanding or intercepting the information that you are sending.
There are differences in the levels or degrees of encryption, and this is something you must keep in mind. Normally, paid services for iPhone provide higher security levels than non-paid ones, because security is costly.
Many costless services cut corners, in a bid to reduce the amount of resources they have to invest.
It's a good thing to encrypt your data, as it is a lot better that a hacker hijacks a bunch of unstable encrypted data that would take a million years for them to understand than intercepting a bunch of decodable information.
If they cannot make sense of it or understand it, it's useless to them.
Can a Free VPN Be Effective on iPhone?
Many great non-paid VPNs can be effective on your Apple mobile device, of course. However, we recommend costless services if you're only trying to do basic things like bypassing network restrictions or accessing geo-restricted content.
If your goal is to access Sky One live when you're traveling abroad, using a free VPN for your phone can definitely work.
The truth is that the best services cost money, and while non-paid ones work as well, they often come with a lot of limitations. We will discuss their limitations further later in this article.
The 3 Best FREE VPNs for iPhone
As we said earlier, many 100% free VPNs can be used on any device like Windows, Mac, Android or iPhone, and other iOS devices. However, while an abundance of options is often a blessing, it can be a curse sometimes.
With that in mind, we have helped you separate the wheat from the chaff by compiling the best non-paid Virtual Private Networks for iPhone.
1. Windscribe
Generally speaking, Windscribe is quite awesome. While the VPN doesn't really prioritize speed or privacy like some paid services, it is the best option for people in search of a costless service that offers a generally good performance for iOS devices.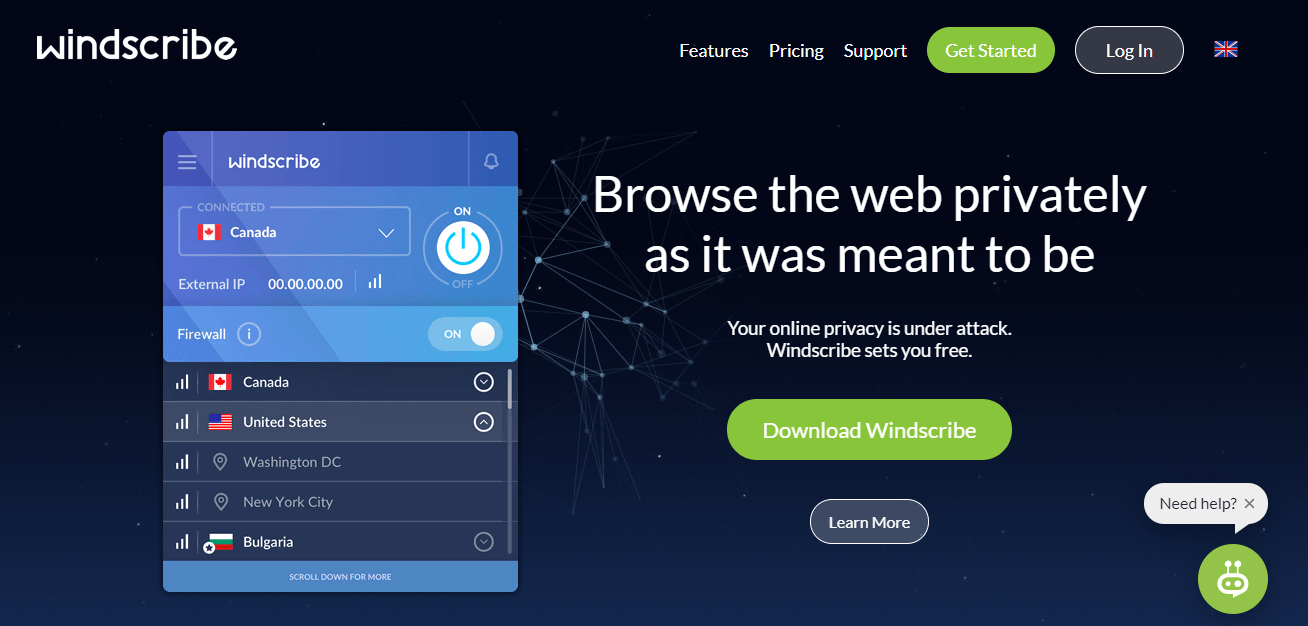 For one thing, the VPN enables its free users to access 500+ servers. That is particularly helpful when you're traveling abroad as you can quickly access high-profile servers from anywhere in the world.
Not only that, but the service is also extremely generous, giving non-paid users up to 10 GB of data a month, which can be increased further, should you tweet about them on Twitter.
On top of this, Windscribe provides some unique features like its link-shortening feature which keeps a tab on all the shortened links you visit to ensure that you are going where you plan to go exactly.
To be honest, the service is fairly big on protection. That's backed by its strict no-logging policy and its use of military-grade encryption protocols such as AES-256 and IKEv2 on the iPhone client.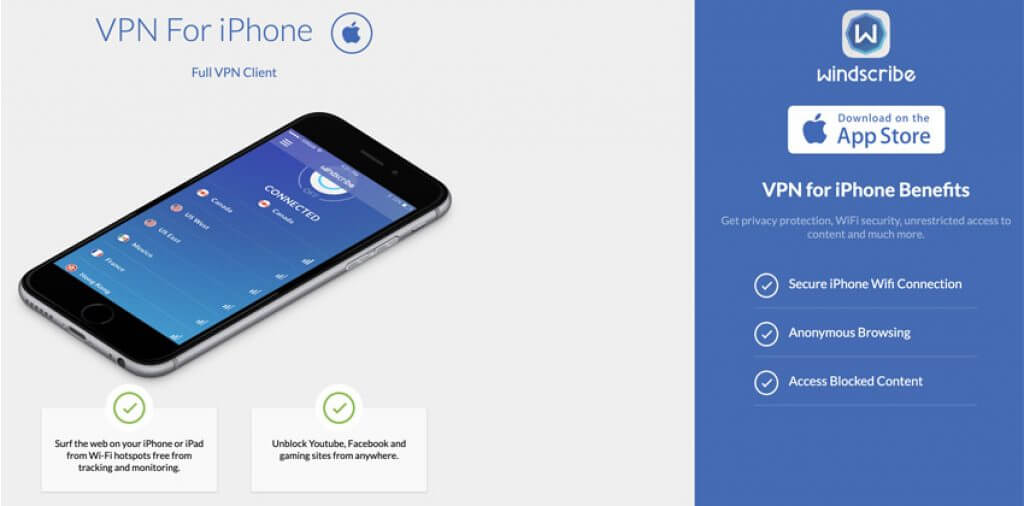 However, for everything that the VPN does well, it comes with a few catches. First of all, the support options of the company are not 24/7. While that may not mean anything to you, we are confident that its below-average speed will mean something to you.
In general, though, it is an excellent free service and one of the best costless options for iPhone.
PROS:
Provides generous 10 GB of free data
Comes with a Double Hop feature
Supports a wide range of platforms
Very easy to install and use
Doesn't keep logs
CONS:
Poor support
Doesn't have a wide server coverage
Slow speeds
Canadian jurisdiction
---
2. ProtonVPN
ProtonVPN is a privacy-oriented service, which makes it the best option if you're particular about staying anonymous while surfing on your iPhone. It adheres strictly to its no-logs policy, which is another great news.
Outstandingly, it doesn't impose bandwidth limits and doesn't cap monthly data. What this means is that despite being a free user, you'll be able to surf the web for as long as you like without worrying about data limits.
However, while the costless version of ProtonVPN already sounds perfect, bear in mind that it isn't without a catch. The bad news is that free users are quite low on the priority list of the provider for a good and speedy connection.
It's not actually the company's intention to throttle your connection speeds – you can get a good connection on the non-paid version for iPhone – but the premium subscribers just receive priority access to the fastest servers.
The problem is even made worse by the fact that non-paid users can connect to only a couple of servers.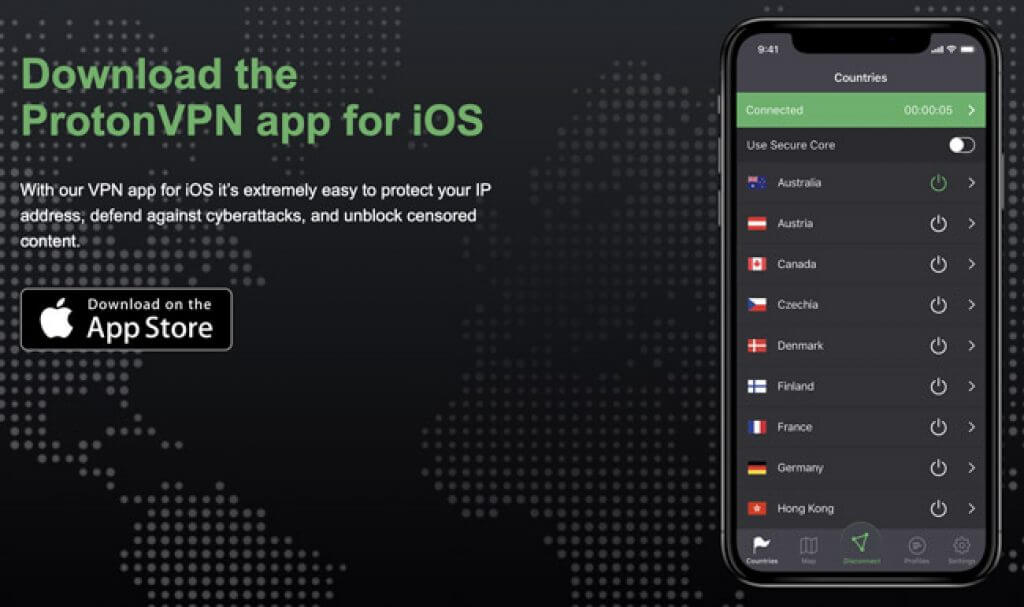 If you're looking to enjoy all the offerings of this VPN on your iPhone, then you may need to upgrade to a paid plan. Certainly, you will get the best value for your money. And if you don't, every plan comes with a 30-day money-back guarantee.
The guarantee means you will get a full refund if you don't like the service within the first 30 days.
With a strong commitment to privacy and first-class encryption, we aren't surprised that ProtonVPN is one of the most popular free VPNs.
PROS:
No bandwidth limitations
Multi-platform support
Solid security features
Access to Premium for 7 days
CONS:
Permits only a single connection at a time
Free users can only access 3 locations out of 30
No 24/7 support
Very slow speeds
Doesn't work with Netflix
---
3. TunnelBear
The Canada-based TunnelBear is another free VPN on our list, and it was included for good reasons.
The service automatically connects on the phone and remains connected 24/7. While the fact that it's located in a 5 Eyes country (Canada) is a huge concern for VPN enthusiasts, it's one of the best options if you're not doing anything sensitive.
In a unique form of protection, TunnelBear has a "Vigilant mode" which helps block all unsecured outbound and inbound data until you establish a connection. This is especially useful if there is a disruption in your connection.
Being a 100% free service, the company operates servers in only more than 20 countries. However, it allows you to connect up to five devices at a time. On the free version, you get 500 MB of bandwidth per month and you get access to all the servers of the company except the Australian server.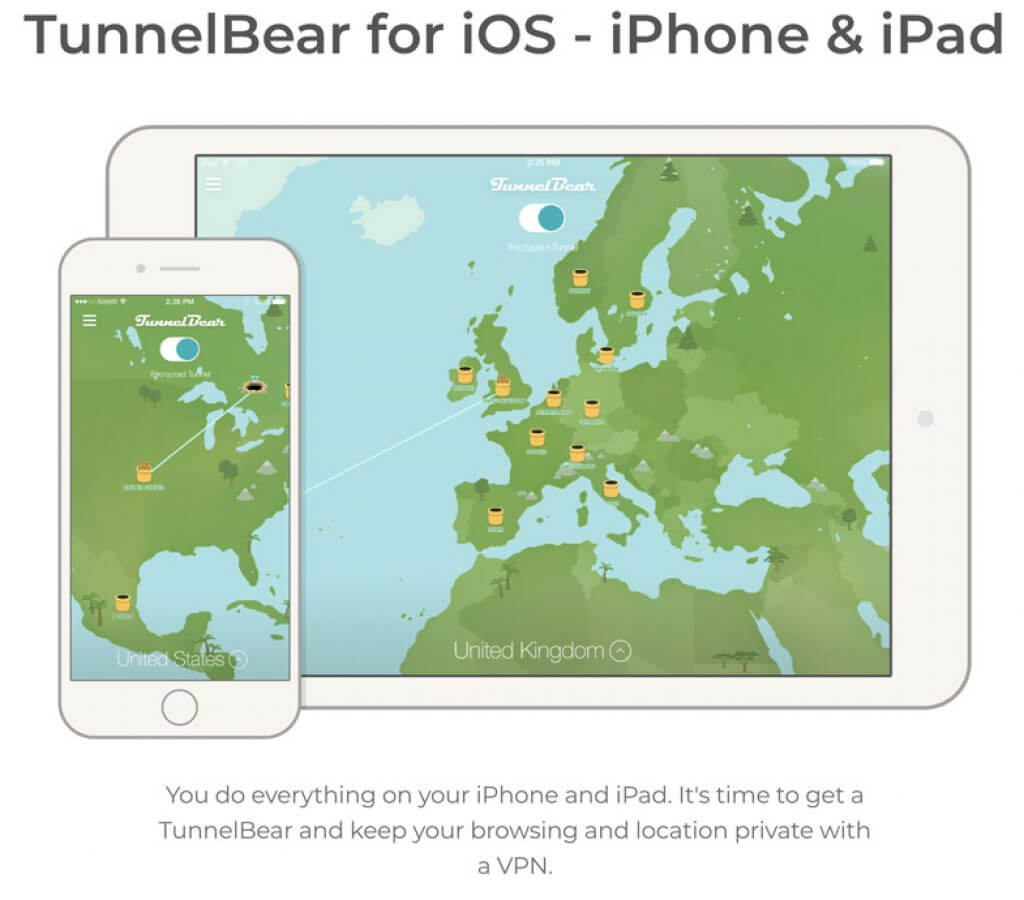 You may increase your data cap to 1 GB if you Tweet about the provider. Thus, to earn more bandwidth monthly, just make sure you tweet about the service every month. No matter what you do, 500 MB or 1000 MB, it will still be super limited.
Stream a video for 20 minutes and your full data limit will be used.
TunnelBear has a series of state-of-the-art blocking measures for trackers and ads, making it one of the best and most innovative online ad-blocking and tracker-blocking services. Researchers who want to make sure that nobody is tracking them will especially find this useful.
The company states that its blocking tools protect you from online tracking tools that are ignored by other services. The VPN also offers DNS leak protection, making sure that your data doesn't leak to outsiders.
PROS:
Easy-to-use interface on the iPhone client
Features a built-in kill switch
Uses military-grade encryption protocols
Features a stealth mode
CONS:
Offers only 500 MB of free data per month
It's based in a country with stern data-retention laws
A limited number of countries
Poor client support
Slower speeds
---
Weaknesses of Free VPNs for iPhone
We've already mentioned that costless VPNs usually come with plenty of weaknesses, which is why we don't completely recommend them. If you're wondering, below are some of the biggest weaknesses of free services.
Track and Sell Your Data
Virtual Private Network is meant to protect you while you are online. Probably the biggest marketing point is that these services will prevent ISPs and data trackers from selling your data to third parties for profits. The idea is quite simple.
When a Virtual Private Network encrypts your data and reroutes it through its servers, your ISP won't be able to see what you are doing anymore. However, the VPN provider can see your activities. Essentially, you have just transferred your trust from one tracker to another tracker.
Obviously, the majority of the best paid services for iOS devices don't monitor or store your activities. They often have broad privacy policies and take pride in not tracking at all.
However, you can't be so sure with a 100% free provider. After all, it is expensive to host and operate a VPN network. In most cases, you become the primary income source of the provider. Always remember – there is nothing like a free lunch.
If you are in doubt, we will refer you to a CSIRO study that occurred recently. The study investigated exactly 283 VPNs and found out that about 75% of non-paid services contained some sort of tracking, which is terrifying.
Lack of Regulation
In Europe and North America, Internet Service Providers often have strict regulations. While they are capable of commandeering and selling your data, users have access to the rules and regulations for such transactions.
VPNs are not governed by the same established rules. In fact, a lot of the best providers are based in shadowy offshore jurisdictions. Apart from the fact that their location makes it hard to regulate them, it makes them hard to learn about as well.
You should avoid free iPhone VPN services that originate from known security-weak spots, like Russia and China. There are chances that your data is being tracked and used for dodgy purposes.
Costless VPNs offer a large source of prospective victims for cybercriminals and hackers. A lot of users see 'free" and instantly get carried away, giving away their personal data during the registration process.
As soon as the data is in their system, the services log your traffic data without you knowing. Within only a few days, the complete picture of who you are is in the hands of the criminals.
Too Much Priority on Adverts
It's quite obvious why some free services choose this approach. Since they aren't being paid by their users, the companies definitely need another money-generating way. While most of them state that they do not show annoying ads, you still see ads popping up all over when you connect.
Apart from being super annoying, ads can also reduce your connection speeds or trick you into visiting malicious websites.
And since advertisers like targeting certain users, the display of ads is a big red flag as far as user privacy is concerned. Simply put, if your provider is displaying ads, there are chances that they are sharing your traffic data with third parties.
There Are Chances of Leaks
A properly-functioning Virtual Private Network is like a secret channel. All your data traffic travels through the channel, away from the prying eyes of hackers and authorities. When the traffic surfaces on the open web, it will be impossible to figure out its origin.
If you utilize a free VPN for iPhone, however, the tunnel's craftsmanship is less robust and is more likely to be porous. Your IP address and data can leak through the holes, where anyone who is looking can easily pick it up.
This process is referred to as a "DNS leak" or "traffic leak." Both IPv6 and IP4 addresses can leak, which leaves you completely exposed.
According to experts, paid services are guilty of leaks as well, but they're way less common.
The 5 Best PAID VPNs for iPhone
Fight against any malware and virus software.
Encrypt your personal data. 
Watch Netflix and other streaming content abroad. 
Access all your favourite websites even in censored countries. 
Overcome restrictions to watch every national channel wherever you are.
Protect your data from your ISP or any hacker.
Do torrent and streaming without taking any risk. 
Don't be afraid to use public WiFi hotspots, wherever you are. 
Since we already noted that free VPNs usually come with many limitations, it's time to introduce you to the best ones. Of course, they are all paid services, but you're guaranteed to get your money's worth.
1. ExpressVPN
ExpressVPN is our pick for the best VPN all-around, especially for iOS devices. Based in the British Virgin Islands, this paid provider has a huge server network of 3,000 servers in almost 100 countries.
This is probably one of the reasons why it's the fastest VPN on the market. Security-wise, it uses military-grade AES-256 bit encryption, which is the highest level of encryption.

The provider allows you to effortlessly unblock streaming services such as Netflix and Hulu, which makes it perfect for streaming. It has a custom traffic obfuscation, which will enable you to get better connectivity in regions with stern censorship policies like Russia and China.
The app is super-easy to install and set up, boasting a user-friendly interface that primarily focuses on the smart selection of servers through different filters. In fact, users can easily connect with just a tap, with an option to automatically reconnect if your Wi-Fi connection or mobile data drops unexpectedly.
There are also some unique extras, like the ability to effortlessly switch between VPN protocols. Besides, the provider allows you to connect up to 5 devices at a time on a single account, allowing you to also connect all your devices.
The provider gives you 24/7 client support through email or live chat, to help customers with any issue or question they may face. Furthermore, company has a great privacy policy and keeps no traffic data, browsing activity, or connection IPs.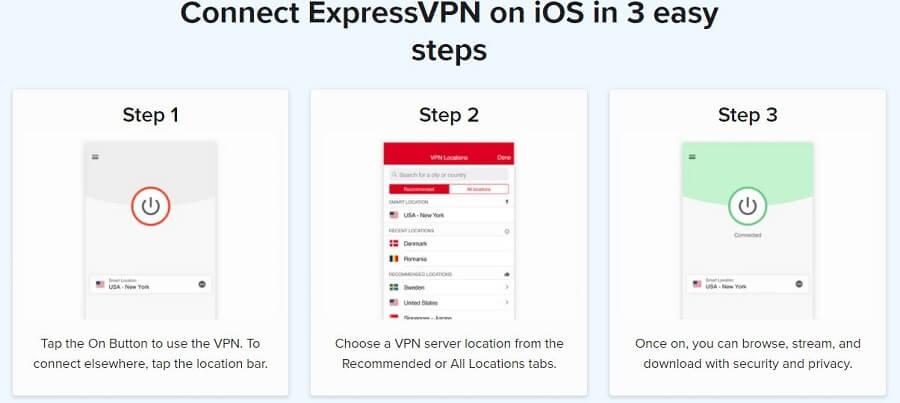 While it is not the cheapest service, we are confident that it will be worth the extra cost if you want the best security for your iPhone. The plan with the best value for money is the yearly plan, for which the provider throws in three extra months for free.
And if you end up not liking the VPN, the company offers a 30-day money-back guarantee, which promises to give you a full refund if you change your mind within the first 30 days. However, we don't think that will even be happening as we're confident that you will enjoy the service.
PROS:
Super-fast speeds
Super secure AES 256-bit encryption
User-friendly
Excellent support
30-day money-back guarantee
Best for Netflix
Works in China
DNS Leak protection
CONS:
It's not the cheapest option
---
2. CyberGhost
CyberGhost launched CyberGhost 7 in 2018 and has since become one of the VPNs with the best clients in the market. The beautiful interface is most probably the first thing that will strike you upon launching the VPN app.
And the excellent interface is not restricted to the iPhone client alone – you will enjoy the same experience across all the most popular platforms.
That's a good piece of news since the service even supports up to 7 devices simultaneously, which comes in handy for people looking to protect many devices. On the network coverage, CyberGhost offers more than 7,400 server locations across 91 countries.
This means that regardless of where life takes you, you will always find a server to connect to.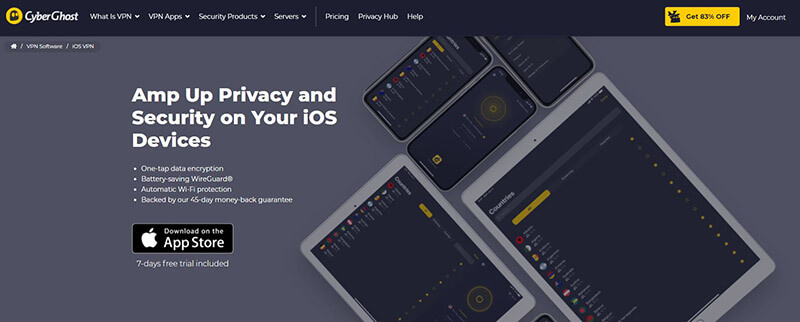 Back to the iPhone client, you can easily connect to any server and filter through the best ones that support HD streaming. And for more convenience, you can mark your favorite servers for quick access. Also, the iOS client will protect you on Wi-Fi networks.
You can instruct the client to react in a particular way to insecure and secure networks, which offers more control.
Furthermore, the VPN uses military-grade AES 256-bit encryption, which is the most solid encryption protocol around. However, due to Apple's strict requirements, the iOS client doesn't support OpenVPN, which is one of the few flaws we found.
However, the company offers fantastic client support, which includes 24/7 live chat support. With such reliable support, you can always rest easy knowing that your provider has you covered at all times.
PROS:
Servers in over 90 countries
Good for streaming
7 simultaneous connexions
45-day money-back guarantee
Easy to set up on iPhone
Great customer support
Uses strong encryption
CONS:
The iOS client doesn't support OpenVPN
Occasionally slow speeds
---
3. NordVPN
Another excellent option we will be reviewing is NordVPN. Like CyberGhost, this paid provider also has a user-friendly iPhone client where everything is neatly organized.
When you use the 'quick connect' widget, it will display at-a-glance information, which details the load percentage, availability, the closest server, and more.
When it comes to network coverage, this provider boasts around 5,200 servers in more than 59 countries. Not only does this enable you to always find a server nearby regardless of where you are, but it also gives you increased speeds.
Security-wise, the provider uses AES 256-bit encryption along with a proprietary NordLynx protocol, which is the best and highest level of encryption. Apart from that, it also offers a Kill Switch, alongside double data encryption which literally doubles your protection.
And since the provider has a strict no-logs policy, you can sleep easy knowing that your data is in safe hands.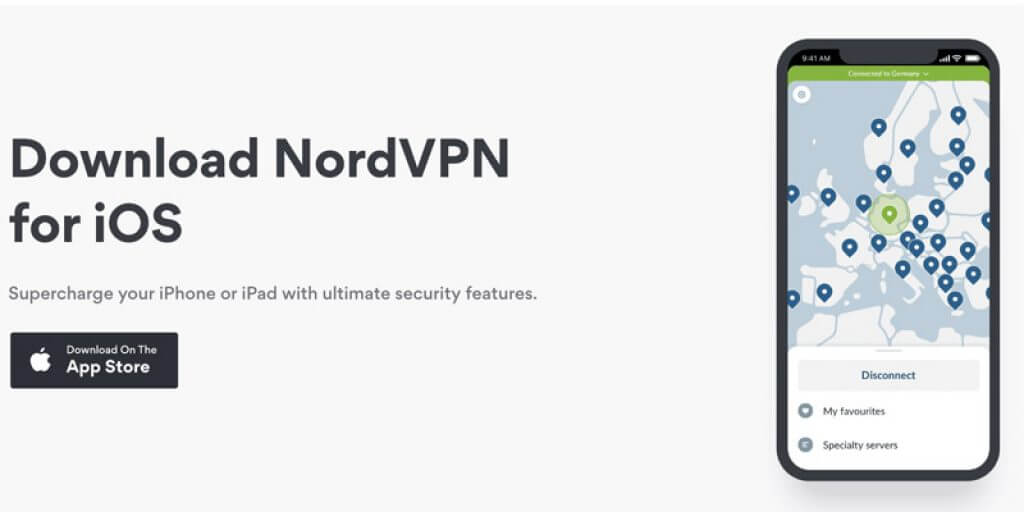 Another great feature the service has is CyberSec, which automatically blocks malware and ads. Additionally, the service has state-of-the-art obfuscation tools to ensure it works in countries with stringent censorship policies such as Russia and China.
However, the VPN is not as fast as some of its rivals like ExpressVPN, but it still offers decent speeds. The fact that it doesn't offer a trial period is another issue some Apple users may have with it. Nonetheless, its 30-day money-back guarantee should make up for that.
The quality of its many applications has been closely analyzed in our NordVPN review.
PROS:
Easy-to-use iPhone client
Zero-logs policy
More than 5,200 servers
Uses the best encryption protocols
Works in China
Has a Kill Switch
30-day money-back guarantee
CONS:
Possible connection issues
Access streaming sites with NordVPN >
---
4. Surfshark
With only over 3,200 servers spread across 65 countries, Surfshark's has a solid network compared to its paid rivals. Plus, they have tons of advanced features, the biggest of which is unlimited simultaneous connections.
If you wish to run your entire office or home on the service, you don't need to worry about any connection limitations. That apart, they also offer ad-blocking, tracking-blocking, and malware-blocking as part of their service.
The provider has a strong range of device support, running on iPhone, Windows, Android, Mac, routers, and Amazon FireTV. We especially enjoy the feature that enables you to whitelist some websites and apps to automatically get past the VPN.
This can be vital for people who use it for business purposes.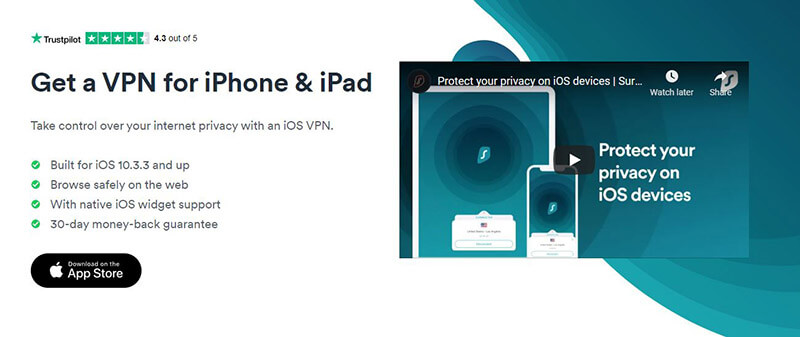 Moreover, Surfshark provides three unique modes made for people who want to bypass restrictions and carefully hide their footsteps online.
The first is the Camouflage Mode, which does its best to conceal your activity so that your ISP won't know you're using a VPN.
The second unique feature is the MultiHop feature. This one routes your VPN connection through numerous countries to cover your track.
Finally, the NoBorders Mode enables you to use the service successfully in restrictive regions. These include even China, Iran, or Russia.
Like the other best paid VPNs for iPhone, this one also offers a 30-day money-back guarantee. The guarantee means the company is ready to give you a full refund if you change your mind about continuing with their service within the first 30 days.
PROS:
Uses strong encryption protocols
Unlimited simultaneous connections
A wide multi-platform support
Ultra-cheap pricing
Unblocks Netflix
Comes with a 30-day money-back guarantee
CONS:
Speed could be improved
Some minor bugs on the iOS app
---
5. IPVanish
While IPVanish is not as popular as the other best paid iPhone VPNs we have recommended, it offers great performance, especially when it comes to speeds. However, you may want to be careful regarding your usage as this company has a quite controversial past.
In the past, it helped the authorities catch a user, who was actually using the service for criminal activities. While the intention was good, it defeated the whole point of using a VPN – to protect private data. Besides, the company is also located in the US, which isn't a friendly jurisdiction for VPN companies.
On the upsides, however, the iPhone client recommends the best servers according to your ping time and location. It also automatically connects whenever it detects internet traffic.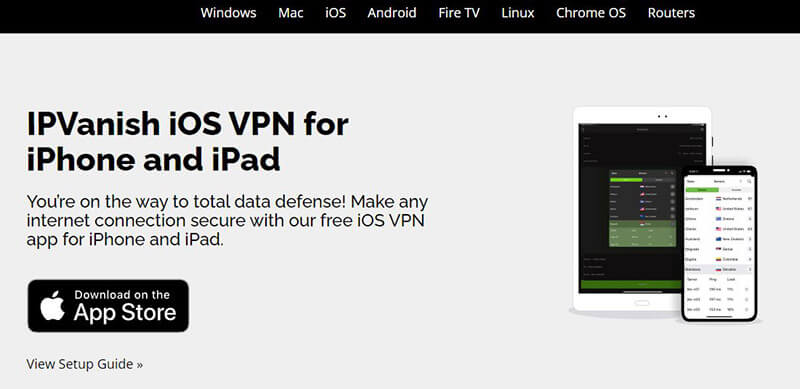 There are other neat features like the option to see the load times and server ping and the ability to automatically connect when visiting certain domains. While the app doesn't reliably unblock Netflix (as we saw it in our test of IPVanish), it's still an excellent piece of software.
On the security front, IPVanish provides a wide range of protocols, including OpenVPN, WireGuard, IPSec, and IKEv2. It also features a Kill Switch, which automatically interrupts your internet connection as soon as the VPN connection loss occurs.
Moreover, it has DNS leak protection, which guarantees your safety and security at all times.
When it comes to privacy, it doesn't record your connection data or online activity when you use the iOS client, but you may still have to be careful considering the company's controversial past.
PROS:
Strong encryption
Fast servers
Secure and private
Offers a Kill Switch
DNS/IP leak protection
CONS:
Located in the US
Controversial past
Not the best-looking iPhone client
---
Final Thoughts
With the ever-increasing security unrest on the internet, a VPN will soon become a necessity for every internet user. While iPhone is probably the best phone in the world in terms of security, it has had its fair share of security issues.
With that said, we advise you to choose a paid VPN for your iPhone. Although the free ones are also effective to some degree, we don't really recommend them. Rather than making your device vulnerable with some weak free VPNs, put your trust in a reliable company like ExpressVPN.
FAQ
? What are the benefits of using a VPN on an iPhone?
There are many benefits to using a VPN on iPhone. First of all, you will be able to hide your IP and above all, encrypt your Internet traffic. This can be very handy if you have to travel a lot and connect to public WiFi.
Also, you will be able to unlock and watch any film or series normally unavailable in your country (whether on Netflix, Amazon Prime, Hulu, BBC iPlayer …)
? Can I use my VPN for iPhone on my iPad?
Of course. The VPN applications that we present in our article are designed for iOS. It is therefore perfectly possible to install your VPN on your iPhone and also your iPad!
? How to set up a VPN on my iPhone?
If you go for one of our recommendations (ExpressVPN, CyberGhost, or NordVPN), it will be extremely simple. Once you have subscribed, all you have to do is go to the Apple Store on your iPhone/iPad to download the application.
Then, enter your credentials, and off you go! No special configuration is required. However, afterward, it may be interesting to modify the protocol used according to your needs (by going to the VPN application settings).
? Is it possible to download a VPN without using the Apple Store?
No, you will have to go through the Apple Store to download the application. It is the most reliable and secure way.
Note, however, that you can sign up for a VPN subscription without going directly to the Apple Store. Subscribe from your computer and then simply enter your credentials in your VPN application for iPhone.

Michael is a talented writer who has dedicated a lot of time into making sure that everyone around the world can use the internet securely. Being an avid traveler, he has acquired a lot of experience while using different VPNs on his travels. When it comes to doing comprehensive "how to tutorials" or testing some VPN functionalities, he's always the best pick ! He's here to help you solve your VPN-related issues.