Hello and welcome on The-BestVPN.com. We're here to help you find all the last news about VPNs. If you're looking for comprehensive in-depth reviews of more than 40 providers, you're right where you should be. Our team works hard every day to keep this website alive and up to date to make sure you'll always find the correct information. 
Who are we ?
We're 2 co-founders helped with a team of expert writers who have been traveling a lot over the last 10 years and had the opportunity to try and use many VPN providers for streaming or torrenting.
A few years ago, finding a VPN comparison website was not an easy task. Today, you can find many different websites like ours. But why is ours better than our competitor's ? 
Everything we write here is REAL. We really test the VPN providers, we really test them for all the streaming platforms, for torrenting, for bypassing the censorship and, above all, we try to present our results as simply as possible.
What is our mission ?
Our mission is to give you easy-to-understand articles. Our #1 goal is to turn some things that can be difficult into some easy-to-read articles. This does not mean that we don't go into details, but this means that we won't give you complicated details you should not be worried about.
Our team of expert writers present you some comprehensive articles, well presented and organized to help you find swiftly the answer to the question you came for.
As far as VPN provider reviews are concerned, we offer you the opportunity to also share your review at the end. We'd be more than happy to hear your thoughts on all the VPN providers we've tested.
The more comments we'll get, the better our reviews will be.
If you want to find quickly our selection of the best VPN providers, you can find our ranking that hast been updated in 2019. By picking one of the providers in our VPN comparison chart, you can be sure you won't be disappointed.
We have tested and compared most of the best VPNs on the market in order to help you find the one that best suits your expectations.
In our reviews, you'll find all the information you need to take the right decision in order to finally surf on internet securely and anonymously.
How do we review and rank the VPN providers ?
As we've told you above, we DO really test the VPN providers that we present on the-bestvpn.com.
Our review process is cut in 5 steps that you can discover below. We won't go into telling you that we buy, install (on different devices) and connect to the VPNs to test them, this sounds quite obvious.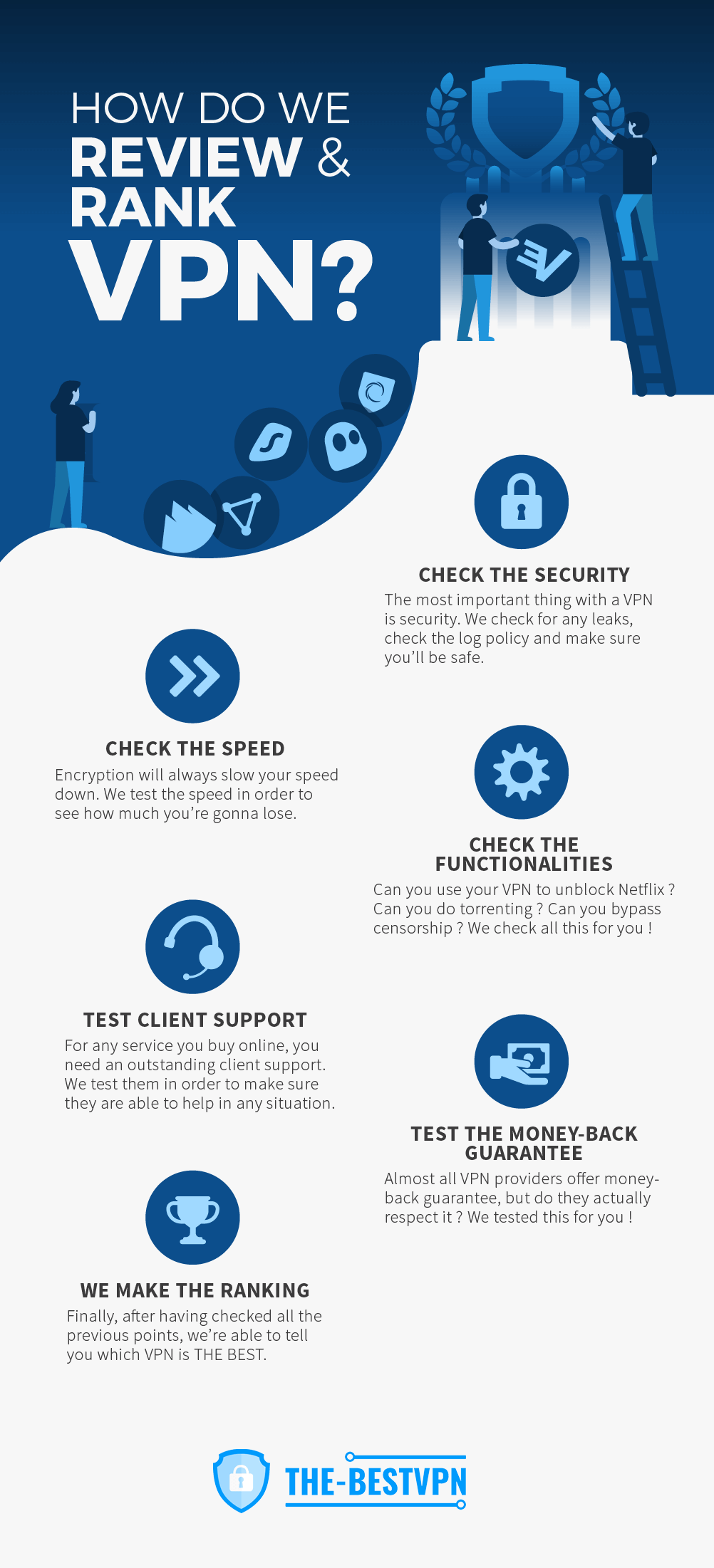 1. The security
The first thing we'll check once reviewing the different VPN providers is the security. What's behind the log policy ? How well does it protect you against the different leaks ? Is the Kill Switch feature working correctly ?
We also check that the provider has had no bad press since it was created.
All this is carefully analyzed in order to make sure the VPN we're testing will actually protect you. Be careful, definitely not all VPN providers will protect you equally.
2. The speed
Having a good security is THE MOST IMPORTANT key factor of success for a VPN provider. But, it is not the only one.
Indeed, the better the encryption, the more it will impact your speed. No matter which VPN provider you choose, you'll always lose some speed. Yet, in order to give you accurate reviews, we test the speed of the provider we're testing.
We test the speed for internet browsing, for torrenting and for streaming. Even though you can see, with speedtests, a difference, the best VPN providers, like ExpressVPN, won't have a real impact on your online experience.
3. The functionalities
Now that we have checked the security and the speed, what we can look into is the functionalities.
Does it work for unblocking Netflix ?
Can you do torrenting with it ? Does it work in very censored countries ?
All this is checked for you in order to make sure you won't be disappointed when choosing a VPN provider.
4. Client support
The support is, for the best VPN providers, available 24/7/365.
Yet, it is not enough to be sure of its quality. We therefore send messages to all supports we test and pretend to have an issue. Then we check how well they help us fix it, and how long do they take to answer.
We also check for other support features like a FAQ or "how to" tutorials like what we can see with ExpressVPN or NordVPN.
5. The money back guarantee
Even though we try to make sure the VPN provider you'll choose matches your expectations, you can, sometimes, be unhappy about the performances.
If it is the case, you can use the money-back guarantee. Most of the time, you have 30 days…with no condition. But is it really with no condition ? We look into this accurately in order to make sure you won't get screwed by some policies, written on page 128 of their terms of services.
Be careful, again, you can be faced with some VPN providers which will actually have some conditions like "bandwidth limit" "number of connexions" or tricks like this to not pay you back…
6. We make the rankings
Once we're done doing all this, we can give a grade to the VPN provider.
According to its grade, we rank it in the different rankings we have on our website.
Also note that some additionnais criteria are taken into account for our reviews but they are not as important as the ones we've talked about above.
Among these other criteria, we can think of :
Number of countries covered
Number of servers
Number of simultaneous connexions
Pricing
Means of payment
Variety of protocols
Compatible devices
Languages in which the apps are translated
….