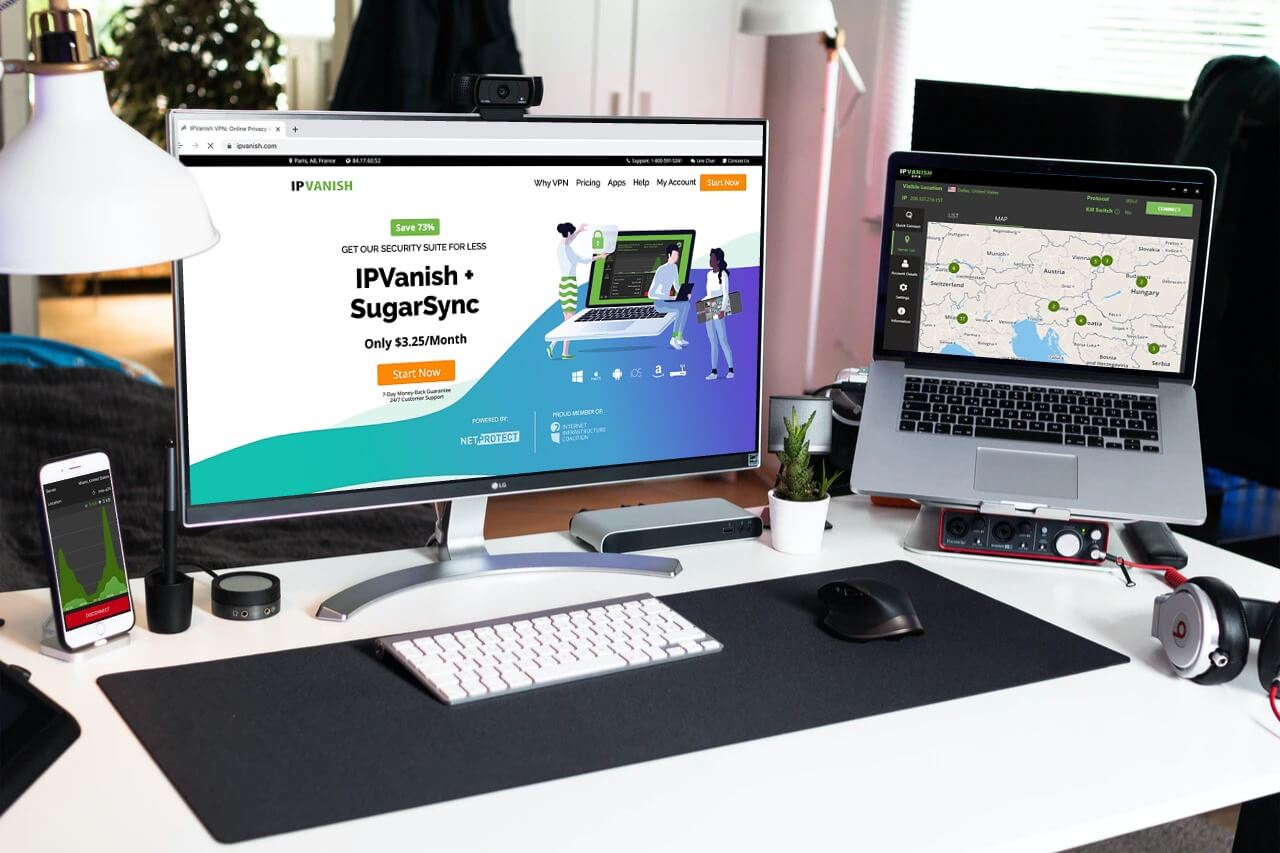 In recent years, the need for online security and privacy has been on the rise – hackers are becoming more and more dangerous, and even governments are becoming too intrusive. In light of this, the use of a VPN is becoming increasingly common amongst internet users recently, which is why we've decided to review IPVanish.
Being one of the most popular VPNs in the market, IPVanish is a security tool that a lot of people are interested to learn about nowadays. While the market is actually packed with all types of VPNs, not many of them can back their huge claims with an equally huge performance.
Like most VPN providers around, this provider also comes with hefty claims and a lot of promises. However, is their performance good enough to justify their hefty claims? You will find out in this test and review.
Keeping all the crucial elements in mind, we've tested this service to the limit, and below are our findings.
STRENGTHS:
Very fast speeds
Strong OpenVPN encryption
Doesn't store logs
Features a Kill Switch and DNS leak protection
Permits torrenting
Great multi-platform support
Good client support
WEAKNESSES:
Based in the US
Controversial past
Expensive 1-year plan (after renewing it)
Doesn't work reliably with Netflix
IPVanish ranks #6 out of 104 VPNs tested. Here are the best alternatives :
---
Is It a Paid or a Free VPN?
Offering more than 1,900 servers in more than 75 countries, what do you think? IPVanish is a paid VPN, and it's not like anyone expected otherwise, to be honest.
The company is striving hard to provide the best services, and everything requires a lot of money.
Therefore, we think they do deserve to be paid for everything they are doing to provide the highest internet protection and anonymity.
Performance
Regardless of the number of factors that make up a good VPN, everything always boils down to performance in the end. With this in mind, we have reviewed the performance of this service during our test and the following is what we found.
Speed
IPVanish is a very fast VPN, with probably some of the fastest speeds we have seen in our review. While it's definitely not as fast as a lightning-fast as ExpressVPN, it delivers more than enough speeds.
In fact, it is more than sufficiently fast for HD streaming.
This company brags to be the fastest VPN in the world, and that's actually a statement that's not too far from the truth.
Without VPN (we were located in London) :

EU Server (Paris) :


US Server (New York) :

Asia Server (Hong Kong) :


Apart from being fast, the speeds are also consistent. Besides, the company has a gripping edge over other services – by selecting 'Best server" as an option, the system will connect you automatically to the best server.
However, sometimes, you may manually find a server that is faster than the one IPVanish assigned to you.
Stability
We didn't experience any downtime with IPVanish during our test. And according to some users we spoke to while compiling this review, the network is rarely down.
Although there is no VPN with 100 percent uptime, we assure you that this one will be up and available mostly all the time.
Only occasional maintenance work on different servers and they don't even take long.
Streaming

Streaming, of course, is one of the most common activities on the internet. That said, we understand that many customers will be interested in knowing how this provider performed in our test.
With that in mind, we've comprehensively appraised the streaming capabilities of IPVanish in this part of the review.
Netflix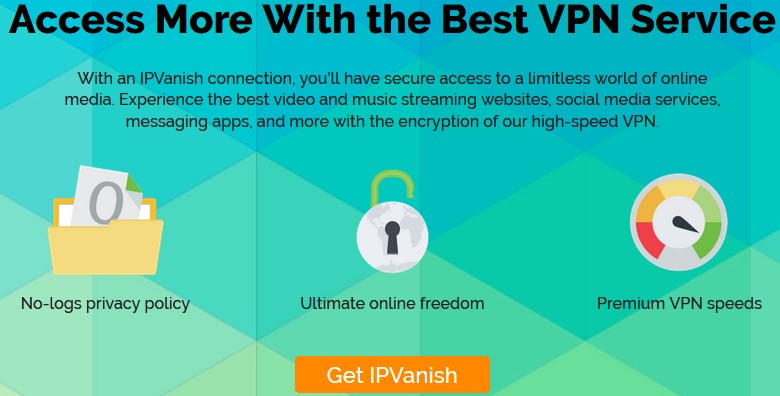 Sadly, this provider is one of the many sufferers of the efforts of Netflix to prevent VPNs from spoofing the locations of users and enabling them to access geo-restricted content.
The streaming company has blocked the servers of this provider, and therefore, it doesn't allow its users to enjoy Netflix's international content.
However, you can access US Netflix with IPVanish, since the company is based in the United States. And bear in mind that the American Netflix region has the most complete and exciting library of TV series, movies, and shows.
BBC iPlayer
Despite being one of the fastest VPN services in the world, IPVanish is not really a fantastic option for streaming. All of its servers in the United Kingdom are blocked from accessing BBC iPlayer and if the answer of the representative we spoke to during our test is anything to go by, they are not working on fixing this anytime soon.
If it's important to you to unblock BBC iPlayer, then you may need to look at some other options like ExpressVPN and NordVPN.
Others?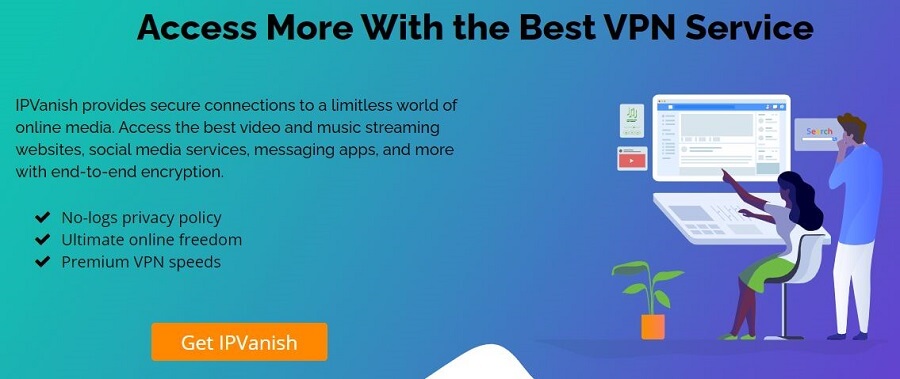 While IPVanish is not a great option for Netflix and BBC iPlayer, as we already mentioned in this review, it may work for other streaming services like Hulu, HBO, and Amazon Prime Video.
Of course, all these streaming services are in a cat-and-mouse game with VPN companies. Therefore, don't be overly disappointed if this VPN fails to unblock these services tomorrow.
Security

Since security is often the number one motivation for buying a VPN, we thought this review would be useless if we didn't test or evaluate the security systems of this provider. With that said, below is what we found.
Where Is It Based?
In 2012, IPVanish was launched for the first time by HighWinds Network Group, which is a company that is located in the United States. Since then, the provider has been bought by StackPath and J2 Global successively, both of which are companies located in the United States.
Obviously, the provider has always been owned by companies based in the United States, which is a country with intrusive surveillance regulations. Not only that, but the country is also a part of the Five Eyes, which is a group of countries that have agreed to share data and surveillance.
However, the fact that IPVanish is based in the United States is largely irrelevant as it has a no-log policy, as we found out during our research for this review. The no-log policy means the VPN provider doesn't even collect any data that anyone can use to identify any user.
Log Policy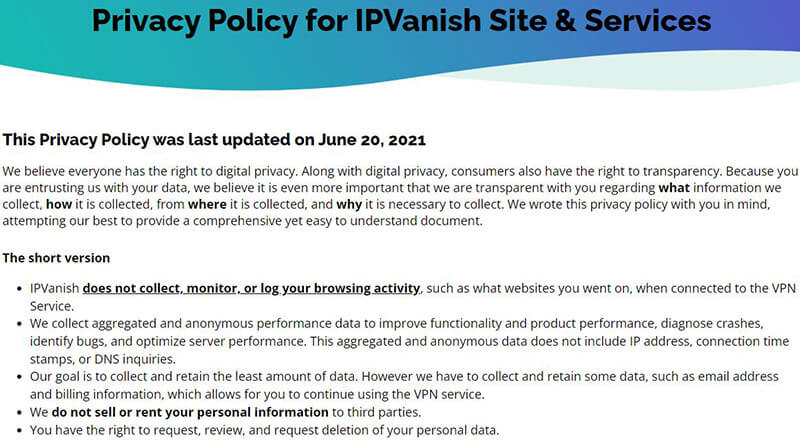 The question on the lips of most buyers is " is IPVanish as privacy-friendly and secure as it claims?" As it is, the provider takes its no-logs policy quite seriously, on the face of it at least.
Sadly, the truth to their "zero-logs" claims looks to be rather different.
In the past, while Mudhook Marketing still owned the VPN, the authorities caught a suspect using the logs of personally-identifiable data that IPVanish provided. While it seemed quite fortunate that the suspect was convicted, what happened called the honesty of this provider into question.
It was like failing a test!
Since a company that is based in the United States still owns the VPN, there are even more questions about the purportedly most secure networks of the provider. The United States is one of the major countries in the Five Eyes, making it a chief global surveillance nation.
And trust us, their tentacles are really broad.
Thus, we're particularly doubtful about the provider's "maximum security" claim since it's based in a country like the United States. Their zero-logging policy, however, seems "okay." They won't store your IP, timestamps, traffic history, etc.
But, with its questionable past, IPVanish is still an untrustworthy provider by many. We think that, if you don't intend to do anything really sensitive, there is no need for you to worry.
Protocols

IPVanish utilizes the wide-spread OpenVPN encryption, with HMAC SHA-256 control authentication, HMAC SHA1 data authentication, RSA-2048 handshake, and AES-256 bit cipher. Moreover, there's WireGuard support as well, which is basically a protocol for drastically improving speeds and performance.
Widely regarded as the strongest encryption, AES 256-bit encryption is custom-built by the government of the United States.
While some people are worrying that the US government can utilize this provider as an enabler to access messages concealed through the military-grade AES-256 encryption, that is totally untrue as all major VPN service providers use the same encryption.
Protect your data with the strongest encryption >
It is the most secure encryption in the world, renowned for being watertight. VPN providers that combine the OpenVPN protocol with AES 256-bit encryption are often found on the upper part of the list when people's preferences and expert rankings are made.
Protection Against Leaks
IPVanish features DNS and IPv6 leak protection, which guarantees your safety and security at all times. The service firmly secures your internet connection in order to prevent leaks that may give out your real identity.
Without any doubt, both DNS and IPv6 leak protection guarantee to take your internet privacy to another level.
Torrenting
Torrenting is another popular reason for which people pay a lot of money for VPNs. With that in mind, we remembered to test this VPN's torrenting capability when bringing this review together.
Is Torrenting Allowed?

Excitingly, IPVanish supports torrenting, even though many providers don't. If you fail to encrypt your data traffic and conceal your identity, the prying eyes of the internet will be able to see your activities.
That, along with the strict laws of some countries regarding P2P sharing and torrenting, is capable of limiting your torrenting experience.
Luckily, IPVanish can help you with that.
It offers a great atmosphere for P2P activity and torrenting, allowing you to interact with other users without needing to worry about stern authorities and government agencies prohibiting your activity.
While it is very difficult to engage in P2P activity with 100% privacy, IPVanish allows you to do it. The service provides you with advanced features and a safe environment that enable you to be totally anonymous.
A lot of users reviewed this service excellently just because of this.
Is There a Kill Switch?
One of the biggest features you'll find on this VPN is a Kill Switch. When you turn on this feature, it will interrupt your internet connection as soon as the VPN service is turned off.
The feature prevents data leaks, which stops all the data traffic automatically.
This feature is especially great for torrenting users and people who often connect to public networks.
Bypassing Censorship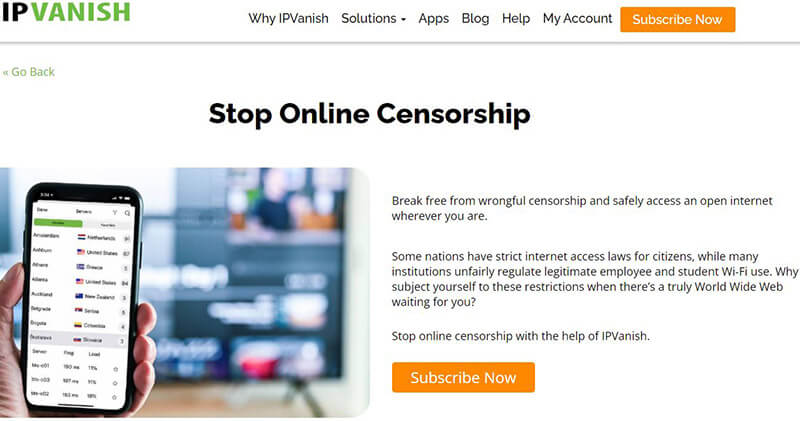 Even if you currently live in a country with lenient censorship policies, some people live in Iran, China, or Russia, which are countries with stringent censorship policies. For such people, this part of this review addresses IPVanish's performance regarding censorships.
Of course, we remembered to evaluate this during our test, and here are the results.
In Censored Countries
Like a lot of VPNs that have been blocked in China, IPVanish is another victim of China's stringent anti-VPN campaign. And despite having a range of obfuscation tools, the provider is extremely upfront in stating that the service will not work in China.
A lot of people review this VPN greatly just because of this honesty. The provider even provides a helpful list of other countries where the VPN will not work – you can find the list on the website's support section.
In Restricted Networks
It is a common exercise for school network administrators to block access to websites like Twitter, Snapchat, and Facebook. They also block streaming platforms like Hulu, HBO, and Netflix, and students can also only dream about torrenting on school Wi-Fi networks.
However, with a VPN service like IPVanish, you can access all the restricted websites on the network of your school.
Such a VPN simply encrypts your data from the prying eyes of your school's network, thereby disabling it from seeing the sites you're trying to access. Of course, we checked out the effectiveness of this VPN in such situations during our test.
Countries and Servers
Another consideration you must remember is the number of servers a VPN has and the countries it covers. For IPVanish, read what we found in our research below.
Countries Covered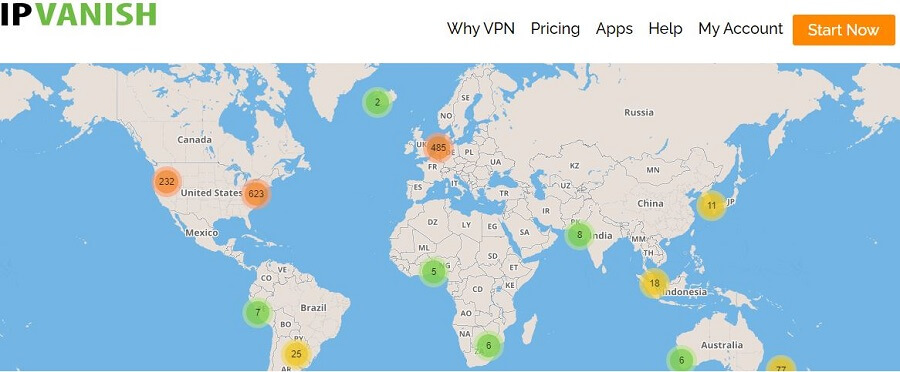 Geographic diversity in servers is an extremely important part of choosing a VPN as it means you have a lot of options for location spoofing and guarantees that there'll be a server nearby for faster connections when you're abroad.
IPVanish has servers spread across more than 75 countries around the world. While that's fewer than many rivals like ExpressVPN and HideMyAss, it is still a decent location mix, covering the majority of the world.
However, it is still a small presence and one we would like the provider to expand.
The number of servers provided by a VPN company is apparently related to the number of subscribers it serves – the higher the number of the subscribers, the more the servers.
Nonetheless, it is always better to have more as more servers mean those servers won't be overcrowded. As of the time of writing this review, IPVanish offers decent 1,900+ servers.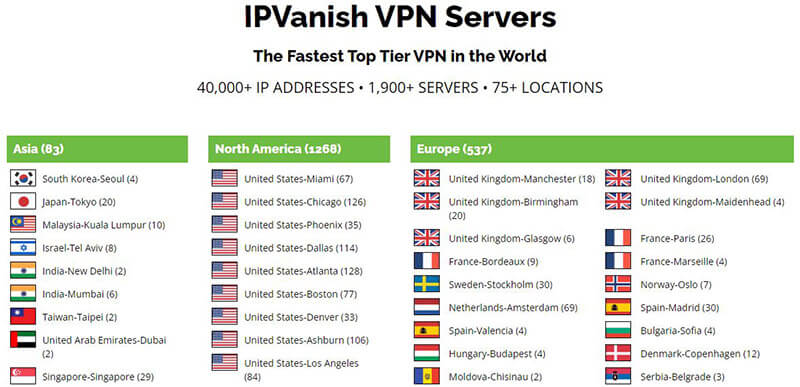 They have many locations in some of the world's biggest countries such as the United States, the United Kingdom, and Canada to increase general network balance and speed.
In fact, they have servers in many places on both the west and east coast of the US to enhance the performance of their network for users across the world.
Furthermore, they have servers in many locations in Asia, Oceania, and Western and Eastern Europe. Their servers are also in lesser represented continents like Africa and South America, with South Africa and Brazil being the only representatives.
It's actually typical of VPN companies to ignore the two continents, so we're not surprised by any stretch of the imagination.
Discover the full list of servers >
However, the provider doesn't have any servers in Russia, which is one of the countries with the strictest censorship policies in the world. If you need a VPN in Russia, you may have to look elsewhere. At least, based on what we found out in our research for this review.
On the not-appealing side, IPVanish has virtual servers, which was even verified by a representative we spoke to during our test. For starters, virtual servers are often set to seem as though they're running in a different location than the physical hardware on which they're running.
While this can be a problem if you are concerned about the particular locations through which your data will travel, it actually has advantages. Virtual servers allow providers to rapidly adjust to meet demands and can utilize physical hardware servers in safe places to serve areas that are not as secure.
Our view on this is that the use of virtual servers is not really bad, especially if the provider is transparent about it. Of course, IPVanish doesn't have that issue as an agent promptly told us during the test that their provider actually uses virtual servers.
Servers
One of the shortcomings of IPVanish is its lack of specialized servers, like P2P and streaming optimized ones. However, this may be a sign that all of the provider's servers are optimized for all of these activities.
Or maybe not.
Compatible Devices and Simultaneous Connections
One of the major things that we look for when we test VPNs is platform compatibility. Ideally, a good VPN has to offer compatible apps for every major mobile and desktop platform.
We will review how this provider ranks in this regard in the following paragraphs. Also, we will check out the number of simultaneous connections it allows for.
What Device Can I Use With IPVanish?

While it's one thing to have an excellent service, making it fully compatible and available on all the popular operating systems and platforms is another thing. In this category, IPVanish ranks supreme, as we found out during our test.
Below is a list of some of the most popular platforms supported by the VPN.
Windows
Mac
iOS
Android
Linux Ubuntu
Chromebook
Amazon Fire TV
Routers
How Many Simultaneous Connections?
IPVanish allows for ten simultaneous connections with all their subscriptions. While the previous policy actually allowed five simultaneous connections, the company has bumped up the number.
This number is way above the industry average, which is five.
It means you can protect all your devices at the same time, including phones, laptops, consoles, and others. Besides, you can allow your friends and relatives to have a taste of the service.
Client Support
Client support is another essential factor we considered while writing this review. A VPN that is always available is often the right VPN for you. So, how does IPVanish perform in this regard during our test?
How to Contact It?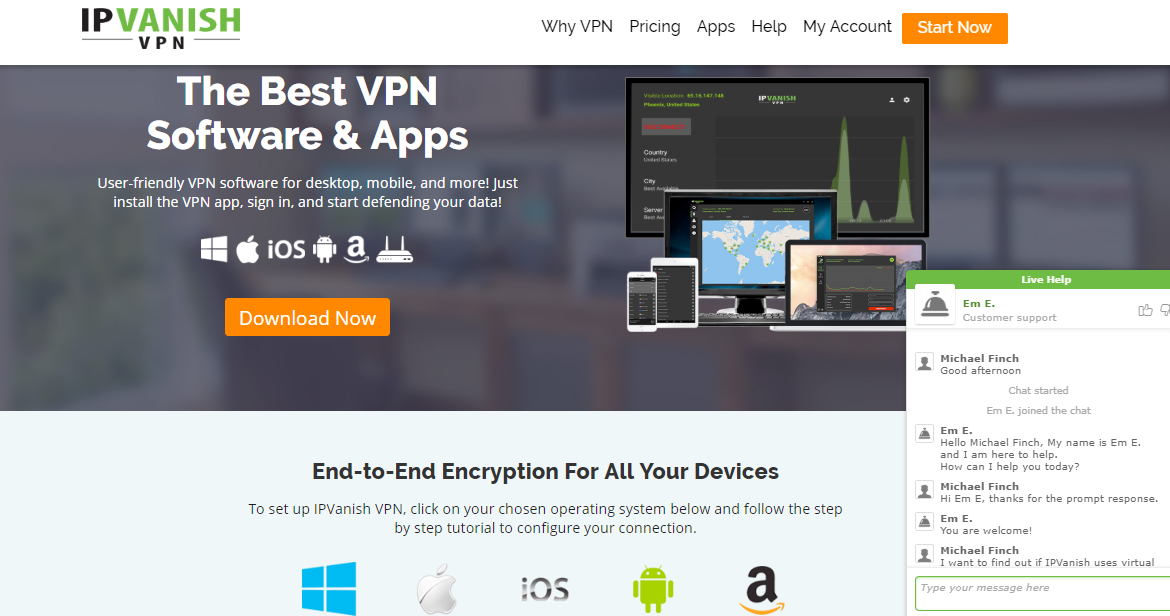 The provider offers a couple of support options, which is impressive on its own.
There is a 24/7 live chat option that is designed to help customers solve their issues at all times. Depending on the number of people you meet in the queue, they will reply either within a few seconds or within a few minutes.
For our test, they replied in under one minute, which we were really happy about.
The second way to contact the company is via email, which is not as fast as the first option. Their replies on this channel can take from a couple of hours to one working day. Another option to connect with them is via the online form you will find on their site.
For this channel, you can also expect their reply within 24 hours.
However, if social media is your preferred route to talk to them, you will find them on Twitter and Facebook. They are quite responsive here as well and will most likely respond to you within a working day. Obviously, the quickest of all the channels is the live-chat option or perhaps the phone line.
Oh yeah, the phone number is here – we haven't mentioned it already?
Damn!
Even better, it's available for several countries – the USA, Mexico, UK, Spain, Australia, Brazil, and Germany. Phone support is decent and responsive, which is how it should be.
Is It Good?
Yes, their client support is very good. During our test, we contacted them twice to ask different questions and they responded within a few seconds each time. Not only that, but the agents were also very friendly and provided satisfying answers to our questions.
While one of the agents actually took some time to answer a technical question we asked, probably to ask his superiors, he gave a detailed answer at the end of the wait.
FAQ/Tutorials

Apart from both the aforementioned options, you can also refer to the company's tutorials and FAQ pages to find probable answers. The FAQ pages are available in multiple languages, and there is a step-by-step tutorial for every operating system and device.
With this, you won't have any issues with setting this service up on even the most advanced of devices.
Moreover, the provider is community-oriented as it has a blog that features a lot of interesting articles linked to cyber protection, alongside a speed test, password generation, and privacy check tools.
Value for Money
Another important part of this review is the value for money of the provider. Does it give you the right value for money or it's just another overpriced service with nothing to justify its prices?
Price Comparison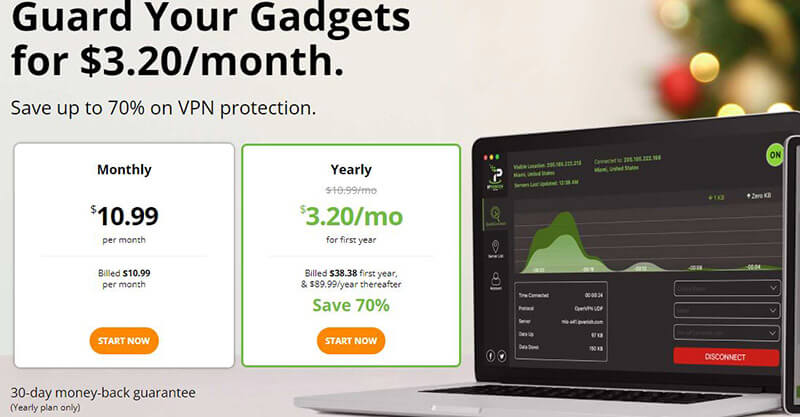 In 2023, IPVanish provides two subscription plans. Each plan comes with the same set of features, and their differences lie only in their lengths and costs. Below are the three different plans they offer:
The one-month plan costs $10.99
The one-year plan costs $38.38
While the provider is well-known for offering promotions throughout the year, you will see that the provider's most comprehensive package offers the best value for money.
If you buy its annual package, the price comes down to just $3.2 every month. Sure, it's not the cheapest price on the market, but it still offers a relatively quite good quality/price ratio.
Compare it with ExpressVPN, though, and you'll see that it's a lot cheaper, with ExpressVPN costing $6.67 a month for an annual plan. Even with this price difference, ExpressVPN is a WAY better option.
Should the discount comes, that would be a great chance to get IPVanish.
Means of Payment

To make it convenient for its users to make payments, IPVanish offers an array of payment methods. If we split them into general categories, they would include the following:
Sure, a credit card is a single payment method, but bear in mind that there are several types of credit/debit cards. We're glad that PayPal is here but we must admit – the absence of cryptocurrencies didn't make us the happiest reviewers ever!
Money-Back Guarantee
To allow new users to test out and review their network, IPVanish offers every new user a 30-day money-back guarantee. This will give you the time to test the compatibility and speed of the network fully with all your devices and the sites that you visit frequently.
If for any reason, you don't like the performance of the VPN, the company will fully refund you. Note that you must request this refund within the first 30 days.
A while ago, IPVanish's money-back guarantee was just 7 days. You'll agree that this is far from impressive. Today, though, the provider gives you a chance to get a refund within 30 days, which is on the level of ExpressVPN and NordVPN.
Any Extras?
Great VPNs are known for their unique features, not the basic ones. How many unique features does this provider offer? This section talks about them.
Compatible With TOR
Excellently, IPVanish is one of the VPN services that are compatible with TOR, which enables you to encrypt your data traffic across various servers. In the same way, you can utilize TOR alongside a VPN for an additional layer of protection.
With this, you can take your anonymity to a whole new level. Moreover, you can conceal your genuine identity from ISPs and online snoopers. We checked this out during our test and it worked excellently, so we thought it would be great if we included it in this review.
SOCKS5 Proxy

The SOCKS5 Proxy is a feature that allows you to fly completely under the radar while torrenting. It enables you to completely maintain your privacy online by concealing your genuine IP while passing your peer-to-peer traffic through an unidentified server.
This feature is especially suitable for people who prefer complete privacy and flexibility to conceal their IP and maximize their connection to the typical download speed drops because of encryption and advanced security.
Final Thoughts
As you have already seen in our review, IPVanish is a VPN provider with a lot of upsides and downsides. While we may have been a little rough on the service, but generally, we can still place it among the better services we have tested.
Overall, although there're superior VPN providers out there, depending on your specific needs or requirements, you may still find this VPN to be a secure and reliable service.
If not, we suggest getting ExpressVPN instead, which costs pretty much the same and offers 3 months FREE on top of your annual plan. Not to mention that it's a lot better in pretty much every regard.

Michael is a talented writer who has dedicated a lot of time into making sure that everyone around the world can use the internet securely. Being an avid traveler, he has acquired a lot of experience while using different VPNs on his travels. When it comes to doing comprehensive "how to tutorials" or testing some VPN functionalities, he's always the best pick ! He's here to help you solve your VPN-related issues.