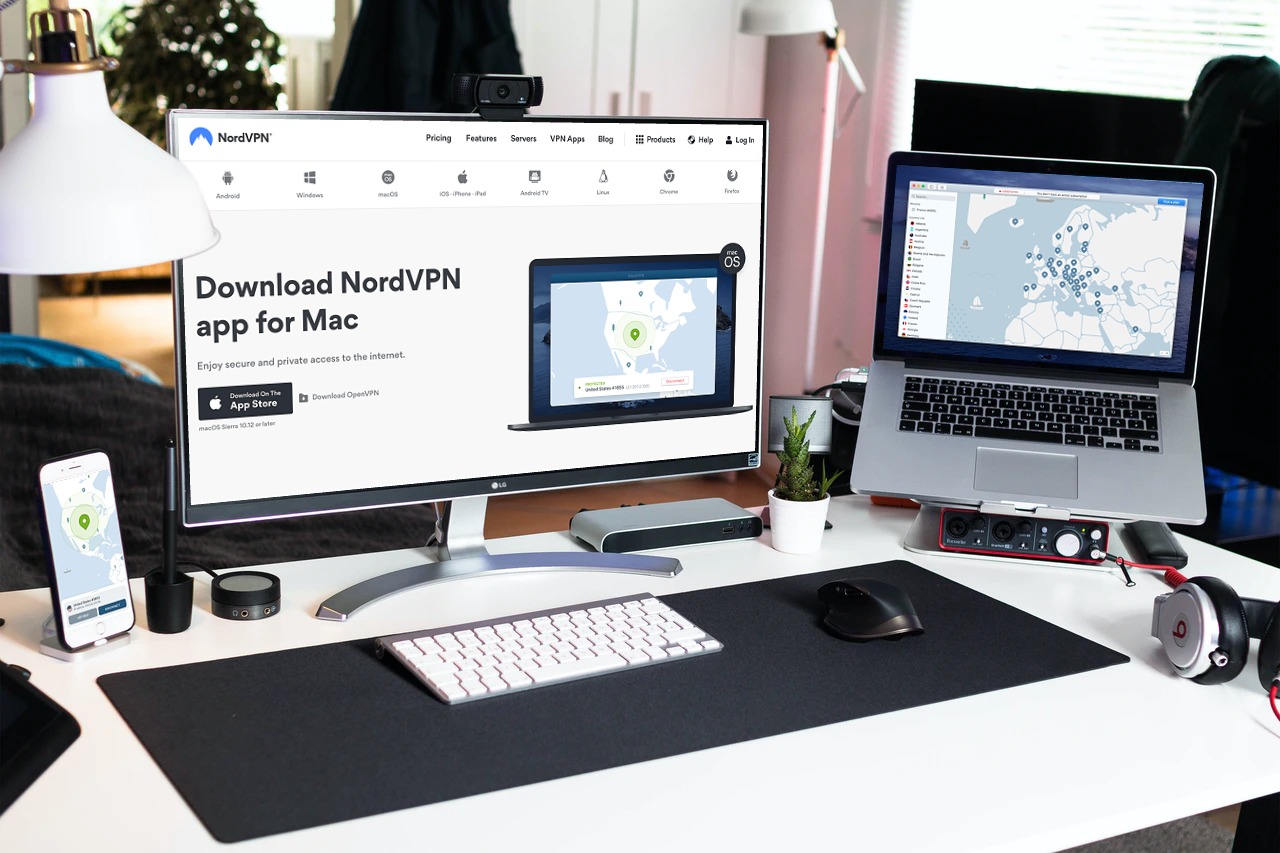 Since its establishment in 2012, NordVPN has gone from strength to strength. In fact, it has risen to become one of the most popular VPN providers in the world in 2021. While NordVPN lives up to its incredibly huge reputation, it's marginally costlier than some other options in the industry.
However, for its incredible Netflix support and various industry-leading features it conveniently offers, we believe it's a worthwhile investment. Are you on the verge of settling for NordVPN and you need to know a bit more about it?
Then read our analysis and comprehensive review below!
STRENGTHS:
No-logging policy
Double VPN
NordLynx (WireGuard-based protocol)
Strong 256-bit AES encryption
24/7 support
Up to 6 simultaneous connections
Extremely fast speeds
Unlimited bandwidth
P2P allowed on almost all servers
Upgraded SmartPlay Technology
WEAKNESSES:
Security breach in 2018
Can be more expensive in different countries due to VAT taxes
Is It a Paid or a Free VPN ?
It's definitely a paid VPN!
If you're looking for a VPN that offers maximum security, high speeds, and complete privacy, you've got to turn to a VPN like NordVPN because it does impressively well in all these major areas.
But, can the provider possibly have all these key attributes while being free? Definitely NO!
Those who want to enjoy all the attributes we mentioned above have to be ready to pay for them because everything the company offers requires a lot of money to sustain.
Performance
When performance is talked about in a VPN-related subject, the first things that come to mind are speed and stability.
Let's give a comprehensive review of the service in terms of performance and how well it performed in our test.
Speed
While NordVPN can be possibly regarded as one of the fastest VPNs on the market. It offers remarkable speeds and is fast enough for basically everything you want to do.
Thanks to its wide network of over 5,700 servers scattered across dozens of locations around the world, including devoted specialty servers, it is one of the fastest providers in the business.
While the speed of a VPN often depends on the location of the user most times, NordVPN offers more than enough speed for practically all streaming and browsing requirements according to the comprehensive test we carried out.
Without VPN (we were located in London) : 

EU Server (Paris) :


US Server (New York) : 

Asia Server (Hong Kong) :


Stability
When it comes to stability, it is one of the most stable providers in the business in 2021. With thousands of servers across more than 60 locations, it's not surprising that the company offers a very stable service.
In fact, the company promises an uptime of 99.9 percent, which is super impressive and firmly indicates how remarkable the service is. In our test, we noticed that the company actually stuck to their promise as they never had any downtime.
Streaming
A lot of people turn to VPNs just to unblock geo-restricted streaming sites like Netflix. Below is an in-depth review of NordVPN's performance when it comes to streaming.
Netflix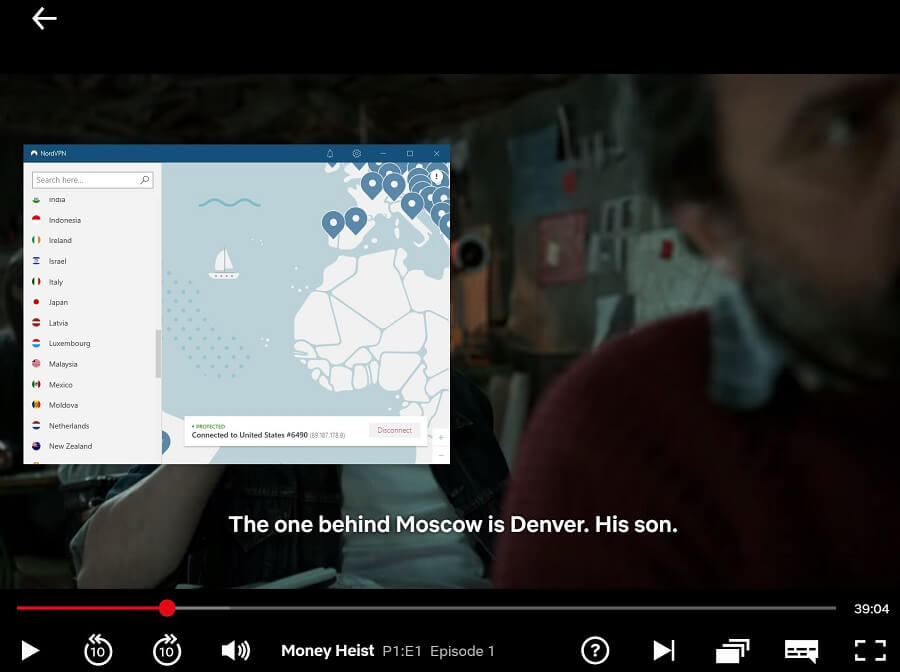 Of course, NordVPN is one of the few VPNs that are still working for Netflix in 2021. To ensure its clients keep bypassing geo-blocks and unblocking Netflix, the provider has upgraded its famed SmartPlay technology.
Additionally, the service updates its support pages regularly to inform customers of the safest ways to unblock Netflix.
BBC iPlayer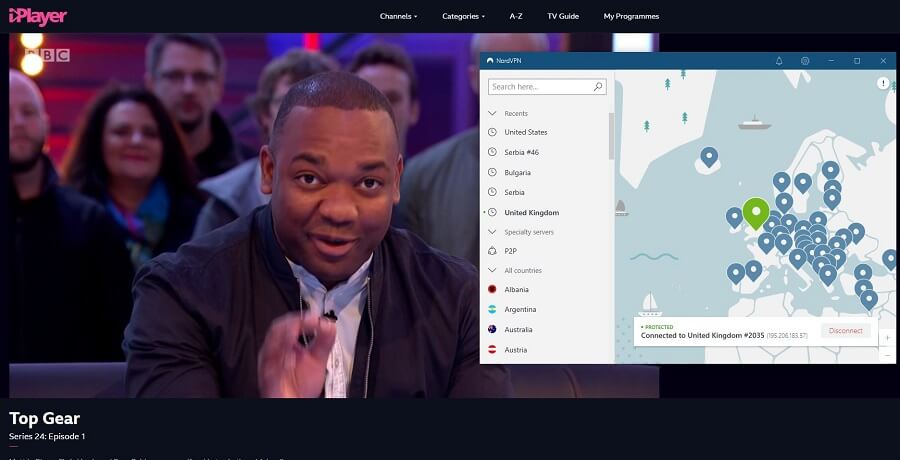 Operating more than 5,700 servers across the world in 2021, NordVPN is capable of unblocking BBC iPlayer, which is not surprising. According to the company, every single server is capable of fooling the geo-restricting measures that have been put in place by BBC iPlayer, and users can stream its content easily from anywhere.
However, despite the claims made by the company, all the servers may not perform equally well. Therefore, picking a random server might be a slippery slope.
Nonetheless, the provider features a very convenient server-recommending tool that enables users to customize their search and determine the best and most efficient server for their location.
The tool enables users to choose their country, preferred server type and desired server type, all tailored for super-smooth streaming.
Other Streaming Platforms
Apart from Netflix and BBC iPlayer, NordVPN unblocks many other big streaming sites such as Hulu, HBO, Sky, ABC iView, and many others. The service can accomplish this through its famed SmartPlay technology, which is automatically turned on in the settings.
Security
The best VPNs in the world must have the best security measures put in place, for sure. When it comes to security, there are really not many options better than this provider.
Where Is It Based?
We thought looking into the location of the VPN was necessary to make our NordVPN review as comprehensive as possible.
It is crucial to note that NordVPN is a Panama-based company. Simply put, the company is not within the jurisdiction or the watchful eyes of the 14 Eyes, which is a group of powerful countries that have agreed to freely exchange data and information with each other.
This agreement is put in place to bolster everyone's security.
Any Virtual Private Network that is based in any of those countries in the 14 Eyes can be requested to provide the data or information of its clients and is obliged to comply legally. Of course, this impinges on the privacy and freedom of users.
However, the company is not in the group and therefore can't be forced legally to give up the data of its customers. We will discuss later in this review how seriously the provider takes privacy.
Log policy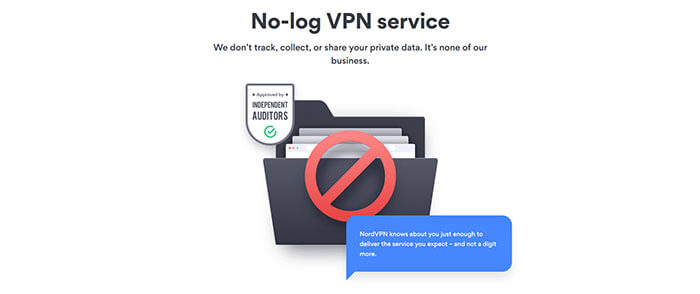 When it comes to privacy, NordVPN is based in a country that doesn't have data retention laws.
Therefore, the company isn't required to give up any of its clients' personal data to any government agencies – as mentioned. However, even if Panama had such laws, the company would have nothing to give to the government as they don't even keep logs.
The company boasts a genuine no-logging policy.
Numerous providers in the market often go around with claims that they don't keep logs, but the real thing they mean is that they don't store the browsing logs of their users.
Meanwhile, they keep logs of the amount of bandwidth their users are using, their IP addresses, and the time they log in.
The only information kept by NordVPN about their clients is their username, email, and payment details. In other words – NOTHING you should be worried about.
Protocols
When it comes to encryption, NordVPN uses military-grade 256-bit AES encryption. That's the same degree of protection that has been used by the government of the United States to secure classified data and by the NSA to protect their data.
Furthermore, the services utilize OpenVPN, which many people consider as the most secure protocol. It's used by many of the top VPNs in the industry, such as ExpressVPN and CyberGhost.
Being an open-source protocol, it has been tested thoroughly and enhanced across the board to make sure that it is reliable and speedy.
Also, there is an IKEV2/IPsec app available for every platform. While IKEv2/IPsec is considered to be super-fast, it is not really as solid as OpenVPN.
Therefore, it is more suitable for people who intend to utilize the VPN to stream.
Another new addition is the NordLynx protocol. It's based on WireGuard and promises much faster connection speeds, as well as improved security. Needless to say, NordVPN delivers on its promises and is planning to make it a default, as a perfect, if not better substitute to OpenVPN.
All in all, the protocol selection is among the best on the market. We've yet to see ExpressVPN's response, however!
Protection Against Leaks
This VPN comes equipped with a feature referred to as DNS leak protection. This unique feature helps to prevent DNS requests from going over to your ISP rather than the company's own servers, thereby improving privacy.
As we have already seen in this review, NordVPN takes privacy very seriously.
Torrenting
Torrenting is the most popular media-downloading method in the world.
Do you want to know how well NordVPN performs when it comes to torrenting? How well does it rank in our best VPN for torrenting article?
You will find your answers in the review below!
Is Torrenting Allowed?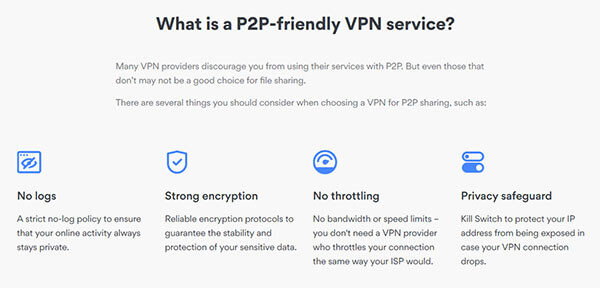 VPN providers usually aren't noisy about their support for peer-to-peer sharing, and there is no exception with NordVPN. While the provider claims to be the best Virtual Private Network for P2P, its P2P status is no longer mentioned on their website's front page.
Not every server supports torrenting, but the VPN doesn't limit you to just a few servers in a location, either.
The company provides several hundreds of P2P-friendly servers across the world, including the United Kingdom, the United States, and several other locations. Regardless of where you are, there is a suitable server close.
VPNs that support P2P on only a few servers are usually very inconvenient to use, especially if you choose a server that is not P2P-friendly. However, NordVPN is actually smarter than most providers as they have implemented a system that helps detect P2P activities automatically and reroute your connection automatically to a P2P-friendly alternative.
Download torrents with NordVPN now >
Furthermore, you get unlimited bandwidth, meaning that you can easily download as many torrents as you desire. However, there is a fair usage clause that states that you shouldn't "take any action that imposes or may impose an unreasonable or disproportionately large load on our infrastructure", which might enable the provider to sanction heavy users.
But, numerous companies have a similar clause, so we don't think this is an unreasonable step.
Alongside its support for P2P, the company offers a wide range of features that make it suitable for torrenting. Some of those features include a no-log policy, several layers of traffic and DNS leak protection, payment via cryptocurrencies, Onion Over VPN, and Double VPN.
Is There a Kill Switch?

Yes, NordVPN also features a Kill Switch.
For people who are newbies in the world of VPN, a Kill Switch is a feature that helps kill internet activities from your device, should there be a connection drop or loss, to help prevent data leaks.
Besides, instead of making you disconnect every internet activity, it enables you to choose the apps it will terminate if the tunnel collapses.
The Kill Switch feature is especially good for people who do P2P file sharing. Here, it allows you to use it on the internet or the app level. Basically, you can cut only certain apps from the internet if the VPN connection drops, without shutting down the whole network.
This is a great level of implementation we wish to see in many other providers.
Bypassing Censorship
Censorship is one of the most popular reasons why a lot of people around the world turn to a VPN.
How well does this VPN perform when it comes to unblocking censorship? Find out below as we review their censorship-unblocking ability in-depth!
In Censored Countries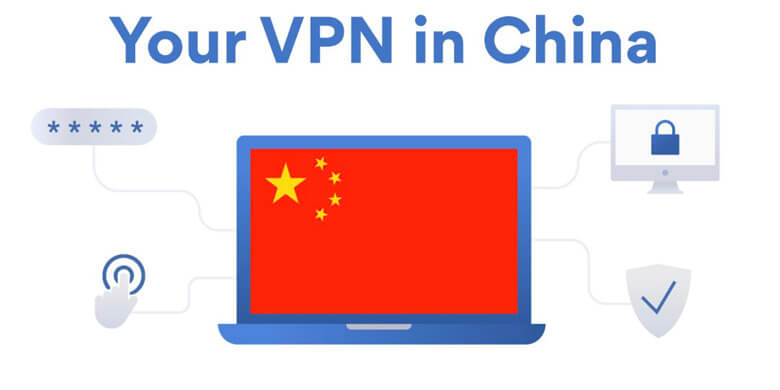 While the majority of VPN services don't work in countries with serious censorship policies such as China, a service like NordVPN still does.
Censored countries often employ some blocking measures to limit access to websites that host illegal content. China is the strictest country in the world when it comes to censorship.
China blocks most popular websites such as Wikipedia, Twitter, all Google products, Youtube, and Facebook. While this makes it hard for ex-pats to stay in contact with their folks back home, it also terminates the information supply about the country.
However, you can easily bypass these blocks and gain access to the internet normally by using NordVPN.
It encrypts your data traffic and re-routes it through servers located in different places around the world, as we already mentioned earlier in the review.
Apart from allowing you to bypass the internet censorship in censored countries, it also prevents ISPs and government agencies from keeping a tab on your internet activities.
In Restricted Networks
You may notice that you can't access some particular websites whenever you are in your hotel room or school. This is due to a variety of reasons. When staying in a hotel, they may want you to pay for some in-hotel movies, instead of streaming movies for free.
On the other hand, schools usually restrict some sites to curtail students' download of heavy torrents as torrenting is often popular among students. Also, they may want to block some social networking sites to compel students to spend less time browsing the internet and more time reading their books.
Is there a solution? Of course, there is. Since these restrictions are usually done by blocking the requests of the users, a VPN like NordVPN simply encrypts your data and allows you to browse whatever site you want without any hassle.
NordVPN worked incredibly well in our test.
Countries and Servers
The biggest VPNs in the world always offer the widest coverage, of course. How does NordVPN perform in terms of coverage?
How dispersedly circulated are their servers? Of course, this factor contributes significantly to performance, so it's really important to note. Check our comprehensive review below.
Countries Covered
NordVPN specifically has servers in 60 countries around the world.  In Europe alone, the company has more than 2,700 servers, scattered across countries like the United Kingdom, the Netherlands, Germany, Belgium, and more.
However, in America, they have servers in the United States, Canada, Brazil, Argentina, Costa Rica, Mexico, and Chile.
In Africa and Asia, they have servers in South Africa, India, Turkey, Israel, United Arab Emirates, and Egypt.
Servers

We'll be specific in this review – NordVPN has 5,700+ servers worldwide.
All the servers have been optimized for different activities such as P2P, Obfuscated, Double VPN, Onion Over VPN, and Dedicated IP.
Of course, we enjoyed how the service performed for each of the activities in our test.
Whether you are intending to torrent, stream geo-blocked content, or you just need a way to secure your data traffic by encrypting it and tunneling it via another server, this provider has adequate options to conveniently meet your needs.
Compatible Devices and Simultaneous Connections
Before committing to any VPN, it's important to ensure that the provider offers compatible apps for the devices you're using.
Also, we thought it was necessary to look at the number of connections the VPN allows at a time in this review.
What Device Can I Use With NordVPN?
NordVPN is a real multi-platform VPN as it doesn't only support the most popular operating systems in the world, but a couple of other alternatives as well. For laptops and computers, Windows clients will require Windows XP at least to use the software, while the minimum version MacOS requires to install the app is 10.12.
iOS and Android devices have their custom applications and Linux is supported via IKEv2/IPSec or OpenVPN as well.
You can manually configure the service using the protocols we've previously mentioned.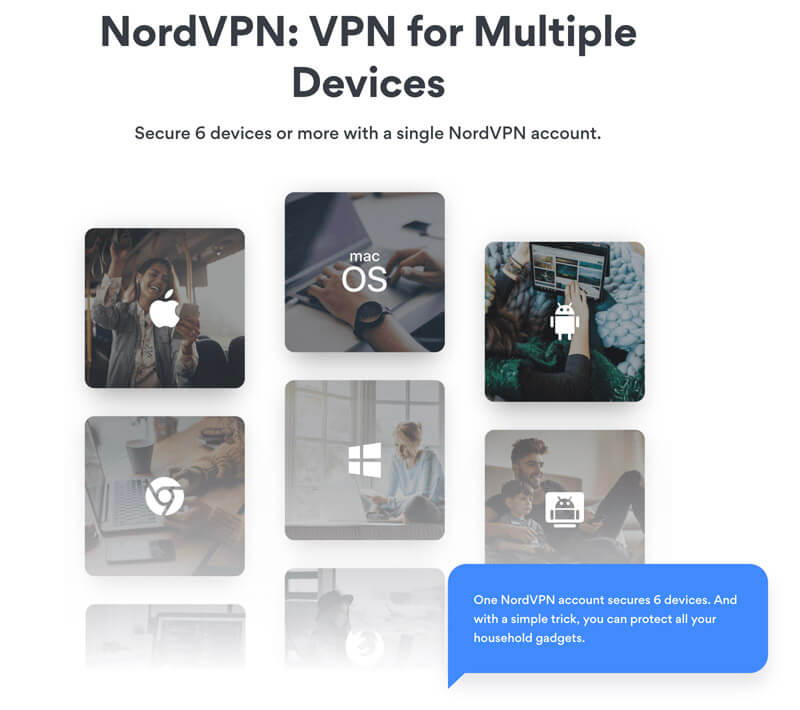 The VPN also supports routers via DD-WRT, Sabai, Tomato, and other firmware through manual configuration, thereby enabling clients to protect their smart TVs and other gadgets that don't offer automatic support for VPNs.
Lastly, the VPN offers browser extensions for some of the world's most popular browsers such as Firefox and Chrome.
How Many Simultaneous Connections?
When it comes to simultaneous connections, the VPN enables users to connect up to 6 devices at once. With this, you won't be the only one to enjoy the luxury of having a VPN but can also share the connection with your loved ones.
Moreover, this makes it an excellent option for people who wish to use a single subscription for their router, tablet, smart TV, and PC. The six-device limit offered is a lot more generous than what is offered by most of its competitors.
Client Support
NordVPN offers excellent client support, like most leading VPN companies. Below is a review of how they fare in terms of client support.
How to Contact NordVPN?
The company is very active on social media sites such as Twitter, Instagram, and Facebook. While you can also contact them privately on each of these mediums, the preferred routes to get assistance are live chat and email – you can either email them directly or use the official site to submit a support ticket.
Is It Good?
Yes, it offers very good client support. During our test, the agents were friendly, empathetic, and polite. They also provided comprehensive guides and useful links on how to perform many complicated and simple actions.
If it turns out to be too technical, they will promptly put you in contact with technical support that will analyze your issue and send you a comprehensive email within just a couple of hours.
FAQ/Tutorials
While NordVPN offers incredibly effective support through live chat and email, you're not even likely to use them, thanks to the well-detailed FAQ and tutorial pages.
Not only will the tutorial pages help you understand how the VPN works exactly by offering answers and solutions to various questions, but they will also provide you with tips about which settings to select to optimize security, speed, or whatever every customer wants to use the service for.
Furthermore, there are manual set-up tutorials for every kind of device.
We also got assisted by the tutorials during our test.
Value for Money
So, you have seen NordVPN's in-depth review in terms of performance and security. However, it is important to find out how they fare in probably the most important aspect – value for money.
Price Comparison
NordVPN's pricing structure is completely similar to the general nature of the service – attractive and simple.
There are 3 different packages available with each one providing the same limitless access and high security on several platforms.

So, the only difference between the packages is the frequency of the payments. Longer-term subscriptions are generally less expensive. That is why the basic plan of $11.95 every month is more expensive than the six-month and 2-year plan.
The next plan is the 6-month plan, costing $9.00 every month or $54.00 every six months.
The best package, however, is the two-year plan, which totals $89.00 for the first two years.
This represents a 68 percent discount compared to single monthly payments, or the same as paying just $3.71 every month.
Of course, these plans appear rather fair provided the excellent service the provider offers overall. Our only complaint is that the two shorter plans are a bit expensive. This six-month plan, in particular, which gives you just 24% savings.
However, if you go for a 2-year plan, you'll get the most value for your money.
Means of Payment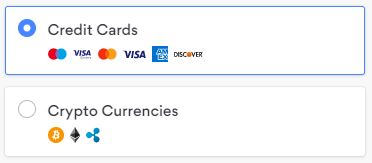 Like the majority of VPN companies nowadays, NordVPN supports different payment methods, which include credit cards and cryptocurrencies. Not the most generous offer given that PayPal isn't on the list.
But, in addition to all credit cards, the company accepts Bitcoin and other cryptocurrencies, so that you may choose not to share any personal data or information and stay anonymous completely.
Money-back Guarantee
The VPN offers a risk-free 30-day money-back guarantee on every plan you buy. This guarantee enables users to test out the company for 30 days and access the full functionalities of the VPN.
If after the first 30 days you're not pleased with what you got, you can cancel your subscription. You don't need to worry as you will get a full refund without them asking you any questions and imposing any conditions.
Final Thoughts
NordVPN performed incredibly well in our test and we've not hidden any fact in this review. While there are better options in terms of speed, there are not many things a user can complain about with this Virtual Private Network.
Is it one of the best options in 2021? Yes, it is! There is no going wrong choosing this amazing VPN provider.

Michael is a talented writer who has dedicated a lot of time into making sure that everyone around the world can use the internet securely. Being an avid traveler, he has acquired a lot of experience while using different VPNs on his travels. When it comes to doing comprehensive "how to tutorials" or testing some VPN functionalities, he's always the best pick ! He's here to help you solve your VPN-related issues.