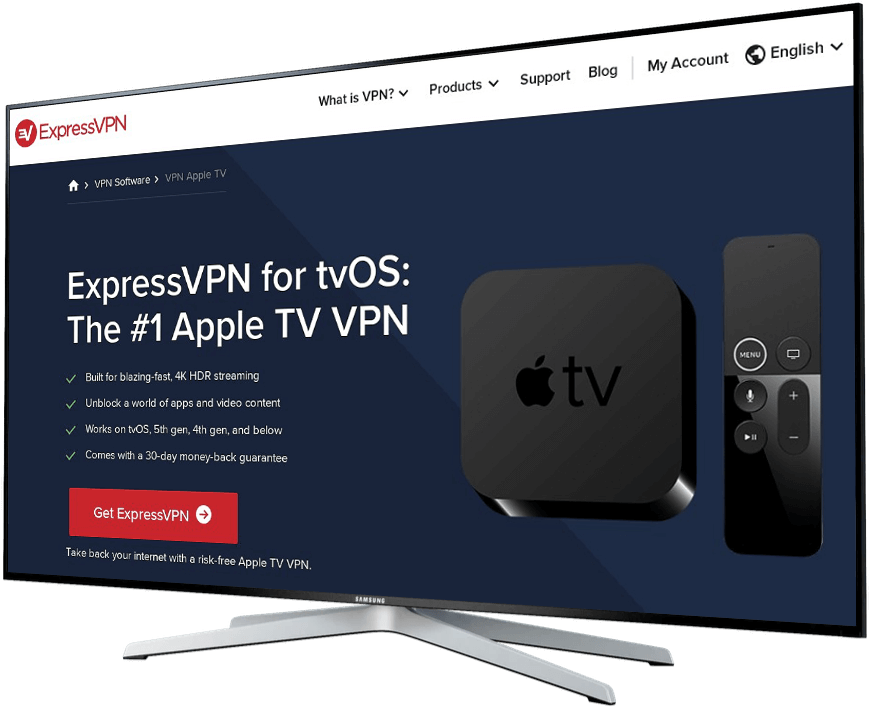 You can get much more from Apple TV if you use a VPN service. While the device does not have support built-in for a Virtual Private Network, there are workarounds. Not all providers offer the same benefits and features, so we have chosen what we think are the five best VPNs for Apple TV. Check them out below.
Why Choose the Best VPN for Apple TV?
You might be wondering why you might want to use a Virtual Private Network with Apple TV.
One of the biggest reasons why people choose to use this kind of application for the Apple device is to get around geo-restrictions. With a Virtual Private Network, you can unblock streaming services from around the globe. This means you are not limited to the content offered in your own country.
A VPN offers benefits for other devices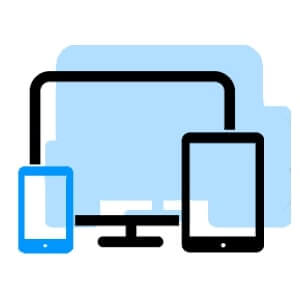 Of course, providers offer a range of apps for devices that you use to connect to the internet, including computers, smartphones, tablets, and more. This means that, along with using all the benefits of the Virtual Private Network on the Apple device, you or other family members can use it on other devices.
When considering choosing a provider, you are going to need one that offers high-speed servers, superb security, and of course, can unblock some of the most popular streaming services.
Below, you can find our choices of the best VPN,  offering all of the above and more.
Our Choice of the Best VPN for Apple TV
So, now we will move on to what we think are the best Virtual Private Network providers for Apple TV.
1. ExpressVPN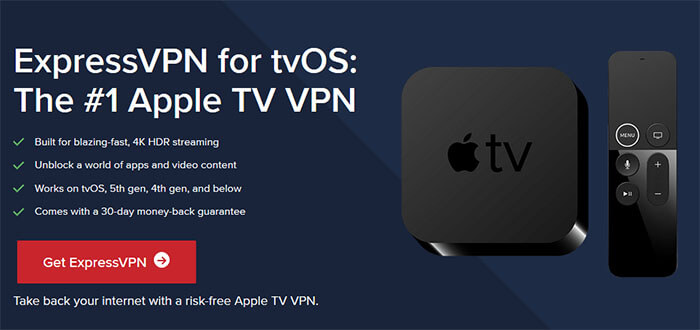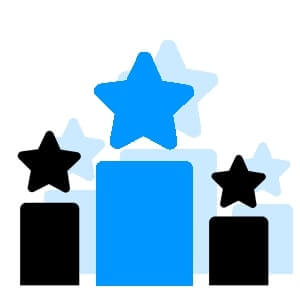 ExpressVPN is one of the fastest providers on the market.
The provider offers 3,000 blazing-fast servers with all being optimized to offer reliable connection and speed. Along with this, installation is hassle-free.
Users can connect to a Virtual Private Network via a compatible router in just minutes and enjoy protection for not only Apple TV but also all devices that connect to the router.
ExpressVPN also offers pre-configured routers, which means you do not have to set-up the network, just plug in the router and connect your Apple TV to it.
If you do not have a compatible router, you can set-up the DNS feature to use the Virtual Private Network.
ExpressVPN is a VPN that is perfect for streaming. While you might have Netflix in your country, you are only going to get access to the local version. With a Virtual Private Network in place, you can take on a server from the USA and access the full US Netflix catalog of content.
Thanks to servers being fast and unlimited bandwidth offered, there is no slowing down or buffering when streaming HD content. This makes them a perfect choice when looking for the best VPN for Apple TV.
ExpressVPN also offers military-grade encryption so you have peace of mind of security and anonymity online.
There is a possible subscription paid on a month-to-month basis. However, the biggest savings are with the one-year plan paid upfront. This allows you to make savings of up to 49% and you get an additional three months free.
Note that the provider supports P2P activity, including torrenting, and works on numerous devices.
PROS:
160 server locations
Very fast speeds
24-hour live chat support
App available on a lot of devices
Best-in-class encryption
Unblocks Netflix, Amazon Prime Video, Hulu, HBO, and DAZN
Kill Switch
ExpressVPN : the best VPN for 2023 >
---
2. NordVPN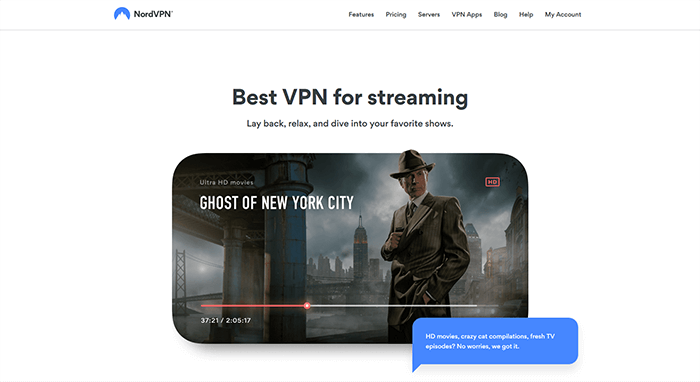 NordVPN also makes it onto our list of the best VPN for Apple TV as it offers 5,400+ servers, all offering fast speeds, making them suitable for streaming in HD.
The provider also offers VPN-enabled routers or you can use your own providing it is compatible. The service is easy to set up and the provider offers advice and tips on the website.
It offers full privacy thanks to military-grade encryption along with zero buffering even when streaming content in full HD. Servers can also unblock a variety of streaming platforms including Netflix, BBC iPlayer, Amazon Prime Video, and more.
The provider stands out with its Double VPN functionality. As the name suggests, this feature allows users to connect to two servers to double the protection and anonymity.
NordVPN also includes Cybersec. This is a range of features designed to protect users against hackers and malware. With this protection, suspicious websites get blocked automatically, along with ads.
To conclude, the provider offers a range of apps, so you can use its network on other devices, and they support P2P with dedicated servers.
PROS:
More than 5,400 servers
Easy-to-use applications
Double data encryption
A good option for streaming
Specific servers for Torrenting
CON:
Expensive short-term plans
NordVPN unblocks US Netflix with ease >
---
3. CyberGhost

CyberGhost offers an easy setup via a compatible router or DNS. The provider offers a fast service with thousands of servers around the world in numerous countries.
CyberGhost makes it onto our list of the best VPN for Apple TV due to the wide range of features offered, including thousands of dedicated servers for streaming using many of the most popular platforms.
This includes Netflix, Sky Go, BBC iPlayer, ESPN, and others.
The provider also supports numerous devices and supports torrenting with dedicated profiles.
Moreover, it has a no-logging policy, state of the art encryption to ensure you remain safe whether streaming using Apple TV or using the service on a computer, smartphone, tablet, or any other compatible device.
The provider offers DNS and IP leak protection, automatic Kill Switch, unlimited bandwidth along with traffic, and support for numerous protocols.
PROS:
Servers adapted for streaming and Torrenting
7,000+ servers in 90 countries
7 simultaneous connections
Attractive prices
DNS and IP leak protection
CON:
Doesn't work in China/Turkey
Use CyberGhost to stream geo-restricted content >
---
4. Surfshark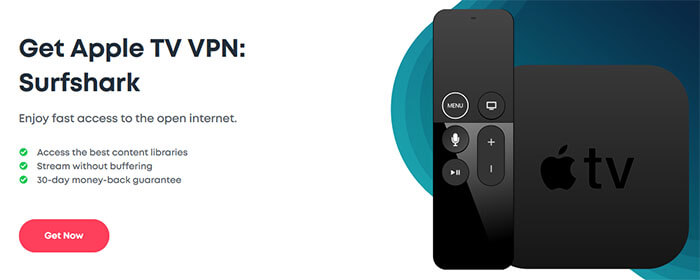 With Surfshark, you can stream HD content from numerous streaming platforms. Whether you want to watch the latest movies or you want to watch MotoGP for free on foreign channels.
The provider supports the Apple device via a router or smart DNS and Furthermore,  it's among the most affordable providers, but do not lack in features. There is no limit to the number of devices used with Surfshark, which means you and the rest of your family can benefit.
Surfshark offers reliable servers for streaming HD content from platforms such as Netflix to Apple TV in HD.
One of the features included in plans is MultiHop. This allows users to connect to multiple countries at the same time, giving twice the protection and security. AES-256-CGM encryption safeguards your personal data and the Camouflage mode makes sure that even your ISP cannot see what you do online.
When looking for one of the most affordable best VPN for Apple TV, Surfshark is well worth considering.
PROS:
Solution audited by Cure53
Ad-blocker included
Unblocks Netflix US/UK etc
24/7 expert support
CON:
"Only" 1,700 servers available
Speeds aren't always reliable
Stream US Netflix with reliable servers from Surfshark >
---
5. VyprVPN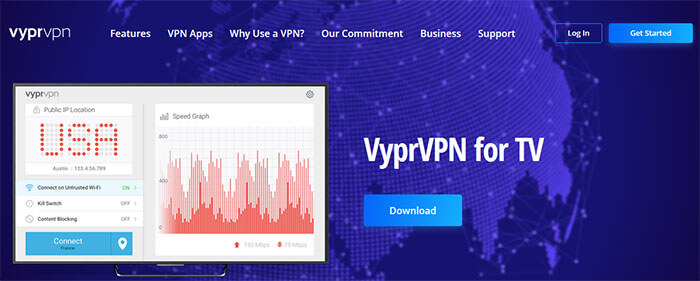 Finally, we have VyprVPN. The provider offers the Chameleon Protocol, a tool for bypassing restrictive networks in countries with high censorship.
The technology makes use of the OpenVPN 256-bit protocol and scrambles packet metadata to make sure that deep packet inspection cannot recognize it. This allows users to bypass the restrictions imposed by governments or ISPs.
VyprVPN offers access to hundreds of servers around the world, with the provider owning the servers and hardware used. Streaming in HD is fast with no lagging and apps are available for a wide range of devices.
Apple TV connects to the service via the router app, providing you have a compatible router or by sharing the internet connection with the device.
PROS:
Provider based in Switzerland
In-house protocol (Chameleon)
Easy-to-use application
Audited no log VPN
CON:
Support can be slow
Small server network
Bypass government restrictions with VyprVPN >
---
How to Use a VPN for Apple TV?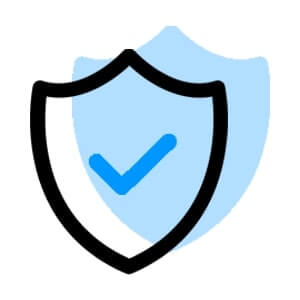 VPN providers do not offer apps specifically for this kind of device. tvOS does allow developers to make apps. However, there is no VPN functionality for Virtual Private Networks.
The network extention APIs are locked, so Virtual Private Network providers cannot change the network settings to build apps.
Thankfully, the providers we have listed here do support routers, DNS and internet connections. This means that a Virtual Private Network can be used with Apple TV via a router, DNS or by sharing the internet connection with the device.
You can get step-by-step instructions on how to install the on the website of the provider you choose.
Setting up DNS
The easiest way to connect Apple TV to take advantage of a Virtual Private Network is through DNS. (Apart from having a pre-configured router of course)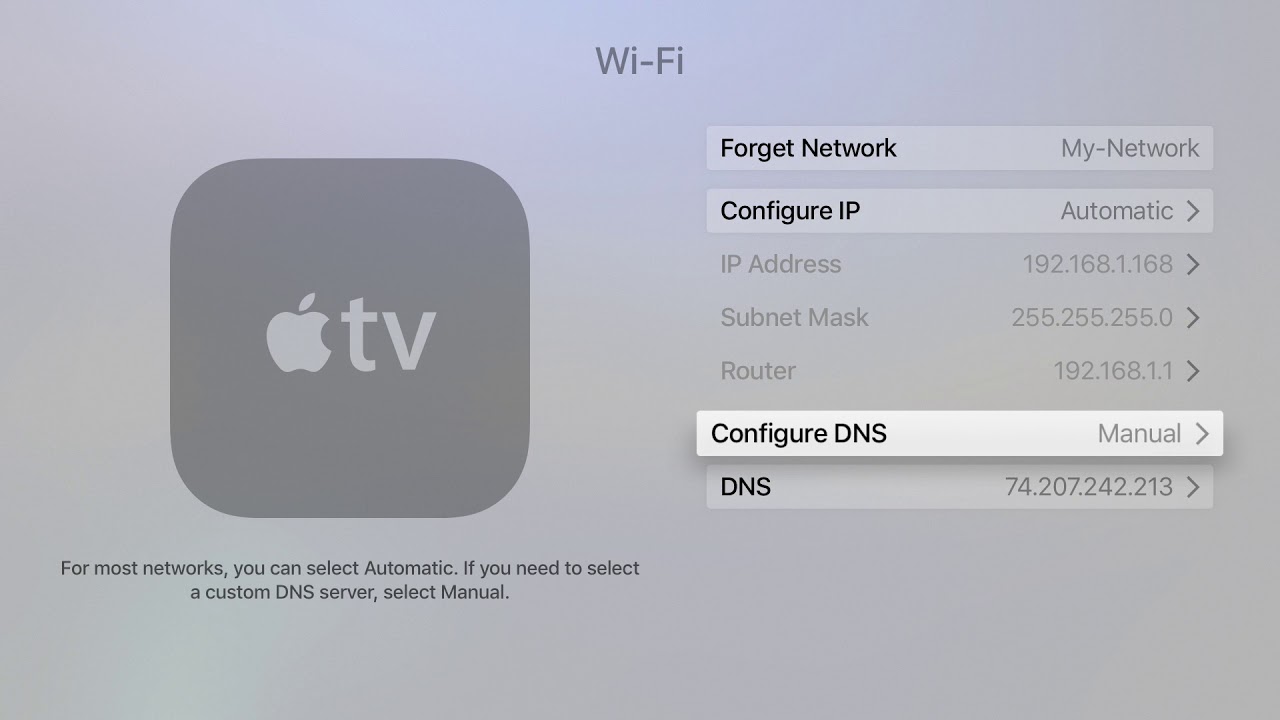 To do this you can follow the steps below:
Obtain the DNS server IP from your chosen provider
Go to your Apple TV and into Settings – General – Language and change the iTunes Store location. For instance, if you want to access content from the USA choose the United States
Go to Settings – Network – Wi-Fi and choose your Wi-Fi connection
Choose Configure DNS – change this from automatic to manual
Type in the DNS server IP of the provider, click on Done
Restart the box to apply the changes
You should now be able to connect through the VPN and choose a server in the USA to stream restricted content.
Benefits to a VPN
You can read here the five reasons why you should choose a VPN whether you want to use it with Apple TV or any other device you connect to for using the internet.
Unblock restricted content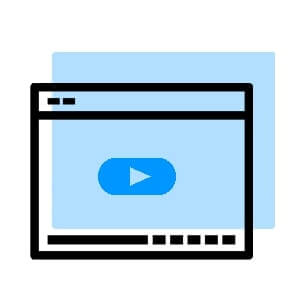 With a Virtual Private Network in place, you can unblock some of the most popular streaming content online and this includes Netflix, using any of the best VPN for Apple TV we have listed.
While Netflix may be available in your particular country, you are limited to what you can see and do not get access to the huge amount of content offered in the USA.
With a Virtual Private Network, you can mask your own IP address. Once masked, you take on one from any country around the world supported by the provider, for instance, in the USA.
Unblock any streaming platforms with ExpressVPN >
To anyone looking, it looks like you are located in the US, so you overcome the geo-restrictions imposed.
While we have talked about Netflix, the same applies to any restricted content on channels supported by Apple TV. You can also use the VPN to unblock content on a wide range of other devices you might use.
There are many benefits to using a Virtual Private Network on other devices via apps available from providers.
Anonymity online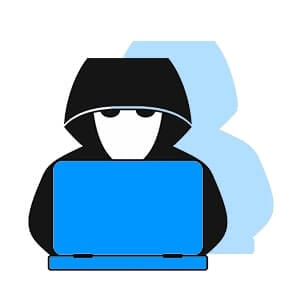 One reason people choose to use a Virtual Private Network when browsing the internet on computers, tablets, smartphones or other devices is to remain anonymous.
Today, people have to be very careful about what is posted online in forums and on social media. A Virtual Private Network can help to provide anonymity as it masks your true IP address and provides you with one from the server you chose to connect.
Personal information security
Another great reason for using a Virtual Private Network on devices is to secure any personal information.
Providers offer military-grade encryption along with many other features. Such as DNS leak protection and Kill switch in case the server is disconnected. The virtual tunnel resides between the user's device and the World Wide Web.
Encryption ensures any personal information is unreadable by anyone who comes across it.

Torrenting and P2P security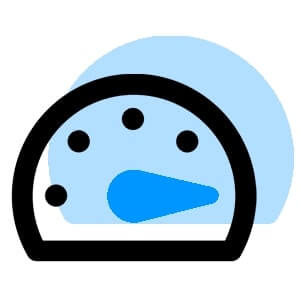 Many people like to use Torrent clients and share files online. Providing copyrights are not being broken, it is not illegal to do so.
However, by downloading copyrighted material, you are breaking the law and your ISP can see what you are doing online.
With a Virtual Private Network in place, your IP address is masked and your ISP cannot keep a track of what you do online, download or the sites visited.
Cheaper flight tickets
When you shop for flight tickets and hotel rooms using a comparison site your IP address is the basis for the prices.
If you change your IP address to one of a server in a state or country, where the cost of living is lower than your own, it looks like you are located in that state. You might be surprised by how much you can save when comparing flight tickets, hotel rooms and car rental online.
In Summary
A Virtual Private Network can be a valuable tool to help you get the most out of your Apple TV. A plan offers what you need to be able to access geo-restricted streaming content such as US Netflix, Amazon Prime Video, HBO Go and more.
Along with this, all of the best VPN for Apple TV providers offer numerous benefits on a range of devices. Whether you are streaming on Apple TV, browsing the internet on your smartphone, or downloading torrents on a computer, a Virtual Private Network hides your online presence and keeps your information secure.
FAQ
? Can you put a VPN on Apple TV?
You can't directly install a VPN app on your Apple TV. However, if you configure your VPN on your router, you will be able to enjoy it through your Apple TV!
? Are there any good free VPNs working on Apple TV?
No. For the simple reason that no completely free VPN is capable of operating on a router (and therefore on Apple TV). This is also valid for Windscribe, ProtonVPN or TunnelBear.
It will, therefore, be necessary that you take a paid VPN like ExpressVPN, CyberGhost or NordVPN.
? What are the benefits of using a VPN on Apple TV?
By using a VPN on your Apple TV, you will have access to exclusive programs as well as Netflix (via foreign catalogs), Amazon Prime Video, Hulu, HBO Max, and so forth. That is the main benefit of having a Virtual Private Network!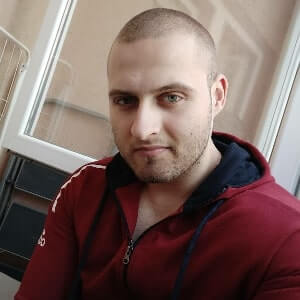 A professional writer with a Master's degree in Mechanical Engineering. Since his youngest age, he loves everything related to internet, technology, fitness, games, and dogs! He joined our team in order to bring his deep knowledge in security services, among which VPN is of course a key component.