Best VPN for Torrenting and P2P
Despite being the most popular file-downloading method in the world, torrenting is also one of the riskiest online activities. Due to the individuals who infringe on copyrighted content and indulge in piracy, this practice has become extremely unsafe nowadays. In fact, it is constantly facing threats from ISPs, copyright organizations, hackers, and governments who are always looking for ways to clamp down on the use of torrents.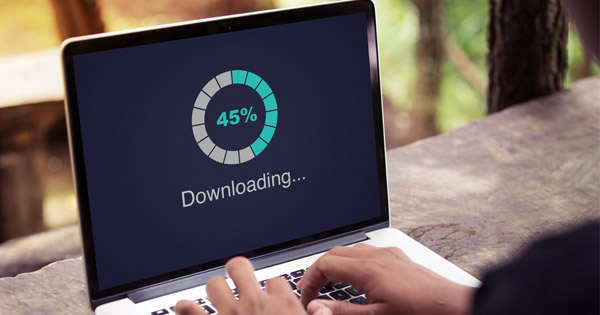 To avoid facing possible prosecution for torrenting, the best thing is always to do it with a high-quality P2P VPN. Since copyright trolls and the authorities have started tracking down people who use torrents with their IP addresses, a Virtual Private Network comes with the perfect solution to torrent securely.
With the best Virtual Private Network providers, you don't need to be worried about anyone tracking your IP address ever again.
However, while identifying the need for a Virtual Private Network is one thing, finding the right VPN provider to torrent safely in 2023 is another thing.
The truth is that there are many ineffective options on the market, with most of them always dishing out bogus claims to be good enough for torrenting, even though they're not.
With that in mind, we have created this guide to help you identify the bad VPNs in the market and determine the best one to help you torrent anonymously.
1. Even though the practice has become more widespread, torrenting is dangerous, both on the security and legal level.
2. If you don't protect your IP, you are not hidden when you are torrenting, and your internet service provider can collect information about you and your activities on the internet.
3. But thanks to a VPN, you can hide your identity and your IP address by choosing a random one. You will be safe and able to do whatever you want.
4. To have the best protection, you have to choose the best VPN providers: they will be presented in this article.
What Is Torrenting?
Just like VPN is gaining more popularity on a steady basis, Torrenting is also increasing in popularity every day.
It's currently the best method in 2023 to share files via P2P (peer-to-peer) technology. Torrent files which usually contain media files can be downloaded from different websites (called trackers) and the media files are usually films, music, applications, games, and more.
You'll not only download via P2P but also share what you've just downloaded. That is how it works.
There are actually thousands of these files on the internet, and as with the majority of things online, some of them are safe while some of them are dangerous. Before downloading and making a torrent file accessible, you will require client software such as uTorrent, qBittorrent, Transmission, or Vuze.
Since downloading files through this method is super easy, the technology has become immensely popular and important. Currently, BitTorrent handles about 3.35 percent of the entire traffic of the internet, counting approximately more than 170 million users per month.
Download risk-free with ExpressVPN now >
Do You Really Need a VPN for Torrenting?

To be honest, a significant portion of Internet users depends on torrenting for sharing files in 2023.
There are, however, numerous complications to fight regardless of whether you're participating in illegal sharing or not. Therefore, you really need the best provider to use torrents anonymously.
From a wider point of view, numerous elements require the use of the best Virtual Private Network to download torrents safely. The first factor is that your privacy must not be compromised.
Your location, IP address, personal information, and the browser you're even using must not be compromised.
After that comes the factor of speed.
Depending on the VPN you're using, there is always a drop or rise in uploading and downloading speeds.
And most significantly, a lot of governments and authorities around the globe have banned torrenting – both illegal and legal. We'll look into this more in detail later in this article.
With a Virtual Private Network, you can mask your details and locations so that you will be able to sleep peacefully at night, knowing that you can't be tracked.
It will be important to find a performing one, though. Indeed, all won't work great and some might even be dangerous for your safety online.
What Is the Best VPN for Torrenting?
Offering nearly everything you'll be looking for in a service that's capable of satisfying your needs, ExpessVPN is our pick for the best Virtual Private Network to download torrents safely and anonymously in 2023.
Why? Here's the answer!
ExpressVPN
With high speeds across a broad range of server locations, ExpressVPN is the best-performing VPN in the world. Thanks to its high level of performance, it's a perfect choice for people who download large files or watch movies on Popcorn Time.
Additionally, every server offers unlimited bandwidth along with P2P sharing which is backed up by a Kill Switch to protect you no matter what happens.
Supporting a wide range of protocols and using very solid encryption, ExpressVPN packs some punch on the security front.
Besides, the privacy policy explicitly states that the service keeps no connection or activity logs (it is based in The British Virgin Islands where no logs have to be kept), which is an especially important feature for torrenting.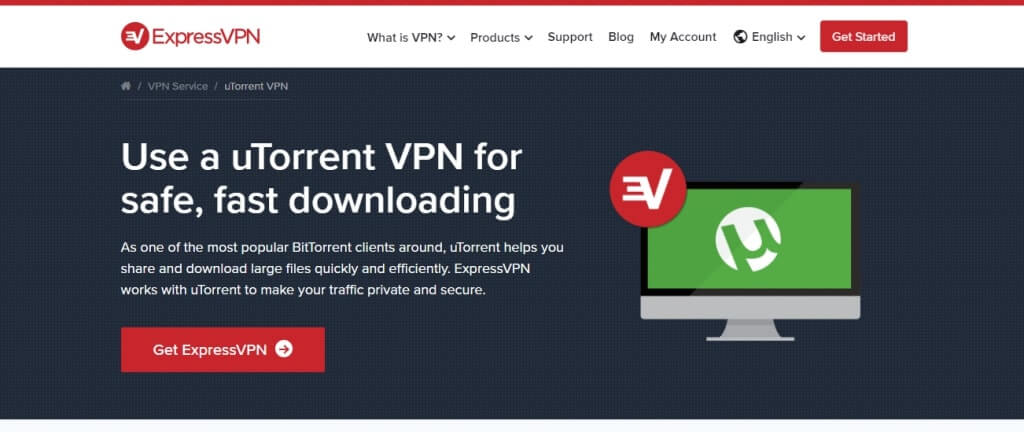 Another feature that is worth mentioning is the split tunneling for both Windows and Mac users. The feature enables users to protect only their torrent client, leaving every other online activity unaffected by the Virtual Private Network.
And if you ever run into any problems, the company offers the best 24/7 live support. For optimum anonymity, the company is also based in the British Virgin Islands, giving it an offshore jurisdiction.
When it comes to the price, ExpressVPN is a bit more expensive than other services but the price is definitely worth it for people who want the best torrenting experience. Note that you can also pay using Bitcoin if you're looking to maintain complete anonymity.
While this VPN provider offers no free trial or plan, every plan comes with a risk-free 30-day money-back guarantee.
The annual plan also offers a great value for money as you get an additional 3-month free plan with it, which saves you 49 percent of the initial cost.
If you were looking for the best VPN for torrenting in 2023, look no further, ExpressVPN is the best solution.
PROS:
Best speed for torrenting
Passed all the security/leak tests
Based in the British Virgin Islands (does NOT keep logs)
Kill Switch activated by default
30-day money-back guarantee
49% discount and 3 months free on a 12-month plan
Client support 24/7/365
Hide your IP online with ExpressVPN >
---
Alternative VPNs to Download Securely
Of course, ExpressVPN is the best choice in 2023 for torrenting securely and anonymously by a wide margin. However, other solid VPN providers will still do the job and could match your expectations. Here they are!
NordVPN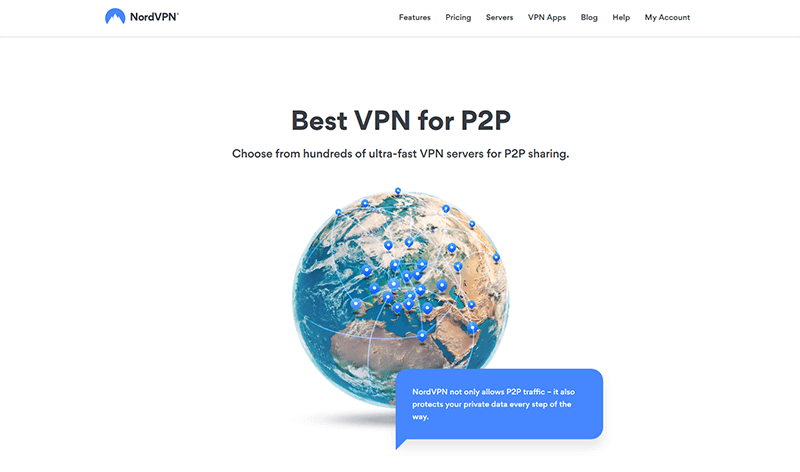 NordVPN is often at the top end of every VPN list, so it unsurprisingly takes the second spot here also. Thanks to its peer to peer services that are made available on their thousands of servers across the world, it's very difficult to ignore this provider for torrenting.
Thousands of their servers are specifically optimized for P2P, which shows why it's always one of the best options that come to mind.
In terms of security, the provider has put everything in place to protect its BitTorrent-loving customers. Using AES-256 encryption and OpenVPN and NordLynx protocols, NordVPN offers the best protection.
For the double layer of protection, they have also combined 2 servers into a single connection, giving you 2 rock-solid layers of encryption.
This makes sure that no one can track the activities of users. Add a kill switch and a stern no-log policy to make this provider one of the best VPN providers to download torrents safely and anonymously in 2023. It also supports Onion over VPN for additional privacy.
While not every server supports peer-to-peer file sharing, the provider provides wide server coverage, an excellent client, an automatic kill-switch, and easy-to-use applications. Their bandwidth also has no limits, allowing you to download as much as you want.
Yet, compared to ExpressVPN, the speed is definitely not as good. That is why NordVPN does not rank #1 in our ranking of the best VPNs for torrenting.
The company has reasonable pricing – except for their monthly plan, which is very expensive.
PROS:
Large choice of servers (5,200+)
Double VPN for maximum security
Based in Panama (no-logging policy)
Kill Switch included
30-day money-back guarantee
Cheap prices on long-term plans
Client support 24/7/365
CONS:
Not the fastest VPN for the price
Expensive for 1 month
---
CyberGhost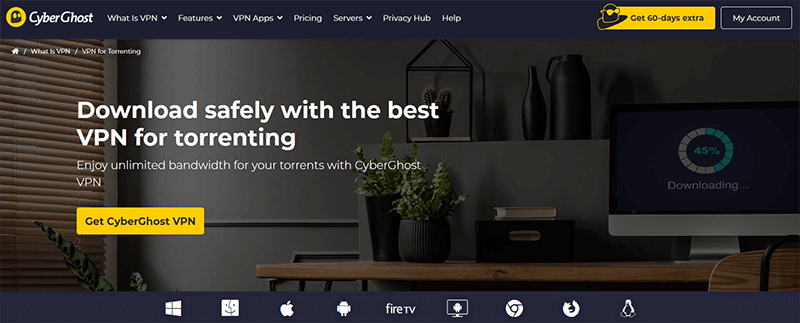 Having seen a tremendous improvement recently, CyberGhost is often in every discussion about the best VPN providers in 2023. With everything it offers in terms of performance and security, it's also one of the most reliable options for torrenting.
Making sure that everything is seamless for its users, the Virtual Private Network connects automatically to a P2P-compatible server.
It then activates the best settings to protect and speed up your downloads.
Furthermore, the VPN has dedicated P2P servers in the app, which eliminates all your doubts and ensures that your best interests are protected at all costs while you download torrent files securely. The service also supports Bitcoin if that is what your needs require and you want to anonymize your purchase.
However, probably one of the most pleasant things offered by this service is how it abstains HTTPS requests to remain compatible with download managers that offer no support for this protocol.
It also has a very clear no-log policy, which ensures that none of your data is recorded or kept. Even better, this is backed up by transparency reports published every 3 months. Here, CyberGhost outlines every bit of information that the authorities request from it, which, of course, it doesn't store.
If you are torrenting away from your computer, the company also offers compatible apps for Android and iOS platforms. While we would really like to see an improvement in its 24/7 live support soon, this VPN is surely one of the best options available in 2023.
PROS:
Large choice of servers (7,400+)
P2P optimized servers
Based in Romania (no-logs policy)
Kill Switch on all platforms
45-day money-back guarantee
Extremely cheap prices
Client support 24/7/365
CONS:
Long connection times
Doesn't work in China
---
Surfshark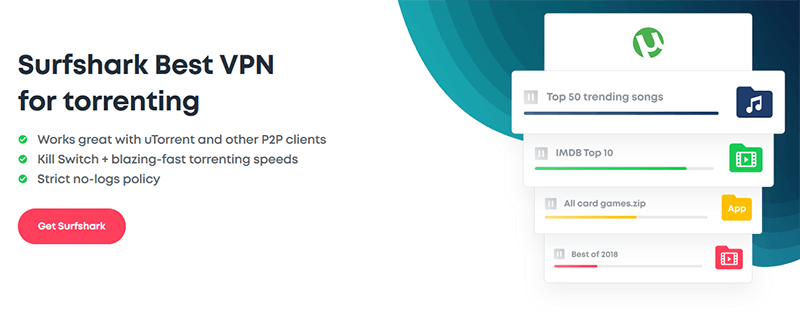 Sticking to their promise to ensure safe and fast torrenting, Surfshark offers everything to make it one of the very best in the business. Apart from allowing torrent downloading, this easy-to-use VPN also does that without any limit.
Not only does it offer unlimited bandwidth, but it also gives you limitless simultaneous connections. Every Surfshark's server supports P2P, even in countries where peer-to-peer sharing is forbidden.
The company takes extra measures for such countries by rerouting traffic to specially designed torrent-compatible servers in Canada or the Netherlands, depending on the location of the user.
Additionally, the provider utilizes high-grade encryption for speed optimization and the best user experience.
The VPN uses AES-256-GCM for encryption, which is a bit different from the more popular AES-256-CBC. Speed is the primary difference between the two. AES-256-GCM has an inbuilt authentication which speeds up the encryption process.
Like ExpressVPN, Surfshark is also located in the BVI, which is not within the jurisdiction of the 14 Eyes. This means that the provider is out of the jurisdiction of powerful surveillance agencies that could coerce them into divulging the data of their customers.
British Virgin Island is naturally the best location for severe no-log policies. So, it's not surprising that Surfshark also offers a strict no-logging policy. They don't store any logs of users' activities and that is ideal for safe torrenting.
PROS:
Very cheap
MultiHop available
24/7/365 customer support
Based in BVI so it doesn't store logs
30-day money-back guarantee
10 simultaneous connections
CONS:
Speed can be disappointing
Occasional connection issues
---
Is Torrenting Legal?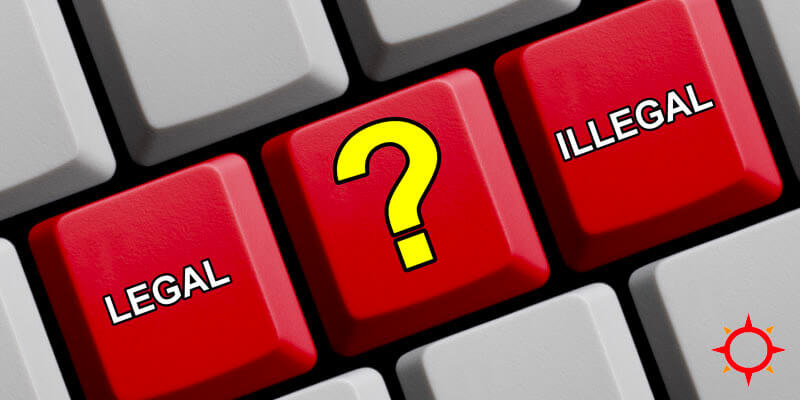 Now that you've found out what is (for us) the best VPN for torrenting and 3 very reliable alternatives, we'll see more accurately what does the law say about this activity.
While torrenting in the real sense is nothing illegal, the content you download is usually the determinant of which side of the law you will be on. Most media files are protected by copyright laws, so obtaining such files without obtaining the appropriate approval is illegal.
Numerous authorities continue to wage serious war on copyright infringement and piracy. So, downloading some movies, songs, and other media files through torrents could get you on the bad side of the law.
Therefore, it's important to utilize the best P2P VPN whenever you're downloading a media file from a torrent website.
Why Torrenting Without a VPN Is NOT Safe?
Although there is nothing illegal about torrenting since you're only sharing files, some things some people share are illegal. For instance, a lot of files contain copyright materials, which makes them totally illegal.
Furthermore, it's very common for torrent users to download illegal files accidentally. This often happens because there is no way to know exactly what a torrent file contains until you download it. While it's a risk, it's totally up to you if it's worth taking or not.
Of course, downloading copyrighted material without a VPN and the approval of the copyright owner can come with very severe consequences. Since torrenting is very popular around the world nowadays, the entertainment industry is always on the heels of people who share copyrighted files.
Activities of users are monitored constantly, and as a result, your IP is extremely easy to be tracked.
As soon as the relevant authorities can read your IP, they can easily look at your activities. With this in mind, the best thing is to get a VPN and stay completely anonymous while torrenting to ensure you don't incur a very hefty fine or even more severe punishments.
Copyright Infringement Penalties for Torrenting Around the World
The legal punishments for infringing on copyrighted materials often vary from one country to another. Countries such as Switzerland are widely considered as one of the best locations to download torrents safely.
Let's take a look at a couple of recent legal cases that are related to downloading torrents and the different laws of the top countries regarding the use of this popular file-downloading method.

United States
Is torrenting legal in the United States? The short answer is yes.
However, infringing on copyrighted material is penalized by law in the United States. If found guilty of indulging in piracy or downloading copyrighted files without taking approval from the copyright owners, you will be facing imprisonment of up to 5 years or/and fined about $150,000 for every file you download.
In 2018, over 1,000 lawsuits were recorded against individuals who were suspected of obtaining copyrighted files through torrents. Thanks to this along with the DMCA, the US is considered the country with the strictest copyright enforcement worldwide.
Therefore, it is very crucial to know how to torrent anonymously with the best VPN if you reside in the United States.

Canada
Bill C-11, also known as the Copyright Modernization Act was passed into law in 2012.
This law requires VPN providers and ISPs in Canada to send legal notices to their users who use torrenting or download torrents. The failure of the providers to comply with the requirement will attract a fine of up to $10,000.
What's more, the law also demands VPN providers to retain the internet activities of users for six months at least. This is why it's a bad idea to utilize a Virtual Private Network that's within the Canadian jurisdiction. Infringing on copyrighted material for non-commercial purposes can attract a fine of up to $5,000.
With ExpressVPN, CyberGhost, NordVPN, or Surfshark, you'll be perfectly protecting and anonymous while downloading.

United Kingdom
Recently, the Digital Economy Act was passed into law in the UK. Hence, the maximum prison sentence for piracy or copyright infringement has been increased from 2 years to 10 years.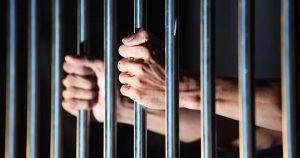 While the average user who doesn't use the material for commercial purposes may not face such a severe penalty, spending even only a day in prison is not a risk that is worth taking.
Every popular torrent site is blocked in the United Kingdom, so you even need the best Peer to Peer VPN if you are to access a torrent site at all.
However, the fact that a Virtual Private Network allows you to access torrenting websites doesn't necessarily mean it offers enough security to conceal your personal information and prevent you from getting legal notices.

Australia
In Australia, copyright infringement can attract up to AUD 117,000 and five-year imprisonment. In a bid to protect copyright owners, the Australian government is passing sterner anti-piracy law.
The maker of the Dallas Buyers Club, a Hollywood movie, reported having identified 4,726 IPs who downloaded the movie illegally, with many of them being Australians.
While the case was later dropped, many Australians would have faced the wrath of the law had it been they had pursued the case. The Australian government is already taking steps to completely ban torrenting. So it doesn't even make any sense to use torrents without the best Peer-to-Peer VPN.
Germany
In Germany, online piracy is completely prohibited. First-time offenders are required legally to pay a fine of $200, with the maximum fine being $1300 for people who download copyrighted material for non-commercial purposes.
The country is, however, stricter for torrenting sites and online piracy operators as the owners could face between 10 months to 3 years in prison. All these cases indicate that most leading countries around the world take piracy very seriously and the repercussions when caught can be very severe.
It's safe to say we've been able to convince you that you need the best VPN to download torrents safely.
Paid vs Free VPN for Torrenting
While free services may appear very attractive, they are not adequate at all for torrenting.
The primary issue when it comes to free VPNs is that most free clients don't have the resources required to provide core features. They're usually very slow and limited when it comes to bandwidth.
This means that your downloads may even stop before they are finished.
Probably more crucial, no-cost VPNs are very unreliable security-wise. The connection constantly drops out, which leaves your information exposed to surveillance. To make sure your privacy is guaranteed, we recommend you use the best P2P VPN to download torrents safely.
This one, according to us, can't be free.
If you're, however, on a budget and looking for a low-cost option, we recommend you exploit the money-back and free-trial periods often offered by premium providers like ExpressVPN.
Fight against any malware and virus software.
Encrypt your personal data. 
Watch Netflix and other streaming content abroad. 
Access all your favourite websites even in censored countries. 
Overcome restrictions to watch every national channel wherever you are.
Protect your data from your ISP or any hacker.
Do torrent and streaming without taking any risk. 
Don't be afraid to use public WiFi hotspots, wherever you are. 
How Did We Choose Our Top VPNs?
What makes the best VPNs for torrenting? You're probably wondering. Below are the various factors we considered before choosing the VPNs we recommended.
Speed
Speed is usually one of the most important factors to take into account when selecting a VPN. Using a VPN usually affects your download speed negatively. So it's always advised to find an option that will lessen that impact to the minimum.
We considered the speed before choosing ExpressVPN. You can even use their speed test tool to see what is the fastest server that will offer you the best speed to download your torrents securely.
No Connection Logs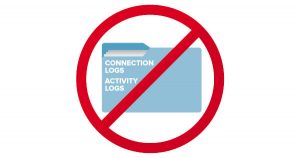 Companies that log your connections and data could give the data to authorities. Thus, a P2P VPN must be log-less, which means it doesn't save and record information about your internet activities. A good Virtual Private Network shouldn't save your IP address either.
Ideally, the provider doesn't collect any data and thus can't be hacked or forced into revealing information about users. In our selection, we looked for providers with no log-policy, which are based in locations with no data retention laws (BVI, Panama, Romania,…).
Security
Security is another factor we considered for our selections. Encryption makes sure third parties can't snap on your internet activities while torrenting.
Encryption particularly helps to prevent Internet service providers from monitoring your activities. We chose the best providers with military-grade encryption such as ExpressVPN. Other must-have security features we looked for include DNS leak protection and a kill switch.
These features make sure that no data leaves your computer even if you lose the connection to a VPN server.
Bandwidth Limit
Torrenting often requires lots of data, so you must keep it off from providers with bandwidth limits or data caps.
With that in mind, all the providers we chose have limitless bandwidth so there is nothing like throttling or downloading halt when you use them.
This is particularly what you WON'T GET with free VPNs. Indeed, they all have limits on their bandwidth which definitely is not compatible with downloading.
VPN Servers
When choosing the best P2P VPN in 2023, you don't look at the numbers of servers a provider has only – you must also check if the provider has servers specifically customized for torrenting. This was one of our determining factors when selecting the best VPNs we recommended in this article.
Customer Support
This is especially important if you're just starting your VPN journey. You want to make sure you choose a company that will offer you as much as possible support. Choose a company that enables you to request help through multiple channels such as social media, support ticket systems, or 24/7 live chat.
We also considered this for our selections.
Shared IPs
It's always recommended to use the best P2P VPN services with shared IP addressed when torrenting. What this means is that you share an IP with dozens or even hundreds of other users.
Shared IP addresses add an important layer of privacy, which makes it difficult to keep a tab on your activities.
Free Trial
A free trial is an important consideration, especially if you don't have much money to waste on several P2P VPNs.
Most premium providers usually offer a 30-day money-back guarantee. This allows you to test-run their services for 30 days and see if their services are worth paying for.
Final Thoughts
Despite the best efforts of the governments, ISPs, and copyright organizations, Torrenting continues to become more popular by the day.
Being the most popular file-downloading method available, we're not sure anyone will be able to stop this practice anytime soon.
But, what is the best way to enjoy torrenting without being monitored?
Using a VPN. By using a Virtual Private Network, the relevant authorities won't be able to monitor your activities. And of course, you will be able to enjoy torrenting forever.
Here are our top 4: 
FAQ
? Is torrenting safe with a VPN?
Yes, using a VPN to download torrents will provide you with better security.
By doing this, you will hide from your ISP, including all of the actions carried out on the Internet (P2P downloading as well). You will, therefore, no longer risk any penalty if you have unsavory downloading habits.
? What is the best free VPN for torrenting?
There aren't really any. Completely free VPNs are all slow, limit your data consumption to the week/month, and are not capable of ensuring security worthy of the name.
Suffice to say that we strongly recommend using a free VPN to download torrents. Instead, put a few dollars in a good VPN like ExpressVPN.
? Why do I need a VPN for torrenting?
You don't necessarily need a VPN to download torrents. It really depends on what type of files you download. If these are royalty-free files, you don't have to worry. On the other hand, if you download copyrighted files, you risk exposing yourself to sanctions.
If you are in this specific case, using a VPN will help you remain anonymous and thus pass through possible sanctions. As a reminder, a VPN will hide your IP address, in addition to encrypting all of your Internet traffic, thus making it invisible to your ISP.
? Is it legal to download torrents?
It really depends on the type of files you download. Downloading torrents is not illegal. It is more the fact of downloading files protected by copyrights.
This is why, if you want to indulge in such an activity, you will have to use a VPN at all costs.