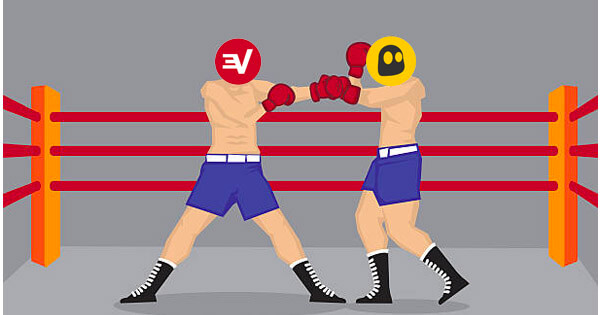 As we all know, VPN technology has become tremendously popular in recent years. Consequently, the number of VPN providers keeps going up on a daily basis. However, while this could be a blessing, it could equally be a curse at the same time. That's because choosing between the superfluous options could be very frustrating and exhausting.
Nonetheless, if you have managed to cut down the hundreds of options to just ExpressVPN vs CyberGhost, choosing between them may be a struggle. They are both on top in our VPN ranking, so you know how difficult your task is. In this article, we have pitted both providers against each other to help you reach the best decision.
Best VPN by category : 
  The applications and ease of use
---
  ExpressVPN or CyberGhost: which one is the fastest?
---
  Streaming: which one should you choose?
---
  Torrenting: ExpressVPN or CyberGhost?
---
  Bypassing censorship
---
  Security: which one is the safest?
---
  Servers and countries coverage
---
  Client support: which one is the best?
---
  Pricing of ExpressVPN and CyberGhost
---
Conclusion: ExpressVPN beats CyberGhost
We've reached the end of this ExpressVPN or CyberGhost duel and we are extremely relieved to have done so. This duel is one of the most difficult and most breath-taking battles we've had to referee, with each provider making solid claims to be the best. In the end, we had to give it to ExpressVPN, thanks to its overall excellence.
When we say overall excellence, it means there's almost no category where ExpressVPN performs poorly. Whether you want to just use a VPN to watch sport in streaming or you want to surf the internet anonymously, ExpressVPN does everything well.
In the end, it wins in 4 out of 9 categories, which is outstanding. By contrast, CyberGhost only wins 2 and the 3 remaining categories end in a draw.