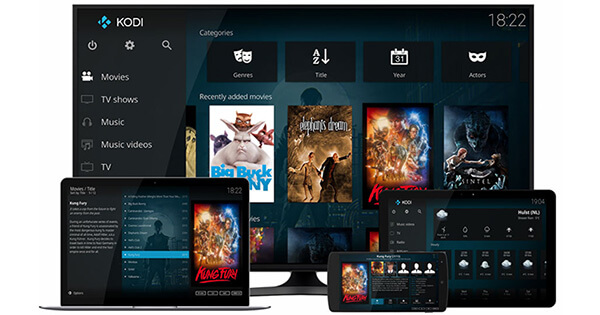 Kodi has become one of the most popular streaming platforms thanks to its many different forms. It is open-source, which means free, and is perfect for fans of movies, sports, and TV shows. Many users wish to remain safe and anonymous when using the platform and turn to VPNs to provide that anonymity. So here, we present the top 5 best VPN for Kodi in 2023.
What's in this article? Understand in 30s! :
1. Kodi is one of the most popular streaming platform nowadays that allows you to watch a lot of different movies, series, and sport competitions.
2. Due to geo-restrictions, you will not be able to watch content on the platform based in your country if you are not home, because it is most likely blocked abroad.
3. With the help of a VPN, you can fake your location, connecting to a server in your home country. You will then get access to your favorite content.
4. To do so, we recommend you choose one of the best VPN providers. Here's our top selection for Kodi.
Why Is It So Popular?
Originally, the system was designed for the Xbox and had the name, XBMC, the Xbox Media Centre. The platform has continued to evolve being upgraded and modified continually by developers.
One of the main strengths that make it so popular is the many add-ons that extend the capabilities of the system. These add-ons mean that users can choose to stream video content from a huge range of sources. These include: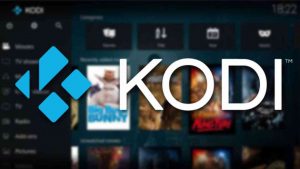 BBC iPlayer
YouTube
USTV Now, and many more.
So, let us look at our recommended VPNs to use to stream with the platform.
Our Top 5 VPNs for Kodi 2023
There are many VPN providers out there but not all of them work with the platform. Therefore, it is extremely important to choose the one that does. We have chosen five of the best VPN for Kodi that not only work with the platform but also offer many more benefits.
1. ExpressVPN

ExpressVPN is one VPN that works with Kodi extremely well and is a superb all-around choice of provider.
The provider offers apps users of the platform can download for Windows, Mac, Linux, Android, and routers. Users of Fire TV can download an optimized version for their device via the Amazon app store.
All apps are easy to use, with the router option being a great choice for any device that has Wi-Fi.
In the event your device does not have support for a Virtual Private Network, ExpressVPN has pre-flashed routers with bespoke firmware to get around the issue.
ExpressVPN offers access to 3,000+ servers in 94 countries around the globe. All servers are blazing-fast and connections are reliable. This is something essential when you want to stream in HD.
Servers are abundant and ExpressVPN is among the few providers that can unblock Netflix streaming, using the add-on. Along with this, the provider offers military-grade encryption to keep your information safe from hackers, along with providing anonymity when streaming and browsing.
ExpressVPN is a premium VPN provider and you can enjoy the premium benefits, as it offers 49% savings when buying a one-year plan. Along with this, the provider offers three months totally free, which gives you a plan for 15 months in total at the price of the annual plan – sweet!
PROS:
The best option for streaming
Can unblock Netflix, Amazon Prime Video, or Hulu
Compatible with all major platforms
Wide server coverage
User-friendly app
24/7 live chat support
49% discount with ExpressVPN >
---
2. NordVPN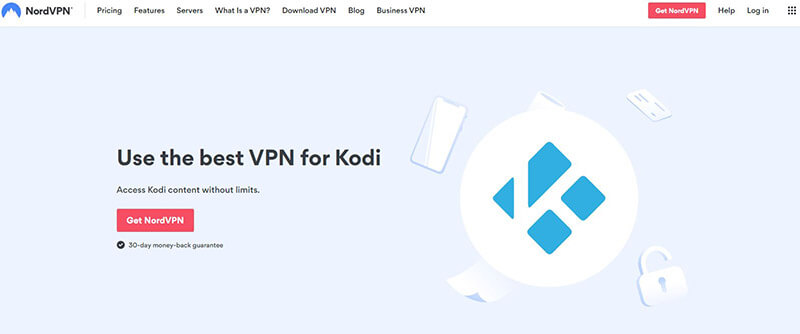 NordVPN is also among the best VPNs for Kodi. The provider offers apps for Windows, macOS, Linux, Android, and routers. All apps allow you to stream easily, via the add-ons for the platform.
They also provide a way to unblock almost all of the popular streaming platforms including Netflix and BBC iPlayer.
NordVPN has thousands of servers in countries around the world with reliable connections and decent speeds. The provider offers strong security features for safety when online.
For example, you will have access to strong encryption, a Kill Switch, and a double VPN function. All of these features will let you not only use Kodi safely but also enjoy geo-blocked streaming platforms thanks to 5,200+ servers in 60 countries that NordVPN has.
PROS:
A perfect solution to avoid geo-restrictions
Simple application
More than 5,200 servers in 60 countries
Strong security
30-day money-back guarantee
CONS:
Expensive short-term plans
Occasional connectivity issues
---
3. CyberGhost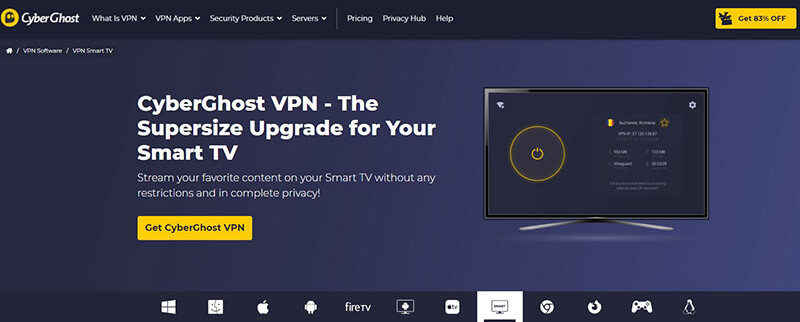 You can unblock any streaming service using CyberGhost. This Virtual Network Provider works well with the platform, with users being able to choose from dedicated servers for streaming, for added convenience. Oh, not to forget that they are a part of a huge server fleet of 7,400 servers in 91 counties!
CyberGhost is a popular low-cost provider but it still offers a fast and reliable service whose performance is impressive. Not to mention its security features that are top-notch.
Apart from 256-bit AES encryption, you get a no-logging policy, automatic kill switch, and DNS/IPv6 leak protection. All in all, there's no better cheap provider than this one.
PROS:
7,400+ servers in 90 countries
7 simultaneous connections
Outstanding value for money
45-day money-back guarantee
No logs are stored
CONS:
Not usable in China and in Turkey
---
4. Surfshark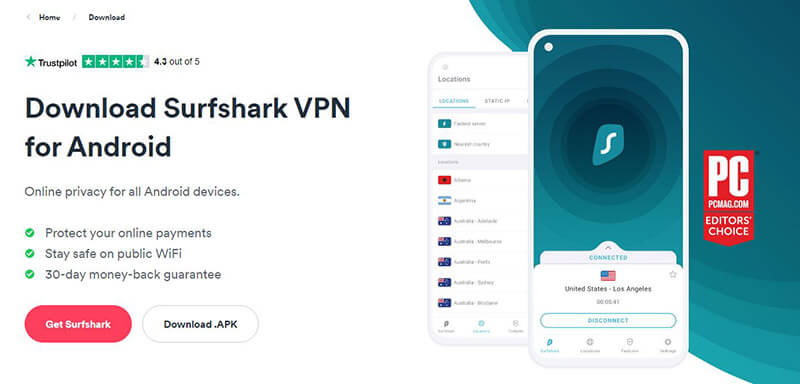 Surfshark is also on our list of the best VPN for Kodi in 2023, with the provider being a favorite among people who want to stream US Netflix and many other streaming platforms.
The provider not only provides access to US Netflix but also the UK, France, Italy, Australia, Japan, and India Netflix. Surfshark supports P2P with optimized servers for the best streaming and download speeds along with strong encryption.
Just to mention – this is another cheap VPN that offers premium performance. It's not better than CyberGhost, but it's a good alternative, should you want to save a bit of money.
PROS:
Unblocks Netflix US/AU/CA
Unlimited simultaneous connections
Low prices
Torrenting allowed
---
5. IPVanish
If you are looking for the best VPN for Kodi when using an Android device, you might want to consider IPVanish as it excels.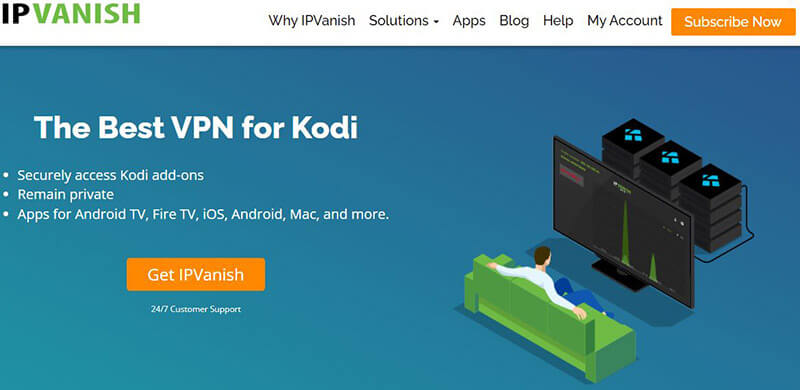 The provider offers numerous apps including Amazon Fire TV stick and Amazon Fire, along with apps for Windows, Mac, Linux, and iOS. The Fire TV version has been optimized specifically to use alongside the Fire Stick remote.
Android apps are available to download from the site for direct installation so users do not have to go through the Google App store. IPVanish allows access to all add-ons on the platform with fast speed, which is essential when streaming content in HD.
The provider has a zero-logging policy and provides state-of-the-art encryption to keep you safe while streaming. Moreover, there are 1,900 servers in 75 locations globally. If you ask me, that's more than enough for Kodi, despite being the weakest server fleet on the list.
PROS:
10 simultaneous connections
Unblocks Netflix US
Strong encryption
P2P allowed
CONS:
Company based in the US
Speeds are inconsistent
---
Why Should I Use a VPN for Kodi?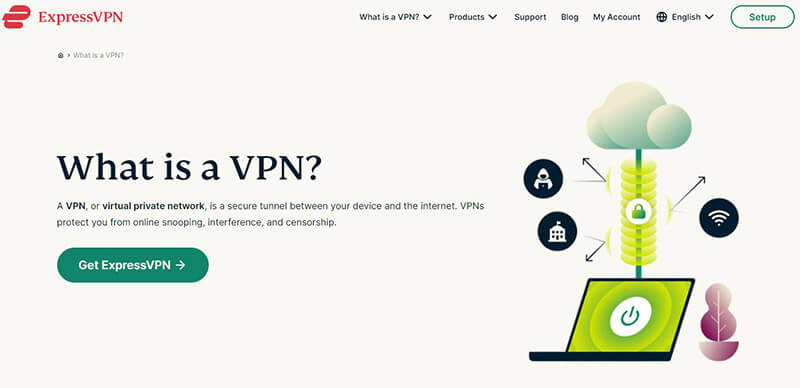 Anyone who uses the internet for streaming, browsing, online banking, shopping, or anything else can benefit from using a VPN aka Virtual Private Network. Here's why:
Security When Downloading
A VPN for Kodi offers security thanks to military-grade encryption to protect your information. Many users download and use add-ons that are not from official sources. While this is fine, you do not know who is offering them.
When downloading online, hackers can intercept your information and details. With a Virtual Private Network in place, any information you send through the internet is encrypted using military-grade encryption.
This means no one can read it even if they managed to get hold of it.
Anonymity When Streaming
Along with this, a Virtual Private Network provides anonymity. This means that even your Internet Service Provider cannot see what you are doing online. Including what you are streaming using the platform.
The app masks your IP address and gives you one from the server you chose. This can be from anywhere around the globe, letting you stay anonymous in the eyes of your ISP and the government.
Accessing Restricted Content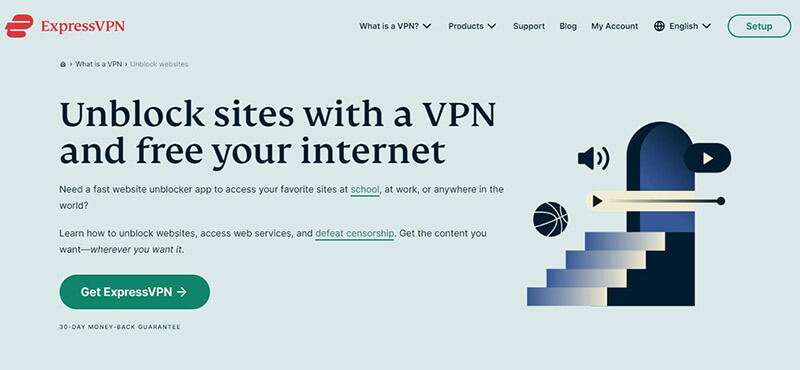 Being able to mask an IP address and take one on from around the world is important if you want to gain access to certain restricted content. For instance, only USA Netflix offers a full catalog of content.
Other countries can access local versions but the content is limited. However, users can stream content from the US catalog simply by masking their IP and taking on one from a USA server.
Protection When Installing Unofficial Add-Ons
As users install add-ons to stream from various platforms, not all are official. A Virtual Private Network provides much-needed protection against hackers and nosey ISPs. Add-ons have been known to be hacked in the past, even official ones.
We have chosen some of the best VPN for Kodi and we will go on to explain how to install a Virtual Private Network on some of the most popular platforms and devices.
Using a VPN
Using a VPN to stream is easier on some devices than on others. While some users set up a Virtual Private Network through an add-on, there are easier ways to install it.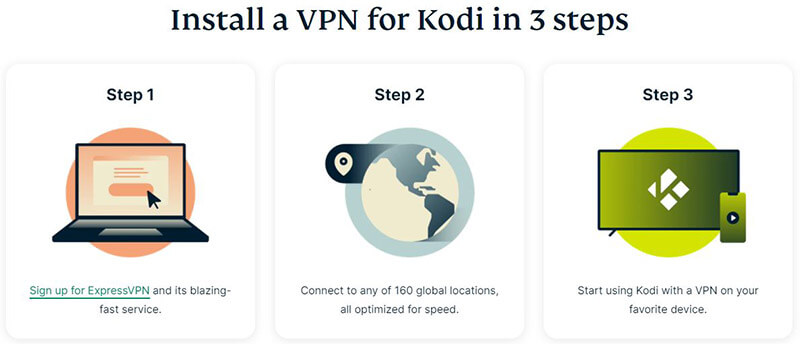 The VPNs we have chosen above all offer apps for devices that do not require extra configuration to work with the platform. In these cases, all you have to do is install the app, open it up, and leave it running in the background of the device.
We will now show you how to install and use apps from some of the best VPN for Kodi providers. We choose ExpressVPN for the guides that is one of the most popular choices for streaming, as this is one of the best all-around Virtual Network Providers.
However, the installation with other providers should be very similar, so don't worry.
Windows Installation

Installing a VPN on Windows is extremely easy. Just follow the steps below:
Sign up, download, and install the VPN app from the provider's website
Launch the app
Choose a location and double click on the location to connect
Your IP address changes to one from the location you chose
Open up the platform on Windows as you normally do
Stream whatever you want
macOS Installation

To install a VPN client on macOS, follow the steps below:
Sign up and click to download the app for macOS
Make a note of your activation code to enter it during installation
Once installed, find the file you downloaded and click on it, then follow the prompts to install
When the installation is complete, enter your code and sign in
You can choose a server then leave the app running
Go ahead and stream
Android Installation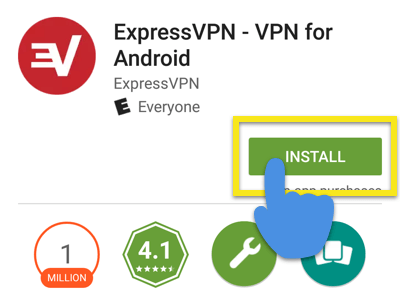 To install one of the best VPN for Kodi on an Android device, simply:
Download the app to your Android device and open it
Choose a location using the "Location picker" and connect
Now go ahead and stream.
Amazon Fire TV Stick Installation
You can install the VPN app through the Google Play Store if your Amazon Fire TV stick is running Android 5.0 and above. If not, you can side-load the app to your device, then complete the installation.
To install through Google Play Store, follow the guide below:
Download your chosen VPN app from the Google Play Store and install it
Accept any permission using the remote and then click on "Sign in"
Enter your credentials and the app activates
Click on the "Ok" button and the configuration will complete
Choose a server or use the "Smart Location" server and connect
You can now leave the app running and enjoy streaming
TV Box Installation
Follow the steps below to install the VPN app on TV Box:
Go to the Google Play Store
Search for the VPN app
Click "Install" and go through the installation
Select "Open" and sign in with your credentials
Click on "Ok" to set up the configuration for the VPN
Choose a server and click on the "Connect" button
Open up the platform and stream whatever you want
Stream on Kodi with ExpressVPN now >
To Summarize
We have shown you a list of the best VPN for Kodi along with explaining the benefits of using a Virtual Private Network when streaming. You should now be able to stream content using the add-ons to gain access to content from any country by simply choosing a server located in that country.
With any content from your computer going through an encrypted tunnel, even your ISP cannot see what you are streaming or doing online. You will also be able to download any of the hundreds of available add-ons that are unofficial while having peace of mind you will be safe from hackers.
Bear in mind that many unofficial apps are used to watch content that is copyrighted and in this case, anonymity is essential. By hiding your true IP address, you do not have to worry about prying eyes, reductions in your internet service, bans, or even fines and jail time.
Of course, along with the providers offering easy ways to unblock the platform all also offer other benefits, including helping you to save money when shopping online.
All you have to do now is choose the best VPN to stream Kodi for the device you use then stream away safely and securely.
FAQ
? Why should I use a VPN with Kodi?
In a lot of cases, Kodi uses the P2P process to give you access to movies and TV shows you want. As a result, without protection, you risk exposing yourself to sanctions from your government.
With a VPN like ExpressVPN, this will not be the case since your IP will be masked and your Internet traffic encrypted.
? Can I use a free VPN on Kodi?
We do not recommend it. Free VPNs cannot guarantee your online security and privacy. Indeed, they do not even make a Kill Switch available to you in the event of loss of connectivity.
If you want a free VPN at all costs, use ExpressVPN's money-back guarantee.
? Can I install my VPN on Firestick to use with Kodi?
Yes, it is possible to install and use VPNs like ExpressVPN, CyberGhost, NordVPN, or Surfshark on Amazon Fire Stick.
These are all amazing providers we described above, so choose the one you like and enjoy streaming.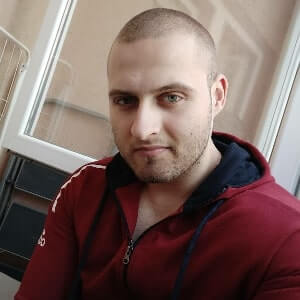 A professional writer with a Master's degree in Mechanical Engineering. Since his youngest age, he loves everything related to internet, technology, fitness, games, and dogs! He joined our team in order to bring his deep knowledge in security services, among which VPN is of course a key component.