Best Free VPN in 2023: Try Them For Free!
With increasing digital monitoring from government agencies and attacks from malicious hackers, confidentiality and privacy have become a major cause of anxiety in recent years. The best solution internet users are counting on is a Virtual Private Network. From allowing you to bypass geo-restrictions and getting past censorship to browsing the web anonymously – there are no limits to the things you can do or achieve with a VPN.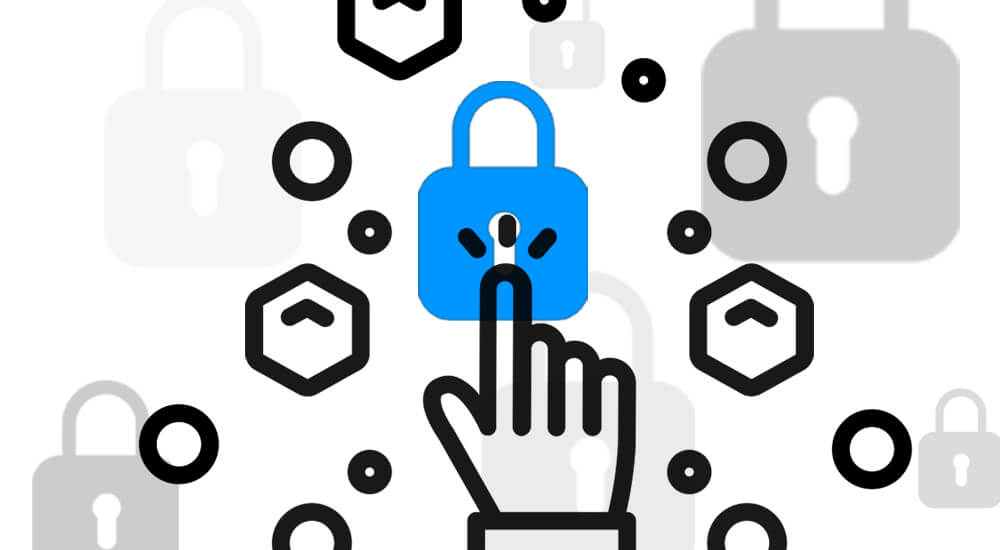 However, while almost everyone nowadays has one need or two for a Virtual Private Network, not everyone can conveniently afford it. The truth is that some of the best services often come with exorbitant prices.
So, what's the way out? Getting a free service. To be honest, if you are really looking to enjoy the full functionalities of a VPN, you've got to pay for it.
Nevertheless, there is a range of services which are either totally free or offer basic features at no cost. They often have an option to upgrade to the paid version to get better performance.
Of course, finding a reliable non-paid VPN is always a daunting task, but you can find them as long as you know exactly where to look. Fortunately, we know where to look and we have tested and checked some of the best free services for you.
So, if you're in search of the best non-paid providers in 2023, we've compiled them for you here.
What Is a Free VPN?
In simple terms, a non-paid VPN is a service that enables you to access its server network, alongside the necessary app, without needing to pay anything.
Of course, these services have limitations in terms of bandwidth, speed, security, support, number of servers, and overall performance.
We will discuss comprehensively the numerous limitations of non-paid services later in this article.
Free VS Paid VPNs

Before giving you the top 5 best Free VPNs and top 5 providers with Free trials, it seems important to us to present you with the main differences between the 2 options.
1. Security
If you don't want to pay, you can't expect the provider to offer a good level of security. You need to be aware of that.
2. Speed
Fewer servers, more people, less money to develop the speed of the servers. What is the result of this? Lower speeds for free Virtual Private Networks.
3. Functionalities
If you plan on unblocking Netflix, BBC iPlayer, Hulu, or torrenting, go directly for paid versions. You can almost be sure it won't work with the other solutions.
4. Client Support
On the one hand, you'll have client support that will take days to answer via contact forms. On the other hand, 15 seconds via 24/7 online chat.
5. Countries Covered
Be it the number of countries or servers, you'll ALWAYS have a way better choice if you choose a paid VPN. Free providers can't offer a wide network because this costs a lot!
6. Bandwidth
As you'll see below, Windscribe, Hide.me, TunnelBear, and other non-paid Virtual Private Network providers all have restrictions on the bandwidth. This is not the case with the premium ones.
How Do Free VPNs Earn Money?
There are actually many ways by which the best non-paid tools make money, but you can't still compare them to paid ones in terms of revenue. Some of those non-paid services will put ads into the sites you browse, which is often annoying.
If you are, however, fine with having a permanent ad stuck on every page you open, then an ad-supported option can be a great option for you.
Most times, a free solution represents the lower level of the service's pricing arrangement.
The services will limit the non-paid version compared to their paid version. Of course, the idea is to have you test the product at no cost and then upgrade you to the premium features at a cost. Simply put, the free VPN service is a technique or a gimmick to bring customers into the company.
The worst free VPNs will even make money by selling your personal information. This is what you have to be really careful about. No worries – Windscribe, ProtonVPN, TunnelBear, HideMe, and Hotspot Shield that we're going to present below do not do this. Their source of income comes from the paid options.
| RANK | VPN PROVIDER | FREE BANDWIDTH | NUMBER OF COUNTRIES | UNBLOCKS NETFLIX ? | PAID OFFER |
| --- | --- | --- | --- | --- | --- |
| #1 : Windscribe | | 10 GB / month | 10 | NO | 4.08$ |
| #2 : ProtonVPN | | Unlimited | 3 | NO | 4.00$ |
| #3 : TunnelBear | | 0,5 GB / month | 20 | NO | 3.33$ |
| #4 : Hide.Me | | 10 GB / month | 5 | NO | 2.96$ |
| #5 : Hotspot Shield | | 0,5 GB / day | 1 | NO | 7.99$ |
Best Free VPN Services
While it's difficult to find working non-paid services, they actually exist. But that's only if you know the right places to look.
Do we know those places?
Of course, we do! Below are some of the best ones in 2023.
1. Windscribe
Windscribe is one of the cheapest options out there in 2023, and as a result of this, it's one of the most popular VPNs. Not only that, but the VPN is also incredibly generous, providing free users with up to 10 GB of bandwidth, which can even be increased further, should you tweet about them on Twitter or bring your friends.
That method should attract more users to utilize VPN extensively. The provider strictly adheres to the no-logging principle and supports the best encryption protocols like AES-256, IKEv2, and WireGuard.
Its desktop application comes with a built-in firewall app that prevents data leakage and all the servers are configured as DNS servers, which results in optimum privacy.
In fact, you can even access geo-restricted Netflix content but only some servers support that. Speaking of that, you may have to struggle with customer support, which is primarily automated and handled by bots.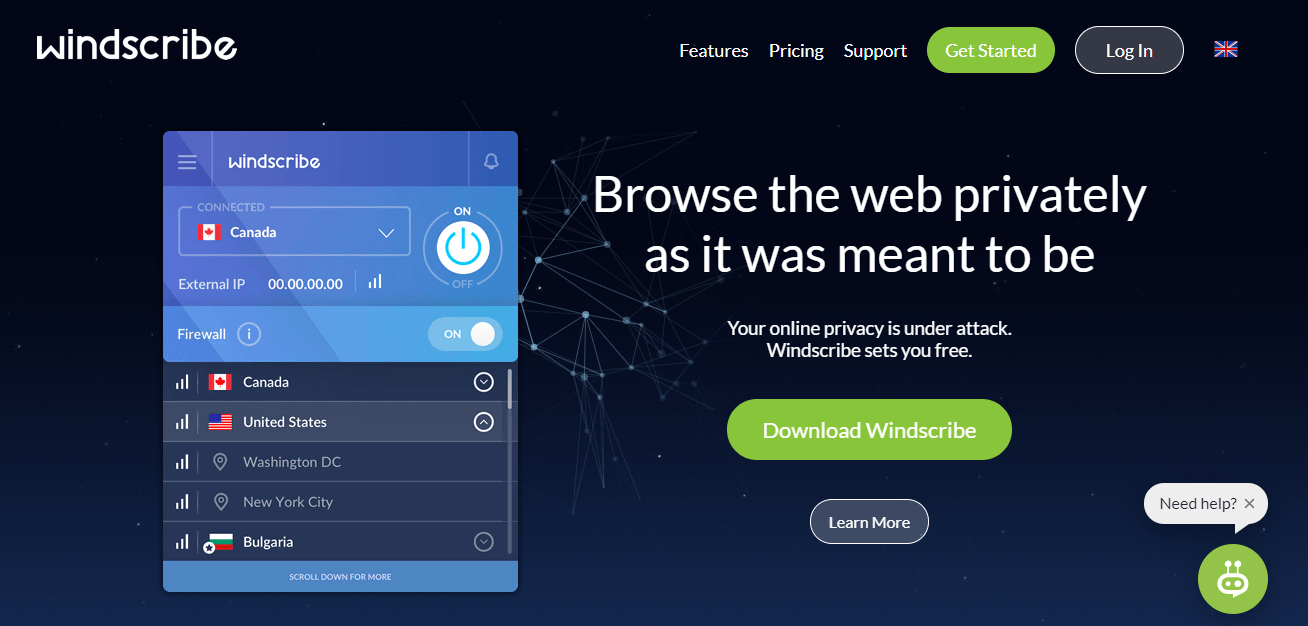 Apart from the user-friendly interface, this free Virtual Private Network provider also supports a wide range of platforms, including Windows, Mac, iOS, Android, Wi-Fi routers, and popular TV sticks. It also comes with extensions for some web browsers, thereby ensuring total stealth during your journey.
Moving on, Windscribe includes some remarkable VPN features to help you stay 100% anonymous while browsing the web. It has a Double Hop option that allows you to route your web traffic through two servers for extra anonymity.
Besides, it's also equipped with a functionality referred to as "Split Personality" that can be enabled to change the agent of your web browser randomly to lessen the likelihood of fingerprinting.
Here are the pros and cons of Windscribe.
PROS:
Provides generous 10 GB of free data
Comes with a Double Hop feature
Supports a wide range of platforms
Doesn't keep logs
CONS:
Poor support
Doesn't have a wide server coverage
Very slow speeds
---
2. ProtonVPN
While ProtonVPN offers many paid plans, it also gives you the best experience with the non-paid version with no bandwidth limitations.
However, it will limit you to a single connection per account at a time and will only allow you to access three locations only out of the 1,000+ servers offered by the company to its paid customers.
The three locations accessible by free users are the United States, the Netherlands, and Japan. Not really cool if you need to have an IP address in another country.
Nonetheless, it works if you want to stream some exclusive content or access a geo-restricted store that is unavailable in your region – not Netflix, though. The desktop app also has a very simple interface, allowing people who are not tech-savvy to be able to use it easily.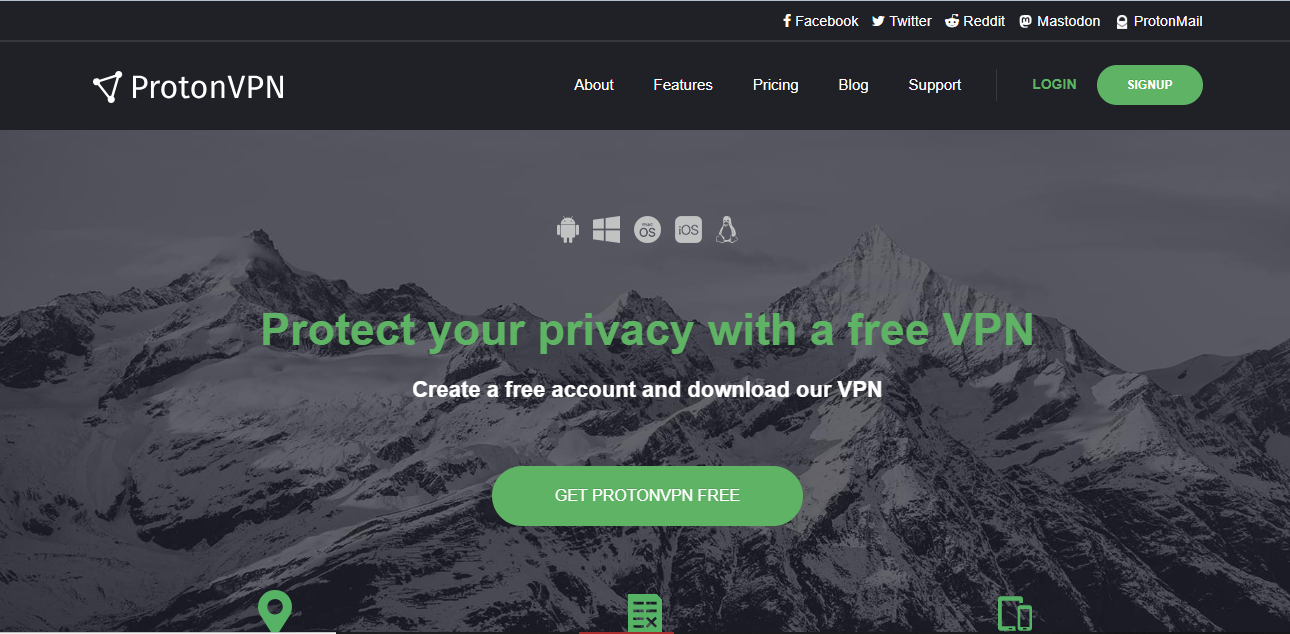 The VPN also offers compatible clients for Windows, Mac, iOS, Android, and Linux, which makes it a super-versatile option and one of the best free services around.
When it comes to security, ProtonVPN is no push-over. It sports the best extra features that make it a solid choice. The provider uses military-grade 256-bit AES encryption along with WireGuard and OpenVPN to guarantee a safe and secure connection.
It also features DNS Leak protection and one of the 'hottest' VPN functionality right now – a Kill Switch. A Kill Switch makes sure that your data is protected at all costs in the event of connection loss.
PROS:
No bandwidth limitations
Multi-platform support
Solid security features
A user-friendly interface
Access to Premium for 7 days
CONS:
Permits only a single connection at a time
Free users can only access 3 locations out of 30
Torrenting forbidden on a free subscription
Unstable performance & slow speeds
---
3. TunnelBear
The next VPN on our list is TunnelBear, which is a Canadian-based provider that boasts a great service despite being free. Featuring an extremely easy-to-use interface, it offers compatible clients for Mac, Windows, OS, iOS, and Android.
The provider's free little plan offers you only 500 MB every month, though.
However, the 500MB can be increased to 1000MB if you tweet about the company on Twitter, which is a way to attract more people to the company and Virtual Private Networks in general. If the basic features are not enough for you, then you might need to upgrade to the premium version.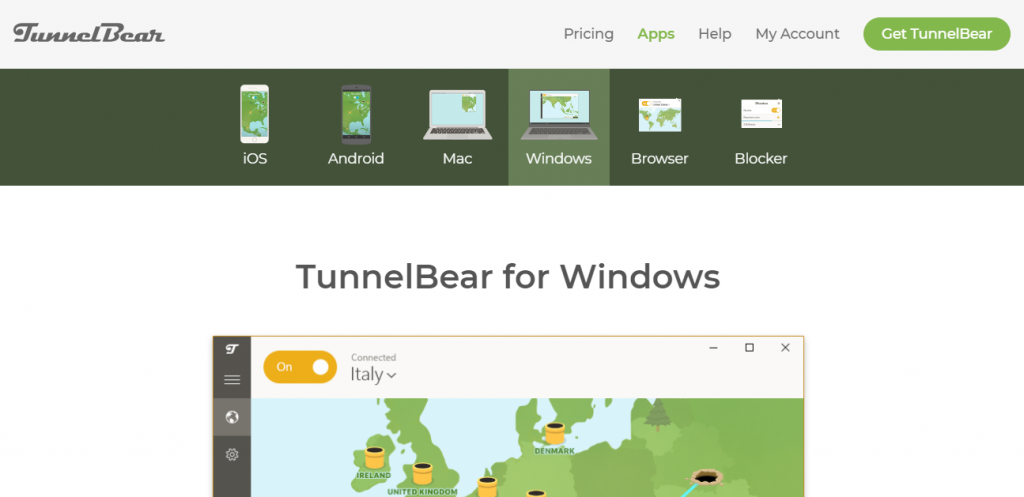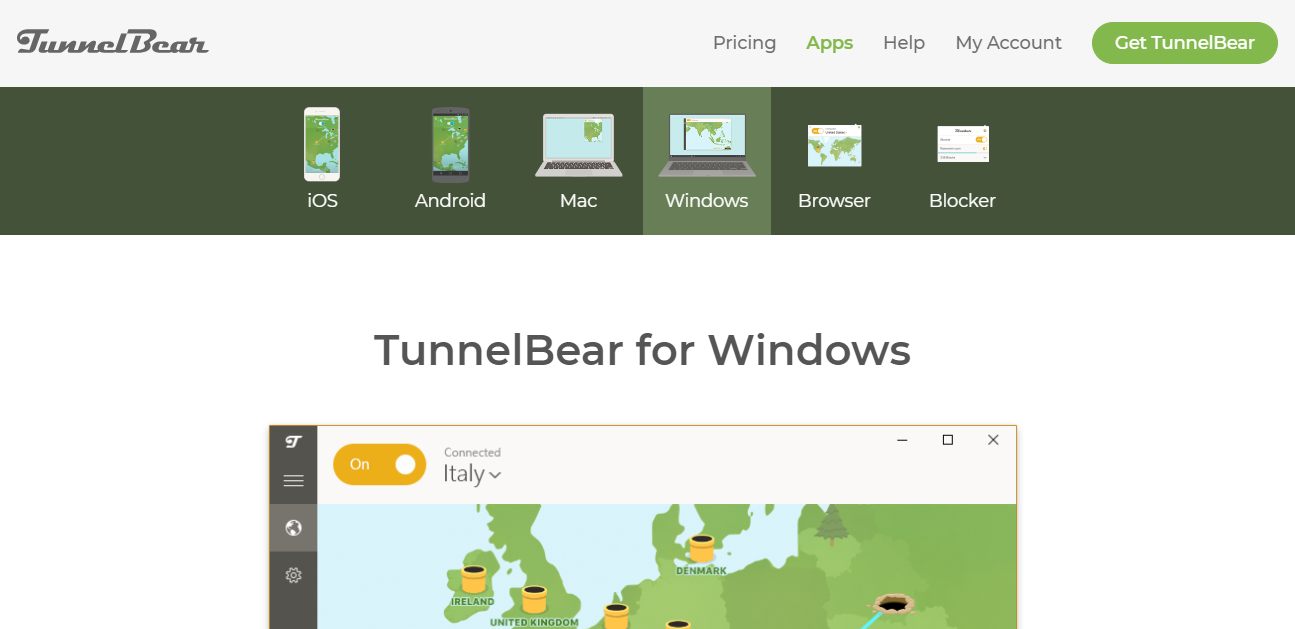 When it comes to security, the company uses the best OpenVPN protocol, military-grade AES-256-bit encryption, and SHA256 for both data retention and data authentication.
The company has many servers scattered across 26 countries around the world, which include the United Kingdom, the United States, Brazil, France, Canada, Japan, and Singapore. The Australian-based server is a reserve for paying subscribers.
Other excellent features you will find on the free VPN are the Kill Switch that prevents unencrypted data from leaving your computer in the event of a connection drop and the Stealth mode that allows you to bypass firewalls seamlessly.
However, the fact that the company is based in Canada is a huge cause of concern as the country is renowned for its stern data retention laws.
PROS:
An easy-to-use interface
Features a built-in kill switch
Uses military-grade encryption protocols
Features a stealth mode
Multi-platform support
CONS:
Offers only 500 MB of free data per month
It's based in a country with stern data retention laws
Not great app support
Questionable performance
---
4. Hide.me
With high-grade protocols like OpenVPN, WireGuard, and IKEv2, Hide.me can effortlessly hide your IP address and encrypt your data. It is absolutely one of the best free options. Offering its non-paid users about 10 GB of data every month, it is surely one of the best really free VPN services in the business.
While the data has no extension periods, you can claim rewards by inviting your friends and encouraging them to sign up for the paid plan.
Since the company is based in Malaysia, no law can force it to retain the data of its users and share it with Government agencies. Additionally, the provider has a very strict no-logging policy, which means your information won't be logged.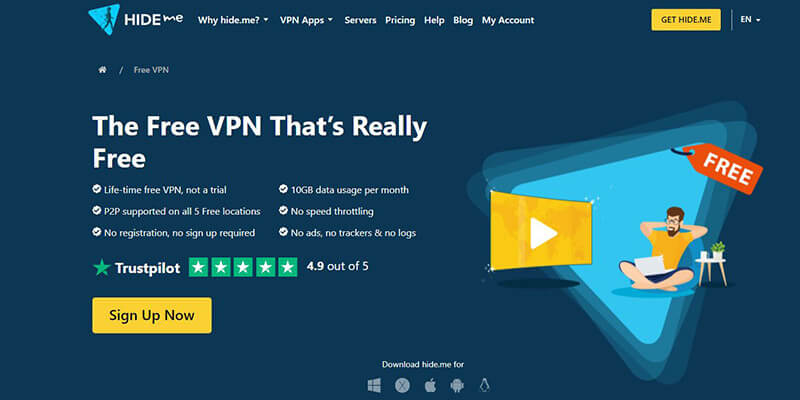 To improve the connection speed and also prevent your IP address from being cached into local servers, the VPN allows you to add custom DNS protection settings.
Free users can utilize 5 servers in 5 different countries, including the West/East Coast US, Canada, Germany, and the Netherlands. And when it comes to multi-platform support, it's exceptional. It offers compatible clients for almost every browsing device, including BlackBerry, routers, and some TVs.
Furthermore, the company has a Split Tunneling feature, which allows you to choose the apps for which you want to use the Virtual Private Network.
This can be very useful if you are using a VPN-blocking service like Netflix or if you require low pings to play your online games, whilst using a VPN to secure the rest of your browsing. It's a really cool feature.
PROS:
High-grade protocols
Based in a country with no data retention laws
Users can add custom DNS settings
Comes with a Split Tunneling feature
Multi-platform support
CONS:
Not the best speeds
One simultaneous connection
Only 5 server locations
Hide your identity with Hide.Me now >
---
5. Hotspot Shield
Hotspot Shield is an excellent freemium provider, which, owing to its anti-censorship stand, classifies as one of the best non-paid VPN in the business. The provider became more popular during a succession of protests like the military coup in Turkey and the Arab Spring.
For the non-paid plan, Hotspot Shield offers users just 500 MB of daily data, which is quite limiting. Furthermore, there is no way for checking the available data, which kind of puts you in a blind spot.
Also, browsing is restricted to the United States. This may annoy some people who are keen on privacy, as laws in the US force VPN companies to share the data of their users with government agencies like the NSA.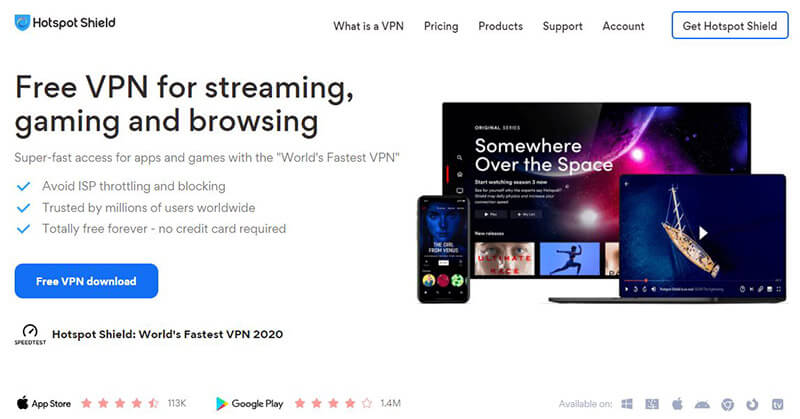 We don't like that you get just 1 simultaneous connection on a single account, but on the flip side, you get to enjoy military-grade 256-bit encryption for optimum security.
Hotspot Shield should come in handy if you are in search of one of the best free VPNs with basic features to enable you to browse casually. The provider also offers compatible apps for every major operating system, such as Windows, Mac, iOS, and Android.
In fact, it even offers an extension for popular browsers like Chrome.
PROS:
Solid anti-censorship stance
Multi-platform support
Uses solid encryption protocols
CONS:
Questionable parent company
Only 750 MB of free data
Only one server location – US
Forbidden torrenting on a free plan
---
Weaknesses of Free VPNs
The truth is that the best services need to be paid for. Paying for good client support, high-grade software, covering so many countries, and being security efficient is really capital intensive.
If nobody pays them, how do you expect them to afford all the resources that define a good VPN? Of course, non-paid VPNs have a lot of weaknesses, some of which we will highlight below.
Limited Bandwidth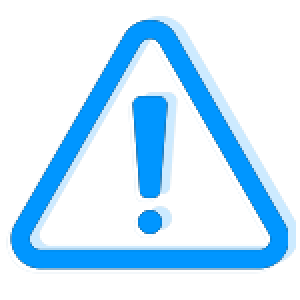 Free services often give you a particular monthly or daily bandwidth cap. This usually ranges from 500 MB daily up to 10 GB monthly.
As soon as you exceed that cap, your Virtual Private Network will seize to work. However, this does not mean that your data will be exposed suddenly. It will only prevent you from making use of the Web.
The speed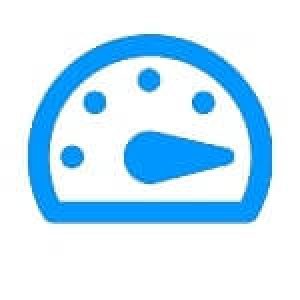 Even if you eventually find a totally free VPN that has unlimited bandwidth, you will still notice how they will throttle your connection speed. Therefore, regardless of how fast your connection is, you will still have to put up with browsing the web in an extremely limited manner.
Most cases will require you to wait for a couple of seconds more when opening websites. It's even often impossible to stream Media on these services as you can do on the best-paid ones.
Security
Paid services usually encrypt with a set of protocols, with the most popular of them being PPTP, L2TP/IPSec, WireGuard, and OpenVPN. The second one and the third one are mostly demanded by individuals who're looking for traffic ciphering and optimum confidentiality.
The last two are usually demanded by torrenting and gaming enthusiasts as it consumes less bandwidth. Therefore, a lot of the best companies don't use OpenVPN/WireGuard and L2TP/IPSec protocols for their free versions as they consume much more bandwidth and reduce the connection speed.
Number of Servers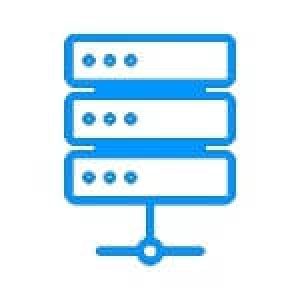 VPN companies usually keep in mind that most of their customers require several locations in various countries worldwide. They, however, also know the most popular servers are located in the United States and some other top countries like the United Kingdom, Canada, and more.
It's mainly because most users prefer bypassing geo-blocking and streaming US-based streaming channels. Thus, a free version is limited when it comes to the number of servers. However, it usually includes the most popular and best server locations.
Client Support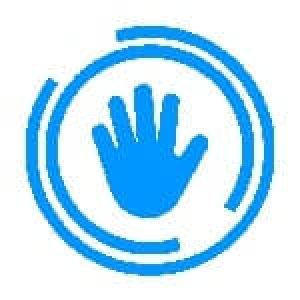 While the best VPN providers like ExpressVPN put a lot into making sure that they are always available to attend to the needs of their customers, the same thing can't be said about free services.
Most of them are rarely available 24/7 to help solve issues for customers, and who can blame them? In fact, some of them even have the support that is run by bots and not real humans.
The 5 Best VPN With a Free Trial
If you don't have a deep pocket, you may want to look thoroughly before investing your money in any provider. If that's the case, some premium companies offer a free trial that you could consider instead.
Below are some of them.
1. ExpressVPN
Established in 2009, ExpressVPN has speedily risen to become the best VPN in the world.
The company has forged a reputation for consistency, stability, and an absolute dedication to the privacy of its clients. Being one of the costliest options currently on the market, the Virgin-Islands-based offers a robust and secure service, packaged in a user-friendly and attractive application.
The company doesn't really provide a regular non-paid trial. It instead offers a risk-free 30-day money-back guarantee. The month-long free trial allows you to test the full service with no limitations, and it comes with no risk.
If what you see doesn't satisfy you eventually, the company will give you a 100% refund without any questions.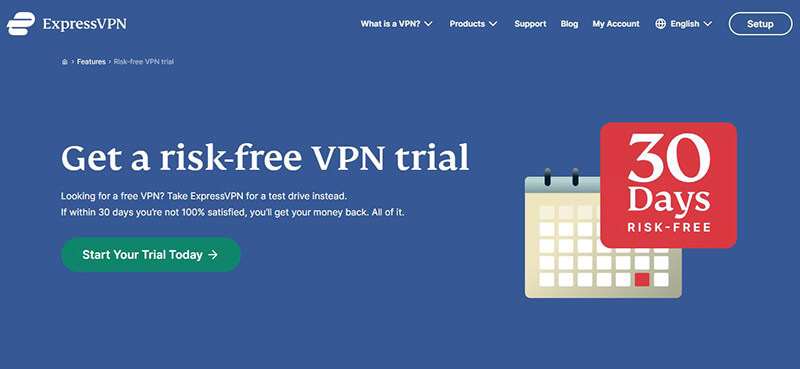 ExpressVPN is considered widely as the best VPN provider in the world because it has exceptional security features, bypasses geo-restrictions with utmost ease (has the best China VPN that you can use to unblock all restricted apps), and offers the highest speeds on the market, which makes it ideal for HD streaming and torrenting.
With thousands of servers across more than 160 locations and great customer support, this provider doesn't intend to relinquish its top spot anytime soon.
The company also offers compatible apps for every major operating system, device, and browser. It also allows you to connect up to 5 devices at the same time. On top of that, ExpressVPN is currently offering a 3-month free subscription on every 12-month plan, saving you 49% in the process.
PROS:
Best speeds
Unblocks Netflix
Super-solid security
24/7 client support
Compatible with all major platforms
Wide server coverage
User-friendly app
Enjoy a 30-day money-back guarantee with ExpressVPN now >
---
2. CyberGhost
CyberGhost is a top provider that is only bettered by ExpressVPN in terms of speeds and all-around performance. Thanks to its reliability and value, the provider is comfortably one of the best in the business.
The service offers a generous 45-day money-back guarantee and a 24-hour free trial, making it a great option for people who are just testing the waters. Although the reputation of its parent company is questionable, that takes nothing away from their service.
Offering 7,400 servers across tens of countries around the world, this VPN offers very wide coverage. If you decide to pay for it after the trial, you don't need to provide your credit card details. You can even pay with Bitcoin to maintain 100% anonymity.
The service even supports up to seven devices simultaneously, thereby allowing your friends to share in the connection as well.

While numerous VPN services choose to add server limitations and bandwidth limits to their no-paid version, CyberGhost is quite different. It allows you to enjoy everything offered by the service, including limitless bandwidth, 256-bit AES encryption, DNS leak protection, and access to its complete server library.
CyberGhost is ideal for streaming and the free trial comes with unlimited bandwidth. This allows you to check whether it unblocks Netflix and other streaming websites before committing.
PROS:
Unlimited bandwidth
Strong security features
Offers a wide coverage
Supports up to 7 simultaneous connections
Offers a generous 45-day money-back guarantee
More than 7,400 servers available in 91 countries
CONS:
Doesn't work in China
Only a 14-day money-back guarantee on a monthly plan
Occasionally slow speeds
---
NordVPN
While NordVPN is technically not a free-trial offering, we had to include it because of its 30-day money-back guarantee. The provider's best feature is a very large pool of super-fast servers and over 60 locations across the world.
It's also capable of supporting up to 6 devices simultaneously and the data is encrypted by 256-bit encryption.
Furthermore, this popular VPN service is also equipped with advanced features like DNS leak protection, Kill Switch, dedicated IP, and the ability to pay using cryptocurrency.
When it comes to the best and most significant – performance – this provider stands strong. It has commendable speeds for long and short-term connections, making it ideal for streaming.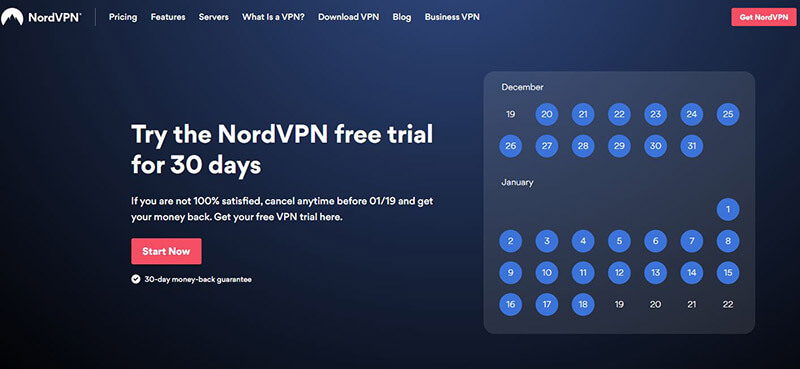 However, it is still not as fast as ExpressVPN, which is why it's below the BVI-based VPN provider.  It is an excellent option at a great price though, offering superb 6 simultaneous connections.
Providing clients for every major platform, the app seems excellent and is extremely easy to use. The VPN works for torrenting and has strong privacy policies in place to make sure you stay 100% anonymous.
PROS:
A large pool of servers (5,200+)
Comes with advanced security features
Users can pay using cryptocurrency
Offers great multi-platform support
Strong privacy policy
CONS:
Not very fast
Doesn't really offer a free trial
---
Surfshark
Offering a seven-day free trial for iOS and Android devices, Surfshark is another excellent option you can check out. While it doesn't have a standard free-trial version for other platforms, the company encourages users to utilize the 30-day money-back guarantee to check the service out at no cost.
And since it uses AES-256-GCM for encryption, Surfshark is gradually earning a reputation as one of the best and most secure services. With 3,200 servers around the world, it can easily bypass geo-restrictions to enable you to stream content at high speeds.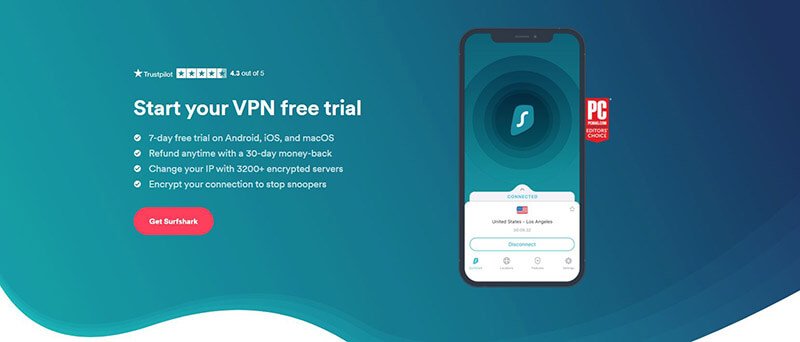 The company has a solid server network compared to its bigger rivals, and on top of that, it comes with useful features. The first of those features is its support for unlimited devices. This allows you to run your whole office or home on the provider's VPN.
There is no need for you to worry about the number of devices you are connecting. Besides, they offer ad-blocking, tracker-blocking, and anti-malware as part of their best services.
The provider has wide platform support, offering clients for Windows, Android, Mac, iOS, routers, and FireTV. There is also a unique feature that enables you to whitelist some websites and apps to bypass the VPN automatically. This feature can be really helpful to some businesses.
PROS:
Uses strong encryption protocols
Unlimited simultaneous connections
Wide multi-platform support
Allows you to whitelist some apps and sites
Comes with a 30-day money-back guarantee
CONS:
Offers a free trial for only Android and iOS devices
Some stability issues
---
Zenmate
Allowing users to either use the free, premium, or ultimate version, Zenmate is an incredibly flexible provider. And despite being a German-based company, a country that is part of the 14 Eyes, the provider offers an above-average service overall.
They are extremely reliable, offering their customers high-grade encryption, software functionality, and 100% transparency for a decent price.
While the free version is limited in platforms, locations, and speed, Zenmate promises the best protection for your data. That is regardless of the version you're using.
In fact, the company prides itself on being a security-minded solution, with a global grid of extremely secure proxy servers that help encrypt your data and protect you from malicious sites.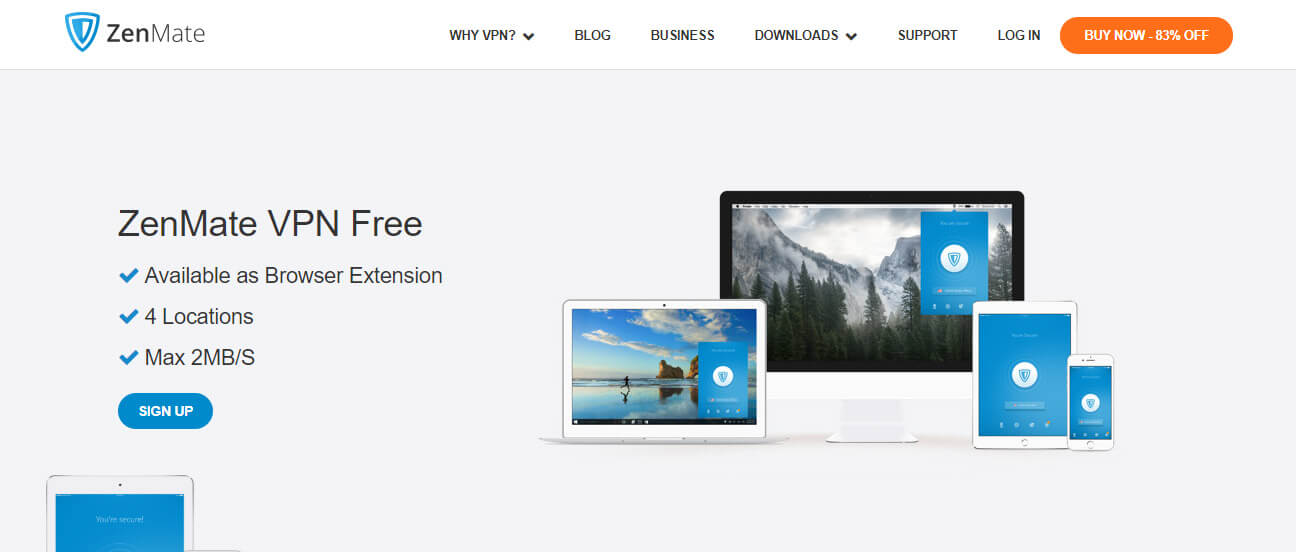 Privacy-wise, the provider promises to block ad trackers, social media pixels, and third-party analytics tools. From a Wi-Fi point of view, the VPN will add a line of defense when you are on unsecured networks. And from an unlimited internet perspective, it'll help you bypass geo-restrictions.
When you upgrade to the paid version, you will enjoy improved speed and 24/7 support, something you won't be offered on the free version.
PROS:
Offers high-grade encryption
Comes at a decent price
Decent server network
Great for unblocking streaming sites
CONS:
Based in a country that is part of the 14 Eyes
The free version is very limited
---
Final Thoughts
Let's face it, a Virtual Private Network offers too many values to be free. From allowing you to bypass geo-restrictions to browsing anonymously, there are many things you can achieve with it.
But is there a working free option for people who can't afford the paid ones? Of course, there is. We've reviewed some of the best options in this guide. While they come with a lot of limitations, they should still handle your basic VPN needs.
If not, just use a premium provider and take advantage of its free trial and money-back guarantee.
FAQ
? What is the best free VPN?
After multiple tests, in our opinion the best free VPNs are in this order: Windscribe, ProtonVPN, TunnelBear, Hide.me, then Hotspot Shield.
For more details concerning them, do not hesitate to consult our detailed article on the subject.
? Are free VPNs safe to use?
It really depends on the free VPN you are going to use. Generally speaking, it's good to know that most free VPNs aren't capable of ensuring your anonymity and online security.
Proof of this is with Hola VPN which has made itself known for the resale of browsing histories of its users.
? Is there any free VPN for PC/Windows?
All the free VPNs in our ranking and comparison offer an application on Windows. You can therefore install and use them on your PC.
Be aware, however, that they will come with a certain number of limitations: a limited number of servers, data consumption restricted each week/month…
? Can I use a free VPN to watch Netflix?
Even if you go for the best free VPN in our ranking (Windscribe), you will not be able to unblock the various Netflix catalogs.
If this is your main objective, then you should instead turn to a paid VPN like ExpressVPN. It is best when it comes to watching Netflix US, UK, CA, and many other libraries.
? Is it illegal to use a VPN?
No, it is absolutely not illegal to use a VPN.
The few countries in which the use of a VPN is not legal are rare and are known for very strict Internet censorship. Suffice to say that if you live in the United States, Australia, the United Kingdom, Canada, etc, you have absolutely nothing to fear.