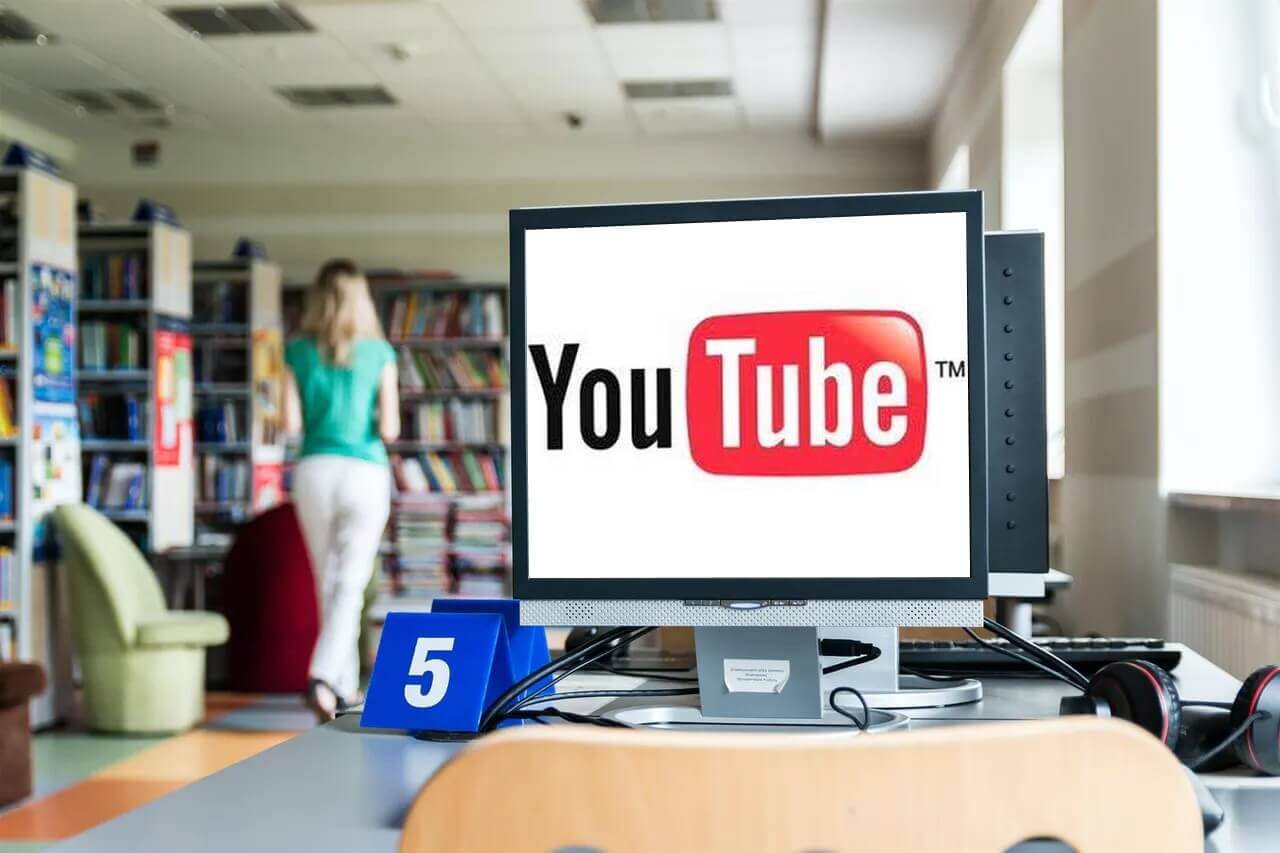 As our parents taught us, school is a place where you go to learn something new and get a basic education. However, when the big break comes, you just want to relax with some YouTube videos and let your brain take a rest. Sadly, schools are known for blocking sites like YouTube, Instagram, and Snapchat, so you can't do so. Today, we're going to show you an easy trick to unblock YouTube at school and enjoy favorite content in a snap of a finger.
Unblock YouTube at School Using a VPN
If you want to unblock YouTube videos, your best choice is to use a Virtual Private Network. For those who are not tech-savvy people, we get it, but we'll do our best to explain what it is and how it works.
This service lets you unblock sites by changing your IP address. For example, if you're at school, you can connect to a VPN server in whatever country, which will give you a new IP, and hide your native one, preventing your school from blocking and restricting internet access.
While connected to the server, your connection is wrapped in a VPN tunnel with military-grade encryption. In return, you get rock-solid security and the ability to explore the internet anonymously.
This method always works and is our recommended method to watch YouTube videos without restrictions at school. When you connect to a server in another country, you can even bypass geo-restrictions. Then, you can watch Netflix, HBO GO, or Hulu from abroad, or access foreign betting sites.
Here's how to use a VPN to access blocked websites at school:
1. Subscribe to a VPN
The first step is to get a provider that will reliably unblock sites. Our recommendation is ExpressVPN, due to its fast speeds and stable connections.
2. Download and Install the Apps
Once you subscribe, download and install the apps you're going to use. Since you're at school, you'll probably use a laptop or a smartphone, but that's up to you. Once installed, just open the app and sign in with the credentials provided when subscribing.
3. Connect to the Server of Your Choice
In-app, you can see the connection button that looks like a power button on your PC. Under that, there's a country that you need to click on to open the server list. Now, you can select any country you want, but we recommend choosing the one closest to you.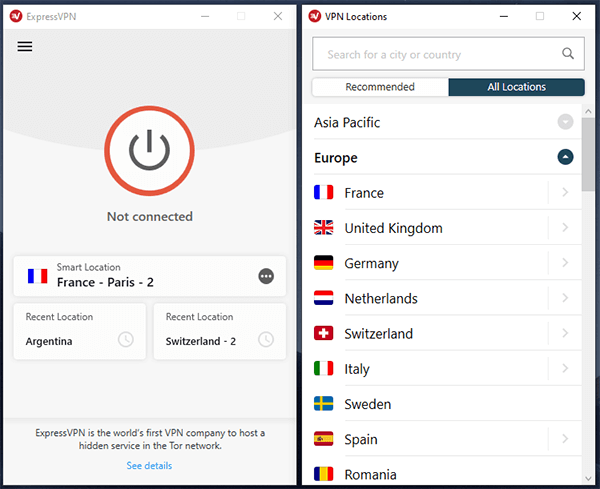 Click on it and then, click on a server from the country that you want to use. When you do so, just use the connection button to establish a connection and you're good to go.
4. Unblock YouTube at School
With everything in place, try visiting YouTube and see if it works. You should be able to watch your favorite content and videos, with no one snooping behind your back.
Best VPNs to Unblock YouTube at School
There are hundreds of VPN providers on the market that promise the same thing. Yet, not many of them can uphold what they promise, making them a poor choice for a purpose like this. Luckily, we came up with a list of 3 providers that will help you unblock YouTube at school easily.
1. ExpressVPN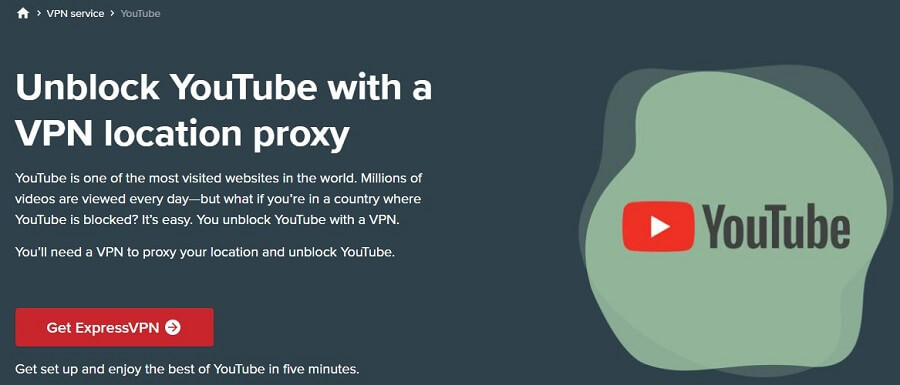 Without a doubt, ExpressVPN is the best choice for unblocking sites at school. School's firewalls are sometimes so strong, that you can't use any other method to watch YouTube videos at school, except a high-quality VPN provider, such as this one.
ExpressVPN has 3,000+ servers in 94 locations, which is great for bypassing geo-restrictions and accessing your favorite sites. Needless to say, it's perfectly capable of unblocking any website, including YouTube, Netflix, BBC iPlayer, Hotstar, and HBO GO.
When the big break hits, you can stream a bit of your favorite shows, enjoy PewDiePie, or whatever your favorite YouTuber is. ExpressVPN can take pride in being the fastest provider around. Speeds are very important if you want videos to buffer fast, without stuttering, and waiting for an eternity to load.
Being inside the school, you're subject to restrictions but also surveillance. Without encryption, the school network administrator can see what you're doing online. Therefore, the provider includes military-grade encryption and a kill switch, to keep you safe even if the connection breaks.
We like that you can protect up to 5 devices simultaneously with it, and enjoy unlimited bandwidth. To top it all up, ExpressVPN supports all platforms, making it easy to install on iOS, Android, Windows, macOS, or Linux devices.
Lastly, there's a 49% discount and 3 months free for an annual plan. If you don't like it, a 30-day money-back guarantee will come in handy. But come on – that's probably not gonna happen!
Unblock YouTube at School With ExpressVPN >
2. NordVPN

NordVPN focuses primarily on security but doesn't neglect the other factors that make such a service great. For the start, you get the ability to unblock YouTube at school and enjoy videos in the highest possible quality.
This is because of the huge server network, offering stable connections and lightning-fast speeds. Speaking of that, NordVPN packs 5,600+ servers in 60 countries, which is truly an eye-watering number. Not to mention different types of servers, including obfuscated, dedicated, and Double VPN ones.
Dedicated servers for torrenting let you enjoy P2P activities limitless. NordVPN uses OpenVPN by default but if you want faster speeds, its new NordLynx will give you a powerful boost.
For those who hate ads (and who doesn't?), there's a CyberSec feature for blocking them. NordVPN gives you 6 simultaneous connections on a single account, including router support. When not at school, you can connect it to a router and encrypt the connection in your household, which is super neat!
Oh, we nearly forgot. The provider uses 256-bit AES encryption and offers an automatic kill switch for all platforms. This will ensure that your IP or DNS never leaks accidentally, making you completely invisible to hackers, ISPs, and the government that is trying to spy on you.
Enjoy YouTube Videos at School With NordVPN >
3. CyberGhost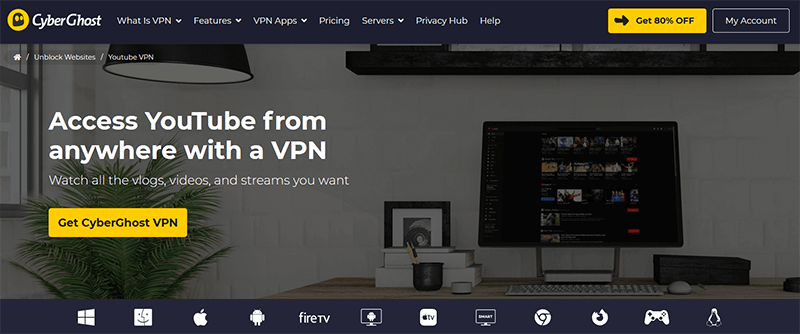 CyberGhost will show you how to unblock YouTube at school easily, thanks to its easy-to-use apps and humongous device support. This provider will work wonderfully on your iOS, Android, Windows, and Mac devices, providing protection for up to 7 devices simultaneously.
One thing where CyberGhost beats its competition is the server count – 7,000+ servers in 90+ countries around the globe. The server count isn't the only thing to look forward to, as the provider offers fast speeds that are great for YouTube.
Furthermore, dedicated servers are here, letting you unblock streaming platforms or enjoy torrenting. You'll like the addition of an ad-blocker that also blocks malware and trackers, for completely anonymous web browsing.
CyberGhost comes equipped with 256-bit encryption and DNS/IP leak protection. On top of that, it's from Romania, outside the 14 Eyes, hence it stores no logs of your browsing history. For those who don't manage lots of money during school time, this is a perfect choice.
The reason being is because it's very cheap, but on the other hand, provides premium performance. CyberGhost is at its cheapest in a 3-year plan, where it offers a 45-day money-back guarantee and 2 months FREE. Therefore, this should be the best deal if you can afford it.
Watch YouTube Videos at School With CyberGhost >
Other Methods to Unblock YouTube at School
We won't lie. There are other methods for unblocking YouTube at school. However, not all of them will reliably work. Here are a few more methods that you can try next time you visit your school and want to try to unblock and access the streaming platform.
Using a Proxy Server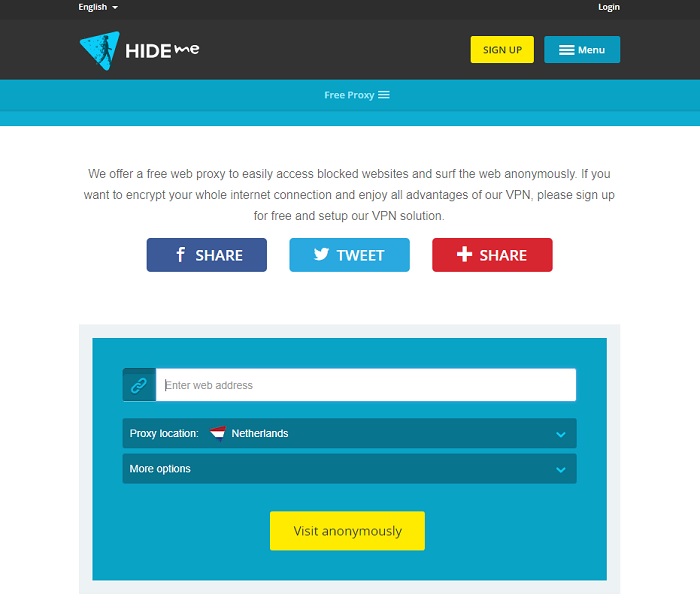 When we went to school, we used a lot of proxy servers to unblock Facebook and YouTube. At the time, this method seemed very effective. You just type the word "proxy" in Google and you get hundreds upon hundreds of proxy servers to choose from.
Then, you just type the address of the website you want to visit and BOOM – it works! But, in today's day and age, it's known that proxy servers aren't very effective at unblocking websites anymore.
On top of that, they provide no security, although they make you anonymous. With no security and encryption, other people can easily intercept your connection and find out its content.
This can be done by anyone who operates the network at school.
For that reason, we recommend using a proxy server only as a short-term solution. If you really need to unblock YouTube for some reason, you can do so, but don't spend too much time because of the lack of encryption and security.
Another reason why this method isn't good is because of the slow speeds that you usually get. So, even if you unblock it, don't expect to enjoy full HD videos or short buffering times.
Using a Website's IP Instead of URL
Another method you can try is to type the website's IP address instead of its URL. You know that each website has its unique IP, right? Well, if you don't know, we're here to teach you new things – no need to thank us!
To get YouTube's IP address on different platforms, follow this easy guide below:
Windows: open the command prompt and type tracert youtube.com.
Smartphones (iOS and Android): find the Traceroute app on the Apple Store or Google Play, download it, and follow the steps to get the IP.
Mac: open the Network Utility menu and click on the Traceroute option. Enter "youtube.com" to get the IP address.
Linux: Open the Terminal and type dig youtube.com to get an IP.
Now that you have the IP, copy it and paste it to the web browser. The site should work if the school network administrator didn't block the IP address as well. If that's the case, you'll have to use a Virtual Private Network.
Getting a Free VPN to unblock YouTube at school
How about a free VPN instead, huh? Why should you ever pay for it, when you can get it for free? Let us tell you something. Nothing in this world comes for free, and when something does, know that the other end benefits from it.
Free VPNs are only marginally better than proxies in terms of what they offer. For the start, you'll get very slow speeds that won't keep up with the high-res YouTube videos you want to watch.
Moreover, you get limited bandwidth, which can range from 500 MB to 10 GB a month. This is really minuscule and won't allow you to enjoy the internet to the fullest. One 10-minute YouTube video can take more than 100 MB, depending on the resolution!
Above all that is lackluster security. Instead of 256-bit, free providers offer 128-bit encryption, sometimes, with no kill switch. Some of them even fail to encrypt the connection properly, which leads to IP and DNS leaks, exposing your online identity.
For us, the worst thing is that they keep logs of basically everything about you. This includes your personal info, browsing history, and so forth. That's why we can't recommend a majority of free VPNs out there.
Windscribe is a good choice, but it comes with bandwidth limitations, slow speeds, and the 5 Eyes jurisdiction, so it's a risky option.
Summary
To wrap things up, let's digress on how to watch YouTube at school. Unblocking sites at school can be VERY easy if you know the right solution. The solutions we gave you are not all guaranteed to work, except for premium VPNs.
We understand that some of you don't want to pay, but the price of a few bucks a month shouldn't be a big deal for a majority of people. For that price, you can get ExpressVPN that will allow you to unblock any site you want at school and free you from the claws of your school network.
Remember that it offers a 30-day money-back guarantee even for the monthly plan, so you can try it and see how it works. With a heavily-discounted price, this provider will give you an insane value for the money.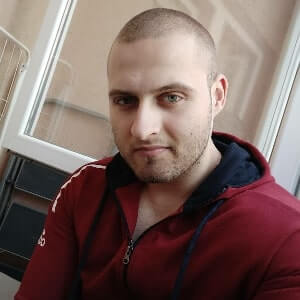 A professional writer with a Master's degree in Mechanical Engineering. Since his youngest age, he loves everything related to internet, technology, fitness, games, and dogs! He joined our team in order to bring his deep knowledge in security services, among which VPN is of course a key component.