There is nothing as thrilling as placing a bet on your favorite sports team. It makes any match or game more exciting. Online betting has made it much easier to place a bet from the comfort of your home with each country having a favorite platform to do so.
However, when away from home, it is not as easy to place a bet, as sites are geo-restricted. So, if you want to know how to unblock and access your bookmaker abroad, the answer is right here.
To unblock your favorite bookmakers, you need the help of a VPN (Virtual Private Network). If you have never heard of such an application, you should first read the definition of a VPN here.

Why Is Content Restricted?
You can freely use your favorite online betting sites in your country but once you travel outside of that country, you might find them inaccessible.
When you visit the site to place a bet on the latest basketball or football match, for example, you might find yourself coming up against a notice telling you that you cannot access the site.
This means that you encountered a geo-restriction.
Website blocks are put into place depending on the IP address. Each country has a specific range of IP addresses. When visiting the website, the site picks up your location through your IP address and blocks you or allows you to visit it, depending on the location associated with that IP.
Unblock online betting abroad with ExpressVPN now >
Using a VPN is one way (and the best one!) of overcoming the blocks. A Virtual Private Network gives access to servers around the world.
When you connect to a server in your home country, you take on an IP address as though you are still located in that country. This is even though you might be halfway around the world.
Gaining access to restricted content is one reason for using a VPN. However, a VPN subscription plan provides many benefits. Why should you use a VPN? The answer is here!
Using a VPN to Unblock Bookmakers Abroad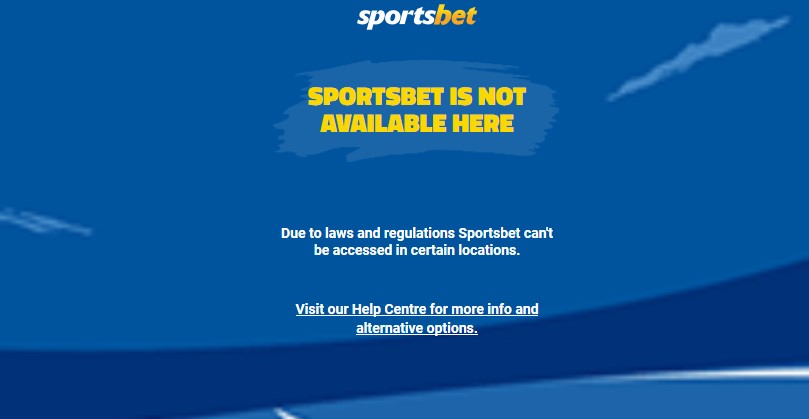 It is relatively easy to access bookmakers abroad using a VPN. If you are going outside of your country and want access to betting or any other blocked website, you can follow the steps below.
Here's our video that shows you how to unblock all betting sites anywhere in the world:
https://www.youtube.com/watch?v=L3kPMokYs6w
1. Choose a VPN Provider
The first step is choosing a provider. We are going to list some below and all of them offer what you need to unblock any website wherever you are in the world.
So choose a provider and sign up. Plans are available on a month-to-month basis or paid yearly upfront. Note that you can save money by paying upfront for the plan.
For instance, with ExpressVPN, you can take out a one-year plan paid upfront. You actually get 15 months, not 12 months, as you get three months free. Another benefit is that you save 49% when compared to if you had paid month-by-month.
2. Download Apps to Devices

Choose any apps that you want to download to the devices that you use to gain access to your online bookmaker when abroad or at home.
All of the VPN providers on our list support a wide range of devices.
Providers allow you to install any number of apps and enjoy simultaneous connections up to a limit. This means that different family members can use the plan for different things.
3. Launch the App on Your Device
To unblock online betting abroad, you need to launch the app on your device and sign in using the credentials given.
We have chosen ExpressVPN as our example but the dashboard should be similar for other providers.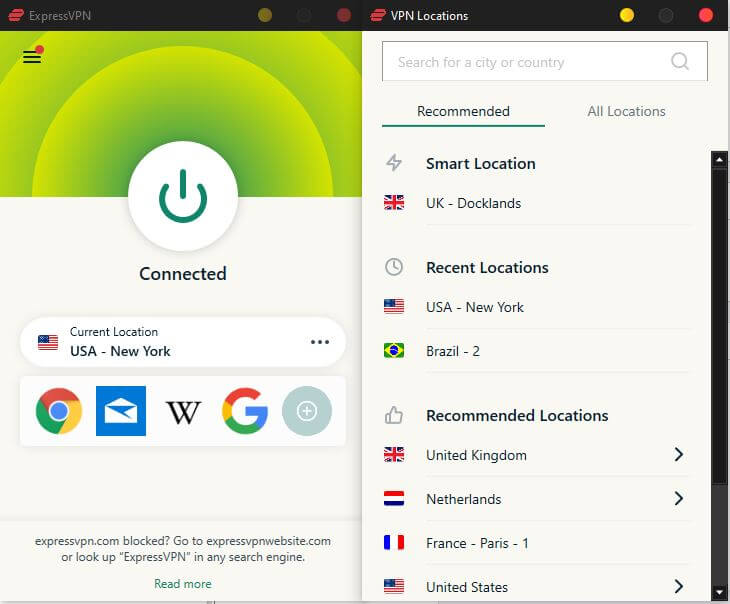 Open up the dashboard and choose a server from the list out of those supported by the provider.
The best server is going to depend on the bookmaker in the country you want to use. For instance, if you are located in Canada and use Bodog, you should connect to a server in Canada.
If you have an account in the USA with Bet Online and want to unblock sport betting sites, you should choose a server in the United States.
Once you have chosen the country, click on the connect button to connect to that server.
4. Launch the Bookmaker Website or App
When connected to the server of the country whose bookmaker you want to unblock open up the app or website. You should now be able to bet regardless of the country you are currently located in.
Best VPNs to Unblock Online Betting Abroad
We have chosen what we think are the best VPNs for unblocking betting sites abroad.
1. ExpressVPN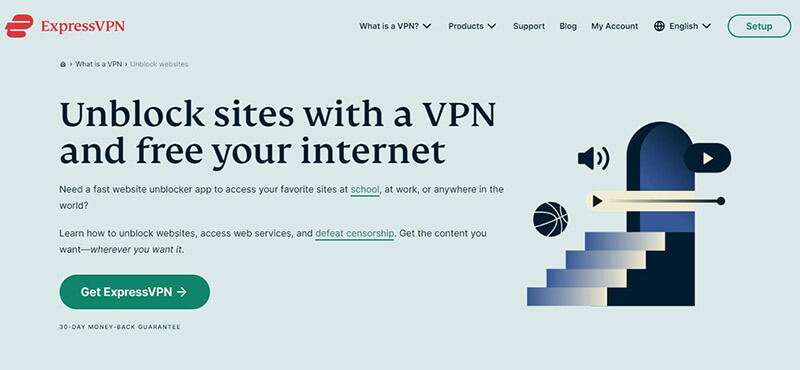 ExpressVPN is an all-around premium provider, offering some of the fastest optimized servers. The provider offers access to 3,000 servers based in 94 countries around the world. This makes ExpressVPN a superb choice for accessing geo-restricted content.
The provider is one of only a few that still work in countries where censorship is high, to overcome blocks and access geo-restricted content.
ExpressVPN comes with military-grade security and encryption to ensure your personal details remain your own when betting online. This is something considered essential when using your financial details online.
Connections are fast as the provider runs its own encrypted DNS on all servers. This results in fast and reliable connections. Along with this, if the server should disconnect from the internet, a Network Lock (Kill Switch) will make sure all internet traffic is blocked.
Note that ExpressVPN also offers unlimited bandwidth with no capping or throttling and you can use the plan on up to five devices at the same time.
All of this and more makes it a great candidate to unblock and access sports betting sites abroad.
PROS:
Best speeds
Unblocks Netflix
94 countries covered with 3,000+ servers
Client support 24/7/365 via online chat
30-day money-back guarantee
Easy-to-use application
CON:
More expensive than competitors
Unblock content with ExpressVPN even in high-censorship countries >
---
2. CyberGhost

CyberGhost is another great VPN provider to get around sport betting restrictions abroad. If you want an in-depth look into the provider, read our CyberGhost review.
In short, this is a fast and secure Virtual Private Network provider allowing users to stream and browse the internet without limitations. Along with this, CyberGhost ensures that data remains safe using 256-AES encryption.
With thousands of servers behind it, there is sure to be one in the country where you want to unblock bookmakers. Along with gaining access to sites such as Bet365, Betstar, Bet Online, and many others, users can also unblock streaming platforms and websites such as Facebook, Twitter, and YouTube.
CyberGhost supports a wide range of devices and different protocols. The provider also offers access to 7,400 servers located in 90 countries around the world. Whether you want to bet using an account located in the UK, USA, or any other, there will always be a server for you!
PROS:
More than 7,400 servers
7 simultaneous connections
Client support 24/7/365
45-day money-back guarantee
Extremely cheap long-term plans
CONS:
Does not work in China
Slower speeds
Access your favorite bookmakers with CyberGhost now >
---
3. NordVPN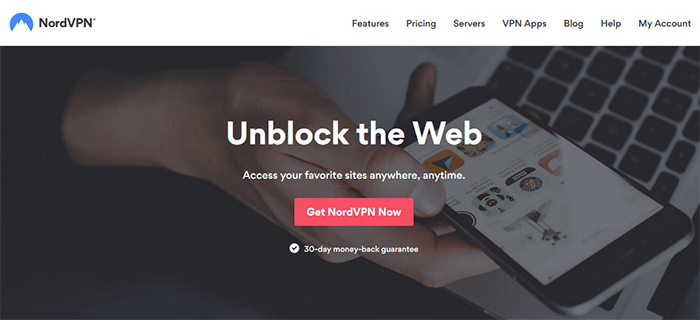 NordVPN is another good choice to access bookmakers abroad. The provider boasts 5,200 servers in 60 countries around the world.
With military-grade encryption on offer, you can be sure that whether you are browsing the web or betting online, your details remain safe and secure.
NordVPN may be a good choice in countries with strict censorship where gambling is illegal as the provider offers a Double VPN feature. Using a VPN for betting in countries where gambling is illegal may result in your account being suspended if found out.
However, with NordVPN you can hide behind not one, but two different servers.
With a double VPN in place, you enjoy double encryption. This is possible as any online activity hides behind two servers, granting a double layer of security.
Another feature offered by NordVPN is CyberSec. This feature adds more security along with providing you with better performance when betting online.
The feature blocks any suspicious websites to ensure malware cannot infect the device you are using. It also blocks ads to speed up web browsing and of course, free up the page from annoying ads and pop-ups.
PROS:
30-day money-back guarantee
5,200+ servers in 60 countries
Unblocks a lot of websites
Client support 24/7/365
Double VPN protection
CONS:
Expensive short-term plans
"Only" 60 countries
Unblock favorite bookies with NordVPN >
---
4. Surfshark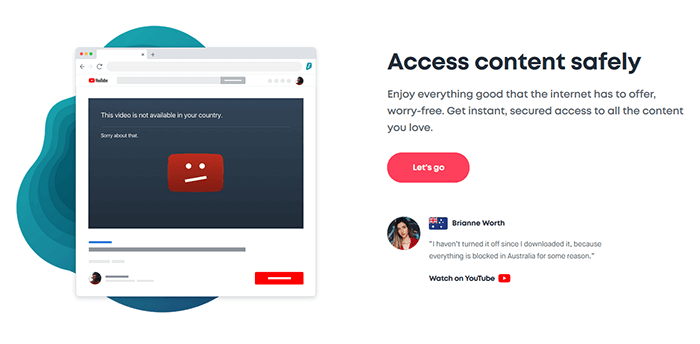 Anyone who wants the privacy and other benefits offered by a VPN, but is on a tight budget, might want to consider Surfshark.
The features and benefits of Surfshark are not limited, with the provider offering 3,200 servers in 65 countries around the globe. This is great news for people who want to gain access to sport betting online abroad.
One thing where the provider stands out is the fact that it doesn't put any limits on the number of devices you can protect at the same time. The provider also offers support for a wide range of devices.
Surfshark offers plans that come with technology to prevent malware, phishing attempts, and trackers. This is great news when dealing with finances online.
Along with offering superb AES-256-GCM encryption, Surfshark also offers numerous other security benefits. These include Multi-hop for multi-layer protection, numerous protocols, DNS and leak protection, and a Kill Switch.
PROS:
Very cheap plans
Client support 24/7/365
30-day money-back guarantee
Strong security
Servers in 65 countries
CONS:
Slower speeds
Occasional kill switch issues
Beat geo-restrictions with Surfshark >
---
5. IPVanish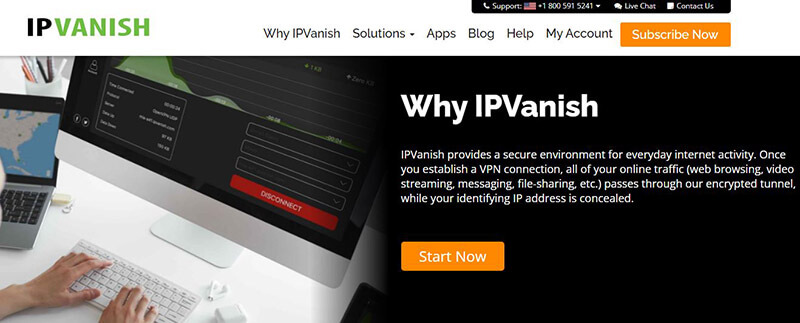 IPVanish offers secure internet browsing that ensures not even your ISP can tell what you do online.
The provider offers servers from around the world with internally managed servers to overcome censorship and geo-restrictions. IPVanish does not provide access to the thousands of servers other providers offer. Only 1,900 of them are there.
However, they are fast and located in 75 countries.
Plans from IPVanish include unlimited bandwidth, zero logging, unlimited server switching, and up to 10 simultaneous connections.
PROS:
Speed is quite good
User-friendly apps for all devices
Unlimited server switching
10 simultaneous connections
CONS:
Based in the USA
Not many servers compared to its rivals
Outdated-looking apps
Bypass gambling restrictions with IPVanish >
---
Unblock BetOnline Outside of the USA
BetOnline is one of the most popular online betting sites in the USA. This is because it offers sports betting on all the popular US sports, along with being a poker and casino website.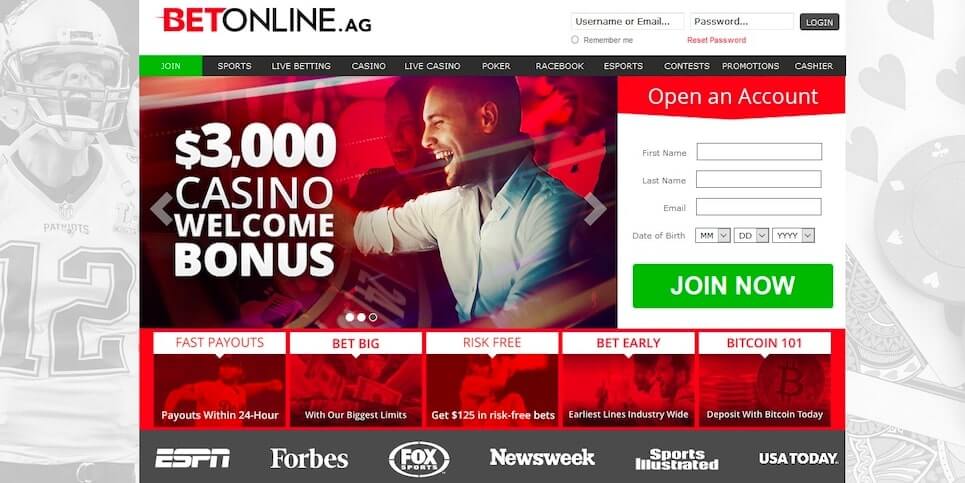 Whether you want to bet on the results of an MLB, NFL, or NHL game, boxing, or more, the site covers it.
The site attracts new users to betting online with a welcome cash bonus. The site also offers reload bonuses and rollovers.
Unblock BetOnline using ExpressVPN >
BetOnline welcomes residents of the USA but if you want to continue using the site when outside of the states, you can do so by choosing any of the US servers when using a VPN. ExpressVPN offers numerous servers in the USA.
Access Betfred Outside the UK
Betfred is one of the most popular betting sites used by people located in the United Kingdom. In the same way as Bet365, Betfair, Ladbrokes, Coral, and others.
Starting from a single shop in the UK, the brothers now enjoy a £3.5 billion turnover with more than one thousand shops spread over the UK.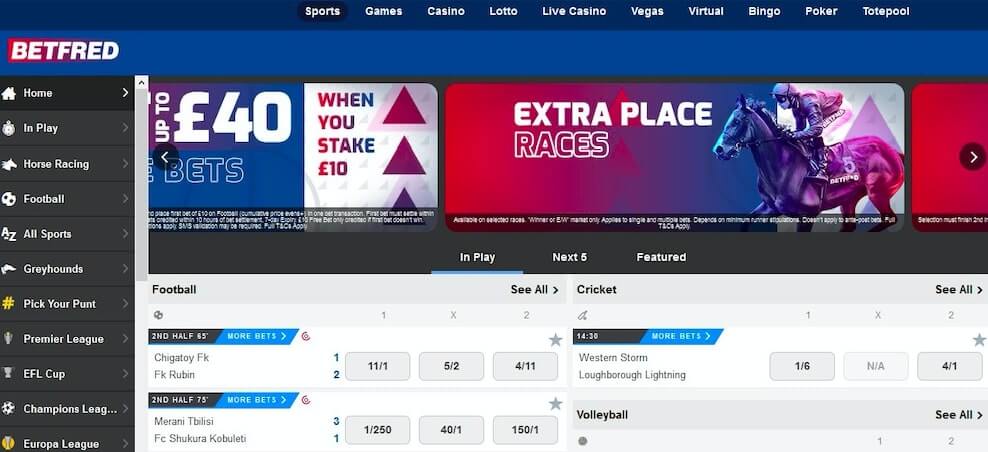 The online betting site is used by millions of brits to place bets on local sporting events such as Football, horseracing, Wimbledon tennis matches, darts, cricket matches, and more. Overseas sporting events are also covered.
If you want to unblock online betting on Betfred when you're abroad, you might want to consider ExpressVPN and choose a server from the UK.
Unblock Sportsbet Outside of Australia
Millions of Australians use the Sportsbet website to place bets. The bookmaker is one of the oldest and biggest betting websites in the country thanks to the site running numerous promotions on a range of sporting events.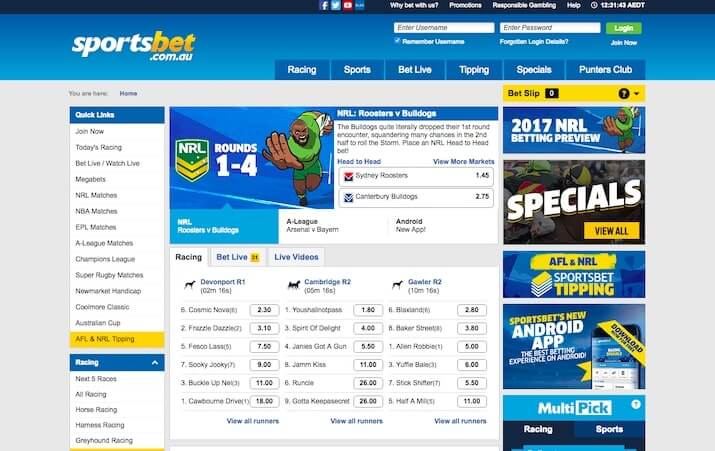 The company is trusted, along with offering Australian products limited to residents of the country.
Sportsbet is aimed at Australian residents but if you want to continue using the site to place bets when outside the country, you can access it by taking on an IP address from Australia.
ExpressVPN might be a good choice for anyone wanting to overcome geo-restrictions in the country, offering servers in Brisbane, Perth, Sydney, and Melbourne.
Unblock Bodog Outside of Canada
Bodog is a popular betting website for Canadians. Millions of users head to the site to place bets on a wide range of sporting events.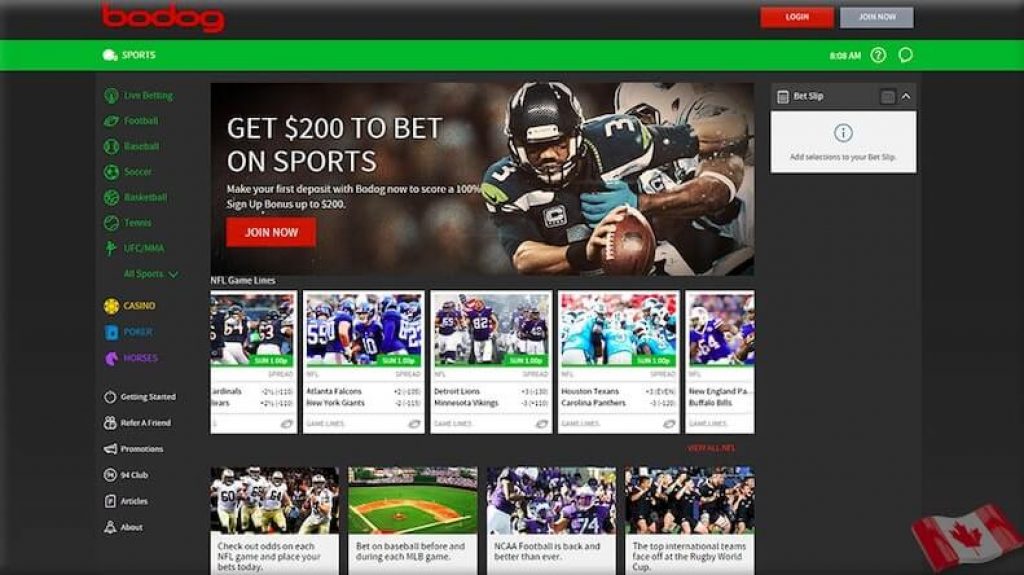 Not only can Canadians bet on sports results such as soccer, Formula 1, boxing, MLB, NHL, and NBA, but the site also takes bets on entertainment. Canadians have placed bets on the outcome of who rules Westeros in Game of Thrones and who will win Emmy awards.
If you want to gain access to the site outside of Canada, why not use a VPN and choose a server based in Canada.
Access Bodog outside of Canada with ExpressVPN servers >
Should I Use a Free Virtual Private Network?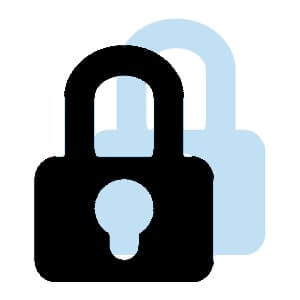 You might be wondering why you should choose a paid VPN when there are numerous free ones out there. Well, there are indeed providers out there offering free-to-use services.
However, it depends on how you want to use the service and how much you value your privacy.
If you want to unblock and access online bookmakers outside of the US or any other country, we would not recommend you to use a Free Virtual Private Network for this, as the free ones do not offer the wide range of servers that paid ones offer.
The same applies if you undertake online banking or shopping. The encryption offered by free VPN providers cannot match that offered by established paid for Virtual Private Network providers. Free Virtual Private Networks rely on ads placed on the site and in apps.
This brings about the risk of malware.
They also often collect your data and then go on to sell it. Free providers may log how you use the service and this can bring risks if you are overcoming geo-restrictions or unblocking content and using it in a country where it is illegal.
Paying for Virtual Private Networks such as the ones we have listed offers encryption via a virtual tunnel. The providers offer DNS leak protection, servers managed by themselves, no logging, and more, which free VPNs, honestly, won't give you.
FAQ
? Why is it impossible to bet from abroad?
There are several reasons. The first is that your bookie does not have a gaming license in the country where you are currently. The second is that you are in a country that prohibits and censors all gambling.
Whatever the case, know that you will be able to count on the help of a VPN to bet on your sports betting site while being abroad.
? What is the best VPN to gamble abroad?
From our personal experience, the best VPN for unblocking sports betting or casino sites is ExpressVPN. It has a pretty impressive success rate and will only slow your Internet connection very little.
Otherwise, we can also recommend CyberGhost and NordVPN.
? Can I use a free VPN for unblocking betting sites?
No. Free VPNs are not recommendable no matter what you plan to do on the Internet. Indeed, they very often resell your personal data, restrict your data consumption, and they're for the most part very ineffective when it comes to unblocking your sports betting site (both bet365 and Betfair).
We prefer a paid VPN. If you do not want to spend so much on a VPN, take a look at Surfshark which is a very good service.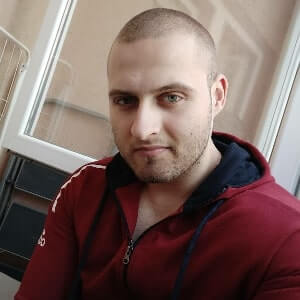 A professional writer with a Master's degree in Mechanical Engineering. Since his youngest age, he loves everything related to internet, technology, fitness, games, and dogs! He joined our team in order to bring his deep knowledge in security services, among which VPN is of course a key component.