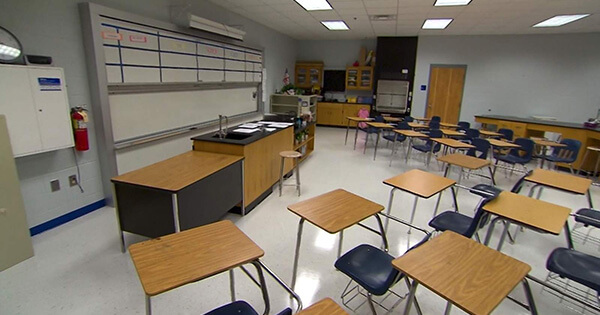 As many say, schools are the place where we need to sit and pay attention carefully. Nowadays, though, a vast majority of schools use the online world when it comes to uploading lessons and important notifications, so having proper internet access at your school is important. However, with many website blocks and restrictions, it's hard to access even some of the basic websites. That's why, today, we're going to give you a few tips on how to overcome this obstacle at your school.
Use a VPN to Bypass Blocks at Your School
Whether you're going to school or a university, you'll encounter a plethora of restricted websites. Namely Facebook, YouTube, Instagram, Snapchat, Discord, Twitter, and Facebook Messenger.
Now, you'll agree that most of these apps and websites are made for fun. But, if the school blocks Facebook and its Messenger, you're cut out from your friends and family – in a way. How would you communicate with your friends regarding homework, for example, if your communication means are blocked?
Furthermore, when the big break comes, you maybe want to have some fun, but not with your buddies. You'll want to watch your favorite podcast on YouTube or see what's up on Instagram. Given how harsh these blocks are, it's impossible to do so.
There are many solutions that we're going to discuss further in the article. But, for us, the best solution to unblock websites at school is to use a VPN.
How Will a VPN Help You Unblock Some Websites at School?
If you're still going to school, you may not be very tech-savvy. A VPN is a service that many people have heard of, yet they don't know what it is. VPN stands for Virtual Private Network and it's a perfect tool to help you access blocked websites at school.
The question is – how does it achieve that?
First of all, it allows you to connect to a remote server in another country (or the same as where you are now), which gives you a new IP address. In other words, you change your online identity completely. This lets you bypass your school ban and access the internet freely.
While doing so, a VPN wraps your connection inside a so-called VPN tunnel, which serves as encryption. This way, no one will be able to track and intercept your internet traffic, leaving you hidden from the prying eyes.
VPNs have many benefits for those facing this problem, as well as privacy and bandwidth throttling issues.
Best VPNs to Unblock Websites at Your School
Now that you know what this service is and what it can do, it's time to introduce you to our top 3 choices for unblocking sites at school/uni in 2023.
1. ExpressVPN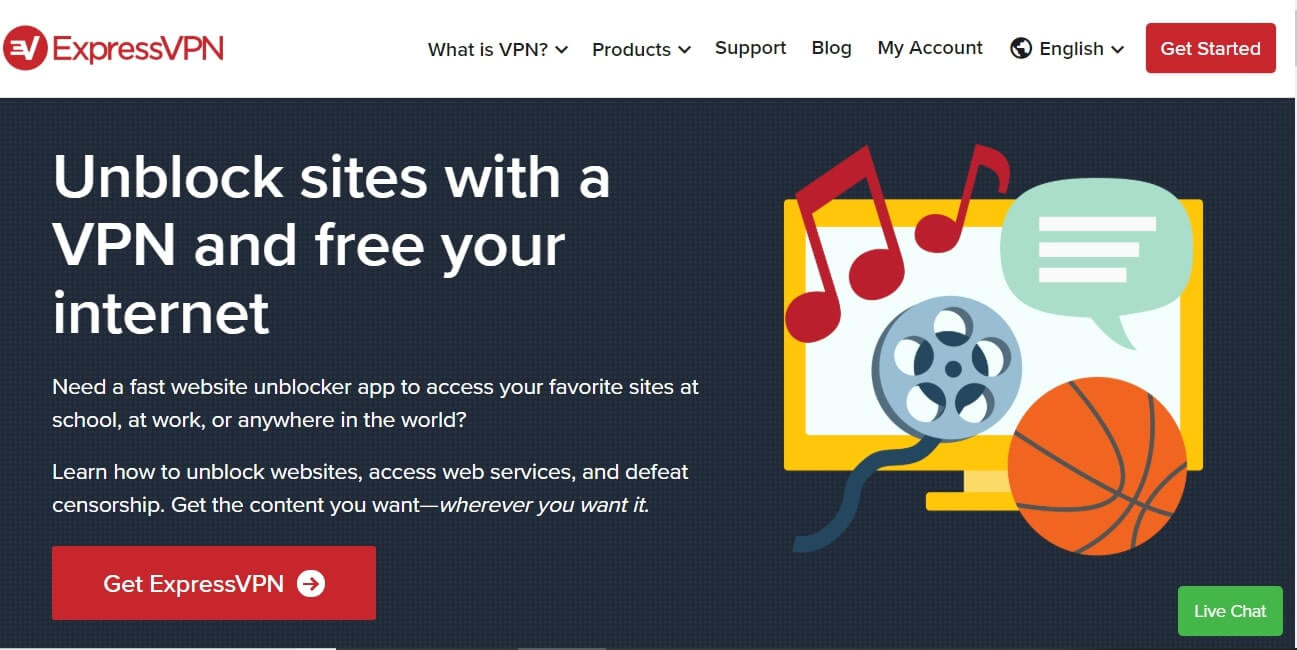 ExpressVPN is your best bet if you want to successfully unblock sites. It has 3,000+ servers in 94 countries, which allows you to stay anonymous with a click of a mouse. Furthermore, the provider can unblock and let you use Netflix freely, so you can enjoy some streaming while it's a big break.
While not the cheapest out there, the provider gives you the necessary privacy and security so that the school censorship system doesn't detect you. There are 256-bit AES encryption and a kill switch that you can use on all devices (except iOS).
The good news for speed lovers is that this is the fastest solution on the market. While everyone else struggles to load websites, you'll be loading them easily. In case you have a laptop, you can connect ExpressVPN to it, and enjoy torrenting if you want to.
ExpressVPN has a crystal clear no-logging policy, which grants you infinite privacy, even if the company is compromised. And if you want to protect multiple devices, that's an easy feat. The provider lets you protect up to 5 devices simultaneously, with a single account.
Lastly, if you decide to get it, know that there's a 49% discount and 3 months free for an annual plan. It's more affordable than ever, so hurry up and snatch it while the discount lasts!
Unblock Sites at School With ExpressVPN >
2. NordVPN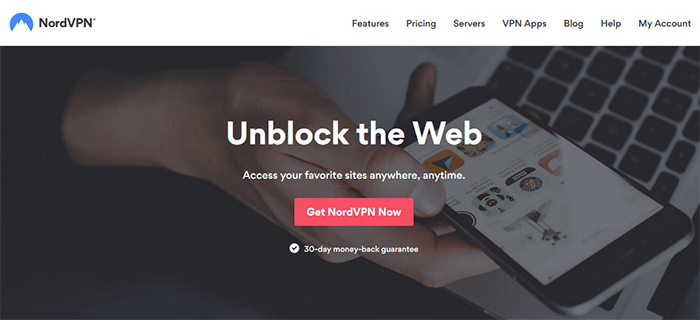 NordVPN is a great VPN provider for those at school. We know you love chit-chatting on Discord and watching some girls on Snapchat, and so does NordVPN. Therefore, it provides substantial performance for all your browsing needs and requests.
In terms of unblocking websites, this provider is a champ. You can unblock HBO GO, Facebook, YouTube, Snapchat, Netflix, Hotstar, and many more. The speeds are excellent, by the way, so you can forget about stuttering or endless buffering on your favorite videos.
You get some intuitive apps for all platforms, so get ready to equip your mobile phone properly. NordVPN also uses 256-bit encryption but introduces several new features – Double VPN, obfuscated servers, NordLynx protocol, and CyberSec, an ad-blocker.
All of these features make NordVPN very secure and capable of bypassing your school's censorship. If you're all about quantity, you'll be happy to see that the provider packs 5,600+ servers in 60 countries worldwide. Big numbers, aren't they?
Well, they get bigger when it comes to simultaneous connections – you get 6 of them, instead of 5 with ExpressVPN. Plus, there's 24/7 customer support that will fix your VPN-related issues in a matter of minutes.
Access Your Favorite Sites in School With NordVPN >
3. CyberGhost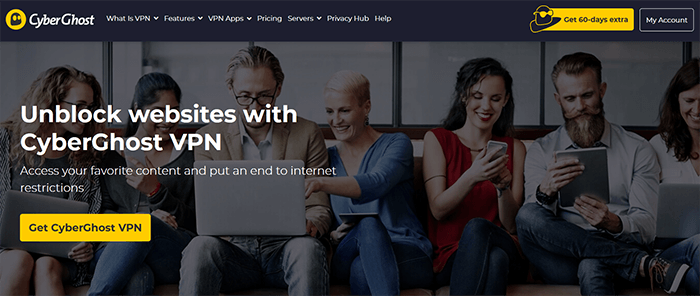 If your parents don't want to get you a VPN subscription, you can persuade them to take a look at CyberGhost. Why? Because it's dirt-cheap and will cover almost your entire time at school with its 3-year plan. This plan offers 2 months free, so you can extend it a bit to your graduation, as well.
What makes CyberGhost so special is its server count, which is the largest on the market. 7,000 servers in 90 countries around the world – damn, that's a lot! Oh, and don't think these servers are just for decoration. They work like a Swiss clock and are capable of unblocking every website at school.
Discord, Snapchat, Instagram, and Twitter – they'll be all yours, buddy! And if you'd like to stream an episode of your favorite show, Netflix and HBO GO will be available if you're outside the US.
CyberGhost has dedicated servers for streaming and torrenting, too, making these activities far more enjoyable. Much like NordVPN, CyberGhost has an ad-blocker and uses military-grade encryption for keeping you safe. Needless to say, IP and DNS leak protection work wonderfully, which is a crucial parameter to bypass blocks at school.
The fact that it offers 7 simultaneous connections is enough to justify its low price. To make things better, its 24/7 support is pretty responsive and will clear out the potential problems. Of course, regarding VPNs – don't smother them with your high-school break-ups!
Enjoy Internet Freedom in School With CyberGhost >
Other Methods to Unblock Websites at School
For those who didn't get it, we recommended premium VPNs for this purpose. We know that some of you are against paying for such a service, but this is truly THE best solution you can go for.
If you still think that we're lying or talking non-sense, we're going to give you a few more FREE solutions to resolve this problem. Just to warn you – they're not as effective as VPNs!
Use a Proxy Service
Back in our school days (looong ago!), we used to try these proxy services to unblock websites. And much to our surprise, it worked – it freaking worked! With them, we could easily unblock YouTube and Facebook, while some of the nastiest children accessed porn sites. Shame on them, really.
A proxy service is a good solution in the short run. However, beware that it won't always work for unblocking sites. Furthermore, it gives you an unsecured connection, which does nothing for your privacy. In fact, it just makes you transparent online, making it easy for the watchful eyes of your school to detect you.
Proxy services connect you to a random server in another country. Then, your connection goes through the proxy server, ending up at its destination e.g. the site you want to visit. The problem here is that your connection isn't encrypted as it is with a VPN like ExpressVPN.
This leaves space for anyone to intercept your traffic and see your online activities. Apart from this, they won't unblock Netflix, Facebook, and other relevant sites. Not to mention the speeds, which are atrocious and will make you wait for minutes for a single page to load.
You might as well get a dial-up internet and ride it out.
Type an IP Instead of the URL
Schools sometimes aren't as perfidy as you might think. They, in fact, apply very simple tricks that people break their brains about. Each website has an URL, which is basically its address. And we all use URLs to access them – logically.
Did you know that a website has an IP address as well? And did you know that your school usually blocks only the URL and NOT the IP? Now, we're talking! Here's how to find out the IP address of the site you want to access, on different platforms:
Windows: open the command prompt and type in "tracert websitename.com" to get an IP.
Android and iOS: find the Traceroute app on the Google Play and Apple Store and follow the steps in-app to get the IP.
Mac: open Network Utility and select the Traceroute option. Just enter the website address and it will display its IP.
Linux: open the Terminal and type "dig websitename.com."
Now that you have the IP of the website you want to visit, copy, and paste it into your Chrome, Mozilla, or another web browser. If the school hasn't blocked its IP, chances are that the website will work just fine.
Of course, the main downside of this method is that schools have already learned all the tricks that students use. Therefore, many of them have already blocked entire sites (including their IP), and not just their URLs. If that's the case, this method will not work.
Get a Portable Browser on a USB Drive
Some schools tend to apply much more restrictions that will prevent you to install browser extensions for unblocking sites for personal use. In that case, you can get a USB drive and install a browser on it. For example, you can use Mozilla Firefox since it's lightweight and supports extensions.
There's a portable version of it, as well. Simply download the portable version, transfer it to your USB drive, and it's ready to use. When at school, plug it in the computer, boot it up, and enjoy the internet.
Theoretically, it sounds quite easy, and it is – if it works! But, this method, although popular, doesn't always yield great results. You'll have to pair it with a decent proxy, which is impossible to find, or get a VPN, which is, once again, the best solution.
How to Use a VPN to Unblock Sites at School?
Using a VPN to unblock sites at school is quite simple and can be done in a few steps:
Subscribe to a VPN. Our recommendation is ExpressVPN.
Download and install the apps you're going to use.
Open the app and sign in with the credentials you provided upon subscribing.
Click on the country under the connection button to open the server list.
Connect to the server you want from the server list.
Access the internet at your school freely 😉
Can I Use a Free VPN to Unblock Websites at School?
To wrap things up, we need to go over another question we get a lot, and it has to do with free VPNs.
Free VPNs, theoretically, let you do everything that paid VPNs offer, but for free. If this sounds impossible to you, you're right. How can a free service be the same as the paid one? It can't.
If you're going for free solutions, know that they're not effective at unblocking websites and preserving your privacy. They use weaker encryption and don't have enough "firepower" to blast through website restrictions at your school.
Furthermore, the speeds you get will be, on average, 40 to 50 percent slower than with the paid providers, which will make your browsing experience a chore. Not to mention limited bandwidth of just a few gigabytes a month, which is not enough to enjoy the internet without limits.
Lastly, they collect your personal data and browsing history, which they sell to third parties later on. This is how they expose you to advertisers and trackers that have your information, without you even knowing about it.
With that in mind, we don't recommend using free VPNs for this purpose. A much better choice is a premium option, such as ExpressVPN.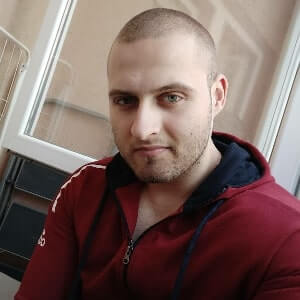 A professional writer with a Master's degree in Mechanical Engineering. Since his youngest age, he loves everything related to internet, technology, fitness, games, and dogs! He joined our team in order to bring his deep knowledge in security services, among which VPN is of course a key component.