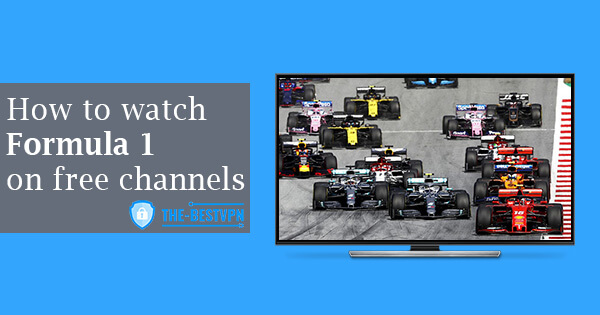 The Formula 1 World Championship has been the premier form of racing since it began in the 50s. It is shown on numerous channels around the world but the downside is that many of them are pay-to-view. There is a way of streaming Formula One free in HD, as it is available on numerous free-to-watch channels around the world.
Currently, Lewis Hamilton is at the top of the leader board but this can all change quickly with each race that takes place. You do not want to miss any of the exciting action in Monaco, Canada, France, and many more countries, and you do not have to as you can watch free.
What's in this article? Understand in 30s!
1. There are only few channels that broadcast F1, and they are often very expensive. But some channels online broadcast it for free. Sadly, they are geo restricted, and you can't watch them from abroad.
2. With a VPN, you will bypass these geo-blocks. It will give you a brand new IP address, located in the country you want.
3. Doing so, you will be able to watch F1 for free on 10 Bold, an Australian TV channel.
4. Find out all you need to know in the article below.
Video tutorial :
https://www.youtube.com/watch?v=7SPIhTbA6bI
Channels to Watch F1 Free
The channels listed below are all free-to-watch channels that stream the championship of Formula 1 (F1), which means that you get access to all the action.
However, they will be geo-restricted, which also means that you cannot access them from your country hence the need for a Virtual Private Network to overcome the restrictions.
| | |
| --- | --- |
| Australia | One and Network Ten (Tenplay www.tenplay.com.au) |
That's the best one! Just switch OFF your Adblocker if you use one. 
| | |
| --- | --- |
| Belgium | RTBF La Deux (www.rtbf.be) |
| Switzerland | RTS (https://www.rts.ch/play/tv/direct) |
| Albania | RTSH (www.rtsh.al/rtsh-sport) |
| Austria | Servus TV (www.servus.com/tv/rubrik/sport/) |
| China | Guangdong Television |
| Germany | Servus TV (www.servus.com/tv/) |
| Indonesia | Trans 7 (www.trans7.co.id/live-streaming) |
| Italy | TV8 (https://tv8.it/) |
| Japan | Nippon TV (www.ntv.co.jp) |
| Netherlands | NOS (https://nos.nl/) |
| San Marino | TV 8 (https://tv8.it/programmi/GP_tribul_mastercard_di_san_marino.html) |
| Slovenia | Kanal A |
| Thailand | PPTV (hwww.pptv.com/) |
| United Kingdom | Quest TV (www.questod.co.uk/) |
Does Free Really Mean Free?
When talking about free we are telling you that you don't have to take out an expensive subscription to be able to watch the racing.
If you are outside of one of the countries where you can watch free, then of course you will have to go with a VPN provider.
This is going to cost you but bear in mind that it will cost a lot way less than a Sky subscription. There is also the bonus of being able to use the service in many other ways. We'll look into this a little bit later in that article.
Formula 1 2023 Calendar
Before explaining to you how to watch the F1 season on a free channel, we invite you to discover the calendar for the 2023 season (the latter could still evolve because one race has not yet been confirmed):
18 March – Bahrain
25 March – Saudi Arabia
8 April – Australia
22 April – Italy
6 May – USA
20 May – Spain
27 May – Monaco
10 June – Azerbaijan
17 June – Canada
1 July – Great Britain
8 July – Austria
22 July – France
29 July – Hungary
26 August – Belgium
2 September – Netherlands
9 September – Italy
2 September – Russia
30 September – Singapore
7 October – Japan
21 October – USA
28 October – Mexico
11 November – Brazil
18 November – Abu Dhabi
Streaming F1 for Free – Difficult But Not Impossible
Streaming F1 free is difficult but it is not impossible, providing you can overcome the geo-restrictions. Geo-restriction is the reason for which some TV channels can't be viewed outside some specific geographic areas.
Some help is required to be able to get around the geo-restrictions imposed in different countries. As each country has a range of IP addresses if you are located outside a particular country, you will find that you are blocked.
However, there is a way to get around restrictions and this is by signing up with a VPN provider.
Stream Formula 1 with ExpressVPN>
As mentioned above, content is restricted based on the IP address of your device. When you visit a website, it determines your device's IP address to see if it matches the range for that country.
If not, you are met with a notice telling you content cannot be accessed from your country.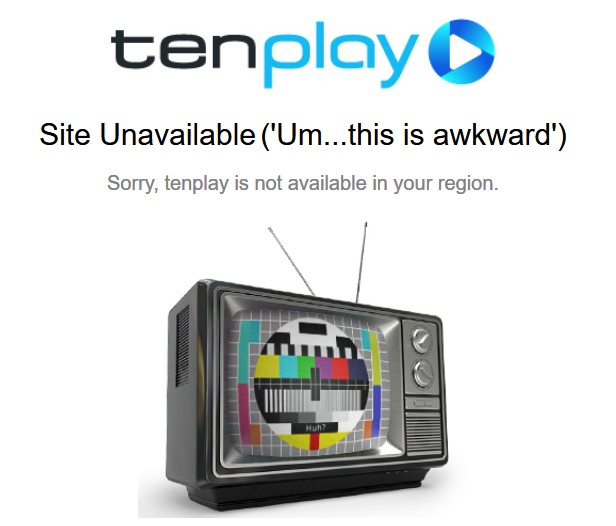 If you want to overcome the restrictions, you have to change your IP address to one that matches the country. While this may sound straightforward, it isn't. That is unless you are behind a Virtual Private Network.
A Virtual Private Network provides the tools needed to hide your IP address and take one on from any country around the world. By doing so, you'll get access to F1 live streaming for free. Using the VPN software, which you can download from the provider, you can easily connect to a different server and take on an IP address in that country.
Overcome geo-restrictions with ExpressVPN >
If you do this, it looks as though you are actually located in that country and you can bypass the blocks.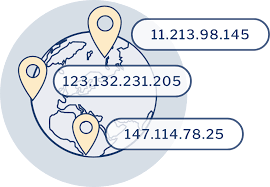 The Solution to Stream F1 Live
With a VPN, it is easy to overcome any content restrictions by obtaining an alternate IP address from another country. Then, you can unblock the free TV channels in any location.
1. Choose a VPN Provider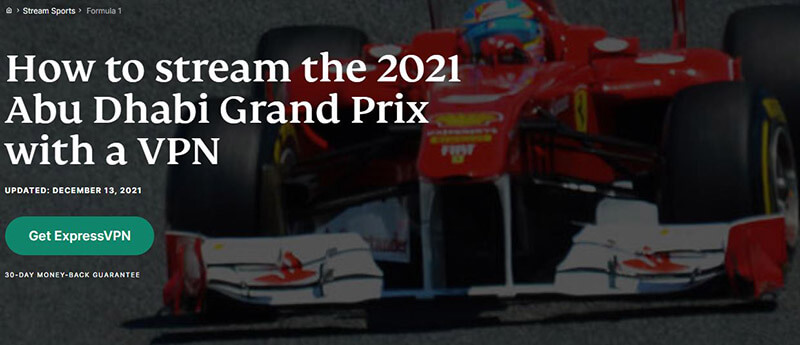 To begin with, you will need to choose a provider if you want to have access to the best streaming of Formula 1 (F1) for free.
There are many choices of providers so there is sure to be an affordable option for everyone. We highly recommend ExpressVPN owing to the thousands of optimized and super-fast servers available. Alternatives include CyberGhost, NordVPN, and Surfshark.
Any one of the above providers offers what you need. While ExpressVPN is a premium provider, they do offer a lot for the money, including a 30-day no-quibble money-back guarantee.
2. Choose a Plan
There are monthly and yearly plans available. You might be tempted to take a plan just for the month if you think you can only use the VPN to watch restricted content, but this is not the case. There are many more uses and we talk about them later.
In fact, if you choose ExpressVPN you can save 49% on the cost when compared to a monthly plan when you take out a 12-month plan with three months free.
3. Download and Install Apps
The next choice you need to make is to choose what apps you want to download. All of the providers support numerous devices. So choose apps, download them, and install them onto any device that you plan to use for streaming Formula 1.
4. Connect to a Server
You now need to open up the app that you installed onto your device. You can achieve this by finding the icon from the installation and clicking on it.
A dashboard will open up, we have chosen ExpressVPN, but the dashboard of other providers should look similar.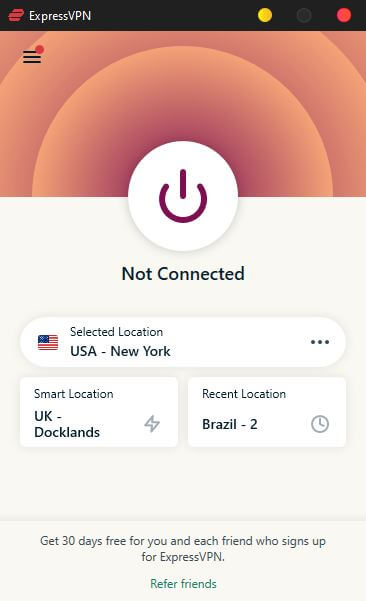 As you can see, there is a button to connect to the server through the software but right now, it is red. Go ahead and click on the bar with the country name and you should see a list of servers available.
What is important here is to keep in mind that you need to find a server from one of the countries offering free Formula 1 streaming from the list above. You'll see the whole list of free TV channels just below.
Once you have chosen a server simply click on the connect button and it will turn green. To watch 10 Bold, which is an Australian TV channel that streams Formula 1 for free, you need to connect to a server in Australia.
This means your IP address is hidden and you have one from the country you chose. This also means restrictions are removed as it now looks as though you are located in that country.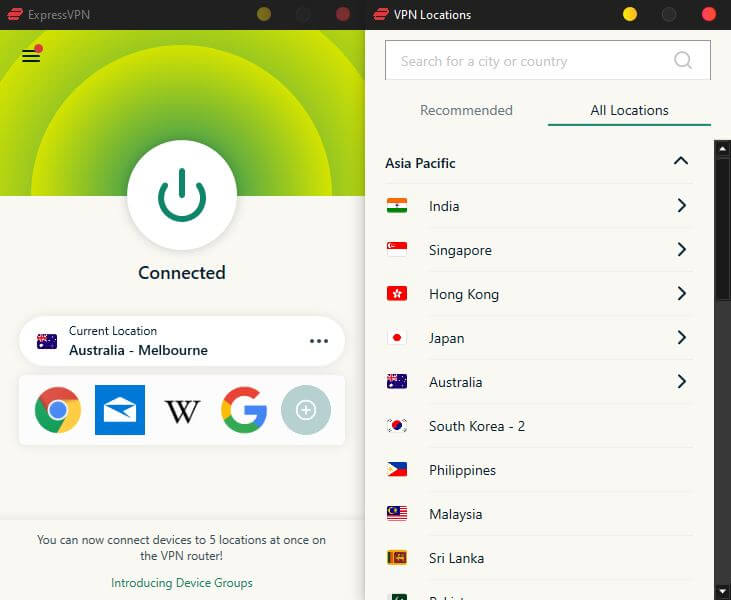 You can now go to the website in the country you chose from the list and watch the races.
What to Look for in a VPN?
When choosing a provider to gain access to content that would otherwise be restricted, it can pay to choose wisely. You might want to look for:
A provider that offers access to a huge number of servers worldwide;
One that offers unlimited bandwidth and speed so you are not faced with stuttering and stoppages;
A VPN provider that offers a huge range of apps for different devices so you are not limited to just one device.
With the above in mind, we recommend ExpressVPN, CyberGhost, NordVPN, or Surfshark. All of them will enable you to unblock geo-restricted TV channels that stream Formula 1 live free.
Top VPN Providers for Streaming
As mentioned above, there are many choices of providers out there but some are better than others in regards to getting around content restrictions. We recommend using ExpressVPN, CyberGhost, NordVPN or Surfshark.
Here find a small recap of the different solutions :
1. ExpressVPN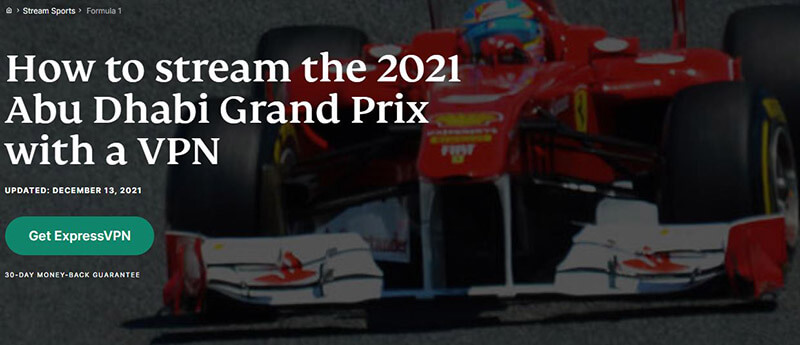 ExpressVPN is our number one choice for not only being able to access content from other countries and overcoming the blocks.
The provider offers 3,000 high-quality servers based in 94 countries around the world. This means that you are sure to find one in one of the countries listed above. All servers are blazing-fast, which is essential when trying to access content in HD.
There is nothing worse than finding the race stops and starts or stutters as this generally happens at one of the most significant parts of the race. You also get unlimited bandwidth and speed. ExpressVPN also offers superb military-grade encryption.
This means that you are safe whilst streaming content from anywhere. Finally, the VPN comes with an unconditional 30-day money-back guarantee on all plans.
STRENGTHS:
Fastest VPN
Servers in 94 countries
24/7 Live chat support
49% discount and 3 months free on a 12-month package
30 days money-back guarantee
Unblocks all TV channels
WEAKNESSES:
Not the cheapest VPN provider
Only 5 simultaneous connections
---
2. CyberGhost

CyberGhost is an alternative provider to use to watch Formula 1 live from different countries.
The provider offers a range of apps for devices and the software can automatically connect to a specific server when launched. There is also one-click access to servers and a large number of servers to choose from in different countries around the world.
CyberGhost is particularly well known for its very competitive prices and its 7 simultaneous connections. You'll be able to use it on many devices at the same time to stream F1 live and free. CyberGhost also offers a 30-day money-back guarantee on plans taken out over 6 months.
Be careful, for 1 a monthly plan, the money-back guarantee is only 14 days.
STRENGTHS:
Very cheap options
More than 7,400 servers
Optimized servers for streaming
24/7 Live chat support
7 simultaneous connections
WEAKNESSES:
Not the fastest
Does not work everywhere (China, UAE, Iran,…)
---
3. NordVPN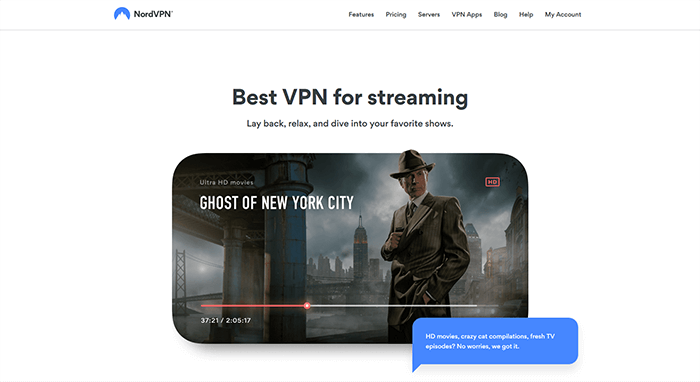 NordVPN is a good and affordable option for streaming F1 in HD. Again, they have plans starting from a few dollars per month which can be very interesting. This will not only let you stream F1 but also MotoGP or many other sports.
The provider gives access to numerous worldwide servers, which means that you should find one based in one of the countries on the list above. Thanks to unlimited bandwidth, the connection will not slow down and come to a stuttering stop just at a crucial part of the race.
NordVPN offers a range of apps, including Windows, macOS, Android, and iOS, plus others. This gives you the freedom to enjoy the race on any device you want. They also offer simultaneous connections, so all the family can enjoy it.
STRENGTHS:
Very cheap options on long-term subscriptions
More than 5,200 servers
24/7 Live chat support
6 simultaneous connections
Double VPN
WEAKNESSES:
Not the fastest
Expensive for short-term plans
Unlimited bandwidth with NordVPN>
---
4. Surfshark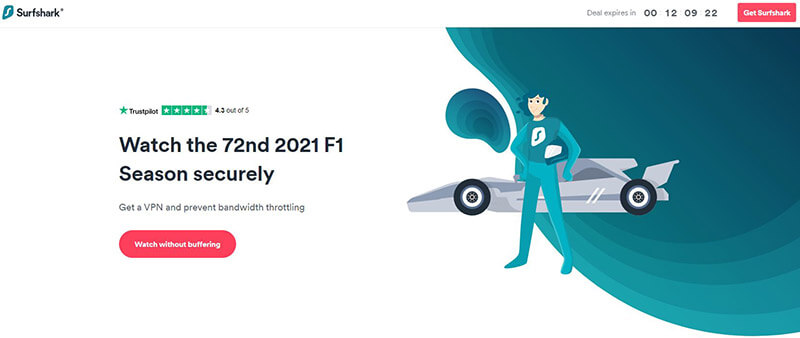 Last but by no means the least, is Surfshark. They are fairly new to the world of Virtual Private Networks but are well worth considering as they do offer affordable plans, which can be paid yearly or monthly. Their 24-month plan is one of the cheapest on the market.
Surfshark comes with a huge server fleet of 3,200+ servers in 65 countries, which is, obviously, great for streaming Formula 1. The provider offers unlimited bandwidth and the whole family can use the apps on their devices. You also have a 30-day money-back guarantee and there are apps for a range of devices.
STRENGTHS:
One of the cheapest VPNs
Unlimited simultaneous connections
24/7 Live chat support
Very good to stream F1 free
WEAKNESSES:
Slower speeds
Occasional kill switch issues
Affordable streaming with Surfshark >
---
Additional Advantages of a VPN
There are numerous advantages to a Virtual Private Network.
Of course, it comes in very handy if you want to watch content from a country that has geo-restrictions. This does not just apply to the Championship racing, but any content.
You could use the same method described above to gain access to Netflix and all your favorite shows while you are away from home in a country where Netflix is geo-restricted.
Along with this, a Virtual Private Network provides excellent security and additional security when used alongside antivirus software. Antivirus software alone is not enough to protect your private data. A VPN provides a tunnel between your device and the internet. All data is encrypted using state-of-the-art technology, which means that even if someone was to gain access to it, they would not be able to read it. This means that your private and personal information remains just that, private.
You can also take advantage of a Virtual Private Network to gain access to cheaper hotel rooms, flights, and car rentals. Simply connect to a server in a state or country where the cost of living is lower and book.
Bypass censorship in censored countries or very restricted Wifi networks. This is the case in China, Iran, UAE, but also at work, in hotels, airports, or at school.
Round-Up
Whether you want a VPN so you can watch F1 live or access other restricted content, remain safe, or take advantage of lower prices, you can do it all.
So, to summarise, all you have to do to get around restrictions and tune in to watch is:
Choose a provider,
Pick a plan;
Download and install software;
Launch the software;
Select a server from the list.
Launch the TV channel that lets you stream F1 for free.
Bear in mind, if you are using the VPN to access restricted content you do need to choose a server from the country whose content you want to view.
You can use a Virtual Private Network anywhere in the world to access any content you want whenever you want, including streaming Formula 1. Of course, while you are at home, you also benefit from using the Virtual Private Network daily to hide your online activities away from your ISP.
At the same time, you keep your data safe from the prying eyes of hackers. In short, you get all this and more from just one affordable plan.
FAQ
? Which channels broadcast Formula 1?
The one and the only channel that has the right to broadcast free practice, qualifications, and each of the F1 + races in the United States is ESPN. In the United Kingdom, it is Sky Sports… And as you know, these channels are anything but free… unfortunately.
? Where to watch F1 free practices and races?
If you want to watch the free practices or each of the F1 races on a free channel, you will have to turn to the Australian side (with the TenPlay TV Channel).
It broadcasts the entire season live and with commentary in English. To access it from any country, however, you will need to take a VPN like ExpressVPN. We give you all the details concerning the procedure to follow in our article.
? Can I use a free VPN to watch F1?
No, because all of the free VPNs that we have been able to test are blocked by TV channels (both TunnelBear, Windscribe, Hotspot Shield, ProtonVPN…) and many others do not have servers in Australia (which is vital to access TenPlay).
This means that you will not be able to watch all of the races in the Formula 1 season. In the worst case, you can still take advantage of the 30-day money-back guarantee offered by ExpressVPN to take advantage of a quality VPN… for free.
? What is the best VPN to watch F1 streaming for free?
For us, the best VPN to unblock free foreign TV channels and watch F1 is ExpressVPN. It is the fastest and most importantly, it offers a wide variety of servers around the world.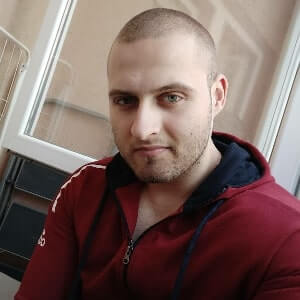 A professional writer with a Master's degree in Mechanical Engineering. Since his youngest age, he loves everything related to internet, technology, fitness, games, and dogs! He joined our team in order to bring his deep knowledge in security services, among which VPN is of course a key component.