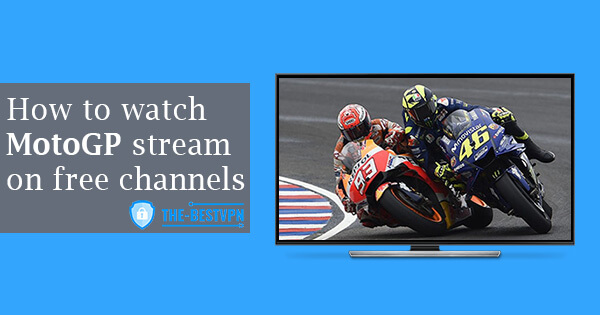 The MotoGP Championship is the pinnacle of motorbike road racing and this year, it is expected to be more exciting than ever. You can watch the championship on more than 100 networks around the world. However, many of these are subscription channels such as Sky Sports, ESPN, and Eurosport.  
You do not have to pay for subscription TV to watch the racing as you can watch and stream MotoGP for free in HD online from many countries. If you want to keep up to date with events and are on the edge of your seat, perhaps find out how Marc Márquez or Franco Morbidelli is performing, you don't have to subscribe to pay-TV.
We have found many free channels from around the world where you can watch the races online wherever you are located, with the help of a VPN. Yet, these free channels are geo-restricted, which means you can't watch them unless you use a VPN. We'll guide you through this in this article.
What's in this article? Understand in 30s!
1. MotoGP is a popular sport, but difficult to watch because it's often broadcasted on expensive channels only.
2. Some channels in the world broadcast MotoGP for free, but are not available abroad due to geo-restrictions. If you are not in the right country, the platform locks the content by knowing your IP address.
3. With a VPN, you can change your IP address to another country and watch every channel in the world, allowing you to watch MotoGP for free. You just have to connect to a server in the country you want, using the server network of your provider.
4. To do so, choose one of the best providers: they will offer you the best streaming experience.
Free Channels for MotoGP Races
You can tune in to the jaw-dropping races and super-fast bikes tearing around every bend on the following channels and watch MotoGP free.
Australia – One and Network Ten (Tenplay www.tenplay.com.au) –> That's the one we recommend! Be careful, you NEED TO TURN OFF ADBLOCKER to start the video. 
RTS (https://www.rts.ch/play/tv/direct) –> very good but in French
RTBF La Deux (www.rtbf.be) –> very good but also in French
Servus TV (www.servus.com/tv/rubrik/sport/)
Servus TV (www.servus.com/tv/)
Trans 7 (www.trans7.co.id/live-streaming)
RTSH (www.rtsh.al/rtsh-sport)
Nippon TV (http://www.ntv.co.jp)
TV 8 (https://tv8.it/programmi/GP_tribul_mastercard_di_san_marino.html)
PPTV (https://www.pptv.com/)
Quest TV (www.questod.co.uk/)
All of the above TV channels are free to watch but they are geo-restricted to the country they are in. This means that you will need a VPN to change your IP address to overcome those restrictions.
MotoGP 2023 Calendar
Before presenting our tip that will allow you to access free channels that broadcast the MotoGP season (qualifying and races), we suggest you have a look at the entire 2023 calendar:
Qatar GP– Losail International Circuit: 6 March
Indonesia GP – Mandalika International Street Circuit: 20 March
Argentina GP – Termas de Rio Hondo: 3 April
Americas GP – Circuit of the Americas: 10 April
Portugal GP – Algrave International Circuit: 24 April
Spain GP – Circuito de Jerez Angel Nieto: 1 May
France GP – Le Mans: 15 May
Italy GP – Autodromo del Mugello: 29 May
Catalunya GP – Circuit de Bareclona Catalunya: 5 June
Germany GP – Sachsenring: 19 June
Netherlands GP – TT Circuit Assen: 26 June
Finland GP – Kymiring: 10 July
British GP – Silverstone Circuit: 7 August
Austria GP – Red Bull Ring Spielberg: 21 August
San Marino GP – Misano World Circuit Marco Simoncelli: 4 September
Aragon GP – Motorland Aragon: 18 September
Japan GP – Twin Ring Motegi: 25 September
Thailand GP – Chang International Circuit: 2 October
Australia GP – Phillip Island: 16 October
Malaysia GP – Sepang International Circuit: 23 October
Comunitat Valenciana – Circuito Ricardo Tormo: 6 November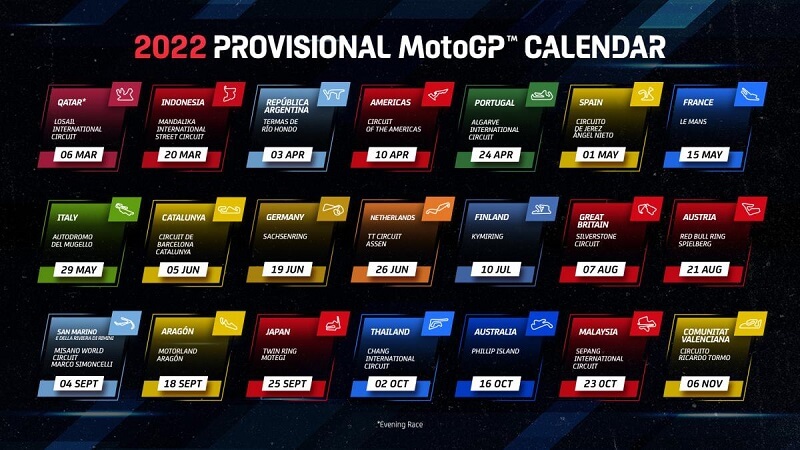 Overcoming Geo-Restrictions
These are not the only channels where you can watch motorbike racing but also the channels where you can stream MotoGP free.
Just because you do not live in a specific country does not mean you cannot access the content. Content is usually geo-restricted but there is a way to get around those restrictions. We've already seen this in our article that explains how to stream USA Network everywhere in the world.
Stream MotoGP Free With ExpressVPN Now >
For you to be able to tune in to watch from one of the free to air channels, you are going to need the help of a VPN, aka Virtual Private Network.
If your country does not provide a way to watch Moto GP, or if it is too expensive, you can choose the closest country to you that will let you stream MotoGP for free.
If you have ever tried to watch content from a country other than the one you are located in, you might have seen a notice telling you that content is restricted.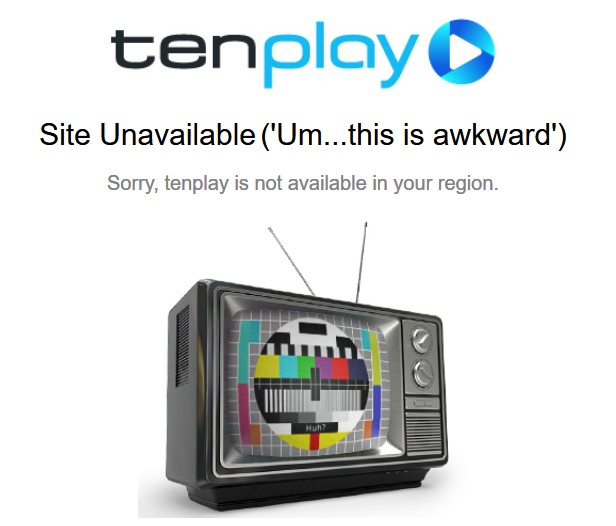 This is because the website or streaming portal you are visiting is not available in your country and it knows your IP address. All countries have a range of IP addresses and if yours is not within that range, you are restricted from viewing.
The simple answer to this is to swap your IP address with one from the country whose content you want to see. This is possible by using a VPN provider.
For instance, if you want to watch Australian TV (on Ten Bold to watch MotoGP races), you'll need to connect to an Australian server. This will give you an Australian IP address and the geo-restriction will disappear.
Get an IP Address With a VPN
When you sign up with a VPN provider, you can download software to the device you want to stream MotoGP for free with, and use it to connect to an alternative server.
Get an Alternate IP With ExpressVPN>
When you connect to an alternate server, you take on an IP address from the country where the server is located.
This means that it looks like you are located in that country and the restrictions are lifted. Of course, you do need to bear in mind that if you are streaming from a different country, it might not be in your language.
However, if it is motorbikes racing you are streaming, you really do not have to be able to hear the language, just watch all the action.
Steps to Stream MotoGP free
Now, we will move on to the all-important steps you need to follow for you to be able to watch the event for free from any country in the world.
1) Choose a Provider
The first step is to choose a VPN provider and there are many choices out there. We won't recommend free VPNs because they won't be fast enough.
One premium provider that we recommend is ExpressVPN. We recommend this provider as it offers thousands of blazing-fast servers from around the world. All of the servers are optimized to offer reliable connections, which is what you need if you want to watch MotoGP free and avoid stuttering.
This is what the app looks like. You just have to choose a country among the big list (more than 90 countries offered).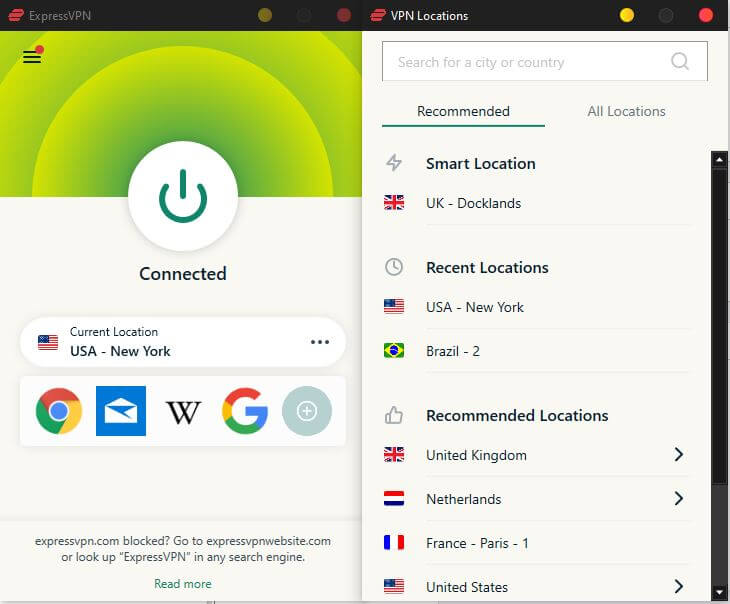 2) Choose a Plan
Providers offer different plans – pay monthly or yearly. ExpressVPN is a premium VPN provider and it may not be the cheapest out there, but the price is well worth the outlay.
If you sign up for a 12-month plan, the provider gives you 15 months in total and 49% savings when compared to paying monthly. Alternative providers offering more affordable plans include CyberGhost, NordVPN, and Surfshark.
3) Choose Apps and Software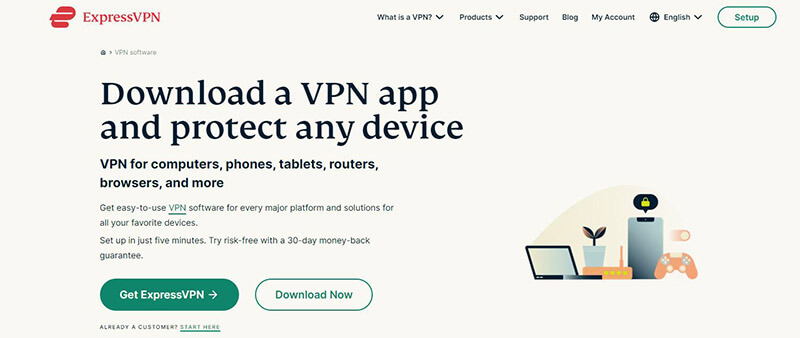 To connect to the servers offered by the VPN provider of your choice you will need to download and install software to the devices that you are going to use for streaming MotoGP free.
Providers generally offer apps and software for a wide range of devices, so download and install whatever apps you need. There is no limit and providers will allow simultaneous connections up to a limit…or not (i.e. unlimited simultaneous connections with Surfshark).
This means that other family members can make use of the VPN connection when browsing the internet or streaming content they want to watch that is geo-restricted.
4) Install and Launch the App
The next step is to install and then launch the app on the device that you want to stream MotoGP free on. Click on the file you downloaded to your device and allow the installation to proceed.
Find the icon left by the installation and click on it and this will open up the main dashboard. We have chosen to use ExpressVPN, but the dashboard should look something similar to the one below.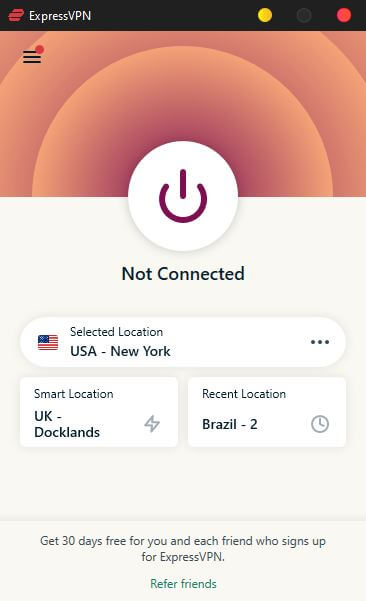 The round "button" is the button used to make a connection once you have chosen a server.
As you can see in the screenshot above, at the moment, it is red. This means you have not connected to an external server.
Below the button is a dropdown box and if you click to the right of it, you will see there is a choice of numerous servers from around the world.
Pick a server from one of the countries closest to you that are showing the event on its channel and connect to the server by pressing the button on the app.
It should now be green and say connected as in the screenshot below. You can, in fact, connect to any server even if it is halfway around the world from where you are located.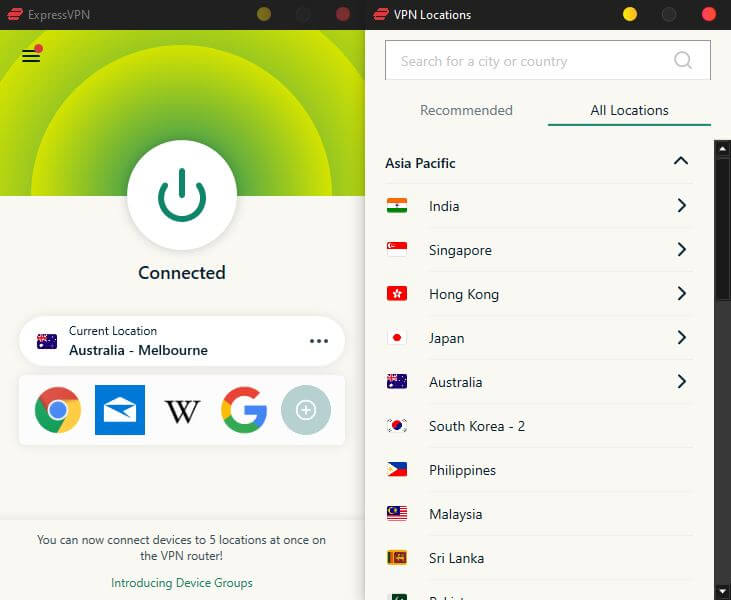 You should be in a position to visit any of the websites listed above to stream MotoGP live free. In our case, we've connected to 10 Bold to stream MotoGP for free on this Australian channel.
Is It Really Free?
It all depends on where you live.
If you live in a country in which they are already streaming MotoGP on free channels such as in Australia, England, Belgium, Switzerland, or Germany, you won't need to use a VPN.
BUT, if you're not located in any of these countries, and if the only solution in your country to watch all the races is to pay for a channel, then, you might need a VPN.
A GOOD VPN won't be free. But it will obviously be cheaper than subscribing to a TV channel, and, above all, it will offer you many other advantages that you'll discover at the end of this article. 
Therefore, the trick we're giving you IS a way to watch MotoGP for free, but it will depend on where you live. If you really don't want to pay anything, you can always use the money-back guarantee offered by the different VPN providers presented below.
Watch MotoGP Abroad
If you're paying for a TV channel and if you're traveling, then, you might be faced with geo-restriction.
In that case, what we've explained will definitely help you unblock the TV channel on which you want to watch MotoGP live. There is nothing more frustrating than paying for a service and not being able to use it abroad.
Thanks to your VPN, you'll unblock ALL TV channels and you'll always be able to access your services.
What to Look for in a VPN Provider?
If you are looking for a VPN provider with the sole aim of streaming live events, you should choose one that offers unlimited bandwidth.
There is nothing worse than starting to watch the event and just as a very exciting part in the race comes, your bandwidth runs out and the race comes to a jolting halt.
Also, go with a VPN provider that offers access to numerous servers from around the world. There is a better chance of you being able to connect to a server in one of the countries offering free streaming of the event.
You might also wish to choose a provider that offers apps for a range of devices. Bear in mind that you might not be able to watch the race from home and have to watch it on the go on a smartphone or tablet.
The Best VPNs in 2023 to Watch MotoGP for Free
We have chosen some of the best VPN providers that offer all of the above and more, all of which are suitable for streaming MotoGP live in HD for free.
1. ExpressVPN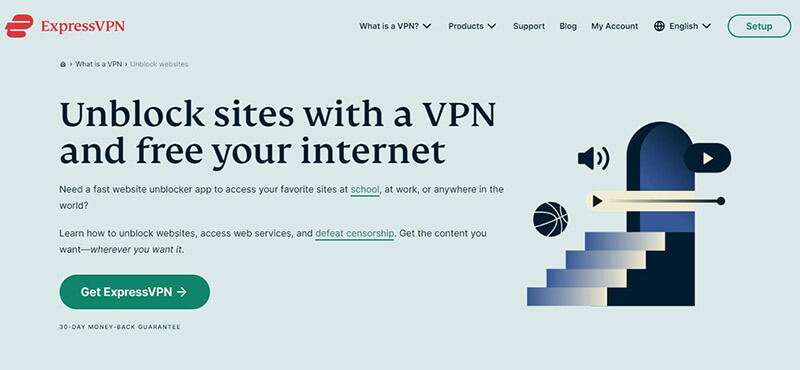 As mentioned above, ExpressVPN is among the premium providers and it does offer great value for money thanks to numerous features and benefits.
Along with offering access to 3,000 servers in 90+ countries around the world, it also comes with unlimited bandwidth. This means that you will not suffer from poor picture quality and fall short of bandwidth before the end of the race.
ExpressVPN also offers an unconditional 30-day money-back guarantee – not that you will need it, but it's there.
PROS:
Unblocks Netflix US, UK, CA, FR, AUS
Works in China and Turkey
Client support 24/7/365
30-day money-back guarantee
The best speeds
Apps for iOS, Android, Windows, Mac, and Router
CON:
More expensive than competitors
Watch MotoGP for free with ExpressVPN >
---
2. CyberGhost

CyberGhost is another excellent choice for streaming geo-restricted content in HD. The provider offers a one-click connection to servers, with a huge list of servers from which to choose.
The software can automatically connect to a server when the app is launched and streaming is easy. The app provides easy access to a range of streaming services or you can connect and go to the website of your choice to watch MotoGP free.
Cyber Ghost offers VPN services for as little as a few dollars per month and of course, as with all providers, it offers much more than overcoming geo-restrictions. The provider offers a 45-day money-back guarantee on plans for 6 months and over. A monthly subscription has a 14-day money-back guarantee.
PROS:
45-day money-back guarantee
90 countries covered
Live chat support
Specific servers for streaming
Cheap 3-year deal
CONS:
1 month plan expensive
Does not work in China
Stream MotoGP free with CyberGhost >
---
3. NordVPN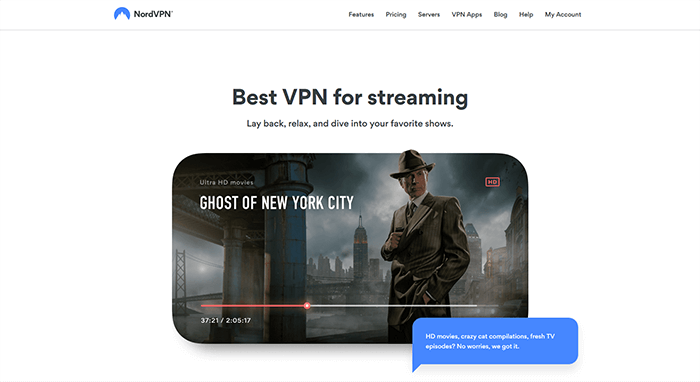 NordVPN is another affordable solution to stream MotoGP free online with plans starting from just a few dollars each month.
The provider offers 5,200+ servers in 60 worldwide countries, so there is sure to be one for the countries you choose.
You are not going to have to wait for buffering as it offers unlimited bandwidth and apps for numerous devices. There are no limits on speed, so your streaming will be stutter-free. You also receive a 30-day money-back guarantee.
PROS:
Stable performance
5,200+ servers in 60 countries
30-day money-back guarantee
6 simultaneous connections
Strict no-log policy
CONS:
Speed can be slower
No discounts on short-term plans
Unlimited bandwidth with NordVPN >
---
4. Surfshark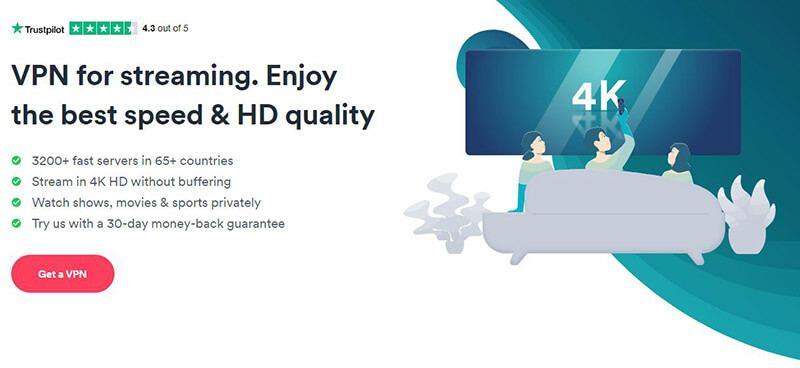 Surfshark is one of the new kids on the block and it offers affordable monthly or yearly plans with the 24-month plan being the cheapest. While they might be relatively young, they do offer everything needed to access content online.
The provider gives access to 3,200 servers around the world, so you should be able to find one to stream MotoGP free. They also offer unlimited bandwidth on as many devices as you and your family want to use.
The provider also offers a 30-day money-back guarantee and works with various devices, including Windows, Linux, Android, macOS, and iOS.
PROS:
Unblocks Netflix US, UK, FR, AUS, IT
Very cheap plans
Strong security
Simple-to-use applications
---
More VPN Advantages
While one use of a VPN is to get around geo-restrictions by being able to take on any IP address from any server from around the world, there are other uses. For instance:
A VPN also provides additional security measures when browsing the internet.
All of the Virtual Private Networks we have talked about here offer 256-bit AES encryption. This puts a tunnel between your computer and the internet to stop potential hackers from obtaining access to your information. If anyone managed to see your information, it would be jumbled and they would be unable to read it.

You can also enjoy cheaper flights, hotel rooms, and more if you buy them when connected to a server in a different country. Prices do vary so it can pay to shop around and make purchases in a country with a lower cost of living.
Moreover, when connected to a VPN, your internet service provider cannot see what you are doing online, which comes in handy if you want to access any content they might restrict, such as torrenting.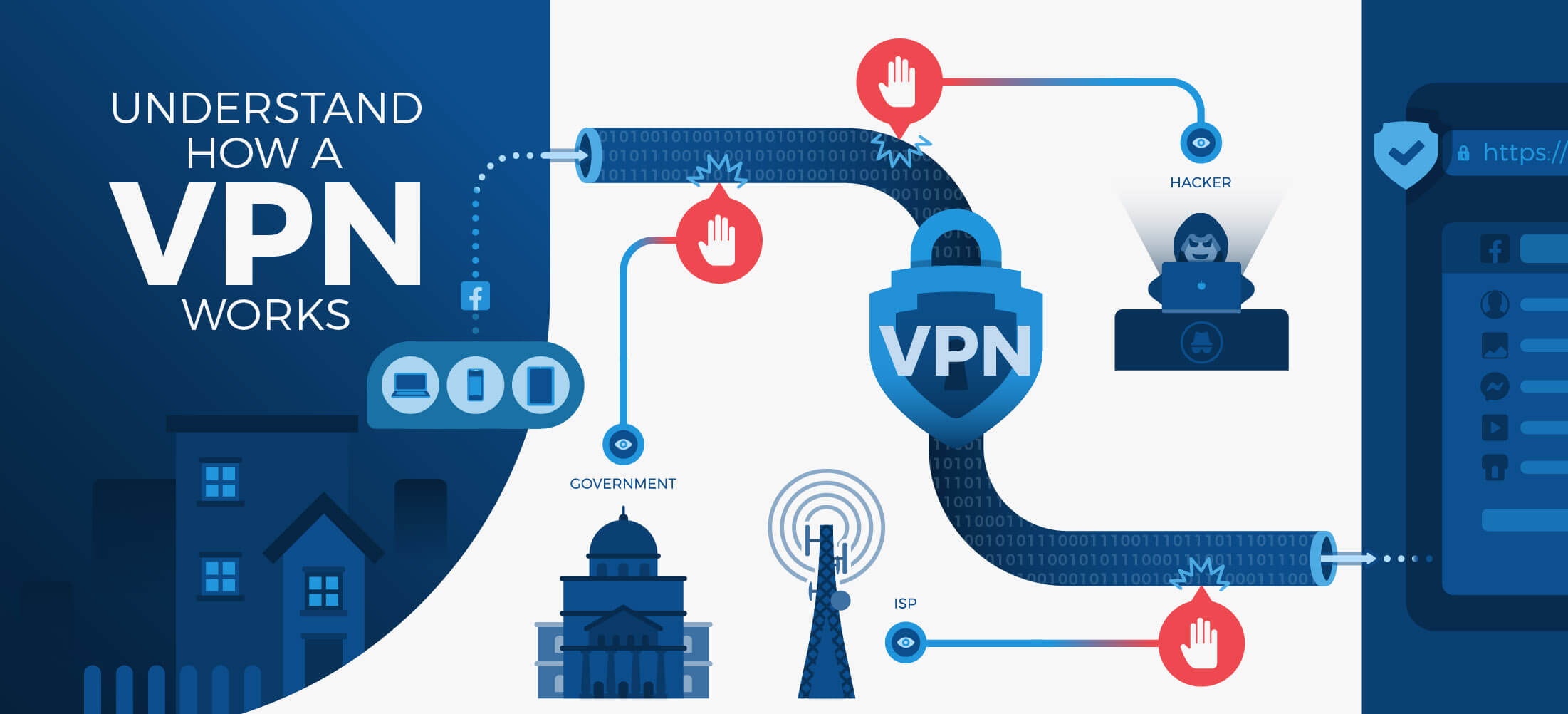 On top of that, we can add all the streaming-related activities. For instance, if you want to see all your favorite shows on Netflix while traveling, your VPN will be of great help.
It can also be used to protect you while downloading torrents in P2P.
You get our point – by paying for a VPN, you won't only be able to watch and stream MotoGP for free. You'll also be able to unblock geo-restricted content and protect yourself on the internet.
In Summary
You are not required to take out expensive subscriptions to watch your favorite sporting event – you can stream MotoGP free online.
Just:
Take out an affordable plan with one of the VPN providers we have talked about;
Download and install the software;
Choose a server from any of the countries we listed.
Also, bear in mind that you can use the same method above to gain access to any restricted content anywhere in the world. This applies to when you are traveling abroad and want to tune in to your favorite websites or apps that are restricted. With a VPN, unblocking them is easier than saying "Cheese!"
FAQ
? Does a free American channel broadcast MotoGP?
No free American channel broadcasts the MotoGP season. The channel that has exclusivity in the US (both for qualifying and the race) is Bein Sports and it is not free. The same applies to the UK, where it's BT Sport that has the rights.

? How to watch MotoGP on a free TV channel?
To enjoy the MotoGP season on a free TV channel, you will have to look at foreign channels. 10 Bold (Australian channel) broadcasts the entire MotoGP season.
To access it from the United States, the United Kingdom, or elsewhere, you only have to take a VPN subscription from ExpressVPN or CyberGhost and connect to a server in Australia (to unblock 10 Bold). After that, you can watch both the qualifications and the live race.
? Can I use a free VPN to enjoy the MotoGP season?
Unfortunately, no. We have tested a large number of free VPNs and all of them are detected and blocked once we try to access the live stream of 10 Bold (free Australian channel). It will, therefore, be necessary that you acquire a paid VPN worthy of the name.
We invite you to read our detailed article to find our top 3 of the best VPNs that allow you to watch the MotoGP season in live streaming.
❓ Which free TV channels broadcast the MotoGP season?
If you want to watch MotoGP races with comments in English, then we advise you to turn to the free Australian channel 10Bold. To access the live stream, you will not even need to create an account on their site.
On the other hand, you will necessarily need a VPN like ExpressVPN if you are not located in Australia. In fact, without that, direct access to the live stream will be blocked for reasons of TV rights.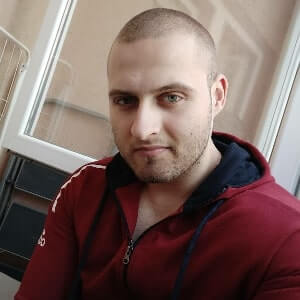 A professional writer with a Master's degree in Mechanical Engineering. Since his youngest age, he loves everything related to internet, technology, fitness, games, and dogs! He joined our team in order to bring his deep knowledge in security services, among which VPN is of course a key component.