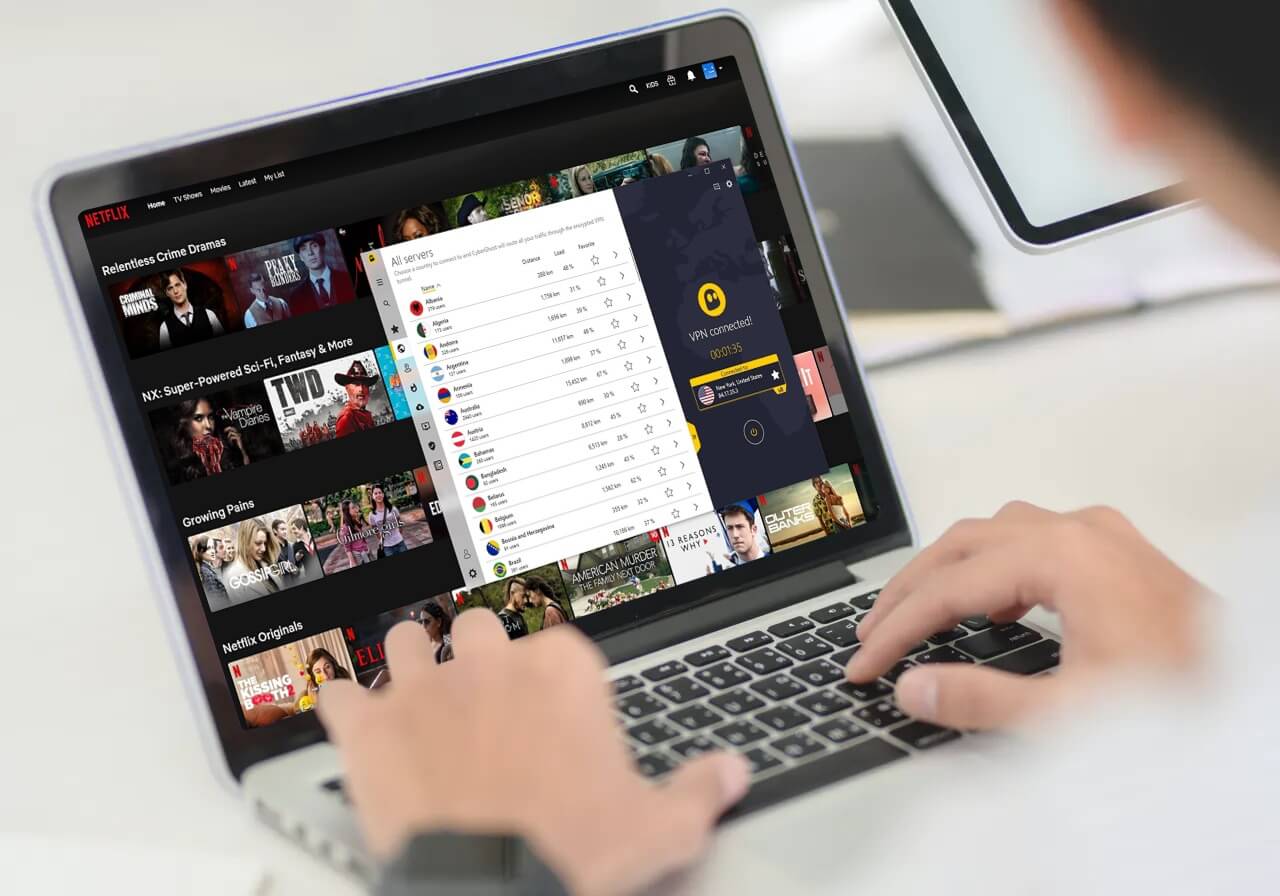 Boasting more than 130 million subscribers around the world and generating an average of $1 billion in revenue every month, you'll be hard-pressed to find a bigger streaming company than Netflix. Not only is their library packed with tens of thousands of interesting videos, but they continue to update it daily with even more interesting ones.
Despite the greatness of this streaming company though, it isn't the same in every country throughout the world. While every user accesses the website through the same address, the content they will be able to access will vary based on their location.
Because of the geo-restrictions used by the company, not every movie or show you want will be accessible in your region.
Therefore, the question that's often on the lips of subscribers is "how can I unblock Netflix?" Whether you want to keep a tab on your favorite movies while abroad or you simply want to watch a blockbuster movie that isn't available in your region, there're many reasons why users want to know how to hack the stream provider.
In this guide, we'll show you exactly how to unblock and gain access to all the provider's libraries in 2023.
What's in this article? Understand in 30s!
1. Netflix is a popular platform, but unfortunately you can't access some content abroad, or watch movies/series from another country's catalog. The platform uses your IP address to lock the content.
2. With a VPN, you will have the opportunity to watch the content you want everywhere, but also to unlock the content of every country. You only have to connect to a server in the country you want, depending on the network of your provider. It will give you a brand new IP address, with a new location.
3. But to do so, you need one of the best providers. They will be presented with all their characteristics in this article.
Why Do Netflix Libraries Vary Internationally?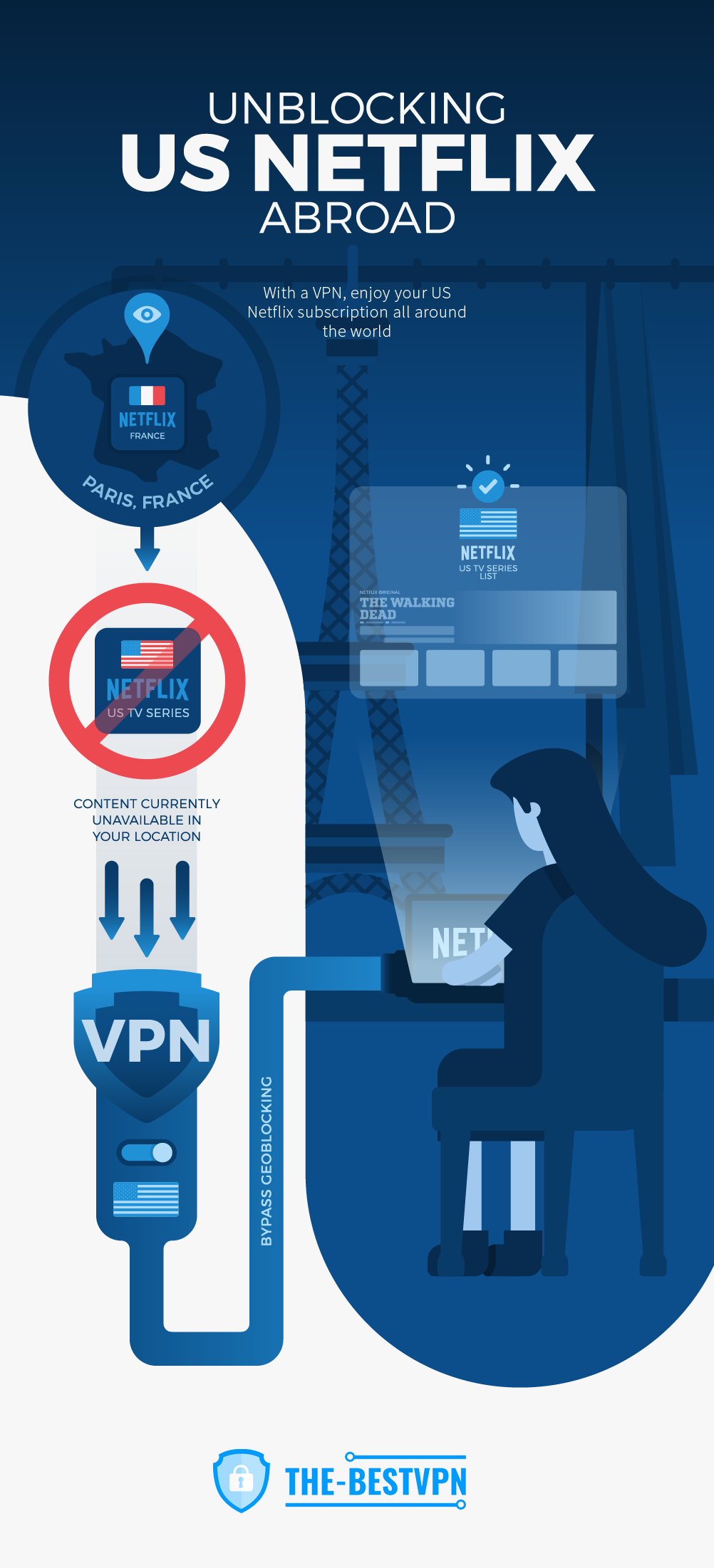 The primary reason why the company's catalogs differ in every country is territorial licensing, according to the company's CEO, Reed Hastings.
The aim of every movie or show producer is to maximize profits, of course. Therefore, they license their content to various distributors around the world. Normally, the highest bidder wins the rights. For instance, let's use the movie Star Wars as an example.
As a streaming company, Netflix needs to consider if sufficient users in the US, India, the UK, and other locations will watch the movie to recover their investment in purchasing the license.
If the research of the company shows that only the people in the United States are interested in the movie and not the people in India, the company will purchase the territorial license for the United States only.
Therefore, users in the US will have access to the movie but Indian users won't have access to it.
How Can I Unblock Netflix?
If you're looking for a way to unblock the streaming service's content that is not available in your geographical location, we assure you that there is a way out.
The streaming company usually puts these restrictions in place with the aid of a system that helps them to detect the IP addresses of visitors. Once the system detects that a user is in a location where the content is restricted, it automatically blocks the user.
So, "how can I bypass the geo-block?" It's simple. By using a Virtual Private Network, you can easily bypass geo-restriction that have been put in place by the streaming giant. We've already written an article that presents you with the best VPNs that work with Netflix.
Continue reading to find out what a Virtual Private Network is and how it helps to unblock Netflix libraries exactly.
What Is a VPN?

The simple solution is using a VPN (Virtual Private Network). Basically, when you're using a VPN, you're rerouting all your traffic via a certain server. When a site attempts to read your IP address, they'll get the IP of that server owned by the VPN.
Therefore, to unblock streaming services, you only need to connect to a particular server that's located in the US through a VPN. Streaming services will think you're connecting from within the United States and give you access.
Of course, this applies to any other country and you don't need to limit yourself only to Netflix US. For example, Netflix UK, Canada, and Japan are great libraries too!
How Does a VPN Help to Unblock Netflix?
A VPN basically makes it appear as if you're actually connecting from a different country. It sends your data to a third-party service in a different geographical location through an encrypted tunnel.
Government agencies, ISPs, and third parties won't be able to access or see your browsing information, which is encrypted and completely safe.
For instance, let's say you're living in France and you're looking to watch the US version of Netflix. The VPN will give you a US IP, thereby, making you appear to the streaming service that you're in the United States.
What happens next? It's an easy guess! You get access to US Netflix.
Best VPNs That Unblock Netflix
While there are many VPNs in the market, not all of them can bypass geo-block, thanks to the VPN-blocking systems that have been installed by the streaming service. It is actually getting harder to find a working VPN with Netflix.
So, which ones can I use to bypass geo-restrictions in 2023?
Below are some of them!
1. ExpressVPN

With 3,000+ servers in more than 94 countries, ExpressVPN is a great option for reliable Netflix streaming. As a matter of fact, the VPN provider provides the fastest speed in the market. But apart from that, it provides its clients with limitless bandwidth.
The unlimited bandwidth means you can watch videos to your heart's content without worrying about throttled speeds as soon as you get to a particular data threshold.
Furthermore, the company is based in the BVI.
While a lot of users may not see this as a big factor of success, it really speaks volumes about the security capabilities of the company. The location where it's based has no data retention laws, which means the provider keeps no connection or activity logs.
They instead provide protection from surveillance and hacking with solid data encryption.
The VPN also comes with several applications. The service can be accessed through applications for your smartphone, gaming console, computer, smart TV, and more. Not only that, but every app has a simple and intuitive UI.
If you have a problem with using your service, you can effortlessly get in touch with their support team.
ExpressVPN has a live chat feature that is available around the clock. There are many set-up instructions and troubleshooting guides, all designed to help you find solutions to your issues. Do really not hesitate to get in touch with them if ever you don't manage to unblock Netflix using it.
Sometimes, some servers can get blocked and the support will be able to tell you which server to connect to. You don't have to worry – they'll always have some that are working.
Although ExpressVPN isn't the cheapest option in the market, it offers enough incentives to make up for the high price. It offers a 49% discount, plus three months free whenever you buy a 12-month plan.
On top of that, every plan comes with a risk-free 30-day money-back guarantee, which allows you to test out the service for literally no cost. If you're not satisfied, you can ask for a refund! You'll then get your money back within 24 to 48 hours on average.
They'll promptly refund you without any questions.
PROS:
High-speeds
Unblocks US, UK, AUS, CA and FR catalogs
Military-grade encryption
Superb client support
Keeps no connection or activity logs
Unlimited bandwidth
Unblock Netflix with ExpressVPN now >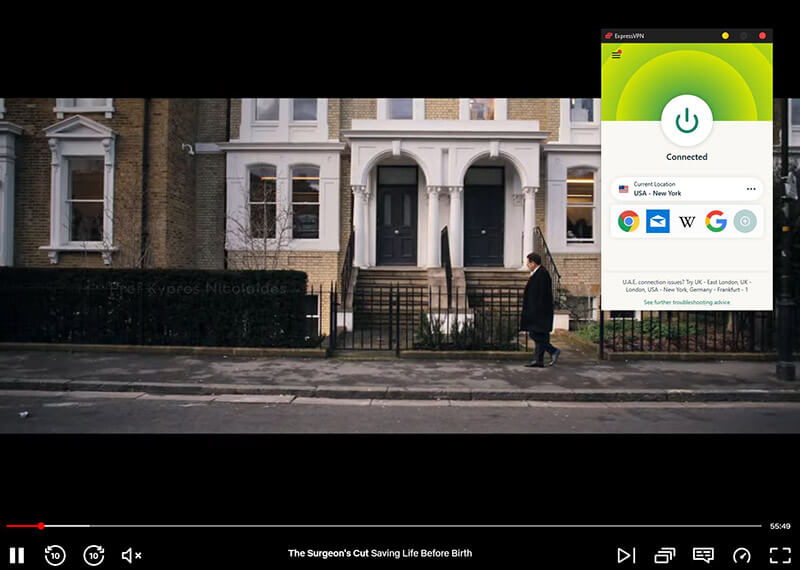 ---
2. CyberGhost

Based in Romania, which is a country outside of the jurisdiction of the 14 Eyes, CyberGhost is a privacy-oriented company. It offers one of the most secure ways to bypass geo-blocking nowadays.
The VPN features an overhauled UI made to flaunt its range of advanced features. So, unblocking Netflix has never been easier. Not only does it allow you to unblock the streaming service, but it also makes sure it's done securely.
The service has dedicated servers for people who want to access Netflix and other streaming services like Sky, BBC iPlayer, Hulu, and more. It's just one of the best services that still unblock Netflix.
And since the company has 7,400+ servers in over 90 countries, it's understandable why it effortlessly glides past the geo-restrictions installed by a streaming company such as Netflix.
With over 30 million users across the world, it's hard to argue about the effectiveness of CyberGhost VPN.
Thanks to CyberGhost's advanced security features, which include a strict no-logging policy and military-grade encryption, your activity will always be safe and secure. Six months or longer plans come with a 45-day money-back guarantee, while shorter plans come with a 14-day money-back guarantee.
While the service has a couple of flaws like its inability to bypass the Firewall of China, compared to ExpressVPN, it's still a great option to stream movies and bypass geo-restrictions.
PROS:
Very secure and safe
Advanced security features
A wide network of servers
Overhauled UI
Has dedicated servers for Netflix
45-day money-back guarantee
7 simultaneous connections
CONS:
Can't bypass the Great Firewall of China
Occasionally slow speeds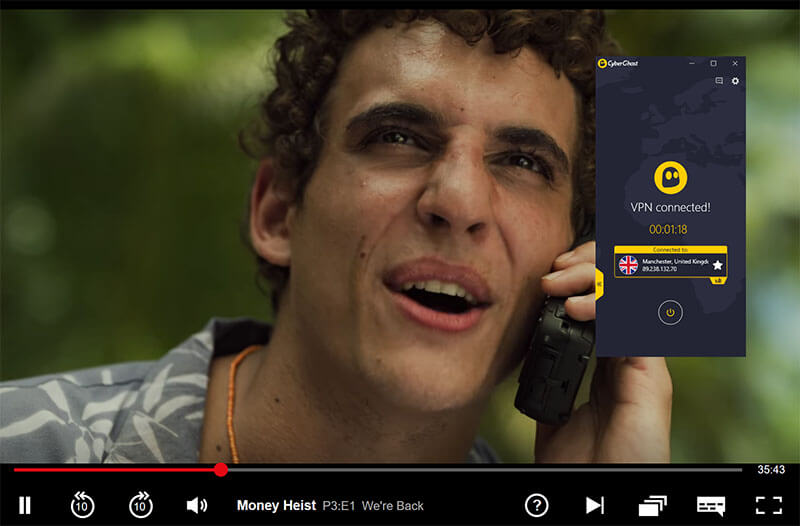 ---
3. NordVPN

NordVPN is another strong option for people looking for a perfect solution to bypass Netflix's geo-blocking these days.
Owing to its solid encryption and no-logs policy, this VPN is ideal for privacy-minded clients. Operating in Panama, out of the jurisdiction of the 14 Eyes, you can always trust this VPN to keep your data confidential.
They're immune to piracy laws, so you can easily connect whenever you want and wherever you want.
The VPN specializes in bypassing geo-blocks, which is probably why it has a wide network of servers. In fact, the provider has servers optimized for Netflix, which require no additional configuration.
With more than 2,000 servers just in the US, you can be sure you'll always find one that is not blocked and that will enable you to watch your favorite movies and series.
According to the company, the Netflix-optimized servers are working currently in the US, UK, India, Australia, Canada, and many more countries.
Furthermore, NordVPN comes equipped with a real-time list of sites that host spyware, trackers, and malware. The company's trademark CyberSec technology is capable of detecting harmful software when you visit a harmful website.
With this, they're able to promptly prevent you from visiting a website that may compromise your identity.
With Double VPN which offers 2 protection layers (you can learn more about this in our review) and 256-bit encryption, NordVPN keeps you shrouded firmly in secrecy as you browse the web or stream movies on Netflix.
It's not as fast as ExpressVPN when it comes to connection speeds, but it should be enough for 4K streaming, or perhaps, enjoying movies and shows in good ol' HD.
Due to a cheap monthly subscription and the 6 maximum simultaneous connections, the provider is an excellent budget-friendly choice, particularly if you share an account with family or friends.
PROS:
Solid encryption
No-logs policy
Up to 6 simultaneous connections
Features Cybersec (ad-blocker)
Has a wide network of servers
Unblocks US, India, Germany, France, and Australia libraries of Netflix
Immune to piracy laws
Budget-friendly
CONS:
Seldom connection issues
VAT taxes for UK/US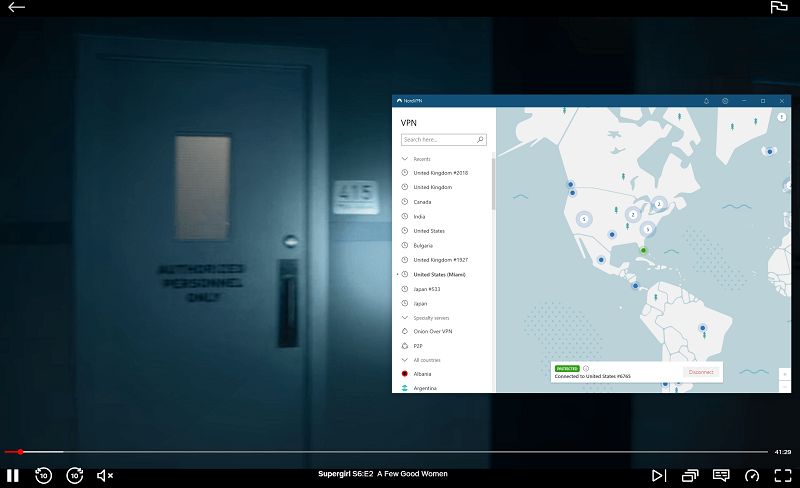 ---
4. Surfshark

Shurfshark is another affordable service that is dedicated to bringing down borders when it comes to geo-restrictions. With the NoBorders mode that you'll find here, you can easily unblock blocked services and sites without any hassle.
Like ExpressVPN, they're also based in the British Virgin Islands, which puts them outside of the jurisdiction of 14 eyes.
Besides not tracking you, the company also doesn't keep any logs, thereby allowing you to confidently browse. The provider has more than 3,200 servers optimized to give you reliable speeds.
Surfshark is capable of providing you with servers from the United States, the United Kingdom, Canada, and more.
The VPN also uses state-of-the-art encryption protocols to ensure that your identity and data are always protected. You can also make the most of the VPN's advanced encryption, ad blockers, and kill switch, which prevents data loss during a connection drop.
When it comes to accessibility and price, Surfshark is extremely generous. You can use each of the plans on unlimited devices. There are user-friendly apps for numerous devices. As if all this was not enough, you'll also find some browser extensions for Firefox and Chrome.
The great thing is that all major and minor platforms are supported. As a result, you'll be able to use Surfshark on iOS, Windows, Android, macOS, and Linux devices. For the price, we challenge you to find a better deal!
PROS:
Comes with a NoBorders mode
Advanced encryption protocols (WireGuard included)
Unlimited connections
Doesn't keep logs
Offers Netflix-optimized servers in many countries
CONS:
A bit slower speeds
"Only" 65 countries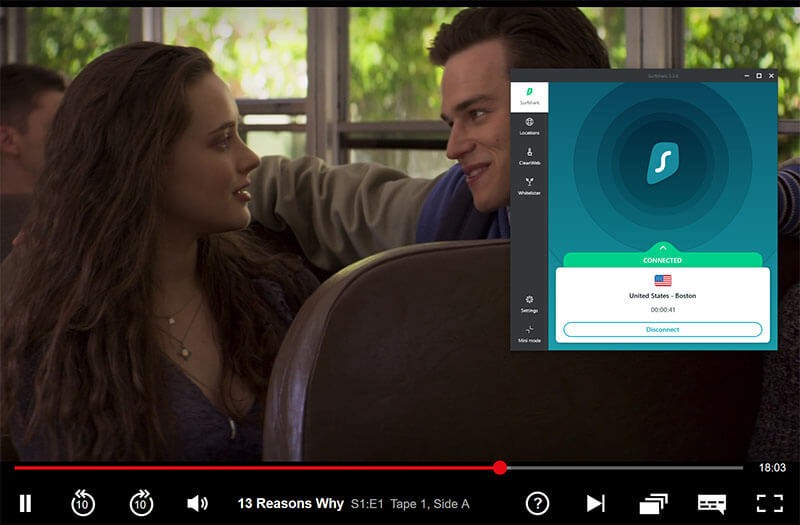 ---
Final Thoughts
Being unable to access some parts of Netflix despite being a subscriber can be very frustrating. Thankfully, a VPN offers a solution to help you bypass geo-block and unlock every part of the platform's library.
While the streaming platform has put some systems in place to block VPNs, a high-end VPN like ExpressVPN will easily bypass these restrictions and allow you to enjoy Netflix seamlessly.
Are you still being restricted from accessing the shows you love the most?
With all the tips and recommendations we've provided in this article, that's probably a thing of the past now.

Michael is a talented writer who has dedicated a lot of time into making sure that everyone around the world can use the internet securely. Being an avid traveler, he has acquired a lot of experience while using different VPNs on his travels. When it comes to doing comprehensive "how to tutorials" or testing some VPN functionalities, he's always the best pick ! He's here to help you solve your VPN-related issues.