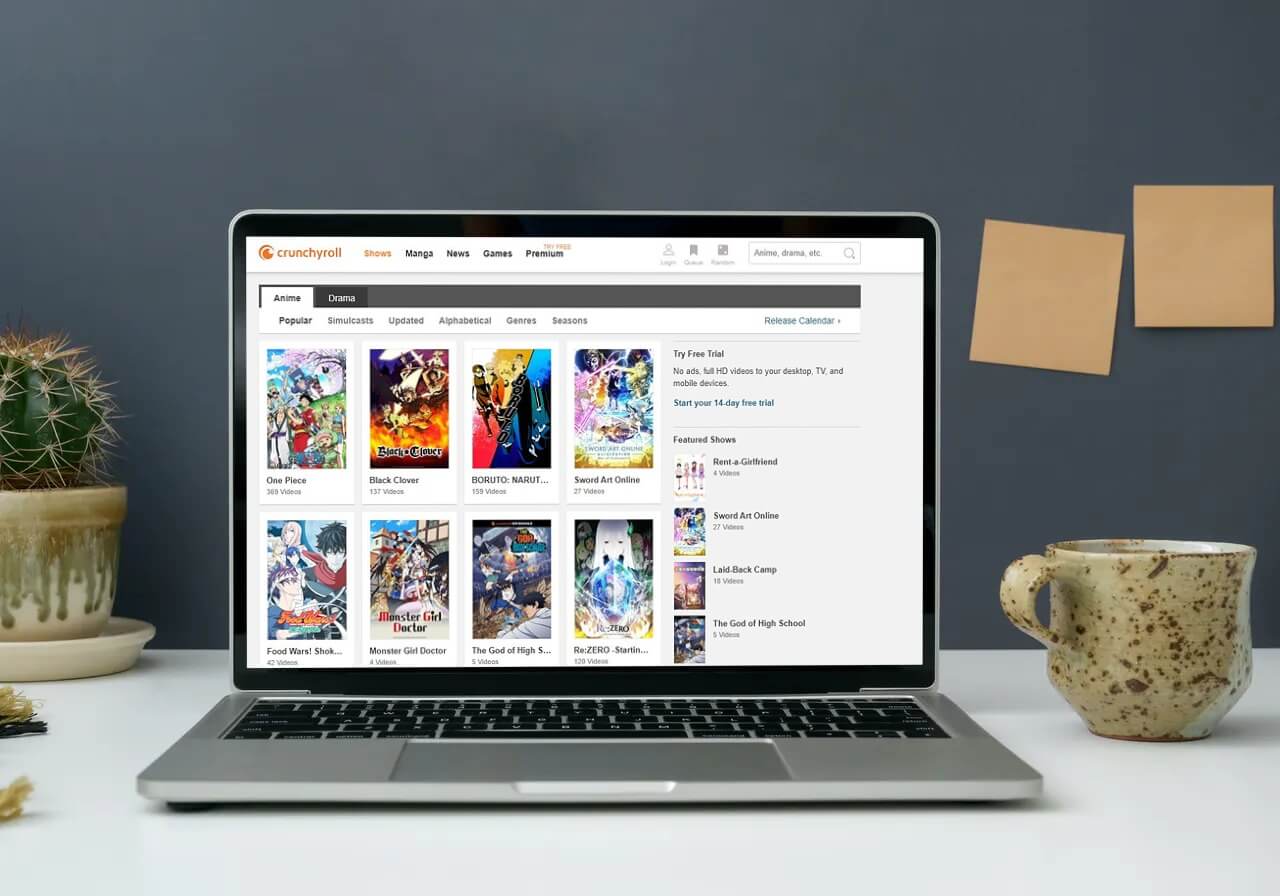 Fans of Anime and everything related to it are already well-acquainted with a platform like Crunchyroll. Although it sounds like a delicious dish, it's a website that focuses on publishing and distributing anime, dorama, and manga. Accessing the site is possible in almost any country, but similarly to Netflix, Crunchyroll offers a different catalog depending on your region. In our guide below, we'll see how to unblock the largest one and access all of its quality content.
How to Watch Crunchyroll from Anywhere in the World?
As we mentioned, this anime streaming platform is available, more or less, worldwide. The same applies to Netflix, another US-based platform, that offers different catalogs for each country.
On Netflix, one catalog might differ from another by quite a lot, which is the case on Crunchyroll as well. Overall, this platform offers an excessive number of anime shows like Naruto, Atack on Titan, Dragon Ball Super, and many more.
But, if you're not from the US, you'll find it hard to access all of your favorite titles. You have two options, then – to move to the US OR to use a VPN. The second option will cost you merely a few bucks a month, thus it's the best solution.
VPN stands for Virtual Private Network and it's a service that allows you to bypass geo-restriction. How? By changing your online location. If you're from Europe and you want to access an American catalog of shows on Crunchyroll, you can connect to an American server and do so.
This will "fool" the website into thinking that you're from that country, allowing you to access the largest catalog. Basically, a VPN allows you to access any blocked website, which gives you more online freedom.
Furthermore, the service encrypts your connection, making you invisible to the prying eyes of hackers and your ISP. Therefore, you get to browse the web safely and anonymously. Here's how to utilize this service to watch Crunchyroll outside the US:
1. Subscribe to a VPN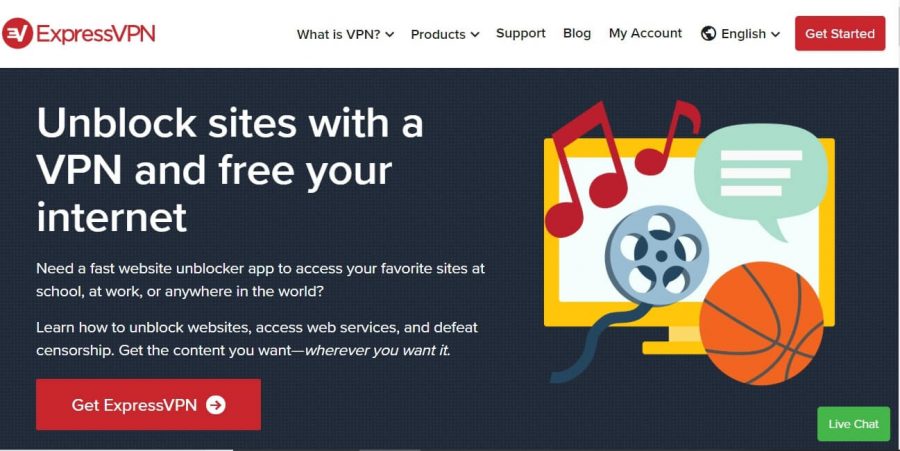 Before being able to use a VPN, you need to subscribe to it. Our recommendation is ExpressVPN, as it offers the best performance on the market and comes with a big discount for an annual plan.
2. Download and Install the Respective Apps
Once you subscribe, it's time to download the apps. ExpressVPN supports iOS, Android, Windows, macOS, Linux, and routers, so feel free to take your pick. Install the app you want, sign in with the credentials you provided previously, and move to the next step.
3. Connect to a US Server
If you did everything right, you should be on the home screen. Click on the country under the connection button to open the server list. Scroll down and find the United States. Click on it to see which servers are available.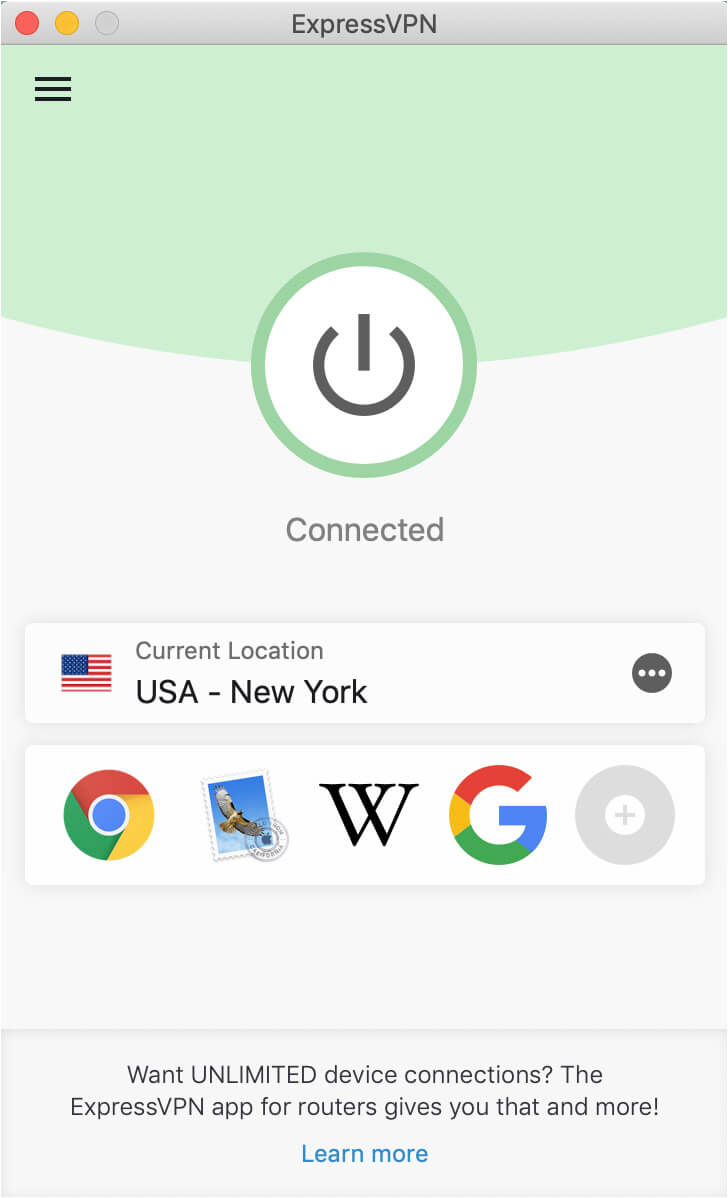 Now, just click on the server you want to connect to and use the connection button to establish a connection. For unblocking and watching Crunchyroll outside the US, we recommend you use the "New Jersey – 1" server 😉
4. Enjoy Crunchyroll from Abroad
With everything set, visit Crunchyroll and start streaming anime shows to your heart's contempt.
Best VPNs to Watch Crunchyroll in 2023
For streaming purposes, you need a service that will reliably unblock streaming platforms but also provide decent speeds, to avoid buffering. We've come up with three VPN providers that will always work with Crunchyroll, whether you are in Japan, Canada, Europe… Take a look below:
1. ExpressVPN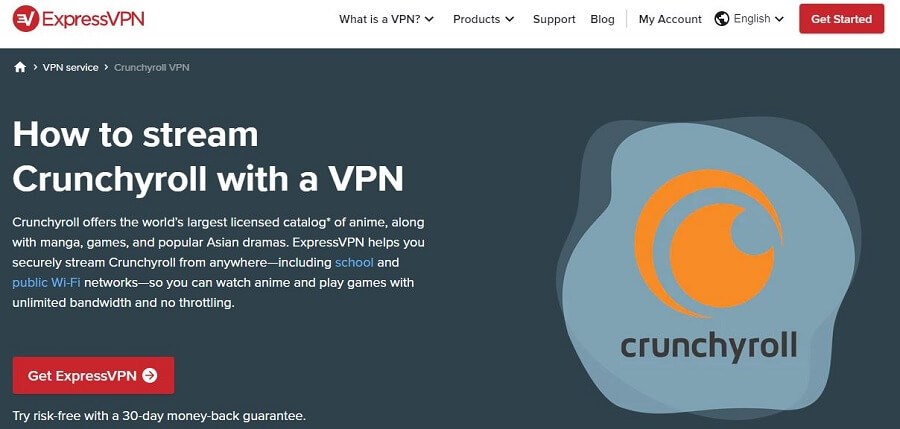 The best option for benefiting whatever Crunchyroll catalog is ExpressVPN. This provider is an epitome of quality and reliability that will never leave you behind. ExpressVPN packs 3,000+ servers in 94 countries, with hundreds of servers in the USA.
Such a server count will allow you to enjoy high speeds that are more than sublime for Full HD streaming. Talking about speeds, ExpressVPN is the leader on the market, granting not only streaming capabilities but also torrenting, in case you want to go the "pirate" route.
Crunchyroll might not be your only source of fun. In that case, ExpressVPN will successfully unblock Netflix, Prime Video, Disney+, BBC iPlayer, and even Hotstar. It's also a great VPN for Roku that will enhance your little streaming box's capabilities.
As mentioned, you get apps that cover all platforms, plus unlimited bandwidth for endless streaming. To make things better, ExpressVPN allows for up to 5 simultaneous connections on a single account.
This means that you can watch Crunchyroll abroad even on your phone, tablet, and laptop.
Did we already mention a discount? Oh, we almost did! You get a 49% discount and 3 months free for a 12-month subscription plan. And if it's not up to your taste, a 30-day money-back guarantee waits for you.
Get ExpressVPN for Watching Crunchyroll >
2. CyberGhost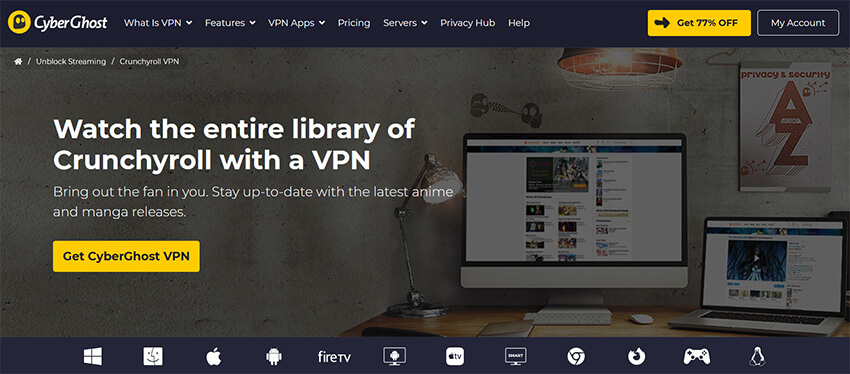 Are you looking to save every dollar you can? Well, CyberGhost is technically the best cheap VPN around. And not only judging by the "cheap VPN" criteria but globally. It stands shoulder-to-shoulder with NordVPN and ExpressVPN, giving them a run for their money.
Sure, the provider won't work in China, but it unblocks Crunchyroll like it's a joke. Boasting 7,000+ servers in 90 countries, it's hard not to get your heart pumping more blood. Even better, CyberGhost offers dedicated servers for streaming and torrenting, which boosts its functionality.
You can now unblock all your favorite streaming sites with a click of a mouse – isn't that wonderful? Oh, and just so you know, the provider is based in Romania, outside the 14 Eyes, so it keeps no logs of your online activities or personal info.
There's 256-bit AES encryption as well, topped up by impressive IP/DNS leak protection. CyberGhost really brought its A-game to the table, giving its users 7 simultaneous connections, as well as reliable 24/7 customer support.
If you go for its 3-year plan, you'll get a huge discount, two months FREE, and a 45-day money-back guarantee. You can't ask for more!
Unblock Crunchyroll With CyberGhost >
3. NordVPN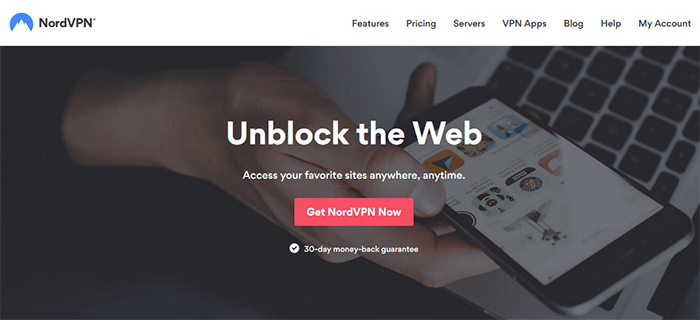 Terms like affordability, reliability, and quality can be all summed up in one word – NordVPN. This is yet another high-caliber name in the industry that aims to provide superb security, all while giving you unlimited freedom online.
NordVPN has 5,600+ servers in 60 countries around the globe, which is an impressive number. Moreover, there are 1,000+ servers in the USA, making it easy to access Crunchyroll anytime you want.
Much like ExpressVPN, NordVPN is capable of unblocking Netflix, Hulu, HBO GO, and other streaming platforms.
Now, if you're a security fanatic, the provider will treat you like a king. It offers 256-bit AES encryption, an automatic kill switch, and a zero-logging policy. With Double VPN servers, you'll enjoy more privacy, while obfuscated servers will let you enjoy Crunchyroll from a censored country like China.
The provider gives you up to 6 simultaneous connections, instead of 5 with ExpressVPN, and has 24/7 customer support. Needless to say, the support team is available through live chat, where it responds in less than 15 seconds!
If you decide to buy it, we recommend a 3-year plan that yields a 70% discount. And when you see its performance, you'll be sorry that a lifetime plan at NordVPN doesn't exist!
Enjoy Crunchyroll when Abroad With NordVPN >
Should You Use Free VPNs for Watching Crunchyroll Outside the US?
Wanna use a free VPN, huh? Pay attention to what we have to say about them.
Free VPNs always come with some cut corners that will impact your streaming experience on Crunchyroll or even prohibit it. These providers are not very efficient in unblocking sites, so you'll often end up with a proxy or VPN error.
Crunchyroll isn't very hard to unblock, so let's say that your free VPN actually unblocks it. What about slow speeds and limited bandwidth that it gives? Not only will your streaming be limited, but also slow and unenjoyable.
The worst thing about free providers, though, is that they won't give you enough privacy. They use weaker encryption and store logs that will compromise your privacy in the snap of a finger.
To earn money, they sell this information to third parties that later use targeted advertising to spam your email and online pages. Our advice is to AVOID free VPN providers at all costs and use premium ones from our list. We can guarantee you that our premium choices will not do any of the things mentioned above.
Is Crunchyroll Free?
Crunchyroll isn't free, much like any other streaming platform out there, except for BBC iPlayer. But, if you're not sure what kind of experience you'll get, there's a 14-day trial that lets you use it in a premium variant, with no limits.
Now, if you like Crunchyroll, there's an option to get a premium plan. Premium plan has three variants:
Monthly plan at $7.99 a month
Monthly "MEGA FAN" plan at $9.99 a month
Annual plan (MEGA FAN) at $79.99 a year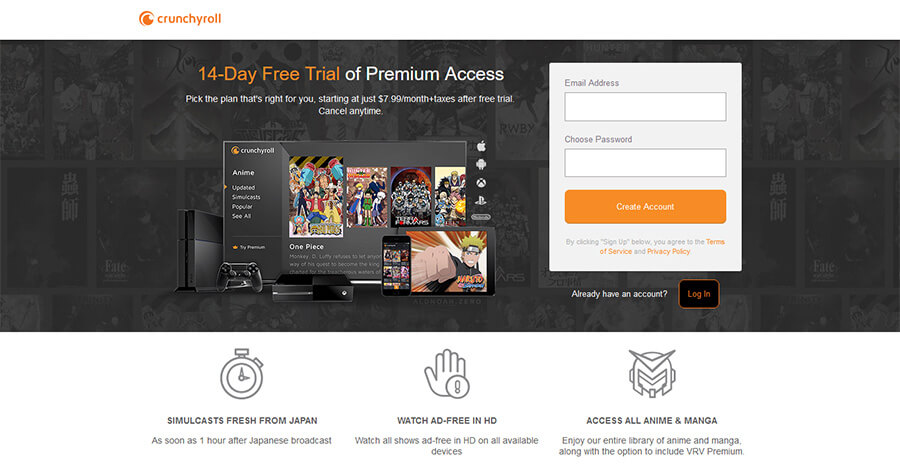 This premium plan is the same, but you get to choose how long you want it to be. A premium plan will let you enjoy anime ad-free, as well as enjoy Crunchyroll Store and get frequent discounts if you shop.
FAQ
⚠️ Can I use a free VPN to unblock Crunchyroll?
Avoid totally free VPNs as they are detected and blocked by the Crunchyroll streaming platform. Besides, these limit your data consumption each month, which will quickly become blocking. To get a quality free VPN, take advantage of the 30-day free trial offered by ExpressVPN instead.
❓ Are proxy servers efficient for watching Crunchyroll?
No, proxies are even worse than free VPNs … that's to say! Crunchyroll very easily blocks anyone using a proxy.
❌ Can I get a ban for using a VPN on Crunchyroll?
If you use a quality VPN like ExpressVPN, CyberGhost, or NordVPN, you are not at risk because they are not detected by Crunchyroll. On the other hand, the use of any other VPN can be detected, and in this case, you risk a possible sanction or even termination of your account.
⛔️ What the "Error 403" on Crunchyroll means?
Forbidden 403 error on Crunchyroll means the streaming platform has detected the use of a VPN / proxy. If you find yourself in this situation, you will have to change the server, quite simply. As such, you will have a very large choice by opting for ExpressVPN (3000+ servers in 94 countries).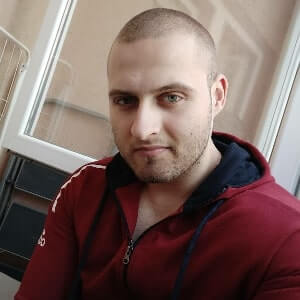 A professional writer with a Master's degree in Mechanical Engineering. Since his youngest age, he loves everything related to internet, technology, fitness, games, and dogs! He joined our team in order to bring his deep knowledge in security services, among which VPN is of course a key component.