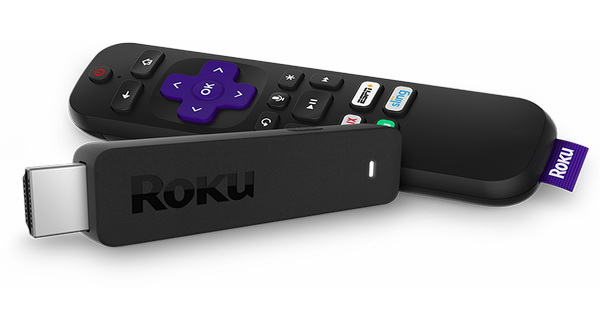 Roku is a great platform for streaming a wide variety of TV channels. All you have to do is purchase it and plug it into your TV, connect it to the internet, sign up for an account and stream away. The tech offers access to more than 4,000 channels, free and paid, but the content is limited to your country. This is where a Virtual Private Network can help and we have chosen the top 5 best VPN for Roku 2023.
Why Use a VPN on Roku?
With Roku, you can gain access to numerous channels, many of which are free, rent, or buy channels such as Google Play Movies & TV and subscription channels such as Netflix.
However, channels such as Netflix are limited to the country in which you are located. When you visit the Netflix website or app, you are taken to your local version.
If you are located outside of the USA, you are not going to have access to the entire catalog of content on Netflix. In some locations around the world, this means that you can only choose from less than half of the content made available in the USA.
However, if you sign up with one of the best VPN for Roku, you can overcome the restrictions.
Get access to the full US Netflix catalogue with ExpressVPN now >
We are not going to go into all the details about how a VPN works. If you are interested, you can read this to understand how a VPN works. However, we will explain briefly how geo-restrictions are applied and how a Virtual Private Network helps to overcome them.
How Restrictions Are Applied?
When you visit Netflix or another streaming website on your device, the IP address of your device is noted. Each country has a set of IP addresses and the sites use this to determine which version of the site to show you.
Restrictions are put into place due to licensing. This means content can only be shown in certain countries. To get around the restrictions, you can fool the site into thinking you are located in a different country.
For instance, if you are located in the UK you can fool the website into thinking you are located in the USA to access USA Netflix on Roku.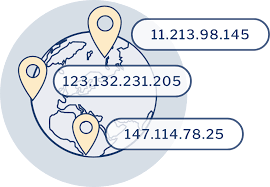 To do this, you sign up with a Virtual Private Network provider. Once signed up, you can use an app for your router to connect to a server in the USA or any other country and obtain an alternative IP address.
Then, when you visit Netflix on Roku, it looks as though you are actually located in the USA or which country's server you connected to.
We have chosen some of the best VPN for Roku 2023 below.
Our Choice of the Best VPN for Roku 2023
When choosing a Virtual Private Network for gaining access to geo-restricted content the provider needs to be able to overcome geo-restrictions and not all can. Of course, the ones we have chosen do have this ability.
The providers all offer fast and reliable connections for streaming content in HD to do away with buffering.
All providers support multiple connections at the same time along with offering military-grade encryption and many other features.
ExpressVPN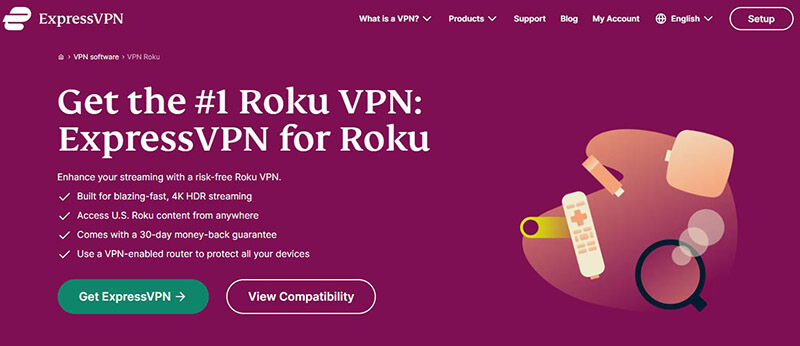 ExpressVPN provider is our first choice for streaming US Netflix. The provider stands out as it offers the fastest servers out there with many in the USA and 3,000 more located around the world. These are perfect for streaming HD content on US Netflix.
ExpressVPN not only has what it takes to overcome restrictions on Netflix but also a host of other channels, including Amazon Prime, BBC iPlayer, HBO, Hulu, and more.
The provider is one of the best VPN for Roku, offering a range of apps for devices, including installation on a router. Located in the British Virgin Islands, they have a no-logging policy, superb encryption, and DNS leak protection that is the best.
To top it off there is peace of mind with a 30-day unconditional money-back guarantee so you have nothing to lose. For a 1-year subscription, you'll get 3 months free, resulting in a 49% discount. This is really a good deal you should not miss.
PROS:
160 locations across 94 countries
Very good speed
Client support
No-logs provider
Strong encryption
Great apps
A very good solution for streaming
CON:
More expensive than its rivals
Stream Netflix in HD with ExpressVPN now >
---
NordVPN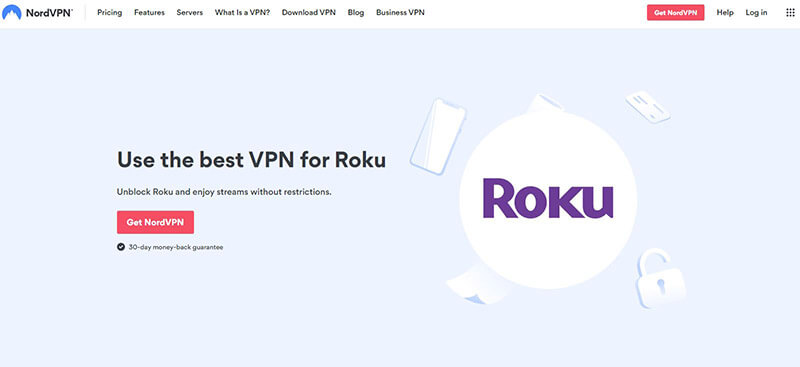 NordVPN is another good choice of VPN provider for overcoming geo-restrictions and the service can unblock a wide variety of streaming platforms with ease.
The provider also offers AES 256-bit encryption, including the option to connect to two servers with a double VPN for added security.
NordVPN offers 5,200 servers with many of them optimized specifically for streaming in HD. The provider offers apps that work on the majority of platforms, including routers and 6 simultaneous connections, so other family members can enjoy the service.
PROS:
No IP or DNS leaks found
Easy-to-use application
P2P allowed
Unblocks Netflix US
265-bits AES encryption
Lots of servers
CON:
Expensive short-term plans
Unblock streaming platforms with ease with NordVPN >
---
CyberGhost

CyberGhost makes it onto our list of the top best VPN for Roku, offering a huge number of servers located around the world, with many in the USA.
You can stream US Netflix on your device along with Amazon Prime Video, BBC iPlayer, and many others. Of course, the provider offers everything you would expect from a VPN.
This includes DNS leak protection and Kill Switch in case the connection drops, to make sure you are not exposed.
CyberGhost also supports router installation along with providing numerous apps for different devices and simultaneous connections on different devices.
PROS:
Very nice application
7,400+ servers in 90 countries
Unblocks Netflix
Quick live chat support
Privacy-friendly jurisdiction (Romania)
Competitive prices
CON:
Does not work in China/Turkey
Occasionally slow speeds
Stream Netflix, BBC iPlayer, Amazon Prime and more with CyberGhost >
---
Surfshark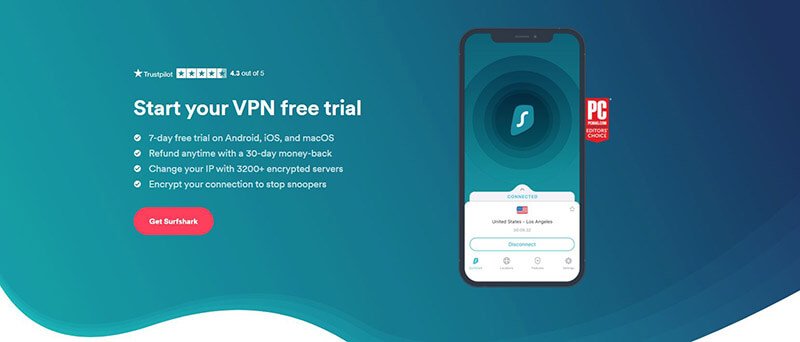 Surfshark plans offer unlimited simultaneous connections, no logging, and a wide choice of fast servers. Being a more affordable solution, you do not get access to the huge range of extremely fast servers from providers such as ExpressVPN, but the servers that are here do the job.
The provider can unblock a range of streaming platforms and it offers the highest level of encryption. Moreover, Surfshark comes with in-built protection against malware and phishing attempts whilst also blocking ads.
With a no-logs policy, you remain anonymous and secure and there is a Kill Switch feature in case the server connection drops. You also benefit from DNS leak protection.
Surfshark is one of the more affordable providers out there. Therefore we were satisfied with its "MultiHop" feature. This allows you to connect to multiple servers for added security.
If you are looking to choose one of the best VPNs for Android, iOS, Windows, or macOS that will not break the bank, you might want to consider Surfshark.
PROS:
Strict no-logs policy
Very good option for streaming
3,200+ servers in 65 countries
Simple to use
Safe and secure solution
The whole family can use a single plan from Surfshark - get one now!>
---
IPVanish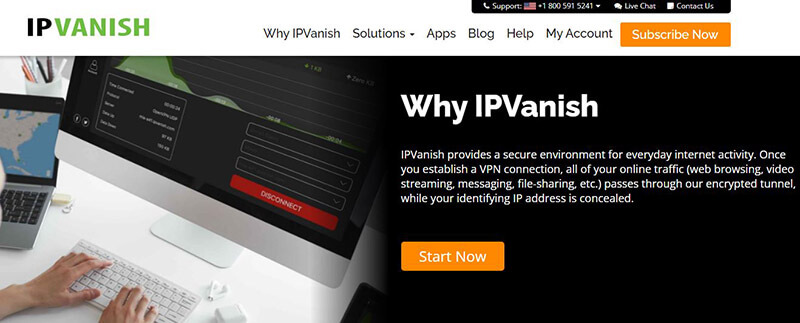 IPVanish makes it onto our list of the best VPN for Roku 2023. While it doesn't offer anywhere close to the number of servers that ExpressVPN offers, it is still worthwhile considering. To be precise, there are 1,900+ servers in 75 locations worldwide, which isn't all that bad.
The provider internally manages the network of servers it offers, which means there is very little outside interference, and it's great for those who focus on anonymity.
You can use the plan on 10 simultaneous devices, plus, you get unlimited bandwidth. The servers are capable of unblocking US Netflix, Sling TV, BBC iPlayer, and more.
IPVanish offers a good level of encryption and it has a no-log policy. This is important even when using a VPN on Roku.
PROS:
Good security
More than 75 countries covered
Servers working with Netflix
Decent speeds
CON:
Based in the USA
Outdated applications
Unblock a wide range of streaming platforms with a plan from IPVanish >
---
How to Set Up a VPN on Roku?
So, now that we have recommended the best VPN for Roku, let us talk about how to set up a Virtual Private Network on the system.
The Roku system was not designed for supporting a Virtual Private Network. Therefore, there is no specific app that you can download for Roku. However, this does not stop you from taking advantage of a VPN, as there is a work-around.
We are going to use ExpressVPN as our chosen provider for the installation instructions below.
Make a USA Account to Stream From the US
Before we give you the steps to installing the VPN on Roku, we first want to point something out. If you plan to use a streaming stick to watch content from channels in the USA, you will need to configure your device with a US account before making the VPN connection.
To do this, connect any device to a US VPN server then follow the steps below.
Launch your browser and head to "owner.roku.com" which is the Roku configuration section
Go ahead and set up an account but choose the USA as your country
Type in a US zip code, you can find a list of US zip codes online by searching
Press and hold down the reset button on your Roku for 15 seconds at least to reset it
Once the device restarts log into the device with your newly made credentials with the USA zip code
Set Up the VPN on the Router
Head to the account page of the VPN you have chosen. Again, we chose ExpressVPN but you can choose any of the providers from our list of the best VPN for Roku.
Find the "OpenVPN" configuration files on the website for the server you want to connect to, in this case, one from the USA. Make a note of the username and password
Go to the control panel of your router. This is generally done by typing in 192.168.1.1 in the web browser
Log in to the control panel with the credentials
Go to "Advanced Settings"
Find the tab that says "VPN Client" and then add a profile
Choose the "OpenVPN" tab and give the connection a name, such as "ExpressVPN". Enter the username given by the VPN provider and the password
Click on "Import.ovpn" file and upload
Click on "Ok" and "Activate" and this will activate the Virtual Private Network connection.
PLEASE, note that if you face any problem, the best solution is to contact your VPN's client support. They'll be able to help you with any of your issues. 
Connect the Roku to the router
Now let us move on to the steps needed to connect the device to the VPN.
Head into the settings – network menu on the device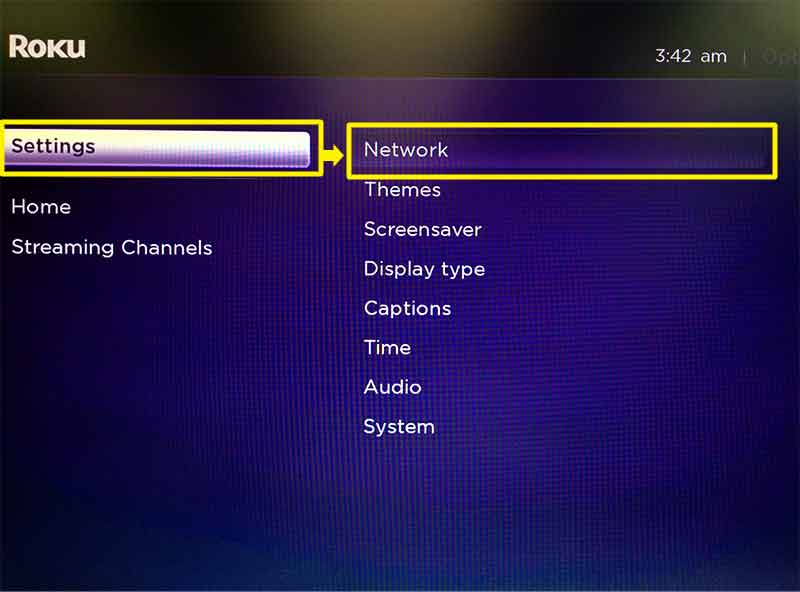 Choose Wireless (Wi-Fi)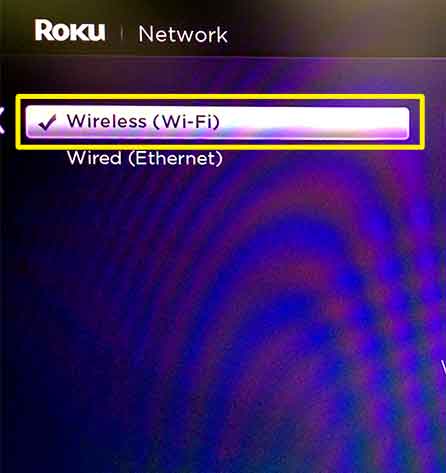 In the "Choose network" screen, choose a VPN-enabled router or virtual router depending on your set-up. You will have set this up earlier.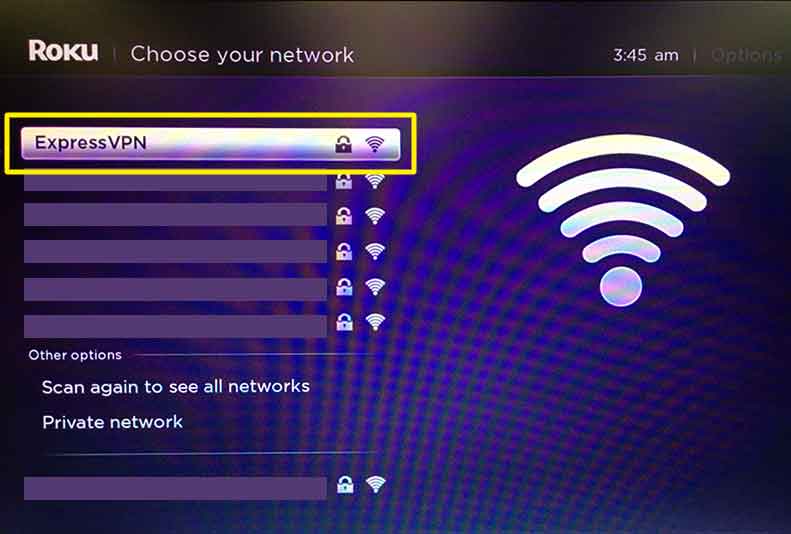 Type in your password for the router or virtual router and then Connect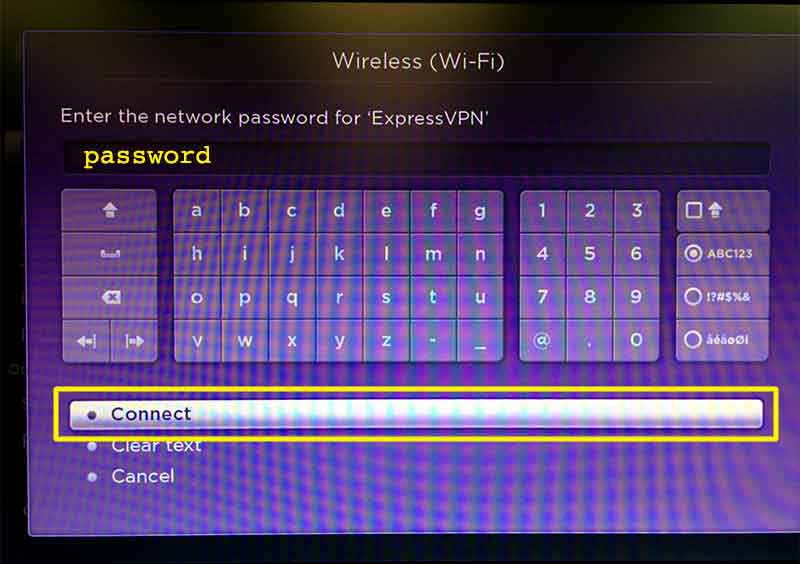 More Benefits of a VPN
Of course, there are numerous benefits to using a VPN. You can use the plan with any device that connects to the internet through your router. All of the providers listed on our best VPN for Roku list offer numerous features and benefits.
So let us look at the many uses for a Virtual Private Network.
Streaming on Any Device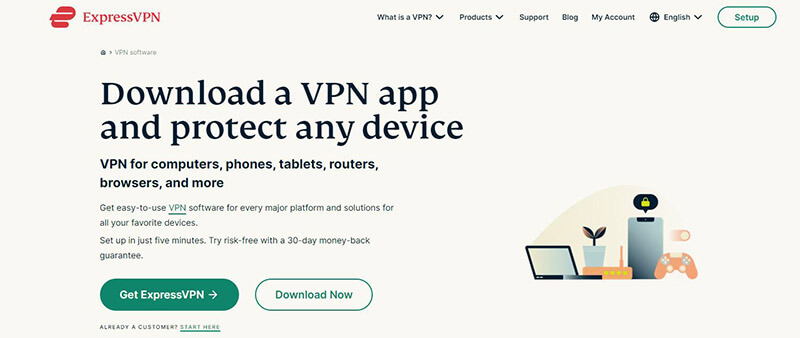 We already explained to you how to unblock Netflix using a VPN on your Roku device. However, did you know that you could get around restrictions on other devices?
This applies to smartphones, tablets, and computers and not just to Netflix but many other streaming platforms and websites.
With a VPN set up on your router, you do not even have to download and install various apps for the devices. Any device that connects to the internet through your router will enjoy the connection.
Torrenting Anonymously

If you or someone in your household likes to torrent, you can do so anonymously. When you take on an alternative IP address your ISP will not be able to spy on you. As they cannot spy on you they cannot find out you are torrenting or P2P file-sharing online.
Added Security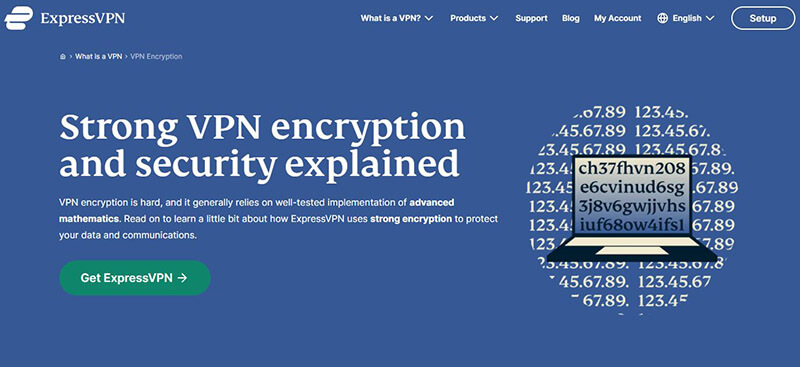 Your IP address is masked when connected to an alternative server. Along with this, a virtual tunnel is created between your device and the internet. Any information passing along the tunnel is encrypted, which means that it cannot be read if intercepted.
Saving Money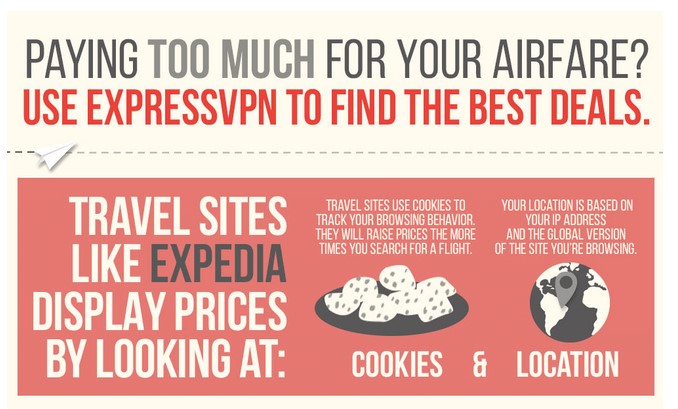 A Virtual Private Network can even help you save money online when you shop. You could save money on Spotify subscriptions, airline flights, hotel rooms, and car rentals all by changing your IP address.
Change your IP to save money online with ExpressVPN now >
In Summary
There are many advantages to using a Virtual Private Network and with simultaneous connections, all the family members can benefit from a plan.
Whether you want to check out the entire US Netflix catalog, enjoy all that the streaming platform offers, or remain secure online, you can do it with a VPN.
We have chosen what we think are the top 5 best VPN for Roku 2023. Now, all you have to do is decide which of the providers to go with.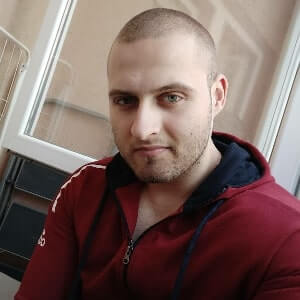 A professional writer with a Master's degree in Mechanical Engineering. Since his youngest age, he loves everything related to internet, technology, fitness, games, and dogs! He joined our team in order to bring his deep knowledge in security services, among which VPN is of course a key component.