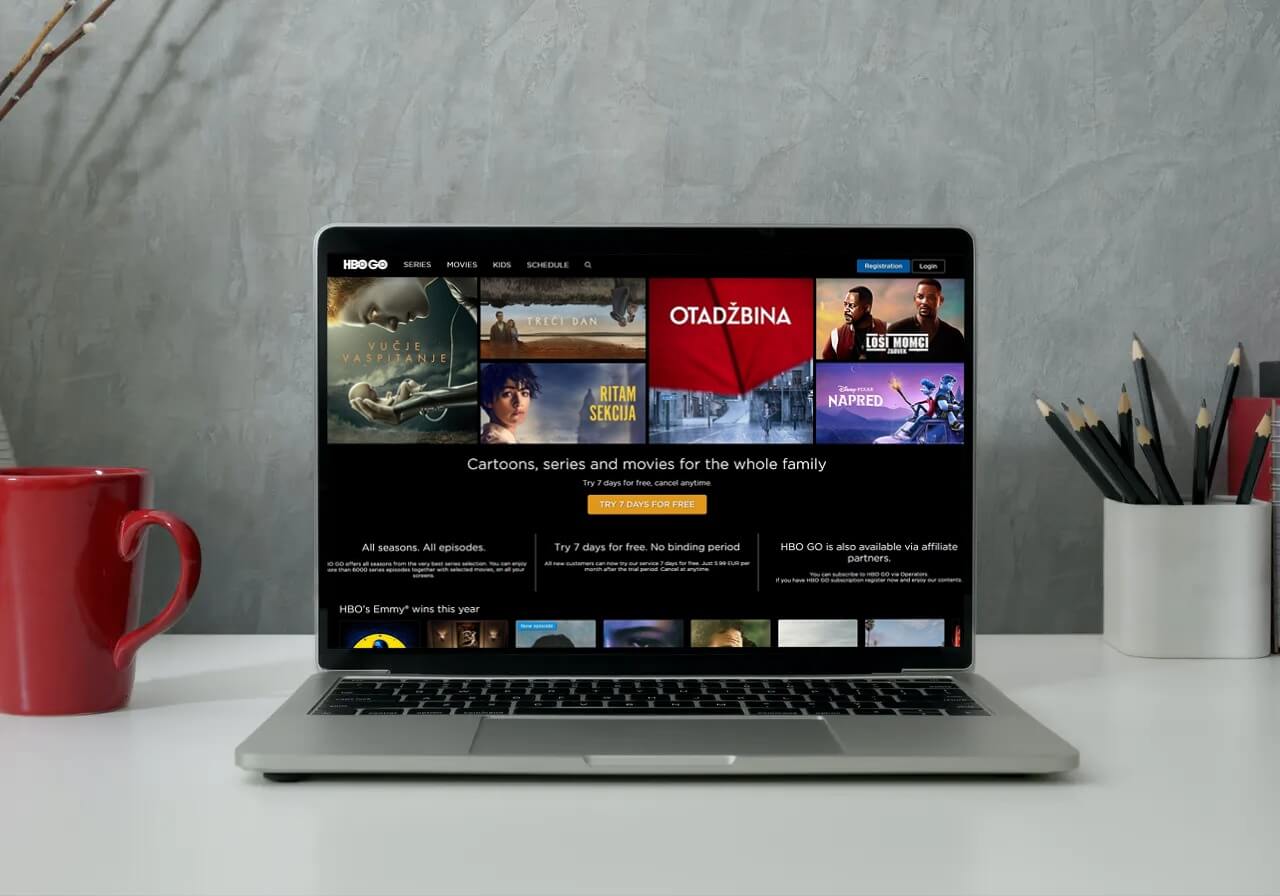 HBO is well known for offering original series and movies with streaming available through HBO Go and HBO Now in America. However, if you venture outside of the US, you will find that you cannot access the channel, hence the question, how can I unblock and stream HBO abroad? Well, we have the answer right here.
What's in this article? Understand in 30s!
1. HBO is one of the most popular streaming platforms. But, unfortunately, it is not available when you are abroad, due to geo restrictions. The platform knows that you are outside the US thanks to your IP address.
2. With a VPN, you can change your IP address and online location, connecting to any server in the world your provider has. You can choose a server in the US to unblock all the content.
3. To have a lot of available servers, you have to choose a provider with a huge network. They will be presented in this article.
Why Can't I Stream HBO Abroad?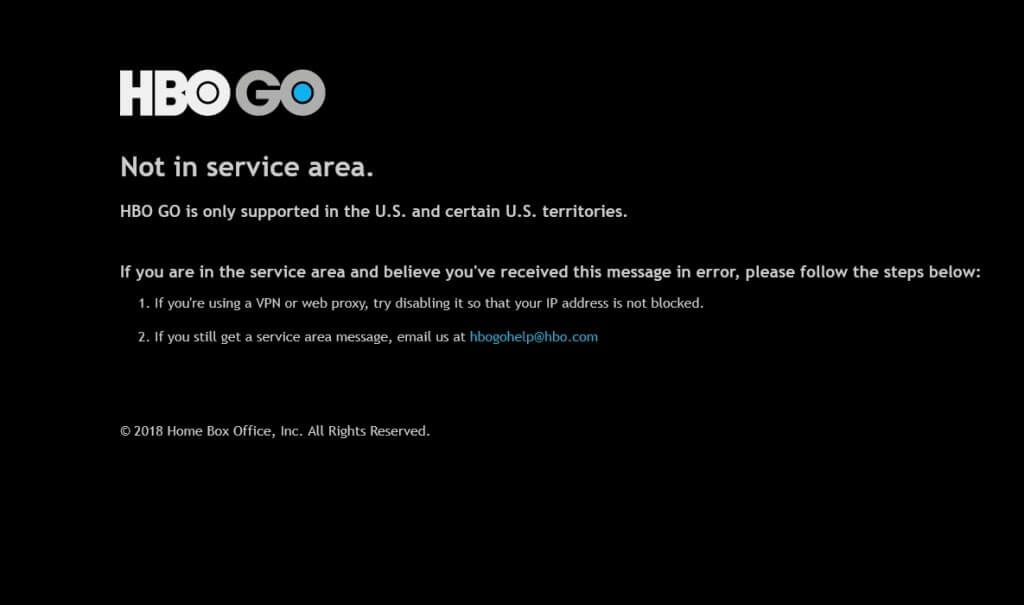 If you live in the United States and pay a subscription to watch HBO, finding yourself faced with a "Not in the service area" message can be confusing, and annoying. After all, you pay to watch the channel, but now that you are outside America, you cannot access it!
Consequently, you will want to find out how to stream HBO outside of the US.
The message you are seeing, instead of the show you wanted to watch, is due to copyright and licensing laws. In short, HBO made a deal to restrict content in the United States.
So, despite you being a US resident, you are blocked simply because of your location.
Therefore, because you have gone outside of the country, you cannot watch something that you have already paid for by subscription. This leads to the question – "how can I watch HBO abroad?" Is it possible to get around the blocks? And how do they know you're outside of the USA?
IP Address Restrictions

Let's first address this question – how do they know you are outside of the states? In fact, this is where the answer to unblocking restrictions can be found.
Geo-restrictions are placed based on your IP address, essentially a set of numbers. Find out how to change the IP address and you'll find the answer to how to access and watch HBO live outside of the US.
When you visit HBO to stream your favorite series, the site checks your IP address to make sure that it is among the range in the United States. It does this silently and quickly in the background without you even realizing it.
If it finds a match to a city in the USA, it allows you to stream. If not, you are restricted and cannot access the site.
Hence the need for you to find out how to watch HBO when you're not in the United States. Outside of the states, the IP range is different from the states, with each country having its own range.
Therefore, you have to change the IP and this is what we are going to show you how to do. The easy answer is to change it with a VPN to make the site think you are still located in America.
By subscribing to a VPN, you have access to the tools needed to change your IP in seconds. Still wondering how can I stream HBO abroad? Follow the steps below.
Steps to Change Your IP
We recommend ExpressVPN, CyberGhost, or NordVPN to change your IP and unblock HBO no matter where you are. These are also recommended when you want to unblock CNN abroad, for instance.
So, choose a provider and plan. By the way, ExpressVPN offers great savings of 49% when taking a yearly plan and you get 15 months for the price of 12 months. However, regardless of the provider you choose in our list, you can, in fact, accomplish what you set out to do, which is finding out how to access HBO outside the US.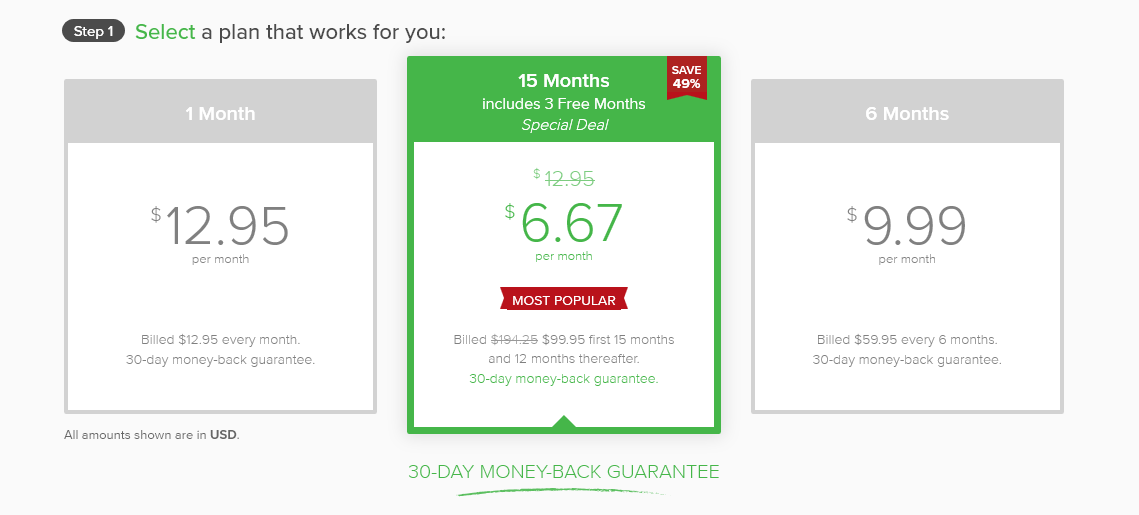 Download the VPN software onto your device and install it. You should now see an icon for the software on your device, so click on it to open up the dashboard. The dashboard is where you can choose a server.
In this example, we have chosen ExpressVPN, so the dashboard may vary depending on whom you chose as your provider. However, it should be quite similar to the screenshot below.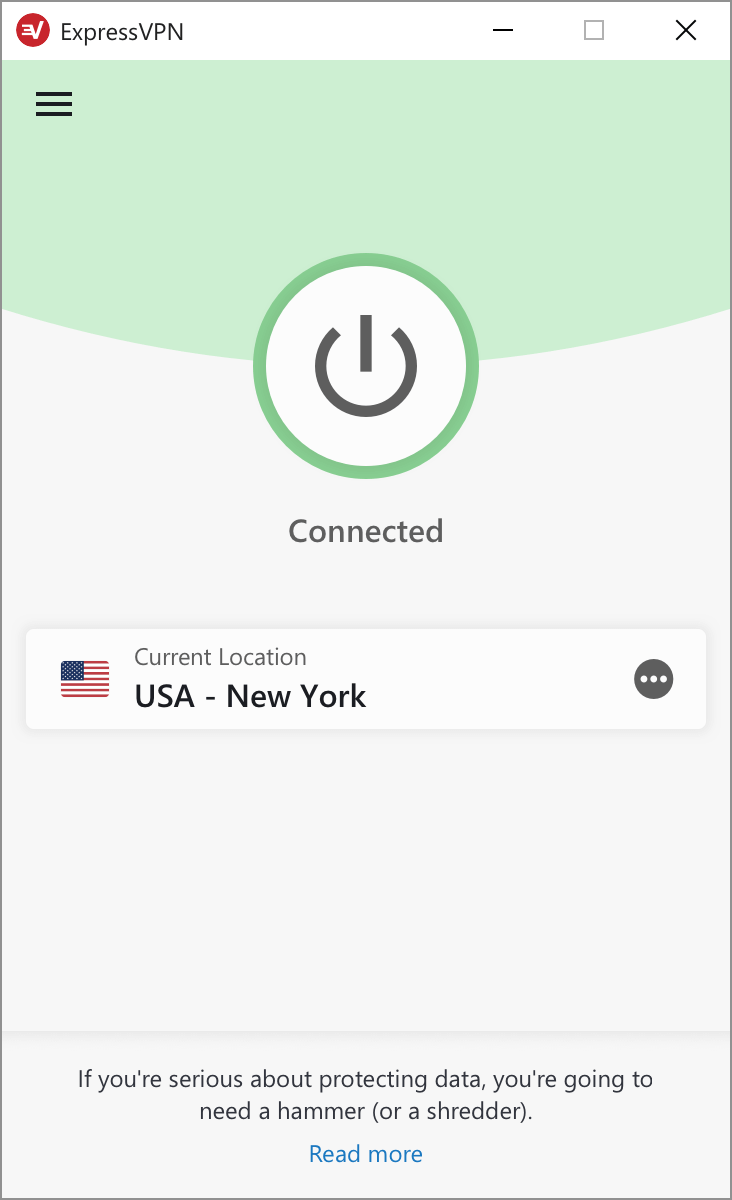 The answer to how to watch HBO outside of the USA is to choose a server based in the United States. In fact, there should be quite a choice of US servers from which to choose.
It doesn't matter which part of America the server is located in, as long as it is one from the states.
Once you have chosen a server, you can click on the button to connect and you are ready to stream regardless of your location. Therefore, you have answered the question of how can I unblock and stream HBO live outside the USA.
With the answer changing your IP address.
Top 3 VPNs That Unblock HBO Abroad
When looking for a VPN to overcome HBO geo-restrictions, or subsequently, any other network restrictions, it is important to bear in mind that not all providers can bypass the restrictions. Only a few of the providers out there have the capability to do so.
The key element in finding out how to watch HBO wherever you are is choosing a server in the United States. For this purpose, here are our top 3 recommended picks:
1. ExpressVPN

ExpressVPN offers numerous benefits, including great savings on a 12-month plan.
The provider has super-fast connection speeds to 3,000+ servers in 94 countries around the world, with many in the United States.
Servers are stable and reliable.
There are no bandwidth limitations, something essential when learning how to stream HBO outside of America.
256-bit AES encryption with a kill switch.
Zero-logging policy.
Protection from hackers and prying eyes thanks to advanced security features;
They offer a 30-day money-back guarantee with all plans refundable no questions.
Unblock HBO now with ExpressVPN >
2. CyberGhost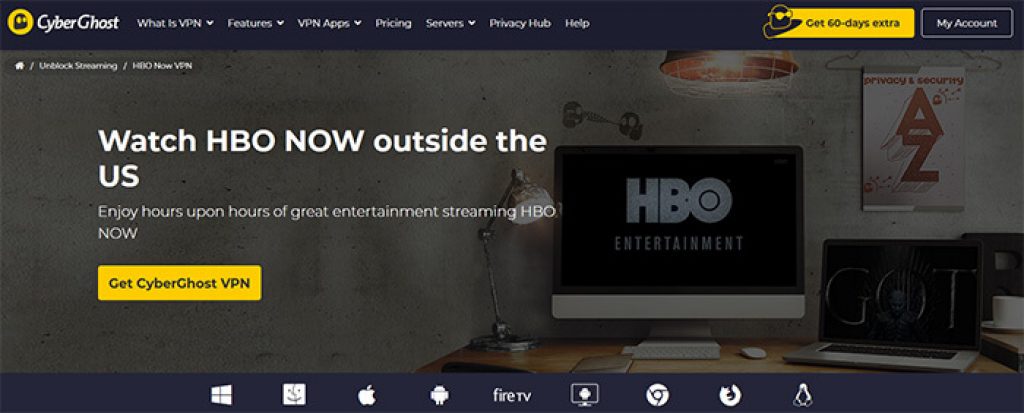 CyberGhost also allows you to bypass the geo-restrictions necessary to watch your favorite shows from HBO wherever you are in the world. The features of the provider include:
Extremely cheap plans, especially the 3-year one.
Software for a range of devices, including iOS, Android, macOS, Windows, and Linux. Perfect when asking how can I unblock and stream HBO outside the US on any device.
7 simultaneous connections for endless streaming.
45-days money-back guarantee
No logging policy and 256-bit AES encryption, for ultimate security.
3. NordVPN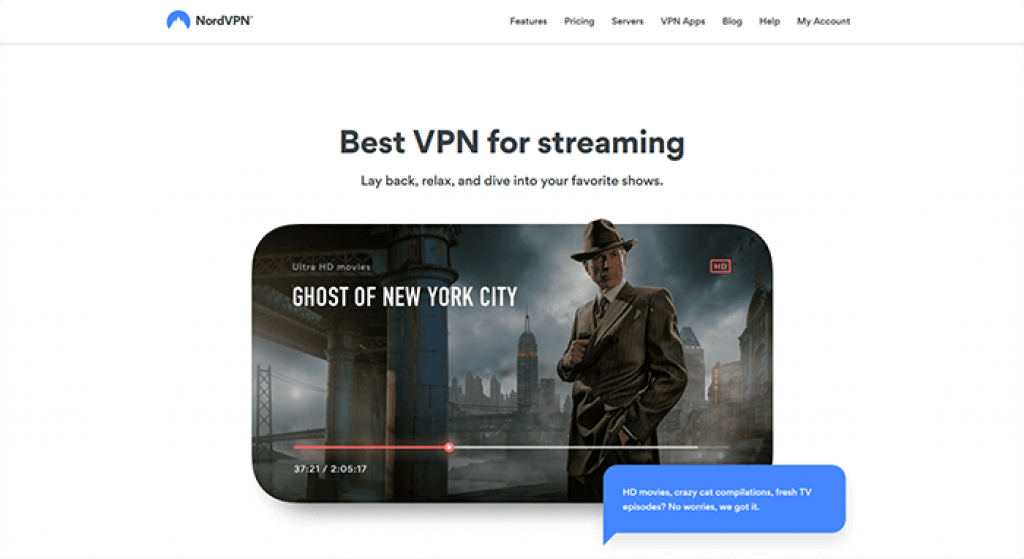 NordVPN is another popular choice for streaming blocked content, including HBO, Netflix, and other sites where content is geo-restricted. The features of the provider include:
Fast server speeds with 5,600+ servers in 60 countries, for uninterrupted streaming
Security – whether streaming, downloading, online banking, or just browsing the internet.
Up to 6 simultaneous connections, so everyone in the family can take advantage of how to stream HBO outside of the United States.
Software for every major platform.
24/7 customer support which means that you can get help with your VPN-related issues.
Conclusion
It isn't fair that you cannot access content from HBO abroad when you pay a subscription to watch it, but indeed, it is a reality.
The chances are that you will be taking a trip away at the same time as the next episode of the show you are following is airing.
Now that you have found out the answer to how can I unblock and stream HBO outside of the United States, you will be able to gain access and not miss the outcome of the last cliff-hanging episode you watched.
ExpressVPN, CyberGhost, and NordVPN are all ideal solutions to overcoming the unfair restrictions imposed on watching content. We are slightly leaning towards ExpressVPN due to its super-high-speed and the fact that it has never been blocked by HBO.
Therefore, you can be sure you'll always manage to access and stream your favorite channel.
Along with providing the answer to how to unblock HBO outside of the USA, all three provide many more benefits, including additional security, something that should not be overlooked in day-to-day internet browsing.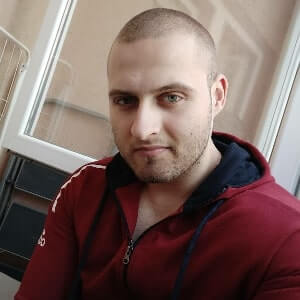 A professional writer with a Master's degree in Mechanical Engineering. Since his youngest age, he loves everything related to internet, technology, fitness, games, and dogs! He joined our team in order to bring his deep knowledge in security services, among which VPN is of course a key component.