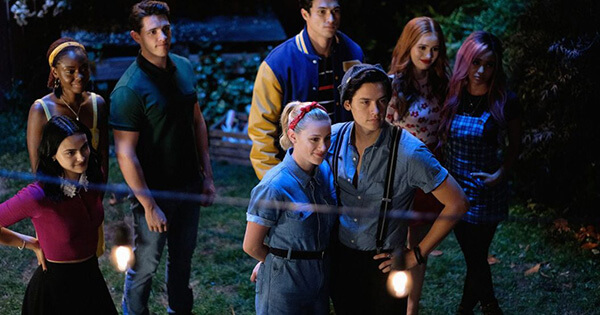 Riverdale came back through the big doors with its freshly-baked season 6. The Riverdale mystery continues, as the story evolves into something much creepier and more sinister, posing a new challenge for Archie's gang. Sadly, Riverdale season 6 on Netflix isn't available for everyone, and finding it seems impossible. However, I will prove you wrong today and give you a way to access it no matter your location. Don't believe me? Well, I suggest you stay along for the ride.
Is Riverdale Season 6 on Netflix?
Okay, so is Riverdale season 6 even available on Netflix? That is probably the question you will ask if you live in the United States and a few other countries. Luckily, season 6 is available on Netflix, but that's not the case in every catalog.
Not sure what I mean? Well, many users know that Netflix bases its catalogs of movies and shows according to your location. For example, some think that Netflix US is the best catalog, which isn't entirely true. Besides, it doesn't have season 6 of Riverdale.
For that reason, you might be unable to find this season on your catalog, and in some cases, the show won't be available at all.
Where Is Riverdale Season 6 on Netflix Available?
This, then, brings us to the question of where you can find season 6 of Riverdale.
To find out that, we need to visit this website called uNoGS.com. It lets you see which movies and shows you can find on different Netflix catalogs around the globe. As you can see, Riverdale is available in 38 countries globally, so every major catalog is on the list.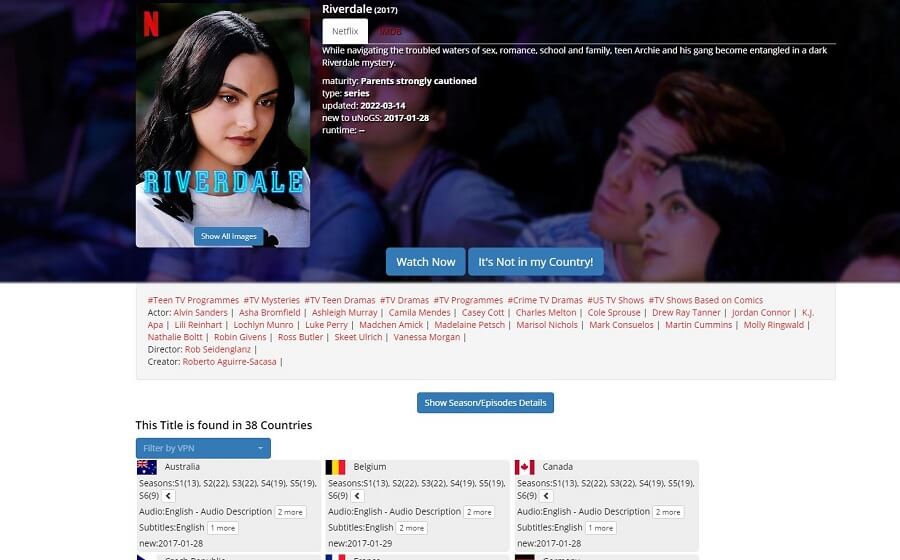 In the image below, you can also see that, in the US, there are just 5 seasons of this show at the time of writing this guide.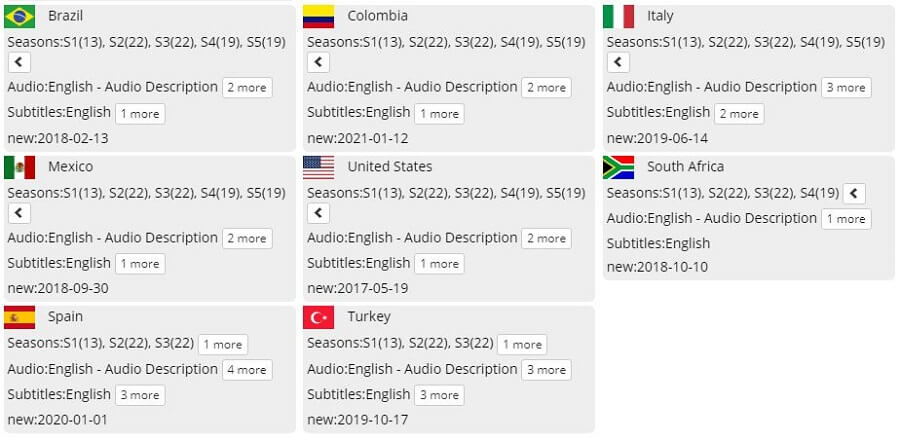 So now, let's get back to the first image. I will use Netflix Canada as an example here because it has all 6 seasons of this show.
Unblock Netflix Canada with ExpressVPN >
Unblock and Watch Season 6 of Riverdale on Netflix – Here's How!
This means that you have to be located in Canada to watch this portion of the series. Or perhaps, you can just get a Canadian IP address and solve the issue without moving to Canada. That can be done through ExpressVPN.
ExpressVPN lets you get an IP address from any of the 94 countries that it offers. As soon as you get an IP address from Canada, any website you visit will see this as your real location, and the same applies to Netflix.
As a result, you will gain access to the Canadian library of Netflix, where Riverdale is available, with all of its 6 seasons. Here's how to do that in a few simple steps.
Subscribe to ExpressVPN. My recommendation is a one-year plan with a 49% discount and 3 months free on top of that. Moreover, there's a 30-day money-back guarantee, so you can get a refund after watching the show, without losing any money.
Once you subscribe, download, and install ExpressVPN onto your device. Both iOS and Android phones are supported, and you can perform this solution on your Smart TV as well.
Now, open ExpressVPN and connect to the VPN server in Canada. There are 3 server locations available, so if one doesn't work, try another one and one of them will surely work.
Finally, visit Netflix and search for Riverdale – it should appear now. Therefore, click on season 6, choose episode 1, and start watching it.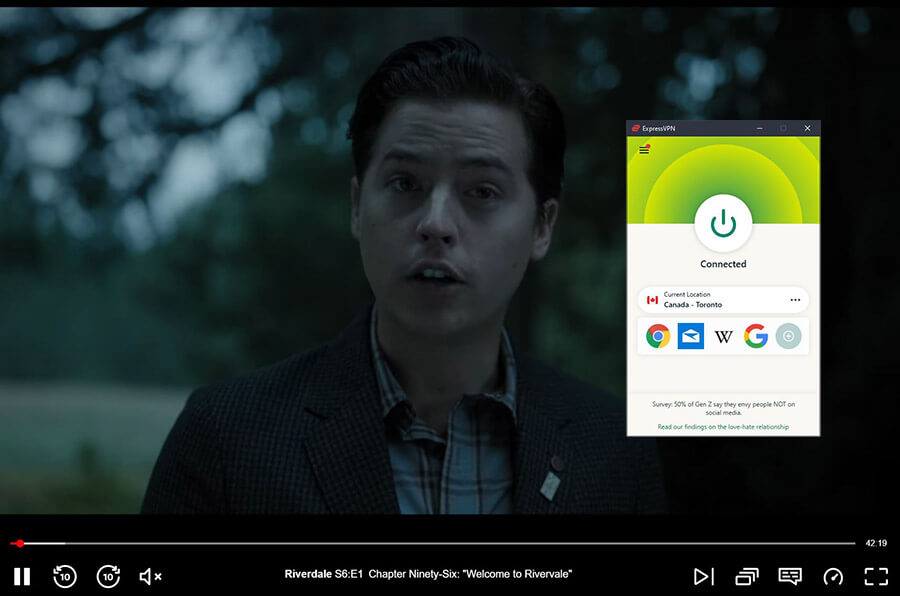 Why Use ExpressVPN for Netflix?
ExpressVPN is the VPN I recommend when trying to unblock different Netflix movies and shows.
The reason lies in its reliability, which other premium VPNs fail to achieve in this regard. Namely, ExpressVPN works with more than 10 Netflix libraries, letting you unblock catalogs from the US, UK, Japan, Canada, and many others, with a high degree of success.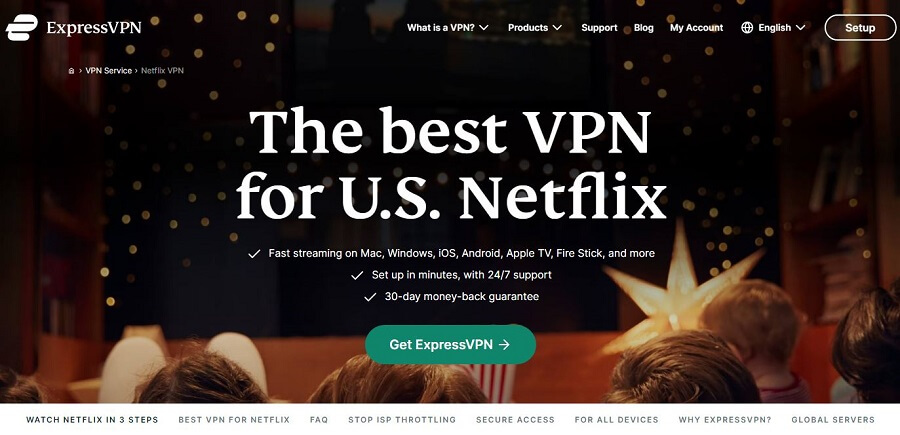 This is possible thanks to its 3,000 servers in 94 countries, as well as the impressive performance that it brings to the table. Needless to say, its speeds will be enough even for 4K streaming, which is further complemented by rock-solid security across the board.
ExpressVPN comes with useful features like 256-bit AES encryption and a kill switch, making it easy to secure your connection. Furthermore, ExpressVPN stores no logs of your browsing history and IP address, which is proven in its no-logs policy verified by PwC several times.
We also must mention its ease of use on all devices, as well as native applications for all popular platforms. It supports 5 simultaneous connections on one subscription, with the ability to reach out to 24/7 live chat support at any time of the day or night.
And of course, don't forget about its 49% discount and 3 months free for the annual plan that you can claim below. It's gonna save you a lot of money!
Use ExpressVPN to Watch Riverdale Season 6 on Netflix >
Will Any Free VPNs Work?
Sadly, not a single free VPN will let you watch Riverdale season 6 on Netflix.
As you can expect, free VPNs don't offer the same level of performance as their premium counterparts. Hence, they don't work with Netflix at all, giving you limited monthly bandwidth and very slow speeds as an addition.
Moreover, free VPNs are known for their lackluster security and logging practices. So, apart from not securing your connection properly, they usually store logs of your personal information, which they later sell to third parties to earn revenue.
For that reason, I recommend avoiding Hola VPN, Betternet, Windscsribe, and many other free VPNs for this purpose. If you want a cheaper solution, you can try CyberGhost instead.
Summary
And that's pretty much it. I've shown you an easy way to access the last season of Riverdale on Netflix. Beware that its availability might change depending on when you're reading this article. However, if you have ExpressVPN, that shouldn't be a problem.
You can still use uNoGS to check where you can find it, get an IP address from that country, and watch the show without problems. All of this is risk-free, thanks to ExpressVPN's 30-day money-back guarantee, too, so you don't need to lose any money.
Watch Riverdale Season 6 on Netflix with ExpressVPN >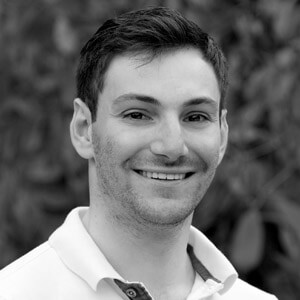 Flo is the founder of the-bestvpn.com. Really concerned about security on internet, he decided to create this website in order to help everyone find the best VPN. He's got a Business School background and now is 100% dedicated to keeping his website alive.