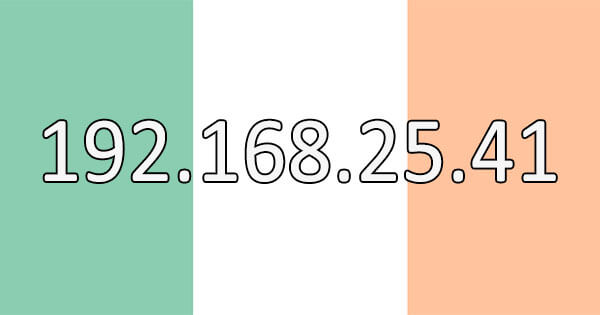 If you are an average internet user, you know there are geo-restrictions that block free access to content across the globe. Thus, you can't watch the US catalog from Netflix if you are set in Germany. The same goes for accessing Irish TV channels and streaming platforms. This is quite unlucky, considering that Ireland treasures a number of awesome entertainment and sports channels. On the other hand, you shouldn't put out the white flag just yet. There is a way to get an IP address, even if you are outside of Dublin or other locations in Ireland.
We have reviewed a couple of different methods and did our best to highlight what you should look for in reliable providers. Let's get right to it!
How do You Get an Irish IP Address?
Before we can talk about the benefits, we need to determine what an IP address is in the first place.
Visually, it represents different numbers and coordinates that determine your location. However, it is responsible for numerous consequences. If someone knows your IP address, they will be able to find and track your browsing activity.
They can also find info on the device and place you are logging from. Additionally, this results in not being able to access certain content from your country. That is why logging onto a reliable server and going past the geo-blocks is a wise decision.
There are a couple of reasons why an Irish IP address might be helpful. First and foremost, you will be able to enjoy many of their local TV channels, featuring comedy shows, movies, and sports. Along with that, Netflix has its own catalog for Ireland, which you can't watch unless you are currently in the country.
Also, depending on where you are located, you may or may not have access to online gambling websites such as Paddy Power. Well, guess what? Ireland allows it for the most part.
Thus, if you want to deal with legal bookmakers, then a local IP address will work perfectly.
Last but not least, you may have an account in an Irish bank. Unfortunately, your access may be blocked because you are currently outside of the country.
With a Proxy
Should you use a Proxy to get an Irish IP address? This is a good question. But, the answer is not that simple. The thing is, proxies have been around for decades and are known to offer free servers across the globe.
On the other hand, you can't ever be sure that the connection will be reliable and that your privacy is truly protected.
These are the two things that you want out of a service that hides your IP address. There may be a proxy server that can give you unlimited access to different Irish content. However, we still see a VPN (Virtual Private Network) as a better option.
Which one should you choose, though? That is something we will discuss down below.
With a VPN
If you are not familiar with how a VPN works, we are here to explain. What it does is encrypt private communication and allows you to access the Internet from an alternative IP address. Therefore, your true location stays hidden, while you will be able to access content local to the server's country.
You may or may not be able to access sites that are unblocked in your primary location. This solely depends on the provider. The whole idea of a VPN is that it encrypts your data and ensures that no one can track your browsing activity.
If you thought that it all comes down to masking your true location, though, that is not where it ends.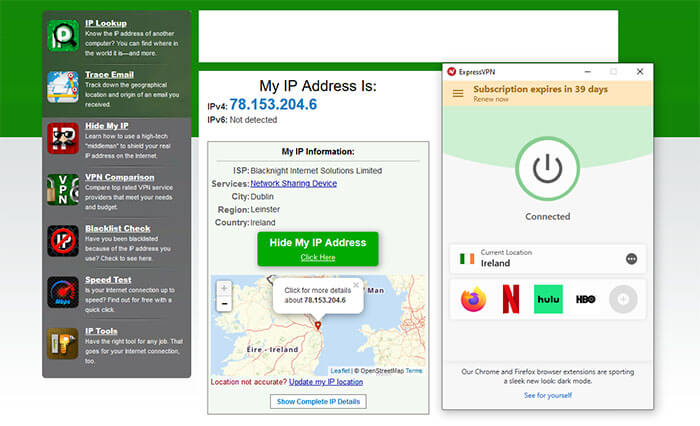 The algorithm will see you as an Irish resident if you connect to a server from your provider based in Ireland. It will then allow you to pay bills, shop locally, and enjoy threads that are relevant to the situation in Ireland.
Additionally, RTE television will be easily accessible.
Why You Should Use ExpressVPN?
Along with NordVPN and CyberGhost, ExpressVPN is among the leading names in the industry. It complies with all the requirements of a reliable provider and is considered to be one of the best VPN according to Reddit users.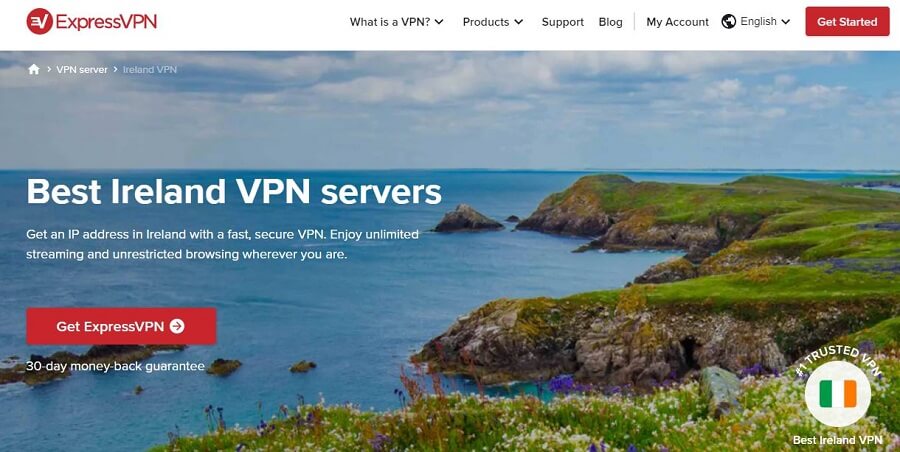 Thus, it offers 3,000+ servers across the globe, of which more than 10 are set in Ireland. This means that there is not a chance you will not be able to unblock a Netflix catalog. The same goes for other streaming platforms, such as Amazon Prime.
Additionally, it will not break your bank, while still ensuring that your privacy is protected and your data is not tracked. Last but not least, ExpressVPN offers superb customer service. Thus, if you were not satisfied with the service, there is a chance for full reimbursement.
How does it work? Download the app, install it, and you are good to choose a server based in Ireland!
Whether you want to watch Irish comedy shows or your favorite team from Dublin, getting an Irish IP address is a wise choice. We did our best to inform you about the process of bypassing restrictions.
It is your turn to go ahead and get the most out of ExpressVPN!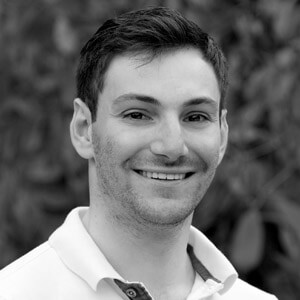 Flo is the founder of the-bestvpn.com. Really concerned about security on internet, he decided to create this website in order to help everyone find the best VPN. He's got a Business School background and now is 100% dedicated to keeping his website alive.