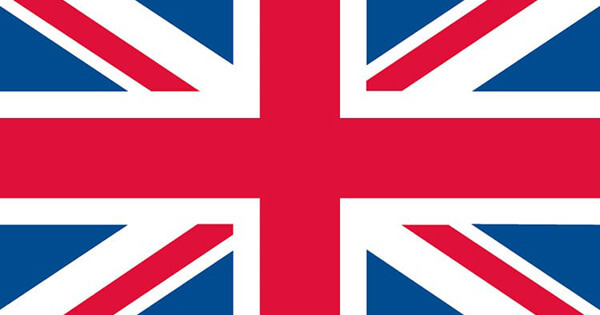 The United Kingdom is an unrestricted part of the world for internet usage in comparison to some other countries around the world. However, on saying this, there have been government proposals to put an end to free-flowing information on the net. There have been suggestions that some websites might be blocked based on content related to such as terrorism, adult material and copyright infringement. Many people located in the United Kingdom have started to use a Virtual Private Network. So, what is the best VPN in the UK?
Along with suggestions for blocking some websites based on content, in 2016 the Investigatory Powers Act was passed. This means that ISPs can spy on internet users. The British police force and other intelligence agencies are able to gain access to your online activities and information if requested.
This is another good reason why many people use a Virtual Private Network in the United Kingdom.
Is It Legal to Use a VPN in the United Kingdom?
Using a Virtual Private Network in the country is legal. There are no laws against it and your ISP cannot prevent you from using one.
One thing to note is that if you choose a provider based in the United Kingdom, that provider still has to abide by the Investigatory Powers Act and provide authorities with information if asked.
Many people choose to use a Virtual Private Network outside of the United Kingdom but still connect to a UK server. In this instance, access to the best of both worlds is possible as many providers outside of the United Kingdom have a no-logging policy.
Our Choices of the Best VPN in the UK
If you have decided you do not want your ISP or anyone else dictating what you can and cannot do and see online, you can subscribe to a VPN.
There are so many of them out there but we have picked what we think are the best VPN in the UK.
1. ExpressVPN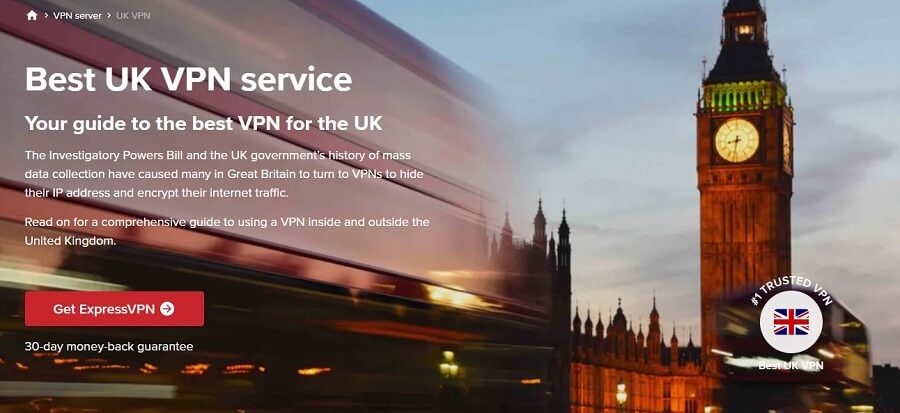 ExpressVPN is located in the British Virgin Islands where there are no data laws. This means they do not have to report under the Investigatory Powers Act of the United Kingdom.
ExpressVPN is a good choice for anyone who wishes to remain anonymous, as we mentioned in our article listing the best VPNs for UAE. The provider offers access to thousands of servers around the world, including servers in the United Kingdom.
Unlimited bandwidth is also offered to ensure no stuttering when streaming content in HD.
The provider is one of the best for unblocking Netflix around the world, along with Amazon Prime, HBO Max, and many other streaming platforms and sites that might be blocked.
It is also a good choice for anyone who goes abroad and wants to gain access to the UK version of Netflix instead of the local version offered.
They keep users safe and secure online thanks to military-grade encryption. Along with your IP address masked, the provider puts a tunnel between the device and the internet and encrypts any data that travels down it onto the web.
Moreover, the provider offers apps for a huge range of devices. This means you can protect just about every device you own when using the internet to stream, download, or just browse.
ExpressVPN offers monthly and yearly packages. The yearly package is paid upfront and this leads to saving 49% when compared to paying each month for the service.
Along with this, the provider throws in three months free, so you get a total of 15 months' use.
We chose ExpressVPN as the number one out of the best VPN in the UK. This is due to the fact this is a premium provider offering everything you could need and more.
PROS:
3000+ servers in 94 countries
24-hour live chat support
Unblocks Netflix US, UK, FR
No activity logs
30-day money-back guarantee
Great speeds
Get 15 months for 12 months with ExpressVPN >
---
2. CyberGhost


CyberGhost is located in Romania so it is also out of the watchful eyes of the United Kingdom. The provider has a strict no-logging policy and it can unblock many streaming platforms including Netflix and Amazon Prime Video.
The provider offers dedicated servers for unblocking streaming platforms. This includes sports channels such as Eurosport and ESPN. Streaming in HD is smooth and without stuttering, thanks to 7,000 fast servers located around the world.
CyberGhost is a good choice out of the top best VPN in the United Kingdom for anyone who torrents, as the provider supports P2P Torrenting away from the watchful eye of your ISP.
Downloading copyrighted content is, of course, illegal in the UK as is in many other countries around the world.
Also, the provider gives users powerful protection thanks to 256-AES encryption. This encrypts user information before sending it out onto the internet. Additional security measures include automatic Kill Switch, DNS, and IP leak protection.
Smart Rules allows users to change how they use the service. This includes having the program run at start-up with auto connection right away. It also includes Wi-Fi protection and app protection.
This means users can choose to connect to the best server location when opening a specific app, such as their web browser.
PROS:
Best value for money
Client support 24/7
Specific servers for Streaming and Torrenting
90 countries covered, with 7,000 servers
45-day money-back guarantee
---
3. NordVPN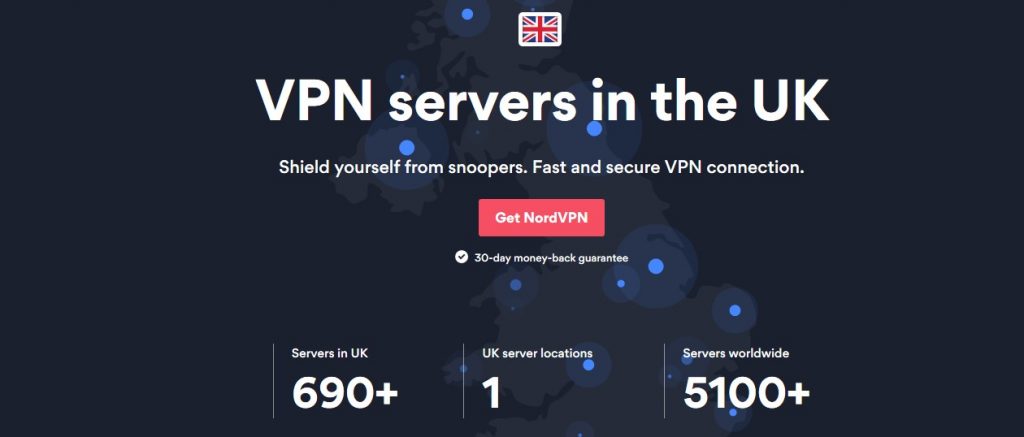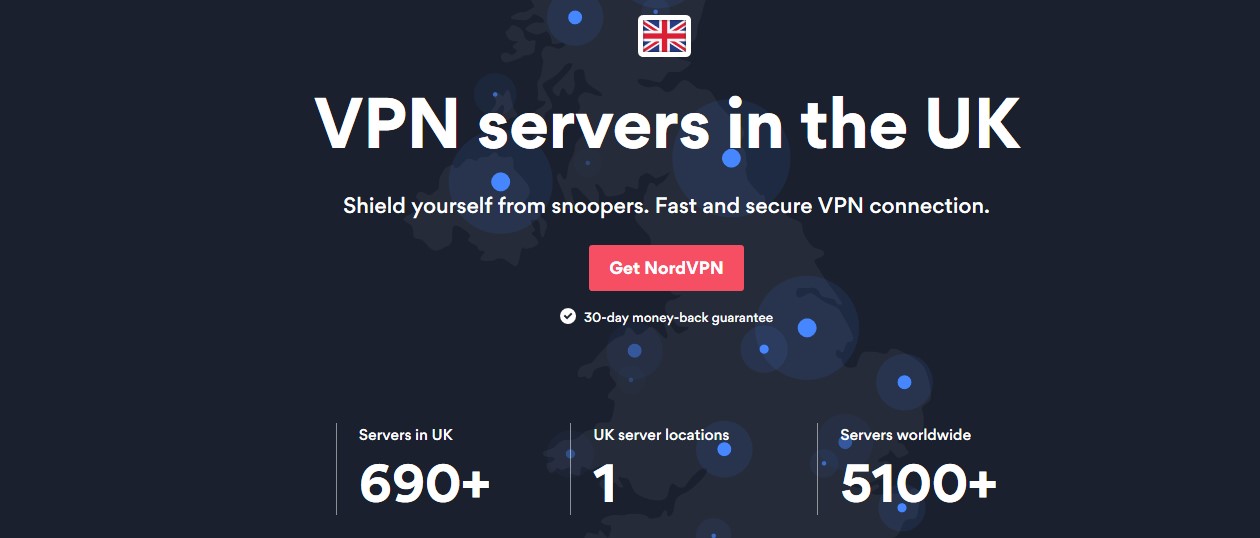 NordVPN also makes it onto our list of the best VPN in the UK. The provider offers total internet freedom regardless of your location, advanced security, and complete privacy, plus much more.
As you would expect, the provider is a good choice for overcoming geo-restrictions and streaming content in HD, providing access to 5,400 servers based around the country.
Many servers offer a dedicated IP, Onion over VPN support, and P2P support for torrenting.
Military-grade encryption is offered as standard on all plans for protecting personal data. There are many benefits to encrypting your personal info, too.
Hackers are prevalent on the internet. However, with encryption, they cannot read your data even if they were to come across it. Governments can demand logs of what you do online. Again, with data encrypted and a change in IP address, no one can see what you are doing online.
Not even your ISP can see what you get up to.
NordVPN also understands the importance of security when browsing, so the provider includes a feature called CyberSec into apps.
With this feature, you do not have to worry about ads popping up to annoy you when surfing the internet. With no ads it helps to speed up your browsing experience.
The same feature will block websites that act suspiciously to lessen the threat of malware infecting devices. It even helps if the device is already infected as it gives protection against DDoS attacks.
Another feature of NordVPN is the double VPN. As the name suggests, you can take advantage of connecting to not one but two different servers. With double protection, you also have double the encryption ensuring that even the most dedicated of hackers cannot get to you.
PROS:
Cheap 3 years plan
Double VPN
Strict no-log policy
5,400+ servers
6 simultaneous connections
CONS:
High price for the 1-month plan
No PayPal option for payment
Benefit from increased security by opting for NordVPN >
---
4. Surfshark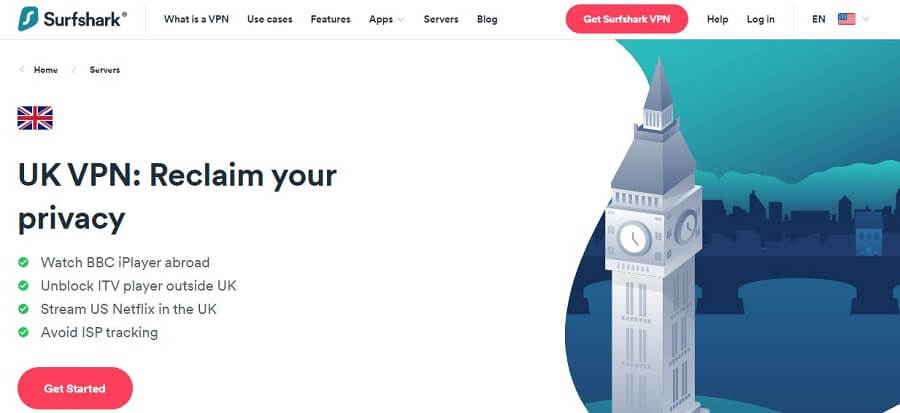 Another provider worthy of consideration that we have included on our best VPN in the UK list is Surfshark.
The provider offers a superb level of protection and security via an encrypted tunnel. Along with this, browser extensions are offered that stand out, plus superb performance.
Surfshark offers one of the most affordable VPN solutions but plans are not lacking in any way in features.
All providers offer a range of apps that can be used on different devices and on simultaneous devices up to a limit. Surfshark stands out in this area, as they do not put a limit on the number of devices users can use at the same time.
This means no matter how big a family circle you have, they can all make use of the protection and security that the plan offers.
The provider includes AES-256-GCM encryption. This keeps hackers and other prying eyes away from your personal information. In addition, with your IP address masked and one taken from one of the thousands of servers around the world you remain totally anonymous.
Surfshark also offers a Multi-hop feature. The feature routes your internet traffic through multiple VPN servers, ensuring total security and anonymity online. Heck, it's even better than the Double VPN that NordVPN offers!
Using the Camouflage Mode, not even your ISP can see what you get up to online. Anyone who likes to use BitTorrent will appreciate this feature.
Another reason the provider deserves a place among the top VPNs in the United Kingdom is the suite of tools offered. The CleanWeb feature, for instance, stops ads, phishing attempts, and trackers dead in their tracks.
PROS:
Competitive prices
Unblocks Netflix/Amazon Prime
Strong security
Unlimited simultaneous connections
CONS:
Smaller server network (1,700+ servers)
Surfshark : to obtain an unbeatable quality/price ratio >
---
5. IPVanish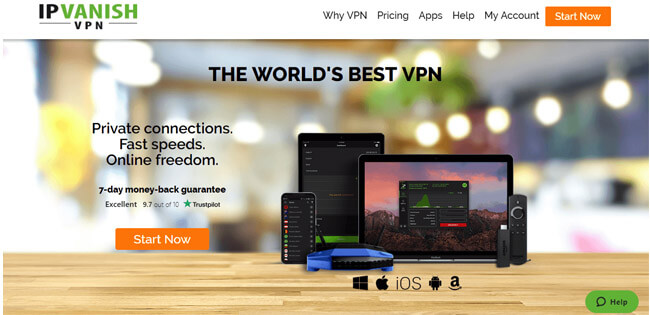 Last, but by no means the least on our best VPN in the UK list is IPVanish. The provider has a strict no-logging policy. This is perfect for users based in the UK who do not want the worry of being watched all the time by their ISP.
The provider manages a network of more than 1,500 servers, all of which offer fast, unrestricted access to servers around the globe with unlimited bandwidth.
IPVanish is a good choice of provider for anyone who uses torrent websites. The provider gives users unlimited P2P traffic and totally anonymous Torrenting.
They also offers plenty of apps for a wide range of devices and up to 10 connections at the same time.
PROS:
Great application
Strong security and encryption
10 devices can be covered at once
Military-grade encryption
CONS:
Company located  in the US
Inconsistent speeds
Enjoy unlimited P2P with IPVanish now >
---
Advantages to Using a Virtual Private Network
While many people think of using a Virtual Private Network to provide security online there are actually many ways in which the service can be used.
Here we take a look at some of the most popular reasons why people in the United Kingdom choose to use a Virtual Private Network and they include:
Security online
Anonymity
Overcome geo-restrictions
Torrenting
Save money on comparison sites
Safety and security when using the internet

You not only have to worry about hackers when using a computer. Hackers can also gain access to a range of devices and cause havoc, including smartphones and tablets. From large companies to individuals, hackers target anyone anywhere in the world.
Virus, firewall, and malware software all go a long way towards stopping hackers from infecting devices. However, many times, they are not enough and this is where a VPN for the UK comes into its own.
With a Virtual Private Network installed, a virtual tunnel is put between the device and the World Wide Web. Any information that leaves your devices travels down this tunnel and is encrypted before it goes out onto the internet.
Encryption means that the information is garbled. It does not make sense to anyone who manages to intercept it. The information is only decrypted once it reaches its final destination.
The providers we have chosen in our list of the best VPN in the UK all offer military-grade encryption, with some even offering double VPN encryption to encrypt information twice.
Browse the internet anonymously

With censorship becoming more prominent in the UK, many people located in the country have turned to VPNs so they can browse the internet anonymously.
No one wants to be spied upon but this is exactly what the UK ISPs are doing. ISPs can report your browsing activities to the police or other officials, which can result in prosecution.
Freedom of speech is a thing of the past. It has been known for people to say something on social media or in forums and have someone take offense, even if no offense was intended.
While social media may be a good place to vent, speaking without thinking can lead to legal problems.
ExpressVPN protects your freedom of speech >
Legal bills of thousands of pounds have mounted up for people who have made remarks online and then been taken to court.
One way of avoiding such actions is to think before talking but if you believe in freedom of speech, a Virtual Private Network can help you to remain anonymous online, along with a false name on social media and forums of course.
Get past geo-restrictions

A popular reason that has many people looking for the best VPNs in the UK is to overcome geo-restrictions and blocks.
While website blocks in the UK are not as bad as in many other parts of the world, ISPs still block access to certain websites. A VPN can help users to overcome blocks by masking the IP address of the device being used and taking one on from another country.
Streaming is popular online and one of the most popular platforms is Netflix. There is a UK version of Netflix, and while it shows a wide range of content, it does not offer the full catalog of content that users in the United States get.
With a Virtual Private Network in place, it is possible to mask a United Kingdom IP address and take on one from the USA. The website believes you are located in the USA as the IP address falls within the range for the states and you get access to the full catalogue of content.
This works the other way if you go abroad and wish to gain access to the UK version of Netflix and your library of content. Doing this, you will also be able to gain access to UK TV.
In this instance, mask the IP address of the country you are vacationing in and take on one from the United Kingdom thanks to the best VPN.
Using P2P networks and Torrenting

Many people like to use Torrent websites to download content. If that content is copyrighted, it is illegal and as the ISP can spy without a VPN in place, you risk getting a warning from the provider.
Enjoy safe Torrenting with ExpressVPN >
In some cases, ISPs have reduced the bandwidth of the internet or stopped its use altogether and/or reported users to the police or other authorities. This can result in a fine or jail.
ISPs in the United Kingdom have closed down or blocked many torrent sites. A VPN can provide you with an alternate IP address. So if you choose one from a country that does not block torrent sites, you are free to visit torrent websites.
Some of the providers of the best VPN in the UK we have listed here support unlimited P2P. Some even have servers dedicated for that purpose. For example, it's the case of CyberGhost, as we mentioned in our CyberGhost review.
Save money when booking flights, hotel rooms, and more
It is even possible to use a VPN to save money when comparing flights, hotel rooms and car rental packages.
To find the cheapest prices on comparison sites first clear the cache on the internet browser. Connect to a region or country where the cost of living is lower than your own country and then compare prices.
You can disconnect and reconnect to different countries to find the cheapest flights and hotel rooms and then book.
To Summarize
There are many uses of a Virtual Private Network, as you just saw. We have chosen some of the best providers for people located in the UK.
With any of the providers on our list, you get safety and security when browsing the internet. Along with this the chance to overcome geo-restrictions, blocked content, torrent safely, and stop your ISP from spying on you.  
You might even be able to save money when comparing and booking hotel rooms, flights and car rental.
The only decision you have to make now is to choose one provider out of the best VPN in the UK and sign up.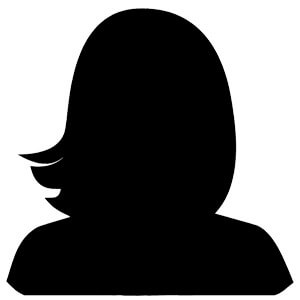 Alison has joined the team in the early stage because she wanted to share with us the experience she had while using VPNs over the last few years. As she's travelled a lot, she tested many VPNs and wanted to share this with you. Alison cares about staying anonymous and not leaving any footprints on the internet. Therefore, you won't have the chance to see her face ;).