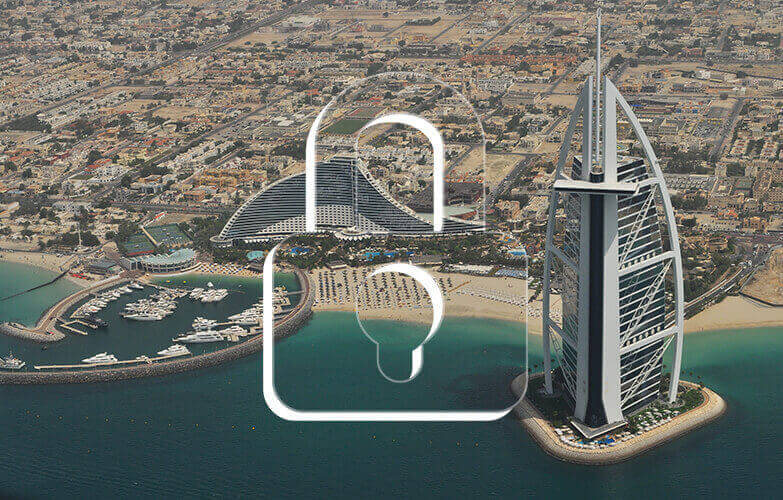 Are you planning a trip to the UAE? Whether you are visiting the United Arab Emirates for business or pleasure, you should know that many websites and VoIP apps are censored. This includes apps and sites such as WhatsApp, Skype, Wikipedia pages and more.
If you want to access restricted content, you will have to take steps before leaving to visit the country by installing a Virtual Private Network. Here we are going to look at the top 3 best VPNs for UAE.
Why should I use a VPN in UAE?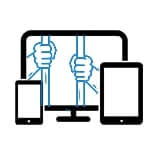 One of the biggest reasons for finding and using one of the best VPNs for UAE is that the Telecom Regulatory Authority in the country imposes strict censorship.
This includes any content deemed to contradict the morals and ethics of the United Arab Emirates, hate to religion, anything not in-line with the laws of the country, gambling, nudity and more.
The list is long and if you want to access restricted content you will have to do it behind the walls of a Virtual Private Network. When considering using a VPN you will want to ensure your choice of provider offers:
No logging;
A wide number of servers;
Excellent encryption and security;
DNS leak protection.
The United Arab Emirates (wether you're in Dubai, Abu Dhabi…) try to stop people in the country from accessing restricted content. The answer is to choose and sign up with one of the best VPN for UAE in your home country.
If you wait until you arrive in the country, you might find you are unable to visit the website of the provider as it is blocked.
Overcome censorship with ExpressVPN now >
So now, let us look at the reasons why you might want to use a VPN when visiting the United Arab Emirates.
Protecting personal information
Many people choose to use a Virtual Private Network when browsing the internet to make sure personal information is kept out of the hands of hackers.
When using the VPN this way, the user can connect to a server to provide them with an alternate IP address. Along with this; a virtual tunnel is put between the device and the internet.

Any information of the user is encrypted as it passes through the tunnel before going onto the internet. The data is unreadable, even if someone were to be able to intercept it. The information is only decrypted once it reaches the destination.
Overcoming censorship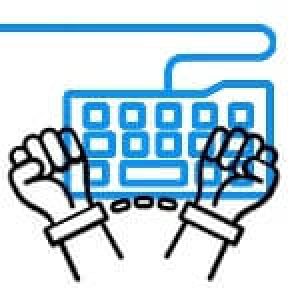 When choosing the best VPN for UAE, bypassing censorship is often foremost on the mind.
When in the United Arab Emirates saying what is on your mind is not always the best course of action. People were imprisoned after the government accused them of spreading hatred through social media. Many foreigners were handed out prison sentences for making posts on social media thanks to the cybercrime laws.
Social media influencers engaging in commercial transactions now have to apply for licenses due to regulations.
Censorship is rife in the United Arab Emirates. However, it is possible to overcome it by connecting to a VPN and taking on an IP address from anywhere around the world. At the same time masking your own and becoming anonymous.
Stopping ISPs from spying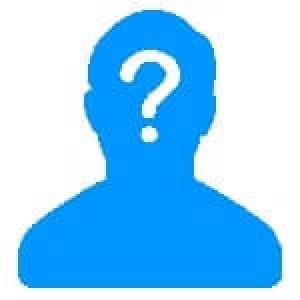 Internet providers spy on users and in 2011, the police chief of Dubai even urged the establishment of a task force. The aim being to spy on all internet activity. The task force was made up of the public prosecution service, police and telecom providers.
Preventing ISPs (be it DU or Etisalat) from spying is another good reason to choose one of the best VPNs for United Arab Emirates. Using the service it's possible to hide your IP address and take on one from another part of the world.
ExpressVPN helps you to remain anonymous >
Using torrent apps
Many people like to use torrent apps to download movies, apps, music and more. However, if the content is copyrighted it is illegal.
A Virtual Private Network provides the tools necessary to hide your own IP. This means no one, not even the internet service provider, knows what users are doing online.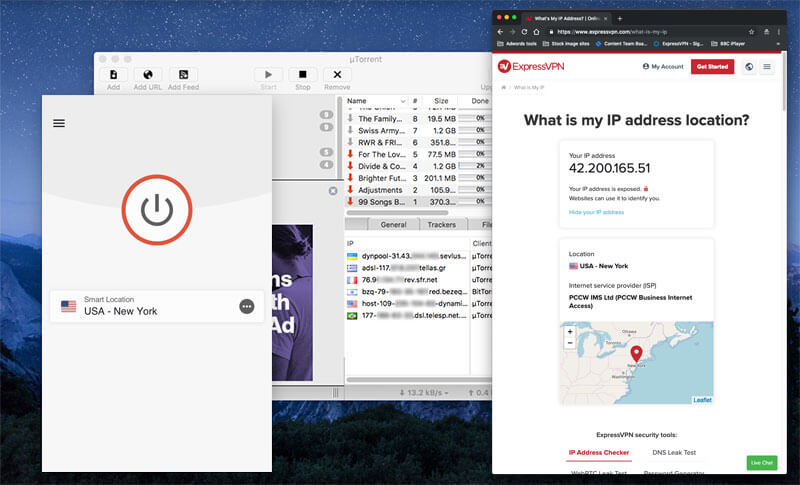 Streaming blocked content
The government in the country has blocked numerous websites and apps. Apps included Skype and WhatsApp. Websites on the blacklist include anything related to religious topics, any which speak out about the royal family, dating, pornography and more.
A Virtual Private Network can help to get around the restrictions imposed but not all providers can do this. This is why it is essential to choose one of the best VPNs for UAE.
Stream blocked content with ExpressVPN >
Streaming local content while away from home
Another popular reason why people choose to use a VPN is to stream local content when away from home.
In the United Arab Emirates, OSN Wavo is one of the biggest pay-tv providers. Others include Icflix and Starz Play. Residents who take trips abroad can stream local content by connecting to a server in the United Arab Emirates and sign in to their local streaming account online.
Whether you want to use a Virtual Private Network to protect personal information, freedom of speech, stop the ISP from spying or stream blocked content you can find our top choices of providers below.
Note that all of them will be able to unblock US TV abroad, HBO, ESPN, BBC iPlayer and many more.
Our choices of the top 3 best VPNs for UAE
1. ExpressVPN
We have chosen ExpressVPN as our number one choice due to the superb features and benefits offered.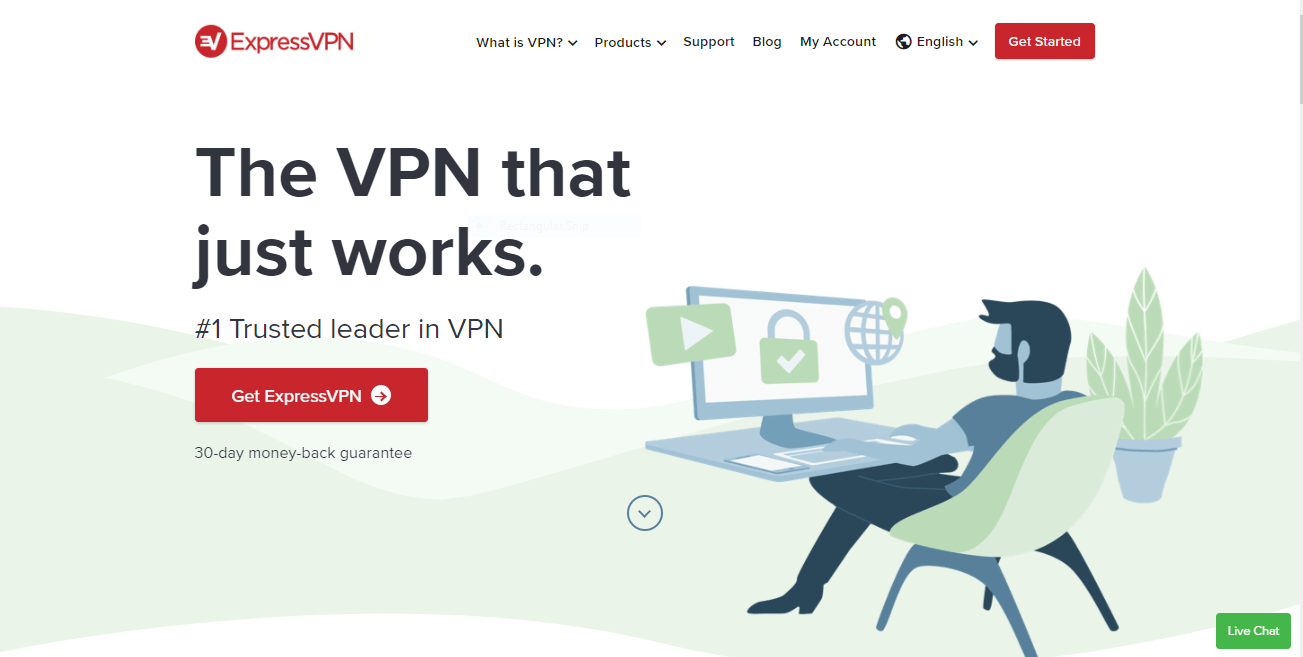 It does not matter if you want to stream content that is blocked, overcome censorship or remain safe and secure when online, ExpressVPN has what is needed.
ExpressVPN offers access to many thousands of servers from around the world. All servers are optimised to offer the best streaming experience possible and they are reliable.
This makes the provider a great choice for anyone wanting to gain access to the full US catalogue of content in the United Arab Emirates to stream movies and TV shows in HD. Alternatively, choose a local server to gain access to local content when travelling abroad.
With thousands of global servers, it is easy to hide your own IP address. You can then take on one from around the world. This means not even your own ISP will be able to track what you do online, making it the best VPN in the United Arab Emirates for privacy and anonymity.
The provider offers a wide range of apps for various devices. This makes it easy to protect or stream when on the go and allow simultaneous connections (5) for other family members using the same plan.
For security when browsing the internet on a day-to-day basis, ExpressVPN offers state-of-the-art military grade encryption. This means all personal information is encrypted before going out onto the internet so even if someone were to come across it, they would not be able to read it.
ExpressVPN offers monthly or yearly plans. 49% savings can be made when choosing to pay upfront for the year and the provider gives three months free.
The provider is a great all-around choice and this is the reason why ExpressVPN is top of the list of the best VPN for UAE.
PROS:
3000+ servers around the world
Unblocks Netflix US, UK, FR
Live chat support
30 days money-back guarantee
Fastest speeds
Application available on many devices
Overcome censorship with ExpressVPN >
---
2. CyberGhost
CyberGhost comes in second place, being a great choice offering many thousands of servers worldwide.
The provider offers one-click access to various streaming services; including Netflix and BBC iPlayer. Residents of the country can connect to the best server easily based on the provider they want to stream from.
CyberGhost apps come with built-in protection to block website ads, along with malicious websites and trackers. The provider offers military-grade encryption along with automatic HTTPS redirection and DNS leak protection.
Up to seven connections can be made simultaneously, so other family members can enjoy the same plan.
PROS:
45 days money-back guarantee
Servers optimized for streaming
7 simultaneous connections
Good value for money
90 countries covered
CON:
Speeds from time to time
Too much features in the app
One click streaming with CyberGhost>
---
3. NordVPN
Another great choice of the best VPNs for UAE is NordVPN.
The provider is one of the best in the United Arab Emirates as it offers plenty of features and benefits with plans available on a month-to-month basis or longer.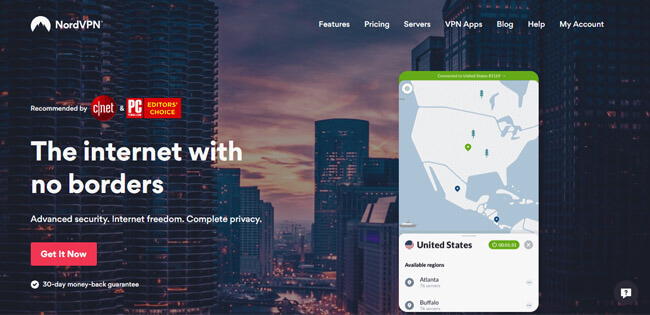 NordVPN offers AES-256 encryption and support for numerous protocols. These include OpenVPN and IKEv2/IP Sec. Anyone whose main concern is anonymity should not worry, as the provider does not log data.
The provider offers access to thousands of servers based around the world, which means they are a good choice for overcoming geo-restrictions and censorship.
NordVPN offers double encryption along with dedicated IP addresses, so users have twice the security and encryption. Along with this, the provider offers Cybersec, which is dedicated to blocking malware and ads on websites.
PROS:
Servers for torrenting
Double VPN function
Easy-to-use application
6 simultaneous connections
Great security
CON:
Prices are expensive for 1 month and 1 year plans
Hard to use with slow internet
Double encryption with NordVPN >
---
Is it legal to use a VPN in UAE?
The United Arab Emirates has cracked down on the use of Virtual Private Networks. This followed the government crackdowns on internet piracy. This means choosing the best VPNs in UAE has become tricky as the government blocks many providers sites.
The new law was brought in by Sheikh Khalifa bin Zayed Al Nahyan, the President of the country. Now anyone caught using a Virtual Private Network with the intentions of preventing discovery or crime or committing one, faces a fine of Dhs500,000 to Shs2 million and/or jail time.
However, using a VPN in the country is not illegal if you are using it for such as protection, security, streaming… However, using one for other means may be.
In Conclusion
We hope we have answered the question of what are the best VPNs for United Arab Emirates. We have chosen what we think are the top three best providers for the UAE to overcome restrictions, censorship and providing anonymity and security.
Now all you have to do is choose which provider to go with and sign up for an account.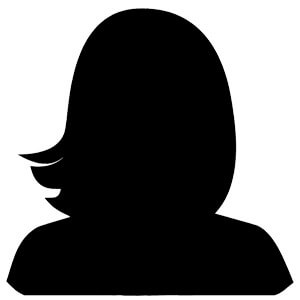 Alison has joined the team in the early stage because she wanted to share with us the experience she had while using VPNs over the last few years. As she's travelled a lot, she tested many VPNs and wanted to share this with you. Alison cares about staying anonymous and not leaving any footprints on the internet. Therefore, you won't have the chance to see her face ;).