Australia is considered a free country in regards to internet censorship compared to other countries such as the UAE.  However, ISPs do block some websites. In some cases without any legal precedent. One of the biggest ISPs in the country, Telstra, blocked a few sites and even admitted that freedom of speech had been sacrificed by the decision.
Censorship such as this has not gone down well with residents and has been one of the reasons people have turned to VPNs. If you are looking to follow suit, we have dug out the top 5 best VPNs for Australia, so continue reading to find out more.
ISPs in Australia are moving closer to those of countries such as the United States. ISPs in the states are required to send out warnings if you are found to be Torrenting copyrighted material.
The same applies to ISPs in the land down under and it is something the federal government set up.
Remaining anonymous is just one way in which a VPN can be used to provide protection and anonymity. Of course, there are many more ways. But if you want to keep your internet activity to yourself, you might want to consider using a Virtual Private Network.
We have taken the hard work of looking for a VPN out of the equation. We have searched for some of the best to use in Australia to remain safe, secure, and anonymous.
Our Choices of the 5 Best VPNs for Australia
We have based our choice for the best VPN in Australia on the service they offer, the features offered, speed, number of servers, customer service, and level of security.
Therefore, we recommend the following providers:
ExpressVPN
CyberGhost
NordVPN
Surfshark
IPVanish
Now, let us see what each provider offers and why you might want to choose one rather than the other.
1. ExpressVPN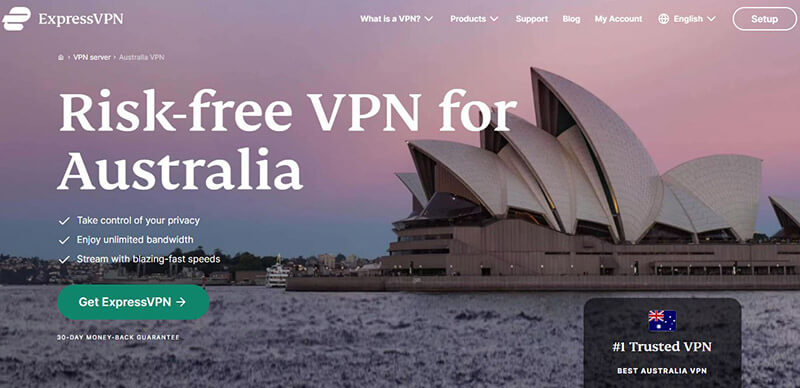 ExpressVPN is at the top of our list for a very good reason. The first reason is that you can use the service to gain access to a local version of Netflix.
If you go abroad, you will be offered the local version of Netflix in the country you are visiting. However, it is possible to gain access to the Australian version of Netflix. ExpressVPN offers more than 100 servers in Australia in the Sydney, Perth, Brisbane, and Melbourne regions.
Connect to any of these servers and you can stream content from your own country when visiting any other country in the world.
Alternatively, you might want to gain access to other versions of Netflix, such as US Netflix. ExpressVPN makes this possible, offering 3,000+ servers in 94 countries worldwide.
ExpressVPN comes with blazing-fast servers, fast connections, and unlimited bandwidth, making it our top choice among the best VPNs for Australia.
Netflix is not the only streaming platform available. It is also possible to stream live events such as The Australian Open, AFL, and more, when abroad. ExpressVPN also excels in security and anonymity online, wherever you are in the world, and whatever device you are using.
With just one click, your IP address is masked and you take on one from a server offered by the provider.
Along with this, your data remains secure as it travels along a virtual tunnel of encryption. In the case of ExpressVPN, this is best-in-class encryption, also known as 256-bit AES or military-grade encryption.
ExpressVPN is a premium provider and offers the best deal when selecting a 12-month subscription. You can get a 12-month plan with 3 months FREE for a total of 15 months of protection.
Besides, you can make 49% savings in the process compared to paying monthly.
With TrustedServer technology, VPN split tunneling, private encrypted DNS on all servers, Kill Switch, and more, ExpressVPN is definitely worth considering among the best VPNs for Australia.
PROS:
24/7/365 client support
Very fast speeds
Strong encryption
Strict no-logs policy
Huge server coverage
Simple-to-use apps
Enjoy a 49% discount at ExpressVPN >
---
2. CyberGhost

CyberGhost offers plenty of features to help people located in Australia get over geo-restrictions and remain safe on the internet. The provider claims to offer a truly complete multi-platform privacy solution that can improve your online life in many ways.
The provider gives access to 7,400 servers in 90 countries around the world. This means that, while you are located in Australia, you can be virtually anywhere in the world. Needless to say, even your ISP cannot track you.
CyberGhost offers servers designed to work with almost any device securely. This includes Windows PC, Mac, Linux, iOS, Android, and many others, using a variety of protocols, including WireGuard.
The provider encrypts private information using 256-bit AES technology.
We have included CyberGhost on our list of the best VPN in Australia for its great features and overall performance.
CyberGhost includes a feature to block ads along with any malicious content while browsing. It does this in the background without the user even knowing. Best of all – it does it without any processing on the client-side to reduce data.
Users also benefit from online tracking blocking by taking out any website elements as they browse.
To round it off, CyberGhost offers unlimited traffic and bandwidth on plans. In addition, automatic Kill Switch, DNS, and IP leak protection, various protocols, and connections for up to 7 devices at the same time are also available.
CyberGhost offers various plans, paid monthly and upfront yearly, with the best savings made on long-term plans.
PROS:
Dedicated servers for streaming and torrenting
No-log policy
More than 90 countries covered
Lots of side functions (ad blocker, split tunneling, WireGuard, etc)
Great value for money
CONS:
Blocked in China and Turkey
Not the best speeds
Block malicious threats with CyberGhost >
---
3. NordVPN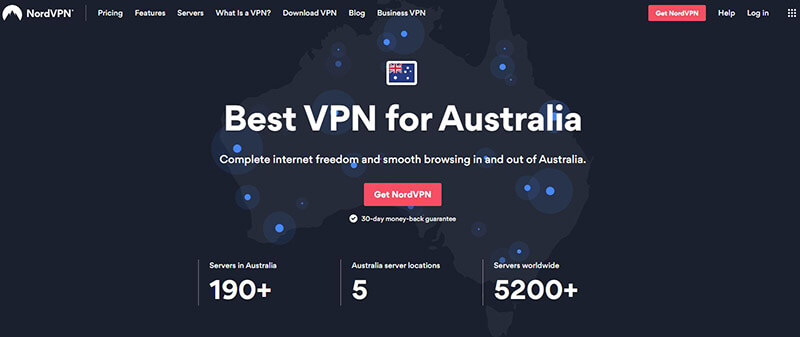 NordVPN makes it onto our list of the top five best VPNs for Australia, coming with some unique features. These include Anti-DDoS and Double VPN.
As the name might suggest, double VPN means double privacy. You can connect to not one but two servers and encrypt your data twice, leaving no space for anyone to snoop around.
This means enhanced security as the connections are mixed between TCP and UDP protocols, boosting your security level. Not even your ISP can find out the final destination that you visit when using a double VPN.
Needless to say, it's a great tool for anyone who wants to remain anonymous online and takes freedom of speech seriously. NordVPN is a good choice for anyone living in countries with high censorship and restrictions.
CyberSec is another feature included in the plans of NordVPN. With this feature, you do not have to worry about suspicious websites infecting your computer with malware.
You can also say goodbye to annoying ads that flash up and slow down your computer.
Furthermore, you have peace of mind by avoiding botnet control. With CyberSec, devices are safe from DDoS attacks also known as distributed denial-of-service attacks.
NordVPN includes military-grade encryption in all plans. This ensures that hackers and ISPs cannot access your personal information online. Even if a hacker managed to intercept your data, he would be unable to read it due to the encryption.
You can make the best savings with NordVPN when subscribing to a pre-paid plan rather than going for the month-to-month option.
Packed with all the features you would expect and more, NordVPN deserves a place in this ranking of the best VPN Australia. That's for sure!
PROS:
5,200+ servers in 60 countries available
Really strong encryption
Double VPN
Works in China
Unblocks Netflix US and Hulu
CONS:
Short-term plans are very expensive
Overcome censorship with NordVPN now >
---
4. Surfshark
Surfshark stands out from the crowd, offering apps for a large range of devices. The provider also offers unlimited connections at the same time.
This VPN comes with a plethora of features. This includes the "CleanWeb" feature to browse the internet without ads, avoid malware, trackers, and phishing attempts. Surfshark also offers a Whitelister for allowing certain apps or sites to avoid the VPN.
Surfshark has a strict no-logging policy, so it doesn't monitor how users use their service. A Kill Switch is offered along with Private DNS and leak protection for added security.
The provider also includes a Camouflage mode. Using this, not even the ISP knows if you are using a VPN.
The Virtual Private Network from Surfshark can be used everywhere in the world, even in countries where censorship is high. For security, the provider uses AES-256-GCM encryption along with offering numerous protocols, including OpenVPN and WireGuard.
Surfshark offers low-cost plans with the biggest savings made when paying upfront instead of paying on a month-to-month basis. We recommend its 2-year plan that yields the largest savings and makes Surfshark extremely cheap!
PROS:
Very low prices
More than 3,200 servers in 65 countries
Total security and anonymity
Ad-blocker included
Allows torrenting
Camouflage your internet activities with Surfshark >
---
5. IPVanish

IPVanish has a place on this list of the best VPN for Australia. The provider offers super-fast servers around the world, has a no-logging policy, and unlimited bandwidth.
The provider supports numerous devices with apps that are easy to use. Anyone located in Australia can access blocked streaming portals and access services without buffering.
IPVanish offers 256-bit AES encryption to ensure your data remains secure. The virtual private tunnel between you and the internet gives peace of mind that hackers cannot steal your personal information.
All in all, it's a really decent VPN, albeit, with some quirky downsides, such as its US jurisdiction, inconsistent performance, and smaller server network when compared to other VPNs.
PROS:
Unblocks Netflix
10 simultaneous connections
Access to more than 40,000+ IPs
Unlimited bandwidth
CONS:
Inconsistent speeds
US jurisdiction
Access blocked content with IPVanish now >
---
Why Use a VPN in Australia?
You now know what are the best VPN services for this country. If you're not convinced why you should subscribe to one of them… well, here are a few good reasons.
Preserving Anonymity Online
If you want to remain anonymous online when using social media, forums, or when reporting as a journalist, a VPN provides that anonymity.
This leaves you being able to speak openly and freely without fear of anyone finding your identity or where you are located. This can come in extremely handy if you visit a country where censorship is high.
Streaming Geo-Restricted Content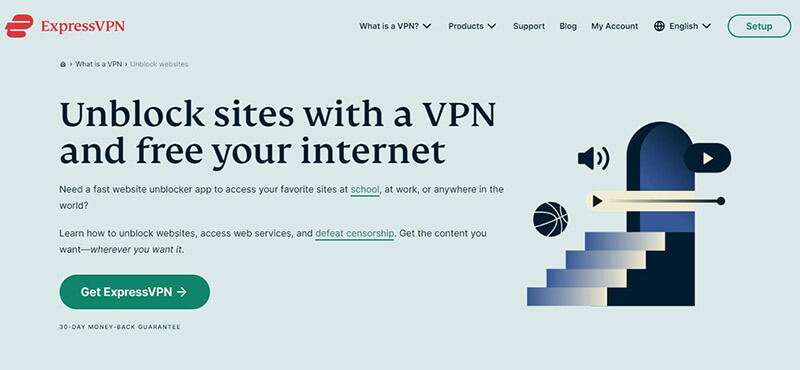 Governments and ISPs can block websites, apps, and streaming portals based on the IP address of the users. Each country has a specific range of IPs and each device has its unique IP address.
When a website is visited, the IP address of the device is recognized and this determines whether a site is blocked or accessible. This is also how streaming sites such as Netflix offer content.
If your IP address is from the US, access to the entire US Netflix catalog is given. If an Australian or UK IP address is recognized, access is given only to the local site and content.
A VPN can help to get around this as it provides an IP address from the server you choose.
Choose any of the providers from our ranking of the best VPN for Australia and you will be able to stream any content or access any website wherever you are in the world.
Unblock Netflix with ExpressVPN
Torrenting and Downloading in General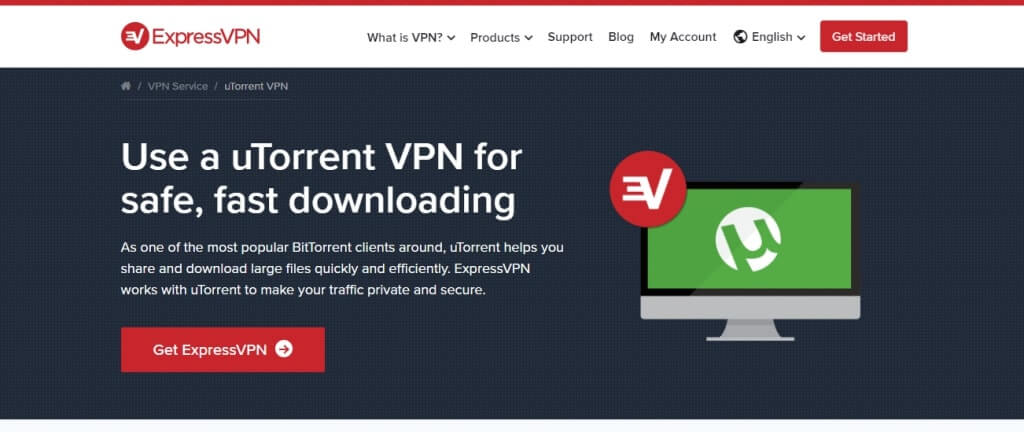 Your ISP keeps track of what you are doing online. This means that, if you like to use Torrent software to download copyrighted apps, movies, or music, they can find out.
With a VPN in place, you can mask your IP address and take on one from anywhere around the globe. As a result, you can torrent safely or simply download anything you like without anyone knowing about it. Except you, of course.
Without protection, your ISP can contact you to warn you to stop downloading illegal content and/or restrict your service or stop it. You are even at the risk of being reported and taken to court, possibly faced with a jail sentence.
Keeping Personal Details Safe

If you surf the internet without the best VPN Australia in place, you might as well enter your bank account and credit card details with someone standing over your shoulder.
Hackers can find your information and use it, even steal your whole identity, along with your money. With a Virtual Private Network in place, a tunnel is placed between your computer and the World Wide Web, and your data is encrypted.
It is only decrypted when it finally reaches its destination.
Booking Cheaper Flight Tickets
Finally, you might want to take advantage of the fact that you can mask your IP address and take one on from any server located anywhere in the world to save money.
When you check prices using comparison sites, the website considers your IP address. If you live in an area where the cost of living is high, you will see higher prices than someone living in a region where the cost of living is lower.
Choose one of the best VPNs for Australia, sign up, and choose a server based in a region with a lower cost of living. You can then compare prices on flight tickets, hotel rooms, and car rental. You might find that you can make huge savings.
ExpressVPN : save money on flights and more!
In Summary
We have chosen what we believe are the best VPNs for Australia. As we saw, a Virtual Private Network offers numerous benefits and all providers offer a wide range of servers around the world, including many in Australia.
With a VPN, you can remain safe and secure when browsing online, thanks to the encrypted tunnel put between your device and the internet.
You can mask your IP address and take on one from a server halfway around the world from your actual location. This comes in handy if you want to access local content while abroad or overcome restricted content in the land of kangaroos.
A VPN provides anonymity, so even your ISP does not know what you are doing online. This is perfect for torrenting or using P2P networks.
Finally, savings can be made when shopping online to book hotel rooms, flights, and car rentals. For all of these purposes, we recommend ExpressVPN. Simply put, it offers astonishing performance at a fairly affordable price.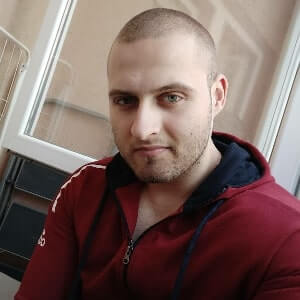 A professional writer with a Master's degree in Mechanical Engineering. Since his youngest age, he loves everything related to internet, technology, fitness, games, and dogs! He joined our team in order to bring his deep knowledge in security services, among which VPN is of course a key component.