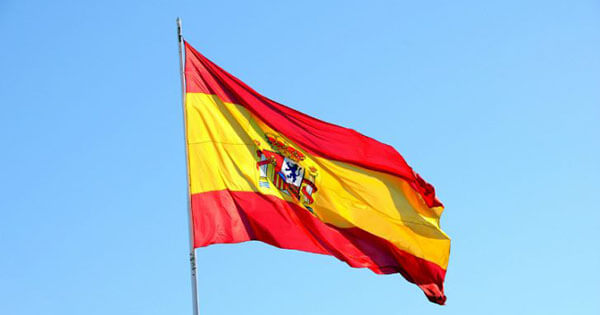 Visiting Spain in the summertime is bliss – you get to enjoy their beautiful landscapes and drink some amazing summer cocktails. But, when you finish your partying during that time, you just want to share some photos and videos with your friends on social media. Luckily, this country is free enough to let you do that. There are other concerns when it comes to internet access here, though. This is why we strongly suggest that you use one of the best VPNs in Spain. Let's see what you should expect when visiting this beautiful country!
Best VPNs with Servers in Spain
Missing out on your favorite Spanish TV series isn't something you want while you're on your business trip. But, if you have a VPN by your side, this isn't going to be your problem. Our top three providers with servers in this country are:
ExpressVPN: It has 3,000+ servers in more than 94 countries worldwide. It's known as the granddaddy of speed, which also applies to this country. In Spain, the VPN provider has high-speed high-security servers in Barcelona and Madrid.
CyberGhost: CyberGhost is a gigantic, god-like provider in terms of server count. With around 7,000 servers worldwide, 84 in Barcelona, and 44 in Madrid, you'll be able to enjoy your internet browsing to the fullest.
NordVPN: NordVPN has more than 5,400 servers around the globe and is known for its cheap pricing, yet high-end features. In Spain, the provider has 41 P2P-ready servers.
One of the cool things about VPNs is that it will help you watch sport in streaming everywhere. Slapping a VPN on your favorite device is easier than ever. Install the respective app and start enjoying your favorite internet activities!
Why People in Spain Use a VPN?
Being a member of the European Union has numerous benefits but also numerous pitfalls. Spain isn't an ideal country by any means, especially regarding internet access. Despite its outstanding internet infrastructure, people in Spain still use a VPN – here's why.
Torrenting Safely
The main reason why most people use a Virtual Private Network in this country is for torrenting safely. Torrenting in Spain without a reliable provider is all but a good idea. The country is very brutal when it comes even to seeding a torrent for a couple of minutes!
They say that if you use BitTorrent for personal use, there won't be problems. But, the line between this use and "distribution" is as thin as a hair follicle. You never know what the government will think you're doing, even if you don't sell the content you've downloaded from a torrent website.
To avoid being caught and having to pay a pretty hefty fine, using this kind of service is always a good thing. With it, you'll be able to enjoy all your pirated content freely. Not that we do not support pirating but if you do it, at least keep yourself secure.
Avoid ISPs Bandwidth Throttling
We all know about Internet Service Providers' habits. On one side, they promise you high speeds and reliable connections and on the other, they throttle your bandwidth. It can be infuriating knowing that a 100+ GB game you've waited the whole year won't download as fast as it should.


This happens because your ISP throttles the internet speed. The country is known for these practices almost since the inception of the internet. With a VPN that is working in Spain, however, they won't be able to do that. If your ISP does this regularly, it can improve your speeds but only if that's the case.
Unblocking Geo-Restricted Websites
Geo-restrictions are everywhere. They're like an annoying neighbor spying on you through his window. You know they're here but you can't do anything about it. Well, now you can. A reliable Virtual Private Network can allow you to watch your favorite Netflix, Hulu, HBO+ or BBC iPlayer shows.
People in Spain often use it for this reason. Since they don't have the luxury of living in the USA, they must pay for a provider. Some people are looking for a VPN for Roku and we wrote about this in this article.
With a decent provider, you can enjoy streaming on Roku with ease.
Avoiding Government Surveillance
Spain wasn't known as a country with overwhelming government surveillance. But, the tides have turned nowadays. As much as you can enjoy your favorite social media websites and express your thoughts, the government is still censoring some info here and there.
This is especially prominent in some happenings in the Catal region. The government tries its best to try and stop political opinions that they don't like. Because of that, their surveillance is still present, although not at a critical level.
The Best VPNs for People Living in Spain
With every provider being different and unique, choosing the right one can be time-consuming. Here's something to look for to help you narrow your search:
Fast torrenting speeds and P2P support
Ability to unblock geo-restricted content
Strict zero-logs policy
Compatibility with major platforms.
1. ExpressVPN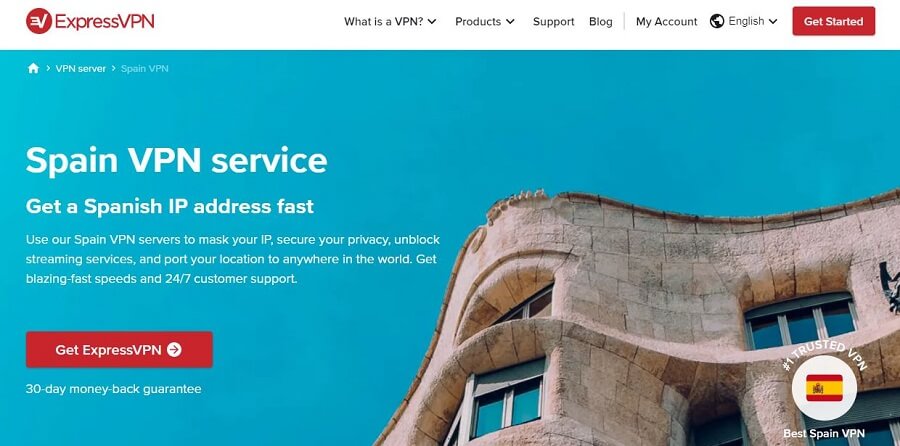 ExpressVPN is our undisputed speed champ, making it great for bandwidth throttling that Spanish ISPs often use. Aside from that, this VPN provider for Spain is great at unblocking almost every geo-restricted website.
Beware that not all of them can unblock Netflix, for example. ExpressVPN, on the other hand, lets you enjoy your favorite shows in 4K.
When it comes to security, the provider isn't bad either. It has 256-bit AES encryption, accompanied by kill-switch, and DNS and IP leak protection. Many users praise its 24/7 customer support, so you can also spill all your problems and issues regarding their services, and get quality answers.
ExpressVPN offers a whopping 49% discount and 3 months free for an annual subscription plan. If you hurry and get it, know that you'll also get a 30-day money-back guarantee, so you won't lose a single dollar if you don't like it.
PROS:
24/7 live chat support
Great speeds
Multi-platforms application
No logs are stored
30-day money-back guarantee
94 countries available
CON:
The service is more expensive than its competitors
---
2. CyberGhost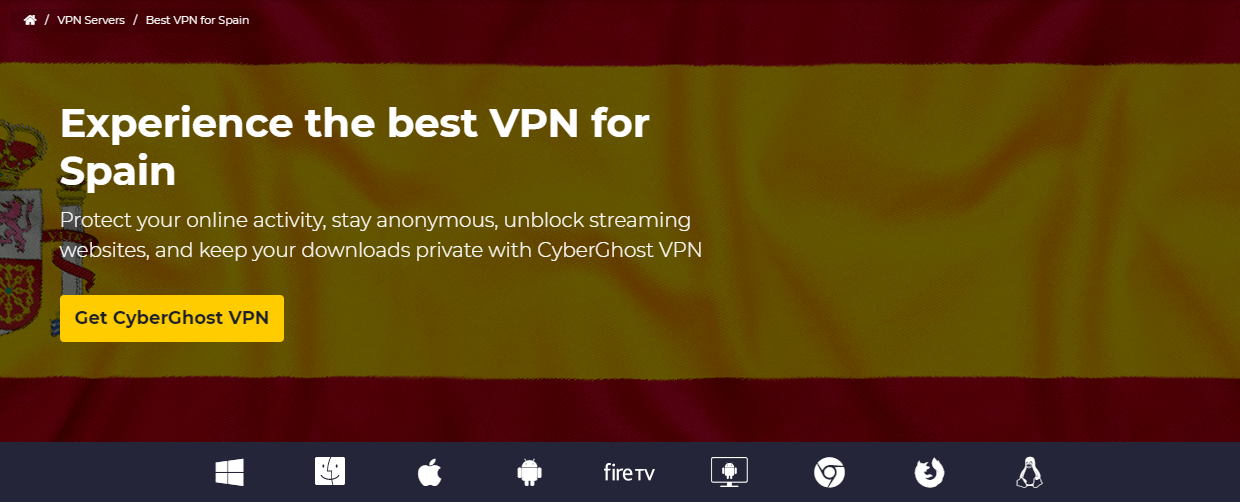 CyberGhost is based in Romania, and from there, it governs 6,600+ servers worldwide. Being the largest provider on the planet, it has some great features, both security, and speed-wise. It has fast torrenting speeds and support for P2P, making it great for people in Spain.
Knowing that there's a zero-logs policy, you'll be peaceful browsing all your favorite websites. Security-wise, well-known 256-bit encryption is there, and kill-switch comes as an icing on the cake.
Being compatible with up to 7 devices on a single account, it's also versatile and flexible, which is all you need!
PROS:
Automatic Kill Switch
45-day money-back guarantee
7 simultaneous connections
Huge server network
P2P file sharing is authorised
---
3. NordVPN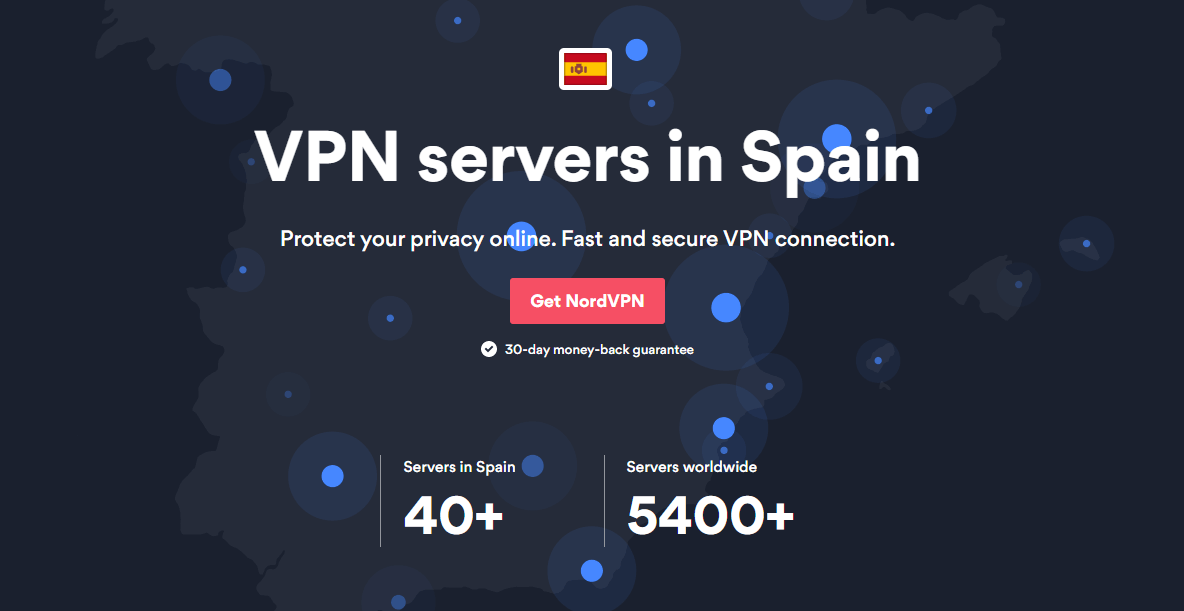 NordVPN offers some sweet features for a silly price. Being one of the cheapest providers on the planet, it's a choice of many people entering the world of VPNs in Spain. It comes with rock-solid security, taking advantage of Double VPN and 256-bit encryption.
People in Canada, for example, like using this service a lot. You can find our selection of the best VPNs for Canada here. In terms of speed, the provider is great for torrenting and streaming.
Since it supports P2P file sharing on servers in Spain, downloading or seeding torrents will be safe and secure 24/7.
PROS:
40+ servers in Spain
Security features
Many protocols (including NordLynx)
The application is really easy to use
CONS:
Expensive short-term plans
---
Summary
Living in Spain or traveling abroad, having a VPN by your side isn't a bad thing… on the contrary. The best choice for this country is, without a doubt, ExpressVPN. Aside from being the fastest provider, it's also one of the most secure.
ExpressVPN isn't the most expensive solution, as many people tend to think. If you opt for their annual plan, you can enjoy a full year of safe and secure internet browsing for a cheap price.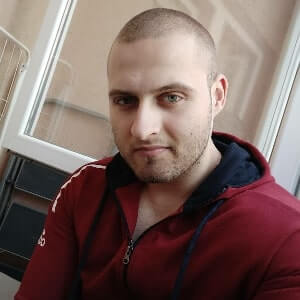 A professional writer with a Master's degree in Mechanical Engineering. Since his youngest age, he loves everything related to internet, technology, fitness, games, and dogs! He joined our team in order to bring his deep knowledge in security services, among which VPN is of course a key component.