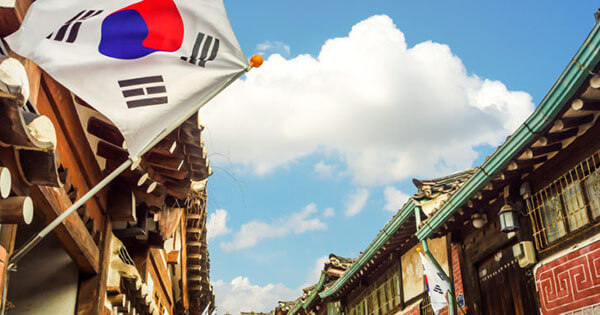 Are you traveling to or residing in South Korea? There's definitely a lot to love about this dazzling and wealthy East Asian nation. However, government-imposed censorship and surveillance can be a bummer, especially for foreigners. That is why a Virtual Private Network (VPN) is a must-have if you want to safely enjoy the full internet experience in this country. If you do not know which one to choose, we've saved you the trouble and picked out the three best VPNs for South Korea.
Why Do You Need to Use a VPN in South Korea?
When you think about it, you envision a free, progressive, and innovative country where personal freedoms are respected. For the most part, this is a free and open country.
It is ruled by a democratic government that respects the people's right to privacy.
That being said, the laws on freedom of speech, online privacy, and minority freedoms can be arbitrary. Foreigners who are unfamiliar with the regulations can easily find themselves on the wrong side of the law for offenses such as defamation or spreading of propaganda.
With this in mind, here are a few reasons why you need a VPN in South Korea:
Avoid government surveillance
The Republic of South Korea set a wiretap law that allows the government to spy on people's emails and calls.
You might think 'Well, I have nothing to hide in my calls or emails.' However, any mention of minority groups such as migrants and LGBTQI or pro-North Korean topics can make you a subject of surveillance.
Foreign journalists and political activists traveling in the country are particularly at risk of increased government monitoring. If you want to communicate anonymously, a solid VPN for South Korea that can encrypt your activities is your best bet.
As mentioned, calls may also be monitored. If you are concerned about someone else eavesdropping on your Skype, WhatsApp, or VoIP calls to loved ones, a good Virtual Private Network should be part of your travel arsenal.
This type of application masks your location and personal identifying information, allowing you to stay under the radar of snoopy Korean ISPs.
Bypass censorship
Although the censorship regime in South Korea is not as stringent as it is in China or North Korea, the ISPs do block some sites. In particular, you would need a VPN to access adult sites, sites containing pro-North Korea content, websites that are critical of the government, and betting sites as well.
Overcome geo-restrictions
Most of your favorite US or UK shows are blocked in this country due to location-based restrictions. A VPN lets you unblock popular streaming sites such as Netflix, Hulu, Amazon Prime, and BBC iPlayer among others.
Moto-racing buffs can also watch MotoGP races for free thanks to this kind of solution.
A VPN in South Korea hides your actual IP address and assigns you a new one. If you want to watch US shows, all you have to do is connect to a US server and you will acquire a new IP address that makes it look like you are in the USA, when you are not – obviously.
Other than streaming, the application can help you bypass fraud detection warnings, for example, when you access online banking services while abroad.
As mentioned, gambling sites are blocked in the Republic of Korea. Besides, most of the betting sites you use back at home are unavailable abroad due to geo-restrictions.
By installing this kind of solution on your device, you can unblock gambling sites and place bets with your favorite bookmaker while you are overseas like you never left!
How to Choose the Best VPN for South Korea?
If you are new to Virtual Private Networks, you are not only wondering what are the best VPNs in South Korea but how to choose one, too.
When selecting a provider, look out for these must-have features:
Wide server coverage: Servers should be spread out in different parts of the world, including your target country. For example, if you want to watch Canada Netflix, make sure the provider has servers in Canada.
Advanced security features: The highest encryption technology is AES-256 and OpenVPN protocol. Other necessary security features include an automatic kill switch, DNS, and IP leak protection to keep your traffic from leaving the VPN tunnel and a zero-logs policy.
Fast speeds and unlimited bandwidth: The best privacy app boasts a fast connection and allows users to download as much content as they want without buffering or throttling.
To make the most of privacy apps, it is best to install one on your respective devices before leaving for the country.
Our Top 3 Recommended VPN for South Korea
While there are so many providers to choose from, not all are a good fit. And that is true for bypassing censorship, government surveillance, and geo-restrictions in South Korea.
But, don't sweat it—we tested a bunch of providers and have come with the top three that will meet your needs during your stay in East Asia.
Without much ado, our picks for the top VPNs in South Korea are:
ExpressVPN
CyberGhost
NordVPN
ExpressVPN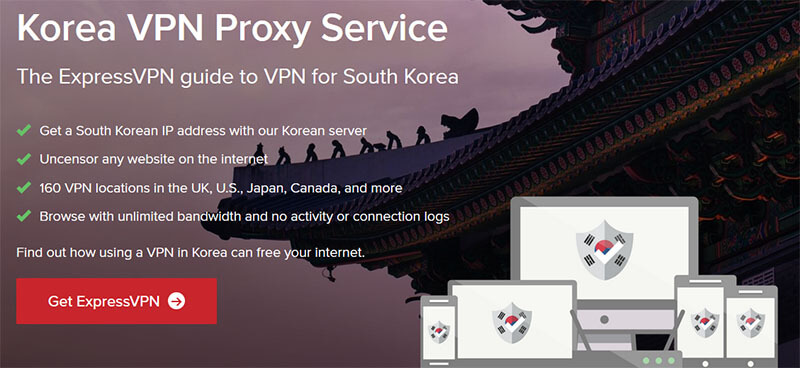 ExpressVPN is a top contender for privacy-buffs headed to or residing in South Korea. This provider boasts a good number of servers in South Korea so you can easily bypass censorship and access locally-blocked websites whether you are in the capital Seoul, Incheon, Busan, or any city in the country.
Its top-of-the-class military-grade encryption hides your online activities, protecting you from the prying eyes of ISPs and hackers who can spy on your traffic, especially on public WI-FI.
What's more, this is the fastest provider we have tested. With unlimited bandwidth, super-fast speeds, servers in 160 locations in the UK, USA, Canada, and other countries, it is undoubtedly the best VPN for streaming all your favorite shows abroad.
Are you worried about leaving a trail of your information online? With ExpressVPN, you shouldn't be. It has a zero-logs policy and advanced TrustedServer technology, which ensures your personal information is never stored online.
You can finally surf the internet safely without fear of anyone get a hold of your data.
ExpressVPN works on all devices including Android, iOS, Windows, Mac, and Linux. Right now, signing up for the yearly plan qualifies you for a 49% discount plus 3 months free.
PROS:
3,000 servers in 94 countries
30-day money-back guarantee
Speeds are very good
Easy-to-use app
Unblocks Netflix, Hulu, HBO and more
P2P is allowed
CON:
Not the cheapest option on the market
---
CyberGhost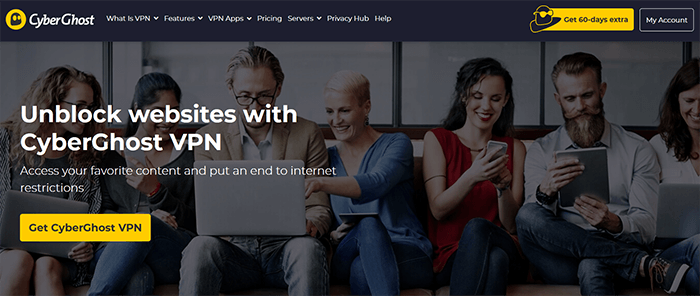 CyberGhost comes in a close second as one of the top providers for VPNs in South Korea. Budget shoppers love this provider for its relatively pocket-friendly prices, especially on the long-term plans.
Other than that, boasting the highest form of encryption i.e. military-grade AES-256, you can entrust your online safety and anonymity with this provider.
Remarkably, CyberGhost boasts 7,000+ servers in over 90 countries including in Korea, the USA, UK, and even nearby Japan. Whether you want to access blocked sites, stream, or bet online, you will find the perfect server for your needs.
What's more, with dedicated servers for peer-to-peer file sharing, this is your go-to provider if you want to torrent anonymously and avoid bandwidth throttling by Korean ISPs.
Whether you are traveling as a group or you connect to the internet via several devices, you will love the fact that CyberGhost supports as many as 7 devices at a go.
This, coupled with the usual security features including DNS and IP leak protection, automatic kill switch, and a no-logs policy, makes this one of our favorite VPNs for South Korea in 2023.
PROS:
7,000+ servers
7 simultaneous connections
Servers for P2P and streaming
Ad-blocker included
Prices
---
NordVPN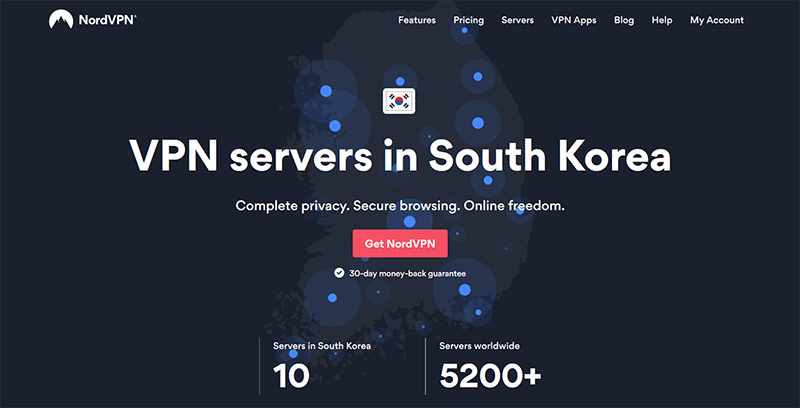 Last but not least on our list of recommended VPNs for South Korea is NordVPN. We strongly recommend this provider especially if you are inclined to HD video streaming and torrenting.
First, this provider boasts lightning-fast speeds and unlimited bandwidth. Add to this a wide network server coverage and you can watch shows back to back without worrying about buffering.
Unlimited bandwidth is also a welcome relief for torrenters who can download as much as they want.
NorvVPN's military-grade encryption protects your activities from prying eyes and ears. This is also among the few providers that offer double encryption. So, whether you are downloading files, accessing hobby sites, or doing online banking, your activities are secured behind not just one but two servers!
Are you on the fence about the best provider? Why not check out our comparative ExpressVPN vs NordVPN if you don't know who to choose.
PROS:
Double VPN option
Company based in Panama
5,600+ servers in 60 countries
Servers for P2P
Strict no logs policy
CON:
Can be slow sometimes
No PayPal option for the payment
---
Wrapping Up
What is the best VPN for South Korea? Our top picks are ExpressVPN, CyberGhost, and NordVPN.
All three providers have numerous servers in different locations including in Korea, USA, UK, Canada, Australia, and nearby Japan, incredibly fast speeds, support for private torrenting, and allow HD video streaming.
Any of these VPNs are a great choice if you are looking to unblock local websites, safely access online banking services, bet while abroad, and surf the internet without needing to put up with annoying censorship or fear of surveillance.
Quentin is the co-founder of the-bestvpn.com. With several experiences as a System and Network Engineer, he is very knowledgeable when it comes to VPN, cybersecurity and the risks of using the Internet nowadays.