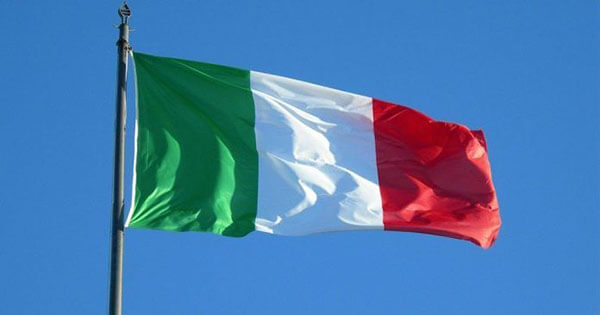 When we think about Italy, we always think about their food that many of us love. By many, this country is great not only for gaining a few pounds but also for enjoying free internet access. Since this country is a member of the European Union, their internet access is relatively free. But, even countries with free internet access have certain limitations. Because of that, we always recommend using a VPN, regardless of the country you're located in. We've cherry-picked the best providers for Italy, so stay with us.
Best VPNs with Servers in Italy
If you're a resident of this country, you know how it feels going on a vacation without your favorite local TV shows. But, when you have a VPN, this reliable software will solve this issue as a piece of cake.
Here are the best Virtual Private Network providers with servers in Italy:
ExpressVPN: ExpressVPN owns more than 3,000 servers worldwide, including servers in Cosenza and Milano. Coupled with some insanely-high speeds, this provider is all that people from Italy need.
CyberGhost: It is an affordable, yet reliable, and fast provider with 7,000 servers worldwide. In Italy, this provider has 129 servers – 85 in Milano and 44 in Rome.
NordVPN: NordVPN never disappoints with its high-end security features. The provider has 60+ servers in this country, effectively covering all cities, for reliable connections.
If you're not familiar with a VPN, you should know that using it is easy. You just need to purchase a subscription from the chosen provider, download the respective app, and enjoy your internet browsing after activating it.
Why People in Italy Use a VPN?
Many times, people who use the internet often, use a VPN just for peace of mind. You can use it for different purposes, for example, if you want to watch UK TV abroad or watch local shows outside of your country. Either way, here's why people in Italy use a VPN.
Avoiding Government Surveillance
In this country, censorship isn't as strong as in some others. This is great if you want to freely access your favorite social media websites or watch some videos on YouTube. Facebook, Google, Instagram, and Twitter are all available in this country.
With no video restrictions on YouTube, you can now watch Davie504 or other Italian content creators.
But, let's not forget that Italy is a member of the 14 Eyes. This means that the government is still conduction surveillance on its residents through the ISPs. If the ISP detects something "suspicious", they can report it to the government and you'll probably need to pay a fine.
For all these reasons, we always suggest using a Virtual Private Network.
It will hide your IP, allowing you to avoid being tracked by the government, hackers, or anyone else.
Accessing Geo-Blocked Websites
In the Freedom House report from 2017, Italy ranks as 'free' with its score of 87/100. But, when it comes to geo-restrictions, this country is still far from it. Aside from some censored television and adult content, as well as betting sites, it also has certain geo-blocks.
The main example is Netflix. Or perhaps Hulu, HBO+, Amazon Prime Video, and BBC iPlayer. All of these are blocked in Italy and require the best VPN to watch. Luckily, the providers we've reviewed below are fully capable of unblocking any website we've just mentioned.
It isn't strange that many providers stash their servers in this country. People from Italy increasingly use a VPN for this purpose.
Torrenting Safely
As stated before, let's not forget about Italy's 14 Eyes membership. This is accompanied by some staggering anti-torrenting laws that will harshly punish anyone that oppresses them.
So, if you want to download torrents without reliable protection in this country, forget about it. A good, reliable Virtual Private Network will let you download all your movies, music, and games effortlessly.
Speaking of games, many gamers use a VPN to improve their gaming experience. The benefits of this service are numerous, even in a seemingly free country like this.
The Best VPNs for People Living in Italy
Not all providers offer completely the same features. Some are better at torrenting, for example, while some are better for streaming. Here's what to look for if you're looking for the best VPN to use in Italy:
High-end security features
Compatibility with major mobile and desktop platforms
Fast torrenting speeds
Ability to pass geo-restrictions
When taking into account everything listed above, our favorite providers are:
ExpressVPN
CyberGhost
NordVPN
Let's take a look at what makes them so good for this country.
1. ExpressVPN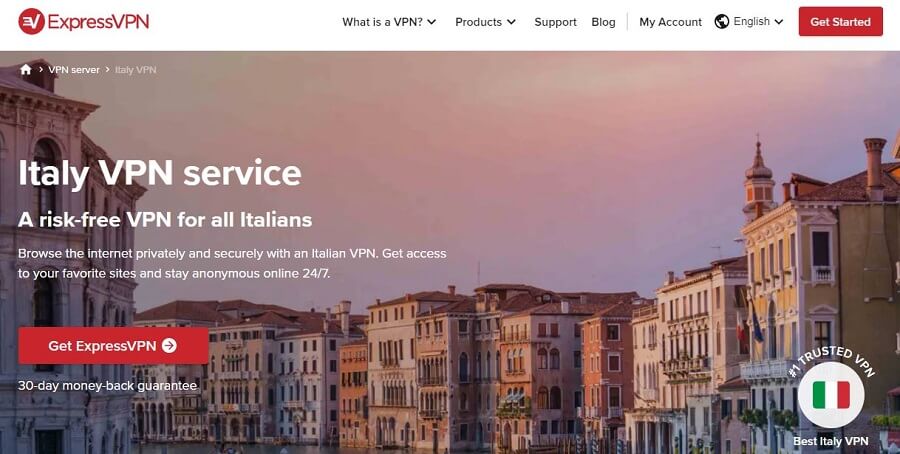 When someone asks us about the best VPN provider to use in Italy, we immediately say it's ExpressVPN. If you know even a fraction of what we're talking about, there's no way you haven't heard of it. The provider is known for some blazing-fast speeds and reliable connections.
When using it, you won't even notice that you've turned it on!
Since it's based in the British Virgin Islands, the provider offers a clear zero-logs policy, meaning that they don't keep any data about your internet habits. Security-wise, the provider uses a 256-bit AES encryption, kill-switch, and well-known split-tunneling feature.
For a country with government surveillance, ExpressVPN will make sure you're well-hidden at any second.
Some say that this is the most expensive provider but we must disagree. At the moment, you can get ExpressVPN for a silly price. They offer a 49% discount and 3 months free for a 12-month plan.
There's a 30-day money-back guarantee, so you won't lose a single dollar if you don't like it.
PROS:
Split tunneling feature
Speeds
3.000+ servers
94 countries are covered
24/7 live chat customer support
Easy-to-use application
CON:
Prices starting at 6.67$/month
---
2. CyberGhost

CyberGhost is an all-around provider that we gladly suggest for every purpose on the internet. Whether you're streaming, torrenting, or just cruising the internet, it's going to satisfy your needs.
The provider is based in Romania, another country with privacy-oriented laws.
This means that they offer an almighty zero-logs policy, so they don't keep your data on their servers. Since Romania isn't a part of the 14 Eyes, it's all the more appealing choice for Italian people. In terms of security, all the standard and premium features are there.
256-bit encryption, DNS leak protection, kill-switch, and so forth.
With their whopping 45-day money-back guarantee, CyberGhost is all but selfish. They also allow you to connect 7 devices on the same account simultaneously. VPN for the whole house – now it's possible!
PROS:
7,000+ servers are available
Automatic Kill Switch
Multi-platforms application
45-day money-back guarantee
Servers optimized for streaming and P2P
CONS:
Not the best speeds
Doesn't work in China
---
3. NordVPN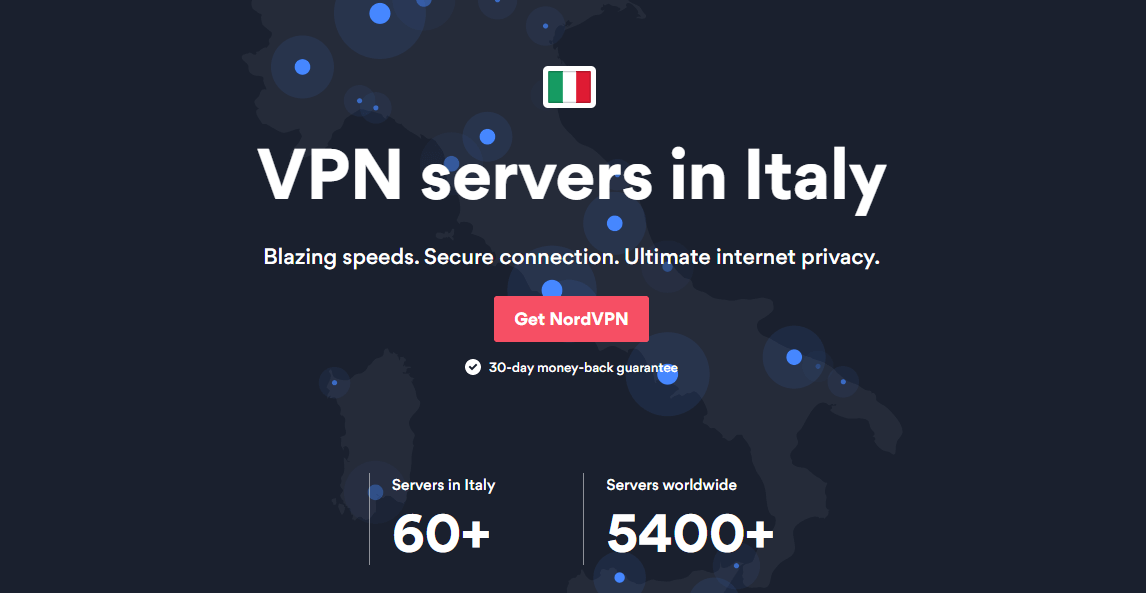 NordVPN offers all the guns-blazing features at an affordable price. One feature we always praise, Double VPN is something to admire. It filters your internet traffic through 2 servers, making it invisible to the government and hackers.
Italians who're abroad can now access numerous Italian channels in their country. If you love watching Sky TV Italia or any other local channel, NordVPN allows you to do it. It's great at bypassing geo-blocked websites, so you won't have any trouble, even with Netflix, Hulu, or HBO.
In terms of speed, the provider is very good, although not as fast as ExpressVPN. Still, for a price this low, you can't get a better deal. Click on the orange button below and you'll see it for yourself.
PROS:
6 simultaneous connections
Great security features
No-log policy
Company based in Panama
Application's interface
CONS:
Speeds are sometimes inconsistent
No discount on the 1-month plan
---
Summary
Italy is free to access the internet for the most part. But, no country on this earth has everything perfect, and this one is no exception. With prominent government surveillance and mild geo-restrictions, you'll want a reliable Virtual Private Network companion.
Our top choice, if you're looking for the best VPN in Italy, is ExpressVPN. It offers fast speeds and top-of-the-line security features – everything a picky Italian needs.
If you liked this article, you could also check out our top 3 VPNs for France.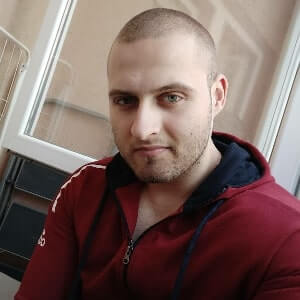 A professional writer with a Master's degree in Mechanical Engineering. Since his youngest age, he loves everything related to internet, technology, fitness, games, and dogs! He joined our team in order to bring his deep knowledge in security services, among which VPN is of course a key component.