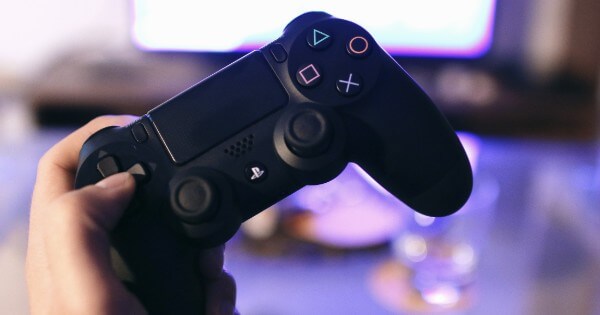 Choosing the right provider to play video games freely can prove to be tough. Therefore, we decided to create a detailed list of the best VPNs for gaming in 2023. However, before we explore our top 5, it is important to examine what a VPN is and why you need one in the first place.
What Is a Virtual Private Network?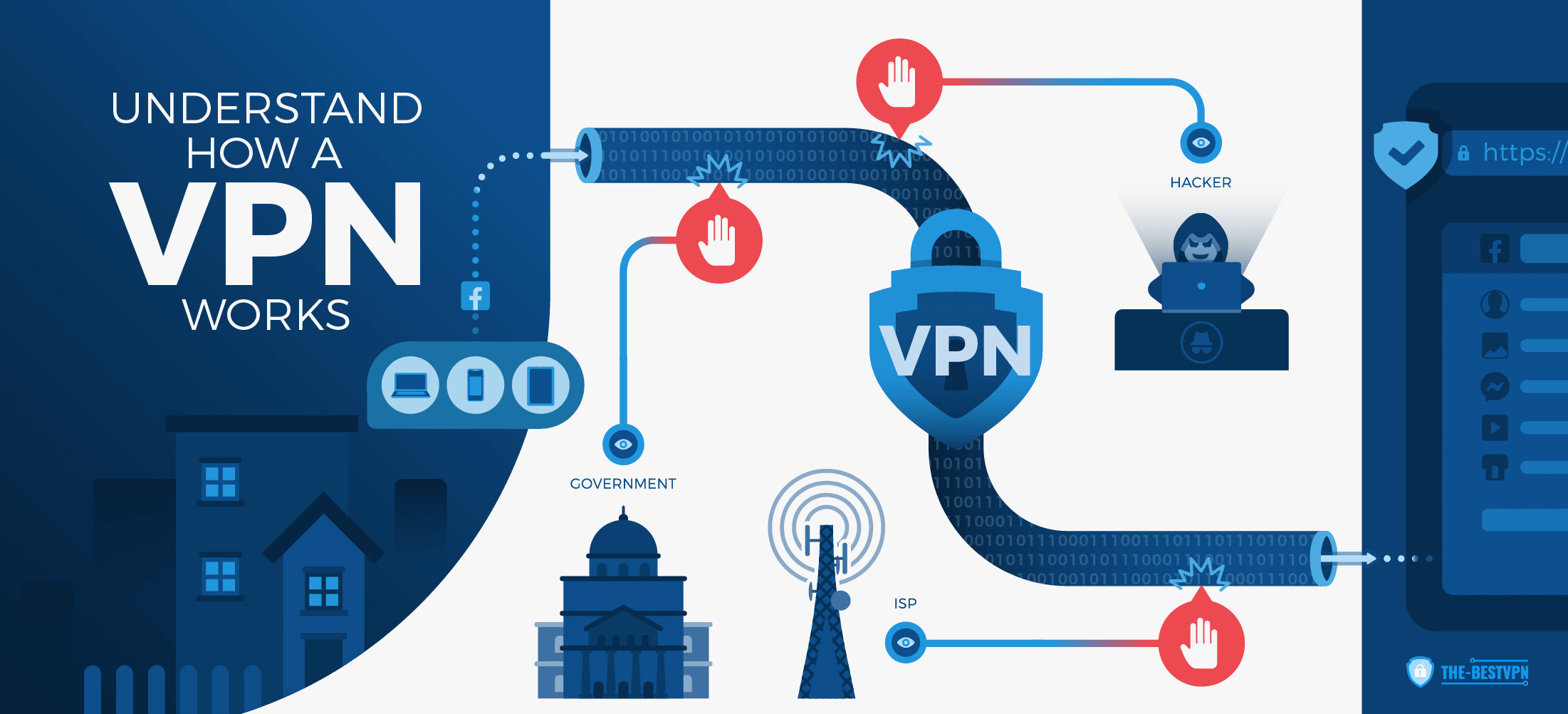 A Virtual Private Network (VPN) is a tool that protects your online traffic by bouncing it off several servers, thus keeping you anonymous and safe from the interference of unwanted third parties.
Also, it offers you access to content that might not be available for your region. It does this by providing you with an IP address of the location whose content you are trying to access.
In this specific context, a VPN would allow you to compete in tournaments that aren't available in your locality. Why don't we explore more reasons you need a Virtual Private Network?
Why Do You Need a VPN for Gaming?
A Virtual Private Network holds many benefits for gamers. Some of them include:
Unblock Geo-Restrictions
One of the most important reasons you need a VPN for gaming is to unblock geographical restrictions for some games.
Variety, they say, is the spice of life, and this is very true for gamers. The average gamer dreams of access to an unlimited repertoire of games. Sadly, not all games are available to all geographical locations.
Additionally, some games are released for some regions before others. With a Virtual Private Network, you can lift these restrictions and access as much content as you want when you want.
And of course, using a VPN is totally legal.
Reduce the Cost of Purchasing Games
This is a natural implication of the point above. Since a VPN can help you unblock geo-restrictions, it means that you can purchase some games at a reduced cost.
You may ask how. It's simple. The cost of games usually varies with location. Therefore, with a VPN, you can change your location to where you can purchase it at the lowest cost.
Protect Yourself From Cyber Attacks
This is another important reason to consider using a Virtual Private Network. It is no news that the online world is full of hackers and attackers who want to exploit every vulnerability. And this is quite rampant in the gaming world.
For instance, your online opponents may decide to play dirty tricks on you by hacking your IP address and sending you a Distributed Denial of Service (DDoS) attack.
A Virtual Private Network helps you enjoy your games without the fear of being susceptible to such attacks. How? By encrypting and securing your data, it ensures that it doesn't fall into the wrong hands.
Also, it essentially keeps you anonymous online, making it all the more difficult for you to be attacked.
Now that you know why you need a VPN for gaming, you definitely want to know which one to opt for. Keep reading to see our top five providers for 2023.
Best VPNs for Gaming in 2023
We decided to test a variety of providers to see which ones are optimal for video games purposes. Considering a number of factors such as speed, encryption strength, and privacy, we present you with five top choices that will serve you well.
1. ExpressVPN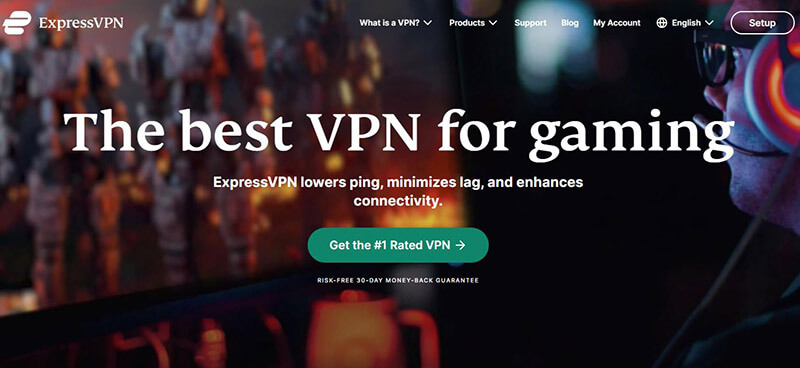 Arguably the best VPN for gaming in 2023, ExpressVPN, is a leading provider based in the Virgin Islands with 3,000+ servers located in over 94 countries.
ExpressVPN is known to have one of the best encryptions on the market. It provides this via robust Lightway & OpenVPN encryption and users can choose between TCP and UDP (UDP is better in this particular case).
This application is optimized for speed and stability. Gamers understand the importance of these two. Sometimes, using a VPN might mean compromising on speed. However, that is not the case with ExpressVPN.
It offers a stable connection without throttling your speed, thus giving you an excellent experience.
What's more, ExpressVPN works on different consoles. If you have a PS3, PS4, PS5, Xbox One, or Xbox Series S, or even a Nintendo Switch, this provider has got you covered.
Still not convinced that it is an application primed for gaming? Then you can take solace in the 30-day money-back guarantee and give the service a shot.
PROS:
30-day money-back guarantee
Great VPN for gaming consoles
Support available 24/7/365
Works perfectly in China
Unblocks Netflix/Amazon Prime Video/Hulu etc
94 countries covered
---
2. NordVPN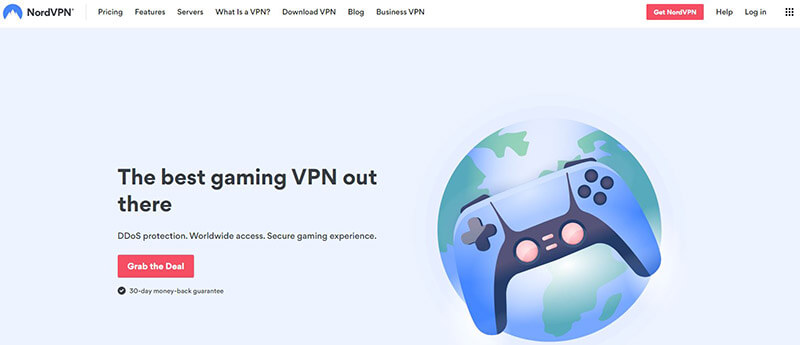 NordVPN is a service from Panama and it is another great VPN for gaming. With its latest encryption technology, it is making waves in the Virtual Private Network world as a high-performing provider.
NordVPN combines the best attributes a gamer would look for in a Virtual Private Network such as high security, minimal loss of speed, and a number of available servers.
Although it may not be as cheap as some providers in the market, it more than makes up for it with its long list of features.
With super-fast 5,200+ servers located in 60 countries all over the world, it makes it possible for you to buy games at a cheaper price. Furthermore, it is perfectly set up to connect to gaming servers outside of your home country.
NordVPN provides state-of-the-art encryption with cutting-edge privacy features. It also has an excellent balance of speed and security. Some of its servers are geared toward security, while others are primed for performance.
So, with NordVPN, gamers get the best of both worlds.
PROS:
More than 5,200 servers are available
Usable on PS5/Xbox Series X, and other consoles
Amazing security (with double VPN function)
Cheap long-term plans plans
Unblocks Netflix US
CONS:
More expensive for short-term plans
Occasional connection issues
---
3. CyberGhost

CyberGhost is a VPN provider based in Romania which has been growing exponentially since last year and is now one of the best VPNs for gaming in 2023.
This service has a high level of security with a prime choice of encryption protocols to keep your devices secure. It is very easy to use and has excellent apps for all popular platforms.
If you are a console gamer, you can install CyberGhost on a router (or buy a pre-flashed router).
CyberGhost has 7,400 servers in over 90 countries, which implies that it can be used to play a large choice of games around the world and even to get cheaper games.
Even better, this provider allows for 7 simultaneous connections. So, if you have more than one console, you don't have to bother about disconnecting one to use the other.
And if that's not convincing enough, you can take advantage of the 45-day money-back guarantee as well.
PROS:
90 countries covered and more than 7,400 servers
Support is available at any time
Servers optimized for streaming/torrenting/gaming
Excellent value
No log retention
CONS:
Not working in China
Slower speeds on certain servers
---
4. Surfshark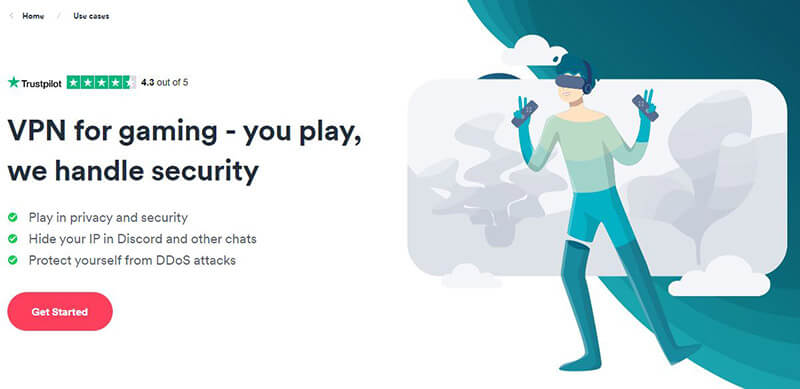 Surfshark is another reliable VPN for gaming, streaming, and browsing. With over 3,200 servers in more than 65 countries, it guarantees gamers a smooth experience.
Although its number of servers isn't as high as the competition, it still manages to deliver consistently high speeds. It combines these high-speed servers with unlimited bandwidth to minimize buffering and lag.
Furthermore, its strict no-logs policy ensures that gamers can do whatever they want without the fear of their data being handed over to the authorities. In fact, it is part of our selection of VPNs for India.
Surfshark is useful if you're traveling and want to play co-op with your friends from back home. If your device doesn't offer built-in VPN support, you can install it on a compatible router instead (or use it on your computer and plug your console in it).
Surfshark allows for unlimited simultaneous connections for those local multiplayer game nights.
A review of Surfshark would not be complete without mentioning its pricing. It is one of the most affordable services out there. With rates as low as just above 2 bucks per month, it is a prime choice for you if you're on a budget.
PROS:
One of the cheapest offers
Works on all consoles
Easy-to-use applications
Great security
---
5. PrivateVPN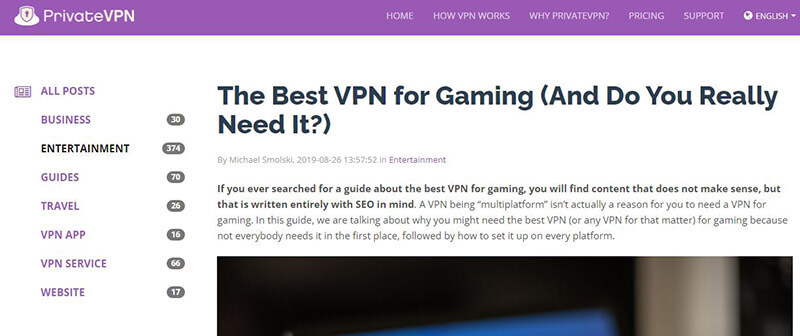 PrivateVPN is fast growing in reputation in the market as people now turn to it as a choice VPN for gaming. Based in Sweden, this provider offers a fantastic bargain with high levels of privacy.
Instead of offering a long list of unique features, PrivateVPN sells itself as a simple but high-performing service. It provides apps for all platforms, so you don't have to worry about compatibility issues.
Although not as fast as other providers, it is known for its secure apps with its choice of 2048-bit encryption with AES-256 (the highest level of encryption on the market).
PrivateVPN servers are located in 63 countries and can be used to access foreign games and to buy games at a cheaper price. It is worth a test run using its 30-day money-back guarantee.
PROS:
30-day money-back guarantee
Prices are not really expensive
Apps available for many devices
Solid security & no-logs policy
CONS:
Very small server network
Not the best speeds
Device support could be better
---
If you're still not convinced with our curated list of the best VPNs for gaming in 2023, you can check out the factors listed below to help you make your individual decision.
Factors to Consider When Choosing a VPN for Gaming
Would you like to tell if a Virtual Private Network is right for gaming or not? Then you can consider the following factors and use them as a guide for making a good decision.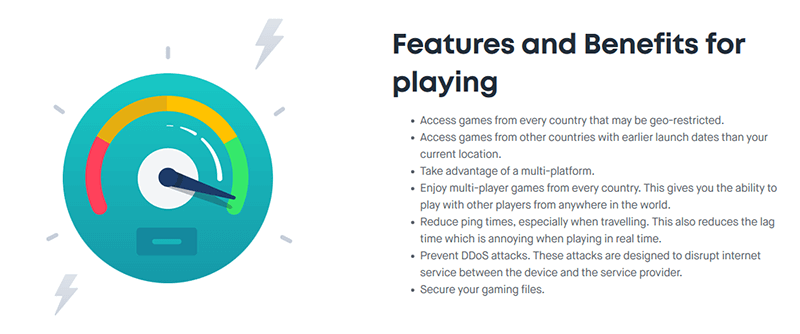 Speed
While using a VPN, it may reduce your internet speed due to the extra layer of encryption that the data goes through. Therefore, finding a provider with fast servers would help avoid this problem.
For gamers, you'll need a very fast application as it is no good investing in something that'll slow down your connection during a firefight.
Also, it is important to note that experience/connection speed differs for different individuals due to factors like an individual's location, and that of the server.
For instance, someone in the UK with a server located in Germany would experience a different speed from someone in Japan with a server located in France.
You can also take advantage of the free trials or money-back guarantee provided by most service providers to test for yourself and see which server speed works for you before committing to one in particular.
Encryption Strength
Always check through the level of encryption on an offer to see how strong it is, as stronger encryptions are harder to break and offer better security in most cases.
The standard encryption in the industry is 256-bit, although some companies offer 128-bit encryptions, which in most cases are less secure. To verify a provider's encryption strength, visit the company's website and search under its "features" for details about the level of encryption they use.
Privacy
The essence of choosing to operate through a VPN to play video games is also to ensure your privacy on the internet. And for this, you must check through the provider's policy to confirm a "no-logging policy" before proceeding.
A "no-logging policy" means that the information about the sites you visit or about the files you download would not be saved by your provider, which further ensures your privacy.
With online games, speed is crucial, but security is also important. To see a provider's logging policy, simply visit the company's website and search for its privacy policy. After this, go through the policy and read carefully to know what type of information they collect or what data they process.
A good VPN provider should only collect basic information like :
The email address or username used to log in
Payment information to complete payment for their subscription
Optional diagnostic information if your software crashes (you can opt-out of sending this information for greater privacy)
Any more information asides from these, like location, IP address, or OS details should not be disclosed.
Get a VPN that guarantees privacy >
Number of Available Servers
Another important factor to determine the best VPNs for gaming is to find out how many servers are available. Before making payment to a provider, check out the "server list" on their website to see a complete list of their available servers and their locations.
A Virtual Private Network with many servers assures more reliability, and in some cases, it means better speeds. Although a provider with 1,000 servers and another with 2,000 might not be so different in practical experience, it is always advisable to look for a provider/company with at least 1,000 servers.
Check out the number of countries their servers are available in. Virtual Private Networks can get you around regional restrictions provided that they have a server in the country whose content you're trying to access.
Configuration Options
When considering a VPN for your gaming needs, check for those with an option to customize your connection. It is important to have a flexible option when it comes to the protocols you can use, as a protocol often determines how secure or fast your connection is, and the more freedom of choice you have, the better.
When you use a trusted service, you wouldn't need much security, and you can even use a lighter protocol than OpenVPN (e.g. PPTP) to encrypt your data. This will help improve speed and general performance.
Get the best VPN to play video games : ExpressVPN >
Compatibility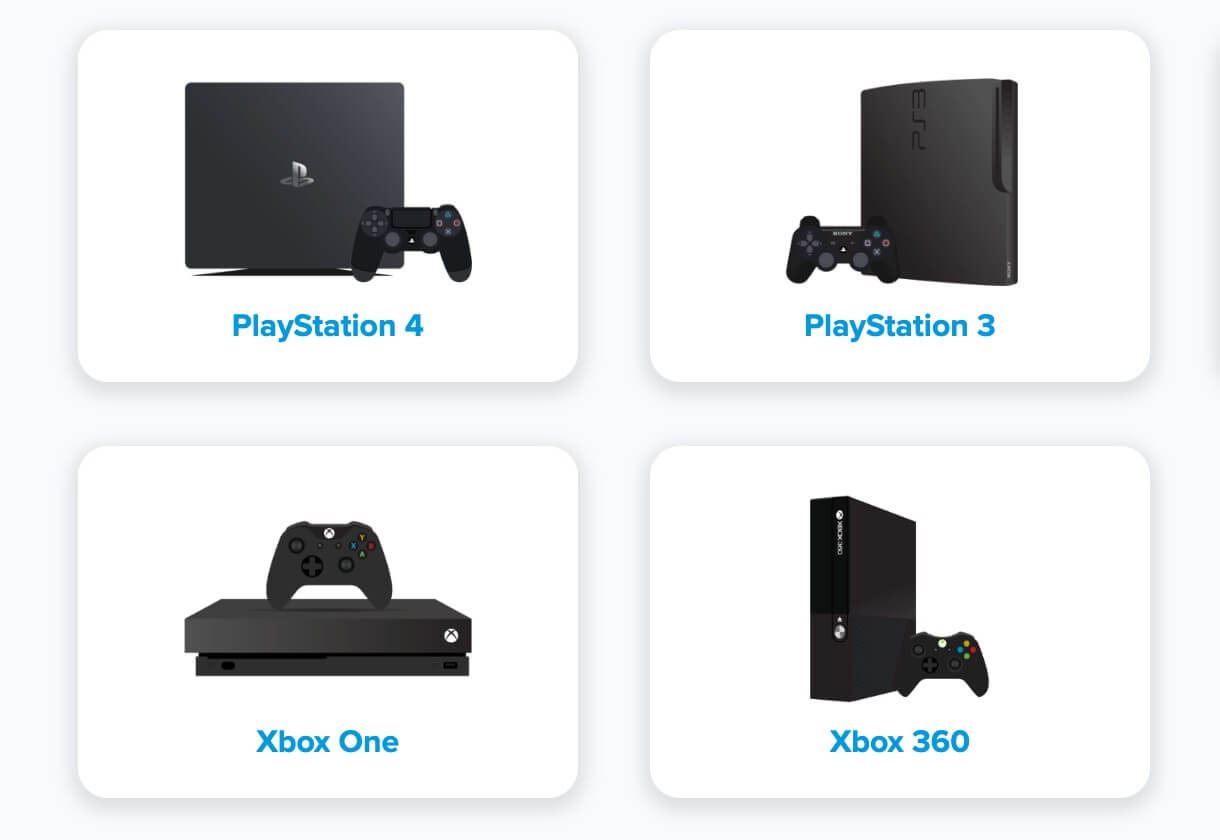 You'll need a service that provides VPN clients for almost all your gaming platforms. This means an application for your computer, smartphone, and router.
If you're a Mac user, you can check our selection of the best free and paid VPNs for Mac.
Conclusion
In this day and age, playing video games shouldn't be laden with too many restrictions. The right Virtual Private Network will make your gaming experience a dream come true.
A higher variety of games at reduced costs, access to more tournaments, no buffering or lags, assured security, and so on, what else can a gamer ask for?
With the listed factors and the best VPNs for gaming in 2023 recommended above, we hope you can now make faster and more informed decisions.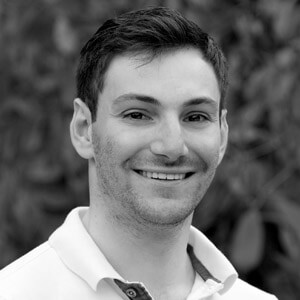 Flo is the founder of the-bestvpn.com. Really concerned about security on internet, he decided to create this website in order to help everyone find the best VPN. He's got a Business School background and now is 100% dedicated to keeping his website alive.