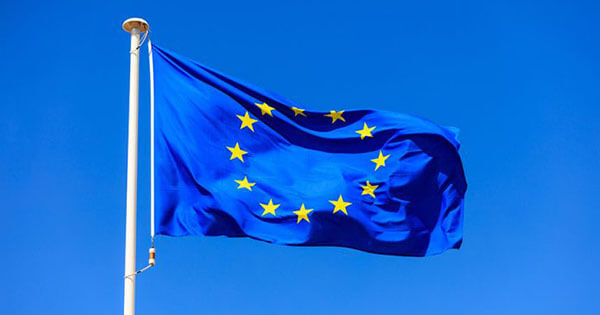 Regardless of your location, using a VPN in this day and age is mandatory. There are many threats online, such as hackers, government surveillance, and annoying geo-restrictions. This service can help you bypass all the potential issues and let you enjoy your online freedom to the fullest. If you're from Europe and you need a Virtual Private Network, look no further. We've come up with a list of the top 3 picks for this continent that you should take into consideration.
Best VPNs for Europe (2023)
To save your time, we decided to give you our top 3 VPNs for Europe right away. Wanna enjoy all the benefits of this service immediately? Stay with us – these providers are all worth buying!
1. ExpressVPN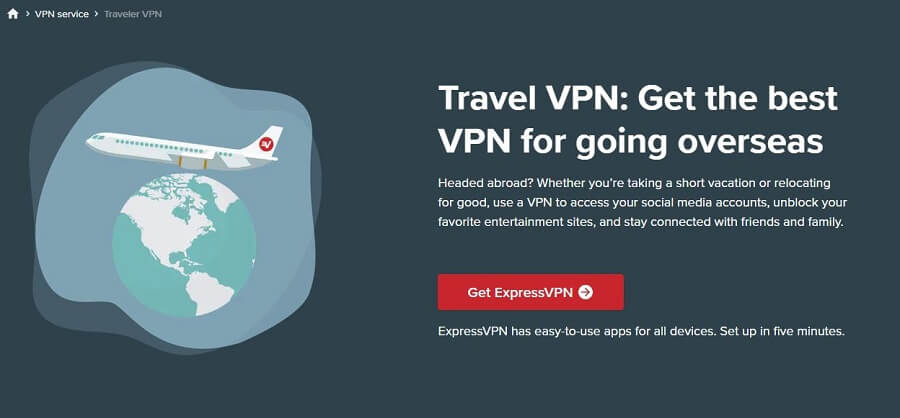 ExpressVPN is a very popular pick among users in Europe for many reasons. First, it has the fastest speeds around, which are great if you're into streaming or torrenting. Second, it has 3,000+ servers in 94 countries worldwide, making it convenient to bypass geo-restrictions.
These servers aren't located only in Europe but also in the US, Asia, Australia, and Africa, too. This will let you access any geo-restricted platforms in a blink of an eye. Living on this continent also puts you at significant risk of government surveillance and hackers.
Those who travel to Europe will greatly benefit from the VPN offered by ExpressVPN, as it offers the best security and privacy. You get 256-bit AES encryption, backed up with a kill switch for preventing IP/DNS leaks.
ExpressVPN also has a no-logging policy that recently received an audit from PwC. This means that the provider is proven to be secure, saving you lots of troubles online, which will surely come your way if you're not using a VPN.
Streaming lovers will be happy that the provider unblocks Netflix with ease, but also platforms like Hulu, HBO GO, Disney+, and BBC iPlayer. Buying it will let you protect up to 5 devices simultaneously, and with 24/7 support, every potential issue will be fixed in a matter of minutes.
Lastly, ExpressVPN comes with a 49% discount and 3 months free for an annual plan. To make things better, there's a 30-day money-back guarantee, just in case you don't like it. But let's be honest – that's not gonna happen!
Reclaim Your Privacy in Europe With ExpressVPN >
2. CyberGhost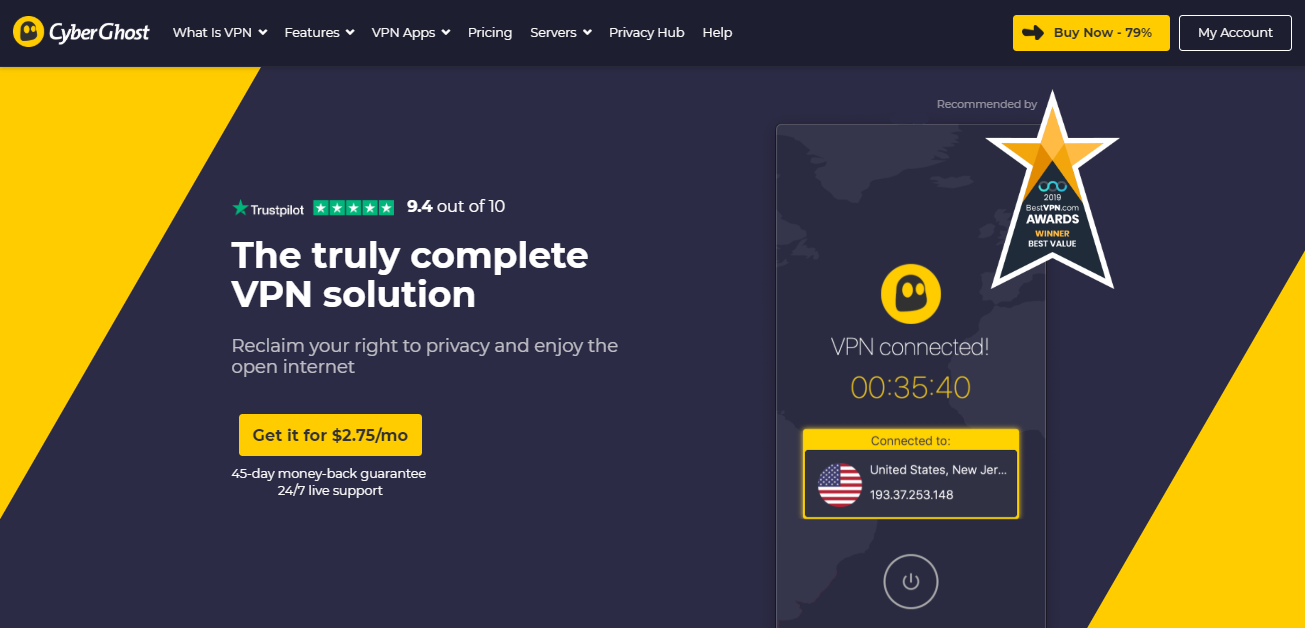 CyberGhost is a great choice for traveling in Europe but also native-European people. The reason for that is its huge server coverage – 7,000+ servers in 90 countries around the globe. In fact, this is THE largest provider out there and is an epitome of why you should use a VPN.
They say that size doesn't matter, and to a certain extent, we agree. However, when the size is accompanied by performance, that's when things start to change. CyberGhost has rock-solid security thanks to military-grade encryption and a kill switch that works each time.
Moreover, it unblocks streaming platforms from both Europe and the US, letting you enjoy streaming indefinitely. There are dozens of VPN servers in Europe, so you can get a German IP or any other IP you want. This is possible on every platform, including iOS, Android, Windows, macOS, and Linux.
We like that CyberGhost includes an ad-blocker. It's extremely reliable and blocks malicious sites, for 360-degree protection. Much like ExpressVPN, it has a zero-log policy, given its Romanian jurisdiction, which is one of the best in the world.
For the price, it's impressive what this provider can give. Instead of 5 or 6 simultaneous connections, you get 7 of them! Oh, and we almost forgot its 24/7 support that works hard to give you solutions for potential VPN-related problems!
Its 3-year plan is really cheap, and if CyberGhost seems like a solid choice for you, it's our recommended plan. Plus, you get a 45-day money-back guarantee, which screams generosity!
Unblock Sites in Europe With CyberGhost >
3. NordVPN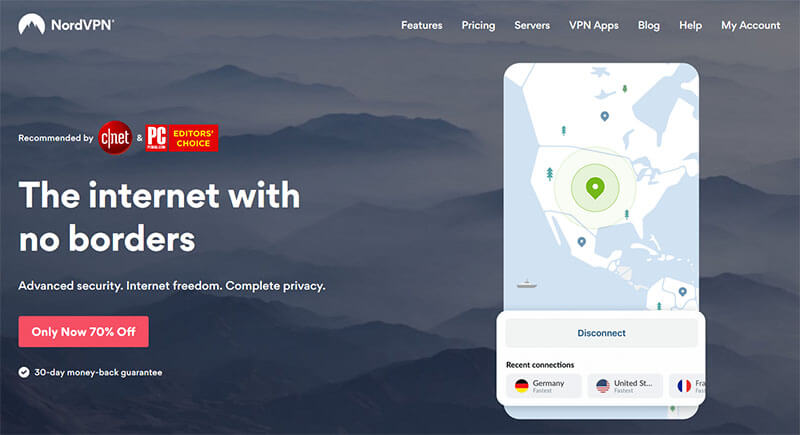 Our last pick on this list is NordVPN, and despite its placing, it's a great VPN for Europe. Whether you want to travel to Europe or already living there, its 5,600+ servers in 60 countries will be more than enough for all your needs.
Apart from its impressive server network, NordVPN is a great all-rounder. It's fast, secure, and offers decent stability for day-to-day browsing, streaming, and torrenting. The provider comes with military-grade encryption which will keep you safe, all while its kill switch guards your back.
We like the addition of P2P servers for torrenting, as well as obfuscated servers for users in China. Double VPN is another great feature that Europeans will value. It allows you to route your traffic through two different servers, with a double layer of encryption, for ultimate security.
NordVPN also has numerous servers in the US, which is great if you want to watch Disney+ content. Furthermore, the provider has a zero-log policy that will make it extremely safe if you're located in a 14 Eyes country. These include Germany, Italy, France, and a few more.
The fact that this is a great Europe server VPN is backed up by its server coverage. A majority of its servers are located on this continent, so you can get an EU server IP in a matter of seconds. NordVPN also offers 6 simultaneous connections and is available on all major platforms, making it easy to install and use.
Why You Should Use a VPN in Europe?
If you've read this article all the way to here, you can already catch a glimpse of why using this service is beneficial. But, if you're still in doubt, here's why you should use a VPN in Europe:
Avoiding Government Surveillance
Western European countries are notorious for excessive government surveillance. France, Germany, Spain, Italy, Sweden, and many others fall into this umbrella. Nowadays, even Eastern European countries are targets, such as Bulgaria, Croatia, Serbia, and Greece.
Government surveillance is a serious problem that has a negative impact on your privacy and lets the government control the sites you can access online. This is done via your ISP (Internet Service Provider) that sees your online activity all the time and reports to the government if needed.
A VPN can help you by hiding your IP address, preventing anyone from getting your tracks. When you connect to a VPN, you get a new IP address, making it impossible for your ISP or the government to see your online activity.
As a result, they can't impose any limits or limit your online freedom.
Bypassing Geo-Restricitons
If you're living in Europe, bypassing geo-restrictions will be mandatory. Do you want to watch US Netflix, BBC iPlayer, or Disney+? Well, these platforms are all outside this continent, hence European users won't be able to access them.
With this service, you can change your online location and access shows and movies available in the US, UK, and other countries worldwide. The same applies to those traveling outside Europe.
When outside your country, you won't be able to enjoy local TV shows or access your bank account. But, with the help of the best VPN for Europe, you can get your country's IP and bypass annoying geo-restrictions.
Torrenting Safely
In recent years, countries from this continent took drastic measures to stop torrenting in its tracks. Therefore, users who engage in P2P activities will face serious charges and be forced to pay pretty hefty fines that go well above $1,000.
Let's make something clear. We don't support violating copyright but many countries from Europe forbid this activity altogether. Plus, you won't always know when you've violated copyright through torrenting, making it tricky to avoid legal consequences.
To enjoy torrenting safely, a Virtual Private Network is obligatory. It will hide your IP, making it impossible for your ISP to see your activity online. As a result, it won't be able to see you torrenting, so it can't report anything to the government.
Summary
As we can see, a VPN is a very versatile tool that will aid your privacy and security online. When choosing the provider for Europe, it's very important that you take these two factors into consideration. However, don't forget performance and server count, which will have an impact on your overall experience with the provider.
Our list above isn't the largest but we can guarantee that these 3 picks will provide substantial performance and impenetrable security. We recommend ExpressVPN for this case, as it's the best pick of the bunch.
But, if you want a slightly cheaper solution, CyberGhost works just as fine.
Quentin is the co-founder of the-bestvpn.com. With several experiences as a System and Network Engineer, he is very knowledgeable when it comes to VPN, cybersecurity and the risks of using the Internet nowadays.