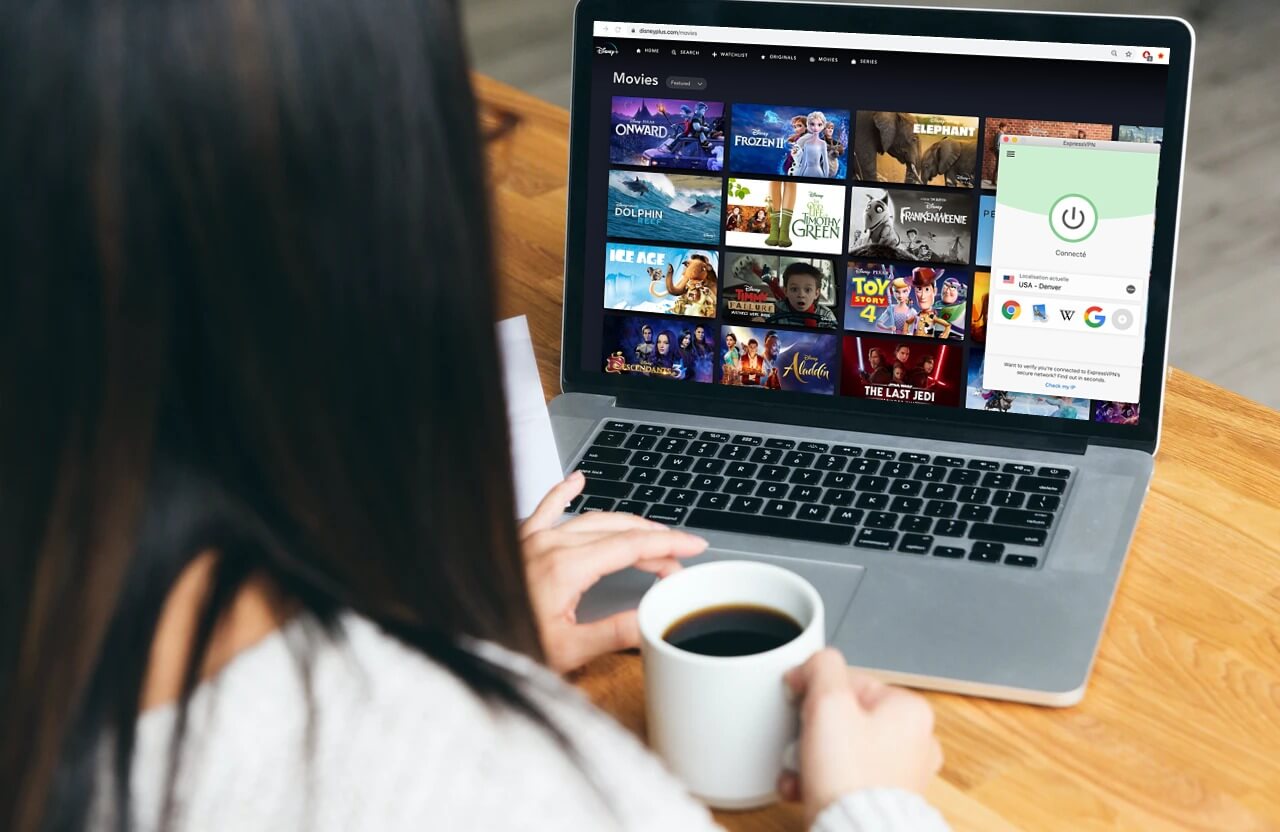 If you travel abroad, you will find your favorite programs from the new streaming platform unavailable, along with any other channels you might want to watch from home. This leaves you asking the question of how can I unblock and access Disney+ abroad? Well, it is your lucky day as we have the answer to that very question. You can unblock your favorite programs using a VPN or Virtual Private Network if you will.
So, a Virtual Private Network can help you to gain access to Disney+ abroad. However, you do have to choose wisely as not all can bypass geo-restrictions imposed by the platform.
Luckily, we know which Virtual Private Networks do have this ability and we are going to reveal them to you later.
Before we do, though, check out our comprehensive guide to find out how to set up your VPN in a few easy steps. Now, which providers are the best to unblock and access Disney+ abroad? Keep reading to find out.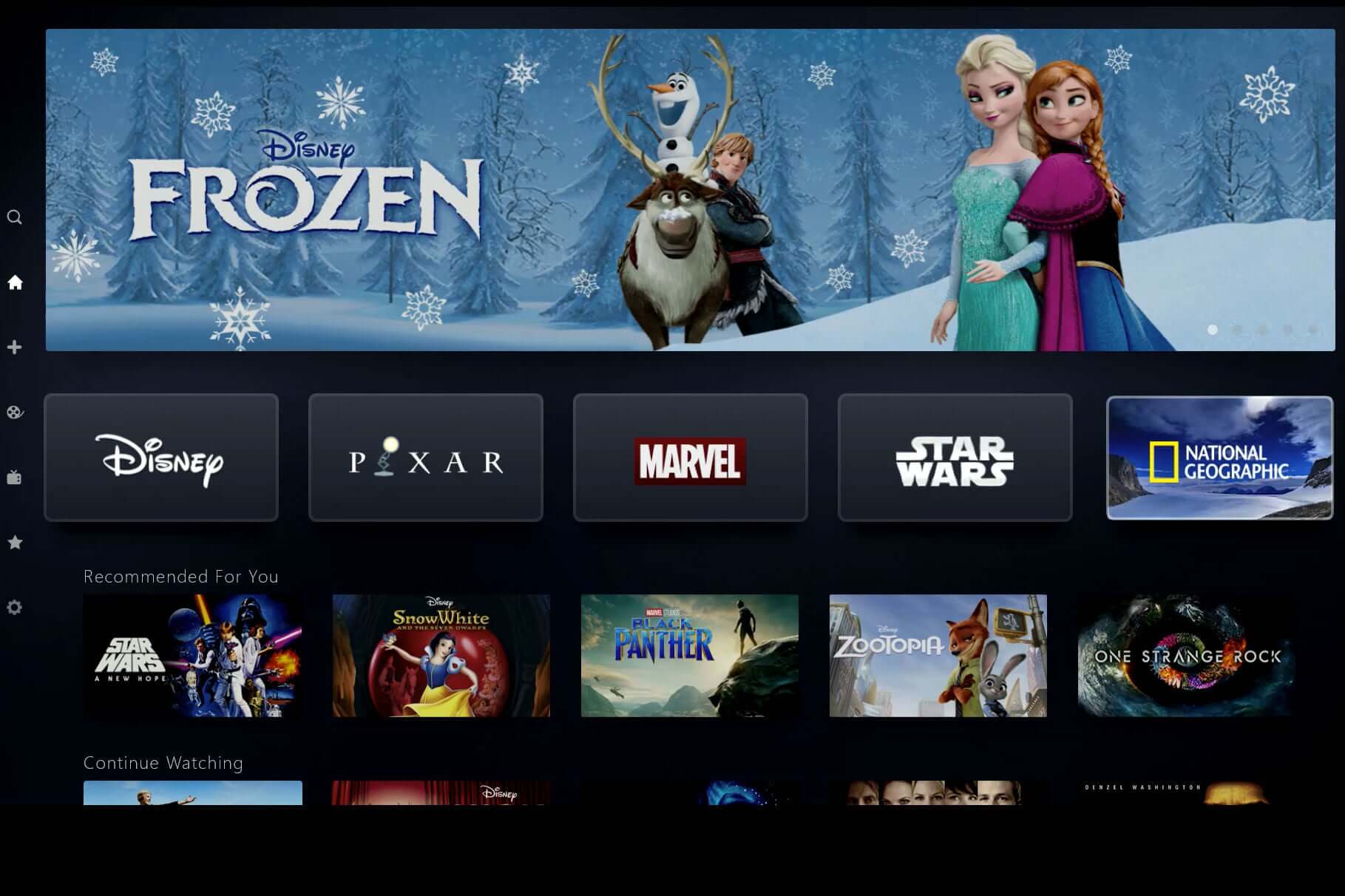 First, we will take a look at why sites are restricted and what is involved in bypassing the restrictions and watching whatever you want wherever you are in the world.
Why Is Disney+ Restricted to Some Countries?
Why do you need to find a way to unblock and watch Disney+ abroad? Well, the easy answer is that certain content is limited to certain countries due to licensing laws.
Networks pay large sums of money to show content, so they do not want people outside of their home country to be able to watch it.
In the case of Disney+, it is a Pay-to-view streaming platform. Just like Netflix, Amazon Prime Video, Hulu, or HBO.
Therefore, restrictions are placed on watching content from home when abroad. Instead of streaming content, all you see is a notice telling you the platform is not available in your region.
This is called the geo-restriction.
How Are Restrictions Placed?

You now know why websites are restricted but how are the restrictions enforced? Well, the ISP knows where you are located based on the IP address you use to connect to the internet.
Each IP address is unique to each device and assigned based on countries, with each having a specific range. This means the ISP knows which country you are currently located in.
If you are outside a country where the channel is licensed for showing, you are blocked. You cannot change your IP address, and if you could, you would be able to avoid the blocks.
However, with a Virtual Private Network, you can change it and it is easy to do so.
Indecently, the IP address is also how the ISP can find out what you download if you torrent online. The ISP can even tell the exact name of the file downloaded, the size of it, and when you downloaded it.
How Does a VPN Provide Access to Streaming Platforms?
When using a Virtual Private Network, you can download an app onto the device you use to connect to the internet to stream.
Through the app, you can connect to a server, mask your IP address, and take one on from the server. The key to overcoming geo-restrictions is to choose a server from the country where Disney Plus (or any other platform) can be accessed.
Of course, by connecting to a server offered by the provider, you have another great tool at your disposal to beat ISP spying – an encrypted tunnel between you and the website you want to visit, making your information unreadable and encrypted.
The providers we recommend to unblock Disney+ all offer 256-bit military-grade encryption. Any information that passes along this virtual tunnel is encrypted, and no one can intercept it.
This means that the ISP cannot read the name of the site you want to visit, so it cannot block it.
How Can I Unblock and Access Disney+ Abroad?
The answer to the question above is by using a Virtual Private Network and you can read on and follow the steps below to do just that. In just five easy steps, you will be able to bypass any geo-restrictions or censorship when you travel outside of your country.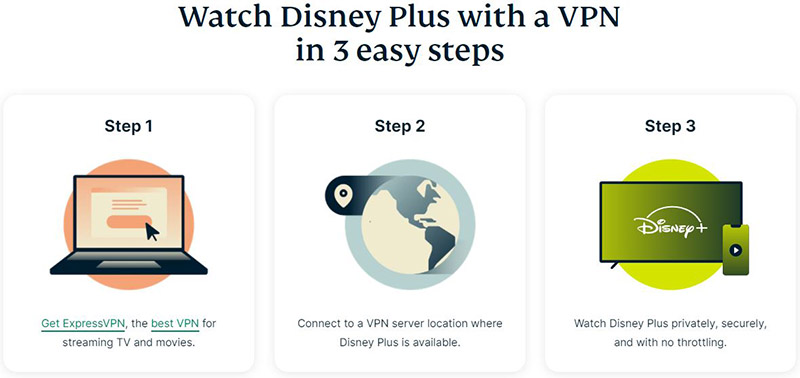 Step One – Choose a Suitable Provider
Your first decision is to choose a provider. If you want to watch Disney+ abroad or any other channel for that matter, we highly recommend ExpressVPN, CyberGhost, or NordVPN.
Step Two – Decide on a Plan
You then have to decide on a plan. Providers offer various lengths of plans from paying on a month-to-month basis to yearly and longer.
Paid up-front plans work out cheaper than paying each month and some great savings are made this way. Bear in mind that a Virtual Private Network is used for a great deal more than just streaming.
And of course, bear in mind that, if you go for ExpressVPN's annual plan, you can get a 49% discount and 3 months free on top of that!
Step Three – Choose Apps and Download Them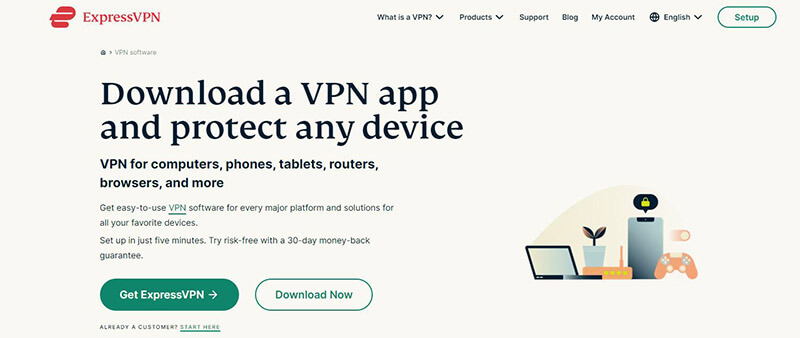 Your last decision is to choose and download apps for devices that you want to use for streaming. Providers offer apps for a large range of devices, including Windows, Mac, Android, iOS, routers, and more.
Step Four – Install and Launch a VPN
After downloading the apps, install them, then launch the app and sign in using the credentials made at the time of signing up.
After signing in, you will see the "dashboard". This is where the magic happens because it allows you to choose a server.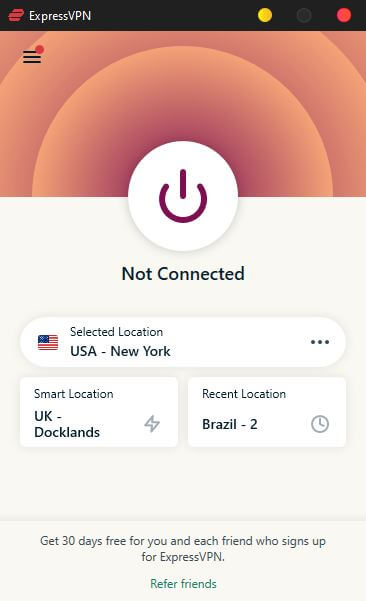 Step Five – Choose a Server and Connect
Using the dashboard, choose a server from the country where Disney+ can be watched, and connect to that server. In our example, we show the dashboard of ExpressVPN, but other providers will offer something similar.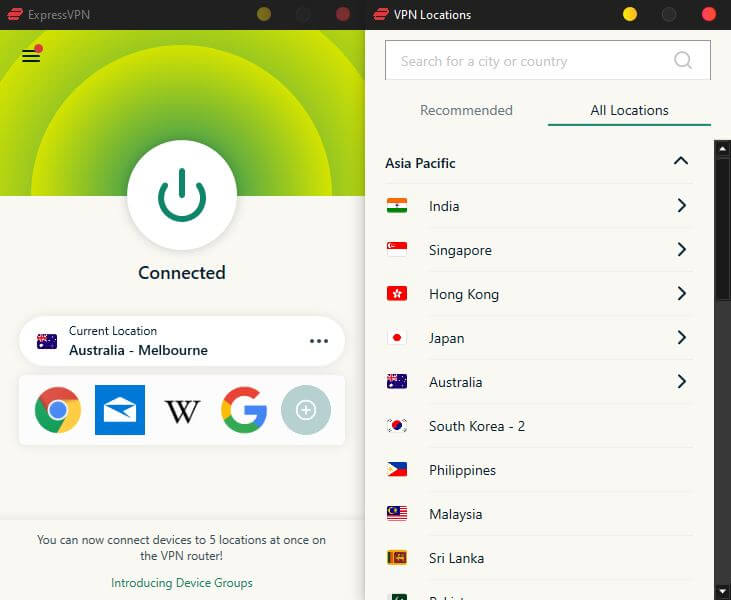 If you have chosen a server from yan eligible country, you will be able to unblock and stream Disney+ abroad wherever you are in the world. (For example, to access the US catalog of Disney+, you will have to connect to a US server).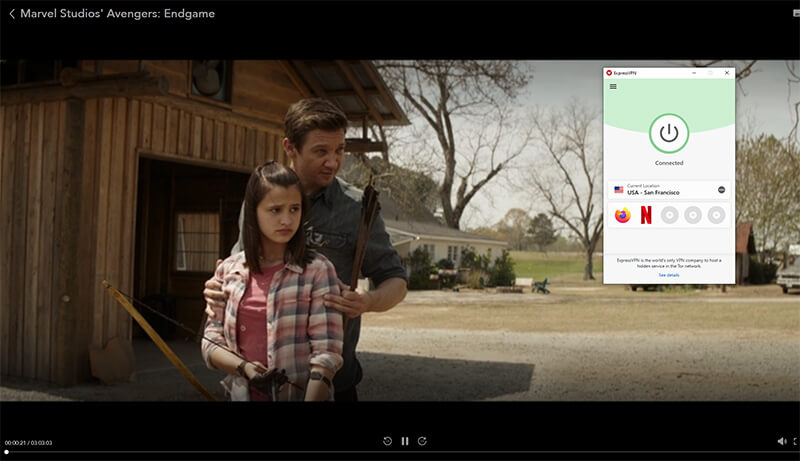 Top 5 VPNs to Unblock Disney+ Abroad
Now that you have learned how to stream your favorite channels abroad, you are going to need a provider. Below you can find some of the top ones we highly recommend.
1. ExpressVPN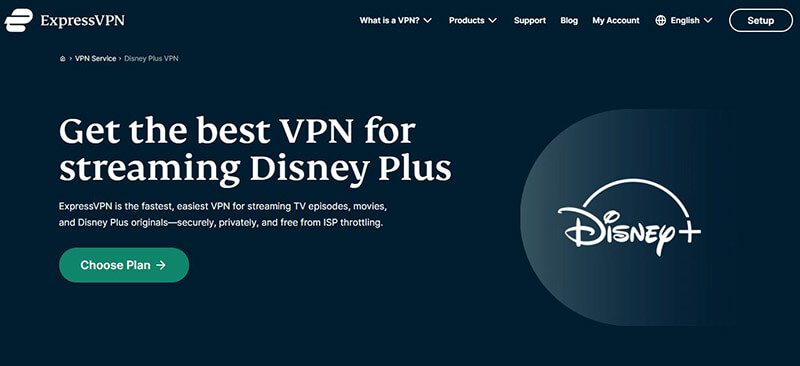 Bear in mind that only the best VPNs for streaming will work and this provider is the best there is for overcoming geo-restrictions and streaming in HD.
The servers of many providers are blocked as they are picked up as coming from a proxy server. The ones offered by ExpressVPN manage to avoid this. Along with this, all servers are blazing-fast, so streaming in HD is possible without stuttering or buffering.
Talking about servers, there are 3,000 of them to choose from, located in 94 countries around the globe, so there is sure to be one to meet your needs.
ExpressVPN is not only the answer to how to unblock and watch Disney+ abroad. It is also a good choice to access Netflix, BBC iPlayer, Amazon Prime Video, and more. Of course, plans also allow you to overcome censorship and geo-restrictions of websites and apps blocked by the ISP.
The provider offers a range of plans with the biggest savings made when taking out a yearly plan and paying upfront. When taking out this plan, you save 49% in comparison to paying monthly for a plan.
Another benefit is the three months free, so you get a 15-month plan in total at the price of the annual plan.
Finally, the provider offers a range of features including unlimited speed and bandwidth, DNS leak protection, 24-hour live chat support, and a 30-day money-back guarantee.
PROS:
Very good speeds
Lots of servers in the US
Client support available 24/7
Kill Switch function
No-log policy
30-day money-back guarantee
Unblock Disney+ abroad with ExpressVPN now >
---
2. CyberGhost

CyberGhost is another great choice if you want to access and watch Disney+ abroad or any other blocked or restricted website or streaming portal.
With the provider, you can enjoy all your favorite content without restrictions, thanks to dedicated streaming servers within the app.
The provider hosts 7,400 servers in 90+ worldwide countries, so you will be sure to find one for your specific location. To ensure high security, an independently-operated data center is home to the servers.
Buffering is a thing of the past when streaming, thanks to fast and reliable servers. In addition, plans come with unlimited traffic and bandwidth so streaming in HD is possible.
Plans also include DNS and IP leak protection to keep you safe and secure online when overcoming geo-restrictions and censorship. Moreover, up to seven devices can use the plan at the same time, which means that all the family members can take advantage of a single plan.
CyberGhost offers a huge range of features in all plans. For security, there is Military-grade  256-bit AES encryption, which is the best encryption available. Any data sent through the virtual encrypted tunnel is unreadable, which means that the ISP cannot see it.
If they cannot see what sites you want to visit, they cannot put restrictions in place.
PROS:
Servers optimized for streaming
7 simultaneous connections
7,400+ servers
Extremely cheap 3-year plan
Ad-blocker included
CONS:
Doesn't work in China
1-month plan is expensive
Stream Disney+ on multiple devices with CyberGhost now >
---
3. NordVPN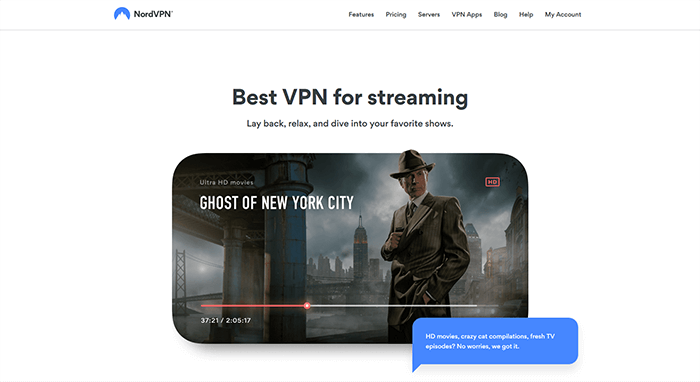 NordVPN is another great choice of provider to unblock Disney+, Netflix, BBC iPlayer, and many other streaming websites.
The provider has 5,200 servers located in 60 countries worldwide, all of which can bypass censorship and geo-restrictions. Thanks to unlimited bandwidth and speed, you can stream in HD without buffering or constant stuttering.
Along with being able to access streaming portals, the change of IP address and encrypted tunnel ensures your ISP will have no idea what you do online so you can torrent without them knowing what you are downloading.
This helps you to avoid DMCA notices and possible fines, for example.
NordVPN offers military-grade encryption to ensure your data remains safe whether you are browsing the internet, shopping online, or streaming your favorite TV shows. With encryption, hackers cannot exploit unsecured connections to get hold of your personal details.
The provider packs many security features into plans. One of these features is DoubleVPN. With this feature, you can connect not just to a single server to change your IP address and enjoy encryption, but two servers. This gives you 2 layers of encryption for added security.
CyberSec is another great feature. This provides enhanced security, which in turn provides better online performance by blocking out annoying ads and popups. With CyberSec, your browser won't have to load all of those ads anymore.
Two more good reasons to choose the provider to unblock and stream Disney+ are 24/7 assistance and a 30-day money-back guarantee.
PROS:
User-friendly app
Double VPN function
30-day money-back guarantee
A large number of servers in the US (5,200+ worldwide)
Company based in Panama
CONS:
No payment through PayPal
Speeds can be inconsistent
Bypass geo-restrictions with NordVPN now >
---
4. Surfshark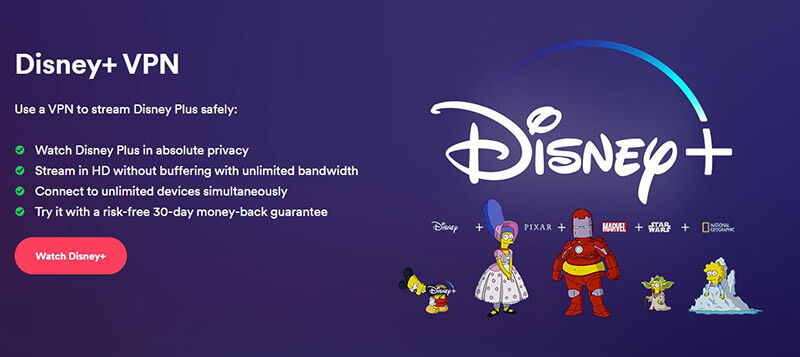 Surfshark is one of the more affordable VPN providers and offers plans that are not lacking in features. You really get a lot for your money.
To keep spies, hackers, and your ISP at bay, military-grade encryption is in every plan. Additional security measures include a Kill Switch and DNS leak protection. You can choose from a variety of security protocols, including OpenVPN and WireGuard. This is one of the most secure solutions.
CleanWeb helps to protect users when browsing the internet as it stops ads, malware, phishing attempts, and trackers.
Surfshark offers a similar feature to NordVPN, calling it MultiHop. The feature allows you to take protection with one server and then "hop" to another for double the security.
When in "NoBorders" mode, you are behind the encrypted tunnel and can bypass geo-restrictions to unblock and access Disney+ and many other channels with ease.
Finally, Surfshark is offering a great deal on its 2-year plan which is extremely cheap. How cheap? Well, click on the button below to check it out.
PROS:
Does not keep logs
Affordable
Unlimited simultaneous connections
Can be used in China
Great for streaming and torrenting
CONS:
Not the best speeds
Occasional kill switch issues
Beat geo-restrictions using Surfshark now >
---
5. IPVanish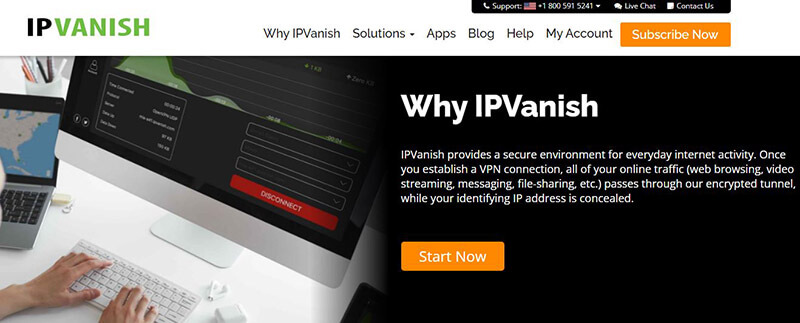 IPVanish offers superb plans to help you remain secure in cyberspace. Every aspect of the service is managed internally. By cutting out the middleman, it helps to ensure you remain secure.
The provider offers a huge range of servers in locations around the world. All servers offer 256-bit AES encryption and a choice of protocols including OpenVPN, IKEv2, and WireGuard.
Servers can beat geo-restrictions and provide the answer to the question of how can I unblock and access Disney+ while being abroad.
You can use a plan on up to 10 devices at the same time. So, you just have to pay for one plan and all the family members can enjoy it on different devices. You can choose from a wide range of apps for various devices.
These include Windows PC, Mac OS, Android, iOS, routers, PlayStation, and more. For the end, IPVanish offers a 30-day money-back guarantee and live chat help, should you encounter any issues.
Of course, you can just click here to know more about IPVanish including many of its features and benefits.
PROS:
10 simultaneous connections
Bank-grade encryption
Servers in 75 locations
CONS:
Company based in the US (Five Eyes)
Slower speeds
Unblock Disney+ abroad with IPVanish now >
---
Summary
ExpressVPN and NordVPN are both very good options to unblock and access Disney+ along with other streaming services.
All providers offer plenty of features and benefits to keep you safe and secure online. With a subscription plan, you can also overcome censorship, avoid ISP spying, torrent safely, and much more.
What you have to do now is choose which provider you want to go with and sign up for a plan. After that, watching Disney+ will be a breeze, no matter your current location.
FAQ
? How much does a Disney+ subscription cost?
There are several subscription plans offered by Disney+. In the US, for example, a basic plan costs $8 a month or $80 for a one-year plan. However, you can purchase a bundle that includes Disney+, Hulu, and ESPN+ that will increase the price to $14 a month at the time of writing this article.
? Is it possible to enjoy Disney + anywhere in the world?
Disney+ is not yet available in all countries of the world. Therefore, you may not be able to take advantage of it once abroad. If you find yourself in a country where Disney + is not available, you will need a VPN!
With a VPN like ExpressVPN (for example), you will be able to change your IP and location in just a few seconds to make people believe that you are present in a country like the US.
? On which devices can I watch Disney+?
Disney + offers an application on the main platforms of the moment. You can enjoy it on a computer, tablet, smartphone, and even on your Smart TV.
⚠️ Will a free VPN allow me to take advantage of Disney +?
No. VPNs that are capable of unlocking Disney + can be counted on the fingers of one hand and they are all premium. No free VPN is capable of overriding the blocking rules imposed by the streaming platform, unfortunately.
Currently, we can recommend that you use ExpressVPN, CyberGhost, or NordVPN which all work on Disney+.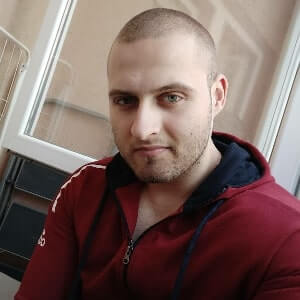 A professional writer with a Master's degree in Mechanical Engineering. Since his youngest age, he loves everything related to internet, technology, fitness, games, and dogs! He joined our team in order to bring his deep knowledge in security services, among which VPN is of course a key component.