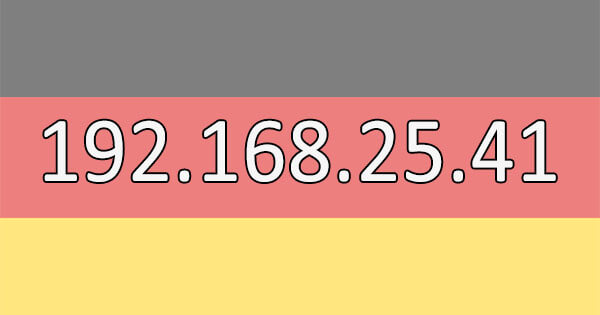 Missing out on German TV shows can be quite annoying since there have been more than a few great ones. Where would you be able to watch these in the first place, though? Well, TV channels, such as Das Erste or ZDF, are responsible for streaming most of the German entertainment content. Still, the main issue is, if you are trying to access it with a foreign IP address, you probably won't have any luck. Why is this? Well, it's because of geo-blocks and security reasons.
Whether you are a German TV enthusiast or a German resident currently outside of the country, this can have serious consequences. Luckily, there is a solution to this issue. You can connect to a virtual server based in Germany and hide your primary IP address to get a German one.
This can help you in many ways, but is it all that simple? Well, as long as you know what to look for, it absolutely is! In order to help you, we have prepared an article on the relevant methods for acquiring German IP addresses.
We will also discuss why it can be so beneficial. Let's get to it.
How Do You Get a German IP Address?
As we mentioned above, there can be numerous consequences from the geo-restrictions that are related to IP addresses. These could be not only privacy-related issues but legal ones, as well.
Still, this doesn't have to affect you. By logging onto a proxy server or a Virtual Private Network (preferably), you will be able to unblock all the desired content. There are a couple of scenarios for which a German IP address might be suitable.
Firstly, you may simply be a fan of what their local entertainment has to offer. Maybe you are just tired of streaming through unreliable websites. Because the algorithm will see you as a local resident, you will be able to access any of their TV channels.
Additionally, you can also enjoy Netflix and Amazon Prime catalogs that are intended for the local audience. Keep in mind that you might lose access to the content that was available in your country, though.
If this does happen, you will get back to it once disconnected from the server.
On the other hand, there are providers like ExpressVPN and CyberGhost that ensure unlimited access to international content at any given moment. This will also give you the opportunity to become a master of the German language.
Apart from enjoying their streaming platforms, you will also be able to access betting websites that might be illegal in your country.
Also, logging in from a German IP address can give you cheap flight tickets from local companies. Finally, there is a chance that you are a local resident, but you are currently outside of the country.
This might be a problem for accessing your bank account. Fortunately, by logging through a server based in Germany, this issue is likely to be solved.
With a Proxy
It is no secret that proxy servers appeared sometime before VPN providers. Still, this doesn't mean that a proxy server is more reliable. On the contrary, while it may allow you limited access to German content, it surely is not the best in terms of overall privacy.
Additionally, you never know what to expect, considering the fact that the provider may sell your browsing data to turn a profit.
With a VPN
Considering everything mentioned above, a VPN provider is certainly the best option for getting a German IP address. This is true not only because it will mask your true location, but for a number of other reasons, as well.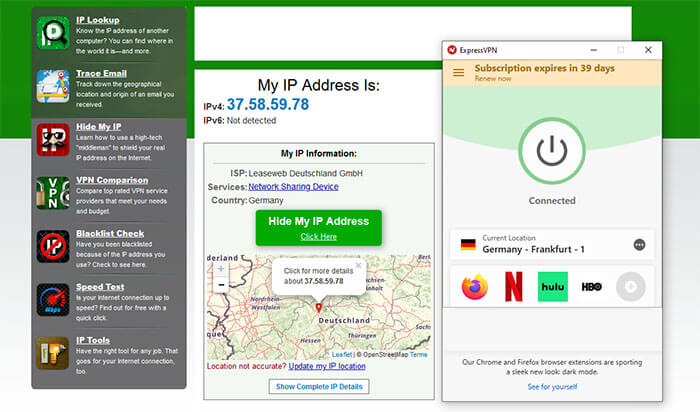 Firstly, you will be able to enjoy safe and secure browsing without being bombarded with irrelevant ads or third parties. Additionally, the content that will be available is UNLIMITED.
Moreover, reliable service will ensure more than a single server through which you can connect at fast speeds.
Why You Should Use ExpressVPN?
Our personal favorite? ExpressVPN.
There are a couple of reasons why we think this way. It is a provider that offers more than 3,000 servers, of which a lot of them are set in Germany. Not only this, but the user-friendly interface will allow even a beginner to enjoy instant sports streaming (but not just that, don't worry 😉 ).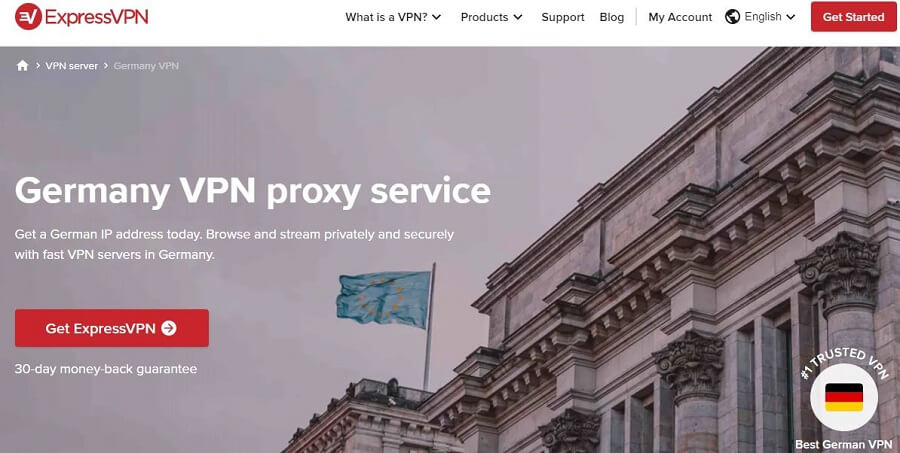 Additionally, it is fast and reliable. ExpressVPN also offers 24/7 customer service. Last but not least, this VPN is highlighted by robust security features and strict no-log policy.
You should trust us when we say that subscribing to a provider such as ExpressVPN is a great decision. Acquiring a German IP address will allow you to enjoy local TV content, censored websites, and manage your bank account. It can't get much better than that!
Summary
So, what are you waiting for?
Choose a VPN provider that has all of the features you want and start accessing whatever German websites and content your heart desires. In any case by opting for ExpressVPN, you cannot go wrong.
For any new subscription, you will have the right to a 30-day money-back guarantee!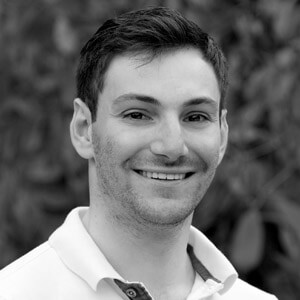 Flo is the founder of the-bestvpn.com. Really concerned about security on internet, he decided to create this website in order to help everyone find the best VPN. He's got a Business School background and now is 100% dedicated to keeping his website alive.