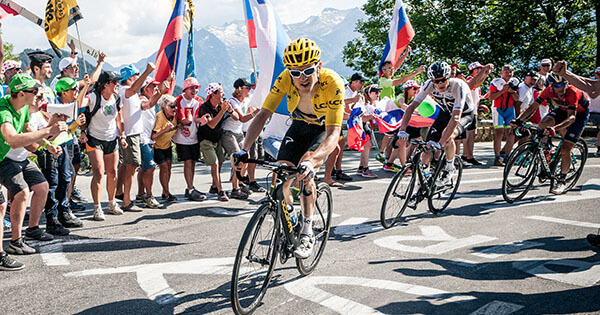 Cycling enthusiasts are well aware of what Tour de France is. You might watch it, you might dream of riding your bicycle on it, but there's no way you don't admire these brave cyclists, as they battle their way to victory. New year – new TdF season, and of course, new need to stream this enticing competition. If you're excited for the 2023 Tour de France, watching it for free AND live will be the icing on the cake. Let's see how to watch it for free in our step-by-step guide!
Where to Find Tour de France Live Stream?
In today's day and age, it's easy to watch sport streams live. Tour de France is among the most popular competition in the world, and logically, it means that watching it is easy – right?
Well, not exactly.
Not all countries can access channels and sites that host this sport, so it's sometimes impossible to watch it on a live stream. Let's check our list of channels where you can find Tour de France (TdF) streams:
France TV Sport (France)
RAI (Italy)
Eurosport (Europe)
NBC Sports (USA)
FloSports (Canada)
SBS (Australia)
Beware that not all platforms on the list offer free streaming. However, France TV Sport, RAI, and SBS do. Therefore, we're going to base our following guide on how to watch the Tour de France streaming on any of the three platforms.
If you want to pay for a subscription, we recommend Eurosport, as it's the largest database of worldwide sports events.
How to Watch Tour de France Live Stream for FREE?
We mentioned certain platforms and countries but we haven't told you how to access them. It's simple – by using a VPN. A VPN is here to help you unblock sites by connecting to the server in another country.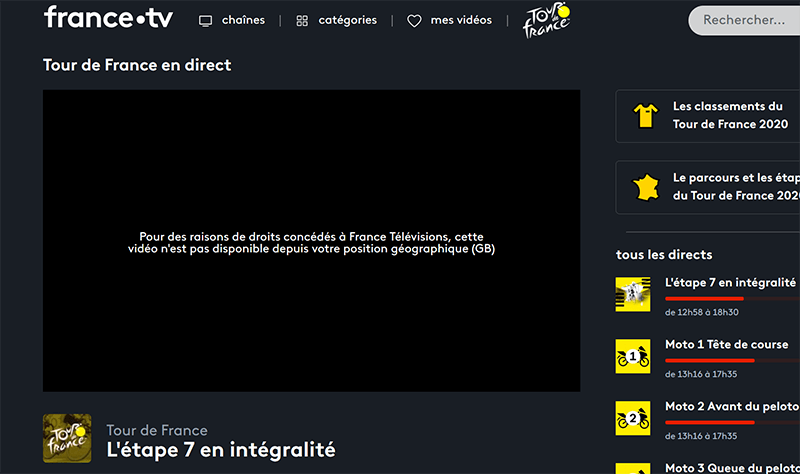 If you're from Bulgaria, for example, you can connect to a VPN server in the USA, and access NBC Sports. This is VERY easy to do and requires less than 30 seconds of your time.
Below, we're going to see how to watch Tour de France live stream completely free, using this service.
1) Subscribe to a VPN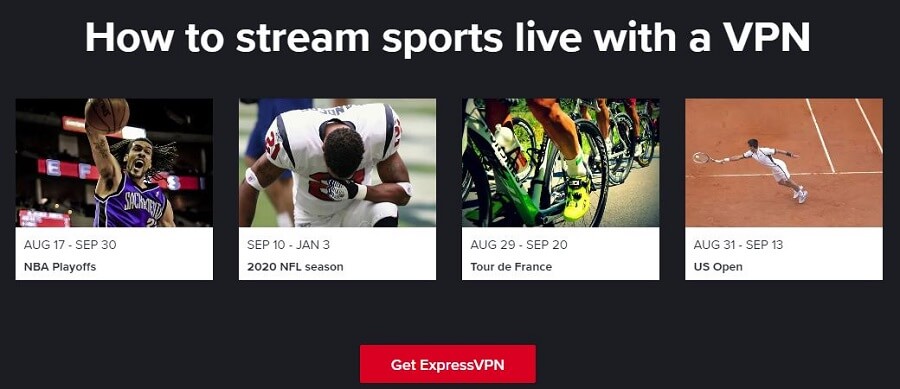 The first step is to subscribe to a provider of your choice. We recommend ExpressVPN, as it's a great VPN for streaming, thanks to its solid speeds and the ability to unblock geo-restricted websites.
2) Download and Install the Apps
Once you subscribe, download the apps you want to use and sign in with the credentials provided upon registration. ExpressVPN is, for example, available on computers (Windows and Mac), smartphones, tablets, smart TV, and many more devices.
3) Connect to a Server in France/Italy/Australia
Entering the credentials right will bring you to the home screen, where you'll see a big connection button. Underneath it, there's a country. Click on it to open the server list.
Now, depending on the platform you want to access, you can connect to a server in France, Italy, or Australia, for France TV Sport, Rai, or SBS respectively. Choose by clicking on the server in the country and using the connection button to connect.
Wait for a few seconds and your connection will be successful.
4) Enjoy Tour de France 2023 on an HD live stream!
With everything else out of the way, visit the platform you aimed for and watch Tour de France in high quality! Just know that some of the sites will require you to register, so make sure that you do that properly.
Otherwise, you won't be able to access any of the streams available.
Best VPNs to Access and Watch Tour de France Live
Live-streaming your favorite sports event seems easy when using a VPN. In reality, however, it's not easy, especially if the provider you use isn't capable of unblocking the required streaming platforms.
For that reason, we've come up with our recommended picks that will let you watch the Tour de France stream in HD and live, anywhere in the world.
1. ExpressVPN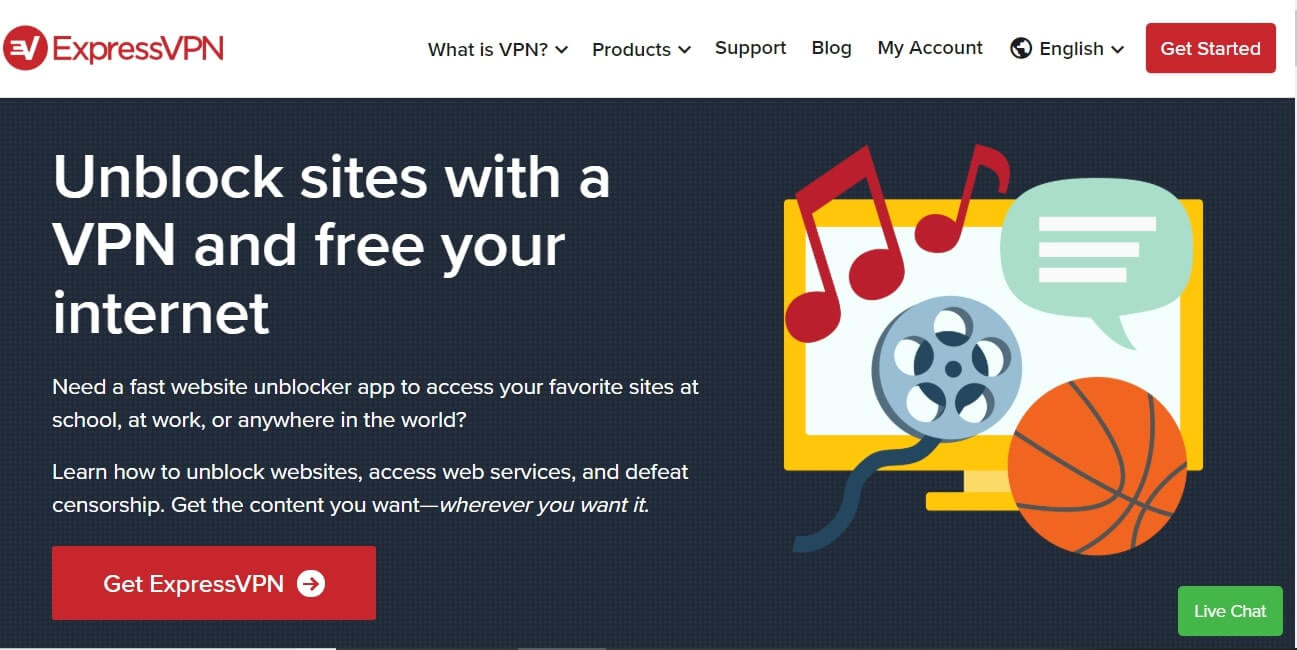 As mentioned, ExpressVPN is the best provider for this, and any other purpose. If you read our ranking of the best VPNs, you'll see why it's our favorite choice. Back to the topic, the provider packs 3,000+ servers in 94 countries around the globe, and these are impressive numbers.
Worry not, there's at least one server in all of the countries we mentioned above, meaning that watching Tour de France will be a breeze. Speaking of that, ExpressVPN has the fastest speeds around, which is much-needed for streaming purposes.
In case sports streams start to bore you, ExpressVPN is here to unblock Netflix, Hulu, HBO GO, or Disney+. Moreover, it's great for torrenting due to its speeds and impeccable security. You get 256-bit AES encryption and an automatic kill switch for every platform except iOS.
What you'll also like is its crystal-clear zero-logging policy. It's from the British Virgin Islands, far from the 14 Eyes, so you can rest assured that it will keep your privacy intact. ExpressVPN offers up to 5 simultaneous connections on a single account. This is great for protecting multiple devices simultaneously.
If potential problems arise, its 24/7 customer support will back you up via live chat, and patch your "wounds" in a matter of minutes. Currently, the provider is on a serious 49% discount for an annual plan, where it offers 3 months completely free.
Clicking on the button below will let you claim this offer, so what are you waiting for? Smash it!
Watch Tour de France Live Stream for FREE With ExpressVPN >
2. CyberGhost

Affordability is pretty valued in the VPN world, hence cheap VPNs often get a pass, even if they're not very good. CyberGhost is definitely on the more affordable side but saying that it's not good is foolish. In fact, this is among the best choices on the market!
One of the reasons why CyberGhost is so good is that it has 7,000 servers in 90 countries. This means that not all servers are overcrowded with people, leaving space for stable connections and great speeds. Indeed, CyberGhost is really fast, almost like Primoz Roglic!
Since we touched on Roglic, it's important to mention that the provider works with platforms/channels that have Tour de France available for free. Unblocking it is easy, thanks to dedicated streaming servers, for maximum security and speeds.
Security-wise, CyberGhost uses military-grade encryption, which is a standard nowadays. This encryption is accompanied by a kill switch and superb IP/DNS leak protection, preventing your IP or DNS from leaking accidentally.
CyberGhost is focused on privacy as well, giving a crystal-clear zero-logging policy. Given its Romanian jurisdiction, it upholds it pretty well and will most likely continue to do so. Lastly, it offers 7 simultaneous connections, compared to ExpressVPN's 5.
This, as well as other features, just prove how good this provider is.
Stream Tour de France 2023 Live with CyberGhost >
3. NordVPN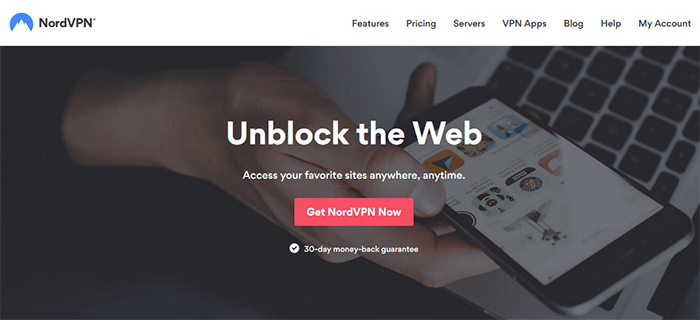 NordVPN is stuffed with different features and functionalities that will make even more experienced users excited. Excitement is what you'll feel when using it to watch the Tour de France, with its reliable 5,600+ servers in 60 countries around the world.
That's not all, as they say in TV ads. You get a boatload of features, such as the ability to unblock geo-restricted platforms in a snap of a finger. Can't watch Tour de France 2023 for free in your country? No problem – connect to the French server and watch it on France TV!
NordVPN packs a punch with its speeds, so don't worry about missing the end of the race, when the intensity starts to ramp up. Furthermore, there's military-grade encryption that comes with features like Double VPN and CyberSec.
We particularly like CyberSec, as it's a very reliable ad-blocker for blocking out annoying ads and trackers. The addition of NordLynx is a recent one, and this new protocol lets you enjoy much faster speeds and stronger security.
This provider isn't exactly the cheapest and it's not as affordable as CyberGhost. But, for the price, you definitely get a fair deal. 6 simultaneous connections, 24/7 support, and all the other features – that sounds like a pretty good thing to have.
If you're planning on buying it, we recommend its 2-year plan that yields the biggest discount.
Access Live Tour de France Stream with NordVPN >
Can Free VPNs Unblock Tour de France TV Channels?
Free VPNs are ever-present on the market, but there's one thing that never happens. They NEVER overtake paid VPNs in terms of popularity, and like everything else, this happens for a reason. Or better said – several reasons.
Getting a free provider immediately forces you to accept its limitations. You get very slow speeds and limited bandwidth that won't give you the streaming capabilities you long for. On average, you can expect 500 MB to 10 GB a month, which isn't enough to blitz through the whole Tour de France.
Another downside is that they aren't capable of unblocking streaming platforms. Even if they could unblock some of them, the bandwidth limit will remind you that you're using a free, and not a premium provider.
By far, the worst issue for us is the lack of a zero-log policy. Their services are free because they manipulate your data or implement annoying ads through which they earn revenue. The first reason is a concerning one given that they sell your personal information to third parties.
This achieves the opposite effect of what a VPN should do. Instead of protecting your privacy, it violates it, making it pointless to bother with any free provider. To save your time and health, we recommend getting ExpressVPN.
It will let you watch Tour de France live and on top of that, give you all the premium features that will serve you for the years to come.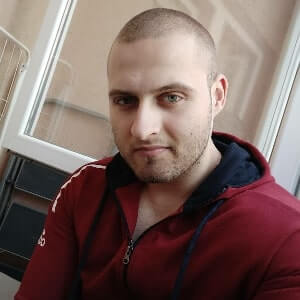 A professional writer with a Master's degree in Mechanical Engineering. Since his youngest age, he loves everything related to internet, technology, fitness, games, and dogs! He joined our team in order to bring his deep knowledge in security services, among which VPN is of course a key component.