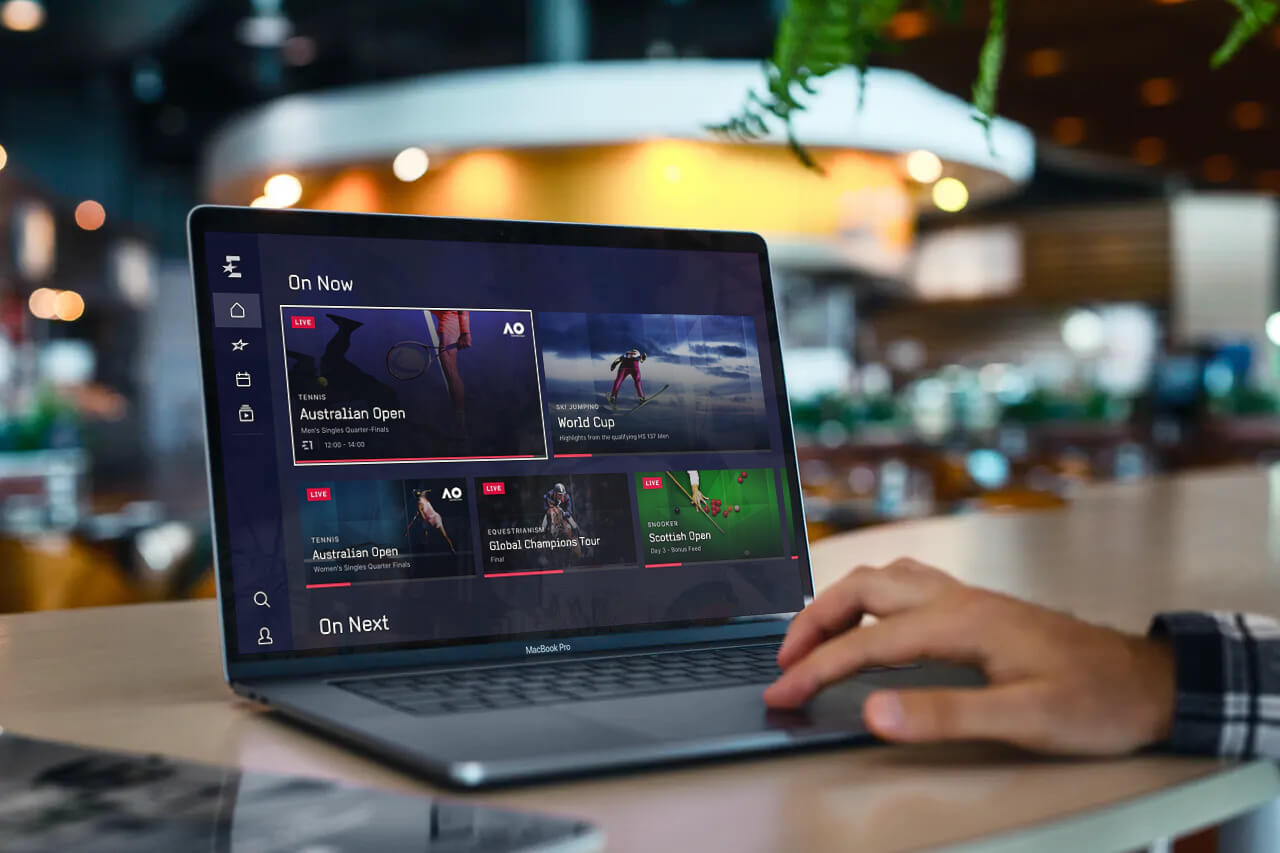 Eurosport is probably the best sports-streaming platform in Europe. It covers a variety of sports events, including Formula 1, snooker, football, basketball, and so forth. Being a European brand, the platform is locked for users outside of this continent. But, what if you're traveling outside Europe and you want to enjoy it badly? Well, there's a simple solution – let's talk more about it in our in-depth guide below.
Why Can't I Access Eurosport Outside Europe?
If you live in the USA or anywhere outside this continent, we implore you to try and access the website. In 100% of the cases, you'll get this message: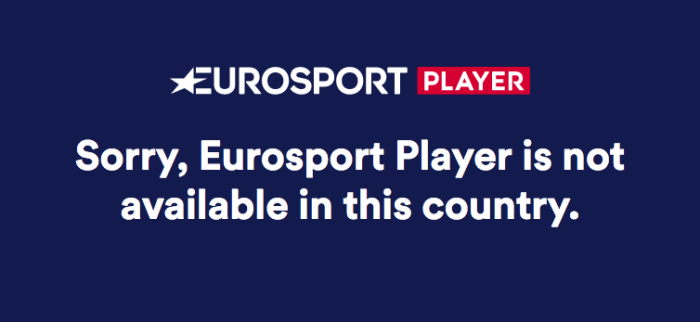 As the message implies, the service isn't available in your country. We already know what users can't access this platform but the question is – why? Why is such a good service restricted for you? Simply put, it's because of copyright issues.
Eurosport is licensed to operate in Europe, so it can't broadcast live sports streaming abroad.
Every European country can use it and enjoy live streaming, though, regardless of which part of the continent it's located (but you should know that there will be variations regarding what events are broadcasted in the UK for example, and in Germany).
In this article, we're going to focus on the users who already bought the subscription and live in any of the European countries. Beware that you CAN'T buy a subscription if your payment method isn't of European origin.
For example, your credit/debit card will need to be registered in an eligible country to get a subscription. And even then, if you travel to another country, you won't be able to access the platform.
How to Unblock and Watch Eurosport Live Abroad?

There's one way to fool Eurosport into thinking that you're from the supported country. By using a VPN. This service lets you change your online location, thus allowing you to watch any sport on their HD stream.
A powerful tool like this won't come at a huge cost. For only a few bucks a month, you can get a pretty good provider and fix this minor issue. The service wraps your connection in a so-called VPN tunnel, making your internet browsing safe and secure.
All you have to do is connect to the server in Europe and you're good to go. We understand that not many of you have used this software, so we'll give you a step-by-step guide on how to unblock Eurosport when outside the UK… or elsewhere:
Get a subscription from one of the providers listed below. We recommend ExpressVPN.
Download the setup file, double-click on it, and install the app.
Run the app and open the server list.
Choose a server located in your original country (for example the UK) and use the connection button to establish a connection.
Visit Eurosport.com, sign in with your credentials, and enjoy streaming!
This guide is valid only if you have a Eurosport subscription already. In that case, you'll be able to watch live sports with ease. Remember that you need a European billing address to subscribe to this platform, and if you don't have it, you can't get a subscription.
The Best VPNs for Eurosport That STILL Work in 2023
The truth is that not many VPNs on the market can reliably unblock this platform. This leaves us with only a few choices that you can get, which isn't necessarily bad. In fact, these choices are indeed the best ones on the market. Here are the top 3 VPNs to watch Eurosport live from abroad!
1. ExpressVPN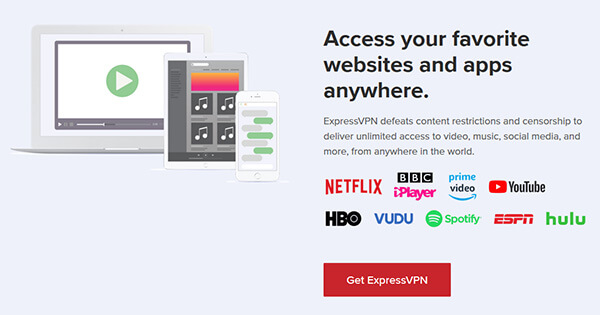 ExpressVPN is a great provider for streaming sports on this platform. Thanks to the fastest speeds around, it will give you the browsing experience of your life. Moreover, it has 3,000+ servers in 94 countries, which is more than enough, even for demanding users.
Whether you're streaming or torrenting, ExpressVPN will keep you safe with its 256-bit encryption. Don't forget to use a VPN if you're using Popcorn Time, by the way! Security-wise, the provider also has an automatic kill switch, and if you care about privacy, a zero-log policy is here.
Since we're talking about streaming, ExpressVPN can also unblock Netflix, Hulu, Amazon Prime, and HBO GO. The provider isn't exactly known for being the most affordable, up until now.
As we speak, it offers a 49% discount and 3 months free for an annual subscription plan. Plus, you get up to 5 simultaneous connections, so you can watch Eurosport on all of your internet-capable devices!
Enjoy Eurosport From Anywhere in the World With ExpressVPN >
2. NordVPN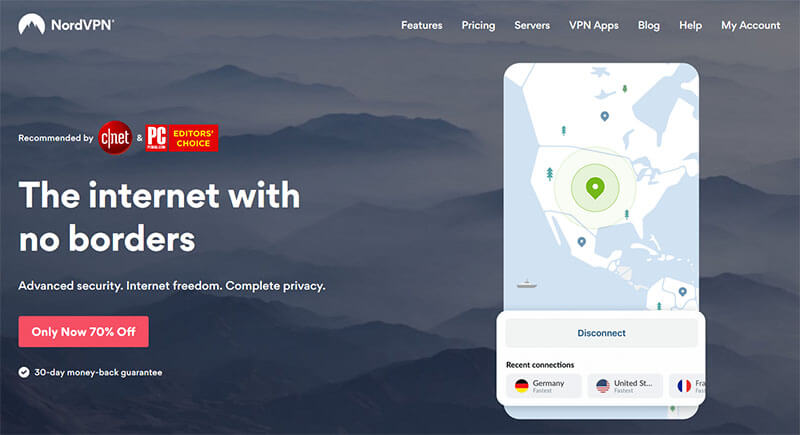 If you know a thing or two about VPNs, you've probably heard about this legendary provider. NordVPN packs a force of a ferocious wolf, giving its users 5,600+ servers in 59 countries. Eurosport subscribers will be thankful that it can bypass geo-blocks easily. And thanks to competitive speeds, streaming will be a breeze!
NordVPN unblocks many other streaming sites, which streaming lovers will find astonishing. The provider added an ad-blocker called CyberSec, and there's a Double VPN for more security.
The whole app and software in general screams quality, yet the price is pretty affordable. Demanding users will be happy to use up to 6 simultaneous connections and 24/7 customer support, too. Currently, a 70+ percent discount is in place, so feel free to jump on the bandwagon.
Unblock Eurosport With NordVPN >
3. CyberGhost

CyberGhost is the last provider on the list, but not the worst one. It offers more than 7,000 servers in 90+ countries, which is the largest server network on the market. For streaming, the provider has dedicated servers that will let you enjoy this activity safely and at fast speeds.
In our tests, it unblocked Eurosport but also other streaming platforms like 10Play and ESPN. For added security, 256-bit AES encryption is in place, while the kill switch takes care if the connection drops.
One of the highlights of this provider is its price. CyberGhost is extremely affordable but doesn't cut any corners. Speeds are there, ad-blocker, the ability to unblock platforms, as well as a crystal-clear zero-log policy.
Its 3-year plan is very cheap, so it's our recommended option, as you get 2 months FREE on top of it.
Start Watching Eurosport With CyberGhost Now >
FAQ
For the end, let's answer some of the questions related to watching Eurosport live from abroad.
? Is using a VPN for Eurosport legal?
Yes, it's perfectly fine. Feel free to use the VPN you want and you'll face no legal charges for doing so. Our best recommendation is ExpressVPN.
? Can I get a subscription to Eurosport outside of Europe?
No, you can't. If you're abroad, you can ask someone in Europe to get a subscription for you. That is if you know someone. If not, that's bad news since there's no other way of bypassing this issue.
?‍♂️ What sports can I watch on Eurosport?
You can watch everything from football, tennis, snooker, motorsports, and Formula 1 to squash, swimming, winter sports, equestrian, and much more.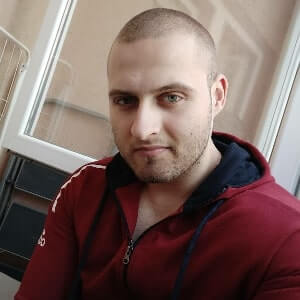 A professional writer with a Master's degree in Mechanical Engineering. Since his youngest age, he loves everything related to internet, technology, fitness, games, and dogs! He joined our team in order to bring his deep knowledge in security services, among which VPN is of course a key component.