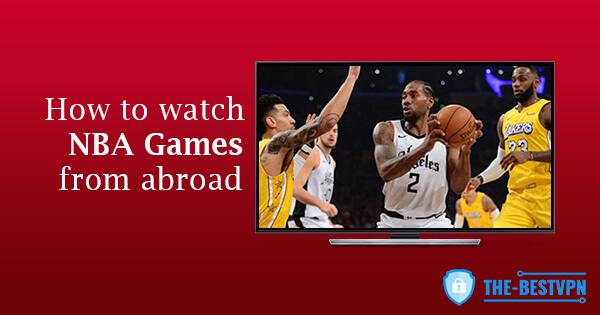 With the Los Angeles Lakers being defending champions, the new NBA season is going to be an intriguing one. If you're outside the USA for a while, we sort of feel your pain. Missing our on your favorite NBA matches while being abroad can be devastating for the fans. The USA has some pretty decent channels and streaming services, not strictly the sports ones. For example, Netflix, a service that millions of people watch, some of them using a VPN. You will see right after that watching US TV outside of the United States is easy with a VPN.
Should You Use a VPN for Watching NBA Matches Abroad?
Yes, yes, and a million times – yes! Not so many things are great as watching your favorite NBA team live and popping some beers with friends and family.
But, if the USA isn't your place of residence at the moment, you'll have a hard time doing that. Sure, some televisions may occasionally stream some matches but for hardcore fans, this isn't enough.
If you've paid a subscription to some of the popular services and you can't access them abroad, you should use a VPN. A Virtual Private Network allows you to change your virtual location to match the country where the broadcaster is located.
In this case, we're talking about the USA. Many VPN providers offer servers in this country, so you won't have a problem accessing this content. Let's say you connect to ESPN, for example. Because it always shows your location, it will show the USA, as this is the server you've chosen.
Now that you've swiftly become an American citizen, you can enjoy your daily dose of NBA.
Best VPNs for Watching NBA Outside of the USA
Did you think we would leave you without advice like this? Here are your choices for starting your NBA voyage immediately!
1. ExpressVPN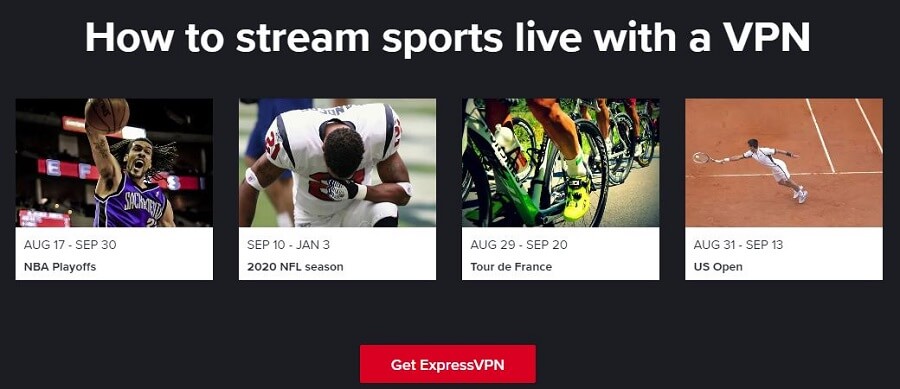 ExpressVPN is our speed champ. We love it for the fact that it offers a rich palette of features for every user. Since geo-restrictions are your thing, given that you read this article, ExpressVPN will blast them like a shotgun blast.
Watching American televisions is now easy, so you can either enjoy The Witcher on Netflix or Los Angeles Clippers on Sling TV. To make things better, there's 256-bit AES encryption and DNS and IP leak protection for an additional layer of security.
And that is not it! You can find out even more about ExpressVPN by clicking on the button below. A 49% discount and 3 months free are waiting for you, and that's something you don't want to miss. Trust us, you will not be disappointed 😉
PROS:
The best solution for streaming
3,000+ servers
Working with Netflix, Hulu, HBO, and more
Very good customer support
No-log policy
30-day money-back guarantee
---
2. NordVPN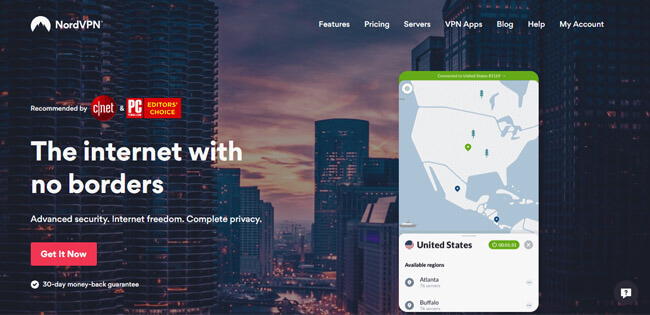 NordVPN offers 5,400+ servers worldwide of which 1,800+ of them are in the USA. Being able to connect to every server you want, and accessing your favorite NBA matches live even when outside of the US is a piece of cake.
Due to its solid speeds, no stuttering or hiccups should be experienced during the streams.
If you're worried about your security, NordVPN is all about that. With its 256-bit encryption, Double VPN, and SmartPlay, you'll enjoy watching the late-night game sessions. You'll even forget that you're using a VPN!
PROS:
Large server network
Many servers in the US
Security features
Based in Panama
Easy-to-use apps
CONS:
"Only" 60 countries available
Expensive short-term plans
---
3. CyberGhost

CyberGhost is one of the best providers for streaming, especially streaming outside of the USA. In this country, they have 1,000+ servers and some of them are streaming-dedicated ones.
These servers are configured for broadcasters like Sling TV or ESPN, for example.
Given their easy-to-use interface and 24/7 live support, you'll have zero problems streaming sports events in the USA. Heck, there's even a 45-day money-back guarantee for trying it out.
Don't say you aren't impressed because we know that would be a lie!
PROS:
45-day money-back guarantee
7 simultaneous connections
24/7 live chat support
Cheap solution
---
The Best Streaming Services for Watching Basketball Online
If you don't have a subscription yet, here are some of the best streaming services for watching basketball online. Beware that some of them are available only in the USA, so you'll need a VPN to use them! Let's see our top picks:
Sling TV
For slingshotting yourself to the live streams of your favorite NBA team, you can use Sling TV. This service offers three subscription plans. One is the Orange package, allowing you to watch ESPN and TNT.
The Blue package has NBC Spots and allows you to watch regional sports, although only for the Golden State Warriors, Washington Wizards, and Sacramento Kings.
If you add $10 dollars on top of your selected plan, you can get NBA TV with the Sports Extra add-on.
FuboTV
FuboTV will cost you $65 a month, which is relatively expensive. But, this is one of the best services for sports addicts, giving you access to Fox Sports, TNT, NBC Sports RSNs, and of course, NBA TV. ABC and ESPN aren't included, though.
YouTube TV
YouTubeTV costs $50 a month but it's among the best streaming services at the moment. For this price, you get all the sports channels you want. These include TNT, ABC, ESPN, Fox Sports, NBC Sports, and NBA TV.
Summary
Even if you don't like NBA or basketball in general, you must admit that this sport is among the most popular. But if you want to access and watch the basketball US live streams abroad, you'll need a VPN.
With this article, we've covered you completely. You now know how to watch NBA outside of the US, what VPNs to use for it, and what streaming service to subscribe to. In the end, follow this little trick to watch most sports in streaming for free!
And if you have more questions, don't hesitate to ask us directly by sending us an email.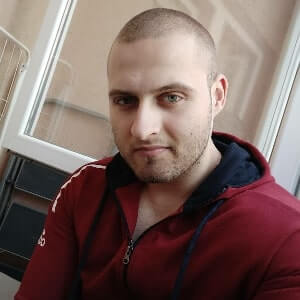 A professional writer with a Master's degree in Mechanical Engineering. Since his youngest age, he loves everything related to internet, technology, fitness, games, and dogs! He joined our team in order to bring his deep knowledge in security services, among which VPN is of course a key component.