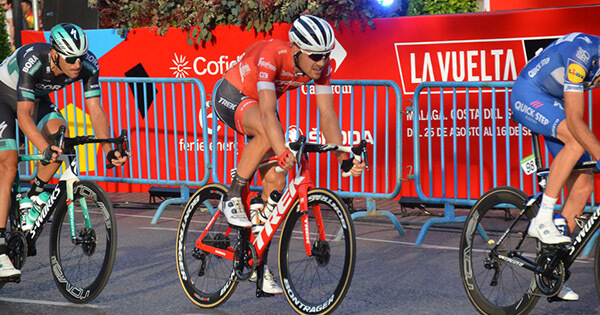 Cycling is, without a doubt, one of the most popular sports around. We're quite sure you love cycling or just watching Froome battling his way to victory. Whatever the case, with Tour de France behind us, a new cycling competition is bound to start. Of course, it's no other than La Vuelta. If you're an avid cycling fan, you don't want to miss this crucial event in the season. So, how to watch La Vuelta live stream for FREE? Let's find out.
Where to Watch La Vuelta for Free?
Before delving deeper into our guide, we need to mention a few crucial things. First of all, since we're talking about the Tour of Spain, you need to know that Spanish people will mostly benefit from this scenario.
TV providers in this country won't miss the chance to broadcast an enticing even for all residents in the country. Unfortunately for us, a live stream of this race won't be available abroad. Therefore, we need to come up with a little workaround to gain access to it.
We spent hours and days of researching, thus we found a channel called RTVE. RTVE stands for Corporación de Radio y Televisión Española and judging by its name, you can see where the TV station is based in.
Now, you probably already typed this word into your browser and managed to access the site. But, have you found a way to watch La Vuelta for free? Probably not – because the live stream is geo-restricted.
Wondering how to fix this issue and watch La Vuelta live abroad? Read the next section.
How to Watch Tour of Spain live on a Free TV Channel?
In this section, we're going to explain to you step-by-step how to access your favorite cycling race easily. The steps are below:
1. Unblock La Vuelta Live Stream With a VPN
As said, RTVE is a Spanish TV channel that lets you watch a plethora of content. Apart from sports, you can enjoy the local news, TV shows, movies, and other entertainment types of media. In this guide, our goal is to show you how to watch a sports event.
Unblocking a foreign site such as RTVE is possible only if you have a VPN. Sure, you can travel to Spain, but that will cost you hundreds of dollars. So, what exactly is a VPN? Basically, it's a service that lets you change your IP address to a foreign one, thus access the geo-restricted content.
For example, you can connect to a Spanish VPN server and browse the web as a Spanish resident. This way, you can access RTVE regardless of your location. Our physical location is in the United States.
Look at what happened when we tried to stream anything on the website: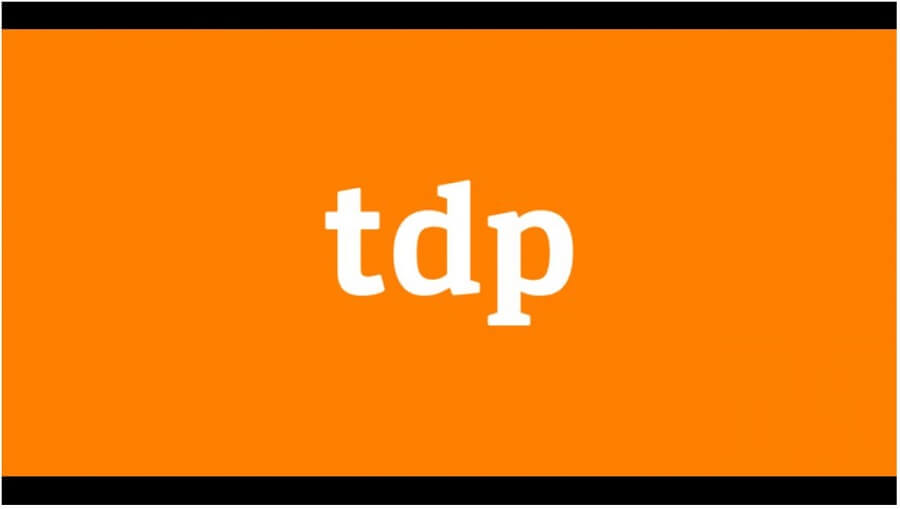 This is called a geo-restriction, although it's not directly implied. What happened was that RTVE restricted our access because we aren't located in Spain. To remedy this issue, subscribe to a provider such as ExpressVPN – it's guaranteed to work.
We recommend its one-year plan that lets you save 49% and you get 3 months absolutely free on top of that. Once you do so, download the app on your device, and connect to a Spanish server.
2. Access the rtve.es Website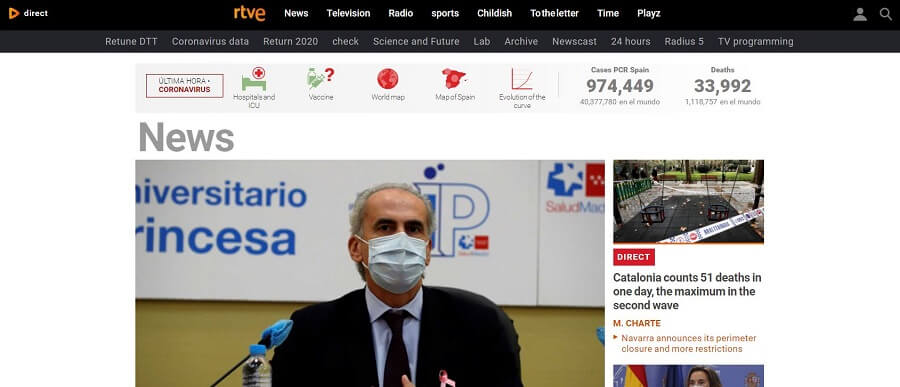 This is how the website looks like. Admittedly, it's a bit overcrowded with options and articles, so you'll find it hard to locate the program scheme. Don't worry. If you click on this link, you'll be able to access it directly, so you don't have to wander around.
It should look like this: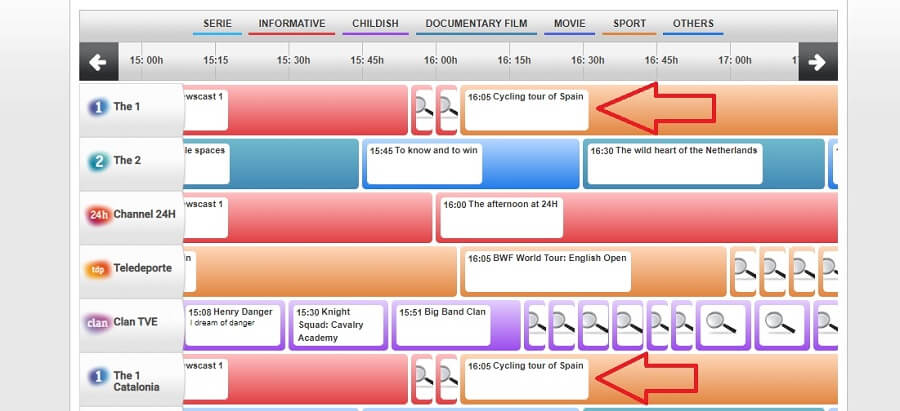 The red arrows you see are pointing toward the channels that stream La Vuelta (Tour of Spain) for free. Logically, these are free TV channels. As we can see, the races are available on the following televisions:
The 1
The 1 Catalonia
Teledeporte
Tve HD
You can watch the Tour of Spain on any of these channels. However, we recommend Teledeporte or The 1, as they offer the most in-depth coverage.
Watch La Vuelta Live for FREE With ExpressVPN >
3. Click on the La Vuelta Live Stream and Start Watching
Now that you know where you can watch the cycling tournament, all you have to do is click on the content you want to watch and the stream will begin.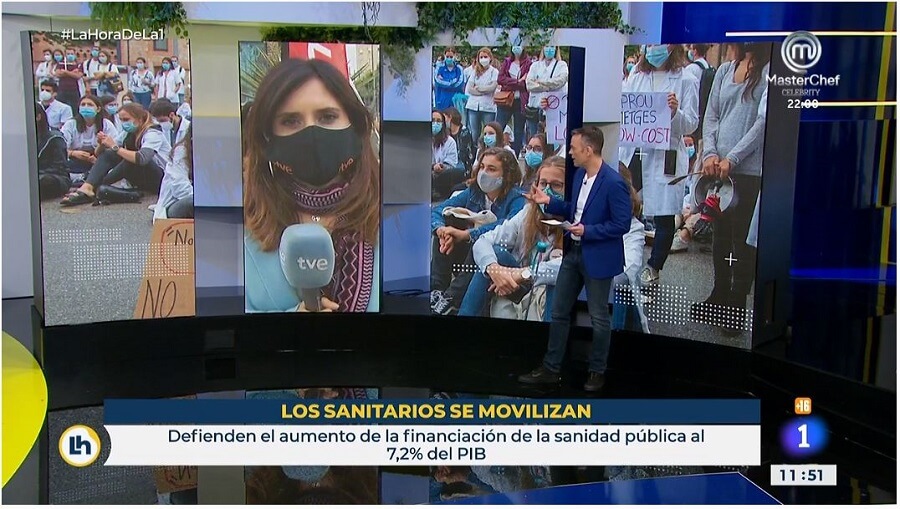 As you can see, with a Spanish IP address gained from a VPN, we can now enjoy streaming and watching any content on the website, including La Vuelta. To make it clear, this guide is made for people located outside Spain.
If you're, however, living in this country, you can access the site and watch the stream without a VPN.
Recommended VPN for Watching La Vuelta Abroad for Free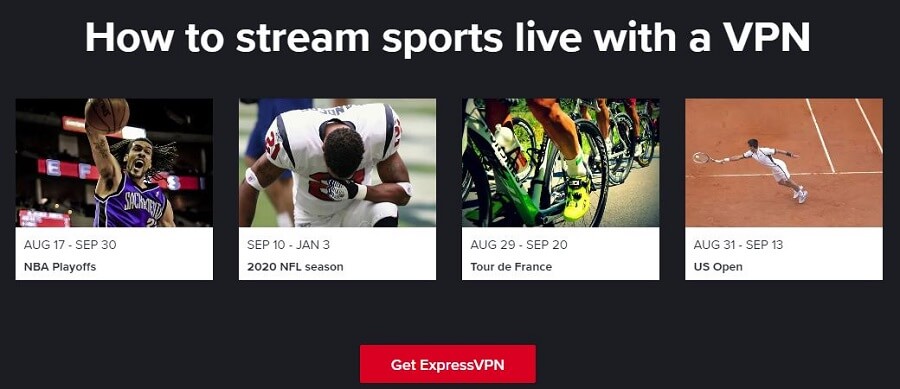 A VPN is a great tool to reclaim your well-deserved online freedom. In our guide above, we showed you how well it works in terms of unblocking geo-restricted websites. However, that's not all a VPN can do for you.
If you decide to get ExpressVPN, which is our recommended option, you're looking at a huge horizon of sweet benefits.
First of all, it has 3,000+ servers in 94 countries. This means that you can get 94 countries' IP addresses and bypass as many geo-restrictions as you want. Whether it's a Spanish, US, UK, or Canadian IP, you'll be able to obtain them in a snap of a finger.
Moreover, ExpressVPN is really fast, making your streaming buttery-smooth. Another great thing about ExpressVPN is its impeccable security. A VPN protects your online identity, granting privacy, and hiding you from the prying eyes.
In other words, it uses military-grade encryption and a kill switch to mask your online presence. This way, you can watch La Vuelta anonymously, or perhaps, watch porn online, without your ISP finding out about your favorite categories and videos!
Lastly, ExpressVPN supports up to 5 simultaneous connections and has 24/7 customer support. All of this is topped up by unlimited bandwidth, meaning that you won't have to worry about exceeding a particular limit.
There are NO limits here!
Watch La Vuelta Live for FREE With ExpressVPN >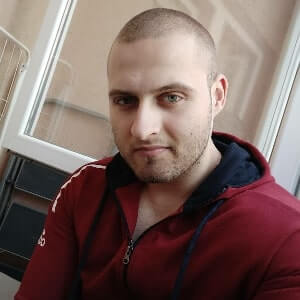 A professional writer with a Master's degree in Mechanical Engineering. Since his youngest age, he loves everything related to internet, technology, fitness, games, and dogs! He joined our team in order to bring his deep knowledge in security services, among which VPN is of course a key component.