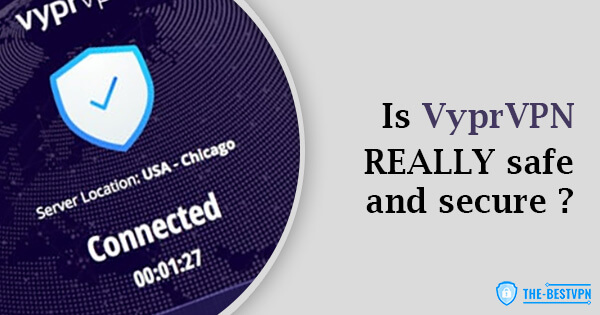 Users who want a cheap VPN that offers decent performance for the money might be interested in VyprVPN. With its 700+ servers, solid speeds, and the ability to unblock streaming sites, it's worth checking out at first. However, when it comes to security and safety, the provider had some pitfalls in the past. While it claims to use a zero-log policy now, our doubtful minds force us to check it for potential issues. Let's see if VyprVPN is as safe and reliable as it seems to be.
Security: What Are the Security Tools in the Apps?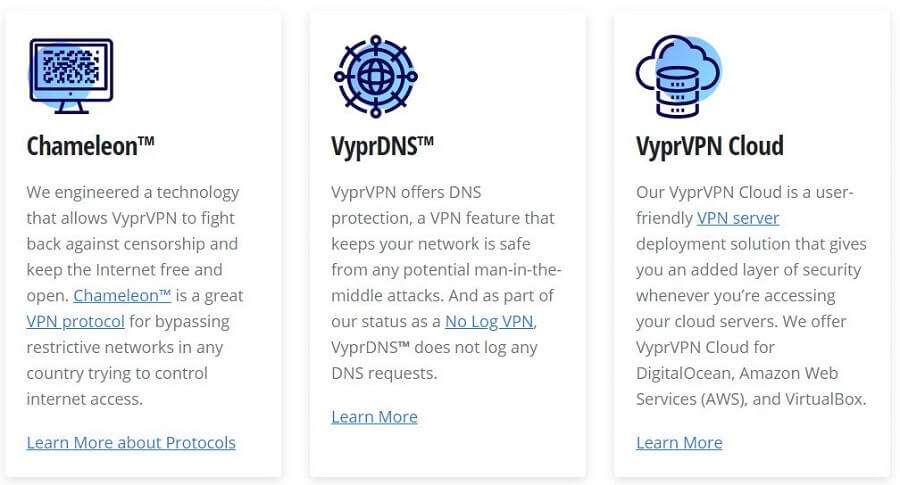 VyprVPN is a feature-rich provider that offers lots of features for the money. Of course, a majority of these features is security-oriented, so let's see what the provider packs in its premium package:
Chameleon
VyprVPN entered the VPN world through the big doors, immediately offering some unique features. One of them is called Chameleon and it's a company's proprietary security protocol. The thing that makes it great is rock-solid security and the ability to bypass censorship more easily.
Does that mean that the provider works in China? Of course! This protocol works great for bypassing DPI (Deep Packet Inspections) and as such, makes it great for use in censored countries like China, Russia, and the UAE.
Aside from that protocol, the provider offers OpenVPN, PPTP, and L2TP/IPSec protocols.
Get More Information About Chameleon Protocol >
VyprDNS
Another step towards impeccable security is the inclusion of VyprDNS. When using the internet, you're using your ISP DNS. This way, they can see what you're doing online and impose restrictions and bandwidth throttling.
However, when you connect to a VyprVPN server, you use their own DNS. Since the provider doesn't store DNS requests, you're completely safe and secure online. We like it when the provider uses its DNS, which we also saw in Hide.me and several other VPNs.
Kill Switch
A service like this is incomplete without a kill switch. It plays an important role in your security online and makes a provider far more reliable. How does it work? Simply put, if your VPN connection drops, it prevents you from accessing the internet and accidentally leaking your online identity.
You can choose to disable it, but if you want to make sure that you're always secure, we don't recommend it.
Military-grade encryption
Having 256-bit encryption is the industry-standard nowadays. Although some providers use 128-bit encryption, we prefer having this, even at a price of slightly slower speeds.
IP leak protection
Lastly, the provider has IP leak protection. In our IP leak test, it showed amazing results, never leaking our IP or DNS. You can read a full test of VyprVPN here. So regarding that aspect, we can say that VyprVPN is pretty safe to use.
VyprVPN Privacy Policy: The Most Important Security Criterion
As the title of the section implies, this is the most important security criterion. Whether or not the provider is safe to use and reliable depends mostly on its zero-log policy. First of all, the provider's parent company is Golden Frog and is based in Switzerland.
Whereas Sweden is a part of the 14 Eyes, Switzerland is a neutral country, as always. So, based on the jurisdiction, there should be no problems with security. Let's check the privacy policy and see what it says: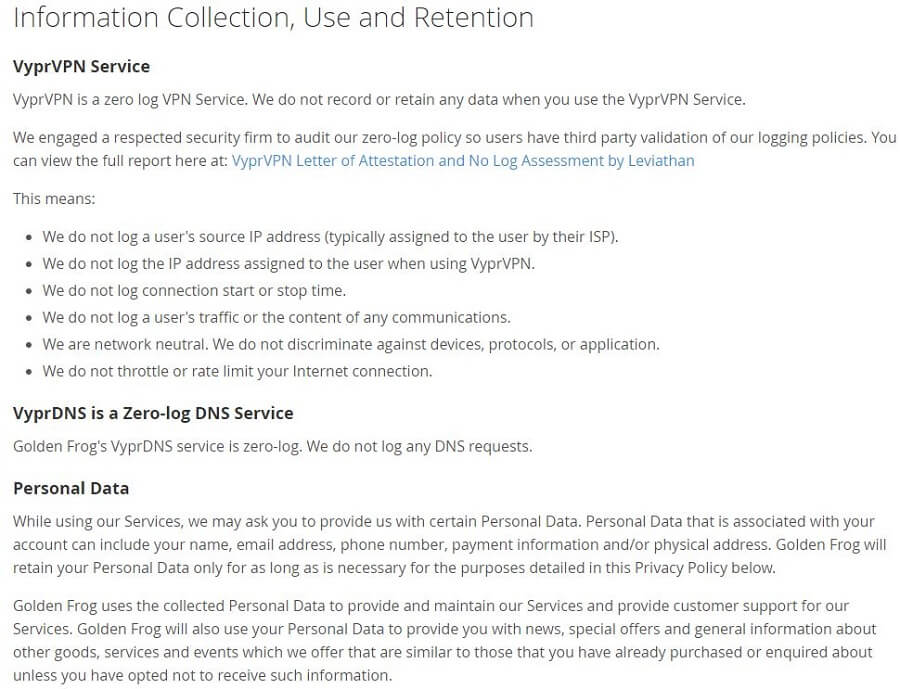 Right from the get-go, VyprVPN mentions that it doesn't store any logs. You can see the list of things that they don't store – your IP address, timestamps, traffic, and so forth. We like that they don't even store their own IP address given to you upon connection.
Furthermore, the company doesn't store DNS requests and don't limit the way you're using the service. This means that they allow even torrenting, which wasn't the case a few years ago. In short, this part of the privacy policy is as clean as a whistle.

Here, we see that the company transfers your data outside of your state, province, or country. Immediately after that, we see that they transfer it to Switzerland, where it's treated according to the country's privacy laws.
As we said, Switzerland respects users' privacy, and it's highly unlikely that you'll jeopardize your privacy by complying with the privacy policy. It's important that your data doesn't leave Switzerland, which is the case here, making VyprVPN safe to use.
External Audit: Is VyprVPN Safe?
Do you know what else makes VyprVPN unique and safe to use? Its external audit! Users on Reddit noticed it right away and started appreciating the provider much more. After a long "fight" with the government and authorities, the provider finally switched to a full-fledged zero-log policy.
And to make matters better, the Leviathan Security company inspected the policy and found that it's completely legit. The provider even lets you read the full report, where you can see the proof of what they're claiming.
VyprVPN is a member of our top-ten list and for a reason. It's rare to see providers such as this one, that actually cares about its users. With lots of effort, they managed to improve a lot since their inception about 10 years ago.
Issues and Scandals the Company Has Faced in the Past
In the past, VyprVPN used to store logs, which was the main turn-off for users worldwide. Golden Frog isn't a malicious company by any means, but they weren't allowed to use a zero-logs business model. Just about 2 years ago, things changed for the better and the company got what it wanted.
As for hacking incidents and scandals, VyprVPN didn't have any problems and to this day, remains untainted by such occurrences.
Conclusion: VyprVPN Can Be Trusted
With the provider passing our security tests easily, our conclusion is that it can be trusted. A strict zero-logs policy, military-grade encryption, and other security features make VyprVPN a very good and safe deal for the price.
Sure, ExpressVPN is a much better provider, but it's also a bit more expensive. If you're looking to save some money on a quality provider, we suggest going for VyprVPN. But, if you want unparalleled performance and speeds, ExpressVPN shall be your choice.
It's important that VyprVPN is trustworthy, so if you're already using it, you have no reason to worry about your safety.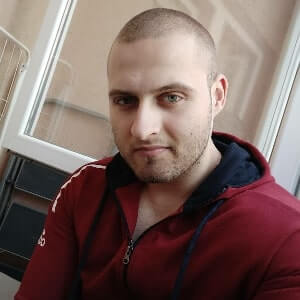 A professional writer with a Master's degree in Mechanical Engineering. Since his youngest age, he loves everything related to internet, technology, fitness, games, and dogs! He joined our team in order to bring his deep knowledge in security services, among which VPN is of course a key component.