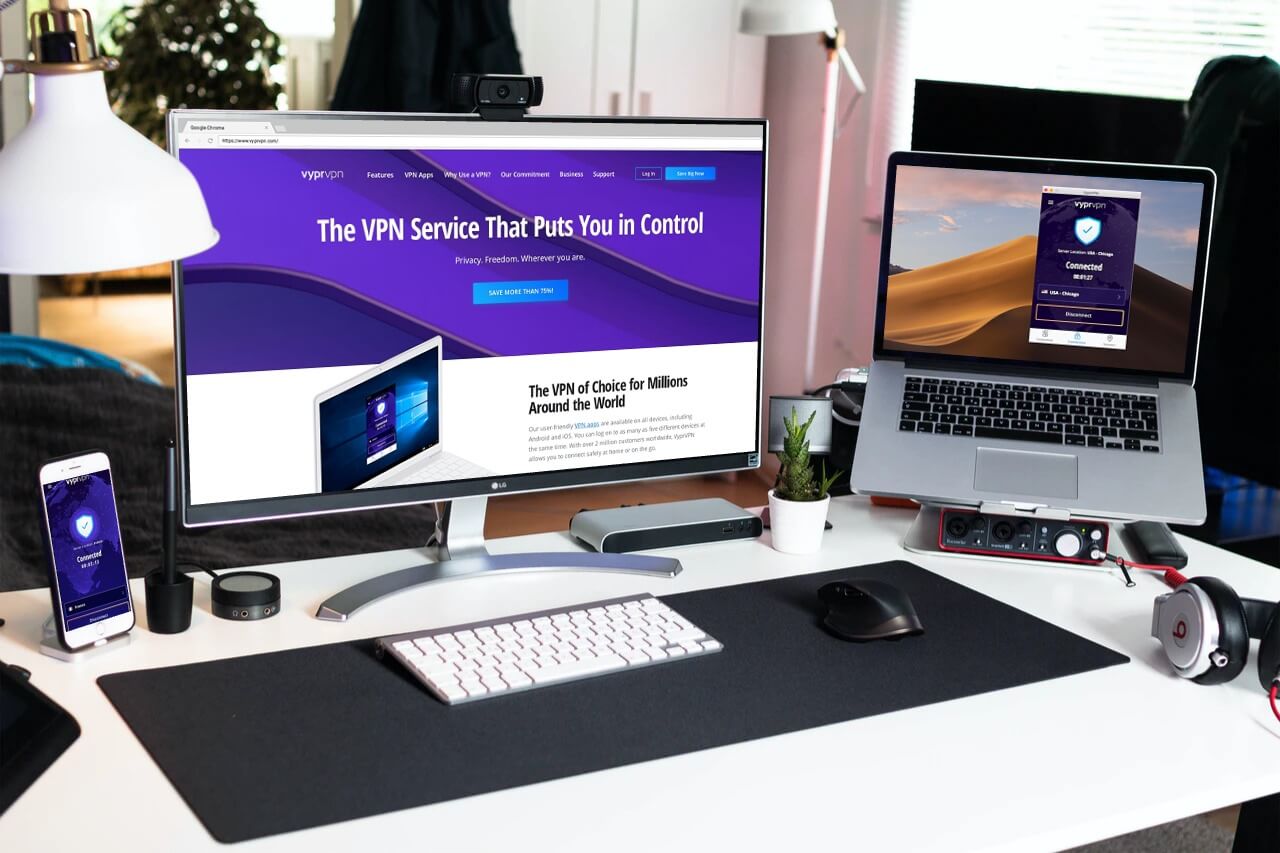 Invented in 2009 by Golden Frog, which is one of the biggest ISPs, VyprVPN has rapidly become one of the biggest VPNs around.  While an antivirus helps protect your computer from viruses, a VPN helps to protect your computer on the internet.  This is why we've created this VyprVPN review and test, since this provider is one of the most reputable ones.
The truth is that VyprVPN comes with a lot of exciting features, all of which you can find on their website. After all, there are more than one million users on their network, so the provider must be very capable, right? Well, we don't want to take their words for it, so we've chosen to test all their features in reality.
That's why we have created this comprehensive review, after taking a thorough look at all its features. Does it offer high speeds? What about its torrenting abilities? Does it allow you to bypass the Great Firewall in China?
STRENGTHS:
Owns its servers
Doesn't keep logs
Offers a free three-day trial
Unblocks Netflix
Works in China
WEAKNESSES:
Not the fastest VPN
Doesn't accept bitcoin
Limited network coverage
It's not ideal for torrenting
Complicated offer with Premium or not premium
Poor client support
VyprVPN ranks #11 out of 104 VPNs tested. Here are the best alternatives :
The overall best in 2020 which you can get starting at only $6.67/month.
Read our Review.
Very good option for people looking for high level of security starting at $3.99/month.
Read our Review.
---
Is it a paid or a free VPN ?
VyprVPN is definitely a paid VPN. However, it comes with a free 3-day trial period, which means you can use it for free for three days. Keep in mind that you will have to input your payment details during the registration process, but they won't charge you during the period.
Performance
The performance of any VPN always hinge primarily on two elements – speed and stability. Since we are fully aware of that, we remembered to test this VPN against both factors during the compilation of this review.
Speed
While VyprVPN claims to be one of the fastest VPNs in the world, we didn't take their words for it. So, we tested the speed of the service, using different servers around the world. Surprisingly, we were impressed by the results we got. For a Virtual Private Network, speed is a very important factor to provide a great experience.
That is particularly true for people that often download large files and prioritize connection stability. Fortunately, there is no need to worry about this with VyprVPN. However, while it's one of the fastest options right now, there is a catch – everything depends significantly on your location.
For instance, if you're in Japan or China, your speed isn't likely to be as satisfying as for people residing in Europe. Speaking in general, the connection is a lot slower in Asian countries, but the speed drop is not as significant in the United States and the European Union.
Without VPN (we were located in London) :

EU Server (Paris) :


US Server (New York) :

Asia Server (Hong Kong) :


Stability
When looking for the right Virtual Private Network, you want an option that can provide you with a stable network. Like the other leading providers in 2020, the supplier also provides a super-stable network, guaranteeing an uptime of 99.9 percent.
While you may occasionally experience a downtime on the network, it is likely to be for maintenance and won't be for long. Fortunately, we never experienced any downtime during our test for this review.
Streaming
The streaming capability is another factor that helps people hastily reach a final decision when shopping for a VPN for their needs. Thus, how did VyprVPN perform during our test in terms of streaming? Let's review it below.

Netflix
VyprVPN is an excellent option if you are purchasing a Virtual Private Network to unblock streaming services like Netflix. This provider has been working hard on a massive overhaul of their service in a bid to enhance the access of the VPN to big streaming websites in different regions around the world.
Unblock Netflix's geo-restrictions with ease >
VyprVPN comes with a patented Chameleon technology, which helps prevent Deep Packet Inspection. This helps to bypass geo-blocks and the bans placed on big streaming websites. During our test, we were able to unblock US Netflix on numerous servers with no issues. We also enjoyed great speeds on the United State servers, making it ideal for HD streaming.
BBC iPlayer
However, streaming on the provider's non-US servers is extremely frustrating. That's probably why the provider is incapable of unblocking BBC iPlayer, as we found out while creating this review. If streaming from BBC iPlayer is very important to you, we recommend you to opt for another provider.
Others?
While this provider doesn't perform well for BBC iPlayer, you are likely to enjoy better lucks with other big streaming websites like Hulu, Amazon Prime Video, HBO, and more. However, it's important to keep in mind that unblocking these sites is never 100% guaranteed. So, if you fail, make sure you give it some time and try again.
Security
Security is probably why you are looking for a VPN. Therefore, you must ensure the service you're looking at has the best security systems in place. Based on our test findings, VyprVPN delivers quite a lot in terms of security. With that said, let's review their security systems in this section.

Where is it based?
First of all, VyprVPN is a service owned by Golden Frog, which is a Switzerland-based company. This means that all of their customer data is covered by Swiss data protection and privacy laws.
Switzerland is one of the best jurisdictions in the world for privacy, with the national legal structure even containing data protection laws. Besides, the country is completely independent, which means it's not a member of either the EU or the 14 Eyes Alliance.
Furthermore, the company states on their website that they intentionally chose Switzerland as their base when the company was founded initially. Interestingly, Carolyn Yokubaitis and Ron, who are the owners of the company, are residents of Texas. It's also worth noting that both of them have a reputation for being stern advocates for online privacy.
Another interesting thing is the background of the company, which indicates that the company was built in reaction to the ill-famed Room 641a scandal. The scandal was about how the NSA was using the network of AT&T for large-scale data collection and mass surveillance.
Log policy
VyprVPN has maintained a no-logs policy for quite a while. However, it was revealed by users and experts that the VPN logged some types of data, including IP address, connection times, and the amount of bandwidth used. While this is not anything serious, it is far from "no logs."
Also, reports had it that users of VyprVPN were getting copyright infringement notices. With the thought that this service was collecting no private data and wasn't monitoring the online activity of users, a lot of users were engaging in P2P sharing.
However, the provider came under attack for infringing on copyright and didn't hesitate to reveal the identities of the users who were involved in this kind of illegal act.
Nonetheless, a significant change occurred recently. The service underwent an autonomous audit and revised both its privacy policy and systems. Once again, the new privacy policy states that the company does not collect any DNS requests or logs. It has stopped collecting the data it used to collect in the past. In theory, this means that the service is a lot safer for users now.
In general, we can't say this provider is the most transparent option around, based on our test. While they didn't misuse any personal information they collected in the past, the fact remains that they were collecting data, as our research for this review revealed.
Although its latest privacy policy revision is very encouraging, only time will tell if this provider has truly become a zero-logs VPN like ExpressVPN or NordVPN.
Protocols
Based on the VPN protocol you've chosen, VyprVPN allows users to select between AES 128-bit, AES 160-bit, and AES 256-bit encryption methods. In this regard, the provider offers the most reliable encryption type. Also, you should know that by choosing the AES 256-bit encryption, nobody will ever be capable of taking advantage of your personal data.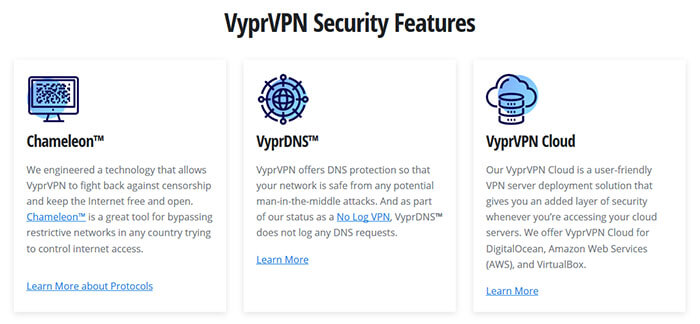 In terms of the VPN protocols supported by the provider, we have OpenVPN, L2TP, PPTP, and Chameleon. It is also worth mentioning that some protocols are usable only on certain platforms or devices. For instance, you can only use PPTP on routers and Windows. While OpenVPN offers the broadest compatibility, it is vital to note that the iOS client doesn't work with OpenVPN and Chameleon.
Protect your data with the strongest encryption >
Protection against leaks
It is important for any VPN that wants to be taken seriously in 2020 to offer protection against leaks. That's why VyprVPN offers DNS leak protection, which prevents the window from leaking your DNS data by linking your device to another DNS.
Torrenting
Torrenting is the world's most popular method for sharing and downloading files. However, users often need a VPN protection for safety, as it's easy to get into legal troubles while engaging in torrenting.
So, what did we find in our test about VypVPN's torrenting capability? We've discussed it in this part of the review.
Is torrenting allowed ?
VyprVPN allows the use of peer-to-peer connections over their service and doesn't watch the activity of users or prevent the use of any port. Thanks to the fact that the provider treats all data traffic equally, torrent traffic and peer-to-peer is allowed.
However, users agree to not receive or send copyrighted content through the VPN without taking a permission from the owner of the copyright. Since Golden Frog is long-term member of the IWF (Internet Watch Foundation), any criminal online content that the foundation reports will be immediately removed and the user's account will be instantly terminated.
Golden Frog also threatens to terminate their subscribers who're repeat infringers of illegal content. This means that you may have to review your alternatives if you can't guarantee to not download illegal content while torrenting.
Is there a Kill switch?
Your VPN connection can drop sometimes due to different reasons. For instance, your data traffic leaks on to the internet from the VPN tunnel. Consequently, your personal data becomes accessible by the public.

In order to prevent this unfortunate scenario from playing out, VyprVPN comes with a built-in Kill Switch.  This feature helps block your data traffic whenever you experience a sudden connection drop.
Bypassing Censorship
To be honest, there is nothing special about a VPN that doesn't bypass censorship. Of course, we accounted for this during our test, and Vypr's ability to bypass censorship has been laid bare in this part of the review.
In censored countries
The ability of VyprVPN to work in China is one of its highlights. While it ran into some problems recently, a lot of users are now having success in China with this service as at the time of writing this review.
Swiftly get past the Great Firewall of China >
The provider uses patented Chameleon technology to achieve this, which is only available on the premium package. The technology helps to conceal VPN data traffic, which prevents it from being identified by the deep packet inspection technology used within the Great Firewall of China.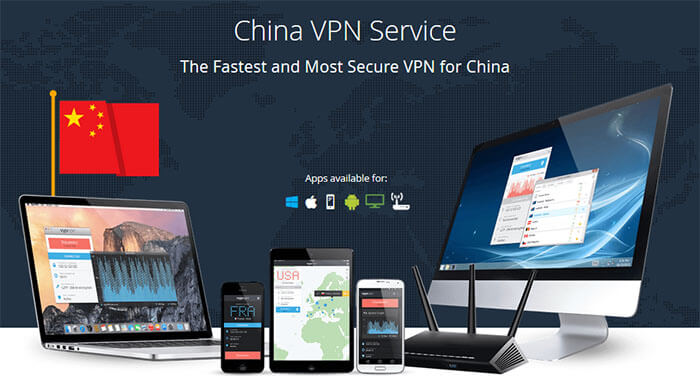 While the provider claims that some customers living in China are able to bypass the Great Firewall with a Basic plan, they recommend using Chameleon for MacOS, Windows, and Android. IKEv2 is the protocol that is recommended for iPhones, but it seems the iOS client is not even working currently in China.
The provider has a service status update page on their website, where users are updated about the service's current status in China. On the page, the provider will inform users if there is any issue that users in China are experiencing and how they are addressing the issue.
In restricted networks
Of course, VyprVPN is capable of helping you to bypass restricted networks. Again, we recommend you to use the Chamelion protocol for this. The remarkable patented technology referred to as Chameleon ensures that OpenVPN packet metadata is not identifiable by deep packet inspection, while still keeping it lightweight and fast.
The Chamelon technology utilizes the unmodified OpenVPN AES 256-bit encryption for the original data encryption. Consequently, the users are able to get past restricted networks implemented by corporate organizations, governments, and school authorities to achieve an open internet experience without losing the stern security for which the OpenVPN protocol is known for.
We checked this feature out during our test and it performed admirably.
Get around network restrictions with VyprVPN >
Countries and servers
The number of servers and their geographical distribution is what separates the big boys from the small ones. So, we've decided to review VyprVPN in this regard.
Countries covered
If you know anything about VPNs, then it's needless to tell you that a vast network of servers can make a significant difference.
The more servers a provider has, the lesser the load that will be on each server. If multiple servers are distributed geographically in diverse regions, there are higher odds that you will find a server that is not far from your location. That is important as it will lead to faster speed and transfer rate.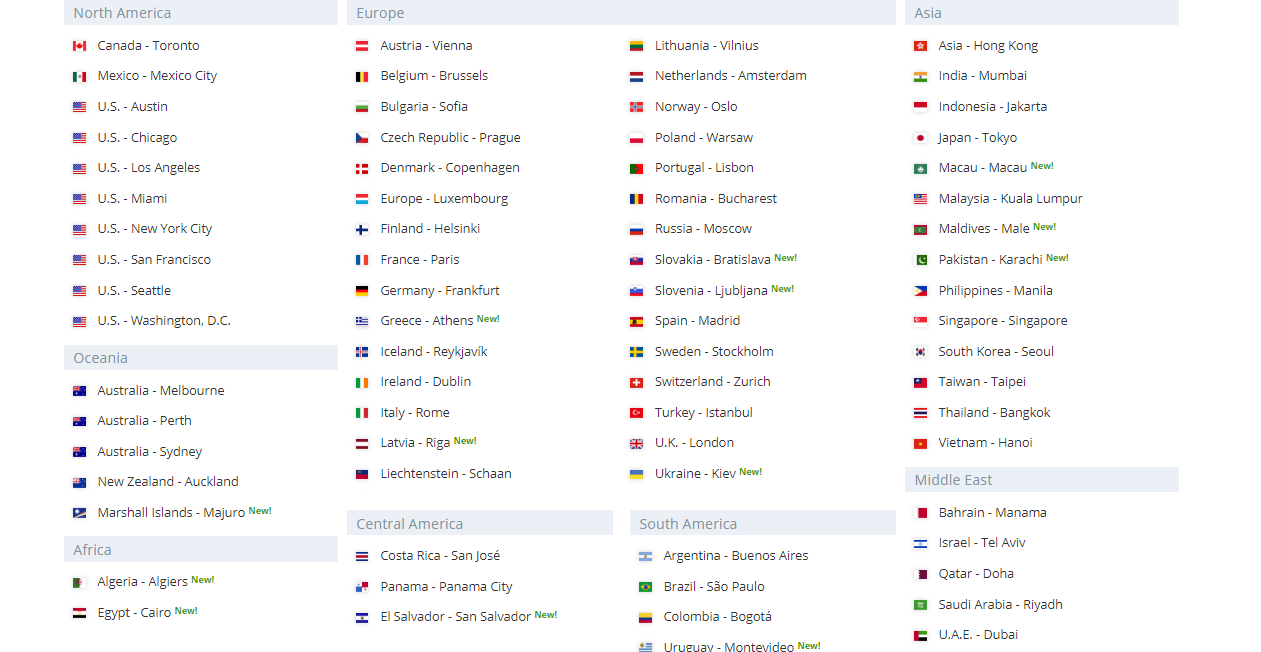 When it comes to server count and their distribution, VyprVPN has more than 700 servers spread across 70 server locations. However, 700+ servers is nothing to brag about when compared to some top-tier VPNs. A big player like NordVPN has more than 5000 servers, with other top-rated services like ExpressVPN and CyberGhost having servers in excess of 3000+ each.
Nevertheless, the server count of this provider is quite respectable, especially due to their excellent geographic diversity. They even operate servers in countries with oppressive governments such as China, Russia, and Turkey. Also, South and North America, Asia, Europe, the Middle East, and Africa all have numerous server locations.
Servers
VyprVPN doesn't have specialized servers for any activity, according to our findings while compiling this review. While some top-rated providers often maintain designated servers for certain activities like streaming, torrenting, the Great Firewall of China (for example Astrill VPN), and more, the Swiss provider doesn't have anything like this.
On the positive side, it means users can engage in those activities using any of their servers.
Compatible devices and simultaneous connections
When looking for the right VPN for your needs, you want to make sure that the VPN you're using is compatible with your devices. Secondly, you also want to ensure that you can simultaneously use all your devices on it.
With that in mind, we have helped you find answers to these questions during our test and we will detail them in this part of the review.
What device can I use with VyprVPN?
VyprVPN works with all the major platforms in the world. The provider provides a generous number of compatible clients, and they also have set up guides to set up the VPN manually on a range of other platforms.

This VPN is fully compatible with the following devices:
Windows
MacOS
Android
iOS
Linux
QNAP
Blackphone
Smart TV
Anonabox
Tomato, DD-WRT, OpenWRT, and ASUSWRT routers
Boxee
Synology NAS
Blackberry
The features are similar across platforms, with only a couple of variations. However, this VPN doesn't have extensions for browsers, which is a drawback as most other top providers offer extensions for the world's most popular browsers like Chrome and Mozilla Firefox.
How many simultaneous connections?
The security company offers three and five simultaneous connections, depending on the package you have bought. For the basic plan, you will only get to connect three of your devices at the same time. However, you will enjoy 5 simultaneous connections on the premium plan, which is the industry standard.
Client support
The client support is often an indication of how much a VPN cares about its clients. With that in mind, we put the client support of this company to test. We will discuss our findings in this part of the review.
How to contact it?
If you run into any problem, VyprVPN claims to offer multiple ways to get in touch with their client support. According to them, you can either utilize the 24/7 live chat feature on the website or submit an email request form via the website's support section.
However, we have a problem with this claim. As at the time of writing this review, we couldn't find the live-chat on their website. We would have concluded that it was probably because we checked on Saturday, but then, they claimed they would be available 24/7 on the live chat.
This is quite a deceitful claim, and we were left really disappointed. In the end, we turned to the email ticketing system. While we didn't have to wait for too long to get a response, we would have preferred to use the live-chat support.
Is it good?
First of all, we don't think they offer a 24/7 live chat support, as we found out in our test. We later turned to the email ticketing system, which was fairly good. However, we think the client support is not good overall as it's literally a sin for VPN provider not to have a 24/7 live chat feature nowadays.
FAQ / tutorials
Nonetheless, the website has a super-helpful FAQ section. If you don't have the time to get in touch with support, you can try finding the answers to your problems in the FAQ section. The section contains answers to over 50 questions, which you will certainly find helpful. In fact, we also referred to this section for some of the issues we encountered during our test.
Value for money
Let's face it – VPNs are usually expensive investments. Therefore, you must make sure that the value you're getting is proportionate to the money you're paying. How much value for money does VyprVPN offer? Let's find out in the review below.
Price comparison
The provider offers two primary plans – the basic plan and the premium plan. Below are the breakdowns of the two plans;
The basic plan
Monthly  – $9.95/month
Yearly – $3.75/month (billed annually)
The premium plan
Monthly – $12.95/month
Yearly – $5/month (billed annually)
The basic plan is less costly and offers you 3 simultaneous connections on a single subscription. However, the premium plan offers 5 simultaneous connections alongside the Chameleon protocol and VyprVPN Cloud.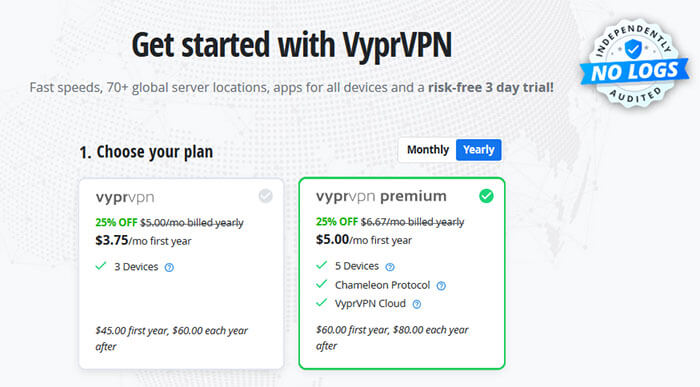 With these appealing features, it is better to opt for the Premium plan. While both plans feature a 3-day free trial, you will have to input your billing information before accessing the trial. There are also two plans for businesses – with or without cloud storage. The cloud plan allows you to have a dedicated server as well as a dedicated IP address.
Check offers made available by VyprVPN >
Means of payment
We found out in our test and review that VyprVPN accepts a variety of payment means, which simplifies the complex subscription process.
However, we found out while compiling the review that they don't support any anonymous payment means, like Bitcoin.
At the moment, the provider accepts the following payment methods:
Visa/Visa Debit
American Express
Discover
PayPal
MasterCard/MasterCard Debit
JCB
ALIPAY
Money back guarantee
Apart from coming with a 3-day free trial, VyprVPN also comes with a 30-day money-back guarantee. While the money-back guarantee is nothing out of the ordinary, the fact that it's paired with a free trial is special. Most other providers only offer either of the two at the same time.
Any extra ?
One of the major ways of determining a VPN that delivers a lot of value for money is checking the number of extra features it comes with. Are there features that make VyprVPN stand out from the competition? Well, we found a couple of them during our test and we will review them below.
NAT Firewall
The first unique feature we will be mentioning in this review is the NAT Firewall. This feature protects customers from malware and cybercriminals who're looking to access the system via unsecured connections that some applications leave open.
As soon as these susceptible malicious applications get into the system, they start stealing users private data. The provider provides strong protection against these dangers and makes sure that none of the connections is left vulnerable. We checked this feature out during our test and it worked exceptionally.
Cyphr Encrypted Messaging
The company has incorporated a special messaging application called Cyphr into this VPN. The mobile application is available for Android devices and iOS devices. You can use the messaging app to send messages securely to family and friends.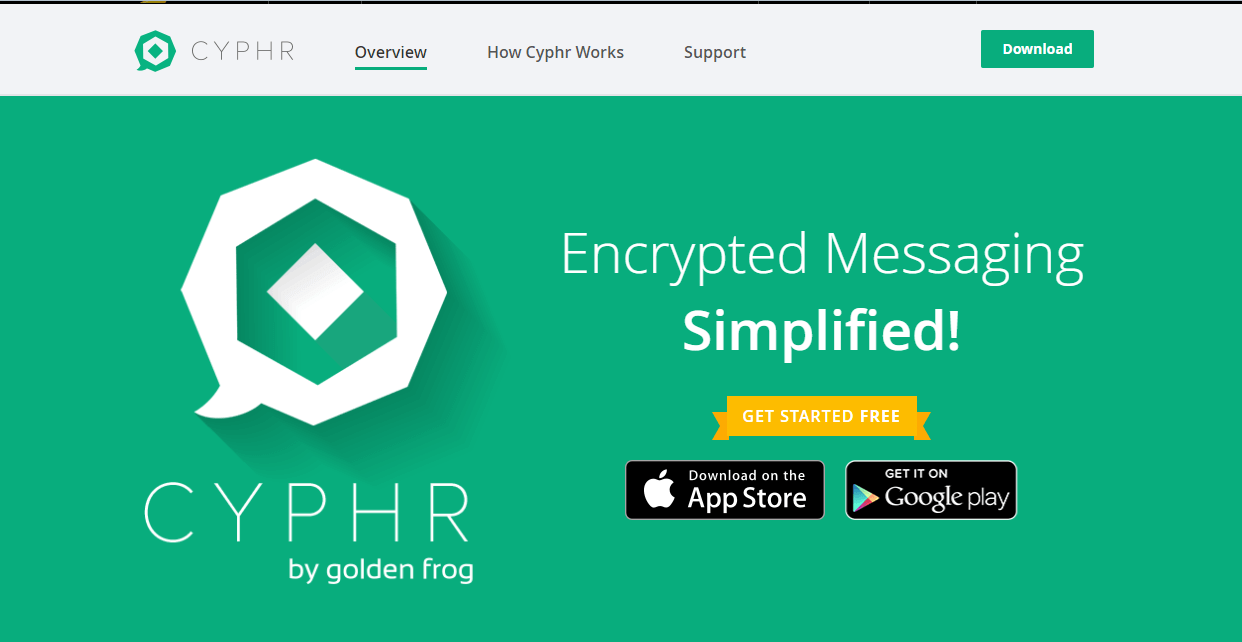 Besides, you can use it to protect your data when texting colleagues at school or work. The app prevents your private messages from being modified or hijacked without your permission. We also tested this messaging app during our test and review and it really impressed us. Since the parent company owns their network infrastructure, which allows them to offer end-to-end privacy.
However, you don't need to be a VyprVPN user in order to use the messaging application. While the app is currently unavailable on Windows and Mac, the company is working on bring it to these platforms.
Chameleon Protocol
Another highlight we found in our test is the Chameleon protocol, which enables you to escape country censorship and restrictions. It works by encrypting and scrambling your data so you are able to safely and securely browse.

Keep in mind that this protocol is VyprVPN's patented technology, and is highly effective in bypassing geo-restrictions set by websites like Netflix. However, the Chameleon protocol is only available for Premium subscribers. Fortunately, we used the Premium package for our test and this feature helped us get past restrictions.
Bypass any block with a special technology >
Final Thoughts
VyprVPN is a VPN provider that has a lot going for it. Apart from delivering decent speeds in our test and review, we were also impressed by its solid encryption. While it used to keep some logs, a lot of things have changed about its privacy policy in recent times, with the provider even carrying out an independent self-audit to ensure users that their personal data is in safe hands.
However, their strict stance on torrenting and limited network coverage means it's hard to recommend them. Moreover, we were left unimpressed with their client support, especially with their lack of 24/7 live chat support.
If you're  keen on a provider that delivers much more value at a similar price, you'd be better off with an alternative like ExpressVPN.

Michael is a talented writer who has dedicated a lot of time into making sure that everyone around the world can use the internet securely. Being an avid traveler, he has acquired a lot of experience while using different VPNs on his travels. When it comes to doing comprehensive "how to tutorials" or testing some VPN functionalities, he's always the best pick ! He's here to help you solve your VPN-related issues.