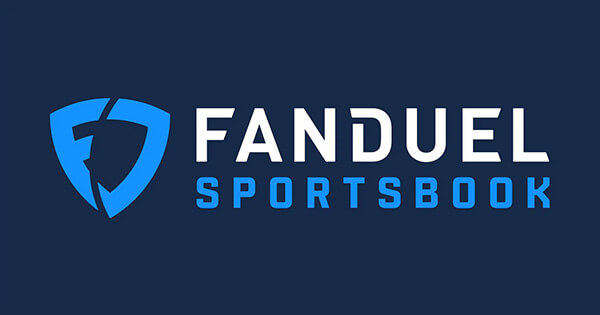 If you're a fan of sports betting in both fantasy sports and real-life sports, chances are that you've heard of FanDuel. Much like DraftKings, FanDuel is home to fantasy sports and sports in general, offering tons of options for betting, as well as lucrative bonuses. However, even if you live in the US where FanDuel should be available, you still might not be able to access this website. For that very reason, people are looking for a FanDuel VPN that would let them change their online location and access FanDuel Sportsbook.
Choosing the right VPN for this purpose doesn't come as an easy task, especially for those not acquainted with Virtual Private Networks. If you're one of them, don't worry. We did all the heavy lifting for you to provide you with the best VPN for FanDuel that will work hassle-free!
Why Should You Use a VPN for FanDuel?
Before I talk about the best FanDuel VPN, let me quickly tell you why you should use it. You see, a VPN can change your IP address to another country, which changes your online location to the country you've chosen.
Moreover, Virtual Private Networks often have city-level servers, which lets you get an IP address from particular cities and regions in certain countries. This is crucial to find the best VPN for FanDuel, as the site has certain restrictions in some regions of the United States.
Simply put, when you change your location with a FanDuel VPN, the site will see you as if you're located there, which should give you access to the website and let you place bets as much as you want.
But Where Can I Access FanDuel?
The tricky question is how to use FanDuel. Or, to formulate it better – where can you actually access this website? Well, if you check its terms and conditions, you'll see that FanDuel is available in the United States and Canada.
However, in Canada, the only forbidden province is Ontario, while conditions for the USA are a bit more complex. For instance, certain regions in Louisiana are prohibited, as well as locations like Washington, Nevada, Montana, Connecticut, Idaho, and Hawaii.
This means that you need to change your location to anywhere else with a FanDuel VPN. And by doing so, you'll be able to access the website, register, and enjoy either fantasy sports or its comprehensive sportsbook.
Best VPN for FanDuel: Our Top 3 Choices to Unblock FanDuel Easily in 2023
Now that you know the basics of accessing FanDuel, let's move on to the nitty-gritty of the subject. My top 3 favorite VPNs for FanDuel include:
1. ExpressVPN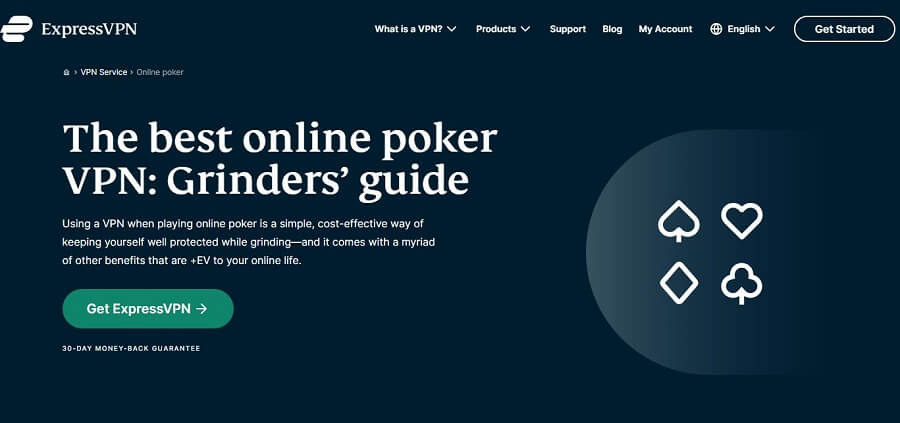 If you ask me, the best VPN for FanDuel is ExpressVPN. Its 3,000 servers in 94 countries should help you access the website, especially given its numerous server locations in Canada and the US.
ExpressVPN has more than 20 locations in the US alone, while Canada counts 4 locations in total. In my test, ExpressVPN came out as the best FanDuel sportsbook VPN, giving me easy access to the website for smooth and enjoyable betting.
Speaking of that, ExpressVPN has the fastest speeds around. This, combined with stable connections and rock-solid security, makes this VPN that much better. Needless to say, it offers 256-bit encryption coupled with a kill switch and a proprietary Lightway protocol.
A no-logs policy is here as well, and with its audit by PwC, you can be sure that ExpressVPN stores absolutely no logs on its servers. A testament to its greatness is the fact that it's great for streaming on Netflix and anonymous torrenting.
However, I also like that the provider offers applications for all platforms you can think of. This means that you can use this FanDuel VPN on iOS or Android, just in case you want to enjoy betting on your phone while you're not home.
While I'm at it, ExpressVPN offers 5 simultaneous connections, which should be enough to cover all your devices. The good thing is that 24/7 live chat support is available, so you can get help any time you want if you have any VPN-related issues.
These issues surely won't happen, though. Finally, while not the cheapest option, ExpressVPN comes very close to that. Its 49% discount applies to the 1-year plan, where you also get 3 months free as an addition.
And with a 30-day money-back guarantee with no conditions, I think that ExpressVPN is easily the BEST VPN for FanDuel. Besides, you can test it risk-free without losing a single cent!
2. CyberGhost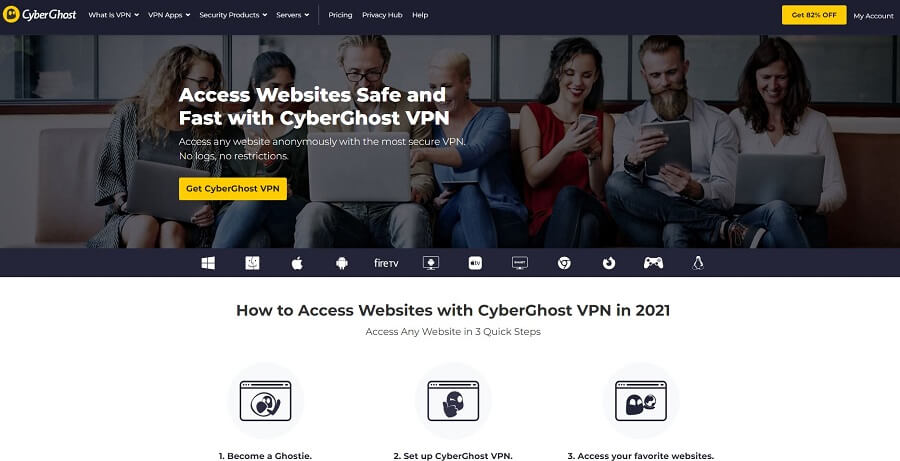 Another great FanDuel VPN is CyberGhost. It's a cheaper alternative to ExpressVPN, offering a whopping 8,000+ servers in nearly 100 countries globally. In the United State alone, CyberGhost boasts 1,200+ servers scattered across 11 locations.
If you can't access FanDuel Sportsbook, you can also use servers in Canada. Here, the VPN has 3 locations, which is one less than ExpressVPN. Still, I found CyberGhost very reliable, especially due to its solid performance and stable connections.
Furthermore, I should mention its dedicated streaming and torrenting servers that add to the server variety. They make CyberGhost great for bypassing geo-blocks and enjoying the internet safely and securely.
As a premium provider, CyberGhost comes with bank-grade encryption, along with a WireGuard protocol for improved stability and performance. Based in Romania, you can expect 100% privacy because the VPN isn't obligated to store any user-related logs.
After all, CyberGhost is useful for many other purposes. You can use it on your phone to play FanDuel abroad or simply enjoy the safety and security you get while using it. Unlike ExpressVPN, it comes with 7 simultaneous connections for even more devices.
Last but not least, CyberGhost is significantly cheaper than its competitors. It has a 3-year plan that costs under $3 a month and is backed up by a 45-day money-back guarantee. Needless to say, the VPN does everything in its power to put the user on a pedestal.
And with these conditions and cheap prices, budget-limited users will surely appreciate what CyberGhost has to offer.
3. NordVPN

NordVPN is a stellar VPN for FanDuel and is one of my favorite providers. You can enjoy its 5,500+ servers in 60+ countries, which will give you hassle-free access to this sportsbook. But what about its server locations?
Well, in the US only, it has 15 locations on the list, with 3 cities in Canada. Given its large server fleet, these are surely great numbers. Another great thing about NordVPN is the performance. It's almost as fast as ExpressVPN, making it an extremely reliable option.
While using it, I had no issues betting on FanDuel even when using a server very far from me. NordVPN is unique in terms of other features. For instance, it offers malware protection, Dark Web Monitor, and CyberSec, which is a solid ad-blocker.
Much like the other two VPNs, NordVPN stores no logs, so it's great for anonymous betting and playing fantasy sports. To that, we should add its modern-looking apps that span not only desktop platforms but iOS and Android as well.
This makes NordVPN very useful for accessing FanDuel regardless of your device or location. All of its great features are accompanied by Double VPN servers for doubling your encryption, just in case security is your priority.
And if preserving your budget is another priority, don't fret. NordVPN is still an affordable option, offering a cheap 2-year plan under $4 a month. When you pack in a 30-day money-back guarantee for all plans, you can see that NordVPN is actually not a bad deal.
Although, if you live in the US, value-added taxes might slightly influence the price depending on your jurisdiction.
How Can I Use a VPN for FanDuel?
Unblocking FanDuel is an easy feat once you have a proper VPN. However, if you've never used one, here are the steps on how to use a VPN for FanDuel:
Subscribe to a provider. I recommend ExpressVPN and its 49% discount + 3 months free for the annual plan.
Download and install ExpressVPN on your device. Note that it supports every device, so you can apply the solution to your iOS/Android smartphone/tablet as well.
Open ExpressVPN and sign in using the credentials provided when purchasing a subscription.
Connect to a VPN server in the location where FanDuel is supported. This can be a city in Canada (not Ontario!) or any of the supported states in America.
Visit FanDuel and click on Log In.
Here, you can choose from Fantasy and Sportsbook, so choose the one you want and make your account. Beware that FanDuel supports Facebook logins, so you can go for this option if you don't want to make a new account.
Once you make an account, verify it, deposit some cash, and start betting/gambling to win (or lose) real money!
Should I Use a Free VPN for FanDuel?
When it comes to a free VPN for FanDuel, I have to warn you of certain things. For one, free VPNs are vastly inferior to their paid competitors in terms of overall performance, server count, and security.
This means that they have smaller server networks with not many locations, which makes them unsuitable for unblocking FanDuel. Some free VPNs for FanDuel have the locations where the site works, but in 99% of the cases, FanDuel detects them and blocks your access.
Another thing to point out is the subpar performance that leaves a lot to be desired. For me, the worst thing is limited bandwidth, where free VPNs will limit you to 10 or so gigabytes per month, which surely isn't enough for online betting or browsing.
Once you spend all your allowed bandwidth, you'll be left without VPN protection, having no security whatsoever. Speaking of which, free services aren't very secure and many of them don't have strong encryption or a kill switch.
Coupled with the fact that they store logs and don't care about your privacy, free VPNs will present a serious threat to your identity. Paid VPNs aren't very expensive, though, so for a few bucks a month, I don't think going for a free provider is rational.
Besides, paid VPNs will work with FanDuel properly, whereas, free providers will fail miserably.
Conclusion
Today, you learned what is the best VPN for FanDuel in 2023 and how to access FanDuel Sportsbook with a VPN. My recommendation is to use ExpressVPN because it's the most reliable choice when we factor in its number of server locations in the US and Canada.
Additionally, this is the fastest provider you can get, which will give you the best betting experience. If ExpressVPN is too expensive for you, trying out CyberGhost or NordVPN will be a smart choice – they're cheaper as well!
The most important thing is that all 3 VPNs for FanDuel are more than reliable. And thanks to their money-back guarantee policies, you don't have to lose any money if you're dissatisfied or you don't have any luck with betting.
Best FanDuel VPN Q&A
As always, there's a bit more to know about the subject we're talking about, so let's answer a few more questions related to it.
Can you use FanDuel in Indiana?
Yes, you can access the website and bet on FanDuel in Indiana. Currently, this state isn't on the list of forbidden locations, so if you're located there, you don't need to use a VPN.
Can you use a VPN for FanDuel Sportsbook?
Absolutely. By changing your online location, you can access FanDuel anywhere, even if you're located in Europe, Asia, or Africa. Just get an IP from one of the allowed states in the US or Canada, and you'll be able to enjoy betting to the fullest.
How old do you have to be to use FanDuel?
The minimum required age to use FanDuel is 18 for the majority of states in the USA. However, you have to be at least 19 in Alabama, and at least 21 in Iowa, Arizona, Massachusetts, and Louisiana.
Can you use FanDuel in California?
Yes, you can use FanDuel in California. Once again, this country isn't on the blacklist, meaning that users located there can bet on FanDuel without using a VPN.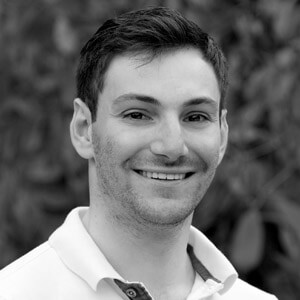 Flo is the founder of the-bestvpn.com. Really concerned about security on internet, he decided to create this website in order to help everyone find the best VPN. He's got a Business School background and now is 100% dedicated to keeping his website alive.